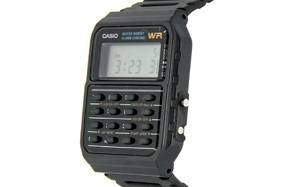 Casio Men's Vintage CA53W-1 Calculator Watch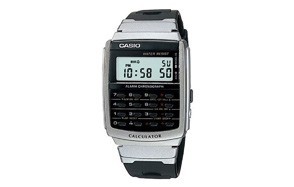 Casio - CA-56-1UW Calculator Watch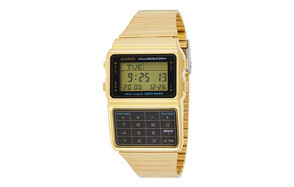 Casio #DBC611G-1D Men's Databank Calculator Watch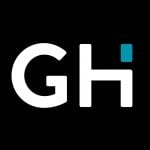 There is no doubt that, in recent times, the retro look has become fashionable once again and with it, the surge in the demand for such fashion pieces. One such entity is the calculator watch, which is a reminiscence of the old vintage looks that our parents once loved, that have become more cool again. However, to make the calculator watch more appealing to the younger generation, several manufacturers have recreated and re-designed them with an innovative and modern edge to each fashion piece. This reclamation has made it possible to merge the retro and highly-functional scientific calculator into an innovative watch for use by everyone. If you are in the market for the best calculator watch, our list below will come in handy. We have also included a buying guide that provides further information on which features to look out for.
The Best Calculator Watch
Calculator Watch Buying Guide & FAQ
How We Chose Our Selection Of Calculator Watches
Brand - We admire legendary brands because they have the needed expertise in the manufacture of watches, and this is why our article contains model from the most common watch and calculator brands in the market. Companies such as Pandaoo and Casio are extremely trustworthy, thus were certain of great value with their products.
Price - The cost of all calculator watches mentioned above is affordable for different budget ranges. This is to offer every type of budget with a high-quality option that doesn't demand a lot of money. No matter your budget for a watch, we can guarantee that you will find a model that best suits your needs, is extremely durable and also fashionable.
Reviews - Customer reviews are amazing ways to find more about products at the simple click of a button. Our team of editors studied a lot of reviews from various websites to understand every watch and its functions. This enables us to provide essential information on each unit, to equip you before your next watch purchase.
Features To Look For In Calculator Watch
Our product market is rich with varying models of calculator watches, manufactured by different brands. Each watch is similar in some ways, but they all carry a degree of uniqueness, which is offered by manufacturers to help their product stand out from all others. The availability of numerous watch options may leave some of us confused when searching for the perfect calculator watch. To relive readers from such drama, we discuss the essential factors we believe you must look into before making that final purchasing decision.
Quality - The major factor we believe you must look into is the level of quality being offered by manufacturers. When selecting a calculator watch or any timepiece, it is advised that you opt for a product which is made with premium, high-quality materials, and sturdy construction, to ensure that your watch works excellently for a very long time. Quality ensures that every investment made doesn't go to waste within a short period and also saves you from spending continually.
Number of Mathematical Functions - Concerning the watch's functionality as a calculator, you may want to study all the available mathematical functions to ensure that they're what you need. The first step is to know what you require, and then find model options which offer you exactly what you require. Some calculator watches offer only basic mathematical functions such as the ability to subtract add, multiply, and divide while others offer more scientific, mathematical functions.
Water Resistance Levels - Most calculator watches are available in two major forms; those that are resistant to water and those that aren't. as much as possible we advise that users go in for water-resistant model to prevent any occurrence in the event of a mishap. Emergencies and accidents can happen; thus,  a water-resistant timepiece will ensure that your watch stays operational after it falls into a puddle of water by accident.
Anti-Scratch Glass - Scratch resistant materials are another necessity for all watches. As often as possible, we advise that when selecting your calculator watch you pick models made with hard resin or any other heavy-duty material which is shattered and impact resistant. This protects your watch at all times in the event of it falling by mistake. If you have curious kids or pets, a scratch resistant watch will be the perfect model for you.
Touch Screen - Technological advancement in today's world means that many of us look for the simplest ways of doing things, and this principle isn't lost in the world of watches. Smart watches are made with an interactive screen that enables the user to maneuver their way through various functions by a mere touch. This is easier to do as compared to the ancient ways where knobs had to be pulled and turned to set time or date and also to calculate. Search for calculator watches with interactive touch screens, and they will make your calculations, scheduling, and all other functions easier and fast.
Display Resolution - Having a clear and crisp image quality is a great thing for a calculator watch. We recommend watches that have high resolutions as their images will appear clear without any interference, and this makes the usage of your watch more enjoyable. Be sure to study all the specifications of your watch options before making the final decision. You can also infer from existing reviews by earlier owners to decipher how much quality lies in a watch's display.
Battery Life - Calculator watch batteries are usually very durable, but with the merging of time telling and calculations, your watch will require a stronger battery type to perform efficiently. Some watches make use of regular batteries and those that have solar powered batteries, which recharge when exposed to the sun rays. Depending on how and where you use your watch the most, your choice of calculator watch will differ. Look out for watches which operate for extended hours when fully charged ad they help you get more work done without having to think of the next recharging moment. If you need solar powered watches, Casio is a great brand to invest in.

Calculator Watch FAQ
Q: What is a calculator watch?
A: A calculator watch is a timepiece which doubles as a calculating device. These watches are designed to undertake both essential and scientific mathematical functions, and they are often used by students, scientists, and other individuals who require the use of a calculator without the added bulk. They're very convenient for use thanks to their compact nature, and they come with extra features which enable users to undertake different functions simultaneously.