Best Vintage Watches In 2022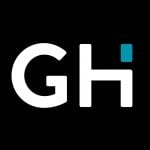 This product guide was written by GearHungry Staff
Last Updated
September 22, 2020
GearHungry Staff
GearHungry Staff posts are a compilation of work by various members of our editorial team. We update old articles regularly to provide you the most current information. You can learn more about our staff
here
.
GearHungry may earn a small commission from affiliate links in this article.
Learn more
The best vintage watches are the perfect way to add a touch of the past to your modern outfit. Anything vintage is immediately stylish, but while you might expect many of the same vintage watches, we've found a wide variety to suit all styles and occasions.
Whether you want to pay homage to your glory days with a Casio or pay tribute to the heroes of the World Wars and beyond, there is a watch here for you, along with plenty of other choices. These watches, while vintage, are not antique, so you won't have to worry about breaking the bank. Instead, you can enjoy a timeless style that is as compatible with a V-Neck t-shirt, American-made jeans, and the best white sneakers or a well-tailored suit for work or formal events.
Even though watches aren't as popular as they used to be — at least not for their original function — they are still a reliable accessory for men worldwide, enhancing an outfit with ease and class. So, if you can find the time, here are the best vintage watches to check out.
The Best Vintage Watch
Casio Calculator Vintage Watch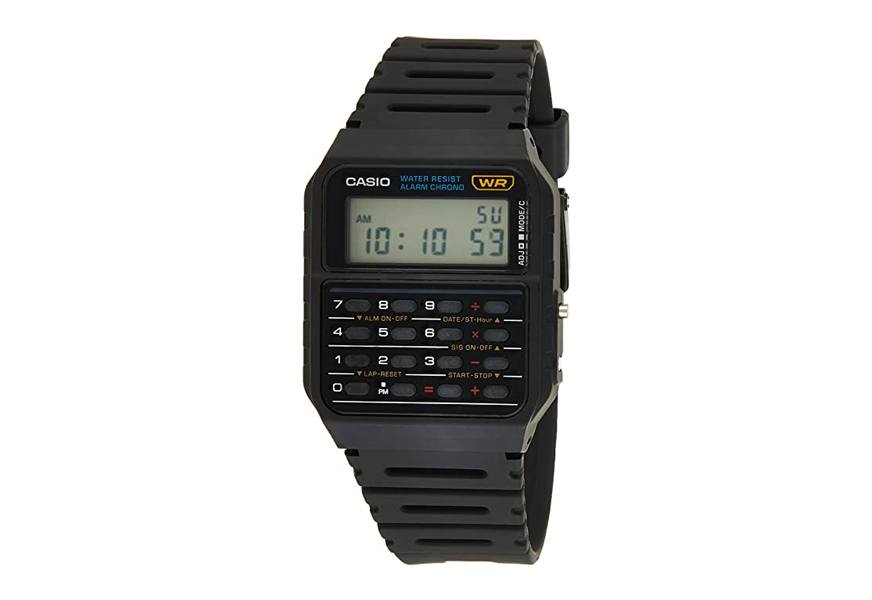 Falling perfectly in-line with the current style, the Casio Calculator Vintage Watch is a quality choice if you're looking at the best vintage watches. With a brand as iconic and enduring as Casio, you know you're getting something special. This watch covers everything you could need from one of the very best models around, making it an excellent way to complement both professional and everyday outfits.
The resin band is comfortable and easy to maintain, unlike leather straps, which can take quite the battering throughout the years, especially poor-quality leather. This calculator watch is water-resistant, making it suitable for washing your hands or getting caught in the rain, although we don't recommend wearing it while showering or swimming.
It boasts a variety of features. Most uniquely is the eight-digit calculator, which includes a plethora of functions, including addition, subtraction, multiplication, and division. Simultaneously, the 1/100 second stopwatch is useful for workouts if you don't want to jump on the smartwatch bandwagon.
You can take advantage of the automatic calendar function, which is pre-programmed up to 2079. You'll never miss an appointment again, and no need to adjust it for leap years. There is also a daily alarm; you can forgo keeping your phone under your pillow, while still guaranteeing that you'll get up on time. These features combine to make it a one-stop product for a range of everyday needs.
Key Features:
Resin band material
8 digit calculator
Addition, subtraction, multiplication, division
Water resistant
1/100 second stopwatch
Auto-calendar function
Daily alarm
Specification:
Brand

Casio

Model

CA-53W-1ER

Weight

0.88 Ounces
Timex Weekender Vintage Watch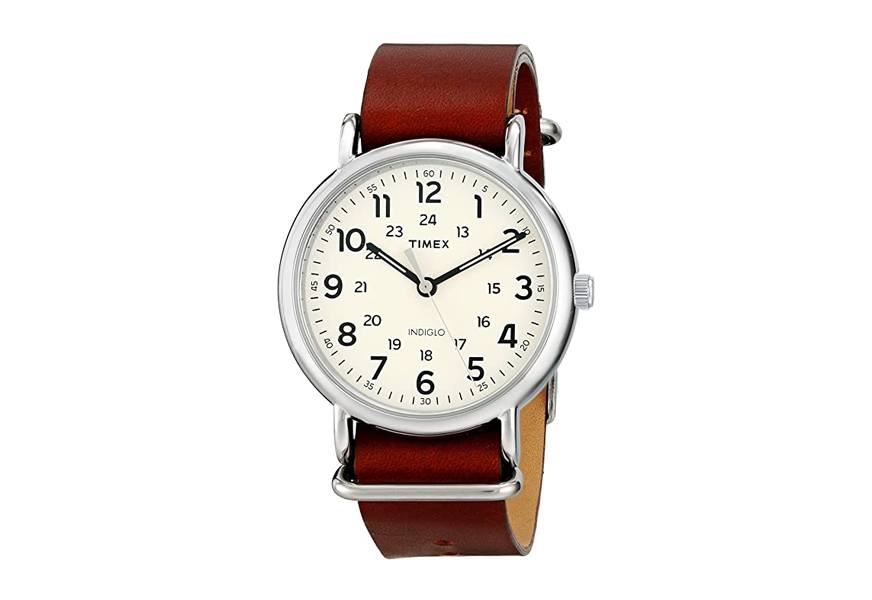 One of the most striking features of the Timex Weekender Vintage Watch is the sheer diversity of color choices you have. An excellent revelation if you want to find something a little different from the traditional black or brown strap style of typical watch designs. These colors are available, of course, but you can also take your pick from blue, red, tan, or olive. These colors are bold without standing out too much. Instead, they add a neat underscore to any outfit to guarantee you stand out from the crowd.
The leather band is attractive and durable, making this Timex watch easy to care for and maintain. You might even welcome slight marks here and there to give it the retro feel you want. There is a traditional buckle that is easy to fasten, even if you've never worn a watch before, and the strap itself is suitable for wrists up to eight inches. If you need something larger, you'll need to invest in a traditional spring bar to save any fiddly frustration. 
As for its dial, the large diameter makes the full Arabic numbers easy to read, especially with its Indiglo capabilities, while the 24-hour military time adds to the overall vintage appeal. Enhancing the face further is the antique brass case that is neither too shiny nor too dull. Instead, it finds the perfect balance to make sure it looks like this watch has seen something without looking excessively worn.
Key Features:
14 colors
Leather band
Round cream Indiglo dial
Full Arabic numerals
24-Hour Military Time
30 meter water resistance
Antique brass 40mm case
Specification:
Brand

Timex

Model

TW2P85700

Weight

1.92 Ounces
Casio Illuminator Collection Digital Vintage Watch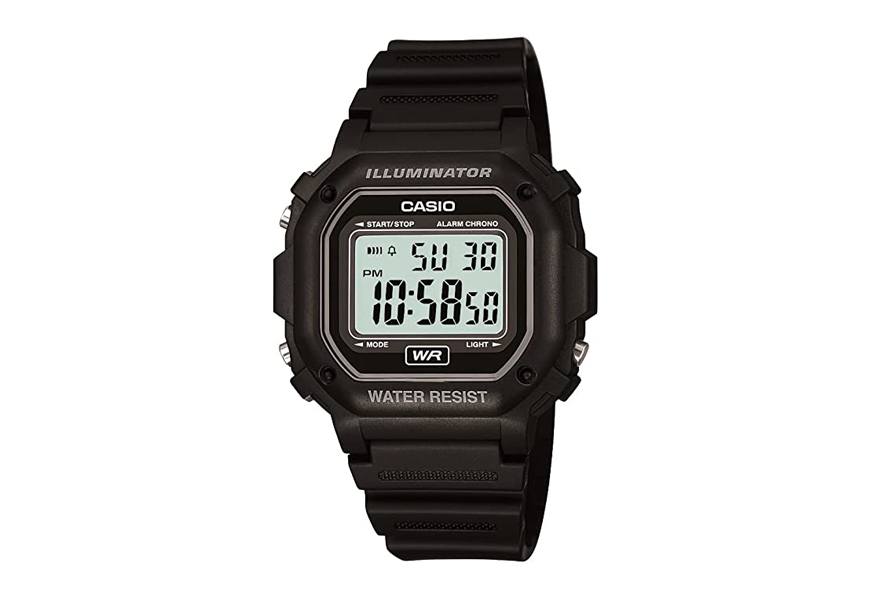 If you're looking for men's vintage watches that boast superior value, the Casio Illuminator Collection Digital Vintage Watch is what you need. The resin watch band is comfortable and less abrasive compared to rougher leather or fabric straps. The buckle closure provides optimal security, allowing you to tighten and loosen as you need, especially during the summer, when something too tight could be uncomfortable.
As the name suggests, it illuminates thanks to the LED light that allows you to check the time in any situation. Getting dark? Just press the button. Wake up in the middle of the night and aren't sure how many hours more you have in bed? Light it up. Such a feature makes it an appealing choice if you're looking for an everyday watch rather than one just for special occasions, but it's unassuming enough that you could pull it off with a button-up and dress pants, also.
The daily alarm and hourly time signal help keep you organized and on-task while the 1/100 second stopwatch makes it useful for sports, especially if you're working on beating your best 5K time. The watch is water-resistant, but only to a degree, so don't jump in the pool without taking it off first. Its Quartz movement guarantees exceptional accuracy, what you'd expect from a digital watch, while the 42.4mm stainless steel case protects the components to ensure consistent quality and performance.
Key Features:
Resin watch band with buckle closure
LED light
Daily alarm and hourly time signal
Water resistant
1/100 second stopwatch
Quartz movement
42.4mm stainless steel case
Specification:
Brand

Casio

Model

F108WH-1ACF

Weight

3.53 Ounces
Casio Electro Luminescence Vintage Watch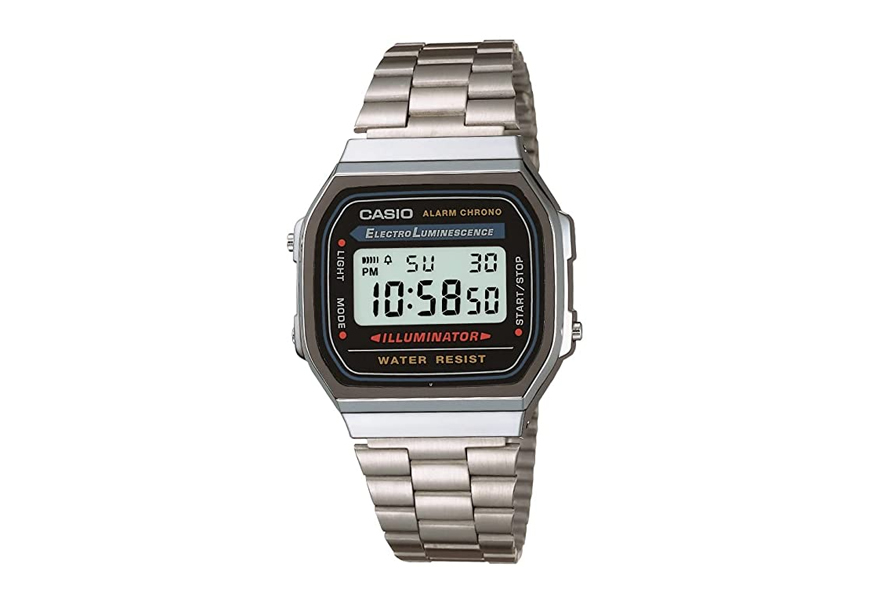 The Casio Electro Luminescence Vintage Watch is eye-catching but feels familiar. The 32 mm case means it isn't as heavy or bulky as other options, yet it still boasts durability, and the mineral crystal will protect the screen from scratches. It has n backlight, among other useful features, such as the 30-meter water resistance, precise stopwatch, and alarm. Affordable without sacrificing quality or reliability, this watch is an excellent, retro-inspired design.
If you prefer a minimalist style, check out our buying guide on the best thin watches on the market right now.
Key Features:
Stainless steel band
Quartz movement
32mm case
Protective mineral crystal
EL backlight
30 meter water resistance
1/100 second stopwatch and daily alarm
Specification:
Brand

Casio

Model

A168WA-1YES

Weight

1.8 Ounces
Peugeot Classic Vintage Watch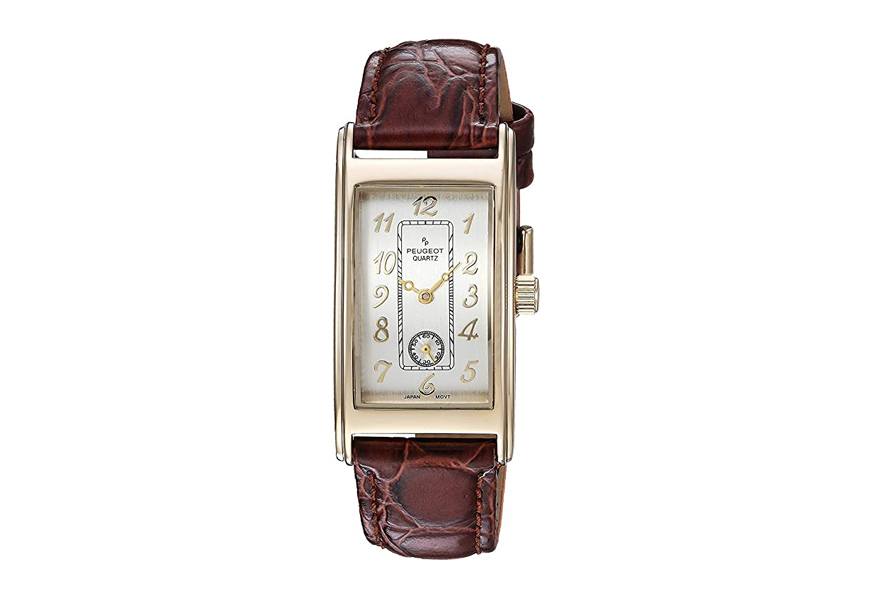 Before we get started — no, the Peugeot Classic Vintage Watch is not a little side hustle from the French car company. It is something different entirely. Now we have cleared that up; we'll focus on the details making this watch such an appealing choice. Known for handcrafting luxury timepieces since the 1950s, Peugeot has spent the last few decades realigning their brands to make them more affordable to the general public; we are the winners here.
This watch comes with two colors to choose from — the classic Gold and Silver you typically find with any quality watch. Complementing the case is a genuine embossed leather band, brown or black, depending on which case color you select. The case measures 24 mm wide; it doesn't take up as much space on your wrist. Rather than relying on the traditional round case, it uses a rectangular design that makes it stand out against the crowd and unique choice for horologists hoping to add some vintage to their collection.
It is resistant to splashes, moisture, and rain, but all else is a no go, especially if you want to maintain the consistent accuracy and quality of the Japanese Quartz movement. The buckle closure completes the piece. Instead of the butterfly style of modern diver watches, it encourages and inspires images of a time that may not have been simpler, but is still one that enough people romanticize to make you yearn for it. For more similar timepieces, check out these classic Rado watches that have everyone raving.
Key Features:
2 colors
Genuine embossed leather band
24mm wide case
Plated in 14 karat gold
Resistant to splashes, moisture, and rain
Japanese Quartz movement
Buckle closure
Specification:
Brand

PP Peugeot

Model

2039G

Weight

1.2 Ounces
BENYAR Classic Rectangle Vintage Watch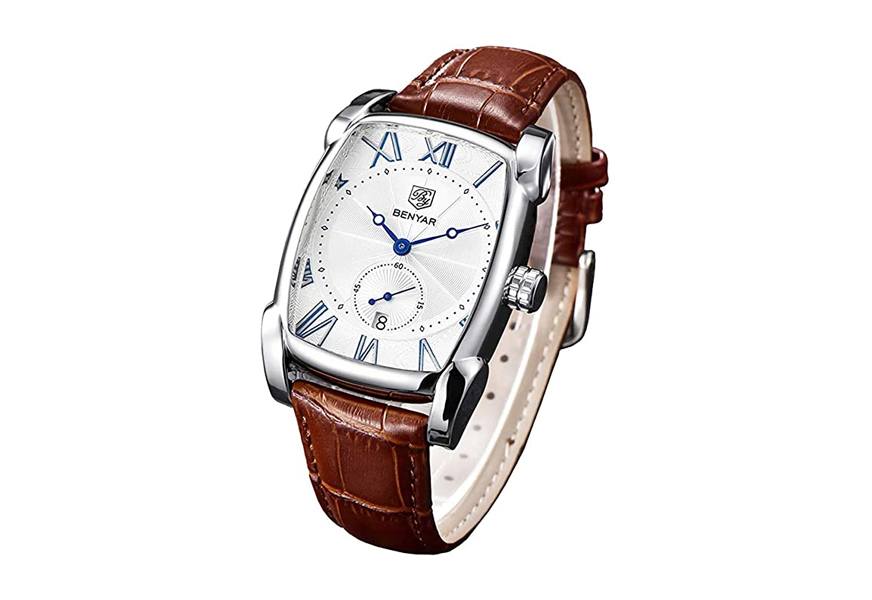 The BENYAR Classic Rectangle Vintage Watch may not come with an illustrious reputation as some of the other watch brands we've selected. Still, if you're looking for a unique timepiece unlike anything else that you've come across (and which you're sure few others have), it's a great choice. It shares enough similarities with other vintage watch designs, so it doesn't look like a pale imitation, while the variety of colors tick all the boxes to ensure it's a watch that suits all styles.
These three colors include variants of white, silver, and gold dials, while the leather straps are black or brown, depending on which color you choose. The luminous hands make it easy to read even in low light, provided they get enough sunlight during the day. These make it useful for checking the time first thing in the morning without flicking the bedside lamp on, as well as getting out of the bar early to beat the crowds waiting for a taxi.
Inside, the second sub-dial boasts a clear and bold date window. Within this sundial, the second hand rotates independently of the hour and minute hands, giving you something different to check out. The pin buckle clasp is secure and reminiscent of classic watches of the era, while the Crystal Hardex dial window is durable and will prevent scratches.
It's waterproof up to 30 meters, meaning you don't need to run for cover under a rainstorm. However, as with other waterproof watches with similar waterproof ratings, don't go diving with it, as this will severely impact the quality and performance.
Key Features:
3 colors
Waterproof to 30 meters
Luminous hands
Second sub-dial and date window
Sleek silver or gold dial
Pin buckle clasp
Crystal Hardlex dial window
Specification:
Brand

BENYAR

Weight

3.2 Ounces
CamoOutdoor Mil-Tec Luftwaffe Aviator Vintage Watch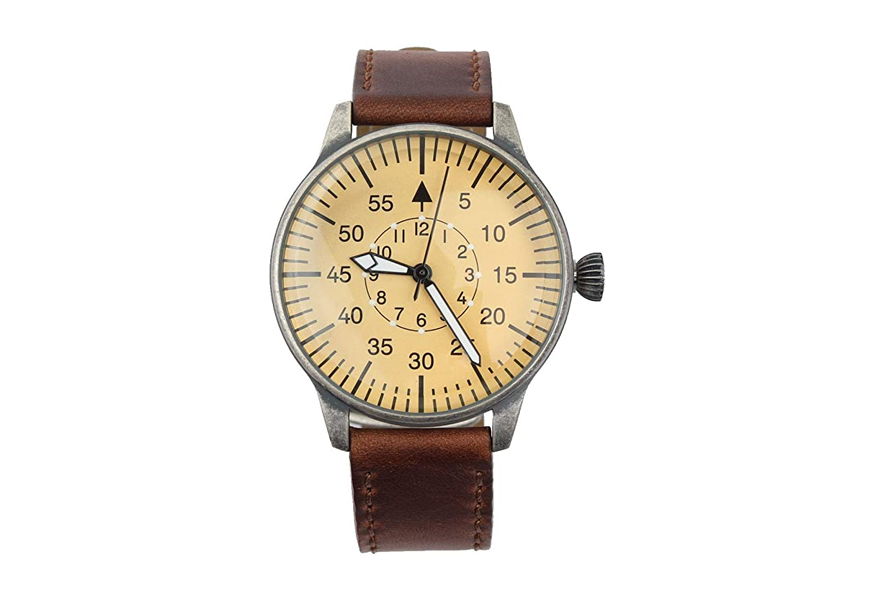 The CamoOutdoor Mil-Tec Luftwaffe Aviator Vintage Watch is the perfect watch for anyone who loves the great outdoors or has a significant interest in military history. Whether as a gift for someone special or yourself, it's sure to deliver plenty of joy and enhance everyday style with ease. The wearer stands out amongst other watches that, frankly, all look far too similar.
The vintage design combines seamlessly with modern technology to provide an accurate and appealing watch style that will always keep up to the second. The three-hand movement makes it easy to keep track of the time, and these hands are luminous, making them suitable for monitoring the time in low-light scenarios. It also includes a unique design, with the 1 – 12 numerals surrounding the inside of the watch, and the Arabic minutes dominating the outside of the dial.
The diamond crown is one of the largest we've come across. While this might be a little surprising initially, it makes it remarkably easy to use, enabling you to adjust the date with no hassle at all. You'll be pleased to know that each 42mm dial differs from the next, making it wholly unique to whoever wears it. Establish yourself as someone who is always stumbling onto the most eye-catching accessories without trying (although we'll not tell anyone you spent all morning pouring through this article). This field watch is also comfortable, which is another thing you mustn't forget.
Key Features:
Vintage design with modern technology
Three-hand movement
Luminous hands
Diamond crown
Arabic minutes
Each 42mm dial is unique to the wearer
Comfortable and eye-catching
Specification:
Brand

CamoOutdoor

Model

15766000

Weight

4.23 Ounces
Peugeot 14k Gold Plated Vintage Watch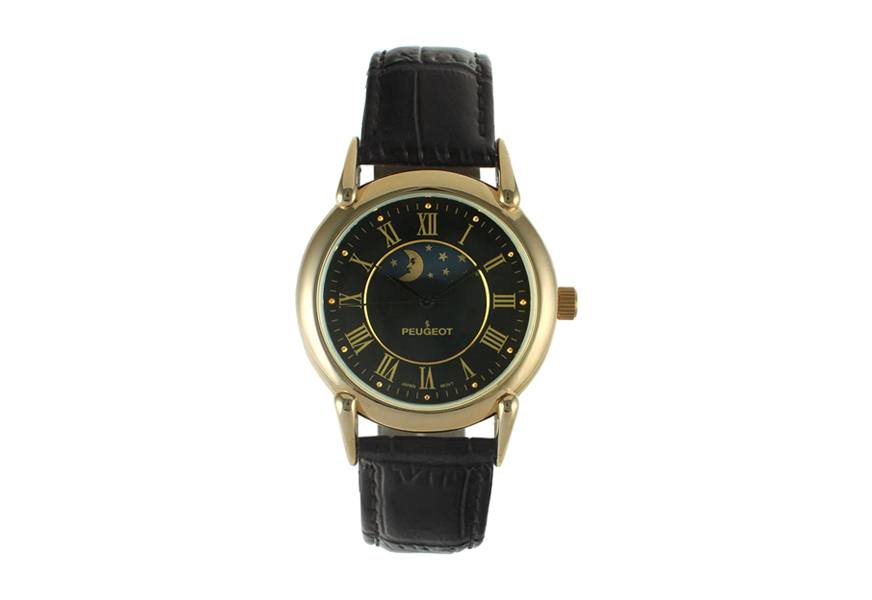 The Peugeot 14k Gold Plated Vintage Watch is a stunning choice that perfectly captures the elegance that many people look for in vintage designs. We all know such a design can go one of two ways. Either everything seems a little too rough around the edges, or it's something that you'd never find now. This Peugeot watch captures the latter, and aren't we happy that it does so?
You can choose from four color designs, using a combination of white or black dials with brown or black crocodile embossed leather bands with buckle closure. This might not provide the variety that some other watches offer, such dynamic colors aren't your end goal. Instead, you want a watch that provides superb style and effortless class, while also standing out as unique when you consider other vintage watches.
The dial boasts an arched lunar window that rotates every 24 hours, coinciding between the sun and the moon—a feature we adore. We're happy that it's something you can only find on this watch, making it uncommon, and therefore appealing to watch collectors all over.
It has an accurate Quartz movement to guarantee these rotations remain precise, while the 40mm case provides an ample viewing window, so it's easy to read in an instant. The case is gold, regardless of which dial color you select. A lifetime warranty backs it, so you have the confidence and peace of mind that it's something that could quickly become a family heirloom for you to pass down.
If you like this timepiece, you will love these top Seiko watches, so check them out.
Key Features:
4 colors
Crocodile-embossed leather band
Buckle closure
Arched lunar window
Accurate Quartz movement
40mm case width
Backed by a lifetime warranty
Specification:
Brand

PP Peugeot

Model

3032BKA

Weight

6.4 Ounces
Casio Digital Analog Dual Time Vintage Watch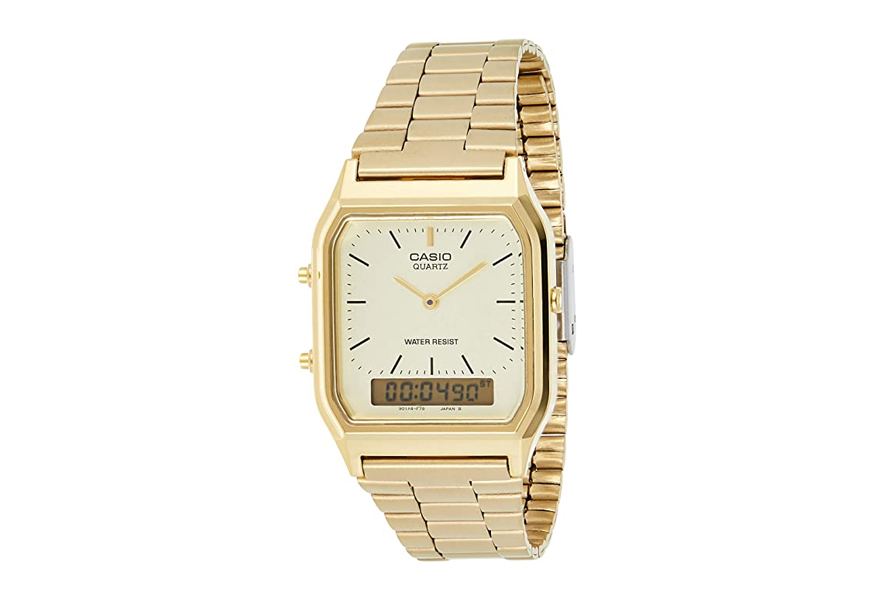 The Casio Digital Analog Dual Time Vintage Watch delivers the best of both worlds, and even at a glance, you can tell that it's a high-demand vintage watch. The dual time display, analog and digital, provides versatile time telling options. However, what's most useful about this feature is that you can use the digital screen as a daily alarm. Get rid of your ear-battering alarm clock and instead enjoy a more peaceful awakening every morning so you can ensure you get up on the right side of the bed.
You can also use this second time to keep track of other time zones, which is ideal for anyone in long-distance relationships or even just if you frequently travel for work. If you don't travel, the automatic calendar function is still useful, as is the stopwatch capability that records your elapsed, split, and final time, making it ideal for athletes.
The Quartz movement is as accurate as you'd expect it to be, and the three-year battery life means you'll not have any hassle keeping recurring alarms running along smoothly. While gold in color, the watch itself is stainless steel; you can still get all the Bling King appeal that first attracted you to it. The strap is comfortable to wear and easy to fasten, contributing to its functional, classic feel. It's unlikely to be your go-to watch for everyday needs, but if you want to make a statement on a night out, this watch will do plenty of talking for you.
Key Features:
Analog and digital time display
Daily alarm function
Automatic calendar
Elapsed, split, and final time
Quartz movement
Gold-colored stainless steel band
3-year battery life
Specification:
Brand

Casio

Model

EAW-AQ-230GA-9D

Weight

0.72 Ounces
Sign Up Now
GET THE VERY BEST OF GEARHUNGRY STRAIGHT TO YOUR INBOX