Best Gifts & Toys for 13 Year Old Boys in 2022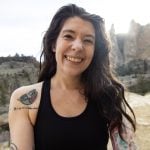 This product guide was written by Tuesday Kirby Kahl
Last Updated
December 11, 2020
Tuesday Kirby Kahl
Tuesday Kirby Kahl is a contributor at Gear Hungry. Her fierce love for the outdoors fuels everything she does. Her professional pursuits include writing, creating art, and photography. These professional passions allow her the time to live life outside as a rock climber, skier, runner, backpacker, paddle boarder, swimmer, and explorer. When Kirby is indoors, she enjoys tea, whisky, old films, cooking, and baking. Her product testing and feedback have shaped the design of everything from climbing shoes to candles.
GearHungry may earn a small commission from affiliate links in this article.
Learn more
Christmas shopping can be a daunting task, especially when children are involved. Thirteen-year-old boys are arguably the most challenging group to shop for. Do they want a BB Gun, the newest tech toys, a phone, a microscope? Who knows! These boys are fresh into their teenage years, an age of confusion for not just them but everyone around them. Don't fret; we've got you covered. We've done some research, scoured the world wide web and we've got some answers on gifts and toys for 13-year-old boys. With this list, you'll be the favorite aunt or uncle in no time. Read on for the best Christmas gifts for 13-year-old boys.
The Best Gifts & Toys For 13 Year Old Boys
Gift & Toy for 13-Year-Old Boys Buying Guide & FAQ
Features to Look for in Gifts & Toys for 13-Year-Old Boys
Interest - Every person, child, and teenager has different interests! We've provided a selection of various gifts below for many interests. It's crucial to pick a gift that lines up with what someone likes, or they may never use it! If you aren't quite sure what someone is interested in, it's a good idea to ask them or someone close to them to get a better idea.
Durability - Thirteen-year-old boys are hard on everything they own. From their clumsiness due to growing into their body to that teenage boy smell, they are good at putting anything they own to the test. When purchasing a gift, consider how long it might last in the recipient's possession. It's best to choose a gift that is proven to stand the test of time and teenage boys. Checking reviews and product tests of your gift ideas are great ways to understand how much of a beating a product can take.
Quality - Quality is critical. Thirteen-year-old boys are notoriously hard on their belongings. Ever seen a pair of pants get holes on day one? Give it to a teenage boy. You want something quality enough to last your favorite teenager awhile but be mindful that they are still growing and rough on items—so the nicest of the nice may not be the best choice either!
Safety - Safety first, always. The safety of your gift matters. Thirteen-year-old boys are often more willing to take risks; keep this in mind as you shop! A BB gun may not be the best choice (at least not without parental approval), and a board game, tee-shirt, or other items might be on the safer side.
Gift & Toy for 13-Year-Old Boys FAQ
Q: What is a good gift for a 13-year-old boy?
A: Well, we've got a whole list for you! A good gift for a 13-year-old boy could be many things; science kits, clothing, games, or tech can all make excellent gifts depending on who your recipient is! If you're unsure what your favorite teenager wants, it would be a great idea to ask those close to him or take a closer look at the items he might have in and around his room or living spaces! Asking about extracurriculars and school interests is always an option too!
Q: What would a 13-year-old boy want for his birthday?
A: Every thirteen-year-old boy is different. If you're concerned, asking is a great option. Alternatively, we've compiled a list of items thirteen-year-old boys around the country love! Hopefully, even if you don't go with something on this list, it sparks an idea for when that celebration comes around!
Q: Should 13-year-old boys have phones?
A: This call isn't one we can make. It's up to parents what access to the outside world via a phone a child should have. While the age for having a cellphone seems to get lower and lower, it's best to check with the parents before purchasing a cell phone as a gift for a 13-year-old boy. If you do get a 13-year-old boy a cell phone, you'll likely be the favorite relative at least until next Christmas. You should make sure there's a plan to cover the monthly costs associated with a cell phone as well.
Other Related Guides
Best Toys For 1 Year Old Boys
Best Toys For 2 Year Old Boys
Best Toys For 3 Year Old Boys
Best Toys For 4 Year Old Boys
Best Toys For 5 Year Old Boys
Best Toys For 6 Year Old Boys
Best Toys For 7 Year Old Boys
Best Toys For 8 Year Old Boys
Best Toys For 9 Year Old Boys
Best Toys For 10 Year Old Boys
Best Toys For 11 Year Old Boys
Best Toys For 12 Year Old Boys
Best Toys For 14 Year Old Boys
Sign Up Now
GET THE VERY BEST OF GEARHUNGRY STRAIGHT TO YOUR INBOX