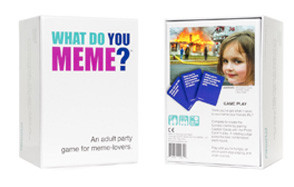 WHAT DO YOU MEME? Party Game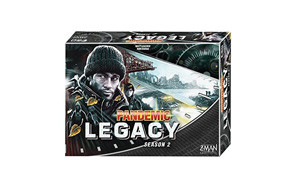 Pandemic Legacy Season 2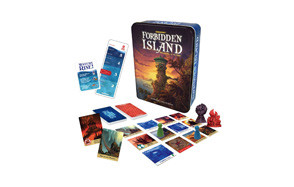 Forbidden Island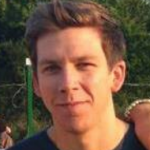 For many of us board games might be associated with our childhood. Hours spent together as a family, especially at Holiday times, rain pouring down outside, whilst we sit cozy and dry inside.  Mum and dad and even our Grandparents all together playing a good old fashioned classic board game like Monopoly. Whilst there might have been a move towards screen gaming these days, there is still very much a time and a place for a board game and so much fun and stimulation to be had too. Board games can be interactive, fun, challenging and foster an atmosphere of cooperation and competition! You can get anything from two-player to eight-player games covering off a wide spectrum of themes and topics from skill and strategy to fun and adventure. Let's review some of the best board games around that will have you getting back to basics.
The Best Board Game For Adults
Board Games FAQ
Q: Why Play Board Games?
A: Besides the obvious answer, that they are so much fun, board games can really help to develop logic and reasoning skills too as you will be required to apply some element of rational thinking, depending upon the complexity and scope of the board game you are playing. Perhaps not quite so applicable to good old Snakes and Ladders where your main skill is going to be in keeping your cool when your 5-year-olds keeps beating you because they've had more luck rolling the dice!
That's another great reason to play board games right there. Family fun and entertainment that is NOT screen related. A board game is a great way of uniting everyone together for some spirited competition! You are most likely to enjoy your family time together, sharing a laugh or working out a challenging tactical move, all of which will cement your camaraderie, trust, empathy and appreciation of each other. Well, that's the theory at least.
Board games are a great way to keep the old brain cog's sharpened but also to further develop memory formation and cognitive skills, rationing and problem-solving. That's important no matter what age you are and has been proven to beneficially aid against the onset of dementia and Alzheimer's which are linked to a decline in cognitive responses. The more utilized and stronger you brain remains, the better.

Board games can also help to lower blood pressure as you are actively involved for a few hours in nothing more strenuous than enjoying yourself! So we're also talking reduced stress levels too as a board game is a great way to just relax and unwind. Of course, that does depend upon how competitive you are! Generally, though, most people will experience feeling happier and more relaxed after a good old board game.
So really, no matter what your age, whether you're getting your children or your grandparents involved, a board game is like a session of therapy! Releasing endorphins, challenging motor skills and bringing you all around the table for some good old fashioned family fun.
Q: Board Games Or Video Games?
A: Depending upon what age you are, board games were most likely an integral part of your childhood and a much-loved way of spending some valuable time together during important holidays like Christmas. Things have certainly changed over the years and its quite likely that many millennials have never even played a board game as the trend has moved towards video games and screen time.
One of the key advantages of board games over video games is the social element. There aren't many video games that have been designed to handle more than two players. Yes, there are exceptions but on the whole video games are played in one or two-person mode. Board games on the flipside will cater from 2 up to say 10 players with the majority designed for 4-6 players or even teams which fosters more communication and interaction with others.
If you play online against opponents, you're quite likely to not even know who you are up against and this makes for a very impersonal gaming experience. With a board game, you are all live and present and sat together in the same room. This is a great way again or learning how to communicate and interact with people on different levels and from different ages. How you handle a grandparent might be different to how you handle a peer and for children, these skills are vital for the world at large.
Whilst its undeniable that video games graphics are getting bigger, better and bolder and can provide real escapism and immersive entertainment, you need the whole kit and caboodle to enjoy them. A board game is relatively inexpensive and incredibly portable so makes the perfect accompaniment on a camping holiday or a trip to visit family and friends giving you all an opportunity to get quickly reacquainted and to break the ice. There's no need to worry about running out of battery life either or having to have a charger on standby. Board games need nothing more than the board and the accessories for you to enjoy them time and time again.
We also touched on it above but board games, rather than have a detrimental and adverse effect on the body and brain, can positively help with issues like blood pressure, improving brain function and warding off later life dementia.
There's a time and place for both board and video games but certainly there is a compelling case to be had for the obvious benefits of a challenging and socially based board game.
Q: What Board Games Can Teach Us?
A: This is a really great question and some of the answers might just surprise you and provide you with a little Eureka moment of your own when you realize the great benefits of playing games that you'd never previously acknowledged. We already discussed above some of the reasons to play board games, like entertainment and cognitive development but board games actually go much deeper than that and really can be like a professional therapy session. Besides teaching skills like cooperation and competitiveness both of which equally have their place in today's society, board games can also help us with valuable interaction and interpersonal social skills. With so many screen-based games around and purely digital activity enjoyed by many, good old conversation and interacting regularly with other human beings is becoming more of a rarity.
Board games then can teach us some incredibly important life lessons.
Just because you are currently lagging behind does not mean that you will end up the loser.
Far from it. Sometimes that can be a strategy deliberatively deployed or sometimes luck may intervene and completely change your fortunes and the future outcome of the game. So too in life. The way things stand today is not the way they will play out tomorrow and that is a really important point to appreciate. Don't ever give up on the game because someone else's strategy and not just your own could radically change the outcome and improve your own prospects. Deep right?
Sometimes it pays to try a different path.
When we're playing a board game we can, of course, afford to be more reactionary and to experiment with different game-playing strategies. Who sticks to exactly the same plan every time they play? You may now have come upon the perfect strategy for you but it most probably was a process of trial and error. You win some, you lose some! Getting too comfortable and staying firmly within your safety zone doesn't allow for expansion or growth. So with board games, we may well have learned that sometimes it really does pay to think outside of the proverbial box and guess what, that's a strategy we might do well to employ in real life too. Stop is from stagnating and to keep challenging ourselves to move forward and better our game.
It's all a chance roll of the dice – you can't predict how they will fall.
A chance, not a risk is sometimes the overwhelming factor in your ultimate success. No matter how much strategy and intellect you apply to a situation, in some scenarios you just can't control the outcome and that's OK. You just need to learn to roll with it so to speak. Certainly, you wouldn't beat yourself up and think you were a prize A loser if you didn't win a game that day because the dice just weren't falling favorably for yourself. There's a valuable lesson you can learn there too. Yes, you should be as prepared as you can be for success but really sometimes an outcome may well just be determined by fate, just like the roll of a die.

Decisions, decisions, decisions?? Help!
Board games teach us that it's all about choice and the decisions we make at that moment. There's no time for endless procrastination when you are playing a fast-paced board game, especially when you have impatient opponents waiting to get their turn. So don't over analysis or be afraid to just go with your gut and make a decision. So what if it turns out to be the wrong one, at least you will have advanced. Without making decisions you can never advance and if you didn't advance, the game would never be won. Just remember to stay calm. You are supposed to be enjoying yourself! After all, it is just a game you are playing. Don't worry too much about making the perfect decision, just focus on making a decision.
Study the form, assess the situation, take note of any clues& play to your strengths
Some games might require collaboration and others are all about the individual challenge. Be sure to assess all the information, taking stock as you move along in the game so that you can plan out your best strategy. If you are working together as a team, play the game to each other's strengths and weaknesses. Know when to lead from the front or when it's your turn to take a bit more of a back seat.
Finally, don't let the game play spill over into real life
Gaming can be ruthless! Pitting your wits against your opponent in an all-out battle to be the supreme winner. Leave it there! Don't be a sore loser and don't gloat too much either, tempting as it might be. Enjoy your moment of victory then move on!
There you have it! I bet you never considered just how valuable playing board games really could be to your life skills and on-going self-development.