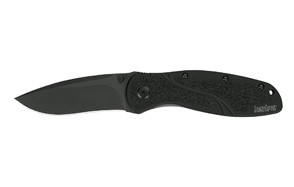 Kershaw Ken Onion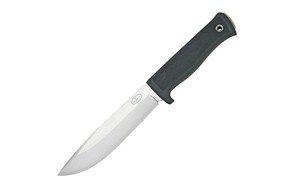 Fallkniven A1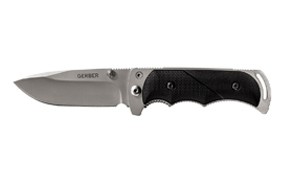 Gerber Freeman Guide
If you spend any time in the great outdoors camping, fishing, hunting or mountaineering you know that in a matter of just a few minutes a pleasant afternoon can turn into a survival situation when foul weather descends, temperatures drop and you're miles from your camp or the nearest fixed shelter. In cases like that it's crucial you have a first-class survival knife in your pocket or hanging from your belt. People die from hypothermia and suffer frostbite and trench foot in the thousands each year, so it's no exaggeration to say that a survival knife can be just that: the means of your survival. The difference between life and death.
Some of the ways a survival knife can save your bacon in desperate situations include:
Cutting kindling and firewood
Building a rudimentary shelter
Helping you start a fire
Cleaning fish
Opening cans
Dressing wounds
Cutting bandages
A survival knife then is not simply a piece of 'gear jewelry' that aspiring outdoorsmen wear to send mating signals, it's likely the most important thing you carry into the outdoors with you other than food and water. In this survival knife guide we're going to take a look at the 12 best survival knives as determined by our product review experts, several of whom are avid outdoor types themselves.
Our Top Picks For The Best Survival Knives
See More Reviews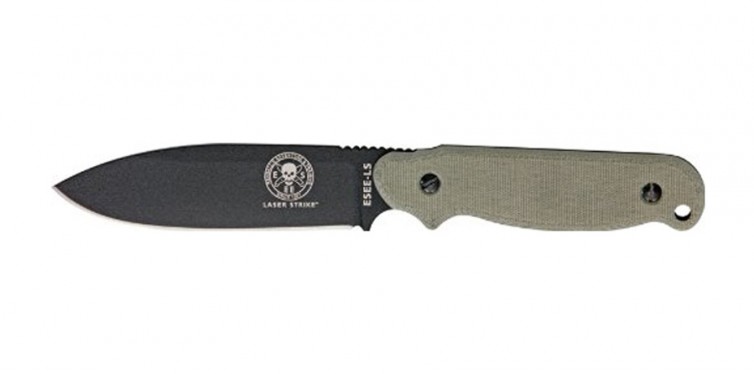 See More Reviews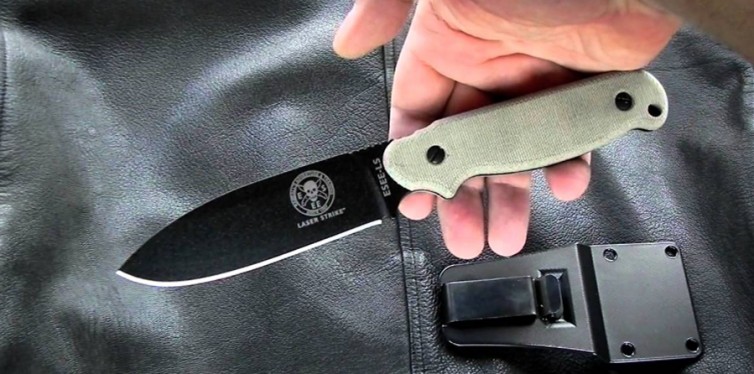 The Laser Strike Fixed Blade survival knife from ESEE is a workhorse. With a high carbon steel 4 ¾" blade, full tang, forward finger choil for added control, ferrocerium flint kit for starting fires and one of the most comfortable handles going it's the one piece of gear you'll lean on more than any other whether your outing is going well or all hell's broken loose.
The Laser Strike is an outstanding medium-sized all-around outdoor utility knife. It's not so big that it's going to impede mobility should you find yourself in tight spots yet it's more than big enough for cutting wood, whittling tent stakes, cutting underbrush for your emergency lean-to, skinning your trophy buck or even self-defense should you find yourself besieged. The kydex sheath holds the ESEE nice and tight with no rattling around and, should anything go wrong with the knife, you've got one of the best warranties in the business. With the ESEE Laser Strike as part of your outdoor survival kit your chances of surviving whatever comes down the pike increase exponentially.
Specification:
Brand

ESEE

Model

ESLSP-BRK

Weight

14.4 ounces
See More Reviews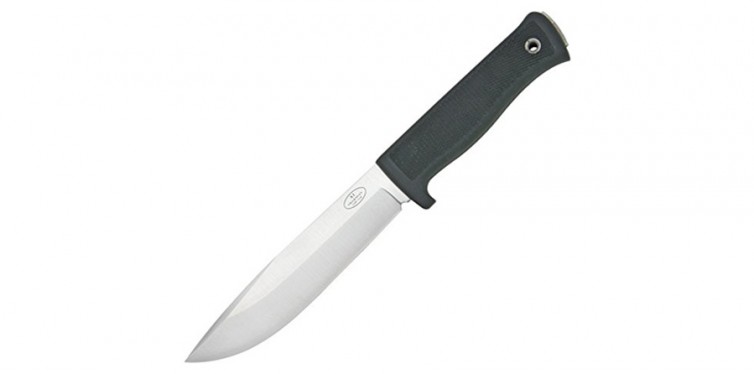 The Fallkniven A1 Survival Knife is a serious piece of survival gear intended for heavy duty applications but nimble enough for things like cleaning your catch. The laminated VG10 stainless steel used to make the 6 ⅜" blade is professional cutlery grade steel that's hard but durable and will stand up to rigors of emergency use in atypical situations.
Don't let the civilized look and feel of the A1 Survival Knife fool you. If the time comes when you have to chop branches to make an emergency shelter it will be there to answer the call without flinching. The full tang which peeks out the end of the handle can be used to break glass in emergencies and also ensures the blade isn't going to separate just because you're leaning into it a bit. Overall the knife is extraordinarily well balanced, can be honed to a razor sharp edge and the handle is equally comfortable in cold weather or hot. Who knows, you might even be able to make sushi with it. You'll pay more but you'll get more with the A1.
Specification:
Brand

Fallkniven

Model

A1z

Weight

14.4 ounces
3. Gerber Prodigy Survival
See More Reviews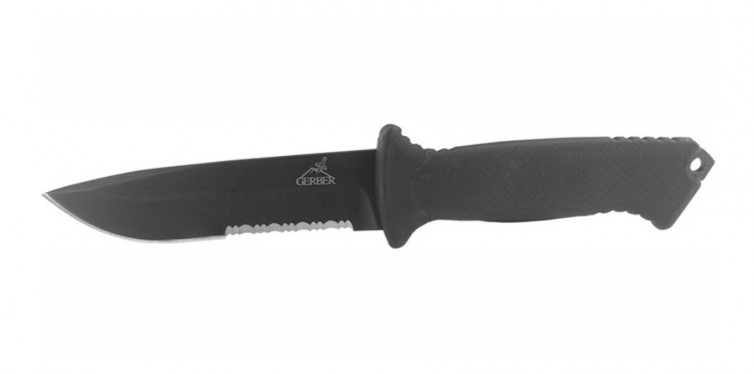 See More Reviews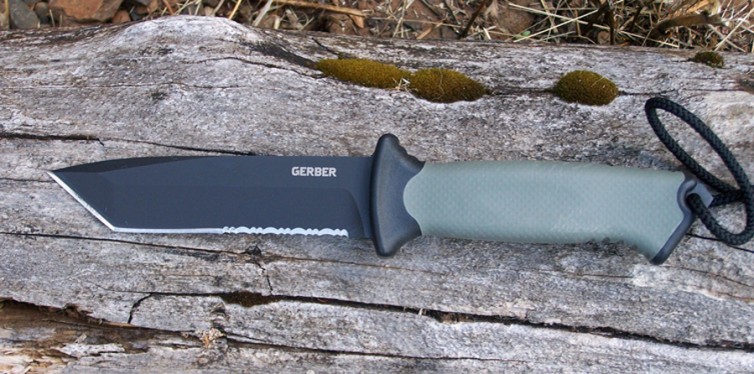 The Prodigy features a 4 ¾" high carbon stainless steel blade with full tang and black oxide coating. The textured soft-grip with generous flange ensures you'll never experience a catastrophic slip when you're working the knife hard and its relatively compact size means you'll have multiple carry options.
That oxide coating on the high carbon blade makes it better able to resist the corrosion that can typically befall this type of steel. And while we're on the blade, it has a serrated edge that can be the difference between surviving and succumbing to the elements as it will hasten the harvesting of materials for creating your emergency shelter. Overall the knife is exceedingly well-balanced and has the feel of a larger knife. It's also MOLLE (Modular Lightweight Load-carrying Equipment) compatible and comes with various attachment straps including a leg strap for superior versatility. A great all-around survival knife for relatively short money.
Specification:
Brand

Gerber

Model

22-41121

Weight

8 ounces
See More Reviews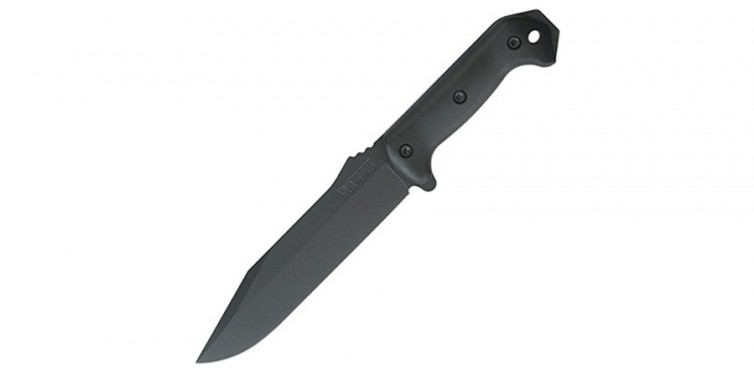 The Ka-Bar BK7 Combat survival knife was designed for soldiers in the field who require a knife that for cutting, prying, hacking, carving stakes, defending themselves and more. It features a 1095 Cro-Van steel blade that's a full 7" long and a Grivory handle of hybrid glass-filled nylon fiber that allows for a superior grip in all conditions.
The full tang chromium vanadium steel blade maintains its edge well and sharpens easily when necessary. It sports a textured thumb rest for an easier hold and more precise control that extends from the blade end of the Swiss made Grivory handle. The overall length of the knife is a healthy 12 ¾" so you won't be carrying this in your pocket, but you will be making would-be assailants think twice when you whip it out. This is not-to-be-messed-with survival gear for soldiers and adventurers and considering the affordable price you need to give it serious consideration.
Specification:
Brand

Ka-Bar

Model

BKR7-BRK

Weight

13.6 ounces
See More Reviews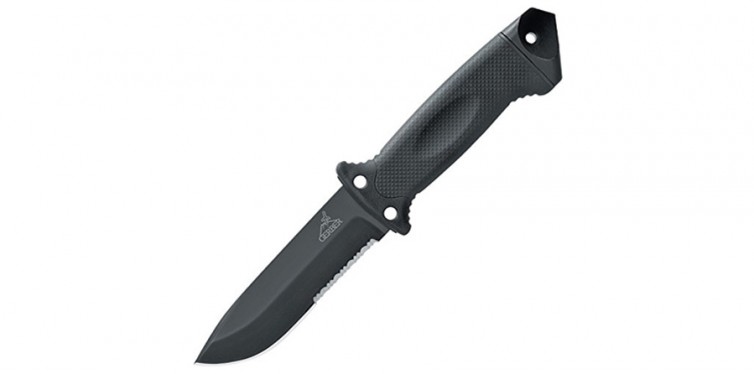 The Gerber LMF II Survival Knife is the kind of compact monster that winds up being the most valuable player in your survival kit. If all you carried was it and a roll of duct tape you could probably survive for months in the wild. This knife has garnered widespread praise and for good reason; it's perfectly balanced, easy to carry, durable as the day is long and razor sharp.
The LMF II survival knife will saw branches for your emergency shelter, allow you to break the window of an overturned car to extricate yourself or others, slice through a seat belt like a hot knife through butter (if you or one of those others is trapped) or make a spear to catch fish. It's MOLLE compliant for service members, and the overmolded handle will let you retain your grip regardless of what's falling from the sky or the conditions on the ground. The included sheath has a built in sharpener so if you dull the blade creating your shelter you can sharpen it right back up again. A beautiful, extremely handy and rugged piece of survival gear at a very reasonable price.
Specification:
Brand

Gerber

Model

22-01629

Weight

1.54 pounds
See More Reviews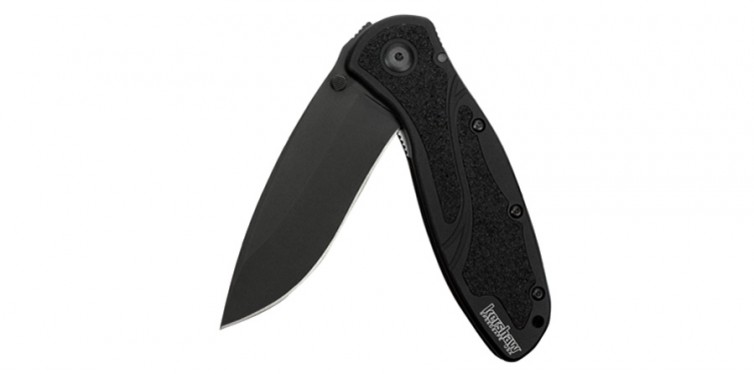 The Kershaw Blur has a modestly sized recurved blade with SpeedSafe assisted opening that can be brought to bear on the task quick and easy. It's one of only 2 folding survival knives on our list and earned its spot by way of that Sandvik, DLC-coated, corrosion resistant, stainless steel blade, light weight, reversible pocket clip, one-handed opening and affordability.
The handle of the Blur survival knife is tough, aircraft grade aluminum that has Trac-Tec inserts that allow for a deceptively solid grip. The blade opens quickly and quietly thanks to the built in, one-handed SpeedSafe mechanism and the pocket clip is fully reversible allowing you to decide whether to carry the Blur tip up or tip down. Beyond all that the Blur brings extreme portability to the table. It's a trim 4 ½" long when closed so it will fit neatly into any of your pockets (one less thing to get hooked on branches and bushes). We'd take the Blur survival pocket knife (see guide) with us into any outdoor situation without hesitation.
Specification:
Brand

Kershaw

Model

1670BLK

Weight

8 ounces
7. Gerber 22-01400 LMF II
See More Reviews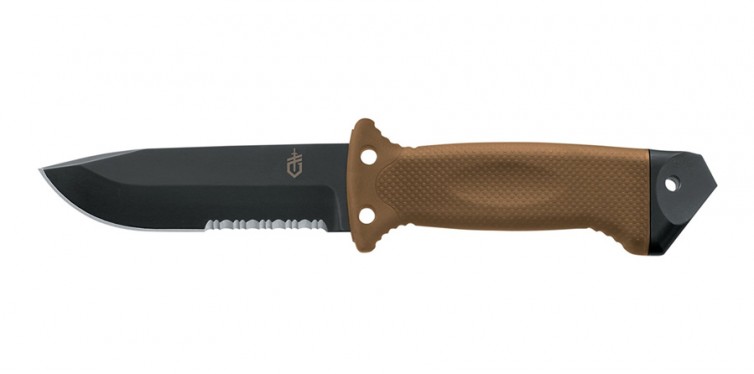 The third Gerber survival knife on our list is an LMF II variant that's a full 10" long from butt to blade tip and was designed by ex-military types with combat survival in mind. Fully 50% of the blade edge is serrated because soldiers know it's more likely you'll need to create effective camo or build a survival shelter than fight hand to hand.
The one-of-a-kind buttcap on the knife can be used to shatter glass should you need to extricate yourself from a burning vehicle. It can also be used against an opponent in those rare hand to hand situations. The handle is as comfortable as it is attractive and is lauded for its sure, non-irritating grip. One more feature that is sure to please is the built in sharpener. Nobody wants to find themselves in a survival situation with a dull knife after all. The Gerber LMF II Coyote Brown survival knife is a big, effective survival tool you'll be glad you have when the chips are down.
Specification:
Brand

Gerber

Model

22-41400

Weight

2.15 pounds
See More Reviews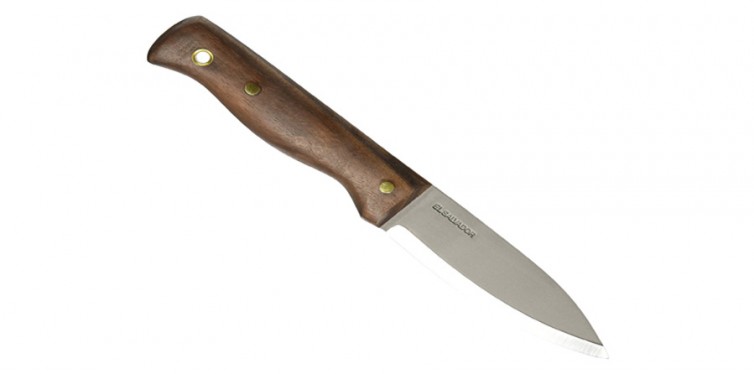 The Condor CTK232 is a classic looking full tang walnut handled survival knife with a timeless look and timely effectiveness. The company that makes it has been producing high-end military bladed weaponry for hundreds of years and also produces some of the most sought after civilian cutlery in the world.
You could be forgiven for thinking you've seen this knife in a kitchen somewhere because it has a domestic quality about it that's unmistakable. Upon closer inspection though you realize this survival knife was not created to slice onions on the chopping board but rather to skin rabbits, harvest firewood and carve tent stakes among myriad other outdoor applications. It's simple, solid as a rock, comes with a nice leather sheath and the walnut handle makes for one of the most comfortable knives you've ever held. You can even chop onions with it if you really want. Overall an impressive survival knife from the classical school of knife making.
Specification:
Brand

Condor Tool & Knife

Model

60004

Weight

12 ounces
See More Reviews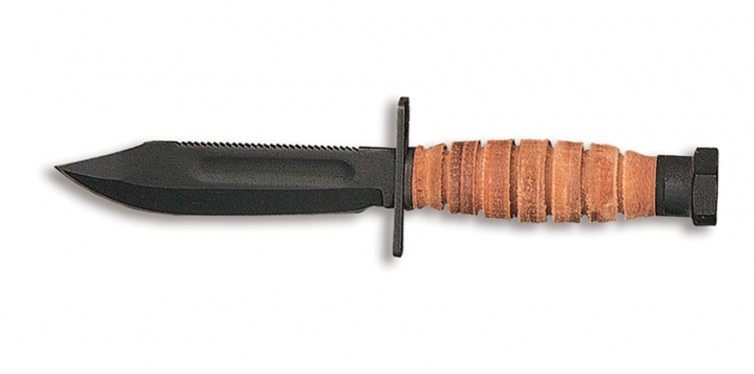 This knife has a throwback look because it's a genuine throwback knife. It's been part of the survival kit of US pilots for decades, designed to give them a fighting chance if they need to bail over hostile territory. With its distinctive handle, long serrated edge and industrial age design cues it's both fascinating and effective.
Make no mistake, the Ontario 499 Survival Knife is no mere curiosity. It's high value survival kit you'll find yourself reaching for nearly as often as the water bottle. The knife exhibits near perfect balance, the 5" blade is treated with a corrosion resistant coating of zinc phosphate, there's a sharpening stone included (with pocket on the leather sheath) so you're never left with a dull blade and the butt end can be used to hammer down tent stakes and the like. There's an old school approach at work here to be sure, but it works. And then some.
Specification:
Brand

Ontario Knife

Model

3278

Weight

9.9 ounces
See More Reviews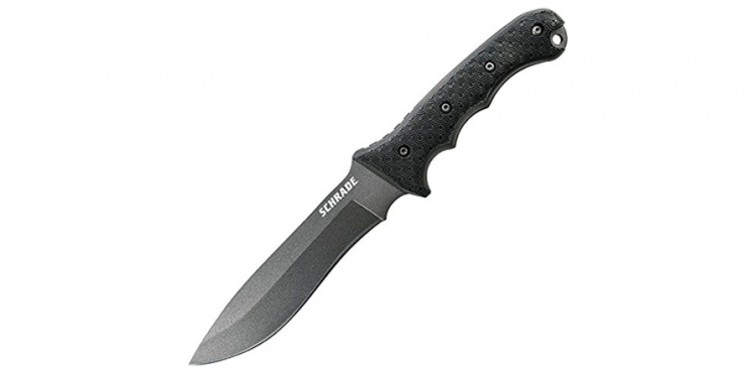 The Schrade SCHF9 Extreme Survival Knife sports a high carbon 1095 stainless steel full tang blade that's an impressive 6 ½" long. Whether you need to clean fish, skin an elk, carve tent stakes, cut bandages or free someone trapped by their safety belt the SCHF9 Extreme Survival Knife will answer the call.
At more than a foot in overall length the SCHF9 survival knife cuts a formidable profile. It might be a bit unwieldy for smaller folks but for larger outdoor types it's going to feel comfy and reassuring. The design ensures that force is projected toward the blade; a valuable ergonomic touch that's easy to overlook. While the carrying sheath is nothing special you're not purchasing this knife for the carrying sheath. You're purchasing it to enable your outdoor adventures and maybe extricate yourself from life threatening situations. And it will do those things brilliantly for short money.
Specification:
Brand

Schrade

Model

SCHF9

Weight

1 pounds
See More Reviews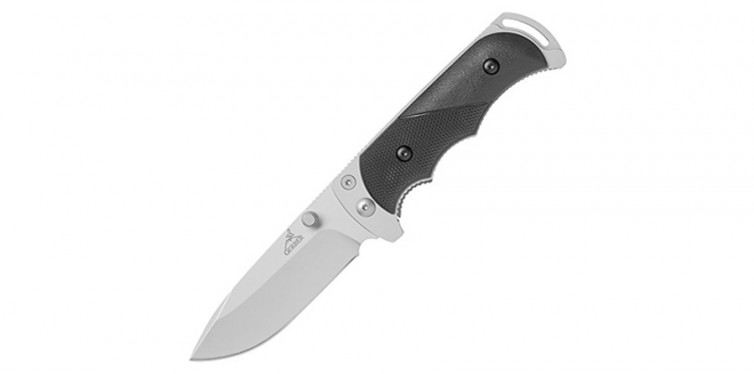 Our final survival knife is also our fourth Gerber entry and one that lovers of the survival pocket knife are sure to appreciate. The Freeman Guide Folding Knife is built to exacting tolerances, tucks neatly into your pocket, opens with silent urgency and performs whatever survival-related task you ask of it from cutting a branch to carving a spear to cleaning the fish you catch with that spear.
Gerber packs a lot to like into their modestly sized survival knife including a blade that's just over 3 ½" long, one handed opening of that blade, a supremely comfortable handle with TacHide for a sure grip regardless of the weather and a butt end you can use to break any glass that may be standing between you and survival. It's light weight, brilliantly engineered and costs about the same as a large pizza. An astonishing deal on a survival knife you'll carry with you for years.
Specification:
Brand

Gerber

Model

31-000591

Weight

8.8 ounces
Buyer Guide
Here are some of the most common questions we've encountered about survival knives.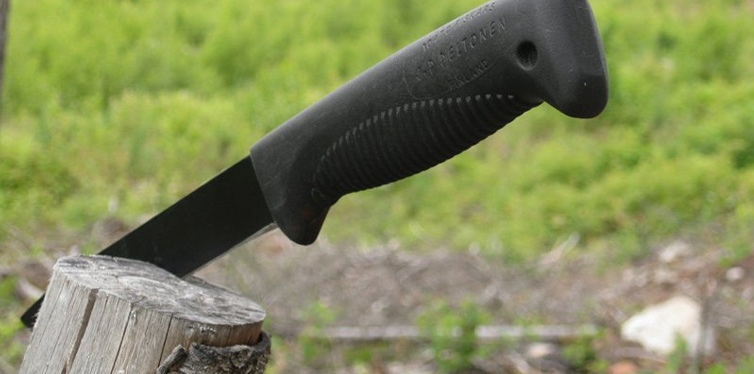 What Is A Survival Knife?
A survival knife is intended primarily to assist individuals who find themselves in survival situations in the wild. Perhaps they've become separated from their group or unit. Perhaps they've been caught far from shelter when bad weather closed in or perhaps they injured themselves backpacking and need to cut bandages and create a shelter and fire while they await rescue. Of course there are many more prosaic uses for a survival knife like carving tent stakes, cleaning fish, prying things apart or cutting wood for a fire.
Who Has Use For A Survival Knife?
Soldiers, hunters, backpackers, mountaineers, casual campers, rescue personnel, rangers and all manner of sports enthusiast commonly employ the survival knife in the performance of their duties, as part of their activities or to extricate themselves from life threatening situations. You'll often see carpenters, house framers and other craftsmen and women with a survival knife hanging from their belt.
Is It Legal To Carry A Survival Knife?
Knife laws vary from state to state, county to county and city to city. In most places knife laws are designed to discourage carrying a knife in a concealed fashion. In rural areas however, knife laws are typically far more relaxed so carrying a survival knife into the woods should not present a problem, unless you're talking a national park. Even then, any regulations are likely to be aimed at discouraging large, concealed knives. Be sure to check with the laws regarding open carry where you live before going out with your survival knife.
Who Makes The Best Survival Knife?
There are many manufacturers of high quality survival knives as the above list should indicate. As such one person's "best survival knife" manufacturer is likely to differ from another person's and who's to say who is right? We'd state with confidence that all of the companies that produced the knives on this list are experienced manufacturers of high quality knives.
Things To Look For When Buying A Survival Knife
While a survival knife is not a high tech item with dozens of technical considerations to weigh it is nonetheless a vital piece of survival gear and so it's important to know what you're looking for when you shop for a survival knife. Here are some of the key things you'll want to keep in mind.
Size – Size may not matter to some people in some circumstances but as far as a survival knife is concerned a 2 or 3" blade isn't going to be of much help when you're trying to harvest wood to build an emergency shelter. To be sure your survival knife doesn't have to have a foot long blade and be seething with destructive possibility but any blade shorter than 4" is just not going to cut it as a viable survival knife. Ideally we'd like a blade somewhere between 4 ½" and 5 ½".
Fixed Blade or Folder – When it comes to knives any type of joint or hinge is a potential weak point and a survival knife without a full tang will be practically useless for prying things open. So there's no doubt that a fixed blade with full tang will be more durable and hold up to greater levels of use and abuse than a folding survival knife. At the same time however there's something to be said for being able to carry your knife comfortably in a pocket rather than on your belt or leg. Still, if it were our decision we'd go with the fixed blade.
Tang – No we're not talking about the powdered drink but about knife construction. When it comes to a survival knife a "full tang" means the metal of the blade extends all the way through to the butt end of the handle in one continuous piece. The grip is then fashioned around the butt end of the metal. In this way there are no issues of the blade coming loose or breaking free of the handle and the survival knife will last longer as a result. Partial tang knife blades should be avoided as they'll eventually begin to loosen and become dangerous to use. If you have a choice always choose full tang.
Pointed Tip – You may have noticed while shopping for a survival knife that some seem to have a point on the end of the blade, and we don't just mean that it's sharp. We mean an actual point protruding from the end of the blade. Some people swear by pointed tips while others see them as being of little value and even representing an unnecessary danger. So who's right? In this case we'd come down on the side of the point which can be put to a variety of uses including cleaning fish more effectively, drilling or notching items you want to join, removing splinters, gear repair and more.
The Pommel or Butt – A survival knife is all about efficiency and effectiveness so the butt end of the handle should be put to some effective use or else it's simply wasted space. In many cases the pommel contains a solid, machined form that's designed to break glass in case you're ever trapped behind a closed window. This hard, finished end also doubles as a self-defense tool, allowing you to use both ends of the survival knife to defend yourself. In the case of the Ontario 499 reviewed above the pommel is deliberately shaped like a hammer so you can use it as such.
Handle – The handle on a survival knife needs to provide a sure grip in all weather conditions. The world doesn't care if you're in trouble and will often greet your distress with pounding rain, driving snow and either scorching or bone numbing temperatures. Regardless, you need to be able to retain a solid grip on your knife so you can continue to build your shelter, harvest wood and get a fire going. Keep in mind that if a knife has a hollow handle for storing things like matches it can't have a full tang. Also avoid any extras attached to the handle that could interfere with your grip.
Blade Shape – Most people who've never owned or used a survival knife come to the process of buying one totally unaware that there are different shapes to survival blades. Popular blade types are drop point blades and clip point blades along with serrated edges for sawing and hacking. A drop point blade has a wide tip that buttresses the blade's structural integrity while a clip point blade typically has a narrower point which is better for piercing or stabbing but is more susceptible to breaking off if you use it to pry things open. The serrated edge – either partial or full length – is non-negotiable as far as many people are concerned.
Sheath – You need a practical means of transporting your survival knife and that's particularly true if it is large and has a fixed blade like most do. Enter the sheath. Most every day carry fixed blade survival knife comes with a sheath though many are just perfunctory creations. The bottom line is that there are a few things you'll want present in your sheath including the lanyard attachment, belt loop, secure closing strap and a leg attachment so that you can strap a larger knife to your leg if you wish. It's also a good idea to get a sheath with a small pocket for a sharpening stone, in case you dull the survival knife cutting firewood or some other way.
In addition, there are a number of other features of varying degrees of importance that you may want to consider when shopping for your new survival knife. These include any type of finish on the blade, the color of the handle, the type of steel used for the blade (high carbon or stainless), the presence of a blood groove on the blade, finger guards, any decorative touches and more.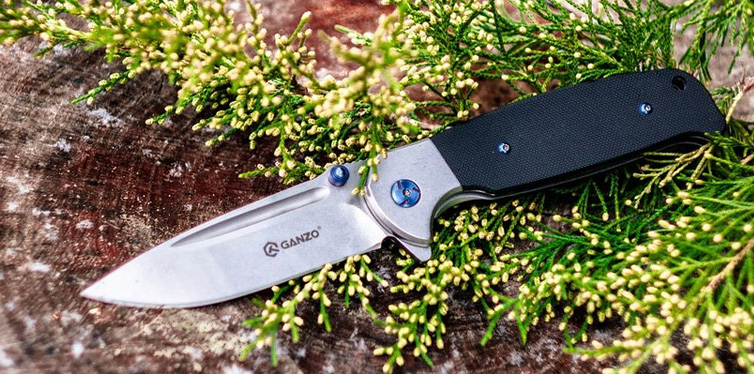 Conclusion
The survival knife isn't as glamorous as a hunting GPS system, a handheld outdoor espresso maker or digital HD recording binoculars. But when you're stumbling through the wilderness after injuring yourself in a fall and there's no shelter in sight, the snow is blowing in your face and night is falling you'll need it to build a shelter, gather wood, start a fire, cut bandages and open those emergency canned goods you brought along just in case. When it's time to begin looking for a survival knife keep the above reviews and tips in mind and you're bound to wind up with the right knife at the right price.
We hope you found these survival knife reviews useful and don't forget to check back regularly for more insightful product reviews from your friends at GearHungry.