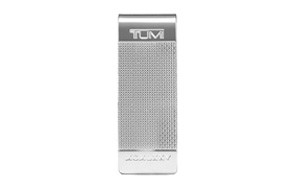 TUMI - Nassau Ballistic Etched Money Clip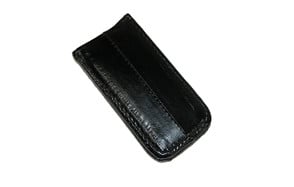 MJ Masters Men's Eel Skin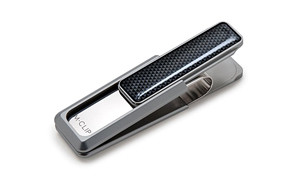 M-Clip Ultralight Slide V2 Anodized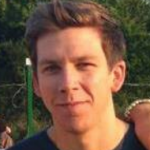 Money clips have been around as long as there has been paper money and in all that time they've remained essentially unchanged in concept: a piece of metal between which paper money is held to allow for its organization and prevent its loss. As the wallet gained currency (pun intended) in the 17th century however, the money clip went into a slow, inexorable decline in popularity that lasted for some 300 years. People simply preferred the larger carrying capacity of the wallet and wound up using it to hold everything from important documents to substantial amounts of paper money. Later, credit card slots were introduced in the wallet to accommodate most people's preference to shop cash free. But the rise of the credit card also signaled that the days of the wallet were numbered.
Today, as cash continues to diminish in relevance, important documents are digitized and people reduce the number of credit cards they carry – 15 years ago 23% of people had 3-4 credit cards, today that number has shrunk to 18% – the need to have a wallet the thickness of a pork chop in your pocket is declining and more and more men are discovering the convenience and utility of the money clip. In this review guide then we're going to highlight the 10 best money clips for men. Keep in mind this is not a scientific survey and as such your opinion may vary from ours.
The Best Money Clip
Money Clip Buying Guide
While money clips have been around for centuries they've only recently come back into fashion and so, while most guys are aware of their existence and may have even seen a few they often have questions regarding how a money clip works etc. Here are some of the most common questions we encountered while doing research for this review guide.

Q: Where Can I Buy A Money Clip?
A: Many high-end men's clothing stores will feature accessories such as money clips and there are a slew of online retailers today who do the same. You can often buy direct from the manufacturer's website although some prefer you purchase their product through something like a dedicated brand page on Amazon. Ebay and other online resellers also carry money clips.
Q: Why Use A Money Clip?
A: People have different reasons for using a money clip but the main reasons come down to convenience, safety and style. Carrying lose bills in your pocket is asking for trouble. People can and do pull things out of their pockets all the time and in the process drop lose bills to the ground that wind up making someone else's day. But besides keeping all your bills in one place the money clip is a major, if compact, fashion statement. Of course how fashionable yours is depends on how comfortable you are using it. So practice a bit before you go out with it.
Q: Are Money Clips Safe?
A: While there's no doubt you'll earn major style points for carrying a money clip and knowing how to handle it deftly, the question of whether it's safe or not comes down to the individual user. In one sense they're bound to be safer because they encourage the use of fewer credit cards. So if the clip is lost or stolen you've lost fewer cards. They're also safer because they prevent the loss of individual bills as mentioned above. In addition, many have magnetic locking mechanisms which make it even more difficult to lose individual bills; although such magnetic clips may cause damage to some of your cards which leads us to our next question….
Q: Can Money Clips Hold Credit Cards?
A: Virtually all are capable of holding credit cards but only some are designed specifically for that purpose. Most others are designed and engineered to hold whatever flat item you want to place in them, though it's assumed that will be paper money. If you're attracted to the idea of a magnetic clip but also want to carry credit cards it's best to get a money clip designed for that purpose with separate credit card sleeves that are removed from direct contact with the magnet. If you want to carry credit cards in a non-magnetic clip it's probably best that you only carry 1 or at most 2.
Things To Look For When Buying A Money Clip
While a money clip might seem like something that doesn't require a lot of thought because it's so small and simple that's not necessarily the case. There are actually several things you should keep in mind when shopping for a money clip. These include:
Style – If the purpose of the money clip is to enhance your image within the firm then you're going to want a money clip that is tastefully designed, not something with a beer company logo on it or one made of neon colored plastic. If you're just looking for something to help prevent the loss of the occasional bill while you're on the job site then style doesn't enter into the equation to any great degree. Just get something that speaks to your own taste.
Material – Money clips today are made from a variety of materials including stainless steel and carbon fiber. To a certain degree the style of the money clip will influence the material. For instance, an executive clip will likely sport high quality materials. Still, there are some clips that look like they're made of metal but are actually made of mostly plastic, so beware. If weight is a concern you'll want to investigate purchasing a carbon fiber money clip. This type of money clip is durable and often extremely lightweight although the true carbon fiber clips tend to be more expensive as well.
Size – Money clips came back into fashion because they represent a compact alternative to the bulky wallet. As such it would be self-defeating to make money clips or money clip/credit card hybrids too large and manufacturers understand this. Still, money clips run the gamut from barely there to fairly bulky affairs when separate credit card sleeves are involved. You'll need to decide up front how much you're willing to give up for convenience.
Magnetic or Non-Magnetic – A magnetic money clip will provide an extra level of protection against bills falling out and getting lost. They do this by embedding a magnet on one side of the clip and a piece of metal for the magnet to attract on the other side of the clip. In between is your cash, which is held securely. However, it is also heavier than the standard non-magnetized clip and, as mentioned previously, the magnet may damage some credit cards. That's definitely something you'll need to consider before buying this type of clip.
Made for Credit Cards or Not – Following up on the previous point there are plenty of money clips out there built to accommodate both cash, cards and business cards. Most of them are non-magnetic because, as we mentioned, a magnetic money clip may wind up causing damage to your cards. There are however some magnetic clip/wallet combinations that provide a separate pocket for carrying cards so that they're not wedged in with the money and directly subjected to the magnetic force, which could invalidate them.

Conclusion
The money clip is one of those things like the wheel whose inventor will never be known. Also like the wheel it's the kind of simple idea that has widespread appeal and myriad practical applications. Each clip in this review was chosen because it's a fine example of the state of the money clip art and each will provide years of reliable service.
We hope you found the information in this best money clip for men review guide useful in helping you make an informed decision when it comes to purchasing your new money clip. Be sure to stop back to GearHungry on a regular basis for more product reviews and guides from our dedicated team of experts.