Below the Belt: Best Boot Knives of 2022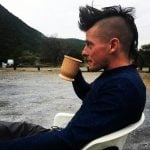 This product guide was written by Sam Anderson
Last Updated
July 1, 2021
Sam Anderson
Sam Anderson has followed a passion for well-told stories and nature's beauty from university classrooms to mountain adventures. After earning a bachelor's degree in literature, he leaned into a life fueled by road tripping, rock climbing, coffee and beer, and renegade camping. He has worked as a chainsaw operator, house carpenter, and window cleaner, at one point running his own window cleaning business. He has finally settled with his girlfriend and small zoo in the western American desert, trading his tool belt for a keyboard.
GearHungry may earn a small commission from affiliate links in this article.
Learn more
Is it just me, or is the boot knife surrounded by a bit of mystique in this country? It implies an element of surprise and desperation that's almost cinematic. I can't help but picture a sweating, grizzled desperado, out of bullets and out of luck, twisting in the high noon dirt as the other guy reloads. The shadows lengthen; his spurs jangle inextricably closer. The beaten man's only chance? That the other guy will get close enough that he can pull out his trusty boot knife and turn the tables.
But I digress. It's 2021, and we're interested in the best boot knives today. And a wide variety of people carry boot knives to help accomplish a wide variety of tasks. Your boot knife, or the best boot knife, then takes on whatever form you want it to. We put this product guide together to help demystify the category. Do you want a 12" boot knife? We reviewed it. What about a mini boot knife? A folder?
Or do you want something closer to the classic boot knife, a low-profile dagger that you can pull as a last resort? Well, we evaluated those too. And there's plenty of room in this town for the two of us, so come on in.
The Best Boot Knife Review
Cold Steel Recon Tanto Boot Knife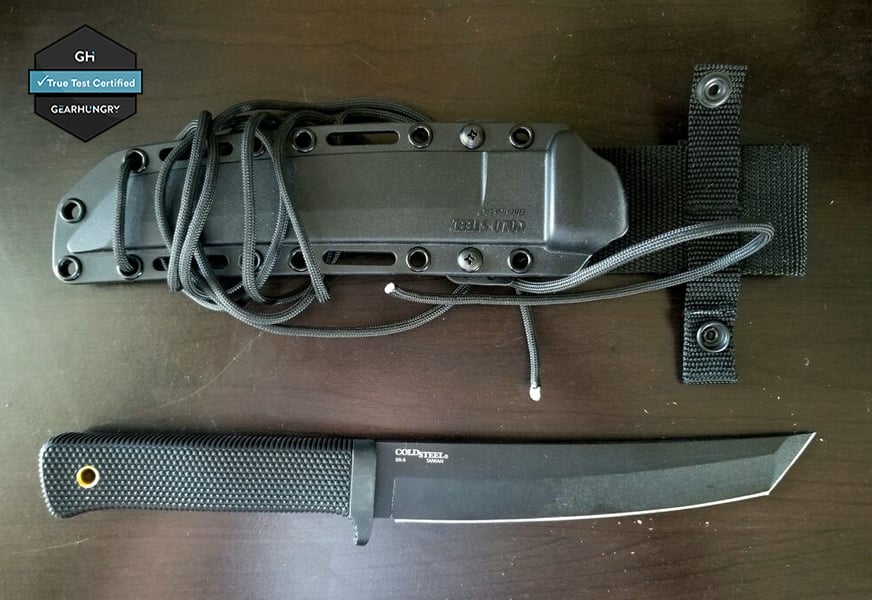 We wanted to test the upper limits of boot knife size, so we called up the Cold Steel Recon Tanto. The commanding blade is over a foot long in the sheath, and it has a badass SK-5 7" tanto blade. Tanto is Japanese for "short sword." Ever heard of a boot short sword? We wanted to see if it was possible.
But this wasn't just a novelty test; the Recon Tanto has an outstanding reputation for utility and durability, due to its reputation as a combat field knife for SWAT teams and others. During my test, the knife lived up to the hype. The black coating on the blade did scar pretty easily, but otherwise, the knife didn't budge. I didn't bend or break it under reasonable stress testing including bouncing on it with my full weight.
SK-5 is tough by nature, and Cold Steel deploys a 5mm thick piece for the Recon Tanto. Because the blade's belly is not deep, that translates to a robust cutting edge. The edge was a bit cumbersome for daily tasks, but it did not dull easily and it was very easy to sharpen. The Kray-ex handle felt secure in hand, and the weight was pleasingly balanced slightly toward the blade.
Carrying the Recon Tanto as a boot knife means carrying it outside your boot; period. The knife is way too thick to be comfortable under any boot. And most users who want to boot carry it will also be behooved to tuck their pants into their boots or wear shorts.
But for anyone who does want a short sword as a backup knife, and/or doesn't need to conceal their boot knife, the Cold Steel Recon Tanto is a great choice. Resilient, easy to maintain, and intimidating, it's a distinct tool. Read the in-depth review here.
Key Features:
12" long in sheath
Strong SK-5 steel
5mm tanto blade with a robust edge
Specification:
Brand

Cold Steel

Model

Recon Tanto in SK-5

Weight

12.7 oz.

Overall Length

12.25" (in sheath)

Blade Length

7"

Blade Shape

Tanto

Steel

SK-5, coated

Handle

Kray-ex
Durable
Big
Suitable for heavy duty tasks
Not practically concealable
Heavy
Gerber Ghostrike Boot Knife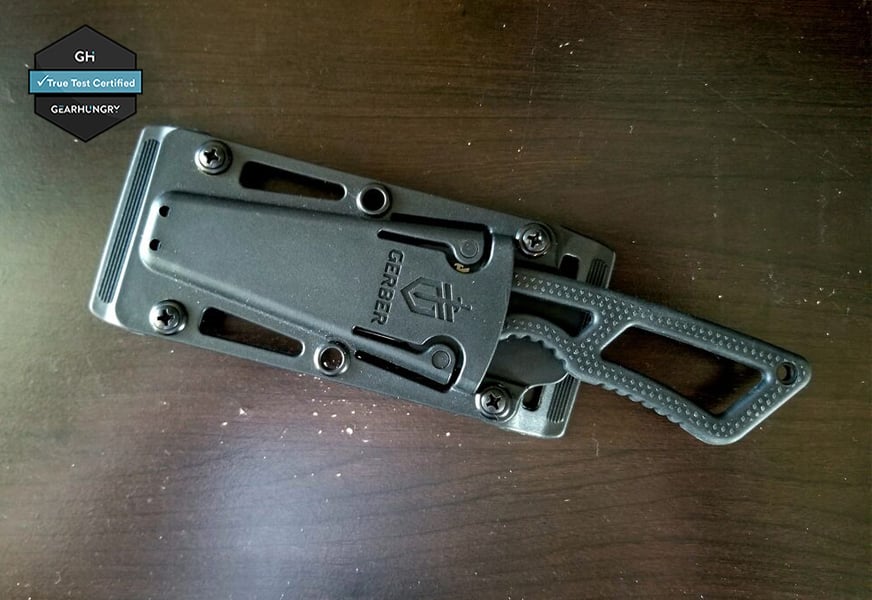 Gerber's Ghostrike fixed blade is optimized for concealed carry. The knife itself is super lightweight and minimal. The low-profile sheath with removable belt slots adds as little bulk as possible. And it's ambidextrous, so the user can insert the knife for a left- or right-handed draw. Unfortunately, a couple of quality deficiencies held it back during my review.
The Ghostrike is nothing if not minimalistic. The knife has only two embellishments, and both are functional. The drop point blade has a groove cut into the spine, which is where the user's thumb lands. And the skeletonized handle is rubber coated for grip.
Otherwise, the knife is as close as you can get to a single piece of steel, optimized for weight and low profile. The blade's cutting edge is an ample 2.75" long, and the finger choil is deep for added grip security. The sheath is built around the same logic, at just over a quarter-inch thick.
The Ghostrike's performance was decidedly mediocre. First of all, my test unit had a very inconsistent grind. From the tip to about a half-inch back, the edge grind was effectively a single bevel. Secondary grind is something a knife maker, especially an experienced one like Gerber, needs to get right every time.
Another, equally offensive problem was that the knife rattled in the sheath. It was secure, and I liked the retention. But no matter which way I put it in, I couldn't stop it from rattling. Obviously, this poses a problem for boot knives with sheaths meant to be concealed. The rattle looks like a QC inconsistency; another user reports the sheath holds the knife so tightly that it's hard to draw.
Take away those two troubling QC issues and the knife was pedestrian. 420HC steel isn't going to impress anybody, and it didn't impress me. The Ghostrike's most identifiable strength was its light weight and low profile. But those qualities weren't enough to overcome its deficiencies. Read the in-depth review here.
Key Features:
5/16" overall thickness in the sheath
420HC coated blade
Rubberized skeleton handle
Ambidextrous sheath
Specification:
Brand

Gerber Gear

Model

30-001005

Weight

3.5 oz.

Overall Length

7.2" (in sheath)

Blade Length

3.25" (2.75" cutting edge)

Blade Shape

Drop point

Steel

420HC, coated

Handle

Skeleton, rubberized
Low profile
Interchangeable left/right handed draw
Light weight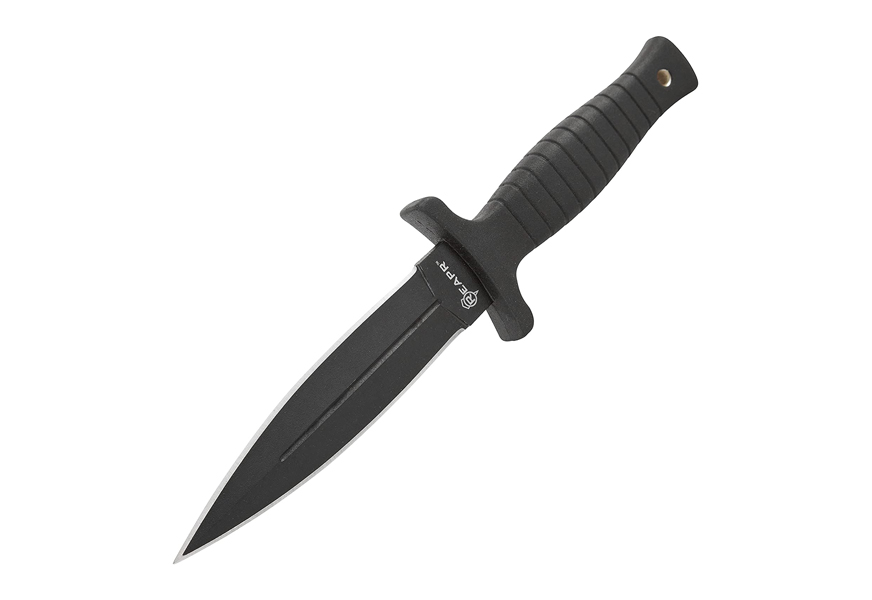 In a lot of ways, Reapr's Tac Boot is the quintessential boot knife. Its dagger blade is black oxide coated to limit visibility. Its fiberglass TPR handle is low-profile and has a pronounced cross guard for security. And its nylon sheath molds to any shape the user needs it to assume.
The Tac Boot is 9" long in total, with a 4.75" blade. That's quite a bit of double-sided blade, so if you're going to keep the Tac Boot inside your boot, make sure you have a tall enough upper. The dagger point tapers at a sharp angle, making for a narrow tip. The blade is 420 stainless steel, which has been used in tactical knives for around a century. It's an all-around moderately performing budget steel.
The Tac Boot has a soft nylon sheath, which means it should wear well inside a boot. I'd recommend velcro straps to secure it around your leg, although a parachute cord should also do the trick. Retention straps, like the one on the Reapr sheath, can be a hassle. But you can usually get away with ignoring them or cutting them off as long as you secure your sheath well enough.
All things considered, the Reapr Tac Boot is a workmanlike blade, styled as a classic boot knife. There's nothing amazing about it, but at its price point, there doesn't have to be. 
Key Features:
420 dagger blade
Nylon sheath
9" total length
Specification:
Brand

Reapr

Model

11002

Weight

7 oz.

Overall Length

9"

Blade Length

4.75"

Blade Shape

Dagger

Steel

420, coated

Handle

Fiberglass
Inexpensive
Big crossguard for grip security
Ka-Bar Becker BK11 Boot Knife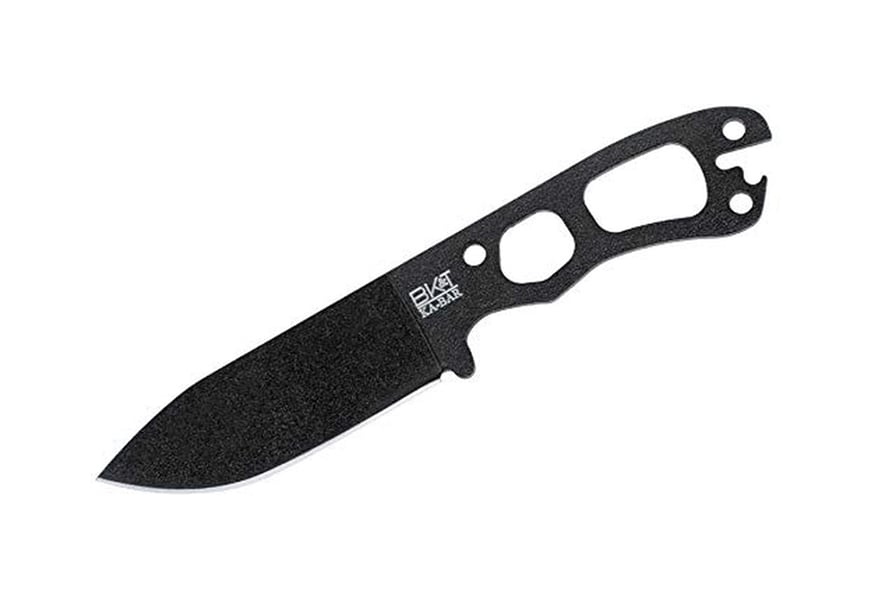 Ka-Bar's Becker BK11, though categorized as a neck knife, is the brand's best knife for boot utility. Its extremely low profile, simple drop point, and unwrapped handle make it an ideal choice for an American made boot knife.
The BK11 weighs in at 3.2 oz., so you'll never notice its weight. That being said, it's still big enough to get the job done at 6.75" overall length with a 3.25" handle. Ka-Bar insists, as usual, on 1095 Cro-Van steel, which is durable as hell. It does rust easily, but that's why many Ka-Bar knives, including the BK11, are coated. Coatings also give tactical boot knives the advantage of limiting reflectivity.
The BK11's sheath is low-profile, MOLLE-compatible hard plastic. Ka-Bar sheaths don't always have the best reputation, but the BK11's toggling lock mechanism looks like a reasonable backup. As shipped directly from Ka-Bar, the knife comes with a parachute cord for lashing. Ka-Bar also points out that the sheath is compatible with its modular belt clip. The clip can be purchased separately and the brand also recommends it for boots.
Ka-Bar's long reputation for military service is combat-centric and relies on the reliability of its fixed blade knives. For military boot knives, the BK11 will be near the top of many users' lists.
Key Features:
Unwrapped handle
1095 Cro-Van blade, coated
Hard plastic sheath compatible with belt clip (sold separately)
Specification:
Brand

Ka-Bar

Model

BKR11-BRK

Weight

3.2 oz.

Overall Length

6.75"

Blade Length

3.25"

Blade Shape

Drop point

Steel

1095 Cro-Van, coated

Handle

Unwrapped 1095
Durable brand reputation
Low-profile
Ka-Bar sheaths can be suspect
United Cutlery Sub Commander Mini Boot Knife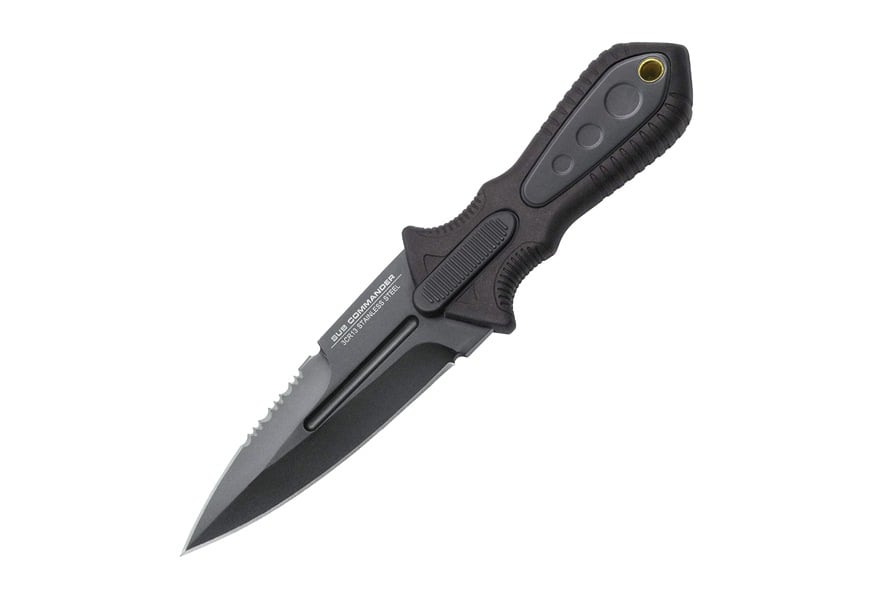 The Sub Commander Mini is a badass little blade at an unbeatable price point. It's got cheap AUS-6 steel, a 2.5" dagger blade with one combo edge, and a textured TPR handle. United Cutlery is strikingly graphic when describing its intended use; but what else are you really going to use a mini boot knife for?
Ok, you could open packages with the Sub Commander Mini. And no matter what, you'll be able to cut with it. The combo edge has a long series of serrations. This could become important, as AUS-6 steel is one of the softest alloys on our list. Of course, it will get razor sharp, just like any other steel — it might just require a little more love. In adherence to the overriding category theme, the blade is coated.
The TPR handle has an aggressive crossguard, which is important when your knife handle is only 2.5" long. If you're going to carry the Sub Commander Mini, I'd recommend threading a fob through the brass lanyard ring.
The sheath is flat Kydex, with eyelets providing the only lashing options. That said, the knife is so small, you'll probably be fine attaching it with a parachute cord.
At the price, it's hard to find a more concealable knife with a better reputation. It has its drawbacks with its cheap steel and short handle. But the entry cost for trying to make it work is minimal. For more handy blades like this one, check out our list of the best EDC knives on the market.
Key Features:
2.5" dagger blade with one combo edge
TPR handle with cross guard
5" overall length
Specification:
Brand

United Cutlery

Model

UC2724

Overall Length

5"

Blade Length

2.5"

Blade Shape

Dagger (one combo edge)

Steel

AUS-6, coated

Handle

TPR fiberglass
Small; easy to conceal
Cheap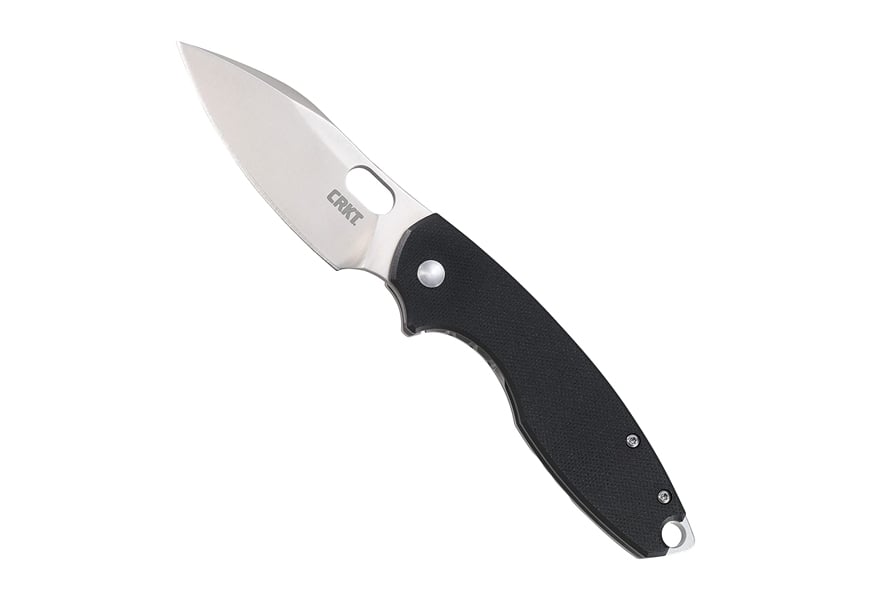 Here's an idea: instead of getting a fixed blade boot knife and worrying about lashing the sheath to your boot, just get a low-profile folder with a robust pocket clip like the CRKT Pilar III.
The Pilar III is an example of the best folder I can think of for boot carry. Why? First of all, it's narrow — a quarter-inch thick without the clip. You don't want a big thick chunk of metal grinding against your leg inside your boot. Second, it's got a G10 handle with a modest texture that shouldn't abrade your skin too much. Third, it opens with a thumb slot instead of a thumb stud or push button. Though I'd assume accidental opening would be as rare in your boot as it is in your pocket, you don't want to take any chances.
Finally, the Pilar III has a stout enough clip to attach to a boot. Go too flimsy or narrow, and you're asking for trouble.
Wearing a folder as a boot knife is not what I'd call conventional, but it can definitely be done. And in the Pilar III, you get an affordable and versatile knife executed by an experienced brand, and designed by a master. For more amazing gear, check out our guide to the top pockets and folding knives.
Key Features:
Clip point D2 blade with thumb slot
G10 handle
Steel frame lock
Specification:
Brand

CRKT

Model

5317

Weight

3.6 oz.

Overall Length

7.25"

Blade Length

3"

Blade Shape

Clip point

Steel

D2

Handle

G10
Low-profile
An affordable but good designer and brand pedigree
Why Trust Us
By nature, boot knives are versatile and capable in a variety of situations. Our team of experts has carried boot knives in a wide array of applications, from hunting to backpacking to backcountry construction. The top boot knives fulfill a tactical capacity as well as everyday use requirements.
Who This is For
Boot knives are carried all over the world by people in a wide variety of professions. Their tactical component is obvious, but people also wear boot knives prolifically in utility capacities. I've worn a boot knife as a chainsaw operator on a trail crew, as well as on backcountry hiking trips. Bushcrafters can be boot knife devotees, and so can hunters.
How We Picked
"Best boot knives" is a fairly broad category; the only defining criteria is a knife carried in a boot. Therefore, they can take on a lot of form factors, intended uses, and carrying styles. We tried to hit a pretty broad segment of the entire spectrum.
How We Tested
The only thing that matters with a boot knife is whether it's comfortable and useful to you. And they can take on a lot of varying characteristics. For those reasons, we tested a traditional, low-profile fixed blade boot knife as well as a commandingly-sized utility/tactical knife. It's useful to remember that you may or may not need to conceal a boot knife; therefore, it doesn't necessarily have to take on any specific form factor. 
Features to Look for in Boot Knives
Size — Think about the size of your boot when you're thinking about the size of your knife. That's especially important if you want to conceal your boot knife. If not, the knife just needs to be a size that lets you attach it to your boot securely.
Weight — If your boot knife is too heavy, you'll get sick of it and stop carrying it. Weight is a major factor if you're going to walk a long way or over rough terrain while wearing the knife. But you won't notice it as much if you don't travel a lot by foot.
Handle — You'll need to be able to draw your boot knife reliably and, in some situations, quickly. So, it needs to have a handle you can find a secure grip on with relative ease. It's also worth noting that you'll most likely have to attach any boot knife with a thick handle outside your boot. The thicker the handle, the more the knife will push the boot away from your leg. Eventually, it gets awkward.
Blade Length — Anything and all blade length goes for boot knives; it depends on what you need it for. The main factors are concealment and attachment. If you want to conceal a boot knife, it probably needs to be pretty short. Even 8" boots only have around 6" of upper above the ankle, and you definitely don't want your knife point digging into your ankle.
As far as an attachment, just make sure the knife blade is short enough that the knife will fit into or on your boot. The classic boot knife has a fairly short fixed blade, but again, I interpret the category as quite broad.
Blade Material — Every steel alloy used in knives exists somewhere within a triangulation between several qualities. Hardness, edge retention, wear resistance, and corrosion resistance are the most common. No knife steel can be considered perfect; all deliver advantages and disadvantages. We'll briefly explain the steel used for each knife when we analyze that knife.
Blade Shape — Knife blade shapes are similar to knife steels; each one has advantages and disadvantages. Here's a list of the blade shapes utilized by the knives in this guide, and their defining characteristics:
Drop Point: Both the spine and edge taper toward the point. Drop points are widely useful for everyday tasks, slicing, etc.
American Tanto: The tanto has become the preferred shape for tactical or combat knives. The edge angles straight toward the point near the end of the blade, to create a tough but sharp point that's good for puncturing.
Dagger: Sharp on both edges; both edges taper equally toward the point.
Clip Point: Like a drop point, but features an additional grind from the spine toward the point. Help make the point narrower, reducing drag and increasing utility.
Edge Style — Plain, serrated, or combo. Most boot knives have plain edges, but some feature a combo edge with serrations at the blade's base. Combo edge blades can be useful because they enable sawing; thus, they can be used for cutting even when dull.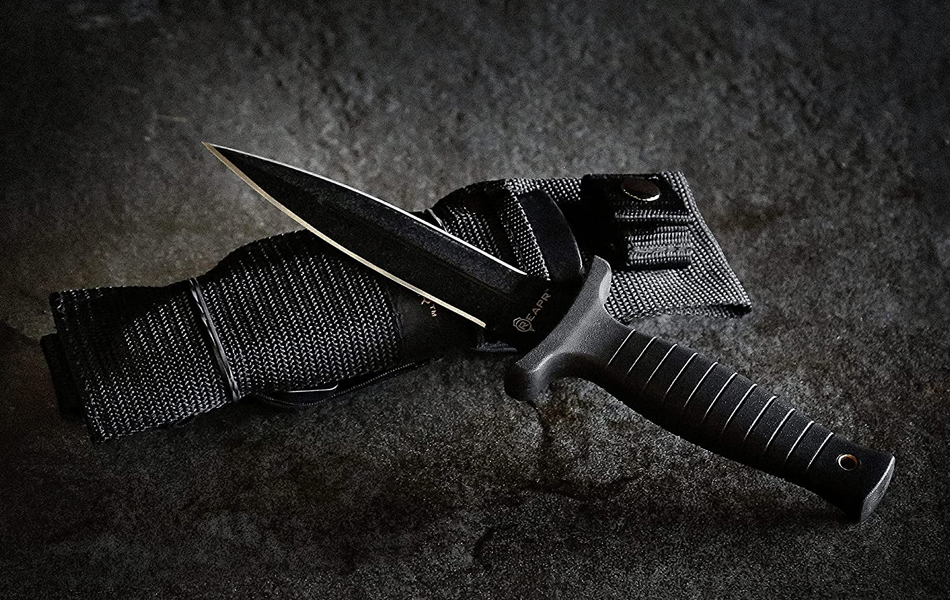 Boot Knife FAQ
Q: What is a boot knife?
A: I take the broad arc around this one and maintain that a boot knife is simply any knife carried in or on a boot. Why not? There are certainly enough applications for boot knives to warrant a broad variety of form factors.
But traditionally, a boot knife is generally a fixed-blade knife, often a double-edged dagger. Boot knives generally occupy backup roles for their users' primary edge weapons. As such, they're typically regarded as tactical or self-defense tools.
Q: Why get and carry a boot knife?
A: A boot knife's strength is generally either concealment or primary blade backup. For the most part, they're used as tactical tools. However, they can serve other purposes. If you already use your belt to carry a lot of other tools, a boot might be the best place to carry a knife. And because there's generally little danger of losing a knife once it's attached to your boot, it can be a good standby. Good boot knives suit the user's specific purposes without getting in the way of daily activities.
Q: Is it legit to carry a boot knife?
A: Translating "legit" to "legal," the answer is "it depends on where you live." The best comprehensive resource for knife laws that I know of is the American Knife and Tool Institute. Here's their map-based guide to knife laws in all 50 states. You'll want to evaluate these main factors: blade length, concealed carry, intended use, and age of the user.
In terms of "legit," hell yeah, carrying a boot knife is as legit as Steven Seagal, Crocodile Dundee, or swimming across an ice-cold river carrying a blade between your teeth.
Q: What are the common uses of a boot knife?
A: Most people think last resort when they think of a boot knife, and honestly, that's pretty on-point. Generally, there's room on anybody's belt or at least in their pack for their primary knife. A boot knife is usually an auxiliary blade. That said, people carry boot knives in a lot of different situations. Hunters, bushcrafters, soldiers, and even hikers can use boot knives.
Q: How do you wear a boot knife?
A: There are two ways: inside or outside your boot. From there, ingenuity is the only limit on the available options. I've generally used parachute cord, especially since most knife sheaths have eyelets that can accommodate it. The downside is that parachute cord can be a lot of work; sometimes it doesn't hold its position all that well, and it can dig into your skin.
A lot of sheaths also have flat slots for velcro straps. Velcro can be advantageous because it's easy to adjust, and a wider strap can hold its position better.
Finally, it's possible to attach a boot knife sheath directly to your boot by sewing it or using hardware. If I was dedicated to wearing one, this would be the way I would go. It sounds a little intense until you think about wearing a boot knife every day. If that's the case, why not make the sheath part of your boot?
Q: How do you maintain a boot knife?
A: The golden rule of knife maintenance is to never put a blade away wet or dirty. Keep it clean and dry to prevent corrosion or damage to any mechanisms. From there, choose your own sharpening adventure. We recommend using stones in a succession of coarsenesses. You'll want to start with the coarsest stone and pass the full length of the blade across the stone at the angle of the secondary grind. Count your strokes, flip it over, and do the same to the other side of the edge. Practice and you'll get better.
If you want to use a countertop kitchen sharpener, that's your business. I've been known to do it to knives I don't really care about. But they are easy to use; there's little or nothing to master about the method.
Sources:
State Knife Laws - American Knife & Tool Institute
A Pocket Guide To Knives - Hagewisch
Sign Up Now
GET THE VERY BEST OF GEARHUNGRY STRAIGHT TO YOUR INBOX