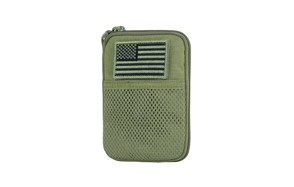 Condor Pocket Pouch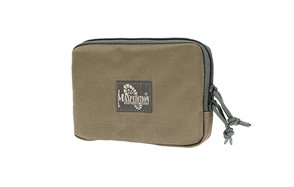 Maxpedition Hook-and-Loop Zipper Organizer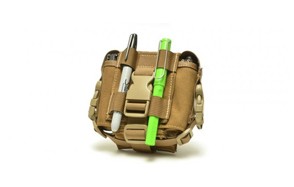 Skinth Trail Blazer
EDC kits, pouches, or whatever you want to classify them as, are all different depending on the user. There are universally beneficial products, some that are designed for your minimalist needs, while others are designed for hikers and engineers. The point is, there's an EDC kit for everyone, but organization is the other side of the same coin.
You found your perfect EDC, comprised it of custom items over long research hours and tedious planning, but now it's a mess. Whether it's a quick slip into the pocket, your pouch, or even thrown into the mesh of your backpack, you need organization. We're either sporting these organizers ourselves, or our close friends have been for ages, and it all comes down to cutting out the guesswork for you. Here are the best pocket organizers for EDC, curated by the Gear Hungry team.
Our Picks Of The Best EDC Pocket Organisers
Maxpedition Fatty EDC Pocket Organiser
See More Reviews

In a pocket pouch design, our number one comes in with excellent durability and a compact size of 5" x 7", with 2" of thickness. You'll barely notice it in the pocket of your jeans or dress pants, giving you ultimate control over your EDC and its covert display. This easily slips onto your backpack with the lanyard latch, can be thrown into your messenger bag, or simply fit into your front pocket with ease. Six divisions, interior zippered pocket, and a clamshell opening for proper function.
Specification:
Brand

Maxpedition

Model

1454

Weight

3.52 ounces
Condor EDC Pocket Organiser Pouch
See More Reviews

Brimming with US pride and functional beyond belief, the Condor is the perfect addition to your tool bag (at a great price), or works as an individual pocket organizer. Designed to fit numerous EDC tools and works wonderfully in your luggage—we're big fans of getting multiple pocket organizers for different occasions: EDC, travel, and work. This organizer is large enough to fit slightly bulkier items, such as a pocket knife, and is crafted of durable nylon. Star spangled patch is removeable.
Specification:
Brand

Condor

Model

MA16-001

Weight

4 ounces
Bellroy Essentials EDC Pocket Organiser
See More Reviews
This killer organizer is best used in accordance with a suit or your corporate-casualwear, and comes in four colors to contour to your style. Enclose valuables, such as your passport or wallet, or even your cell phone. The durable case is designed to protect your items, all backed by Bellroy's three-year warranty. Weatherproof (though you shouldn't go throwing it in the lake) and ready for anything, Bellroy's got your back.
Specification:
Brand

Bellroy

Model

WAEA-Black

Weight

5.6 ounces
See More Reviews

Tactical and equipped to travel with you throughout the day, this organizer comes with SRBs on all flaps, a flat bottom so you can pack it away in your briefcase or backpack, and additional storage apart from the organizational pouches. Slip it into your belt, hang it from the stainless steel clip, or use the horizontal straps to attach it to your hiking pack for essential items. The internal divider, solid construction and killer style are all draws to this item, but our favorite part is the customization—put your organizer in your hands just the way you want it, and customize every part of it before purchase.
Specification:
Brand

The Skinth

Model

Trail Blazer
See More Reviews

Designed to last you a lifetime, this daily-use organizer is durable as they come, crafted with Military-grade Cordura lightweight nylon, sporting a water resistant coating. The fully padded internal walls are excellent for cradling fragile items, such as your smartphone or tablet, all without compromising on storage space. Ample pockets and an adjustable carry are complimented with a LumenTec battery organizer, able to hold a few different types of batteries or be used so hold a SIM card if you'd prefer. Sturdy is the name of the game, and this is how they play.
Specification:
Brand

Nitecore

Model

NDP10

Weight

14.1 ounces
Maxpedition Gear Hook Mini Organizer
See More Reviews

Truly meant to slip into your pocket, this killer style is ultra cost-effective, and measures 4-3/8" wide and 7" tall. The hook-and-loop organizer is straightforward with no BS to carve through, while the elastic loops are universal for whatever you want to (and can fit) under them. If you're looking to organize your EDC and you're on a budget, the durability of Maxpedition's products are the perfect fit for you.
Specification:
Brand

Maxpedition

Model

MX3507K-BRK

Weight

0.3 ounces
Maxpedition Hook-and-Loop Zipper Organizer
See More Reviews

Outfitted to a grand total of 2" tall and 2" wide, this organizer comes ready to stash your gear and bag accessories from screwdrivers to card-sized multitools. This is ideal to slip into a backpack or your back pocket before you hit the hiking trail, and can store some of our reader's favorite items (see below). There's a large Velcro strap on the back to help attach to anywhere you want, and a durable construction that rivals the rest of them.
Specification:
Brand

Maxpedition

Model

MX3526KF-BRK

Weight

0.8 ounces
Spec-Ops Brand Pack-Rat Organizer
See More Reviews

Bit of a pack-rat? We've all been there. This is great for stashing multiple items and looks excellent while doing it. Available in four colors and made in the United States, this comes with a lifetime warranty and is made up of Cordura nylon for a sturdy construction. Bar-tack reinforcements help with critical stress points, while the zipper area allows for a full 90 degree opening. Fourteen separate slots/storage pouches, and ready to go when you are.
Specification:
Brand

Spec.-Ops. Brand

Model

100180113

Weight

10.4 ounces
See More Reviews

Cordura nylon tough and accessible as they come, this black with white stitching EDC organizer is perfect for quick-access to your most used items, while keeping everything tight and secure enough that they won't go slipping out. Keys, credit cards and charger cables don't stand a chance—the sturdy zippers keep everything nicely secured, while the design is certain to go with anything in your arsenal.
Specification:
Brand

OneTigris

Model

TG-251

Weight

6.4 ounces
Mars Gear Tactical Organizer
See More Reviews

Clamshell opening and a front-flip pocket for your primary card or passport, and a ready-to-go lanyard to attach your keys to, are just a few reasons behind why the final organizer on our list is awesome. This comes MOLLE compatible, including the two necessary straps in the packaging, and comes in three total different styles. Inexpensive and wildly effective, Mars Gear snagged this last spot on the list with ultra-durable construction and a classic appeal.
EDC Pocket Organizer Buying Guide & FAQ
Pocket organizers seem pretty straightforward, right? Well, what do you know about them? They're meant to simplify your life, optimize your time, and keep everything in a proper place to avoid damage. Those of you with OCD will be in love with the idea of having multiple EDC organizers, and we
Q: What Are the Typical EDC Items I Can Hold in a Pocket Organizer?
A: Here's a quick breakdown of the top eight items that Gear Hungry readers take with them, and why:
Tactical Flashlight – "There's never a situation where I don't need my tactical flashlight. Great for emergencies, and helps me safely get back to my car (I work late) every night in the carpark." – Dustin, Gear Hungry reader
Self-Defense Item – "I'm pretty paranoid. Got mugged a few years ago, and since then, I carry around something for self-defense wherever I go." – Jake, Gear Hungry reader
Multitool – "Come on, when don't you need one?" – James, Gear Hungry Reader
Tactical Pen – "It's funny when someone asks for a pen, and everybody in the room just side-eyes them like. 'What's a pen?'. Always good to have one, and I love the look I get when I reach into a pocket organizer and pull out a tact pen." – Arnold, Gear Hungry reader
Paracord Bracelet – "I go hiking a lot, and paracord is basically the ultimate life-saving tool." – Reggie, Gear Hungry reader
Handheld Pry Bar – "The one included in my multitool isn't always the best, so I have a designated pry bar. Never know when you might need it." – Anwar, Gear Hungry reader
Pocket Knife – "I've carried around a pocket knife since I was eight-years-old in the scouts. Now, I just have a much more kick-ass one." – Lars, Gear Hungry reader
Individual First Aid Kit – "You could say I'm both accident-prone and that I like to prepare for everything. Always good to have one of these, if not for myself, then for someone else." – Rick, Gear Hungry Reader