Cool Kitchen Gadgets Of 2022 That'll Improve Your Cooking Skills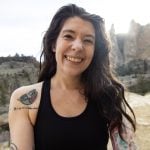 This product guide was written by Tuesday Kirby Kahl
Last Updated
July 14, 2022
Tuesday Kirby Kahl
Tuesday Kirby Kahl is a contributor at Gear Hungry. Her fierce love for the outdoors fuels everything she does. Her professional pursuits include writing, creating art, and photography. These professional passions allow her the time to live life outside as a rock climber, skier, runner, backpacker, paddle boarder, swimmer, and explorer. When Kirby is indoors, she enjoys tea, whisky, old films, cooking, and baking. Her product testing and feedback have shaped the design of everything from climbing shoes to candles.
GearHungry may earn a small commission from affiliate links in this article.
Learn more
The kitchen is often the most-used space in any home. It trumps the parlor ten to one; it's where people come together, not where they sit to focus on their devices. It's truly the most beloved area of the home, the neighbor to the dining room, and the epicenter of all the action—it's where meals, snacks, and that precious morning coffee are prepared.
But regardless of how well-organized your kitchen is or how tasty your dishes usually turn out, there's always room for growth. Whether you want to reduce manual labor, speed up your cooking process, or find a way to keep your ingredients super-fresh for longer, there's a gizmo out there that can help.
Below, you'll find some of our favorite cool kitchen gadgets and tools that can make your life a little easier and your dishes a little tastier. Many of these tools can save you incredible amounts of time, energy, and money, and generally make your life in the kitchen easier.
Cool Kitchen Gadgets That'll Improve Your Cooking
Kitchen Gadget Buying Guide
Why Trust Us
I spend a lot of time in my kitchen and really value tools that save time and money. I'm one of those folks who love to bake everything from scratch, including puff pastry, bread, and simple syrup. I'm always slicing, dicing, prepping and cooking. I also live in a 400-square-foot apartment with a very small kitchen, so I need tools that don't take up much space, save time and allow me to spend more time cooking and less time prepping. Every time I try to cook or bake in my boyfriend's bachelor pad kitchen with no awesome cooking gadgets, I'm reminded why I love mine so much and how much easier my life is with them.
Who This Is For
this guide is for folks looking for a variety of kitchen tools to make their lives easier. whether you want to make pizza, tenderize meats, or store herbs, we've got a nifty gadget for you. this list would have to be infinitely long to cover all the cool, useful kitchen gadgets out there, so consider this a starting point and feel free to look around for more gizmos to improve your cooking game, entertain guests and make your life easier.
How We Picked
Curating a guide to the coolest new cooking gadgets started with the tried and true tools from our own kitchens that we love. From there we thought about the most commonly cooked items like hot coffee, meat, fruit, burgers and more. We then perused some of the best sellers on Amazon and other retailers to bring you as comprehensive of a list as possible.
How We Tested
The tested items in this guide have been tested anywhere from a month to several years in my own kitchen. Living in a tiny apartment with a tiny kitchen, I'm not afraid to ditch cool kitchen gadgets that waste space, don't save time or aren't heavy-duty, no matter how cool they are. Some items on this list I used when I had a bigger kitchen but simply don't have space for anymore so you'll see some notes on those listed too.
Sign Up Now
GET THE VERY BEST OF GEARHUNGRY STRAIGHT TO YOUR INBOX