Mortal Karambat? The Best Karambit Knives in 2022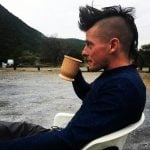 This product guide was written by Sam Anderson
Last Updated
October 21, 2021
Sam Anderson
Sam Anderson has followed a passion for well-told stories and nature's beauty from university classrooms to mountain adventures. After earning a bachelor's degree in literature, he leaned into a life fueled by road tripping, rock climbing, coffee and beer, and renegade camping. He has worked as a chainsaw operator, house carpenter, and window cleaner, at one point running his own window cleaning business. He has finally settled with his girlfriend and small zoo in the western American desert, trading his tool belt for a keyboard.
GearHungry may earn a small commission from affiliate links in this article.
Learn more
Want a knife inspired by the claws of a big cat? Check out a karambit, a tactical blade that offers a substantial step up from a standard pocket knife or a Spyderco blade. The karambit knife's curved blade originated in Indonesia, where it served as a farm implement until warriors recognized its utility as a weapon. Ultimately, the karambit shape is tactical; the knife constitutes a self defense advantage with its ripping capacity and finger ring for grip security as well as function.
The best karambit knives can protect you in sticky moments, and suffice for EDC purposes as the user wishes. Versatility, security, and a unique cutting profile define the form. In the traditional karambit grip, the user threads their index finger through the ring with the blade downward; flip it to a "hammer" grip (blade up) and the utility changes. Either way, the blade's curved shape creates natural pressure along the edge during a slashing motion.
The Best Karambit Knife
SOG Gambit Tactical Karambit Knife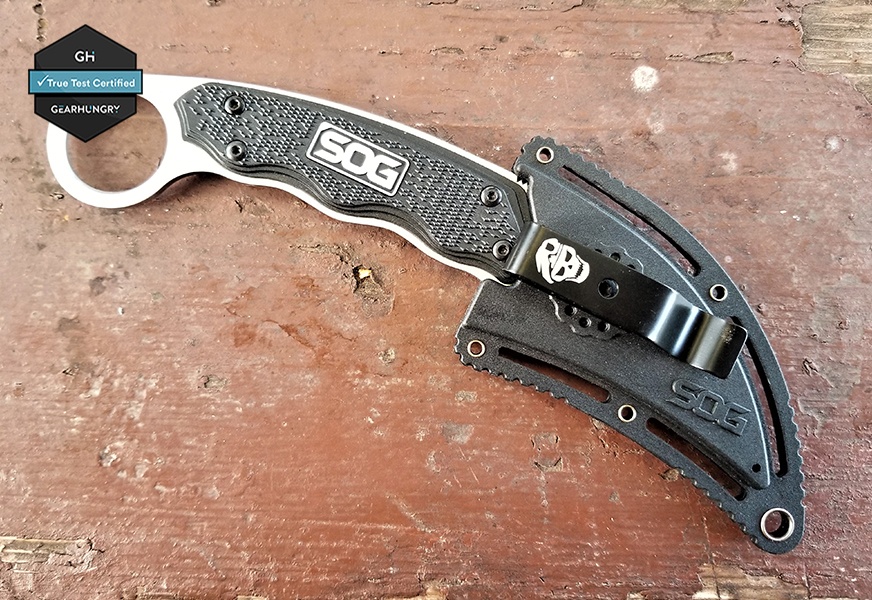 To say I was unimpressed by the Gambit, SOG's take on the karambit knife, wouldn't be accurate. To say I was underwhelmed would be. It's a hell of an intimidating knife at 7.3" long, with a minimalist, full tang build that's become something of a calling card for SOG. But although the edge checked out during the testing period, the steel was a little too malleable for my liking and the handle was perceptibly uncomfortable.
The Gambit is a single piece of 7Cr17MoV steel fitted with moderately textured G10 scales. It comes with a hard molded nylon sheath that has a reversible pocket clip and plenty of lashing points.
That's the whole package, in all its simplicity. The 7Cr17MoV steel held its edge well, still cutting paper smoothly after a few sessions of shaving and scoring wood. That struck me as an overall tactical advantage in a knife clearly purposed for self defense. Also, the edge isn't as aggressively curved as some karambits — that would aid sharpening, as it's easier for most people to follow a straight edge than a rounded one.
The bad: right from the start, I wasn't crazy about the handle. I have chubby but small (laught it up) fingers, and the finger grooves were a little too generous for me. But it was the profile that was most uncomfortable. The scales sit well back from the edge of the steel, and taper off sharply — that meant it felt pretty narrow against my hand. The upshot was that any strike or impact resonated sharply. Also because of the geometry, I had a hard time finding a comfortable punch grip, with my index finger through the ring.
Finally, the blade bent easily under my normal flex testing. In fighting, I figure you'd rather have that than breakage. But if you used the Gambit as an EDC knife, the easy bending might give the impression of cheapness.
I'm not one for weapons of any kind, so I'll probably pass the SOG Gambit karambit along. But I'll pass it to a friend, not a foe — after all, it stayed plenty sharp, doesn't weigh much and looks fierce. I wouldn't want to find myself on the wrong end of it.
Key Features:
Full tang blade
Hard nylon molded sheath
G10 handle scales
Specification:
Brand

SOG

Model

GB1001-CP

Weight

2.8 Ounces
Vulcan Gear Tactical Hawkbill Karambit Knife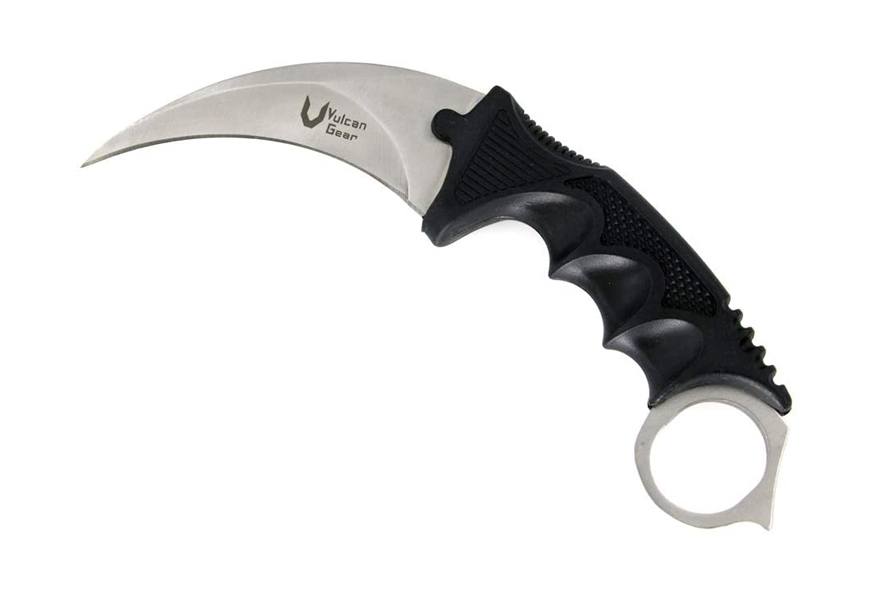 The Vulcan Gear karambit is what it is; the blade is "stainless steel." The grip is unidentified polymer. It's not small — the blade is 4″ long, and some users report the knife feels big in their hands. Interestingly, the edge is sharp from the all the way down to the hilt, providing a wide contact area.
The stout grip, with deep finger grooves, completes the knife. Look out for a loose sheath. That shortcoming has frustrated some users intending to wear the Vulcan as a neck knife. Still, you won't be able to get into this space for cheaper. Our handy guide to the best boot knives features more top-quality products like this.
Key Features:
Four inch stainless steel blade
Includes a sheath w/ mounting strap
Ergonomic hilt grip w/ durable protrusion ring
The most inexpensive way to get a karambit knife today
Fixed blade with a razor's edge covering 95% of the interior blade length
Specification:
Brand

Vulcan Gear

Weight

5.6 Ounces
Fox Emerson Wave Karambit Knife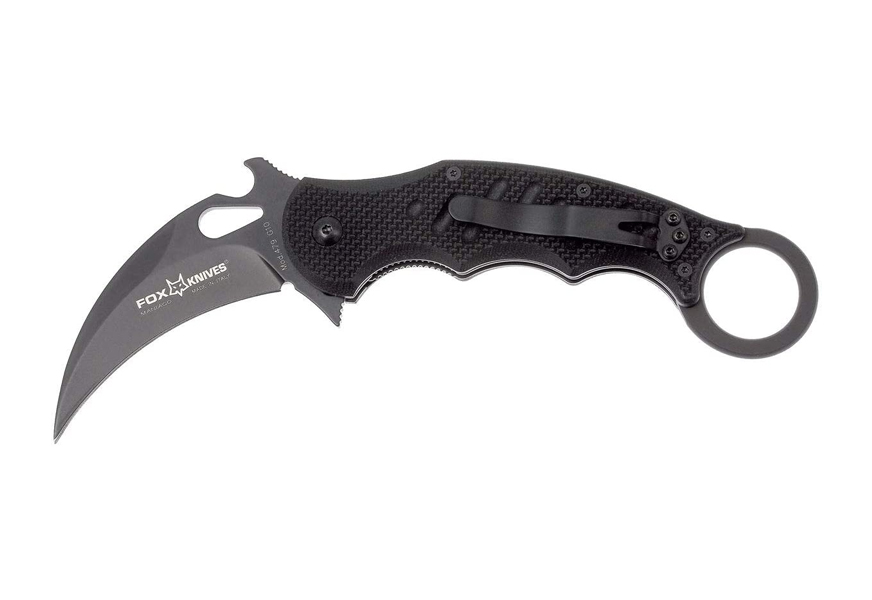 Fox onboards Emerson Wave opening tech for its karambit folder, delivering multiple tactical advantages. Quick, smooth deployment combines with the knife's pocketability to make it a practical EDC self defense choice. And trusted materials help it last for the long haul.
The "wave" refers to the thumb nub at the base of the blade. It provides leverage for opening the knife, and it's easy to locate by feel. It's on the spine of the N690 blade, which features a steel some United States audiences won't immediately recognize. Think of it as an analog for 154CM, which has a reputation for toughness and corrosion resistance. 
The textured handle is reliable G10, with a reversible pocket clip. You can keep the Fox Emerson Wave karambit in a pocket, but calling it a pocket knife may be a short-change. Folded, the knife is 5″ long. It's 7.6″ overall length lends it an intimidating profile. 
All in all, Fox utilizes sound materials to build a practical karambit folder. With its built-in portability, its high EDC capacity is rare in the category. 
Its rust-resistant steel, low profile, and ease of carry make it an ideal gift for fishermen.
Key Features:
Features G10 grips (best you can get)
Large protrusion ring and wide finger slots
Good sized pull tab when retracted
Blade measures three inches long, excellent to comply with local laws
Teflon-coated corrosion-resistant stainless steel blade
Specification:
Brand

Fox 479

Weight

4.6 Ounces
Smith & Wesson Full Tang Karambit Knife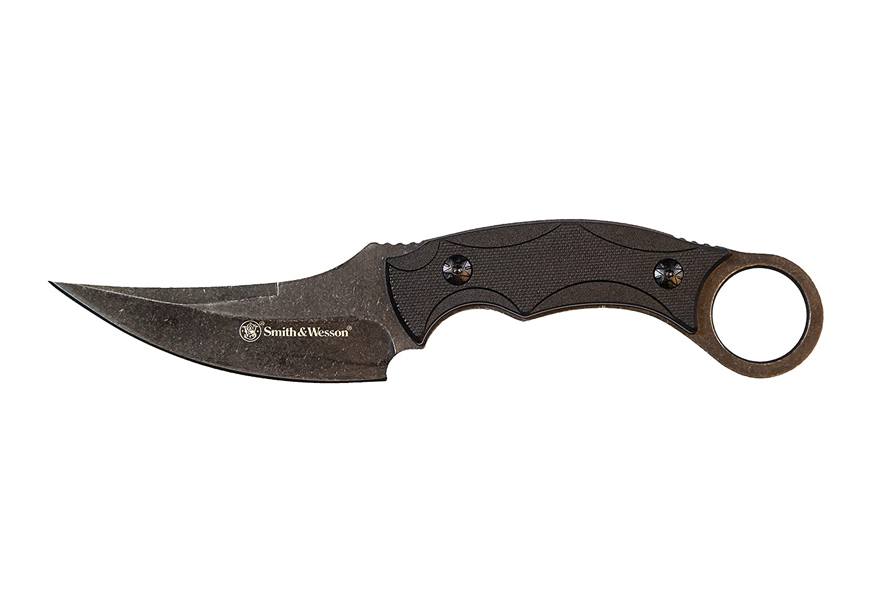 When Smith & Wesson's steel smiths aren't busy making guns, they occupy themselves by forging the things you shouldn't bring to a gun fight. The brand's knives have earned a reputation for serviceability, and they rely on their branding and modest pricing for popularity.
Their "karambit" is an interesting entry. Technically, it's the wrong shape for a karambit — the bellied clip point curves the wrong way. But that's what the brand calls it, and the protrusion ring suggests a similar utility. 
Actually then, it could be a cool crossover for anyone who wants the self defense capability of a karambit but the straightforward utility of a more typical blade. The clip point could work for hunting, fishing, camping, or any general EDC purpose. But the ring still facilitates secure transitions between grips. 
The 3.75″ blade does exceed many local limits for concealed carry in the United States. Regardless, the Smith & Wesson karambit should make a functional hunting knife or boot knife for your hiking trip. The unique combination of the clip point and protrusion ring help you expect the unexpected (no matter what the other guy shows up to the fight with). 
Key Features:
Comes with a nylon sheath
Blade measures 3.75 inches long
Stonewashed carbon blade material
Built-in cross pattern in the hilt acts as a sturdy grip
Specification:
Brand

Smith & Wesson

Model

SW995

Weight

3.84 Ounces
Schrade Full Tang Fixed Karambit Knife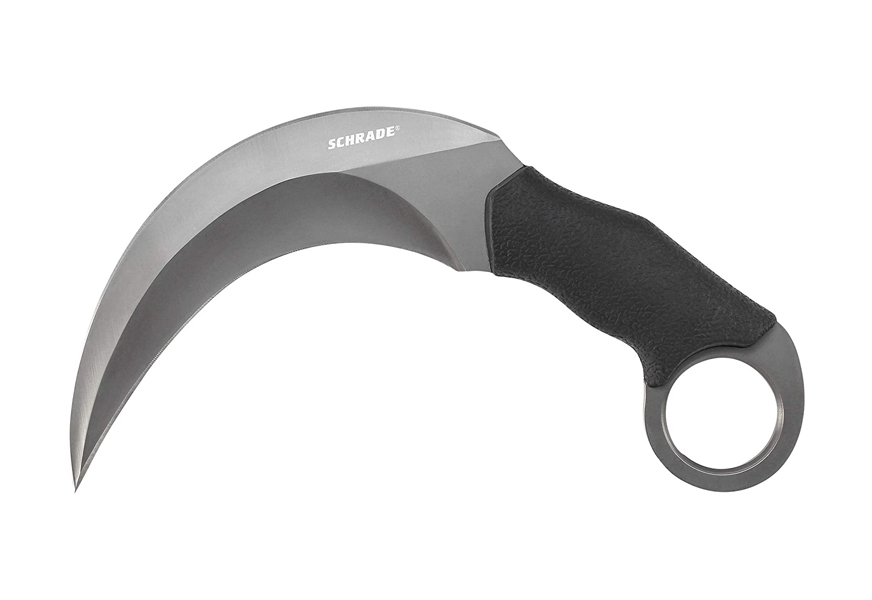 Schrade's full tang karambit embodies the form: clearly designed for martial arts, the 5.2″ blade invokes a tiger claw and can undoubtedly rip like one. Titanium coating helps the full tang blade hold up under dirty or wet conditions. Same thing with the thermoplastic elastometer handle scales, which should stay grippy no matter what. 
The Schrade makes its purpose clear with its short handle and deeply curved blade. If you want a functional karambit that you'll use mostly for simple EDC tasks, this is not it. Get caught carrying it concealed, and you'll get burned in most states. Then again, if you're packing a knife like this, local regulations are probably the least of your worries. For more quality blades like this, be sure to browse our list of the top ka-bar knives.
Key Features:
Blade has a length of 5.21 inches
Includes a thermoplastic knife sheath designed to fit on your belt
High carbon stainless steel blade
Grip runs from the base of the blade to just around the protrusion ring
Specification:
Brand

Schrade

Model

SCH112

Weight

13.4 Ounces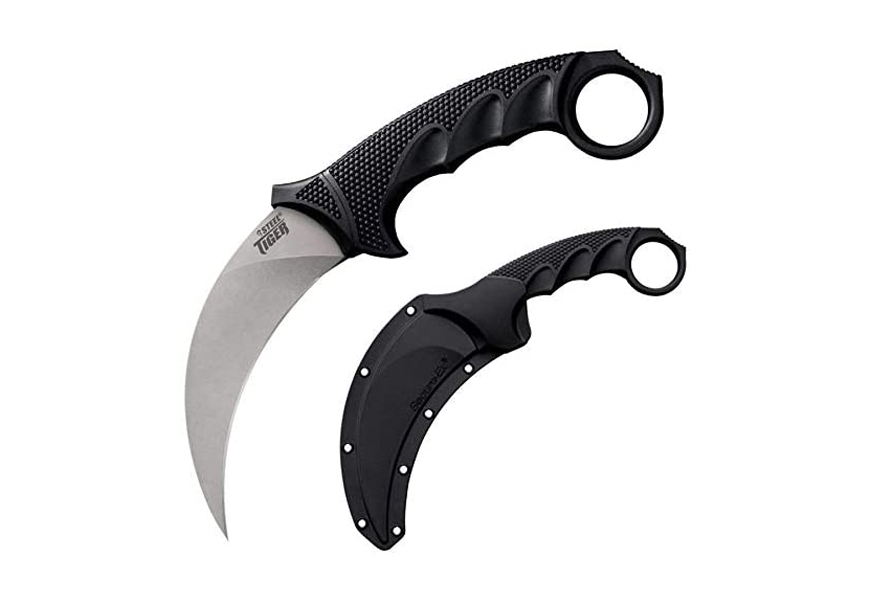 Cold Steel's Tiger adopts the traditional Indonesian Karambit shape with an AUS-8A full tang blade and Kray-ex scales. Cold Steel pays special attention to the blade, with vacuum heat treating, a taper grind and a stone wash finish.
In a word, AUS-8A is a budget steel. But it is generally easy to sharpen, which should help anyone who's new to sharpening a karambit blade. The Griv-ex (glass-reinforced plastic) core gets a Kray-ex coating for a trusty grip. It won't be the flashiest karambit in your collection, but the Cold Steel Tiger's no-nonsense approach should please those with a modest budget. If you're looking to upgrade your knife collection, check out our selection of the best-selling Swiss Army knives.
Key Features:
High quality cold steel construction
Ergonomic finger holds + bead pattern grip along the hilt
Blades measure 4.75 inches long
Wide one inch protrusion ring for martial arts use
Specification:
Brand

Unknown

Model

1108085

Weight

9 Ounces
TAC-TOPS Karambit, by 45GM
Attention: if you don't want a weapon, don't buy the TAC-TOPS karambit. The "serious tool for serious operators" is 11.25″ long, painstakingly designed for combat, and expensive. The 7.13″ black coated 1095 blade facilitates a long reach, and should make for easy maintenance. It's also so thick it's hard to imagine breaking it — .19″ (think about a quarter inch for comparison) at the spine.  
For that reason, plus its shape and balance characteristics, the manufacturer categorizes it as an edge and impact weapon. See the polished stainless horn on the spine to get an idea of what you can do with the "blunt" edge. The rig weighs a robust 14.5 oz. including its kydex sheath. If you're in a situation that calls for it, you'll probably appreciate having something heavy to swing around. 
You can find more great survival knives in our Bushcraft knives guide.
Key Features:
Blade length measure 7.125 inches total
Carbon stainless steel construction doesn't lose sharpness easily
Includes a Kydex belt sheath with purchase
Specification:
Brand

4SGM

Model

TPTAC01

Weight

15.5 Ounces
Masalong Outdoor Survival Tactical Karambit Knife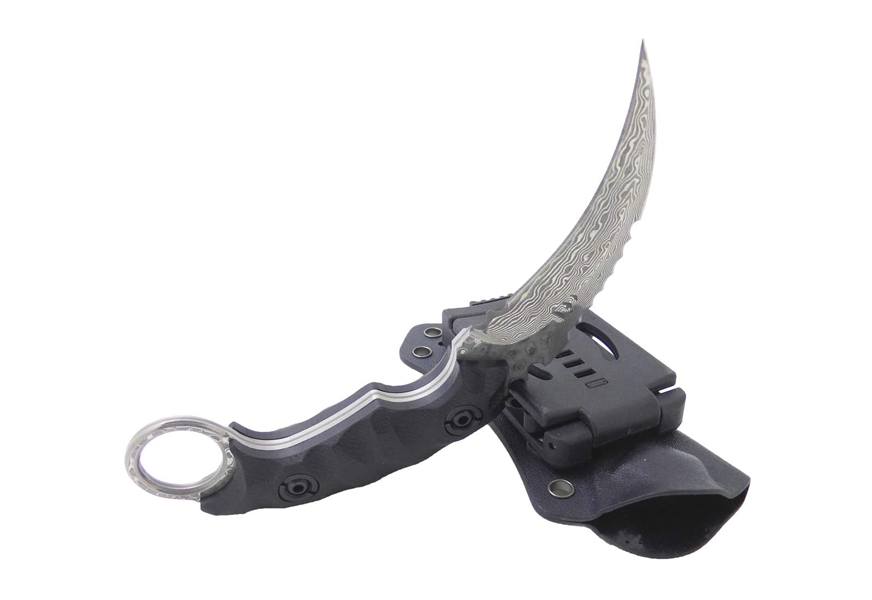 Masalong's Outdoor Survival Tactical Karambit knife leads with value and variety. The basic knife comes in multiple variants, from the entry-level version with the kydex sheath to the Damascus-patterned range-topper. The 7″ knife's 3.1″ blade complies with many states' concealed carry regulations. The blade, made with workmanlike D2, has a serrated edge on the spine. That's an interesting choice — while any serrated blade offers function when dull, this one arguably presents a user safety hazard. Some karambit self-defense techniques involve series of flips and spins, using the ring. A double-edged blade could bite.
Nevertheless, the Masalong delivers an affordable entry point in the category with a reliable steel choice. For more tactical knives options, check out our essential guide.
Key Features:
Includes high quality leather sheath
Full-length hilt at 7 inches, blade 3.1 inches
D2-grade stainless steel blade material
Serrated blade top
Includes an ergonomic zig-zag design grip for maximum hold
Specification:
Brand

MASALONG

Weight

15.2 Ounces
Mtech Usa Fixed Blade Karambit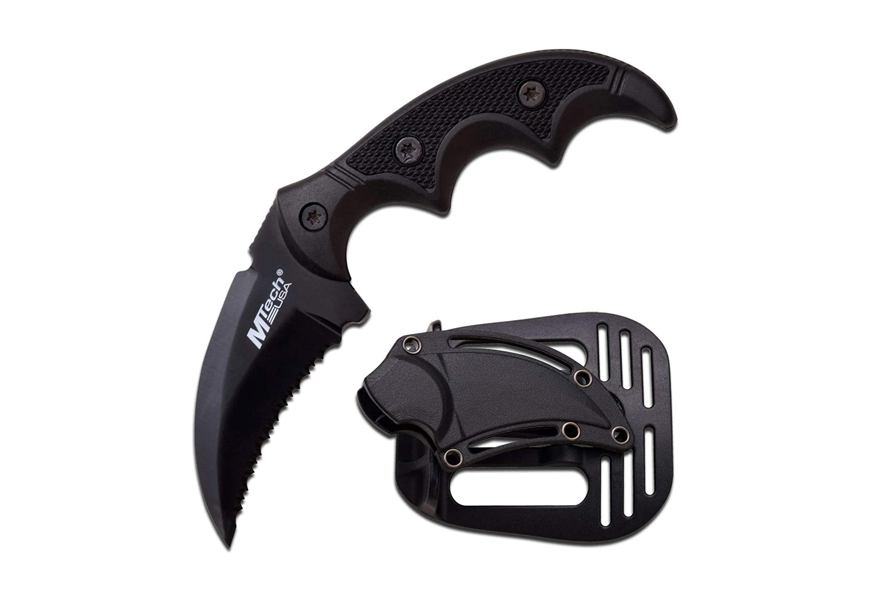 Diminutive and cost-effective, MTech's take on the karambit makes a good option for neck carry. The 5″ overall knife has a 2″ serrated blade, promising reliable performance even when it gets dull. It should be small enough to hide under just about any clothing, and a deep finger choil should mean secure use. That being said, it's not a traditional karambit in every sense of the word — no protrusion ring means none of the signature karambit flipping techniques.
Still, the blade should work for a multitude of EDC purposes, and at its small size there's little reason not to have it on you. The G10 scales help you grip it no matter what the conditions. It's nothing fancy, but flash is rarely if ever MTech's goal. Instead, the brand again delivers a rudimentary neck knife at a price that's meant to be hard to argue with.
Key Features:
Extremely inexpensive karambit knife
Paddle holster included
G10 textured handle
2 inch blade total length
Stainless steel construction with serrated edge
Specification:
Brand

MTECH USA

Weight

5.8 Ounces
Why Trust Us
Nomads require personal security solutions that aren't always obvious. Most people have homes and apartments; most of our staff has at least spent time living on the road (or the lam — but that's another topic). Thus, we find personal advantage in finding the best karambit knives. I've got one in my truck console as we speak. As the kids say these days, f*** around and find out.
How We Picked
To support various utilities, karambits come in all shapes and sizes. So we laid them out like that — typical fixed blade variants, martial arts-specific builds, small karambits for EDC or neck carry, and even folders. Because a karambit must fit the user's hand well to be useful, we included knives in different sizes with different grip styles.
Who This Is For
Simply put, karambit knives are weapons. If you don't need a self-defense tool or martial arts weapon, you should look elsewhere — perhaps a boot knife or a neck knife. Their geometry facilitates heavy strikes and ripping cuts, rather than slicing, chopping, and so on. Choose a karambit for personal security.
How We Tested
To find the right karambit for you, it's important to get the sizing and balance right. We ran through karambits to find the best one for our use profile and body geometry. For instance, we considered whether we would typically use it in the overhand or underhand position. Or whether for EDC applications or strictly self defense. From there, karambits went through our typical knife test protocol: paper test, wood block blunting test, repeat paper test, shear stress test.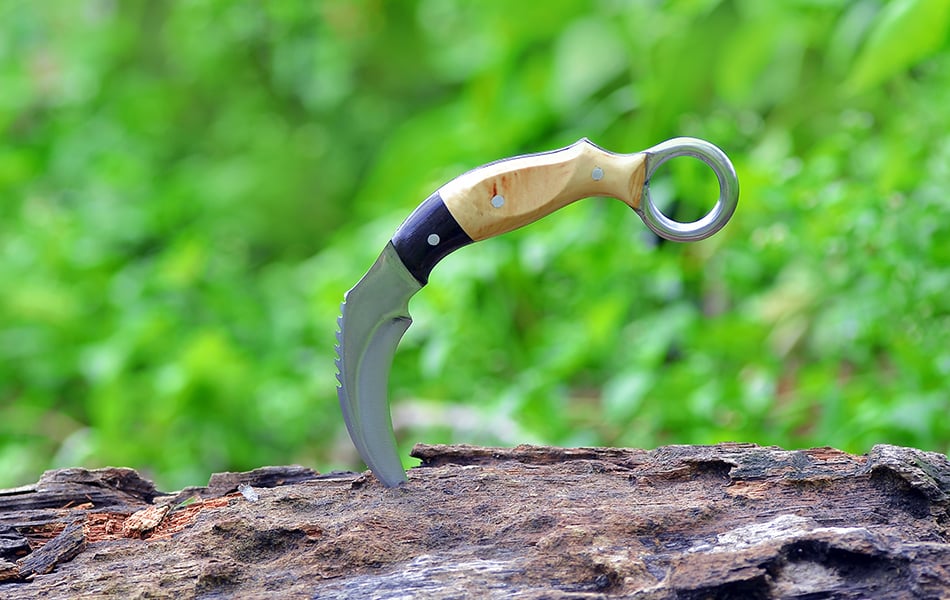 Features To Look For In Karambit Knives
Blade Material - The question "which steel is best for knives?" is a lot like the question "which engine is best for a car?" You need the right one, but different situations call for vastly different applications. Most of the product reviews in this guide address steel; check out this guide to knife steels for a more comprehensive understanding.
Blade Length - This just in: it doesn't need to be long to be effective. That's true of...well, some things, and karambit knives certainly belong in the category. The longest blade in our range? 7.25", pilgrim. Blade length is a trade-off among compromises: for instance, a longer blade gives the user more reach, but less precision.
And then there are legalities and concealment regulations. Check this handy resource from American Knife and Tool Institute to brush up on the rules in your state.
Handle - If you're using it every day, you want comfort. If you're using it tactically, you want grip and security. Pay attention to the material, texture, and size and spacing of the finger grooves.
Protrusion Ring - This little number is part of what makes a karambit, a karambit, and not just a hawkbill blade. A karambit's protrusion ring facilitates an entire discipline of martial arts tricks and moves. It also gives the user a superlatively secure grip, and works as a brass knuckle (yup).
Types Of Karambit Knives
Fixed Blade Karambit - The traditional karambit; a curved blade with a fixed handle, a protrusion ring and a sheath.
Manual Folding Karambit - Karambit folders can be handy for EDC — unlike a typical karambit, they're essentially pocket knives. The karambit folding knife in our guide features a fast/easy opening design from Emerson, called the Wave. 
Butterfly Karambit - A folding karambit that hinges open from a two-part handle. If you can operate one of these without cutting yourself to ribbons (and especially do any cool tricks), please teach us your ways.
Benefits Of Owning A Karambit Knife
No-Slip Grip: First and foremost, a karambit knife is a weapon. That means a slippery handle is a no-no. Most karambits get textured handles at the bare minimum; some, like Schrade's, even have grips that resist moisture.
Safety: A karambit is just a knife. Unless you decide to get fancy without knowing what you're doing, it's as safe as any other edge weapon.
Maneuverability: If you train to spin and flip a karambit, you will be able to look cool, impress those from whom you seek affection, and strike fear into the hearts of your enemies. So much so, perhaps, that they will elect to simply admire and befriend you, rather than get in a knife fight with you. Wouldn't that be something?
Self-Defense: That brings us into self-defense. The tactical aptitude behind the karambit design boils down to the same thing that makes a tiger's claw an effective tool. It's sharp, and its shape facilitates both cutting and ripping. Yikes.
Multiple Strikes: Various karambit knife combat techniques give you the chance to make multiple strikes. In some ways, the knife itself facilitates a "many hits" style. If you're using the protrusion ring, it doubles as a brass knuckle.
Ready for Emergencies: Unless it's a vegetable-slicing emergency, you'll be ready for it with a karambit knife.
Origins Of The Karambit
Karambit knives originated in the Philippines and Indonesia as a form of agricultural utility tool. Ingeniously, the design models the claw of a tiger. As their anatomical origin suggests, they've been around for awhile; nearly a millennia, per historical consensus. Fighters first used karambits as last-ditch weapons, concealing them for use in desperate situations. Some sources suggest that the karambit, as a last-chance weapon that started as a farm tool, once had a pejorative reputation.
Karambits didn't make their way to America until the early 1900's, where they were seen as a novelty than anything else. Shortly, their bizarre shape and juicy history made them collector's items.
Karambit Knife FAQ
Q: What is a karambit knife?
A: A curved (or hawkbill) blade and a protrusion ring characterize the karambit knife. The curved blade rips as well as cuts, and the protrusion ring facilitates a secure grip and doubles as a brass knuckle. Designed in ancient Indonesia with the shape of a tiger claw in mind, karambits are principally martial arts weapons.
Q: Is a karambit used for tactical purposes or as a tool?
A: Tactical. When else would you want a blade with a cutting surface that curves away from whatever you're cutting? The karambit's barbed blade induces a ripping cut, and the curved shape utilizes body movement physics to increase striking power.
Q: What is an Emerson wave feature?
A: Knife maker Emerson patented the Wave as a simple, mechanical advantage-based opening system for folders. The Wave constitutes a leverage point for opening any folding knife that's both ergonomic and easy to locate by feel. Look for a thing that looks like a wave near the base of the blade at the spine; that's the Emerson Wave.
Q: Who should consider purchasing a karambit knife?
A: Collectors - Everyone loves a fun collection. Rocks, stamps, baseball cards, shrunken heads. Why not rare fighting knives! You want some killer karambits to put on display? Show 'em off. Load up for martial arts practice? Namaste. Fill your kitchen knife drawer with karambits to give yourself an arbitrary slicing challenge no matter what? You bet.
Historians - In a lot of ways, the history of the karambit fascinates. Its anatomically-inspired design imitates a fearsome organic weapon. For years, it filled the role of a humble farm implement for planting and tilling. Then fighters adopted it as a potent sidearm (albeit with an ignoble reputation). So cool! Of course any historian of the era and form would take interest.
Martial Arts Enthusiasts - The martial arts are the realm of the karambit. Multiple possible grips, security, spinning and punching capability from the protrusion ring, and a shape that facilitates a heavy strike set it apart from the pack.
Q: Is carrying a karambit legal?
A: Familiarize yourself with regulations that govern knives where you live by using this guide from the American Knife and Tool Institute. As a rule of thumb, most municipalities prohibit concealed carry of knives with blades longer than about 3.5". Some states have different laws for folding knives versus fixed blades, or even designate based on intended use.
Here's the overriding answer: a karambit is just a knife. Certain knives are legal to carry and possess in certain areas; others are not. But there's nothing inherently illegal about a karambit.
Disclaimer: Gear Hungry has produced this buying guide, curated product list and information solely for informational and entertainment purposes. Under no circumstances are we responsible for anything that you do with your karambit knife, whether purchased through discovery on this website or otherwise. Any actions performed with any item from this list is up to you, and Gear Hungry and its associates are not responsible for anything you may do with your purchase, under any circumstances.
Sources:
About the U.S. Knife Laws - Akti
Karambit - Wikipedia
Sign Up Now
GET THE VERY BEST OF GEARHUNGRY STRAIGHT TO YOUR INBOX