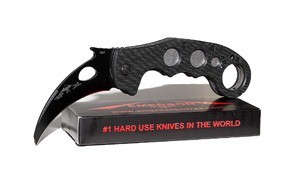 Emerson Knives Combat SF Karambit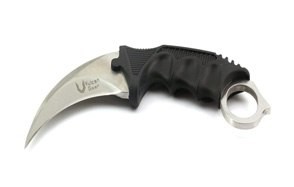 Vulcan Gear Tactical Hawkbill Karambit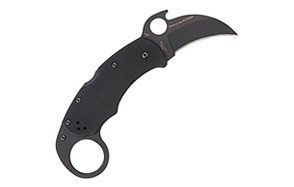 Spyderco Karahawk Blade Knife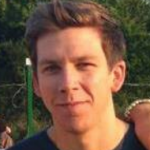 They're ultra functional and bad-ass, a step-up from a standard pocket knife or a Spyderco blade: karambits are curved knives that hail from western influence, resembling a claw. These excellent blades come in handy for their invented purpose, being used as a utility knife, but can also be used during hunting, fishing or in your EDC lineup as a means of self-defense. No matter which way you slice it, a karambit knife is a sleek blade that's been missing from your personal collection. Let's remedy that, shall we? Check out the best Karambit knives on the market today.
The Best Karambit Knife
Karambit Knife Buying Guide and FAQ
If you've always wanted to expand your knife collection but don't know where to start, we've got a killer guide to flood you with some history knowledge, and every which way you can use your karambit knife. Let's break down instances where you'd use it, break into the martial arts aspect behind them, and maintenance.

How We Chose Our Selection of Karambit Knives
Quality - This usually has to do with materials and the brand, though it is a culmination of a bunch of different aspects. Karambits have a long history, as as such, there's a ton of knock-offs. We were actually shocked at how many different knives we had to dig through before shipping our final selection to be tested.
Brand - Brand is big on quality and determining if it's worth the money spent. The brand's dedication to quality knives, mail order sharpening services and warranty policies are all going to take a part in your final decision. The karambit knife brand you go with actually makes a huge impact on the longevity of your product.
Reviews - User reviews help us determine what's going to be wroth our time before we make the purchase and get it shipped out. We went for a lot of knives that have a tall list of reviews that showcase the quality of the product. It's the voice of the people, and it's one of the best indicators you've got when it comes to grabbing the right knife.
Price - Price always plays a part, but if you're going for a quality karambit, it's going to cost you a pretty penny. Since these are straight-cut narrow knives, the engineering and weight displacement aspects of your karambit are a lot more difficult to achieve, which is why quality brands charge more than you'd expect to see with straight knives.

Features to Look for in Karambit Knives
Blade Material - Most of the time, you're going to encounter high-grade iron, stainless steel (sometimes surgical grade), or refined carbon. Karambits that are made out of less dense, less durable materials are easy to spot when you look at user reviews. Because of the curvature of the blade, you need a highly durable material, otherwise it's going to buckle if you attempt to use it for any reason.
Blade Length - We cover more in this guide about blade lengths and laws (as best we can), but the blade length is a major thing you need to be on the lookout for. Ensure that when you're looking at the sales page for a karambit, that you take the blade length into consideration, not just the overall length. You could have a hilt that's 14" long and not break any laws, but your local government may have different laws regarding the blade length.
Handle - The handle has the protrusion ring, which helps for your grip, but also needs to have a good grip on its own along the materials and texture. Since the blade is already curved, there are a lot more ergonomic handles out there to ensure you have a steady grip.
Protrusion Ring - This little number is part of what makes a karambit, a karambit, and not just a curved blade. You have plenty of historically-known blades that have curvatures along the sharpened edge, but the protrusion ring makes this unique. You'll see in a video we posted blow that you'll be able to do all sorts of martial arts tricks and moves with it. Look for the overall width so you know it'll be a good fit for your fingers.
Types of Karambit Knives
Fixed Blade Karambit - These don't fold in like other types of karambits. The blade rests in the same spot, removing the foldable mechanism, which makes them better for martial arts due to the lessened chance of mishaps and/or cuts. Fixed blades are usually not the go-to for hunters or fishermen looking to get use out of a karambit.
Manual Folding Karambit - Similar to your existing folding knife, these fold inside of the hilt for better storage, and work well as a self-defense weapon (so long as local laws allow). You won't have any spring-loaded features with this, so you'll have to master quick access and pulling back the clasp to release the  blade. These aren't to be used for martial arts as they're slightly less reliable, and you'll be pushing the limits of the clasp further than it should be.
Butterfly Karambit - Similar to a switchblade, this opens right out of the top, but there's a bit of a catch. Since the blade is still curved, making it a traditional karambit knife, you have to deal with the curvature as an obstacle when trying to open it.

Benefits of Owning a Karambit Knife
No-Slip Grip: Karambit knife manufacturers know just how dangerous these can be, and as such they put no-slip grips along their hilt. While it only helps so much if you're doing martial arts, it still helps when you're holding it sturdy and handling it for various purposes.
Safety: Karambit knives are actually very safe to wield, so long as you know what you're doing prior to attempting any crazy maneuvers. It's far easier to predict movements based on the weight distribution and curvature of a karambit, giving you more reliable handling.
Maneuverability: As you'll see in the video we've linked below, you can maneuver with some pretty insane moves with one of these. It's more than that, though; it's being able to maneuver swiftly in a self-defense scenario.
Self-Defense: That brings us into self-defense. Karambits are sharper and offer more cutting power should you need to use them in a pinch. If you have a butterfly-open karambit, you can inflict enough damage on an assailant to escape.
Multiple Strikes: If that assailant won't go down with a single blow, the swift aerodynamic nature of a karambit allows you to do what's necessary in order to properly bring them down, and locate a police officer or escape to safety.
Ready for Emergencies: A car crash where you need to cut the belts, being trapped in a specific situation; there's a ton of emergency situations that would be far easier if you had a sharp blade handy, and karambits fit the bill.
Karambit Knife FAQ
Q: What is a Karambit Knife?
A: A karambit knife, more commonly just called a karambit, is a curved blade from ancient descent. It's used in hunting, martial arts, and features a loop along the hilt to encase your index finger, also known as a protrusion ring. These knives have historical significance, but also function as tool items for fishermen, hunters, and hold a place in modern-day martial arts.
Q: Is a Karambit Used for Tactical Purposes or as a Tool?
A: It's definitely up to the user. Karambits are excellent because they can be used for either, depending on what situations you find yourself in most often. If you're thinking about grabbing one of these for the garage or tool shed, you'll be happy to know that their usual materials, being steel or carbon, are going to hold up well against the test of time.
Q: What is an Emerson Wave Feature?
A: This is a patented, high-quality opening system for your karambit knife. It's the most simplistic and powerful way to release the blade of your folded karambit knife, which is useful in high pressure situations, and just for the day-to-day handling of your karambit knife. If a knife has Emerson or Emerson Wave technology built into it, it's a classic sign that a brand knows what they're doing, and works alongside the best in the business as means of validating themselves among consumers.
Q: Who Should Consider Purchasing a Karambit Knife?
A: There's a few different types of folk that come to mind when you're talking about buying a karambit knife for yourself. In modern days, even as collectors, there's an entirely different market for ancient (and astronomically priced) karambits, but that's a whole different side of things.
Collectors: There's nothing wrong with just wanting a sick collection of knives. You want some killer karambits to put on display? We encourage that. There's double-edged, single-edged, various handle materials and blade lengths to collect.
Historians: Love studying the ancient ways of civilizations past? When you get into the history behind karambits in grave detail, it's fascinating to look at the odd curvature of the blade, the loop for your index finger and so on, and picture situations where karambit users would be forced to wield it.
Hunters: We'll go over all the benefits in detail in a few moments, but hunters are among the most probable who would benefit from carrying a karambit knife.
Martial Arts Enthusiasts: Karambits have their place in martial arts. There's a fantastic channel called Union Martial Arts that knows their stuff when it comes to martial arts maneuvers, flips, and all sorts of stuff. Karambits have a wide application in this area, and have a form of art when you look closely.
Origins of the Karambit
Karambit knives originated in the Philippines and Indonesia as a form of a utility knife. These aren't something new; they've been around for nearly a millennia (as far as concrete historical evidence suggests). They were used in larger form as a mercenary blade, and smaller versions would be tucked away and concealed for means of escape should they be captured.
Karambits didn't make their way over to America until the early 1900's, and were seen more as a novelty than anything else. Plenty of American lads began collecting them, obsessed with the historical relevance and the tales behind the types of men and women who used to wield these types of blades.
Karambits are often misinterpreted in film and television as scimitars, which are of different geographical decent and vastly different in size and use. Seen as the equivalent of a concealed sidearm in today's standards, many Indonesians would carry small to medium-sized karambits during times of war, as a means of self-defense.
Application of the Karambit
Karambit knives were originally invented as a form of a utility knife. Nowadays, there's a ton of uses for them, including but not limited to this little list we've conjured up.
Fishing: If you don't have a paring knife, a karambit could be the next best thing. Depending on how sharp and fine the blade is (the tip doesn't matter here), you'll be able to use it and clean up those fish before throwing them in the electric cooler and heading home. This also works wonders if you're fishing on a camping trip.
Camping: Whether you're cutting rope, fletching in your spare time while your buddy's on his hike, or you're just looking for a means of defense if an animal comes along, a karambit is an excellent extension of yourself. You always want to have a knife or hatchet nearby, and this provides you quick access in case of emergencies.
Hunting: Just think of your last hunting trip and how many applications a blade would have come in handy for. Folding pocket knife karambits come in handy in a multitude of situations, so you'll be ready for anything, no matter what.
EDC: A ton of instances call for a tougher hand, and having a karambit as a pocket knife in your EDC pouch could be the solution to a series of problems. For a lot of us, it just makes us feel safer knowing we have a means of escaping a potentially dangerous environment, cutting through a seatbelt in a car crash, etc.
Self-Defense: In the face of danger, you don't want to be left unarmed. There are plenty of gents who have reservations about carrying a gun on themselves at all times, and we can't blame you. Having a legal karambit knife for self-defense is the next best thing.

Q: Is Carrying a Karambit Legal?
A: As with standard pocket knives and EDC blades, a karambit is mostly seen as a concealed weapon for self-defense. Whether or not that's your intent with it, you should take the proper precautions into play before venturing out the door with this bad boy tucked into your back pocket.
As a general rule (though without much specificity), there's this four-finger law for the length of your blade. That's more of a Boy Scout thing, and truth be told, it has stipulations if a serrated edge or a curved blade is the one in question. We like to put it like this: if you were stopped for speeding or something arbitrary, would having this on your person make you feel nervous as the officer approached your window? For most of us, yes it would.
There are specific laws that govern different states, cities and towns. Just because your state says there's a base federal law for a specific length and style of blade, doesn't mean that your county is as forgiving. Your state might say a 4" blade or under is acceptable, while your local municipality says they don't tolerate anything over 3.5". Check with your local laws above all else.
As a note, if you're taking this camping or hunting, or you're just heading anywhere outside of your usual zone, take travel into consideration. We're most likely to be stopped on a highway we're unfamiliar with, somewhere that we don't know the speed traps and area. Plan ahead and determine your path, and the local laws in those areas you'll be passing through. If you enter an area where the county has a ban on all concealed knives, then that's the law, and you're stuck adhering to it.
Check your local laws, consider getting a permit regardless, and if you're stopped for speeding, or anything at all for that matter, be intelligent and notify that police officer. If you keep your hands on the wheel and calmly state what you have on you that may be considered a weapon (karambit), and where it's located on you, you're going to avoid a whole bunch of unnecessary friction. Be transparent, and you'll be fine.
Disclaimer: Gear Hungry has produced this buying guide, curated product list and information solely for informational and entertainment purposes. Under no circumstances are we responsible for anything that you do with your karambit knife, whether purchased through discovery on this website or otherwise. Any actions performed with any item from this list is up to you, and Gear Hungry and its associates are not responsible for anything you may do with your purchase, under any circumstances.