Making the Cut: Best Benchmade Pocket Knives of 2022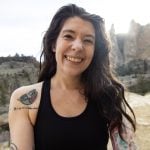 This product guide was written by Tuesday Kirby Kahl
Last Updated
August 10, 2021
Tuesday Kirby Kahl
Tuesday Kirby Kahl is a contributor at Gear Hungry. Her fierce love for the outdoors fuels everything she does. Her professional pursuits include writing, creating art, and photography. These professional passions allow her the time to live life outside as a rock climber, skier, runner, backpacker, paddle boarder, swimmer, and explorer. When Kirby is indoors, she enjoys tea, whisky, old films, cooking, and baking. Her product testing and feedback have shaped the design of everything from climbing shoes to candles.
GearHungry may earn a small commission from affiliate links in this article.
Learn more
Benchmade knives have a well-deserved reputation for being some of the highest quality knives on the market. Benchmade's quality control is legendary, and the commitment of its designers and craftspeople is expressed in every knife that comes out of the Oregon production facility. Below we're going to take a close look at the eight best Benchmade knives for the modern pocket and why there is a promise of quality in the Benchmade name.
Our testers are as outdoorsy as they come, and each raves about their respective Benchmade pocket knives. Whether skiing, rock climbing, camping, backpacking, or everyday use, there's a Benchmade folder or fixed-blade capable of making the cut.
The Best Benchmade Pocket Knife for EDC Review
Bugout 535 Benchmade Pocket Knife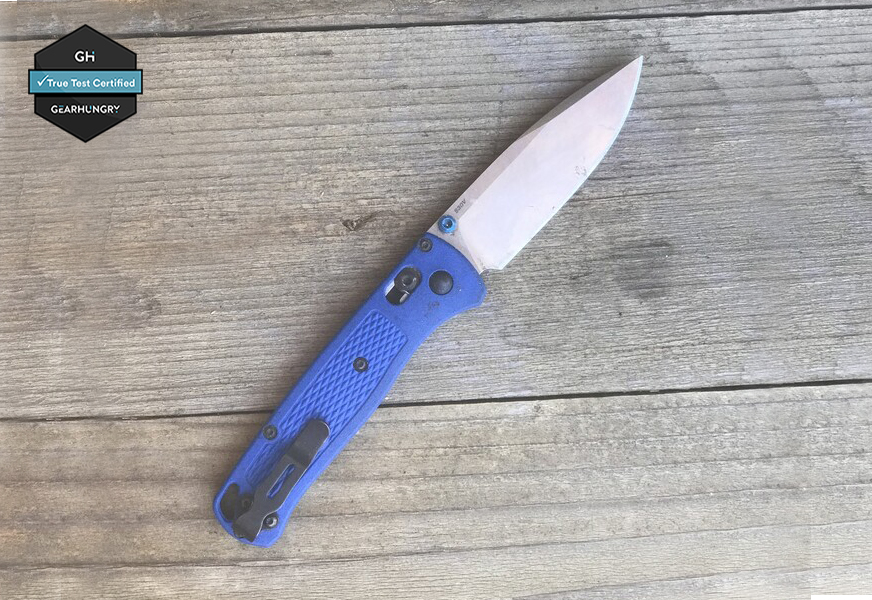 After losing and busting an absurd amount of knives for years, I was eventually gifted a Benchmade Bugout 535. Initially, I was nervous about using it because of its quality and the sheer dollar value spent on it. Once I got over my own gun-shyness of using this knife, I started putting it to the test regularly in all my outdoor adventures. I've used this knife to prepare food while camping, cut ropes, open boxes, and so much more. I haven't had to invest in any other camping knife since this one landed in my lap. 
The drop-point blade offers a generous cutting surface, and the CPMS30V steel blade is still sharp as ever, even two years later. The grivory handle has never slipped from my palm. The open length of this tool is 7.46 inches; closed it measures 4.22 inches, making it perfectly palm-sized even when your hands are as small as mine. Read the in-depth review here.
Key Features:
Easy to handle
Small enough for most pockets
Non-slip handle
Specification:
Brand

Benchmade

Weight

1.85 oz.
Easy to handle
Durable and excellent for the outdoors
The blade is incredibly sharp —exercise caution
Might not fit in shallower pockets
Mini Bugout Benchmade Pocket Knife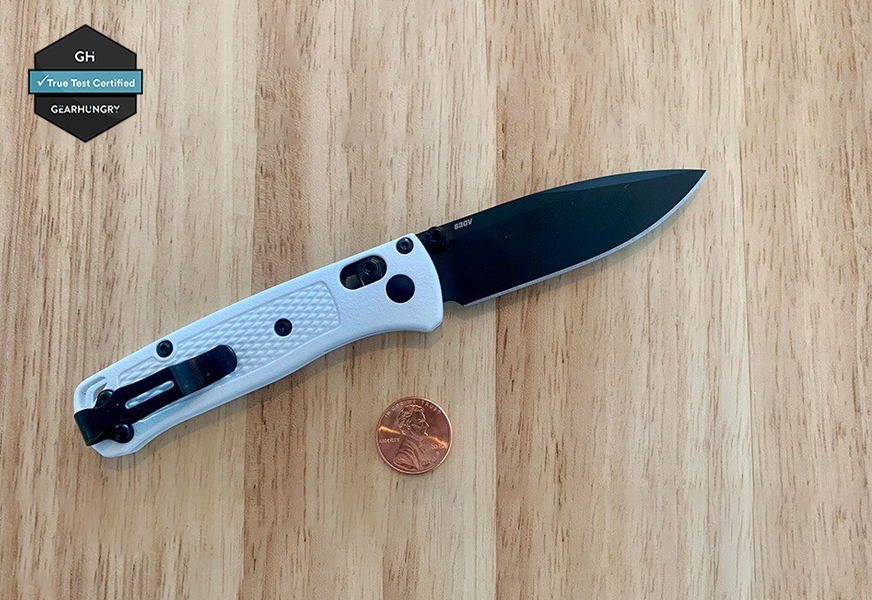 Benchmade recently scaled down one of its most popular EDC knives ever — the 535 Bugout family — into the Bugout Mini. This Mini 533 Bugout measures about half an inch shorter total (a slightly shorter blade length and overall length) but still offers enough handle to get a solid grip. Though mini, Benchmade didn't sacrifice any materials — the S30V steel is quality, the blade geometry is fantastic, and there's still the choice of grivory or carbon fiber scales.
This blade is an excellent choice for those who appreciate quality but want something lightweight (and it would also make a great starter EDC). The best part about this blade: it fits in literally any pocket, including those pockets that barely exist in many women's clothing. 
Key Features:
Lightweight
Portable
Budget-friendly
Specification:
Brand

Benchmade

Weight

1.5 oz.
Compact and ultralight (1.5 oz)
Excellent blade quality
AXIS locking mechanism
Made in the USA
No serrated option
OK price for the size
Griptilian 551 Knife Benchmade Pocket Knife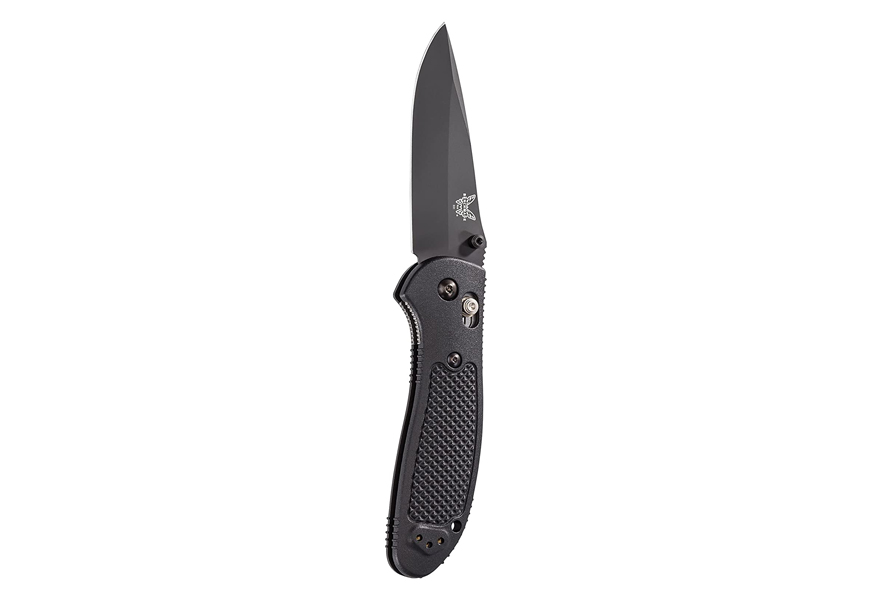 The Griptilian is a top contender for the best Benchmade knife for EDC ever made. The handle is fashioned from high-density resin, making it robust and comfortable.
The chances are slim that this puppy is going to slip while you work. The blade is 154CM stainless and has a hollow ground edge with plenty of cutting surface. This Benchmade pocket knife has a naturally aggressive profile and makes short work of all your daily tasks from opening boxes to cutting rope. The Griptilian is similar in length to the Adamas 275 but doesn't feel nearly as large. Just a beautifully engineered, tough-as-nails knife that will double as a tactical knife in a pinch.
Key Features:
Drop point blade with powder coat finish
Partially serrated cutting edge
Glass filled Noryl GTX handle
Reversible pocket clip
Specification:
Brand

Benchmade

Model

551SBK

Weight

3.2 ounces
Effortless blade action
Locks down nice and solid
Full bodied handle for superior grip
Beautifully balanced
Some will pine for a slimmer handle
940 Reverse Tanto Benchmade Pocket Knife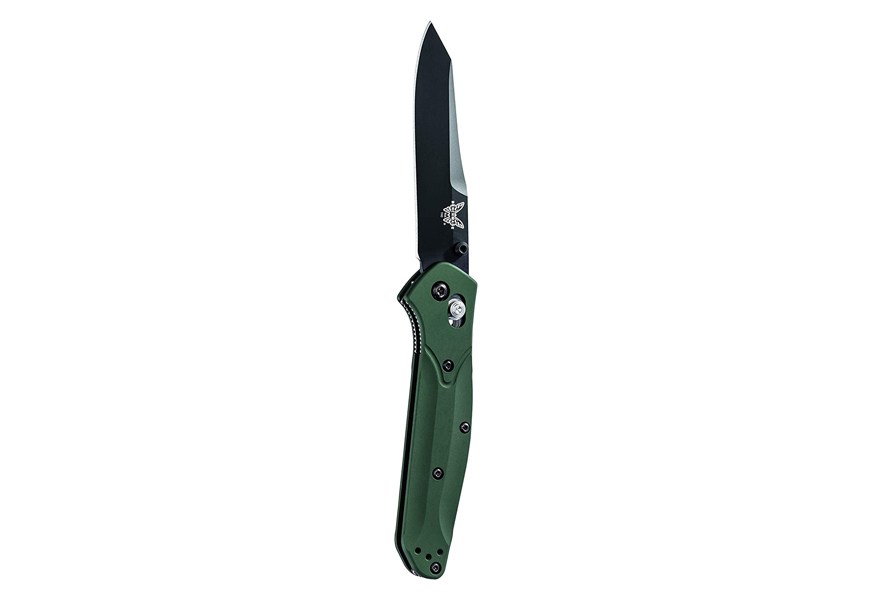 It's hard for some to get their head around the 940 from Benchmade. With just a few minor tweaks, you could envision it next to your dinner plate at a nice steak house. But make no mistake — this is a serious piece of everyday carry.
The 940 maybe be the most popular Benchmade knife in its tanto collection owing to its blade of premium CPM-S30V stainless steel and a handle fashioned from 6061-T6 aluminum. Open or closed, it's a lightweight beauty, and with the no-nonsense reverse tanto folding blade, it allows you effortless cutting force.
The icing on the cake? It weighs a scant 2.9 ounces.
Key Features:
Premium CPM-30V stainless steel blade
Benchmade AXIS lock mechanism
Reversible pocket clip
One hand opening
Specification:
Brand

Benchmade

Model

940BK

Weight

2.9 oz.
Nice and sharp out of the box
Aluminum handle is deceptively comfortable
So light you might forget you have it
Beautiful balance
If you're not fond of green you're out of luck
Barrage 583 Tanto Benchmade Pocket Knife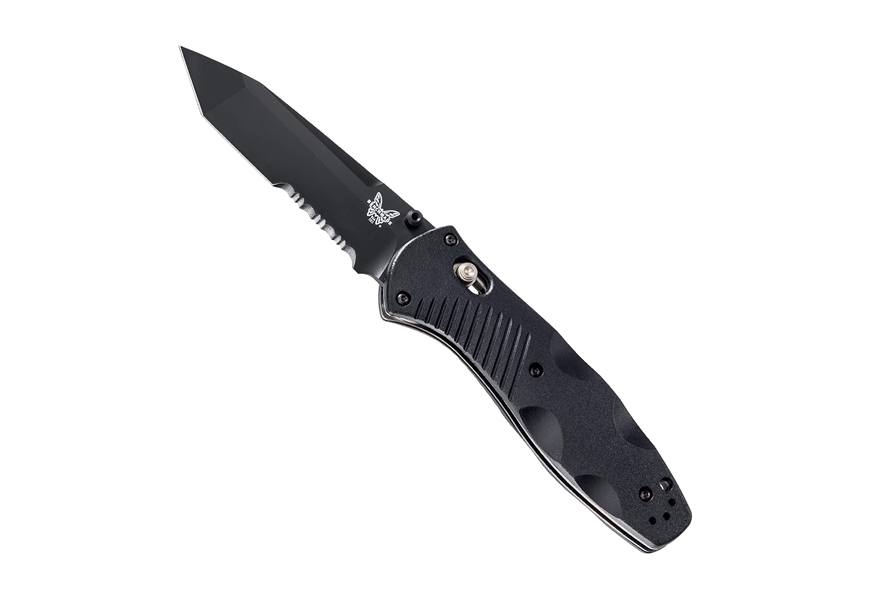 The Barrage 582 is one of the most satisfying EDC knives you'll find. Handsome, perfectly balanced with premium M390 steel in the folding blade and a comfortably molded G10 aluminum handle it's pretty much exactly what we envision when we think "ultimate EDC knife".
Owing to its effortless one-handed opening mechanism and that discreet tanto point, the Barrage is the best Benchmade knife for self defense — when called for. 
At nearly 8 ½ inches open and weighing 4.5 ounces this is not a small Benchmade pocket knife but it never feels like too much knife whether you're stripping wire or opening boxes. And for more top-quality blades, check out our guide to the best boot knives.
Key Features:
M390 stainless steel blade
One-handed opening
AXIS locking mechanism
Ambidextrous design
Specification:
Brand

Benchmade

Model

583BK

Weight

2.2 Pounds
Pointed tanto blade won't snap off
Reliable performance in all conditions
Benchmade LifeSharp service
Corrosion resistant coating on the blade
Heavier than some may prefer for an EDC knife
Mini Crooked River 15085-2 Clip-Point Benchmade Pocket Knife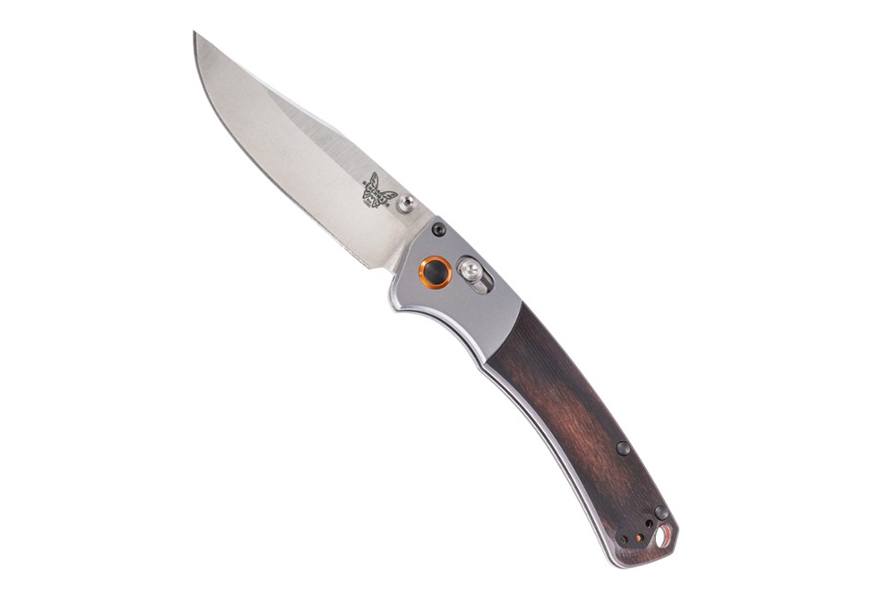 A bit of a stylistic departure, the Mini Crooked River 15085-2 with its clip point blade strives to connect with the great pocket knives of the past and does an admirable job. The CPM-30V stainless steel blade stubbornly holds onto its edge while the diamondwood scales provide the type of satisfying feel you only get from wood. The clip point folding blade provides a generous cutting surface and is great for those times you need to penetrate tip-first. The lanyard hole is an unexpected but welcome touch and the single-handed opening is smooth as butter.
Key Features:
CPM-30V clip point blade
Reversible pocket clip
Stabilized diamondwood scales
Ambidextrous AXIS locking mechanism
Specification:
Brand

Benchmade

Model

15085-2 MINI

Weight

3.29 ounces
Great for hunting, fishing or around the house
Beautifully realized throwback design
Built to exacting tolerances
Wonderful balance
Not what some would call 'affordable'
Grizzly Ridge 15061 Drop-point Knife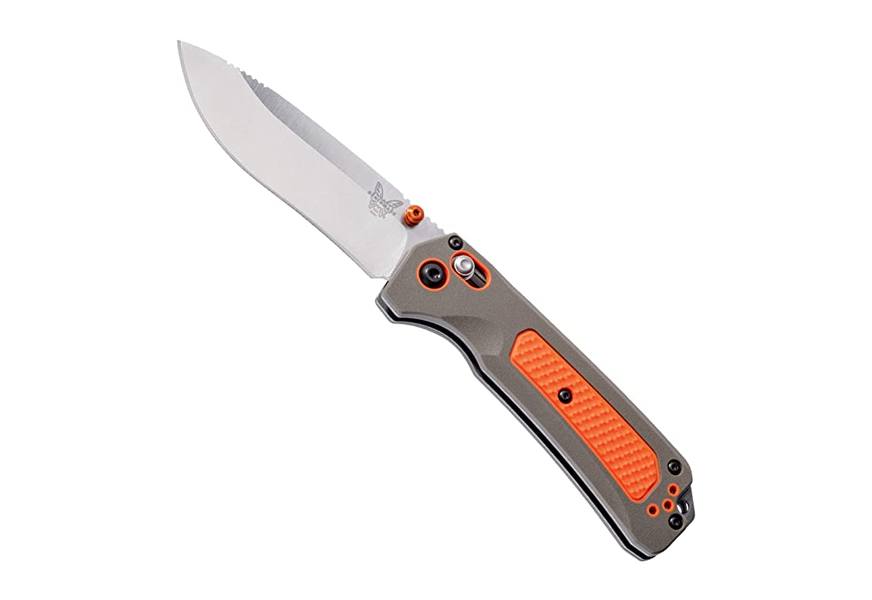 The 15061 Grizzly Ridge drop point knife from benchmark isn't going to be much good in a fight with a grizzly (not sure that even a proper hunting knife would help there) but it's perfect for just about everything else. With a 3 ½ inch drop point blade and checkered Grivory handle core the Grizzly Ridge lets you take hold and perform any task with confidence. There's a high end CPM-S30V stainless steel blade and ambidextrous AXIS blade lock, a reversible pocket clip, serrations down the spine of the folding blade and a lanyard hole at the butt of the handle. To top it off it tips the scales at a trim 3.77 ounces.
Key Features:
Ambidextrous manual opening
Premium CPM-30V stainless steel blade
Blade length 3 ½ inches
Grivory and Versaflex handle
Specification:
Brand

Benchmade

Model

15061

Weight

3.77 oz
Great for tactical or practical applications
Dual thumb studs don't forget left handers
Slips neatly into the pocket if need be
AXIS lock holds firm every time
We weren't crazy about the color scheme
Bushcrafter 162 Fixed Outdoor Survival Knife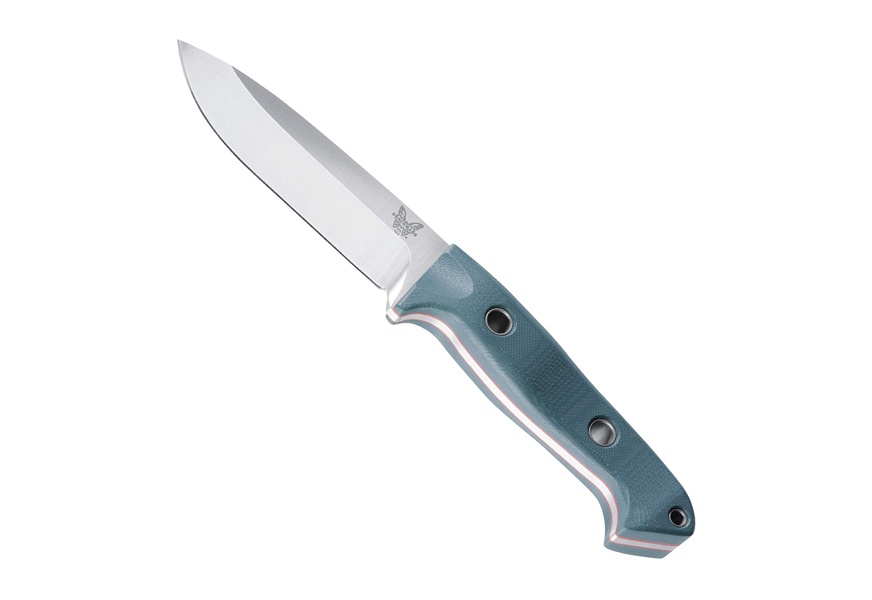 If you spend a lot of time out on the trail, you need a solid EDC survival knife. Some people prefer pocket knives because they're arguably easier to carry but sometimes it's better to carry an old-school fixed blade knife like the Bushcrafter 162. It comes with a superb-quality leather sheath with the Bushcrafter logo embossed into it, so you can easily carry it in your pocket or pack. The blade is made from American-made CPM-S20V Steel, which is known for its excellent edge retention and resistance to corrosion and rust. Plus, it has a beautifully-made resin-soaked fiberglass G-10 handle that isn't affected by fast-changing climates.
Key Features:
CPM-S30V steel handle 
Resin-soaked fiberglass G-10 handle
Fixed blade construction 
Leather sheath
Specification:
Brand

Benchmade

Model

162

Weight

7.7 oz.
Rust and corrosion-resistant
Leather sheath included
Excellent for camping or hiking
Not quite pocket knife sized
The handle doesn't provide much grip
Benchmade Pocket Knife Buying Guide
Why Trust Us
As a team of outdoor enthusiasts who employ blades regularly, I'd argue few other folks can test pocket knives more effectively. The demands of nature and the situations extreme sports put us into are the ultimate gear test, and many of us engage in these things every single day. 
Who This Is For
This guide is for anyone interested in a high-quality pocket knife.
Many folks carry knives as part of their everyday lives for protection, as a handy tool, or for work. These tools are indispensable, and it gets expensive to replace your knife regularly.
The investment in a high-quality knife like a Benchmade is critical. I haven't bought a new knife in over two years, and I don't think I'll need to for many to come! If you need a high-quality Benchmade pocket knife, you'll want to keep reading. 
How We Picked
I started with the knives that other GearHungry product reviewers have and love. From there, I selected some of the top-rated and reviewed Benchmade knives to round out the selection.
We found crowd favorites through reading other reviews, tests, and reviewing the technical specifications of each blade to ensure we only offer you the best. Although, just about any of the top Benchmade knives stand leagues above most competitors. 
How We Tested
All of the testers, including myself, are avid outdoors people. We ski, camp, run, hike, backpack, hunt, and embrace the outdoor life in our respective parts of the country.
Our testing occurred predominantly in the outdoors and in everyday carry scenarios. Our knives have been around campfires, cut ropes, prepared food, broken down boxes, and everything in between.
The blades we talk about here are the best Benchmade knives for everyday carry, whether that day is a long one in the alpine, includes an afternoon hike, or a day around the office.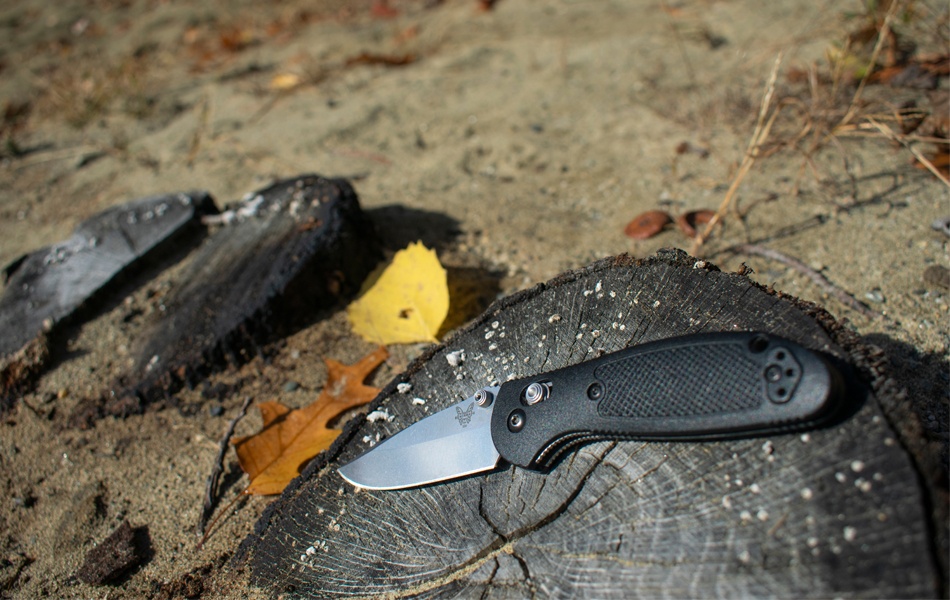 Benchmade Knife Classes
Benchmade separates its knives into 3 general categories: Blue, Black, and Gold classes.
Blue Class – The Blue class knives are intended as everyday carry knives. They feature high-quality materials, top-of-the-line craftsmanship, and admirable durability. But they're going to set you back a few bucks. It's a classic case of getting what you pay for. These knives are for the everyday adventurer, the outdoorsman, and anyone who wants and needs a quality knife at the ready.
Black Class – Benchmade group all their law enforcement, military, and tactical products into one general category they call Black. Fear not though, most Black class knives are available to the public.
Gold Class – The company's gold class knives are made of exotic materials using space-age production techniques that result in knives that are part practical, part work of art. Oftentimes purchased by collectors who never use them then displayed and revered as much as a piece of fine art.
Benchmade Pocket Knife FAQ
Q: Do Benchmade pocket knives include a warranty?
A: Benchmade products carry a full limited lifetime warranty when purchased from authorized resellers. Perhaps more importantly they also provide their LifeSharp service at no charge. To use this service, you send your knife back to them when you need it properly sharpened. Just be careful not to modify a Benchmade pocket knife in any way or you void the warranty. If you do modify the knife, the company may still provide limited LifeSharp service. But they decide whether to do so on a case-by-case basis.
Q: Where are Benchmade knives made?
A: Benchmade knives hail from the outdoor paradise that is Oregon. The Benchmade Production takes place in Oregon City, Oregon just outside of Portland. They are one of only a few knife manufacturers who still produce their knives in the USA.
Sign Up Now
GET THE VERY BEST OF GEARHUNGRY STRAIGHT TO YOUR INBOX