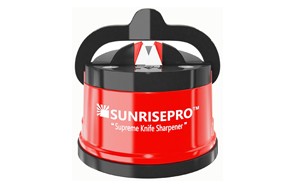 Sunrise Pro Knife Sharpener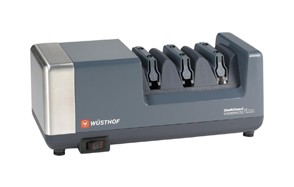 Wusthof PEtec Knife Sharpener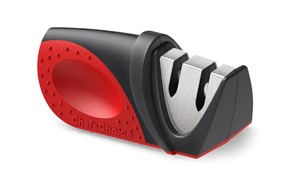 Chef's Choice 2 Knife Sharpener
Sharp knives make the culinary world go round but finding the best knife sharpener isn't as simple as walking into the store (do people still walk into stores?) and grabbing the first sharpener that presents itself. There are different types of electric sharpeners, some that are straightforward and some whose sharpening process involves as many as 3 or 4 stages. If you're looking to keep things simple by using a sharpening stone well, there are 3 different types of them as well – oil, water and diamond – and they each have their pros and cons. So it can be confusing.
Fortunately our product review experts have put their noses to the grindstone (so to speak) for you and come up with a comprehensive list of the 14 best knife sharpeners on the market today. They've cast a wide net that includes everything from the most elaborate mechanical devices to the simplest sharpening sticks and stones so you're bound to find one that fits your needs, temperament and budget. Keep in mind that any opinions expressed here are those of our experts.
Our Picks For The Best Knife Sharpener
Wusthof PEtec Knife Sharpener
See More Reviews

You can pay less for a sharpener and you can pay more. But no matter what you pay you're not going to get a better final result than you'll get with the Wusthof PETEC Electric Sharpener. The PETEC takes you on a 3 stage journey of knife sharpening discovery that results in your knives being restored to factory (or better) edge quality.
Everyone will appreciate the job the Wusthof PETEC Electric Sharpener does on their knives and just as important, everyone will be able to achieve those same results because the PETEC takes control of the sharpening process for you. It sharpens, hones and strops your blade delivering professional grade sharpening results time after time.
Specification:
Brand

Wusthof

Model

2933

Weight

4.6 lb
3 stage process that results in razor sharp knives every time
Combination of diamond abrasives and high quality stropping results in a clean, precise edge
Compact and lightweight with rubber feet that grip the countertop or table
Dependable German engineering
Costs more than some other electric sharpeners but will be with you for years
Sharpens to a dangerous level of precision so be careful
Sunrise Pro Knife Sharpener
See More Reviews

The Sunrise Pro Sharpener is not the most glamorous or expensive sharpener on our list but it does one thing extremely well: it sharpens just about any kind of knife to whatever level of precision you're after. It's easy to use and mounts securely on your countertop or table to help eliminate slip-related accidents.
The Sunrise Pro doesn't have the pedigree of some other knife sharpeners on our list but it performs as advertised and that's all that matters. For a relative song you get to restore all the knives in your kitchen to near pristine condition. It's easy to use and the nice strong suction cup on the bottom means you can put the band aids away.
Specification:
Brand

Sunrise

Model

JHCL-1

Weight

0.32 oz
It's small, cheap and effective
It's small, cheap and effective
Doesn't discriminate between types of knives. Use it on your Asian knives, your steak knives, your cleaver or whatever
100% money back+ satisfaction guarantee
Can be a bit aggressive so you may want to start with a soft touch
Fallkniven DC3 Whetstone Sharpener
See More Reviews

Sharpening stones have been around since the dawn of civilization for a very good reason: they work. Yes, they're more labor intensive than most electric sharpeners but they also allow you an unprecedented level of control. Once you get used to something like the Fallkniven DC3 Diamond/Ceramic Whetstone Sharpener you may never take out your electric sharpener again.
The Fallkniven DC3 Diamond/Ceramic Whetstone Sharpener will make a believer out of anyone willing to invest a bit of time in the process. A big advantage of this stone is that it can be taken anywhere, used anywhere, without any form of lubrication and will produce an amazing sharp edge on whatever knife needs sharpening. Timeless Old World tech that still dazzles.
Specification:
Brand

Fallkniven

Model

DC3

Weight

1.6 oz
Ideal for kitchens or for taking into the field on your hunting sojourn
Twin sharpening surfaces: one a 25 micron diamond surface and the other a fine ceramic
Can be used without any lubrication
Extremely low maintenance
Surface may seem too coarse upon first use so be patient
Chef's Choice 2 Knife Sharpener
See More Reviews

The Chef's Choice 476 2-StageSharpener transforms your weary kitchen, hunting and pocket knives into razor sharp cutting instruments with dependable ease. The sharpener is simple in concept, solid in its fabrication and reliable in the way it goes about its business. The design is also free of right-hand bias which is good news for the lefty chefs out there.
The kind of tech we love: compact, reliable, durable, attractive and cheap. Purists may feel that other sharpeners will produce a more perfect result but for 99% of the human race this sharpener will be everything the doctor ordered. Your blades stay sharp for a good long time thanks to the 2-stage sharpening process and if you're a left handed chef you'll love the fact that it works just as effectively for you as for anyone else.
Specification:
Brand

Chef's Choice

Model

476

Weight

1.44 oz
A no-nonsense sharpener that can handle just about any blade you present it
Dual ceramic and tungsten carbide sharpening elements for a razor sharp result
Easy to use for righties or lefties
Non slip feet keep it on the countertop or table and minimize potential for accidents
Attractive price point
Be mindful that your thumb may get close to the blade during the sharpening process
Warthog V-Sharp Classic II Gunmetal
See More Reviews

What can we say about the design of the Warthog V-Sharp Classic II? Perhaps the designer spends too much time at the health club. Aesthetic considerations aside however there's no doubt this unusual looking piece of culinary kit will provide you with the razor sharp knives you need to slice and dice your way to happiness.
Believe it or not the company have put a bit of effort into refining the look of their product to make it more aesthetically appealing. Whether or not they've succeeded we'll let you decide. Once you get accustomed to the Classic II however the results are undeniable and the whole thing will make perfect sense. Use it on your kitchen knives, hunting knives, utility knives and more and enjoy the same high quality finish every time.
Specification:
Brand

Warthog

Model

WHSC2GG

Weight

7 oz
All popular sharpening angles
325 grit diamond surface rods for optimal sharpening capability
Durable steel frame construction
Sticky rubber base keeps the sharpener planted where you put it
1 year warranty on materials and craftsmanship
May seem a bit intimidating but give it a chance
Chef's Choice 463 Pronto Santoku
See More Reviews

Our second entry from Chef's Choice is the 463 Pronto Santoku. This manual sharpener is super-simple to use and delivers fast, high quality results every time. While this is a "2-stage" system there's nothing complicated about it. One slot is for sharpening and the other for honing. Both stages utilize diamond abrasive surfaces so your knife will retain its edge for a good long time.
For this type of hand held manual sharpener the 463 does an extraordinary job thanks mostly to the diamond abrasive wheels. You get an edge that's both razor sharp and burr-free, as if you spent an hour working the edge on an oil stone. If people make a mistake with the 463 it's that they assume more pressure is needed than actually is. Keep in mind though that it really shines on serrated and straight edged, double bevel Asian-style knives.
Specification:
Brand

Chef's Choice

Model

463

Weight

9.6 oz
A true no-nonsense human powered sharpener that gets the job done
The ergonomic design keeps your hand out of harm's way and allows you to hold the sharpener firm
Ideal for Asian-style knives with serrated santoku edges
Truly ambidextrous. Doesn't ignore the left handed chef
It can take some practice to find the ideal pressure that should be applied, but that's small potatoes really
See More Reviews

The Mooker 3-Stage Sharpener is perhaps the best looking sharpener on our list but it's more than that. It's an ultra-reliable manual sharpener that puts your blade through 3 stages that cause them to emerge burr-free and razor sharp. From diamond to tungsten to ceramic the Mooker's wheels grind, refine and clean your blade to perfection.
A beautiful looking tool the Mooker 3-Stage Manual Sharpener takes in your dull knives and returns them with a professional quality edge to them. The 3-stage process is all the company claim it to be and the build quality is such that you can bank on having this sharpener at your disposal for years to come. All for the price of a movie ticket.
Specification:
Brand

Mooker

Model

3-Stage

Weight

12.8 oz
Graceful, non-slip design is the perfect accent to any modern kitchen. You won't want to put it away
The 3 stage process is incredibly easy and just as effective
Ideal for both home and professional use
Full lifetime warranty on materials and build and 100% money back guarantee if you're not completely satisfied with the results
It might not be a great fit design-wise in your Victorian kitchen
Chef's Choice Trizor Model 15XV
See More Reviews

The 3rd Chef's Choice model on this list is their electric powered 15XV sharpener. It's here because of the routinely excellent edge is produces. It strongly resembles the Wusthof PETEC Electric Sharpener and not just in appearance, but in performance. And there's nothing wrong with emulating the best.
It's only the 2nd electric powered sharpener on our list but you can't lose if you make the Chef's Choice Trizor 15XV your sharpener of choice for double and single bevel Asian knives. This 3-stage sharpener provides something others don't in that it converts any blade to a hyper-sharp 15 degree blade. The graduated manner by which it reaches that preferred angle also ensures the blade stays sharper, longer. And isn't that the name of the game?
Specification:
Brand

Chef's Choice

Model

15 XV
Perfect for all types of contemporary Asian knives including single and double bevel
The 3-stage system lets you choose the perfect edge for every knife
100% diamond abrasives sharpen both straight and serrated edge blades
There's a learning curve involved when it comes to figuring out how to finesse this sharpener. But stick with it. It's worth it
Lansky 4rod Turn Box Crock Stick
See More Reviews

The Lansky 4-rod Turn Box is a bit of a departure from the other kinds of sharpener on this list but a system that's nonetheless easy to use and will generate seriously sharp blades. It's also easy to store when not in use. The system itself is surprisingly stable and consists of 4 five-inch ceramic sharpening rods set at 20 and 25 degrees.
Although the Lansky 4-rod Turn Box Sharpener looks like an incomplete grade school science project it does the job it's designed to do and does it with remarkable ease and effectiveness. Give your knives a few swipes on a regular basis and you'll keep them remarkably sharp and ready to go. Use it in the kitchen or take it camping with you.
Specification:
Brand

Lansky

Model

LS33-BRK

Weight

5.6 oz
Talk about low maintenance
Sharpening rods fit firmly into the base to ensure a clean swipe
One set is medium grit to sharpen while the other is fine grit to hone
1 year warranty on materials and workmanship
"Attractive" isn't a word that comes to mind
See More Reviews

DMT has a long history of creating industry leading knife sharpeners and associated products that are known for their quality and reliability. The DMT CS2 12-inch Ceramic Stick is another fine example of their ability to create simple, affordable and dependable products that are easy to use and get the job done with minimum fanfare.
A great sharpener for all your kitchen knives the CS2 also makes a smart addition to the gear when you're going away on a family camping trip. It will also do a bang-up job on your hunting, a pocket knife, boning knife and more. As mentioned it does require just a bit of getting used to in order to achieve optimal results but nothing too involved. A simple, effective, no-frills sharpener.
Specification:
Brand

DMT

Model

CS2

Weight

9 oz
Large comfortable handle makes it easy to hold the stick firmly
With just a bit of practice you'll achieve professional grade sharpness
No oil or other liquid of any kind needed
Lightweight with an effective safety flange to protect your hand
Not going to win any style awards but it does the job it's designed to do
Chef's Choice 316 Diamond
See More Reviews

The final Chef's Choice sharpener on our list is the 316 DiamondSharpener. Like the 15XV the 316 is at its best when used to sharpen Asian-style knives and it does so with unflinching effectiveness and speed. This is a compact, 2-stage electric sharpener that produces the 15 degree edge so favored in Asian cutlery. Ideal for the preparation of sashimi or sushi.
The Chef's Choice 316 sharpener will restore your dull knives to professional sharpness. It's a great, reliable, well-built kitchen appliance that requires no special knowledge or setup. The precision guides of the 2-stage system make sure the blade is firmly held at the correct angle so that optimal sharpening is realized with minimal fuss. Great for your Asian-style knives or those you'd like to endow with an Asian-type edge for some precision cutting.
Specification:
Brand

Chef's Choice

Model

316

Weight

6 oz
2-stage system uses 100% diamond abrasives to achieve the optimal result
15 degreeangle of attack produces a blade that's perfect for precision work
High build quality down to the rubber feet that stay fast
1-year warranty on materials and craftsmanship
Not the fastest sharpener on the market
Whetstone 2 Sided Professional
See More Reviews

The Whetstone 2-Sided Sharpening Stone is made from professional grade corundum and will sharpen everything from a razor blade to a cleaver and even a machete, should you happen to have a machete lying about that needs sharpening. This is the simplest type of sharpener it's true but the company have obviously put a great deal of thought into the product.
The company is to be commended for including links to instructional videos in the package. Those videos lay out clearly how to get the most from your Whetstone sharpener stone. Once you get up to speed you'll likely enjoy the process and at the same time achieve professional quality results time and again. Sure, it's not fancy and doesn't have a sleek, chrome plated design but it works.
Specification:
Brand

Whetstone

Model

CUL-MN-W01

Weight

2.29 lb
The stone comes with a link to online instructional videos that make mastering the stone a breeze
Uses water instead of oil for better results and easier cleanup
The non-slip base is nice and thick and holds the stone fast while working
1 year limited warranty against defects in material or workmanship
More labor intensive than a mechanical or electrical sharpener
See More Reviews

Why spend hundreds of dollars on a knife sharpening machine when you can get your knives razor sharp for the price of a cheap necktie? It won't take more than a few practice sessions to learn how to get your knives professionally sharp with the Lansky 8" Ceramic Sharp Stick. This device is simplicity incarnate and yet it does the job of electric sharpeners costing many times more.
There are no lengthy explanations needed to describe the Lansky 8" Ceramic Sharp Stick sharpener. It's an old-fashioned device comprised of a hardwood handle and ceramic sharpening rod. That's it. Sure it's not going to create an absolutely picture perfect edge down to the last micron but it will keep your knives really sharp and do so for next to nothing.
Specification:
Brand

Lansky

Model

LSS8CM

Weight

3.2 oz
Nothing fancy here, just age old proven technology crafted to last
The simplest way to keep all your knives razor sharp
Just put it back in the drawer when you're done with it
1 year warranty on materials and craftsmanship
Not going to dazzle the friends but it will get your knives good and sharp for short money
No flange to protect your hand so be careful by golly!
AccuSharp 001 Sharpening Tool
See More Reviews

The AccuSharp Sharpener is proof positive that you shouldn't judge a book by its cover. While it looks like something used to attach buttons to shirts it's actually one of the most cost effective, and we mean effective, means around for restoring a professional edge to your dull knives. It's compact, screwed together rather than glued and its diamond coated tungsten carbide wheels create an edge that will last.
This is a great sharpener for budget conscious cooks. You can use it with equal facility whether you're right or left handed, it has a convenient finger guard to cut down on accidents and most important, it only takes a few swipes on a regular basis to keep your knives in tip-top condition. It's not glamorous. It won't add anything substantive to your kitchen decor. But it will ensure your knives are always ready for whatever dish you have in mind.
Specification:
Brand

AccuSharp

Model

ACCU-001C

Weight

3.2 oz
Handles everything from your Swiss Army knife to your cleaver and axe
Ambidextrous design keeps left-handed chefs in mind
Hand grip is designed to eliminate accidents
Less than $10
Yes, it has a plasticky feel but for less than a sawbuck it does the job
Buyers Guide
Those in search of a knife sharpener often have a slew of questions. These are some of the most common.
How Do You Use An Electric Knife Sharpener?
Every electric knife sharpener works essentially the same way although some will be 2-stage and others 3-stage. Each stage has its own slot and each slot has two opposing grooves into which you place the knife.
Turn the sharpener on.
Place the blade into the right hand groove of the first slot (the one closest to the center of the machine) and pull it toward you at about 2 inches per second. Don't apply too much downward pressure. The sharpener will do the work.
Remove it and repeat the process on the left hand groove of the first slot.
Repeat a few times until the sharpness is to your liking.
Move over to the next slot and repeat the above – start with the right hand groove then use the left hand groove and repeat a few times.
Rinse the knife off and dry it thoroughly.
Where to buy a knife sharpener? – You can buy an affordable sharpener at most "big box" stores. Some high end lifestyle stores also sell upmarket knife sharpeners. By far though most every sharpener today is sold over the Internet through sites like Amazon.
How much is an average knife sharpener? – Like cars knife sharpeners run the gamut from basic to luxury and like cars the price can vary from extremely affordable to more than some people might want to spend. You can get a high quality sharpener that will put your knives through a 2 or 3-stage process which will result in an incredibly sharp edge for less than $20. Or you can buy a mechanical sharpener that will produce a virtually flawless edge for $200+.
How can you sharpen a knife? – You can sharpen your knives by hand using a stone or you can use a manual powered 1-stage, 2-stage or 3-stage sharpener or you can use a multi-stage electric powered sharpener. The choice is yours. Many people prefer not just the affordability but the precise control they have with an oil or water stone. While others opt for the more predictable results they get from an electric powered sharpener. It's really a matter of taste.
Is a manual knife sharpener better than an automatic? – "Better" is a difficult word to quantify in this case simply because the quality of edge created by a high-end automatic sharpener will be virtually indistinguishable from that produced by a manual sharpener in the hands of someone who knows how to use it. Only the most sharp-eyed professional may be able to tell the difference.
How do you use a manual knife sharpener? – There are a couple of different types of manual sharpeners: the table mounted multi-stage, the stick and the stone.
Table mounted device – Typically the manual powered table mounted sharpener looks virtually identical to the electric powered sharpener with a slot for each stage. Where they differ is that each slot in the manual powered sharpener has only one groove and you pull the knife through this groove toward you to sharpen the blade. Once the blade is sufficiently sharp you place it in the honing groove to refine the edge and pull it toward you again several times. If there is a third, cleaning, stage you repeat the process for that stage as well.
The stick – With a stick sharpener hold the sharpener in front of you (facing away from you) with one hand and the knife in the other hand. Hold the base of the knife against the base of the tip at a slight angle and then push the blade along the stick pulling it across the stick at the same time. The tip of the blade should cross the end of the stick. To sharpen the other side of the blade place the knife under the stick and repeat the process making sure to reverse the angle at which you are holding the knife against the stick.
The stone – With a sharpening stone the process is essentially the same as with the stick sharpener. The only difference is that you don't hold the stone, you place it into its own holder (If it comes with one. If it doesn't you'll need to improvise) on a flat surface. Push the knife down the stone several times while holding it at a shallow angle and then flip it and pull it toward you several times to get the other side of the blade.
What's better, 15 or 22 degrees? – The 15 degreeangle is preferred by sushi chefs and others that specialize in Asian cuisine because it allows for the greater precision they need. 15 degree blades are usually thinner than 20 or 22 degree blades. 20 and 22 degree blades are the standard Western blades used more for cutting large pieces of meat etc.
What's the best tool to sharpen a knife? – Most chefs have their own personal favorite and that's what it comes down to for just about everybody; personal choice. If you're the kind who likes to get personally involved in the process you might want to opt for a stone or stick knife sharpener.  These will allow you a certain amount of satisfaction knowing it was your expertise that produced the razor sharp edge. Others however, are quite content to let the machine do the work and that's fine too.

Things To Look For When Buying A Knife Sharpener
The humble sharpener tends to elicit more divergent opinions than just about any other type of kitchen tech. Everyone, it turns out, has their own take on which type of sharpener works best and why and most serious chefs aren't shy about voicing their opinion. As you can imagine then there are a number of things most chefs – both professional and amateur – look for in a sharpener in order to ensure they get the one that's right for them. These considerations include:
Cutting angle – With a manual stick or sharpening stone you set the angle yourself so this does not factor into the equation when choosing that type of sharpener. When shopping for an electric sharpener however it does. You'll want to decide if you want your knives to have the 15 degree "Asian" style angle so that you can make precise cuts or the Western standard 20 degree or 22 degree sharpening angle. Most people will opt for the 20 or 22 degreeangle simply because their cuisine doesn't call for a lot of finesse from their knives and those knives are probably of a the heavier Western variety anyway.
Functionality – If you have experience with the stick or sharpening stone you likely don't want or need anything else. If, however, you are in search of an electric-powered sharpener you'll want to consider how many "stages" you need in your sharpener. In a typical 3-stage sharpener the first stage is the coarsest and does most of the heavy lifting required to turn the edge from dull to sharp. The second stage will have finer grain sharpening wheels. These are used to hone the edge, that is, to smooth out the burrs left by the coarse first stage. A third stage will refine the edge even further and remove any debris left over from the sharpening process.
Ease of use – Most people in search of a mechanical sharpener want one because they don't want to be bothered with trying to achieve a perfect edge themselves using a stick or sharpening stone. They want predictable, first class results every time. In that case it's important that the electric powered device is easy to use, achieves results quickly and with little effort and is designed with user safety in mind. Keep in mind too that it's easy to apply too much pressure when using a mechanical sharpener and when that happens you're likely to see unsatisfactory results. In addition there are subtle differences between mechanical devices designed for Asian-style knives and those designed for Western-style knives. This has to do with the sharpening angle discussed above. Don't get an Asian sharpener if you don't need precise control over your cuts.
Aesthetics – While it's true that most people keep their sharpener, (even their expensive mechanical sharpeners) in the drawer until it's time to use them you'll still want to be aware of whether your sharpener fits into the overall aesthetic of your kitchen when you do take it out to use. While sharpener designs are fairly limited to be sure you typically have some control over the color and finish of the device as well as design factors like whether the device is boxy or rounded in appearance. With a stone sharpener or a stick however you pretty much get what you get.
Cost – While you can get a perfectly serviceable sharpening stick or stone sharpener for short money and some very high-quality tabletop manual 2 and 3-stage sharpeners for less than $50, high-quality mechanical systems will often run you $200 or even more. While that's not so much money it's likely to impact the quality of your life it is a lot to pay to keep a decent edge on your knives. While how much you ultimately pay for a sharpener is entirely up to you, you may want to consider your commitment to cooking and how often you are actually liable to use the device. If this is your first sharpener you might also want to consider learning how to sharpen a knife using a classic stick or stone sharpener first, before deciding if moving up to a mechanical sharpener is the right thing for you.

Conclusion
The sharpener has come a long way in the past couple of thousand years and yet it hasn't. That is, while there have been incredible advances in the development of mechanical knife sharpeners the classic and very ancient sharpening stone is still with us and very much in use as you read this. The best knife sharpener for you will be one that meets the needs of your cuisine and your temperament but which, first and foremost, reliably produces the sharp blades (look after your knife!) you need with the least hassle.
We hope you found these knife sharpener reviews helpful and that the information helps you make an informed decision when choosing a professional or home knife sharpener for your kitchen. Make sure you check back regularly for more product reviews and guides from gearhungry.com.