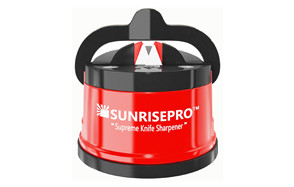 Sunrise Pro Knife Sharpener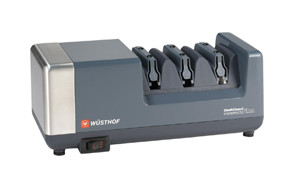 Wusthof PEtec Knife Sharpener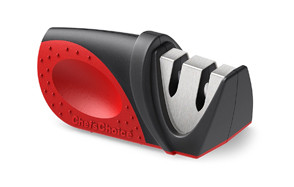 Chef's Choice 2 Knife Sharpener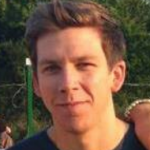 Sharp knives make the culinary world go round but finding the best knife sharpener isn't as simple as walking into the store (do people still walk into stores?) and grabbing the first sharpener that presents itself. There are different types of electric sharpeners, some that are straightforward and some whose sharpening process involves as many as 3 or 4 stages. If you're looking to keep things simple by using a sharpening stone well, there are 3 different types of them as well – oil, water and diamond – and they each have their pros and cons. So it can be confusing.
Fortunately our product review experts have put their noses to the grindstone (so to speak) for you and come up with a comprehensive list of the 14 best knife sharpeners on the market today. They've cast a wide net that includes everything from the most elaborate mechanical devices to the simplest sharpening sticks and stones so you're bound to find one that fits your needs, temperament and budget. Keep in mind that any opinions expressed here are those of our experts.
The Best Knife Sharpener
Knife Sharpeners Buyers Guide
Those in search of the best knife sharpeners often have a slew of questions. These are some of the most common.
Q: How Do You Use An Electric Knife Sharpener?
A: Every electric knife sharpener works essentially the same way although some will be 2-stage and others 3-stage. Each stage has its own slot and each slot has two opposing grooves into which you place the knife.
Turn the sharpener on.
Place the blade into the right hand groove of the first slot (the one closest to the center of the machine) and pull it toward you at about 2 inches per second. Don't apply too much downward pressure. The sharpener will do the work.
Remove it and repeat the process on the left hand groove of the first slot.
Repeat a few times until the sharpness is to your liking.
Move over to the next slot and repeat the above – start with the right hand groove then use the left hand groove and repeat a few times.
Rinse the blade off and dry it thoroughly.
Q: How to know when your knives are sharp enough?
A: Experienced professionals know exactly how sharp they want their knives to be and have an instinctive feel for when they're just right and when they're even a tiny bit off. Most folks, however, need to have some sort of objective test they can use to determine if in fact their best knife has been properly sharpened. There are a few simple ones you can use:
Ye olde tomato test - After you have sharpened using one of the above sharpeners grab a firm tomato and try to slice it. If the blade is properly sharpened it will slice through the skin with virtually no effort and without pushing the skin inward first. If the skin is able to fight back against the blade then your knives are not properly sharpened yet.
The paper test - Remove your knife from the sharpener. Grab a piece of notebook paper and hold it vertically in your hand so that one edge is facing straight up. Now take the knife and push it down against this edge. If the blade cuts through without hesitation it's sharp. If the paper simply crumples beneath the blade instead of cutting the blade needs a bit more work.
The thumbnail test (not recommended for novices) - With this test you take your newly sharpened blade and run it oh-so-delicately over your thumbnail. If you feel it digging in even a tiny bit, it's likely sharp enough. If on the other hand it just slips and slides across the surface of your nail it's not sharp yet. Again, this test is only recommended for people with lots of experience handling knives and even then they'd probably be better off just grabbing a tomato or a piece of paper.
Q: How can you sharpen knives?
A: You can sharpen your knives by hand using a stone or you can use a manual powered 1-stage, 2-stage or 3-stage sharpener or you can use a multi-stage electric powered sharpener. The choice is yours. Many people prefer not just the affordability but the precise control they have with an oil or water stone. While others opt for the more predictable results they get from an electric powered sharpener. It's really a matter of taste.
Q: Is a manual knife sharpener better than an automatic?
A: "Better" is a difficult word to quantify in this case simply because the quality of edge created by a high-end automatic sharpener will be virtually indistinguishable from that produced by a manual sharpener in the hands of someone who knows how to use it. Only the most sharp-eyed professional may be able to tell the difference.
Q: How do you use a manual knife sharpener?
A: There are a couple of different types of manual sharpeners: the table mounted multi-stage, the stick, and the stone.
Table mounted device – Typically the manual powered table mounted sharpener looks virtually identical to the electric powered sharpener with a slot for each stage. Where they differ is that each slot in the manual powered sharpener has only one groove and you pull the blade through this groove toward you to sharpen the blade. Once the blade is sufficiently sharp you place it in the honing groove to refine the edge and pull it toward you again several times. If there is a third, cleaning, stage you repeat the process for that stage as well.
The stick – With a stick sharpener hold the sharpener in front of you (facing away from you) with one hand and the handle in the other hand. Hold the base of the knife against the base of the tip at a slight angle and then push the blade along the stick pulling it across the stick at the same time. The tip of the blade should cross the end of the stick. To sharpen the other side of the blade place it under the stick and repeat the process making sure to reverse the angle at which you are holding the knife against the stick.
The stone – With a sharpening stone, the process is essentially the same as with the stick sharpener. The only difference is that you don't hold the stone, you place it into its own holder (If it comes with one. If it doesn't you'll need to improvise) on a flat surface. Push the knife down the stone several times while holding it at a shallow angle and then flip it and pull it toward you several times to get the other side of the blade.
Q: How often should you sharpen knives?
A: That depends almost entirely on how often you use them. If you are a professional chef who uses his or her knives every day then you should hone them every time you use your knives. But honing has its limits and over time your edge is going to become dull no matter what. Therefore your knives will need to be sharpened at least several times a year. Some chefs, in fact, will use a whetstone on an almost daily basis in order to ensure their knives are always razor sharp. Most of us, however, are not professional chefs and may not even touch our kitchen knives for days at a time. In that case, it's probably a good idea to hone the edge after every couple of uses and have your knives sharpened once a year.
Q: Do knife sharpeners cause damage to knives?
A: For many years there was a heated debate around this topic with manufacturer's stating flatly the notion their products actually damaged knives was absurd, and many professional chefs claiming not only was it not absurd, it was common for mechanical sharpeners to damage expensive cutlery. So who was right? To a certain extent they both were. The manufacturers were correct in asserting that if you followed the instructions to the letter there was little if any chance your knives would be damaged. However, in reality few people actually followed the instructions to the letter and when they veered from the recommended course the potential was there for damage.
Today, however, there is a whole new generation of mechanical sharpeners that are far more forgiving for those who may not use perfect technique. At the same time many more people have become accustomed to sharpening their knives this way and the average novice of 10 years ago is now the seasoned pro. It is still possible to damage knives with an electric sharpener, but you would have to either be trying to damage the knife or have some type of accident in order to do so.
Q: What is the best way to clean a knife sharpener?
A: Another issue that comes up with electric knife sharpeners is how to clean them. Or if, in fact, they actually need cleaning at all. The answer to the second question is that yes, they do need to be cleaned occasionally. And by occasionally we mean once a year or so if you use them with any frequency. Obviously if you've only used the sharpener a few times then there's no compelling reason to clean it, other than just wanting to keep things tidy (and there's nothing wrong with that). So, having established that sharpeners do need to be cleaned occasionally you need to know how to do so in a safe and effective manner. It's not complicated.
There will be a drawer that extends into the mechanism under the abrasives. Any detritus from the sharpening process drops into this drawer. Exactly where the drawer is located will differ from sharpener to sharpener but it shouldn't be hard to find. Remove the drawer flick any material into the wastebasket and then wipe out the drawer with a damp cloth or tissue. You may want to use work gloves and goggles to protect your hands and eyes from any loose metal shavings. Once the drawer is clean and dry replace it. The exact means by which the sharpening mechanism itself is cleaned will vary from manufacturer to manufacturer. Consult your owners guide for specific details. Make sure you don't introduce any grease or other lubricants into the sharpener unless specifically directed to do so by the owner's manual. Also, the outside of the sharpener should come perfectly clean with just a damp cloth. Avoid using commercial cleaners or abrasives of any kind.
Q: Can I sharpen scissors with a knife sharpener?
A: People often make the mistake of assuming that just because a mechanical knife sharpener will sharpen the edge of a knife that means it will sharpen any type of cutting edge, including scissors. This is a mistake and can wind up being a costly mistake when you have to replace both your scissors and the knife sharpener. There are sharpening devices specifically designed to handle scissors. Or you can bring your scissors to a sharpening pro who will usually have the right equipment on hand to also sharpen scissors. Another thing to keep in mind about trying to use a sharpener to sharpen scissors is that by using the device in this fashion you are likely voiding the warranty. As such if you damage the device trying to sharpen scissors you'll need to pay to have it repaired or replaced as the warranty won't cover it. Also, certain types of high end scissors also come with a warranty. And, just as with the sharpener itself, if you try to sharpen them using a mechanical sharpener you can say goodbye to the warranty protection. The bottom line is to always use the appropriate tool for the job at hand. That way you're assured of the best possible result and any warranty remains in effect.
Q: Why is a sharp knife safer than a dull one?
A: We're all told that a sharp knife is safer than a dull knife yet most everyone knows that merely touching a sharp knife can often result in a painful cut while we can wrap our hand around a dull blade with little worry. So why would anyone in their right mind claim that a sharp one is safer than a dull one? To a certain extent it's a matter of semantics for sure, because there is no denying you have to be extremely careful around really sharp knives. But at the same time there is a very good reason to consider a dull knife to be more of a safety hazard than a sharp knife.
When you apply a sharp knife to the surface of a tomato, cucumber, carrot or other food item it should - if you are holding it firmly and applying minimal pressure - sink into the particular item without effort. As such all you really need to work on is your technique and making sure you keep your fingers out of the way. With a dull knife however things aren't quite so simple. When you apply a dull blade to, say, a tomato it's not going to slice into the skin. Instead the skin will be able to push back meaning you'll need to apply ever more pressure to get the knife to penetrate. Increasing the pressure on the knife increases the likelihood of the knife slipping off the offending food item to one side or another. And if it slips to the side where your hand is attempting to hold the vegetable steady you could be in store for a very nasty cut. Because even a dull knife will cause injury if there's enough force behind it.
Q: What's better, 15 or 22 degrees?
A: The 15-degree angle is preferred by sushi chefs and others that specialize in Asian cuisine because it allows for the greater precision they need. 15-degree blades are usually thinner than 20 or 22-degree blades. 20 and 22-degree blades are the standard Western blades used more for cutting large pieces of meat etc.
Q: What's the best tool to sharpen a knife?
A: Most chefs have their own personal favorite and that's what it comes down to for just about everybody; personal choice. If you're the kind who likes to get personally involved in the process you might want to opt for a stone or stick knife sharpener.  These will allow you a certain amount of satisfaction knowing it was your expertise that produced the razor sharp edge. Others, however, are quite content to let the machine do the work and that's fine too.
Q: Where to buy a sharpener?
A: You can buy an affordable sharpener at most "big box" stores. Some high end lifestyle stores also sell upmarket knife sharpeners. By far though most every sharpener today is sold over the Internet through sites like Amazon.
Q: How much is an average knife sharpener?
A: Like cars, knife sharpeners run the gamut from basic to luxury and like cars the price can vary from extremely affordable to more than some people might want to spend. You can get a high quality sharpener that will put your knives through a 2 or 3-stage process which will result in an incredibly sharp edge for less than $20. Or you can buy a mechanical sharpener that will produce a virtually flawless edge for $200+.
Q: Do sharpeners wear out?
A: When it comes to the best knife sharpeners used in a domestic setting the abrasives used to sharpen the blade should last for quite a few years. When they do eventually wear out many of the best manufacturers will refurbish them for you, typically for a nominal fee. Again, however, unless you are using the sharpener on a daily basis (and there is virtually no reason the average person would do this), the sharpener should last for many years before ever needing service.
Honing steels are another story altogether. Honing steels are those instruments that look light a saber (light or otherwise) which you use to gussy up the edge of the blade periodically before using it. These do wear out every few years or less, depending on how often you use them. If you are unsure whether your honing steel is worn out run your finger around it. If it feels smooth all the way around then it's time for a replacement. Not to worry though, they're really affordable. One thing you may want to keep in mind about honing steels is that they typically won't do much to hone the edge of some super hard knives, such as Japanese Global brand knives.

Things To Look For When Buying A Knife Sharpener
The humble sharpener tends to elicit more divergent opinions than just about any other type of kitchen tech. Everyone, it turns out, has their own take on which type of sharpener works best and why and most serious chefs aren't shy about voicing their opinion. As you can imagine then there are a number of things most chefs – both professional and amateur – look for in a sharpener in order to ensure they get the one that's right for them. These considerations include:
Cutting angle – With a manual stick or sharpening stone you set the angle yourself so this does not factor into the equation when choosing that type of sharpener. When shopping for an electric sharpener however it does. You'll want to decide if you want your knives to have the 15 degree "Asian" style angle so that you can make precise cuts or the Western standard 20 degrees or 22-degree sharpening angle. Most people will opt for the 20 or 22-degree angle simply because their cuisine doesn't call for a lot of finesse from their knives and those knives are probably of a heavier Western variety anyway.
Functionality – If you have experience with the stick or sharpening stone you likely don't want or need anything else. If, however, you are in search of an electric-powered sharpener you'll want to consider how many "stages" you need in your sharpener. In a typical 3-stage sharpener the first stage is the coarsest and does most of the heavy lifting required to turn the edge from dull to sharp. The second stage will have finer grain sharpening wheels. These are used to hone the edge, that is, to smooth out the burrs left by the coarse first stage. A third stage will refine the edge even further and remove any debris left over from the sharpening process.
Ease of use – Most people in search of a mechanical sharpener want one because they don't want to be bothered with trying to achieve a perfect edge themselves using a stick or sharpening stone. They want predictable, first class results every time. In that case it's important that the electric powered device is easy to use, achieves results quickly and with little effort and is designed with user safety in mind. Keep in mind too that it's easy to apply too much pressure when using a mechanical sharpener and when that happens you're likely to see unsatisfactory results. In addition there are subtle differences between mechanical devices designed for Asian-style knives and those designed for Western-style knives. This has to do with the sharpening angle discussed above. Don't get an Asian sharpener if you don't need precise control over your cuts.
Aesthetics – While it's true that most people keep their sharpener, (even their expensive mechanical sharpeners) in the drawer until it's time to use them you'll still want to be aware of whether your sharpener fits into the overall aesthetic of your kitchen when you do take it out to use. While sharpener designs are fairly limited to be sure you typically have some control over the color and finish of the device as well as design factors like whether the device is boxy or rounded in appearance. With a stone sharpener or a stick however you pretty much get what you get.
Cost – While you can get a perfectly serviceable sharpening stick or stone sharpener for short money and some very high-quality tabletop manual 2 and 3-stage sharpeners for less than $50, high-quality mechanical systems will often run you $200 or even more. While that's not so much money it's likely to impact the quality of your life it is a lot to pay to keep a decent edge on your knives. While how much you ultimately pay for a sharpener is entirely up to you, you may want to consider your commitment to cooking and how often you are actually liable to use the device. If this is your first sharpener you might also want to consider learning how to sharpen a blade using a classic stick or stone sharpener first, before deciding if moving up to a mechanical sharpener is the right thing for you.

Honing vs. Sharpening: What is the difference?
If no metal is being removed from the edge of the blade, it's considered honing. Whereas if metal is being removed from the blade edge this is considered sharpening. Certainly, even honing will result in some microscopic amounts of metal being removed from the blade edge but not enough to be visible to the human eye, so the above definition is basically a solid one.
Honing is kind of like dusting the furniture while sharpening is more like reupholstering the furniture. Honing is purely a maintenance activity that should be regularly practiced to make sure the blade is clean and sharp as can be every time you use it. It's easily done using a honing rod, a leather strop or a sharpening stone; as most stones have a side for sharpening and a side for honing. Honing is akin to trimming your hair to remove the split ends. It's not a full on haircut. What it does is realign the tiny sharp protrusions along the edge of the blade that can be bent over with use, so that they stand more or less straight.
Sharpening on the other hand is reupholstering the furniture or telling the hair stylist to give you a new look. Material is going to be removed from the edge of the blade. There's no way around it. How much is removed will be a function of just how dull the knife has become or whether you're sharpening to compensate for a chip in the edge or because the tip has broken off. If your knife is not damaged and you have it sharpened twice a year very little material will be removed each time, yet it may still be enough for you to notice just by looking carefully with the naked eye.
Keeping your knives sharp will help them provide you with many years of dependable service while helping you prepare your food in the safest, most efficient and effective manner possible.
Conclusion
The sharpener has come a long way in the past couple of thousand years and yet it hasn't. That is, while there have been incredible advances in the development of mechanical knife sharpeners the classic and very ancient sharpening stone is still with us and very much in use as you read this. The best knife sharpener for you will be one that meets the needs of your cuisine and your temperament but which, first and foremost, reliably produces the sharp knives (look after your knife!) you need with the least hassle.
We hope you found these knife sharpener reviews helpful and that the information helps you make an informed decision when choosing a professional or home knife sharpener for your kitchen. Make sure you check back regularly for more product reviews and guides from gearhungry.com.