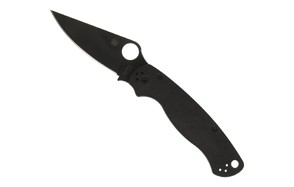 ParaMilitary 2 G-10 Plain Edge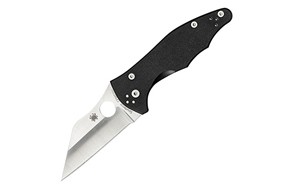 Yojimbo 2 G-10 Pocket Knife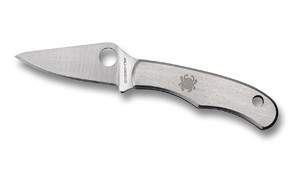 Bug SS Slip Joint Plain Edge Knife
Spyderco makes some of the best knives on the planet. Straight out of Golden, Colorado, they spend time, dedicated research and real-world application to continuously craft their stellar blades. From kitchen to collectible, locking flip knives to tactical survival Godsends, there's a clear view on their passion—creating the most phenomenal knives on the planet. There are too many good ones to count, but somehow, we managed to boil it down to a top twelve list.
 Best Rated Spyderco Knives in 2018
ParaMilitary 2 G-10 Plain Edge Spyderco Knife
See More Reviews

What's not to love about this phenomenal blade? Born in the United States and equipped to handle every situation you can throw at it, the G-10 model has a killer grip position for maximum stability during use, and promises to relinquish your fatigue while using it. This knife isn't for the faint of heart—this cuts through numerous materials, and includes Spyderco's unique Pivot Bushing System, which makes the opening and closing of the blade seamless and safe. Carry it your way with the two-position clip, and be ready for anything, the Spyderco way.
Specification:
Brand

Spyderco

Model

6625

Weight

0.8 ounces
Dragonfly 2 Spyderco Knife
See More Reviews

Plain edge and folding, sporting the signature industrial appeal of the Sypderco brand, you get a compact folding knife with some serious power. Originally from Japan, these spectacular knives are 5" from hilt to blade when opened, and fold up to just over 3" when closed. They continue with their epic ergonomic design that makes it simple to hold and easy to manage, while remaining lightweight and fitting in your EDC pouch. The spine cusp positions are specifically designed to give you control over the cutting edge; all in all, this knife is a fantastic addition to your collection, and perfect for those looking to add a little extra protection to themselves.
Specification:
Brand

Spyderco

Model

SC28GPFG-BRK

Weight

1.92 ounces
The "Tenacious Plain Edge" Blade Spyderco Knife
See More Reviews

Cost-effective and stealthy-looking, this knife runs 7.75" from hilt to blade tip, and is comprised of solid steel. Sporting their favorite G-10 series handle, this high-quality blade saves you cash while packing some serious power. The blade itself is underneath the standard "Four finger rule," which may or may not apply to your municipality, so definitely check that out before carrying this. The signature circular hole in the blade itself is present with a screwed-down, locking handle, upholding their quality and the reason behind our decision to dedicate an entire guide to their amazing knives.
Specification:
Brand

Spyderco

Model

C122GBBKP

Weight

3.2 ounces
Tenacious G-10 Combination Edge Blade
See More Reviews

Utilizing the Spyderco metals, attention to detail and unique design, the Tenacious combination edge blade gives you a half-serrated edge for those instances that call for it, while also retaining the plain edge for clean slices. As always, their bolt-together, lock-down hilt perfectly cases your blade while reducing the overall length down to just over 3", much like the tenacious plain edge model. Durable, signature power that you can't get anywhere else—that's basically how we sum up Spyderco's collection.
Specification:
Brand

Spyderco

Model

C122GBBKPS

Weight

4.8 ounces
Endura4 Lightweight Flat Ground Knife
See More Reviews

Flat ground or flat grind blades are paramilitary and military use, giving you ample power when pegged downward. They focus on a rivet-style blade end, while this model finds a hybrid between a folding knife model and flat ground. Screwed-together bolt-down construction gives you flexibility while providing a dependable hold on your blade. With phosphor bronze washers and skeletonized internal liners made up of steel, you get power and color variation apart from the hazard orange hilt material. Your blade comes just under four inches, and provides the power and strength of all Spyderco products.
Specification:
Brand

Spyderco

Model

SC10FPOR-BRK

Weight

0.16 ounces
Bug SS Slip Joint Plain Edge Knife
See More Reviews

Always wanted to have a kunai like a ninja warrior? This is as close as you're going to get. Made of satin-finished stainless steel, this model is so close to crossing the lines of legality that it isn't even available in all zip codes in the United States. You can engrave this blade—the smallest knife in the Spyderco lineup—to personalize it as a gift or to commemorate an event for your own personal collection. The non-locking slip-joint mechanism is intended for consistent open function.
Specification:
Brand

Spyderco

Model

C133P

Weight

0.32 ounces
Police Stainless Steel Folding Pocket Knife
See More Reviews

This plain-edged blade looks like something straight out of the future. All stainless steel and designed like the runway model of all knives, this 1/8" thick blade comes with a lightweight 5.6oz body and seamless flair when you showcase it to your mates. This is the ultimate knife for survival, self-defense, and showing off to your friends. It's a showstopper piece that looks fantastic on a plaque, mantle, or as part of your ornate collection.
Specification:
Brand

Spyderco

Model

SC7P-BRK

Weight

4.8 ounces
See More Reviews

With an excellent combination edge and lightweight construction, durability and form come out in full fashion. Titanium carbonitride-coated steel eliminates the potentiality for corrosion, while the ergonomic VG-10 hilt is easy to grab and hard to let go of. David Boye Dent locks keep your blade in place when no in use, while the four-position carry makes for excellent support. Side-carry or with the tip-down, you're ready to fly any time of night.
Specification:
Brand

Spyderco

Model

C10PSBBK

Weight

0.16 ounces
See More Reviews

Rust-free and dangerous as they come, this classic paramilitary-style blade comes with the strongest grip on any ergonomic handle in the Spyderco collection, and a serrated edge along the entire length to give you maximum power and a stronger cut. Clip it onto your belt or utilize tie-up carry with the black titanium pocket clip or throw it into your EDC kit. This one comes made of H-1 steel, which is exclusive and powerful, giving you a unique addition to your collection.
Specification:
Brand

Spyderco

Model

C89SBK

Weight

0.16 ounces
See More Reviews

Plain edge and Japanese-oriented, this blade comes with the signature circular hole in the blade, and same ergonomic, grip-ready handle that you'll come to love across all Spyderco products. Similar to the Atlantic Salt, you get exclusive H-1 steel that prevents rust, and takes an absolute ton to dull. The black injected-molded fiberglass and nylon handle ensures you'll retain power when you're holding it, while the blade's diamond-like carbon coating puts it to the test—every test you could ever throw at it. The ultimate hunting knife.
Specification:
Brand

Spyderco

Model

SC91PBBK-BRK

Weight

3.2 ounces
Yojimbo 2 G-10 Pocket Knife
See More Reviews

What ever happened to the good old fashioned pocket knife design? Well, Spyderco didn't forget their roots. Designed from the personal defense trainer, Michael Janich, to act as the perfect extension of your body in a situation where you need to defend yourself. Outfitted with a compression lock for storing the blade and nested stainless steel liners, this knife encourages a thumb-forward grip on the hilt, while the reinforced ergonomics feel natural in your hand, lefty or righty.
Specification:
Brand

Spyderco

Model

C85G2

Weight

4.8 ounces
Spyderco Dog Tag Plain Edge Folder
See More Reviews

We're ending on an odd note with a unique design that you're not likely to have seen elsewhere. This dog tag folder comes complete with a non-reflective titanium carbo-nitride coating, single-beveled 1.23" blade, and handle made from machine-grade carbon for maximum durability. It includes their patented G10 hilt laminate for an excellent grip despite the rectangular shape, and perfect control over the blade.
Specification:
Brand

Spyderco

Model

C188CFBBKP

Weight

0.3 ounces