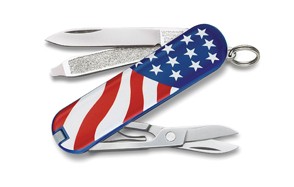 Victorinox Swiss Army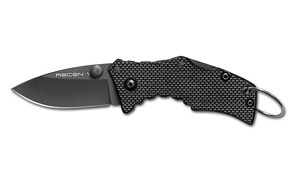 Cold Steel Micro Recon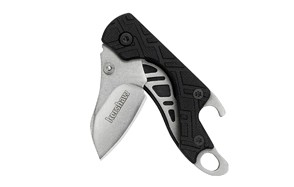 Kershaw 1025X
If you're serious about survival gear and are the kind of person who likes to be prepared for any eventuality then you've no doubt thought about the best keychain knives. While they might seem small and inconsequential to the rest of the human race, you know that a first-rate keychain knife can be an invaluable ally and/or an indispensable last line of defense should you ever need it. Oh yeah, they also come in handy opening boxes and envelopes, helping you strip wire so you can hang that pendant lamp and to cut bait when you're out fishing.
Below we're going to look the 20 best keychain knives out there as determined by our product review panel. They're presented here in no particular order and with the understanding that any one of them would make an effective addition to your everyday carry.
Our Top Picks For The Best Keychain Knives
Snap-On 871008 Keychain Knife
See More Reviews

Snap-on Tools has a well-deserved reputation for quality and innovation. As such it's no surprise they'd produce a keychain knife that's both incredibly functional and attractive. The Snap-On 871008 Key Ring Knife represents the current gold standard of design when it comes to keychain knives and in just a few short inches manages to embody all the virtues of a first-rate EDC knife: lightweight, durability, a sharp reliable blade, comfort, and affordability. The 2 1/8 inch blade on this keychain knife doesn't wilt when you need it for serious applications, including self-defense.
Specification:
Brand

Snap-on

Model

871008

Weight

0.32 oz
Cold Steel Micro Recon Keychain Knife
See More Reviews

The Cold Steel Micron by SOG is not your grandfather's keychain knife. This is a versatile and aggressive blade that packs a lot of punch. It manages to be both lightweight and sturdy while also being a joy to hold and it's so flat that you may very well forget you've got it in your pocket. AUS 8A Stainless is used to create the pointed blade which also sports a black Tuff-Ex Coating to help it resist corrosion. The handle is a thermoplastic synthetic resin that's tough as nails and the contours allow you to get a nice firm grip every time. Throw in SOG's Tri-Ad lock mechanism that will protect your fingers come hell or high water and you've got an outstanding keychain knife.
Specification:
Brand

Cold Steel

Model

27TDS

Weight

1.6 oz
Victorinox Swiss Army Keychain Knife
See More Reviews

The 1 1/4 inch stainless steel blade on this SAK will come in handy if you work in a warehouse or you're a tradesperson who never knows when you'll need to cut away some sort of minor obstacle. The Swiss Army Classic SD also features a screwdriver, scissors, nail file, toothpick and tweezers and at less than 1 oz it will disappear effectively into your pocket until called upon. All features are easy to access and there's a nifty little clip to attach it to your keychain where it belongs. Great EDC kit.
Specification:
Brand

Victorinox

Model

B000RK71LO

Weight

1.6 oz
See More Reviews

The MTech MT-A882 has one of the most compelling profiles of any keychain knife. It also happens to be an extremely high quality piece of compact everyday carry that is both the keychain knife it professes to be and something more altogether. With a 2 3/4 inch, spring assisted, turquoise stainless steel blade, black nylon handle and one-handed deployment this little guy will be there when you need it whether you're jammed into a crawl space or find yourself under assault from weasels intent on doing you harm. The handle is uber-comfortable and the whole thing closes up to a tidy 3 inches.
Specification:
Brand

MTech USA

Model

MT-A882GN

Weight

4 oz
Victorinox Swiss Army Tinker
See More Reviews

A percentage of the proceeds from the sale of the Victorinox Wounded Warrior Swiss Army Knife go to the Wounded Warrior Project, a charity set up to aid veterans wounded in conflicts instigated by the events of September 11, 2001. This is an extremely versatile Swiss Army knife in the classic SAK tradition with 1 large and one smaller blade, standard screwdriver, Phillips head screwdriver, bottle and can opener, scissors and more all compressed into a remarkable flat profile with the Wounded Warrior Project logo.
Specification:
Brand

Victorinox

Model

55073.US2

Weight

1.6 oz
See More Reviews

There are "futuristic" looking keychain knives and then there's the Gerber Curve. The Curve lives up to its name while putting its curves to work in a way that allows you to bring extraordinary force to bear on the cutting surface. That way you're able to get the absolute maximum out of the 1 1/4 inch blade. But the Curve is more than just a tough, light, durable stainless steel blade. It also features both small and medium standard screwdrivers, a Phillips head screwdriver, bottle opener and more. If you want your EDC to be both practical and stylish this is the keychain knife for you.
Specification:
Brand

Gerber

Model

31-000206

Weight

1.6 oz
See More Reviews

The Cinder is one of the more comfortable keychain knives you'll have a chance to hold. The stout design of the 3Cr13 1 2/5 inch stainless steel, stonewashed blade and robust, contoured handle mean you can really lean into the task at hand without fear. There's a stainless steel lanyard notch that also doubles as a glass breaker and a bottle opener so that you can celebrate with a frosty brew after you've extricated yourself from that overturned wreck. The whole thing folds up tight and flat into the glass nylon handle and will slip neatly into your pocket.
Specification:
Brand

Kershaw

Model

1025

Weight

1.6 oz
See More Reviews
The blade of the STL is forged from surgical grade 7Cr17MoV (say that 3 times fast!) stainless steel and features a small cut out intended to aid one-handed opening. The blade, which locks in place securely when opened, gives the STL an overall length of 5 1/8 inches, which means it's definitely flirting with the upper limits of the keychain knife. But a keychain knife it is and one for which you'll find myriad applications from self-defense to opening packages to gutting fish. Limited lifetime warranty included.
Specification:
Brand

Gerber

Model

22-41122

Weight

8.8 oz
See More Reviews

The Mini Buck Folding Knife is a classic keychain knife with a relatively short 1 7/8 inch 420 high carbon stainless steel drop point blade, a black Valox handle that's big enough to grasp comfortably and a large keychain ring so you're never without it. The high carbon blade retains a nice sharp edge and resharpens easily when need be. It has a secure lock back feature that protects your fingers from accidental closing and is corrosion resistant so you can take it with you anywhere. At 2 7/8 inches when closed the Mini Buck slips easily into the pocket of your jeans or tactical pants.
Specification:
Brand

Buck Knives

Model

420HC

Weight

1 oz
See More Reviews

The 283 Nano Bantam keychain knife from Buck eschews the strict utilitarian profile of their Mini Buck Folding knife in favor of the more imposing and, frankly, pleasing profile of the standard folding pocket knife (complete with nail notch on the blade). Also pleasing is the fact that this keychain knife tips the scales a very modest .6 oz and that the blade is composed of the same high carbon 420 steel of the best keychain knives out there. The red, contoured handle feels just right in your hand and with the secure lockback in place you don't ever have to worry about blade related mishaps.
Specification:
Brand

Buck Knives

Model

0283CMS9

Weight

3.2 oz
See More Reviews

The SOG Centi I keychain knife sports a no-nonsense design that maximizes the cutting edge and provides a firm, safe grip no matter the application. The 1 3/8 inch high carbon blade is hollowed out in the center to reduce weight and there's a generous hole at the butt end of the handle for attaching it to your keychain; which is really where this knife belongs. It's smaller than it appears in pictures but just as dependable and well-built as all of SOG's other tactical gear. If there's one drawback to the Centi I keychain knife it's the lack of a locking mechanism. Other than that it's all good.
Specification:
Brand

SOG

Model

CE1002-CP

Weight

0.48 oz
See More Reviews

Built to resemble a key the Guardman Keychain Folding knife sports a long slender blade that's great for a number of simple tasks but not ideal if you need to lean into the work. That said it's a great little keychain knife that folds up to a neat 2 5/8 inches and weighs virtually nothing. Use it for myriad light tasks from opening boxes to cutting fishing line, stripping wire or even cleaning your nails. When you're done with it fold it up and forget about it. Ideal for pros or do-it-yourselfers.
Specification:
Brand

Guardman

Model

B00XPU87F2

Weight

0.8 oz
See More Reviews

Tonife takes a slightly different approach to the keychain knife and in the process answers the question "Why can't a keychain knife be full tang?" We love the way this pocket rocket looks and feels. It's a pleasure to hold and the 1 3/4 inch curved blade optimizes the cutting surface. With the full tang construction you can use every micron of that surface and really lean into your work without ever having to worry that the blade might give way. The handle is made of rugged G10 material that won't rot or corrode and allows the knife to retain a lightweight overall profile. Just don't expect to ever carry this baby on your keychain.
Specification:
Brand

Tonife

Model

B06Y49N11B

Weight

2.2 oz
See More Reviews

The Promithi 151105 is an extremely effective keychain knife that behaves like a much larger knife It's only 2 5/8 inches long when close and flat as a piece of cardboard so once you hook it up to your keychain you'll likely forget it's there until you need it. The aggressive forward arc of the knife along with the wide 5CR16 stainless steel blade means you can bring all kinds of force to bear on whatever you're doing. The broad handle allows you to get a firm grip whether you're opening boxes or carving tent poles. There's a nice big lanyard hole so the keychain knife will lay flat in your pocket.
Specification:
Brand

Promithi

Model

151105

Weight

2.56 oz
See More Reviews

The StatGear Pocket Samurai goes in the opposite direction from those keychain knives that embrace curvilinear design. The hard and fast geometry of the Samurai evokes timeless Asian design cues while retaining the type of superior functionality you'd expect from the best keychain knife. The tanto blade is sharp as a razor and the fact that it comes with a pocket clip means you don't have to confine it to your trouser pockets. You can keep it in the pocket of your work shirt for quick, easy retrieval. The blade is 440C carbon stainless, the anodized aluminum handle comes in 6 different colors and the knife carries an unconditional 90 money back warranty.
Specification:
Brand

StatGear

Model

B071Z5YV6P
See More Reviews

Now here's something you don't see every day. A tactical money clip that's also a first class keychain knife. While the versatility of this implement is impressive don't expect it to win any awards for "most beautiful keychain knife". It's bare bones simple; intended to be lightweight and effective. The 2 1/8 inch blade is fashioned from 420 high carbon steel so you'll always have a razor sharp blade and that blade locks open to eliminate the chance of mishaps. There's a nice big lanyard hole so you can attach it to your keychain easily and the money clip keeps a fair number of bills safe and secure. If you're into the minimalist design you'll love the Grand Way.
Specification:
Brand

Grand Way

Model

B01CDJYT98

Weight

1.6 oz
See More Reviews

This is about as close as you'll get on this list of Best Keychain Knives to your grandfather's keychain knife. It's got a deliberate throwback look that never goes out of style and it's a nice compact size so carrying it on your keychain is not the impossible dream as it can be for some keychain knives. It features an imitation wood polyoxymethylene thermoplastic handle that's made to last and the 1 5/8 inch blade has the familiar nail notch so you can open it in a hurry. The blade is fashioned from 400 carbon steel so it will always sharpen up fast and the whole thing weighs less than an ounce. Throw in the fact that it's around 10 bucks and it makes a great stocking stuffer come holiday time.
Specification:
Brand

Schrade

Model

1OT

Weight

1.6 oz
See More Reviews

The Micron from SOG features a 1 1/2 inch high carbon blade with a tanto shape that comes to a fairly aggressive point. That blade also has a serrated section on the spine that provides something almost no other keychain knife does: the ability to hack through small branches, hard plastic and myriad other things. The blade locks open securely to prevent possible mishaps and the anodized stainless steel handle provides a remarkably firm grip for such a small knife. The Micron is flat enough and light enough to be easily carried on your keychain and the knife itself carries a limited lifetime warranty.
Specification:
Brand

SOG

Model

MICRON-CP

Weight

0.3 oz
See More Reviews

The Kubotan keychain knife was developed as a self-defense weapon by Takayuki Kubota in the late 1960s. In the case of this Kubato, it has a 4 inch stainless steel blade that is concealed inside an anodized black aluminum handle. At the butt end of the handle there's a generous sized loop for attaching the knife to a keychain for innocuous transport. While there are no doubt some precision type applications you can use the Kubotan keychain knife for it is first and foremost intended as a discrete self-defense item. When clipped to your keychain it appears to be a marker of some kind but when opened it reveals itself to be an effective self-defense knife, though some practice will likely be required to master it.
Specification:
Brand

GREYEAGLE

Model

B00JZ7BR5Q

Weight

1.6 oz
Buyers Guide
Now we have listed 19 great keychain knives lets look at why owning a keychain knife is great for any everyday carry.

Q: What Are Keychain Knives Used For?
A: If you're smart about how you plan out your EDC, then you know one thing: you can never have enough usefulness out of every single object on your person. That being said, self-defense is one of the root reasons behind why people carry EDC. If you're always waiting for something to happen, for someone to strike, you're not alone. It's a scary world out there, and you can never be too prepared. Keychain knives are useful because they're the last thing that an assailant would ever expect. Apart from being great in a pinch, especially if you're in the carport late at night and you want to remain anonymous in your defensive techniques, it's a great multitool.
One thing that most of us have on ourselves at all times are our keys. Unless you're home and your ring is hanging on the hook, your keys are somewhere on you, whether it's hanging from your belt or in your back pocket. When is it not useful to have a knife on you? If you're in a car crash, use it to cut your seatbelt. If you're out in the wilderness on a two-day hike, use it to filet a fish. A keychain knife is mostly used for self-defense purposes, but you can absolutely get your use out of it with other things. Just be sure to keep it sharpened.
Q: Why Is It Good to Have A Keychain Knife?
A: We know that self-defense is the best reason, but what else can you get out of carrying a keychain knife? Here are ten quick reasons to own one:
Put a keyring knife on your child's keeps back into the house. If they're walking home from school every day, it's reasonable to be worried. This will be an extra safety measure.
Cut some fruit out on the go. You want to eat healthy, but it's simpler to buy a bag of fries. Well, knock off that excuse. Buy the fruit, slice it with your keychain knife. Carry on.
If your little one can't separate his LEGO pieces, you're stuck doing it for them. Pop out the keychain knife; it works like a charm.
When you're out on the jobsite and your hands get disgusting, use your keychain knife to pick the gunk out of under your nails.
File down your nails. It's not as easy as using a nail file, but when you can feel them getting a bit too long and you have nothing but time to kill, do as the Romans do.
Pick a splinter out by pressing the tip of the knife against the splinter on one side, your finger on the other, and presto—it comes out so easily.
You've filled a hole in your tire with a sealant, but you want to cut the nub off so it doesn't scrape on the way home. You've got a knife; use it.
Our smartphones are our lives. You might be reading this on one right now. If you've noticed gunk getting in the crevices, a knife's tip can clean it up just right.
Opening packages sucks—do it with flair and style with your keychain knife.
With a little bit of practice, you can use your keychain knife to open up a bottle of brew.

Keep Your Keychain Knife Maintained
Nothing is better than having a useful tool in a pinch, but nothing is worse than having that tool crap out on you. It's all about how you maintain it. If you take a few steps to keep your knife sharp and useful, you'll always be able to rely on it when you need to.
Oil – You should always oil your knife appropriately. Don't saturate the thing, but do keep it oiled and return to this at least once every three months.
Sharpen – A dull knife is no good. Whether it's for a hunting knife or not, it has to be sharp. It's kind of the whole point. Sharpen this baby at least once every six months. If you find yourself using it on a frequent basis for household things, then sharpen it once every three months.
Cleaning – One of the biggest problems that users have with a pocket knife or keyring knife, is that it jams up or becomes hard to use. That's because they're not cleaning it. Oiling your knife is only so good; the knife has to be clean first.