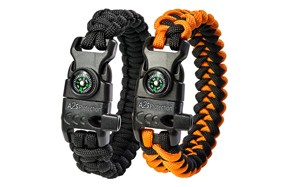 A25 K2 Peak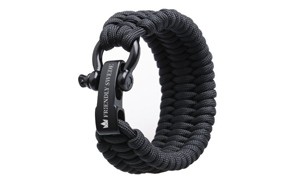 The Friendly Swede 500lb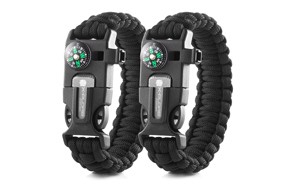 X-Plore Gear Double Emergency Set
True to their name and reliable as can be, paracord survival bracelets are made of the exact same material that paratroopers used during WWII for their parachutes. The Allied Forces trusted this durability – that's the best test of time we could think of as an example. These provide you with between 8 and 20 feet (on average) of paracord, which can be used in loads of different scenarios.
They also include a few other excellent features that we're excited to tell you about. We've combed through and pulled the five best models to show you today. While they all aim to serve a similar purpose, there's one fact that remains – you need one of these for survival in emergency situations. They're also killer to have as a tool on the campsite. Without further ado, let's jump into the hand-picked favorites by the Gear Hungry staff.
(Our Top Picks) Best Paracord Survival Bracelet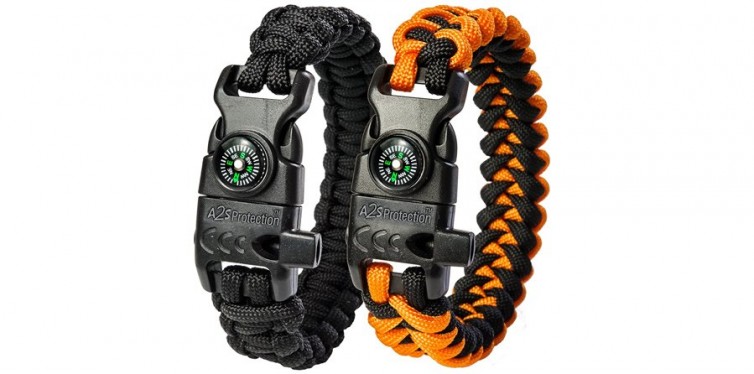 A25 Protection tells us what it truly means to be an outdoor survivalist with this double pack of paracord survival bracelets. If you're a bit shocked at the cost, don't worry – we were too. They keep their production costs low so they can give you the very best prices of just about any survival bracelet on the market.
This model includes an embedded compass with remarkable accuracy. If your GPS isn't working or you don't actually have a full-body compass, you'll just turn to your wrist to find your way home. You also get an emergency knife, excellent for cutting away cloth, opening packaging, and in a hairy situation, using it as self-defense.
Even if you're going on a four-man hiking trip, you can get one for every member involved for under twenty – that's killer. If you're separated, use the included whistle to signal one another. Worst case scenario is you end up spending the cold night along in the woods – use the firestarter to keep yourself warm by the campfire until morning.
These are as powerful and durable as it gets. Put the weight of the world and immense stress on these, and they're going to continue to support you in every endeavor. Available in over two dozen styles that don't affect the price, twelve feet of deployable paracord for dodgy situations.
Key Features:
Includes compass, firestarter, whistle and emergency knife
Available in over two dozen styles to suit your needs
Two for the price of one
Specification:
Brand

Includes compass, firestarter, whistle and emergency knife Available in over two dozen styles to suit your needs Two for the price of one

Weight

2.1 ounces
2. The Friendly Swede 500lb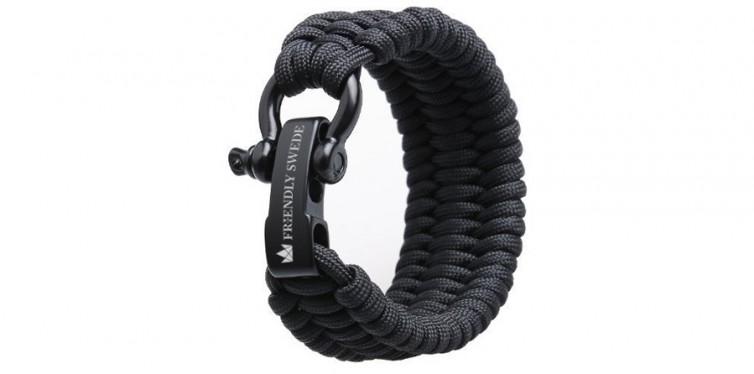 Boasting 500lbs of stress and durability, this excellent paracord survival bracelet allows for use in high-stress situations. Whether you're using this to slide down a rope or deploying your emergency paracord, you'll be left wondering how you ever lived without one of these.
Stylish and ready for EDC, this bracelet actually maintains its performance when wet. You can't always control the weather conditions out in the wilderness, but you can control how your equipment functions in said conditions. This ensures you aren't left with your pants around your ankles in a survival situation.
The Friendly Swede is seriously thrilled about this product, and hold nothing back when offering their lifetime warranty. The durability, stainless steel bow shackle and 500lbs (up to 550lbs, but don't stress it) of pressure retention speak for themselves in this situation. This "extra beefy" bracelet works for you in emergencies, and comes in three sizes, with an adjustable band to contour to basically anyone. Flexible, breathable; the perfect item that your EDC has been missing all this time.
Key Features:
500lbs of pressure make this a multi-tool – not just a bracelet
Comes with spare pin and adjustable sizing
Stylish enough for EDC
Specification:
Brand

The Friendly Swede

Weight

2.1 ounces
3. X-Plore Gear Double Emergency Set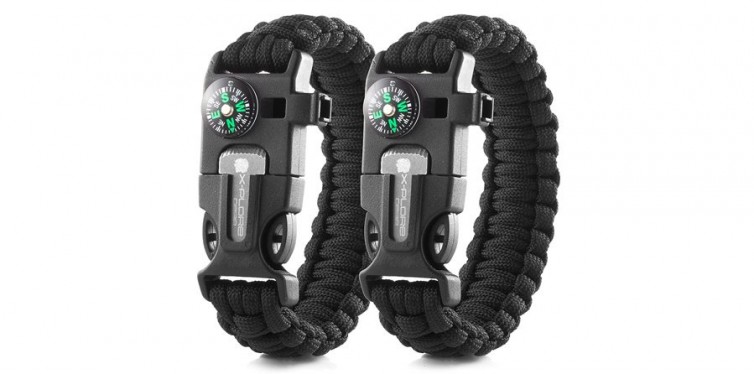 The ultimate emergency survival kit fits on your wrist in the form of an inexpensive, excellent paracord bracelet. Dive right into the details with an included flint firestarter tucked away for emergency situations. Either craft a signal fire, or use it when you can't find the lighter to get the grill going. Works either way.
This bracelet also includes a whistle; chime in to your mates when you're out on the trail to keep track of each other's positions, and ensure nobody is getting left behind. Hop on over to your embedded compass – amazing accuracy, durable, and vibrant. We initially had a lot more bracelets to put on this list that included compasses, but none of them stood up to the test of X-plore – their compass casings broke within the first week. X-Plore puts insane, immeasurable quality into such an inexpensive item.
A scraper knife comes in handy just about any time of the day, whether you're in an emergency situation or you just need it for convenience. This multifunctional bracelet allows you to twist it whichever way you want; whether it's smart EDC or simply used on hiking/camping trips, that's up for you to decide. Comes in over 25 different styles in this double pack.
Key Features:
Comes with a firestarter, scraper, compass and more
Two for the price of one is never a bad thing
25+ styles to choose from
Specification:
Brand

X-Plore Gear

Model

RR-1-26-7

Weight

2.88 ounces
4. Gecko Equipment King Cobra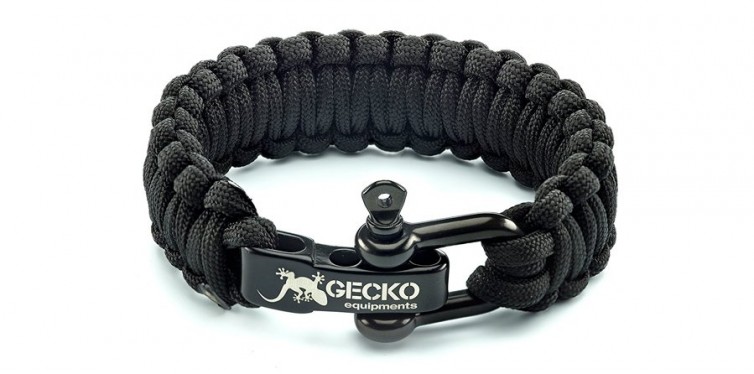 You want to look good in your paracord survival bracelet – Gecko's got you covered. This excellent design looks smart on anyone's writs, while including the functions you need in emergency survival situation. On their sales page, they talk about ten different ways that you can benefit from their bracelet in survival situations.
You get one stainless steel D-ring to loop your bracelet together, as well as a spare screw and over 60 feet of inner rope on the seven ring interior. That's just nuts, no matter how  you look at it. If you showed someone your wrist and told them, "Yeah, there's sixty feet of rope there," they may not even believe you.
They're so confident that you'll love their product and find it insanely useful, that they've slapped on a 100% satisfaction guarantee with manufacturer direct contact information. They're not hiding behind some third-party warranty distributor; they're serious, and they want you in their King Cobra bracelet.
Key Features:
350lbs of resistance retention
Lifetime warranty by manufacturer direct
Firestarter included
Specification:
Brand

Gecko Equipment

Weight

1.6 ounces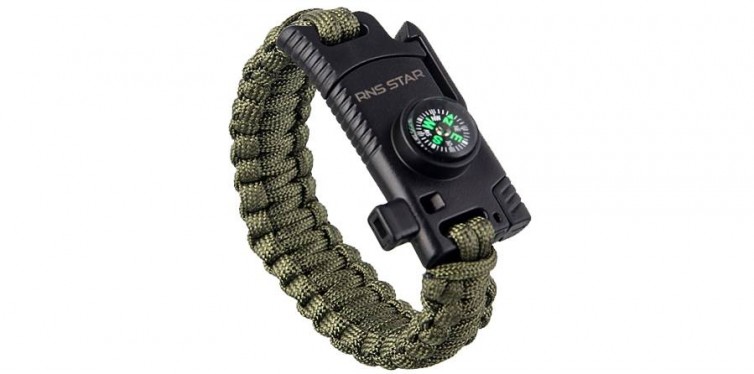 Last but not least, we get into RnS Star's take on a 500lb paracord survival bracelet. Use this to hoist food above your campsite when you're heading off-site, or utilize the included fire sticks to get a fire going in a snap. This bracelet includes an ultra durable compass, and brilliant knife that actually comes with serrated edges, acting as a miniature version to survival or tactical knives you may have used in the past.
Includes an emergency whistle to use when you get lost, and firestarter to kick things off without any hassle. This is exactly the type of survival bracelet you want your child/teenager wearing around their wrist (or even their ankle) when you're all camping. This allows everyone to be safe (when they know how to use it), and provides you with some peace of mind that they'll be okay.
Key Features:
500lbs of pressure retention (tested)
Survival kit on your wrist
Stylish while providing killer four-way function
Specification:
Brand

RnS STAR

Weight

1.3 ounces