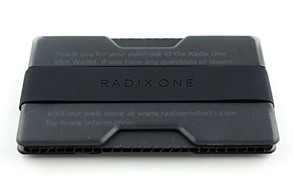 Radix One Slim Wallet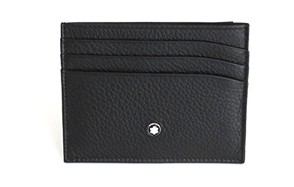 Mont Blanc Men's Meisterstuck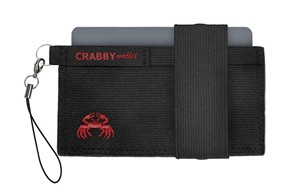 Crabby Gear Wallet – Minimalist Men's Design
Keeping your wallet up front is not just a good idea for theft prevention purposes, it's actually better for your spine. When you have a rear pocket wallet, you're off-kilter while you're driving and messing with your spine's alignment. Keeping a wallet up front also allows you to pull out cash or card much quicker for tolls or drive-thrus. All in all, there are a ton of reasons to go with a front pocket wallet, and that's why we've selected the fifteen best front pocket wallets from around the internet. Let's get into it.
Best Rated Front Pocket Wallets in 2018:
Mont Blanc Men's Meisterstuck Front Pocket Wallet
See More Reviews

Crafted of 100% pure leather, you get the minimalist approach with maximum attention to detail. There's no closure, allowing for quick access in the safest pockets of your jeans or dress pants. Cotton lining keeps bills from sweating, while cradling your cards; you don't want the chip reader to get scraped-off. Go with the wallet that speaks volumes about your character—there's nothing to hide, only convenience to be had.
Specification:
Brand

MONTBLANC

Model

113309

Weight

5.6 ounces
Victorinox Men's Altius Bi-Fold Front Pocket Wallet
See More Reviews

The slim design for the ultimate comfort. Victorinox makes some of the best products in the world, and this is no exception. One size fits all with their all-black leather wallet, designed for your front pocket with optimal room for cards and bills. Fabric lining ensures your bills won't sweat, while the design allows for organization of your cards and ID forms. Imported, crafted of genuine Napa leather, and ready to move with you. The durability of Victorinox is one that can't be denied; go with the time-tested crafters of excellent products.
Specification:
Brand

Victorinox

Model

301639

Weight

7.2 ounces
Levi's Men's Slim Fit Front Pocket Wallet
See More Reviews

Inexpensive and sporting the "American Western Frontier" look, you can choose between six different styles, which include a slim plastic pocket for quick viewing of your identification, or fast access to your primary card. Intended for hand wash only and made from 25% leather, 75% polyurethane, the durability and dependability of this wallet will stick with you for years. It ages and weathers quite nicely, complimenting your style instead of looking ratty or tattered.
Specification:
Brand

Levi's

Model

31LV1622

Weight

4 ounces
Molecule Ripstop Card Wallet
See More Reviews

If you're like half the world, and you're not using cash anymore, you want a minimalist approach to safely storing your cards, and nothing else. The Pioneer Carry ripstop wallet from Gallantry offers a custom FutureForm, heat-molded ripstop fabric that physically can't quit on you. Couple those specs with the three card (or cash) slots, the fact that it's literally ten times stronger than steel, and the lightweight build (28 grams), this wallet leaves nothing to be desired, and everything to gain.
Specification:
Brand

Gallantry

Model

MOLECULE 10XD

Weight

28.2 g
F&H Minimalist Money Clip Front Wallet
See More Reviews

Minimalist is good in just about every situation you can imagine. You don't need to make a fuss about your wallet—you need it to be strong, dependable, and look decent. This approach (available in multiple colors and styles) allows you to keep your primary cards on-hand, and maintain a slim profile all at the same time. Top-grain leather comes with a brushed stainless steel detachable money clip for fast access, and enough ample storage to maintain your credit cards and ID.
Specification:
Brand

Forrest & Harold

Model

10472068

Weight

3.52 ounces
Tommy Hilfiger Men's Leather Front Pocket Wallet
See More Reviews

Tommy's been responsible for some of the best attire to ever don the shoulders of any man—it's only fitting that he hits the accessories as well. In multiple styles and designs, you get a 100% genuine leather wallet that's build with a magnet closure to ensure nothing falls out when you retrieve it from your pocket. Match that with the logo plaque that looks stylish and doesn't fade with time, and you've got a slim card case, tonal-stitched, money clip-inclusive wallet that's ready for anything you throw at it (or in it).
Specification:
Brand

Tommy Hilfiger

Model

31TL160001

Weight

5.6 ounces
Armani Jeans Men's Bifold Wallet
See More Reviews

The ultimate suit manufacturer in the world, Armani Exchange takes to a bold and universal style that fits any suit, no matter what. Made of polyester with a 100% polyamide lining, you'll be able to stash your cash and hide your cards in a slim, 4" by 5" wallet that boasts four slip and six car slots. With the subtle Armani eagle logo in the bottom right corner, your wallet maintains anonymity and a brushed appearance. Are you ready to go? Armani is.
Specification:
Brand

Armani Exchange

Model

9380127A941

Weight

5.6 ounces
Ezra Arthur Cash Fold by Gallantry
See More Reviews

Lightweight and ready for high capacity cash, Ezra Arthur comes out of the gate swinging with a 100% chromexcel horween leather construction for maximum durability, and doesn't add unnecessary weight with lining, rubber, or glue. It's made from scratch with attention to detail, all cut from one cloth, so to speak. Homegrown and crafted in the United States, this wallet holds up to 30 bills (which beats money clips), while also keeping your contents safe and secure. No chip or mag strip scratching with this, and safe on your pockets.
Specification:
Brand

Gallantry

Model

Cash Fold
Bellroy Leather Car Pocket Wallet
See More Reviews

Whether it's your main wallet or used on vacation, this zip-up card case comes ready to neatly store all your credit cards and cash (coins as well) in a smart style. Inexpensively priced and outfitted with a slot that's specifically designed for a SIM card, you'll have everything you need all in one space. Available in three stellar designs and outfitted for the smaller, more lightweight appearance, Bellroy backs their wallet with a three-year warranty, and guarantees that you'll be beyond thrilled with this wallet.
Specification:
Brand

Bellroy

Model

WCPA-Black

Weight

2.56 ounces
See More Reviews

You don't have to be the sidekick to get the most out of your 2.0 wallet. In jet black and sporting a 100% leather body with no interior lining, you get the minimalist design you've always wanted, and the ability to store eight or more cards. Handmade in the United States and a lifetime warranty on the stitching speaks volumes about quality over everything else. Look good while packing only what you need—your No. 2 will last a lifetime (and then some).
Specification:
Brand

Gallantry

Model

NO. 2 WALLET
Vaultskin Notting Hill Slim Zip Wallet
See More Reviews

This is designed to last for ages, and could take the beating of a thousand day trips, or a million workdays. RFID protection comes front-and-center to keep your valuable information safe from your card chips, while the slim look remains smart and stylish. This premium design is available in four colors and styles, each giving you a unique look, and uniform protection over everything standing in your way of conquering the day.
Specification:
Brand

Vaultskin

Model

CWNGHL

Weight

3.52 ounces
Herschel Supply Co. Custom Wallet
See More Reviews

Herschel makes some excellent gear, a lot of which the staffers here at Gear Hungry own. We're pretty damn excited that they took to making some wallets, as well. Available in over twenty unique designs, this 100% polyester wallet is built to last a lifetime. Sporting signature striped fabric lining and RFID blocking technology, you get power behind style, and function above all else. Multiple card slots give versatility, while the top-access storage sleeve lets you take out your primary card with ease.
Specification:
Brand

Herschel Supply Co.

Model

10360-01460-OS

Weight

0.16 ounces
See More Reviews

Minimalist design never looked so good. Available in multiple colors and styles, and the least expensive on our list, you get a thinner-than-average wallet that holds all the durability you need. Efficient and lightweight, Radix gives you a patent-protected sleek design that stores both cash and cards in an ultra slim profile. Strong polycarbonate sections that include silicone are meant to last as long as you want it to.
Specification:
Brand

Radix Products

Model

RDX001SB

Weight

1.6 ounces
Crabby Gear Wallet – Minimalist Men's Design
See More Reviews

Crafted with elastic construction and ready to hold up to 10 cards, this excellent minimalist wallet slips right into your front pocket while providing strength and durability for your daily wear-and-tear that life throws you way. The always-clever crab icon in the bottom left corner lets everyone know that you pay attention to quality and detail, while the 100% elastic construction means you can expand this as much as you need. Stylish, simple, affordable, and above all else, custom. Eight colors to choose from, a lobster claw keychain, and a tight fit—what do you have to lose?
Specification:
Brand

Crabby Gear

Model

811216020184

Weight

0.32 ounces
Levi's Men's Leather Passcase Wallet
See More Reviews

100% leather comes with 100% satisfaction. This easy-to-clean wallet comes with a gift box to use as a valet tray when not in use, and a bifold design to keep everything secured and where it belongs—inside your wallet. Simple, cut, and to the point. Available in three different colors/designs.
Specification:
Brand

Levi's

Model

31LV2200

Weight

6.4 ounces