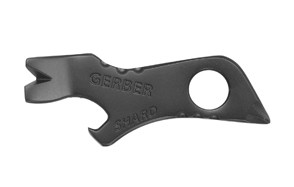 Gerber Shard Keychain Tool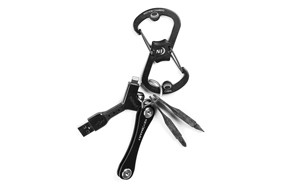 Huckberry Stealth EDC Kit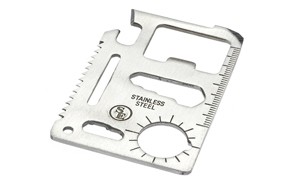 SE MT908 Functional Steel Survival Pocket Tool
Each week, we put out some of the best EDC kits available for any occasion. These are fifteen of the best additions you can make to your EDC kit, each with a different purpose depending on your daily grind. Function and flair collide with our favorite tools, hand-selected by the Gear Hungry staff. You can find most of this list in our personal EDC collections. We've tested these against real-world applications—now it's your turn.
Our Top Picks Of The Best Pocket Tool for EDC
Gerber Shard Keychain Pocket Tool
See More Reviews

First up on our list is the airline-safe tool that's going to turn your life upside-down. You can use this multitool for a Philips head driver, wire stripper, miniature pry bar, bottle opener, lanyard hole and more. Small and lightweight, crafted of titanium of nitride, this multitool is the perfect companion to tuck away in your EDC pouch. Best of all? It's insanely inexpensive to grab one.
Specification:
Brand

Gerber

Model

22-01769

Weight

0.32 ounces
SE MT908 Functional Steel Survival Pocket Tool
See More Reviews

Even looking at this is a trip, imagine owning one. SE's ultimate tool comes with a leatherette carrying case so you don't poke or prod yourself when you reach into your EDC kit. You get a keychain hole to dangle it off your keys if you wish, complete with a ruler, directional anxilarry wrench, knife edge, saw blade, screwdriver, four and two-position wrench, butterfly screw wrench, and the most important function of any EDC tool ever—bottle opener. What good is a multitool if it can't open a frosty tall one? This thing is credit-card sized for easy storage, and definitely not airline safe.
Specification:
Brand

SE

Model

MT908-1

Weight

1.6 ounces
Huckberry Stealth EDC Kit (Pocket Tool)
See More Reviews

This one is about as epic as they come (and yes, it includes the quintessential bottle opener). Complete with a USB with 2.0 transfer speeds, a lightning charger, and fits on your keychain. You can hold 2-8 keys on it, and the beauty is that it eliminates that aggravating janitor-style key jingling when you walk or turn a tight corner in the car. Flexible and primarily for syncing data, music and photos between devices, this epic stealth kit also includes a blade driver, Philips head screwdriver, and the whole thing is heat-treated blackened steel. The ultimate all-in-one stealth EDC kit for the man on-the-go.
Specification:
Brand

Huckberry

Model

STEALTH EDC KIT
See More Reviews

Kudos for the pun. This stainless steel tool is insanely inexpensive, and comes with numerous benefits. Tighten screws, pop a top or slash open a box—the choice is yours. This is TSA-friendly, portable and lightweight enough to fit into your pocket without giving you additional drag. Slip it onto your keys, drop it in your EDC kit, and you're out the door.
Specification:
Brand

Nite Ize

Model

KMT-11-R3

Weight

1.6 ounces
Griffin Pocket Multi Tool
See More Reviews

Stainless steel, available in eight different designs/materials, and functional enough to earn a spot in your EDC kit. Fly domestically or internationally with this nifty little tool without a throw-down with the TSA. Pry bar, scoring tool, sturdy construction—it's all here, now you just need to get it from the pretty picture above to your pocket.
Specification:
Brand

Griffin

Model

GPTSSCSS

Weight

0.32 ounces
See More Reviews

We love Gerber's fantastic products, and this one doesn't disappoint. Affordable and durable beyond compare, this tool won't be flying with you on the plane, but it does come with an ergonomic shape to the handle. Couple that with the smooth edges to reduce hand strain, lock to hold the blade in place, and multiple purposes behind the screwdriver, carabineer clip, and other functions, and you've got yourself another winning EDC addition.
Specification:
Brand

Gerber

Model

31-000206

Weight

1.6 ounces
See More Reviews

Why the pocket monkey? Well, it's actually got a monkey on… nevermind. What it lacks in a first impression, it makes up for with optimum function and excellent durability. This multitool is great to slip into an unused card slot in your wallet, and comes with multiple wrench and screwdriver functions, and eight other functions. Lightweight (less than half-an-ounce) and a single millimeter in thickness—you'll have to try this one to believe how durable it is; the pocket monkey doesn't disappoint. Just don't go telling your friends you have a pocket monkey; eyebrows will be raised.
Specification:
Brand

Zootility Tools

Model

PM1

Weight

0.64 ounces
See More Reviews

This looks exactly like something Batman would have. In the tantalizing skull-shape that it is, you get a myriad of functions that you might not expect at a first glance. You get twelve tools in one, from a bottle opener (you knew I was going to include that) to a screwdriver, from a blade sharpener to a line cutter, and back again. This has it all, looks epic, and has a limited lifetime warranty (and it's affordable).
Specification:
Brand

SOG

Model

SM1001-CP

Weight

0.8 ounces
Swiss+Tech Micro Pocket Multitools
See More Reviews

Two per pack for the ultimate camping/EDC bulk-up with you and a mate, this pocket tool has it all and then some. The inclusive screwdriver comes with ANSI standards met, while the lightweight and rugged design makes it appealing to carry around and pull out in a jam. Hunting, hiking, camping, fishing—you can really throw this into any kit. 6.4oz, ultra functional, and your next best friend.
Specification:
Brand

Swiss+Tech

Model

ST50016M2

Weight

6.4 ounces
See More Reviews

Fly safely with it without being harassed by the TSA, and utilize all seven tools included in this model from the box wrench to the bottle opener. The hex bit screwdriver gives this a unique edge, while the scraper and box opener make this optimal to use in a pinch, whether it's cutting away a seatbelt or cloth. This comes with a 25-year guarantee, because Leatherman loves their Piranha 2 so much—they guarantee the durability of the 420HC stainless steel, and the quality they put behind every one of these that they put out.
Specification:
Brand

Leatherman

Model

LT831680

Weight

1 pounds
See More Reviews

We couldn't resist adding another Leatherman product. Between the 25-year warranty across the board and sturdy construction, their multitools are the perfect addition to your EDC kit. This one contains a ¼" hex bit drivers, 14-gauge spoke wrench, and bottle opened (of course). Perfect for the mechanic/DIY master's EDC kit. Made of titanium with a lanyard hole, this stellar tool is TSA-compliant and built to last for decades.
Specification:
Brand

Leatherman

Model

Mako Ti

Weight

0.3 ounces
See More Reviews

Resembling the design of a standard ice pick, this exceptional tool is built to last. The highest caliber steel, the sturdiest construction, and flawless function—slip it onto your keys, or throw a lanyard through the designated slot. You get a limited lifetime warranty on everything from the bottle opener to the beaked head. Use this to break glass in a hurry or pry doors open—the choice is yours, even when the circumstances aren't.
Specification:
Brand

Boker

Model

150023

Weight

5.6 ounces
Boker Plus Hawkit Neck Knife Axe
See More Reviews

Sporting their item/blade designs, Boker comes out swinging with the axe head model. Sporting the same great durability, you get 440C stainless steel comprising the body of this blade, all contained in a 1" tool for breaking glass, cutting away seatbelts/cloth, or using in a pinch as a self-defense weapon. Comes complete with a Kydex sheath and ball chain, limited lifetime warranty doesn't apply to the sheath.
Specification:
Brand

Böker

Model

09BO098

Weight

5.9 ounces
See More Reviews

At it again with the Nite Ize puns. Their smaller, more compact multitool comes with the capability for air travel, while sporting the durable stainless steel construction we all need. This key-sized multitool seamlessly blends into your keychain, while providing a slightly serrated edge for sticky situations, a bottle opened, and Philips head screwdriver, among other features.
Specification:
Brand

Nite Ize

Model

KMTCK-01-R3

Weight

0.32 ounces
See More Reviews

Titanium and versatile, this sturdy multitool won't quit on you. This 2.5" long tool promises a balance of function and flair, while providing key features such as a pry wedge, bottle opener, screwdrivers (Philips and flathead), and an extremely lightweight design that's under half-an-ounce. Between the ruler and workable design, this is one tool you'll fall in love with immediately.
Specification:
Brand

Machine Era

Weight

0.4 oz