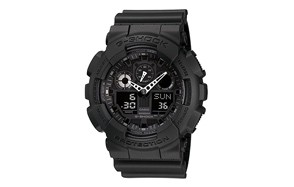 Casio G-Shock GA 100 Series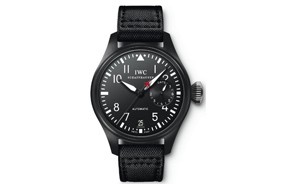 IWC Big Pilot Top Gun Black Dial Automatic Power Reserve Watch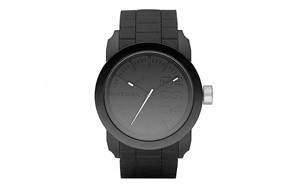 Diesel Men's Double Down Silicone Watch
Ever started digging through a watch buying guide and found that the models were great, but you wanted a selection of all-black watches to fit your style? You spoke; we listened. Black is slimming, goes with anything, and compliments absolutely everyone. It's no wonder these to brands create these watches with your style in mind. Solid black, solid pricing, and a solid way to boost your style without hurting your wallet. Let's dive into them.
Best All Black Watches for Men in 2018:
IWC Big Pilot Black Watch
See More Reviews

IWC has been the go-to brand for high-class, durable apparel that always appears to be in high demand. All-white lettering with the signature upward arrow replacing the twelve o'clock slot, this fabric-strapped watch comes with 1/1000 precision, an automatic power reserve, and the look you've been waiting to add to your arsenal. Any suit, any casualwear, and anything that you find standing in your way—IWC's bold look will conquer it.
With a titanium case, durability isn't even a question—the day and date feature gives you function, while the seven day power reserve ensures that it will keep on ticking under absolutely any circumstance.
Key Features:
200ft water resistance
Deployment buckle
PVD ceramic w/ titanium case
Specification:
Brand

IWC

Model

IW501901

Weight

2.3 Pounds
Casio G-Shock GA 100 Series Black Watch
See More Reviews

Casio has been one of the best watch companies for absolute ages. It's no wonder they've stood the test of time. They come ready to charge with this mechanical-looking all-black watch that catches your eye. Crafted completely in the United States and accurate within 1/1000 of a second, you can utilize your stopwatch and speed indicator. Use the anti-magnetic structure to keep yourself safe, and the automatic LED lights to kick in the afterglow effect.
Twenty-nine world travel times, including forty-eight cities all come standard in your watch, while the daylight savings time feature comes with a clear and precise on/off switch. Shock resistant, and perfect for up to 600 feet of underwater travel.
Key Features:
600ft dive resistance
Shock resistant
Afterglow
Specification:
Brand

Casio

Model

GA100-1A1

Weight

2.08 Ounces
TAG Heuer Carrera Black Skeleton Watch
See More Reviews

If it exhibits class, it's probably a  TAG. With a rubber band and 45mm diameter made of titanium carbide coated stainless steel, you get massive function encased in the ultimate protection. Water resistant up to 300 feet underwater, though it's not designed for diving.
Swiss automatic quartz movement ensures accuracy, while an anti-reflective sapphire crystal ensures scratch resistance, keeping your TAG Carrera looking absolutely excellent. Skeleton watch construction for in-depth visuals into the working mechanics behind the clock face, coupled with
Key Features:
300ft water resistance
Titanium carbide coated stainless steel case
Deployment buckle clasp
Specification:
Brand

TAG Heuer

Model

CAR2A90.FT6071
Omega Speedmaster Moonwatch
See More Reviews

Omega has been providing top-level fashion for the gentleman who knows what he wants, and doesn't want to deal with the unnecessary fluff that comes with so many watches on the market today. Sapphire crystal exhibition-styled case backing allows you to put this through hell and back, while the self-winding automatic movement leaves nothing to be desired.
With a 44mm case diameter, this will fit slimly around your wrist while it compliments your style beyond compare. Experience the dark side of the moon with the pitch black Moonwatch by Omega. Stun the women, impress the boss, and own absolutely every single event.
Key Features:
Self-winding automatic movement
Sapphire crystal exhibition case backing
Black ceramic case on a leather strap
Specification:
Brand

Omega

Model

311.92.44.51.01.004
Fossil Men's Machine Black Stainless Steel Chronograph Watch
See More Reviews

All-black and at the ready to give you the ultimate boost to your style. Compliment any suit, casualwear, or slap on the icing on the cake to your tuxedo for a black tie affair—with Fossil on your wrist, you're dressed to impress.
Blue tri-dials surrounded by white etchings for the numbers allow this 12mm thick, 45mm diameter case to really shine. Double dashes take the place of the three, six, nine and twelve o'clock spots, while the prominent and bold primary watch hand keeps ticking long after it's been dunked in water and put through its paces. Just like the real thing, a Fossil watch stands the test of time.
Key Features:
Smart style with 45mm case diameter
Water resistant up to 150ft
Specification:
Brand

Fossil

Model

FS4552

Weight

5.9 ounces
Fossil Men's Decker Black Stainless Steel Chronograph Watch
See More Reviews

Fossil keeps blowing us away. They're big fans of the all-black design, and that shows in this excellent and bold watch—though different from their other all-black models—by displaying prominent, thick lines and packing intense hardware beneath the watch surface.
A raised crown on the techymeter bezel matches with the round dial, accented by the all-white dials adds an excellent touch of multidimensional features. Water resistant up to 330ft, though it's not meant for divers. Quartz movement with an analog display keep it running like clockwork (we couldn't resist), keeping your date window operational. Chronograph subdials add a nice touch.
Key Features:
All stainless steel case material
Quartz movement with analog display
Water resistant up to 330ft
Specification:
Brand

Fossil

Model

CH2601

Weight

5.9 ounces
Suunto Core All-Black Military Watch
See More Reviews

You can't deny the excellent attention to detail with all Suunto products, made apparent by their quality differences that separate these watches from the others on our list. Of everything, this has to be the most functional—we would also classify this as the ultimate hunting and sporting watch for the laundry list of excellent features that we're about to drop on your plate.
This includes a compass, wrist-top computer watch, and a storm alarm system that specifically senses drops in the air pressure around you. Excellent for two or three-day hikes by your lonesome. Altimeter displays your current elevations, while records your ascent and descent sessions. You get sunrise and sunset locations for over 400 areas on Earth, while the stylish design allows this model to apply to plaid flannel or your best suit in the closet.
Key Features:
Wrist-top computer watch w/ altimeter
Compass included
Storm alarm senses drops in air pressure
Specification:
Brand

Suunto

Model

SS014279010

Weight

1.4 ounces
Nixon Mission Action Sports Smartwatch
See More Reviews

Don't worry—not that Nixon. This intelligent and stylish watch displays bold and high definition symbols, while the rubber band wraps tightly around your wrist for maximum comfort; this watch isn't going anywhere. Beyond the excellent style (available in four designs/color combinations), you get some prime function that comes without comparison.
This is the world's first action sports smartwatch combination—weather, date, and steps are all displayed on the watch face, while the additional feature that will blow your mind does its job. You get real-time surf and snowboarding alerts by Surfline and Snocountry, respectively. Utilizing the GPS function, as well as the thermometer, altimeter, barometer, e-compass and humidity reports, there's absolutely nothing you won't be ready for.
Key Features:
Over half-a-dozen useful functions
Ultra durable and available in four colors/styles
Made for the adventurer in you
Specification:
Brand

Nixon

Model

Nixon

Weight

15.2 ounces
A|X Black and Glitz Stainless Steel Watch
See More Reviews

Armani will always be the double-winged eagle kings of men's fashion. They've taken to the task of creating the perfect watch to go along with any of their suits, as well as your casualwear, all for an extremely affordable price. You wouldn't even believe that this was official Armani Exchange if it weren't for the official Armani Exchange store on Amazon.
Outfitted with a 45mm stainless steel case and mineral dial window, quartz movement ticks beneath the display. This watch comes water resistant up to 165ft underwater, which are completely fine for recreational swimming, but not for diving. With the Armani logo, a date window, and chronograph subdials, you're posh enough to keep your dosh where it belongs—in your wallet.
Key Features:
Excellent price on Armani Exchange official wear
Quartz movement
165ft underwater resistance
Specification:
Brand

A|X Armani Exchange

Model

AX2093

Weight

15.84 Ounces
Tudor Fastrider Black Shield
See More Reviews

You want what nobody else has? Tudor's Fastrider comes in a multitude of completely different styles—not just color options—that allow you to be unique while reaping the benefits of their best-selling watch series collection to date. The winding crown is PVD-treated steel, while the chronograph pushers represent the same feature.
You're good for up to 500ft underwater in this leather (or rubber) strap, while you glare through the sapphire crystal lens to your black dial movement. This self-winding mechanical watch comes with a 30-minute totalizer and a 12-hour totalizer, depending on your preferences, and is encased in all-black 42mm black ceramic.
Key Features:
Self-winding mechanical chronograph movement
Sapphire crystal
42mm black ceramic case
Specification:
Brand

Tudor

Model

Fastrider Black Shield
Hamilton Men's Field Date Black Watch
See More Reviews

Hamilton creates some of the most visually-stunning pieces of personal attire that we've ever seen, and they left nothing to chance when they commissioned this exquisite watch. With a skeleton window view into the mechanical motions of this timepiece and a 42mm case crafted of black PVD stainless steel, brushed along the outer ring, you're immediately immersed in a sense of elevated, high-class society style.
Whether you're matching casualwear or the best damn suit to ever don your shoulders, Hamilton's unique design contours to every style, every event, every time. The textile strap and no-battery-needed function keeps you ready whenever duty (or a hot date) calls.
Key Features:
42mm case of black PVD stainless steel
Textile strap
Viewmatic features (skeleton window)
Specification:
Brand

Hamilton

Model

H70695735

Weight

1.25 pounds
Diesel Men's Double Down Silicone Watch
See More Reviews

All silicone and all business, this minimalist design resembles a glare into the Hubble telescope with its pitch black design and 44mm stainless steel case. Glare into your mineral dial window, made possible by quartz movement powering an analog display. Your silicone band is excellent for water resistance, and comes with a buckle closure.
Water resistance isn't this watch's strong suit, with only 33ft of underwater resistance. It withstands common issues you may face such as taking a dive in the pool, or having it on through the rain. For a well-rounded, clean slate look at a low price, Diesel has you covered.
Key Features:
Rubber band w/ buckle closure
Sleek design
Quartz movement
Specification:
Brand

Diesel

Model

DZ1437

Weight

2.08 Ounces
Victorinox Men's "Night Vision"
See More Reviews

You've got to love just about everything that Victorinox makes. This one comes available in a bunch of different colors if you're not feeling black, but the primary charcoal look is enticing enough to capture anyone's attention. 42mm stainless steel envelops the working parts, while the luminescent hands allow you to utilize this in the dark with your "Night Vision."
Scratch-resistant, tripe-coated, and anti-reflective sapphire crystal gives you clarity as you glare through to the working parts of this beautiful watch. Water resistance keeps you in fine working order up to 165ft underwater, while crown protection keeps your dial in place. Multiple LED indicator lights showcase various lighting and other modes.
Key Features:
165ft underwater resistance
Stainless steel case
"Night Vision" with multiple lighting modes
Specification:
Brand

Victorinox

Model

241596

Weight

1.4 pounds
Victorinox I.N.O.X. Carbon
See More Reviews

Their signature I.N.O.X. series focuses on the key stylistic differences that's kept Victorinox ahead of the curve for decades. Crafted of black composite, housing scratch-resistant sapphire crystal lens material, this all-black watch looks brilliant on your wrist against any style—outdoors, casual, formal—it's up to you to decide.
With a clasp buckle to close the paracord band, your lightweight, sturdy watch comes full circle. Swiss-made quartz controls the analog motion, while the water resistance keeps you working 600ft+ underwater. The signature look and attention to quality and detail that set them apart still stands, and it lives and breaths within this watch.
Key Features:
43mm black composite case
Paracord band material
Sapphire crystal lens
Specification:
Brand

VICTORINOX

Model

241776

Weight

3.52 Ounces