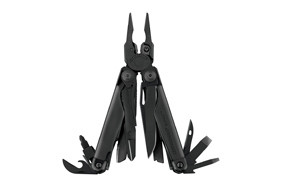 Leatherman – Surge Multitool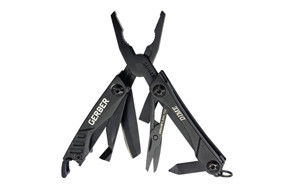 Gerber Dime Multi-Tool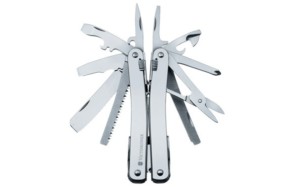 Victorinox SwissTool Multi Tool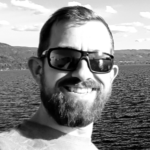 In the days of yore there was basically one multi-tool and everyone knew exactly what it was: the Swiss Army Knife. Renowned for having more attachments than Henry VIII, the venerable Swiss Army Knife ruled the multi-tool universe for decades until some enterprising companies and individuals decided it was time for some competition. As a result variations on the single tool capable of multiple functions began to flood the market and today, multi-tools are more exciting and more versatile than ever before.
In this multi-tool review and guide, we're going to take a closer look at what we consider to be the 10 best multi-tools on the market today.
The Best Multi Tool
Multi Tool Buying Guide and FAQs
Q: How to Use a Multi-Tool?
A: Using a multi-tool is not like flying the Space Shuttle (if Space Shuttles flew anymore) but it may take some getting used to for the novice. The average multi-tool has a lot going on from knife blades to screwdrivers to carabiners, files, wire cutters and more so it's important that you know the right way to approach your multi tool in order to utilize it in the most effective manner.
Press the multi tool lock mechanism. It is typically located near the butt end of the tool and is a metal button that you would press with your thumb. Alternatively, it might be a metal slide. In either case press or slide the mechanism to unlock the tool.
Open the multi tool as if it were a standard set of pliers. Different manufacturers engineer their multi purpose tool differently so the mechanism may be spring-loaded and open itself. If not, open it manually.
Engage whichever tool you require from its niche in the housing. There are typically very thin slits that allow you to catch them with your fingernail and pry the wanted device free of the housing.
Make sure you close the handle of the multi tool once you've extended the desired implement and check that the multi tool lock mechanism is engaged before you begin to use the desired tool.
Disengage the lock mechanism to change from one tool to the next. Then push the extended tool back into its niche and select the next tool. Repeat steps 3 and 4 above.
To shut down your multi tool push the last implement back into its niche and return the multi tool to its closed down rectangular configuration. Store it away in its sheath or pouch.
Remember to keep the multi tool lock mechanism engaged any time the knife blade is deployed in order to prevent accident or injury.
Q: Are Multi Tool Blades Universal?
A: Not all blades can be swapped between different makes of multi tool. However, when you're talking different models of multi tool made by the same manufacturer (say, Leatherman for instance) swapping out multi tool blades is a relatively easy thing to do. You need to be careful, however, because if you make any physical changes to your Leatherman multi tool you may well void the excellent 25 year guarantee.
In the case of the Leatherman, you'll need a Torx #10 security bit or equivalent screwdriver.
Remove the pin at the heel of the multi tool that extends through the blade and holds it in place. Take your time removing this pin so that you don't strip it
Remove your old multi tool
Check to make sure the brass bushings are still in place
Place the new blade
Replace the pin and tighten
The process is essentially the same for every manufacturer though you may need a different type of security bit or screwdriver.
Things To Consider When Buying A Multi-Tool
There are many dozens of different multi-tools on the market today and all of them will be of service to someone. But which one is right for you? Or Multi tools are great Christmas gifts for men or Dads.
Pliers or Scissors – Most every multi tool will come with either pliers/wire cutters or scissors in its business end. Which one you choose will depend on your particular needs. If you plan to use your multi tool for wiring projects or HVAC work you'll likely want pliers. If you plan to use your multi to manipulate cuttable materials like paper, cardboard and plastic sheets, you'll want to go with the scissors.
A Quality Knife Blade – The one thing almost everyone uses on the multi tool is the knife. Whether you're a camper or electrician it's important to have a high quality knife blade at your disposal for any one of a hundred different jobs. If the knife blade is important to you make sure the multi tool you buy has a quality blade that is easily accessed and can be replaced if necessary.
The Number of Tools – As you can see from the details above the number of tools varies greatly from multi tool to multi tool. Some have as few as 6 while others like the Victorinox have 27. The number and type of individual implements you need will be up to you but if you use your multi tool for a variety of functions you'll want something with plenty of options. In any case, make sure you get the tools you use most often. The rest is gravy.
The Quality of the Tools – If you use your multi tool often and to do precision work you'll want to make sure the various implements are of the highest possible quality. This will ensure they do a good job and that they can stand up to the strain of regular use. Most multi tool attachments today are made of one type of high quality stainless steel or another but there are a few low quality exceptions. So you'll need to keep your eyes open.
The Price – The price range on multi tools can be huge; from under $20 to $100 or more. How much you spend will depend on how often you feel you'll use your multi purpose tool and what type of jobs you'll use it for. Certainly, if you just want to have it around in case of emergency you may not need to buy a high end model. On the other hand, if you're a journeyman electrician who's always reaching for his or her multi tool you'll want one with all the bells and whistles.

Conclusion
The multi tool has come a long way in the past 20 years. Today they're high tech gear engineered to incredibly precise tolerances and built using space age materials. There's a reason why a company like Leatherman is able to offer a 25 year warranty on materials and workmanship and it's because today's multi-tool is built to last.
The best multi tool for you is not necessarily the best multitool for someone else. We hope this buying guide helps you to make an informed decision about which multi tool is right for you and your situation. And be sure to stop by regularly for more product reviews and buying guides from our staff of dedicated product professionals.