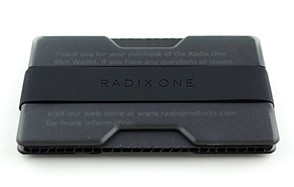 Radix One Slim Wallet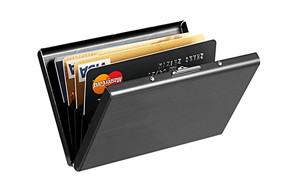 Max Gear Best RFID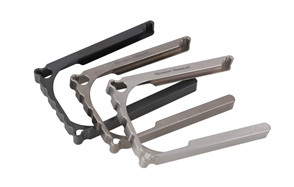 Decadent Minimalist DM1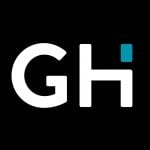 Old leather wallets get grimy, worn-out, and don't display your character properly. When you pull out that platinum credit card at the front of the line, you want it to be reflective of your style, and how you carry your most precious information: your ID and payment options. Whether you want RFID proof, crushproof, or anything in between, metal wallets are the way to go.
 The Best Metal Wallet
Metal Wallet Buying Guide
Metal wallets are great, and they even look awesome, but what about them is actually beneficial to you? It's more than just style; take a look below at some of the best reasons why you need a metal wallet today.
RFID Protection
RFID thieves are getting smarter, and more accessible. Nowadays, you can spend a child's allowance and purchase card data-snatching machines off of eBay. Anyone can steal your data, and they can do it by walking by you on the street, or sitting in the same café as you. It's getting scary out there. You need your information to be kept safe. RFID-blocking features are essential to any metal wallet, (it's part of the reason they exist in the first place,) and should not be taken lightly. There are hundreds of reports of credit card fraud and identity theft daily in the United States, and they all trace back to RFID thieves.

Protect Your Cards
How many of us have been that guy or gal at the checkout aisle, desperately asking the cashier to be gentle with our splintered and frayed plastic card? When you store your cards in a metal wallet, you're limiting their exposure to swelling and moving materials, such as leather, which are going to leave your mag strips and chips less scratched-up, and lessen the chances of your cards become brittle, frail, or split at the ends.
Minimalist Design
You don't need to lug around a bulky wallet. The biggest stigma on metal wallets is the weight associated with them. Stainless steel and aluminum can weigh far more than a traditional tri-fold leather wallet, but when you look at titanium as a material and a minimalist design, you're taking out all of the associated weight issues, and maintaining a narrow scope of cards. Nowadays, so many of us don't even carry cash anymore. Minimalist designs focus on those with a few necessary cards—identification, credit card, debit card, and possible one or two more needed cards, such as a AAA card. If you're sick of wallets filling up your entire pocket, go for a minimalist design.