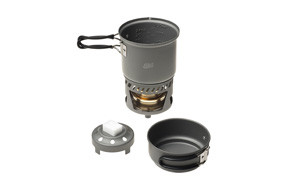 Esbit 5-Piece Lightweight Trekking Cooking Set W/ Brass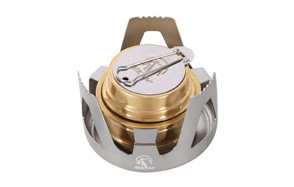 REDCAMP Mini Alcohol Stove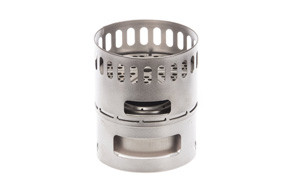 Evernew TI Stove DX Set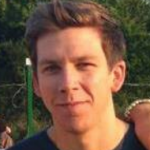 Ever wanted the perfect solution to your camping and cooking needs? Alcohol stoves, more commonly known as beverage-can stoves or pop-can stoves, are the best solution to cooking during a power outage, when you're out on the hiking trail, or just having one handy for when the grill won't light. If you've ever seen a buffet or had catering handle the food for an event, you've seen an alcohol stove. Here are the top seven models, and a bit about how to use them.
The Best Alcohol Stove
Alcohol Stove Buying Guide & FAQs
Pop up for a quick meal during a hike, or just enjoy a fast meal out under the stars—alcohol stoves have a million different uses, and are excellent in disaster or emergency situations where an electric stove or electric cooking appliances aren't available. Here's what you need to know:

Q: Why Carry an Alcohol Stove Instead of Alternative Stoves?
A: Portable stoves have a great set of uses, but they're bulky, heavy, and just not convenient to carry around. Alcohol stoves are immensely lightweight and simple to use. Let's go over their main features:
Portable: You can simply put them in your backpack (safely) or into a small compartment in your car. They're great in a pinch, especially since there's no heavy lifting or additional equipment to carry.
Hardwearing: You don't just want a portable cooking source, you want it to be able to handle a heavy load—that's what hardwearing is. You can cook up large volumes of food with a tiny, portable cooking source.
Easy to Use: The operations are simple—we've even laid them out beneath this section to give you some insight. There's no crazy setup, no major preparations (with charcoal or gas camping stoves, you have to do a lot before you can actually ignite the night). Simple to use is always a bonus on our list.
Fuel: Who has time to carry around pounds of propane in a tank? Lightweight, small fuel sources are a far better solution for just popping-up and getting straight to cooking. Carry less fuel, use less fuel, and enjoy your food just the same.
Q: How to Use an Alcohol Stove
A: Simply scope out an area that won't catch fire to start with. Ideally, near some rocks or away from any brush/dead leaves. Once you've made sure that there are no flammable items in your direct area, and you have an emergency bottle of water or miniature fire extinguisher nearby, you're ready to actually start.
Pop in your denatured alcohol into the central storage area of your stove. Be sure to fill it up about halfway, which will give you a ten-minute burn. Have everything nearby, and never leave a flame to itself—you won't regret sticking around, but you will regret it if something goes wrong when you're not attending to your fire.
Q: Do I Need a Windshield?
A: In short, yes—you absolutely do. Depending on the power of your burn, you'll run the risk of the flame dying out while you're trying to cook. A windshield is designed to do what a windshield does best—protect you from a gust coming along and ruining your perfect simmer. These are a necessity. For our recommended add-on windshield, look below.