Back To School: The Best College Backpacks Of 2022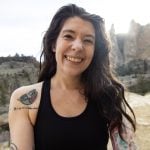 This product guide was written by Tuesday Kirby Kahl
Last Updated
May 11, 2022
Tuesday Kirby Kahl
Tuesday Kirby Kahl is a contributor at Gear Hungry. Her fierce love for the outdoors fuels everything she does. Her professional pursuits include writing, creating art, and photography. These professional passions allow her the time to live life outside as a rock climber, skier, runner, backpacker, paddle boarder, swimmer, and explorer. When Kirby is indoors, she enjoys tea, whisky, old films, cooking, and baking. Her product testing and feedback have shaped the design of everything from climbing shoes to candles.
GearHungry may earn a small commission from affiliate links in this article.
Learn more
Finding the best college backpack can be challenging. You want a backpack that can hold all your valuables, including books, notebooks, pens and pencils, probably a laptop or at least tablet, and of course, some snacks and other daily essentials. Of course, you also want your backpack to be comfortable on your shoulders and back, as well as stylish and able to match or complement your style.
So, which is the best backpack to pick for the job? To lighten your load and ensure that you never have a problem carting everything you need from A to B, we have put together a list of the best college backpacks currently available. Whether you're tech-savvy, fashion-conscious, or a bit of a backpack hoarder – you won't have any problem finding the right college backpack on our list.
These backpacks aren't exclusive to college students though as a stylish backpack has many uses as an everyday backpack for commuters, hikers, workers, and more. You don't have to ditch your cool college backpacks when you leave your college campus!
The Best Backpack For College
Deuter UP Stockholm Backpack
Our top choice in the list of the best backpacks for college students is the Deuter UP Stockholm. Deuter excels in crafting technical packs for adventures of any kind, in any terrain, including a college campus. We love the UP Stockholm for its sleek look, hidden pockets, and zipped top. This bag is great as a quick overnight bag since it's easy to dump stuff into, but it can just as easily turn into an organization lover's dream. The sneaky front pocket is hidden and great for valuables and the interior laptop pocket is just the right size for my MacBook while the other pockets fit small notebooks, pens and chargers with ease. There's also a side pocket which is great for water bottles.
The zip top opening is flap style, so if you forget to close your backpack all the time, you're unlikely to lose anything out of this one. To make carrying large loads easier, there is a padded and ventilated back panel, padded straps and a hip and sternum strap to distribute weight better and spare your shoulders and back. Lastly, this pack sports a 22L capacity, perfect for big days on campus.
Key Features:
Waist and sternum straps for weight distribution
Padded back panel
Interior laptop sleeve
Front zippered pocket
22 liter capacity
Specification:
Brand

Deuter

Model

UPStockholm

Weight

1.76 Pounds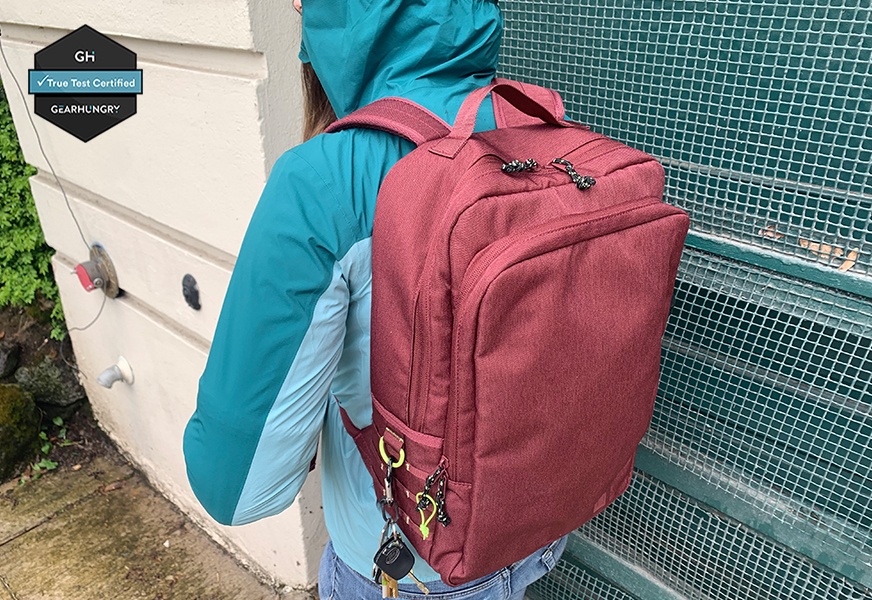 Sleek, light, organized, a college student's dream, the UAG UMouve Pack has a sleek exterior and an interior thoughtfully designed with pockets galore for the organization lover. There's an elastic laptop or tablet pocket along the back panel and several other pockets for notebooks and other items. I love the organization on the outside for pens, keys and more. I usually bring a couple of different colored pens with me when I work, so this feature was perfect. There's also a side pocket, perfect for water bottles.
The capacity on this bag isn't as large as the UP Stockholm, but this is an excellent pack for lighter days or folks who mostly need a laptop and other small items. It earns a spot on our best backpacks for college students list with its sleek and colorful exterior, thoughtful interior organization, and excellent pricepoint.
Key Features:
Plenty of interior pockets
Exterior pen organizer
Water bottle pocket
Sleek style
Three colorways
Specification:
Brand

Urban Armor Gear

Model

UMouve

Weight

1.26 Pounds
Troubadour Ridge Backpack
The Troubadour Ridge Backpack may be one of the more expensive options on our list but it is also the most stylish and weatherproof. This is one of the most thoughtful backpacks around; upon opening the box, I was immediately excited about the number of pockets. I found the front pockets excellent for keys, blue light glasses and pens while I used interior pockets to store medications, notebooks, everyday carry items and more. Even with all the pockets stuffed and a laptop in the separate pouch, I still had space for lunch in the main compartment.
The pockets don't end there though – there are two stretchy side pockets, which are great for folks like me who need multiple beverages. The waterproof lining, outer fabric and zippers held up really well during even the rainiest of Portland days. With a five-year warranty, this bag is built to last and could last you your entire college career.
Key Features:
Two side pockets
Three front pockets
Seperate laptop compartment
Breathable back panel
Waterproof fabric, zippers and lining
Specification:
Brand

Troubadour

Model

Ridge Backpack

Weight

2.8 Lbs
Don't let the hassle of a busy day leave you in chaos, the Mancro College Backpack is designed for easy access to your valuables with plenty of pockets for easy organization. With the capacity to hold a 15.6-inch laptop in the padded pocket, it has a good amount of space to keep your useful devices safely in place. The main compartment of this everyday backpack is conveniently sized to accommodate other accessories such as chargers, books, and even a change of clothes. There's a front pocket that provides easy access to those items you'll need regularly such as keys, I.D's, credit cards, and other everyday carry items.
What's even better is the built-in USB cable that allows you to plug a mobile power hub in to charge one or more devices on the go. In addition to easy charging, there's an anti-theft system that prevents anyone from picking items from the bag via its secure lock. This keeps personal items and valuables safely in place without worries of people getting access to important projects, files, and other information. The bag is made from a water-resistant smooth nylon material that ensures the durability of the bag as well as quality zippers that open and close quite easily.
Key Features:
Water-resistant
In-built USB port
Anti-theft locks
Comfortable and versatile
Available in various colors
Specification:
Brand

Mancro

Model

BP-001

Weight

1.5 Pounds
Vancropak College Backpack
For a less busy day in school or a much-needed trip to the library, the Vancropak Water Resistant School Backpack is the right pick. It may not be as large as other backpacks, but what it lacks in size it makes up for in compartments. The design is simple and sleek enough to fit in with your daily outfits, with several pockets to keep necessities at reach. Made from premium quality water-resistant canvas set to last for the long haul, this classy bag would be a great gift to a friend or family member in college.
It features a large compartment for a laptop, notebook, or tablets and other compartments and a front pocket for books, chargers, and stationaries. This bag also comes with a USB port that connects to a USB cable for charging devices while walking or riding. On the sides are adjustable pockets to fit a water bottle on the go. It doubles as a suitable bag for traveling, going on trips, work, and the likes with a lightweight form that won't add pressure to the load. The high base is well reinforced to be placed on different types of terrains and balances well on flat surfaces.
Key Features:
Versatile and multi-functional bag
Several functional pockets
External USB charging port
Water-resistant construction
Specification:
Brand

Vancropak

Model

a-001

Weight

5.8 Ounces
Timbuk2 Parkside Laptop Backpack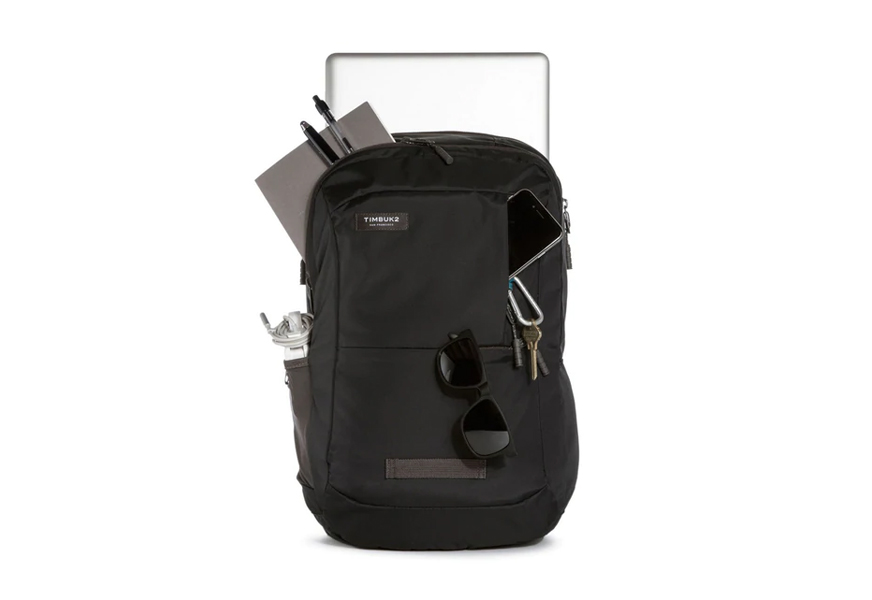 Twinning practicality with a comfortable design, the Timbuk2 Parkside Laptop Backpack is a great choice for a secure and built-to-last backpack. The large internal main pocket provides ample space and is ideal for storing laptops up to 15-inches, and the multitude of additional compartments make organizing your equipment a breeze.
The exterior of this Timbuk2 backpack features three zip pockets for valuables, pens and more. With comfortable straps and ventilated back panel, you'll be able to carry everything you need for class without struggling under the weight. The simple but modern features and exceptional organization make this a great everyday backpack for college students.
Key Features:
Three interior pockets
Four exterior pockets
Organizational compartments
Fits laptops up to 15-inches
Ventilated panel on the back
Zip pockets
Specification:
Brand

Timbuk2

Model

384-3-2001

Weight

1.5 Lbs
Carhartt Legacy Classic Work Backpack
While the sleek and elegant design of the Carhartt Legacy Classic Work Backpack makes it the perfect choice for any fashion-conscious student, the strong and durable design also makes it incredibly practical for office. Designed for comfort and security with a dedicated laptop sleeve, water-repellent design, and abrasion-resistant bottom, the Carhartt Legacy Classic Work Backpack gives you plenty of room to store your equipment in the spacious main compartment and external zippered pockets, but also peace of mind over the security of your belongings and the durability of your pack.
The durability and toughness of this bag makes it one of the best college backpacks for students who tend to be rough on their equipment. We also like its size – it's perfect for 15.-inch (or smaller) laptops.
Key Features:
Two external zip pockets
Abrasion-resistant
Dedicated laptop pocket
Tablet compartment
Heavy-duty, water-repellent material
Specification:
Brand

Carhartt

Model

19032502

Weight

1.1 Lbs
JanSport Right Pack Laptop Backpack – 15
For a lightweight backpack that will safely store your essential college equipment, and leave you room to spare, the JanSport Right Pack Laptop Backpack is a top choice. Available in multiple colors and capable of fitting a 15-inch laptop securely in the internal laptop pocket, this college backpack is a great combination of stylish and practical.
Whether you have a packed day at college or need ample room to store your gym clothes, the JanSport Right Pack Laptop Backpack is a comfortable, practical, and durable choice for every occasion and one of the best college bags out there. It's also available in a variety of colors, so you're guaranteed to find one (or two!) to match your personal style.
Key Features:
External zip pockets
Fits laptops up to 15-inches
Suede leather base
Padded straps
Laptop sleeve
Specification:
Brand

JanSport

Model

TYP71P7

Weight

1 Lb
Vaschy Unisex Classic Water Resistant Backpack
It's a bit reminiscent of your primary days but gets the job done on a budget. Nearly 19L of storage space, with four interior pockets for whatever you want to store. You can stash a 14" laptop in here, and make full use of the external water bottle slot. You even get a port to feed your earbud wires through for maximum discretion.
In terms of support, there's a lower lumbar cushioning system to prevent strain. Vaschy Unisex Classic will be so lightweight and comfortable, that you'll forget how heavy it is when you drop it down: don't worry, there's a reinforced bottom specifically designed to cushion that blow. We also like that it's made from water-resistant material. It's a budgeter's backpack, perfect for a college student's price range.
Key Features:
Highly water-repellent polyester exterior construction
Double zipper closure on your main compartment
Fully padded lumbar support system
Four interior pockets with water bottle slot
Stitched polyester carry handle
Specification:
Brand

Vaschy

Model

VABP01YW

Weight

1.46 Pounds
JanSport Big Student Backpack
JanSport is one of the biggest backpack manufacturers in the world. We don't really need to tell you about the quality of these packs – the amazing Amazon reviews and brand reputation do that, and if you've been to a school of any type or a college campus, you've seen JanSport bags. Instead, we'll just tell you the features of the JanSport Big Student Backpack. It has a large main compartment with space for a 15-inch laptop. On the outside, it has three large zippered pocket options. For comfort, it has ergonomic S-curve shoulder straps, a padded back panel, and a web haul handle. Plus, it's available in over 35 colors, prints, and patterns.
This is one of the most popular college backpacks on the market, and we're not surprised as it's seriously one of the best backpacks for college students on the market. If you're a fan of the classic backpack design, get this one – you won't regret it.
Key Features:
Made from 100% polyester 
Fits a 15-inch laptop 
Three exterior zippered pockets 
Ergonomic S-curve shoulder straps 
Available in 35 colors, prints, & patterns
Specification:
Brand

JanSport

Model

Big Student

Weight

1.5 Pounds
Matein Travel Laptop Backpack
The Matein Travel Laptop Backpack is one of the best-reviewed products in this category. Designed for modern college students, it has a padded laptop compartment that can accommodate up to a 15.6-inch laptop. This backpack for travel-focused college students has pockets designed for your phone, tablet, pens, and key fob and even two mesh slip pockets for your water bottles. And, it even has an external USB port that you can hook up to your own power bank (not included) and charge your smartphone/devices on the go.
Of course, none of that's important if the materials aren't high-quality enough. Fortunately, it's made from polyester, a water-resistant and durable fabric. All in all, it's one of the best travel and college backpacks on the market in this price range.
Key Features:
Made from polyester 
Fits 15.6-inch laptop 
Multiple exterior zippered pockets 
Built-in USB port 
Luggage strap 
Available in six colors
Specification:
Brand

Matein

Model

LSG1004GRYB1

Weight

1.56 Pounds
Modoker Vintage Laptop Backpack
If you're looking for a more unique-looking backpack, the Modoker Vintage Laptop Backpack is perfect. It has a truly classic design but it's been updated to make it useful in the modern world. For example, it's made from 600D polyester, which is a relatively modern material that offers durability, water resistance, scratch resistance, and anti-tearing ability. It's also much more lightweight than a traditional canvas backpack. On top of that, it has a built-in USB port that lets you hook up a charging port and phone through your backpack.
We also like the fact that it comes in some beautiful classic colors as well as with a spacious main compartment that can safely hold a laptop up to 15.6-inches. Importantly, its shoulder straps are well-padded, so the backpack will be easy on your shoulders.
Key Features:
Made from 600D polyester 
Water, scratch, and tear-resistant 
Built-in USB port 
Six compartments 
Vegan leather trim 
Tzowla Travel Laptop Backpack
The Tzowla Travel Laptop Backpack is designed for travel but it makes a great college backpack too. We like it because it has that low-profile design that suits the modern student. Study abroad anyone? You don't need to carry around a huge pile of books and folders anymore. Everything is on your laptop. That's why this backpack has a 15.6-inch padded laptop compartment and a locking system on top to keep it safe.
You can fit a couple of books in here as well but it's definitely not the roomiest backpack on this list. Like a lot of modern college backpacks, it also has a built-in USB charger and headphone port, so you can keep your devices charged throughout the day.
Key Features:
Made from polyester 
15.6-inch laptop compartment 
Anti-theft design 
Built-in USB port 
Low-profile design 
Specification:
Brand

Tzowla

Model

BRS-LTBKXX2-Black

Weight

1.6 Pounds
Why Trust Us
While I'm no longer a college student, I do work remotely and often need to carry a laptop and notebooks to a coffee shop, or the climbing gym. I live in a walkable area so I can test backpacks and their weight much like many college students do, by walking!
Who This Is For
This guide is focused on backpacks for college students but these backpacks can also be useful for commuters and older adults alike. Anyone who needs a functional backpack may enjoy this guide.
How We Picked
Selecting the best college backpacks started with our tried and true tested favorites. After that, we consulted the vast expanse that is the internet looking for best sellers and top-reviewed favorites.
How We Tested
I tested each of these backpacks walking to and from the climbing gym where I coach, to and from coffee shop, overnights at my partner's home, and as a tech bag on climbing trips. Each of our tested bags logged a couple of miles hauling gear and got tested as a well-organized machine and a furiously packed overnight bag.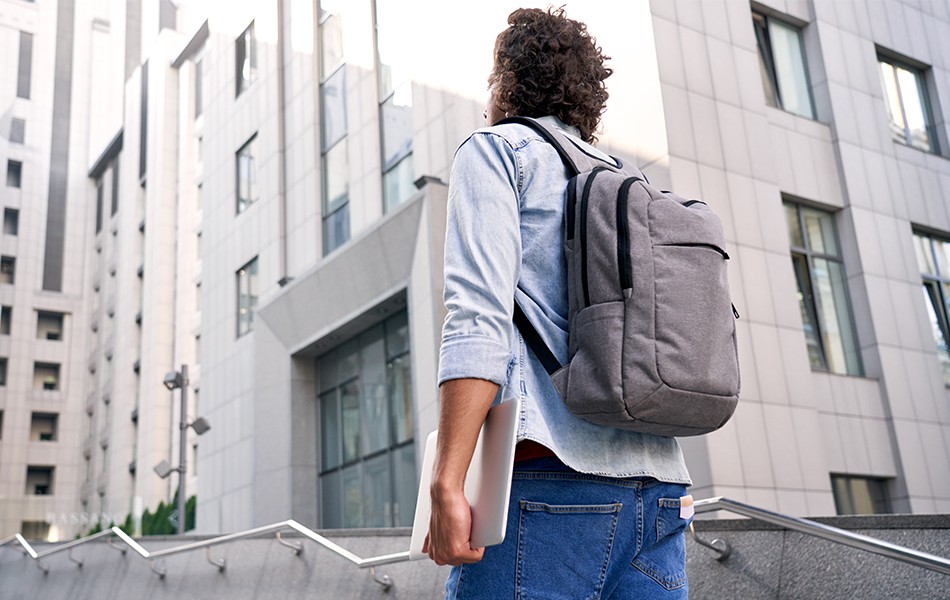 Features To Look For In College Backpacks
Pockets and compartments - Some of us love organization, some of us like to throw things in a bag and call it a day. I'm in the former category and love large amounts of pockets and organization for all my items. At least a spacious main compartment, padded laptop pocket and water bottle pockets are baseline features for the best college backpacks. On top of the baseline, many of the best backpacks for college have side pockets, internal organization pockets for notebooks, a fleece-lined pocket for valuables and other small pockets for valuables and small items.
Durability - No one wants a bag that falls apart on them, so durability is a must-have for any of the best backpacks, especially one for college that will be carrying heavy books and electronics from your dorm to class. Thorough stitching, durable materials and thoughtful design are all elements that create a durable bag that's perfect for college students.
Material - The best backpacks for college students can be made with a variety of materials including recycled nylon, canvas, polyester or leather. Many backpacks may even feature a variety of materials for the best weather protection. Nylon and polyester seem to be the most common options among the best college bags.
Straps and padding - When you're toting your new backpack around campus, bags without padded straps will start to dig into your shoulders uncomfortably. You'll want a bag that features padded shoulder straps to protect your skin when your bag is jam-packed full of books and extra padding helps support your back. A ventilated and padded back panel is a must-have and truly makes the best college backpacks, the best. If you deal with warm weather, a ventilated back saves you from sitting in class with a sweaty back after huffing it across campus.
Tech features - There are many tech features available now compared to when I was in college, many backpacks on our list can act as power banks to charge your laptop or phone on the go and between classes. The best backpacks for college students can include RFID protection, chargers and other tech features for modern college students.
Reflective materials - If you're a bike rider or often walking at night, reflective materials on your backpack for college can be an important safety feature that keeps you visible at night to drivers and bikers alike.
College Backpack FAQ
Q: What is a good backpack size for college?
A: Everyone will thrive with a different sized backpack for college. You should first estimate your load, and look at the books, school supplies and everyday carry items that you want to have with you. Your laptop size can also give you the first indicator of how big your backpack for college should be, as not all bags have space for a 17-inch laptop. Sixteen to 25L is a common backpack size but leaves a lot of options in that range.
Q: How do you wash a college backpack?
A: Care instructions will vary for every backpack, so it's important to read the care instructions provided by the manufacturer. Some bags may be able to go in the washing machine while others may only be able to be cleaned with a damp cloth.
Sources:
Backpack Basics - Nemours KidsHealth
Sign Up Now
GET THE VERY BEST OF GEARHUNGRY STRAIGHT TO YOUR INBOX