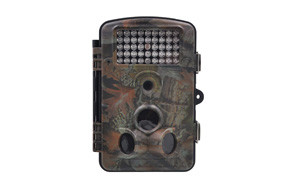 FULLLIGHT TECH 1080P 12 MP Game Trail Camera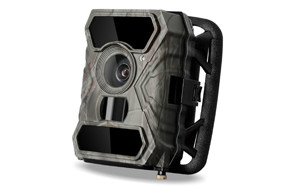 LDesign Waterproof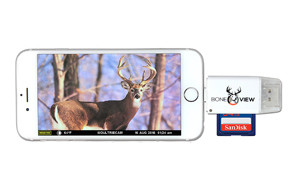 BoneView Viewer For Apple IPhone & IPad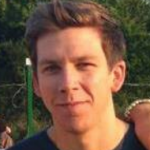 The trail camera (sometimes known as a "hunting camera", "remote camera" or "game camera") varies from the travel camera in that it's used to capture remote images, typically but not always of wildlife, either for personal enjoyment, professional use, security purposes or to surmise whether there is trophy game in a certain area. When used for the latter purpose they can save a hunter mountains of time they otherwise would have to spend in a hunting blind, waiting. If you have a cabin in a remote location they can be used as a way to augment its security profile. And of course nature photographers use them to obtain truly candid shots of wildlife. Remote cameras are also sometimes used by sports photographers to capture images from obscure angles. Trail cameras can be triggered by hand, radio, sound or by using the built-in timer.
Trail cameras are capable of taking photos or video and have flash capabilities that typically far surpass those built into the average hand held camera. There is also many a wireless trail camera capable of sending images directly to your smartphone while others offer no-glow infrared photography. With so many different types of trail camera available it can be difficult to determine which ones are worth the money and which are not. So in these trail camera reviews we're going to take a close look at what we consider to be the 10 best trail cameras on the market today.
The Best Trail & Game Camera
Trail Camera Buying Guide and FAQs
Below we address some of the most common questions people have about trail cameras.
Q: What Is A Trail Camera?
A: As stated at the beginning of this review guide a trail camera is a specially designed camera intended to be set up outdoors that is primarily used to photograph wildlife either for professional purposes or to facilitate the hunt. We say "primarily" because some people use trail cameras to augment their home security while others will set them up near a campsite to keep watch over their belongings while they're off pursuing game. Trail cameras are waterproof and typically very tough in order to stand up to whatever Mother Nature doles out and they're not meant to be held in your hand.
Q: What Is The Best Trail Camera For Under $100?
A: We hate to come down on the side of any one trail camera as being "the best" simply because a great product this year can often produce a hideous rethinking the following year. So keeping that in mind, along with the fact that "best" will be largely a matter of opinion we'd go with Wildgame Innovations Terra 5 if we absolutely had to pick one. It's not perfect but it is an effective, reliable entry level trail camera that captures high-quality still images, decent 720P video images, has an effective range of 50 feet and won't fall apart on you a month after you unbox it.
Q: How Far Do Trail Cameras Work?
A: Most trail cameras have an effective range of about 50 feet although higher quality, more expensive models will extend that effective range to 100 feet or even slightly more. To determine effective range ideal conditions are assumed. However, in the real world that effective range for trail cams is dependent on a lot of factors including some that will be out of your control like the thickness of the underbrush and the presence of fog or smoke.
Q: How Does The Best Game Camera Work?
A: Typically the trail camera is lashed to a tree and programmed to perform image gathering duties in line with what the person wishes. It can be triggered either manually by someone waiting nearby or automatically when game wanders into the field of the motion detector. What kind of images are gathered depends on the needs of the person setting up the camera. They may want time lapsed images to judge traffic through an area or may want video at a certain time, or want a burst of images each time the motion detector is tripped. With a Wifi trail camera images can be sent directly to other devices.
Q: Where To Set Up A Trail Camera?
A: Popular setup points for a trail camera include areas in the wild that you suspect game may frequent, areas that you think will yield interesting photographs, areas being monitored for scientific purposes or outside a home or woodland cabin to act as a surveillance camera. When it comes to hunting you'll need to adjust your camera placement to accommodate changes in cover as well as various foodstuffs that become available at different times of year in different locations. Keep in mind too when setting up your hunting camera that big bucks often move at night and that the rutting season can vastly affect the behavior of bucks who sometimes seem to abandon both habit and their senses as they seek out compatible does to mate with.

Conclusion
Trail cameras offer hunters a way to more effectively track game, nature photographers the ability to capture shots that would have been impossible if they were standing in the woods holding a camera themselves and people from all walks of life the ability to up the security profile of their home; whether it's in an urban area or the backwoods. If you're considering the purchase of a trail camera or wildlife camera for hunting, photographic or security purposes any of the above items will be a great choice.
We hope you find the above trail camera reviews helpful when it comes to determining the best trail camera for you and be sure to stop back on a regular basis for more product reviews from gearhungry.com.