Summer Sizzle: Best BBQ Grills of 2022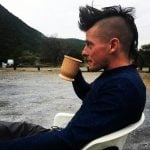 This product guide was written by Sam Anderson
Last Updated
June 28, 2021
Sam Anderson
Sam Anderson has followed a passion for well-told stories and nature's beauty from university classrooms to mountain adventures. After earning a bachelor's degree in literature, he leaned into a life fueled by road tripping, rock climbing, coffee and beer, and renegade camping. He has worked as a chainsaw operator, house carpenter, and window cleaner, at one point running his own window cleaning business. He has finally settled with his girlfriend and small zoo in the western American desert, trading his tool belt for a keyboard.
GearHungry may earn a small commission from affiliate links in this article.
Learn more
It's BBQ SZN in America, and that was our cue to round up the best BBQ grills. It's in our DNA to love cooking outside, and that doesn't just apply to us at Gear Hungry, but seemingly to humankind in general. There's something about cooking meals in the open air, over an open flame that feels grounding — even a little primal.
To drum up the best grills on today's market, we asked around, recalled some of our personal favorites, took to the cloud, and put a few models to the test. It turns out that the number of top-rated barbeques is quite high. It's a huge field for a couple of reasons: 1) everybody likes to do it and 2) everybody likes to do it differently.
The number of methods for cooking food over a fire is staggering. It should be — as a species, we've been doing it a while. So, we drew on our staff's widely varying opinions and grilling experience to deliver our guide to the best BBQ grills for 2021.
Never cut into a steak before you're ready to eat it, but feel free to chop this review up however you want.
The Best BBQ Review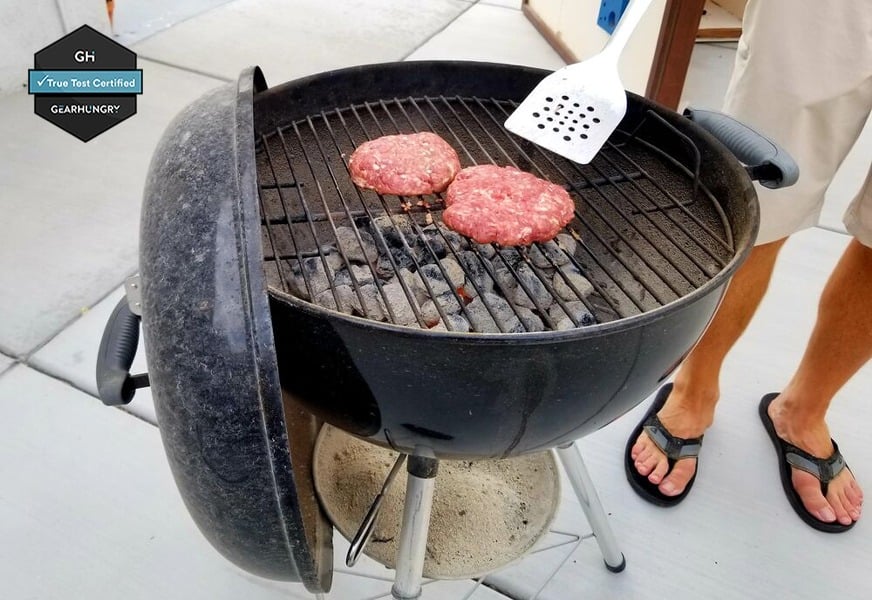 The Weber Original is the de facto tool of the trade for charcoal grillers. The old-school orb design is simple in form and basic function, but easy to configure for direct or indirect heating. I've enjoyed hundreds, perhaps thousands, of meals prepared on a Weber Original. I've seen firsthand that a steady grill master can work wonders with its stripped-down functionality.
The Weber Original serves no embellishments. It's simply a metal sphere with two grates and two vents — or "dampers". The fuel source is charcoal only; interested parties can add wood chips at will. The lid has a handy hook for hanging it on the grill's rim. Effective plastic wheels come standard; some will find their white walls amusing.
The beauty of the Weber Original is that it's a blank canvas. Your charcoal, your choice (or something like that). By using the dampers, you can configure a Weber Original to heat food directly or indirectly. The vents can create various zones of airflow, heating, or smoking inside. For simpler operations, the Weber offers execution function; heat it up, throw it down, and you're done.
I recently grilled burgers with my dad on his 18-inch Weber Original. The process, as ever, was seamless and serene. Despite his puzzling refusal to purchase proper grilling tongs, we had no problem getting the coals lit and arranged in his preferred pyramid configuration. From there, a quick brush-down had us in business in ten minutes.
He did mention that the 18-inch can be a little tight for some large BBQ projects. The 22-inch might be better for cooking whole chickens, rib racks, and so on. Usually, he's grilling one entree at a time for himself and my mom, so the 18-inch gets the job done.
Personally, I appreciate the Original for its creative capacity. I like that there's some technique and qualitative experience involved; there are no dials to set, no buttons to push. Its operation leaves room for studying the coals, judging the heat with your hand, and adventurous tactile learning on the fly. Of course, you can also add a meat thermometer or timer into the mix to follow any recipe precisely. What can I say? Some like it old-school.
Key Features:
Simple spherical design
Dampers for temperature control
Hook inside lid for hanging
Whitewall wheels
Specification:
Brand

Weber

Weight

33.1 lbs.

Dimensions

36" H, 23" W, 18.5" D (18" model)

Cooking Surface

240 sq. in.

Fuel

Charcoal
Capable but straightforward
Inexpensive
Can be difficult to master for complex projects
Big Green Egg MiniMax BBQ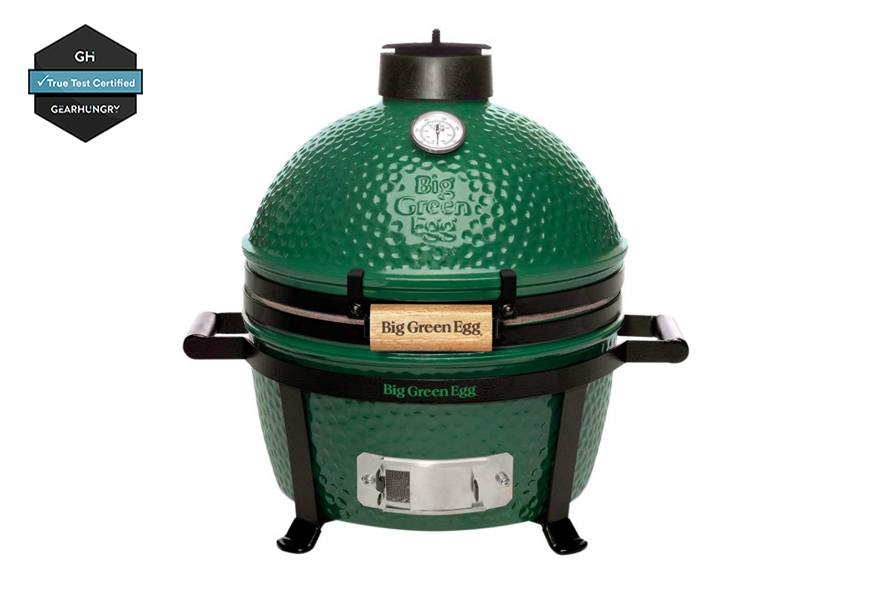 Big Green Egg has earned legions of followers thanks to its superior build of kamado grills. Built with ultra-high-quality ceramics, Big Green Egg barbecue grills are extremely versatile and capable of maintaining consistent heat — from low-and-slow smoking to 700-degree pizza cooking — on very little fuel.
While all Big Green Egg grills are excellent, we've spent 2 years testing one of the smaller models, the MiniMax. With a grill diameter of just 13 inches, this compact BBQ grill is perfect for couples or small families that don't need a massive cook surface. It's also great as a second grill for high-temp searing if you already own a pellet grill.
In our testing, the Big Green Egg MiniMax is incredibly efficient. We used less than a full bag of lump charcoal over a year with regular grill-outs at least a few times a month. Firing up the grill requires a little time and a charcoal starter of some sort (we strongly denounce lighter fluid). Once lit, the user can manage the airflow to set and maintain temperatures via two flues. It's a remarkably effective system, although it does have a learning curve.
The only real negative of Big Green Egg products is price. They are premium grills and priced accordingly. But if our tester had to choose any single grill regardless of price, Big Green Egg would be it.
The MiniMax is a nice size for those who don't need a lot of grill space, and it is somewhat portable (although still weighs 76 pounds). For those interested in this kind of cooking but who desire more space for cookouts, check out one of the brand's larger options, which should also perform wonderfully for almost any kind of cooking.
Key Features:
Kamado style grill
Flues control temperature
Moderately portable in 13" size
Specification:
Brand

Big Green Egg

Weight

76 lbs.

Dimensions

[grill] 19.5" H, 13" D; [stand] 23

Cooking Surface

133 sq. in.

Fuel

Charcoal
Pit Boss Sportsman 820 BBQ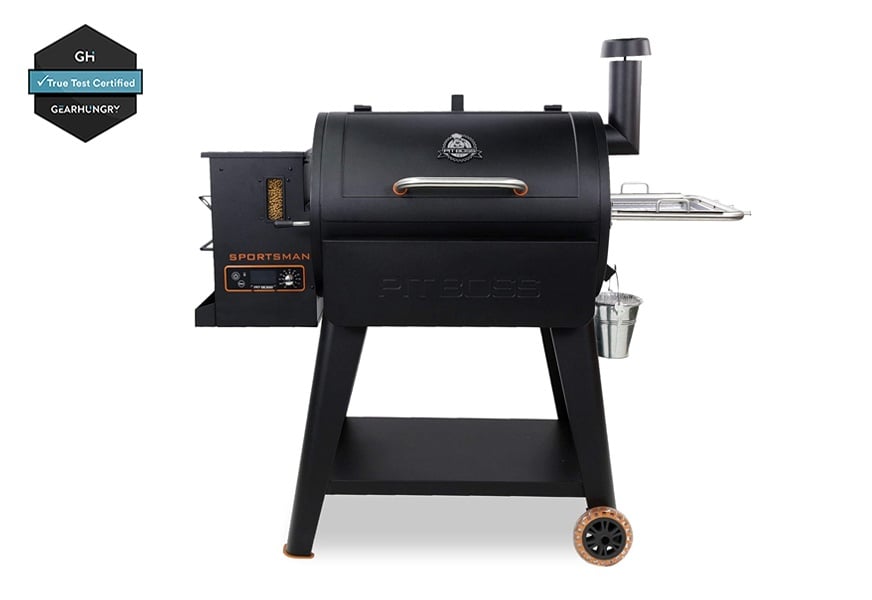 The Pit Boss Sportsman 820 Wood Pellet Grill is a workhorse wood pellet grill. During assembly, it was apparent that Pit Boss specified stout materials, fasteners, and finish to this midsized grill (849 square inches of cooking area).
The dial-to-set temperature range is 180 to 500 degrees F, and a simple lever toggles the grill between direct and indirect heat. One-thousand-degree open flame searing is possible. The included meat probe (two ports available) allowed precise monitoring of doneness. The 21-pound capacity pellet hopper allowed weekend-long festivities without refueling.
During the prolonged 7-month testing period, our man smoked and grilled every form of meat he could get his hands on, including fish. And the Pit Boss Sportsman 820 never faltered. It reliably started and held the set temperature within a narrow range without fail. The porcelain-coated cooking grates cleaned easily after burn-off, and the unit was maintenance-free for the entire testing period.
This large barbecue grill doesn't have the connectivity of the fancier wood pellet grills on the market. But our tester does have other connected grills and reported that he enjoyed being forced into the present by the Pit Boss grilling process. Most of them multi-task enough during the day. Our tester expressed that he greatly appreciated the lack of connectivity to this grill.
Notable features include a fold-down front shelf and stainless-steel side shelf that provided a much-needed surface area for larger meals. The solid bottom shelf was a great spot for bags of pellets. Finally, the pair of inline skate-style wheels and handle on the opposite side of the grill made it strain-free to move about the tester's patio.
The only dings: there is no ash cleaning port, meaning you do have to get inside the grill to clean out the minimal number of ashes. Also, the forced air convection system was on the louder side of the units we have tested.
Key Features:
Use direct or indirect heat at 180-500°F
Pellet grill facilitates multiple cooking methods
Included meat probe with 2 ports
No app connectivity
Specification:
Brand

Pit Boss

Weight

157.4 lbs.

Dimensions

[overall] 52.2

Cooking Surface

849 sq. in.

Fuel

Wood pellet
Easy to dial in precision
Light on maintenance
Plenty of cooking surface
High hopper capacity
User must clean ash from inside
Somewhat loud convection
Traeger Timberline 1300 BBQ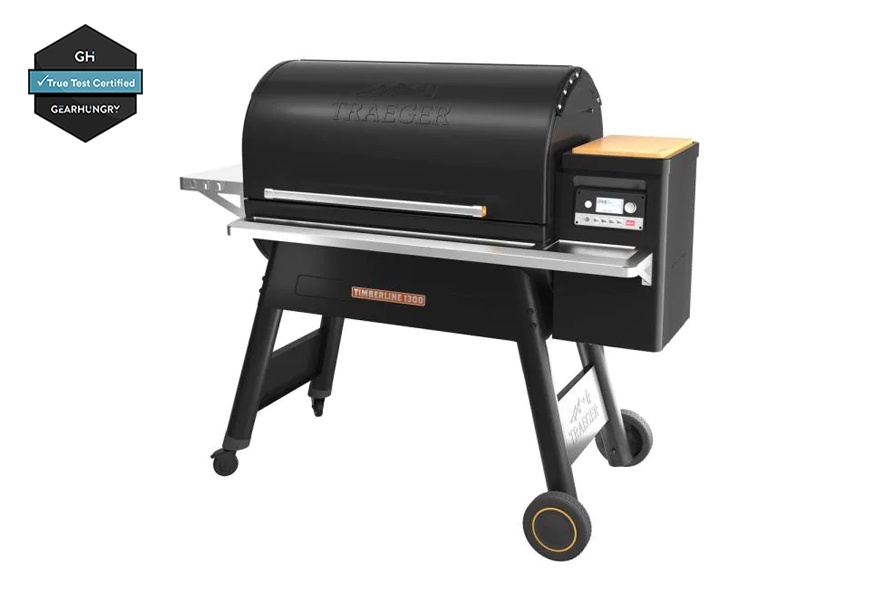 The Traeger Timberline 1300 is perfect for a grilling novice to wants to cook like a pro. The digital controls allowed our tester to set the perfect temperature whether he was smoking a rack of ribs or firing up a pile of chicken thighs for meal prep. Its wood-pellet feeder infused everything he grilled with whatever flavor he wanted. The pellet heating was consistent and delivered the perfect smoke every time.
Our tester says, "I'm not a grill master by any means, but I love to eat, and I love to eat a lot." The Timberline 1300 sported enough room for him to cook a whole week's worth of dinners in a single go. He easily fit over a dozen marinated chicken breasts on the bottom rack, with plenty of room for veggies on top. He knew the grill would be great for barbecue, but he was surprised with the impact it had in improving his nutrition.
For people like our tester, who do a lot of meal prep and have limited time, cooking simply is key. That's where he reported the Timberline 1300 really shined. All he had to do when he cooked was set the temperature he wanted, toss in the grub, and wait for it to be done. He found it as easy as cooking something with an oven but happily reported the added benefit of sitting outdoors and drinking beer (versus sitting indoors and drinking beer).
Another big advantage Timberline displayed during testing was connectivity. The WiFIRE Technology connected the grill to our tester's phone, so he was able to keep an eye on meat temperature, tweak the heat on the grill, and scroll through recipes to see what he was going to make next. Don't forget to also check out our list of the best indoor grills on the market right now.
Key Features:
WiFIRE connectivity
High capacity
500°F max internal temperature
1300 square inches cooking surface
Specification:
Brand

Traeger

Weight

238 lbs.

Dimensions

51" H, 58" W, 28" D

Cooking Surface

1300 sq. in.

Fuel

Wood pellet
Makes grilling easy for less experienced users
Big enough to facilitate meal prep
Weber Genesis II S-335 BBQ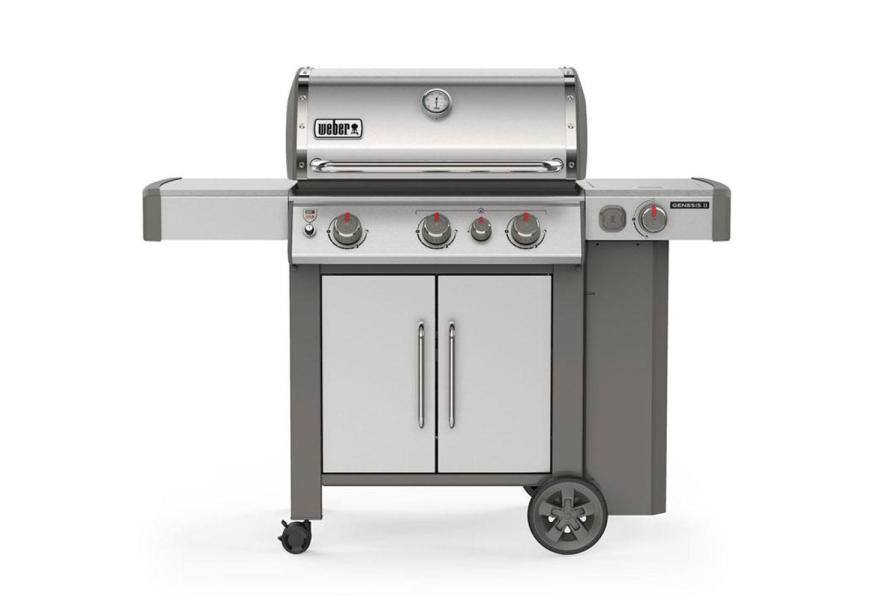 As Weber puts it, "[t]here's nothing ordinary about a grill that can simmer sauce while searing steaks, just inches apart." That's damn right, and exactly what the Genesis II S-335 offers. It also comes with a 10-year warranty on all parts and three total cooking stations.
The Genesis II S-335's main burners throw down 39,000 BTUs of heat per hour. The smaller side burner and sear station are more economic and good to have. The potential to set heat zones by turning dials gives the griller effortless control over multiple food items at once.
Considering its wide onboard capability, it's not enormous. It's a total of 59 inches wide with two handy side trays. The cooking surface delivers 669 square inches of total space, with a primary cooking area of 513 square inches. With the lid open, it's a manageable 62 inches tall. Enclosed cabinet space offers easy but compartmentalized storage of your grill tools and accessories. 
Stainless-steel grates deliver easy cleaning and even heat distribution. They'll probably last longer than your typical enameled grates, too, depending on your care and cleaning habits.
Gas grill expert Hank Hill says the Weber Genesis II S-335 hits the bullseye for features, I tell ya h'what, but cautions users that its high BTU input will burn through propane fast. According to his calculations, a 39,000 BTU output will deplete a standard 20-pound propane tank in 11.07 hours. For those reasons, he highly recommends Genesis II users maintain a backup propane tank — of course in a secured location away from any open flame — at all times. A natural gas-compatible variant is available.
Key Features:
3 separate heating zones
Stainless steel grates
60,000 max BTU-per-hour
Specification:
Brand

Weber

Weight

200 lbs.

Dimensions

47" H, 59" W, 28" D

Cooking Surface

669 sq. in.

Fuel

Propane or natural gas
Zones are helpful for cooking multiple courses at once
Cabinet doors stow grilling accessories securely
Big cooking surface but fairly compact form factor
Might be a little on the thirsty side for propane consumption
Char-Broil Oklahoma Joe's Longhorn BBQ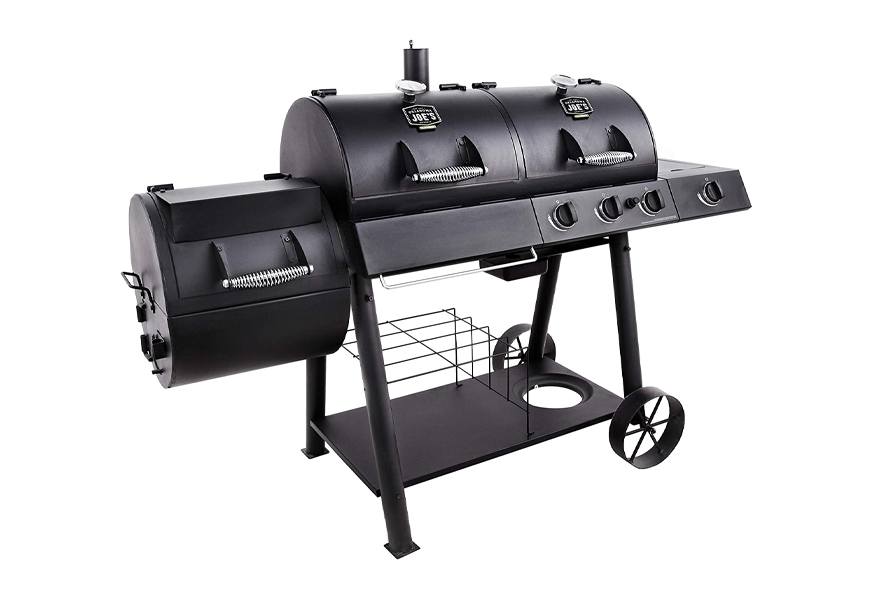 The Longhorn is the real deal for barbeque beasts who'll stop at nothing to deliver the perfect 'que experience. Charcoal, gas, and a smoker, this bad boy has it all.
Say you've got all day to sit and you want to deliver a perfect brisket. In that case, start in the offset firebox and go with a slow burn. You'll load food into the charcoal grill, and it'll heat passively as the day wears on. Monitor it with the on-board temp gauge and use multiple vents and dampers to tweak it expertly.
But smoking takes a long time, and at some point, you and your cohort might get hungry. When that's the case, just flip the Longhorn's gas grill side open, crank open valves and hit the switch. You'll blast off to Flavortown right away with three 12,000-BTU burners and 325 square inches of cooking surface.
And while all that's going on, you can use the side gas burner to simmer a pot of sauce all day long. Of course, you can also use any of the Longhorn's functions independently, including as a directly heated charcoal grill. 
What could be better than the full-spectrum capability of the Oklahoma Joe Longhorn? Its only consistent vulnerability looks like rust; if you live in a high-humidity area, consider carefully. Otherwise, take your barbeque prowess to the next level by giving yourself the advantage of every available grilling method.
Key Features:
Smoker, charcoal, and gas capability
Four separate cooking surfaces
Cool-touch wire handles
Large wagon-style wheels for mobility
Specification:
Brand

Char-Broil

Weight

205 lbs.

Dimensions

50.6" H, 74" W, 31.5" D

Cooking Surface

1060 sq. in. (combined)

Fuel

Propane or charcoal
Diverse applications
Griller can utilize each surface independently
Built-in thermometers and multiple dampers
Some quality complaints, most involve rusting
Why Trust Us
We assembled a team of athletes, outdoor adventurers, and hunters to test the best barbecue grills. What do all those groups have in common? They all love well-prepared food! And eat a lot of it.
No matter what season it is, our group of experts can be found somewhere, cooking over an open flame.
Who This Is For
It would be easier to list who our list of the best outdoor grills isn't for. Cooking over an open flame is a human tradition that's as old as our species as we know it. It brings people together, facilitates sharing, and gets conversations going. Or, practiced alone, barbequing can be a rewarding investment in your personal well-being. Whatever the case, it gives us a vital connection to our food.
We selected and tested a wide range of grills for this guide, trying to give everybody a place at the table. 
How We Picked
Years of experience led each of our testers down the road that landed him at his chosen grill. You can't cook outside as much as we do and not begin to winnow down your preferences between entries.
Quality, preference, and user experience all count toward the best outdoor grills.
How We Tested
Grillin' and chillin', baby. Sometimes you gotta keep it simple, like cooking burgers with your dad on a Weber Original. Sometimes the best approach is to fire up the Traeger and fan the flame of the future. And it arguably doesn't get any better than grilling meat (or veggies) you harvested yourself on a Big Green Egg.
We covered all those bases and more, leveraging years of grilling experience among multiple testers. However, you like to grill, we've probably tried a similar method. Hell, I still grill even though I don't eat meat anymore.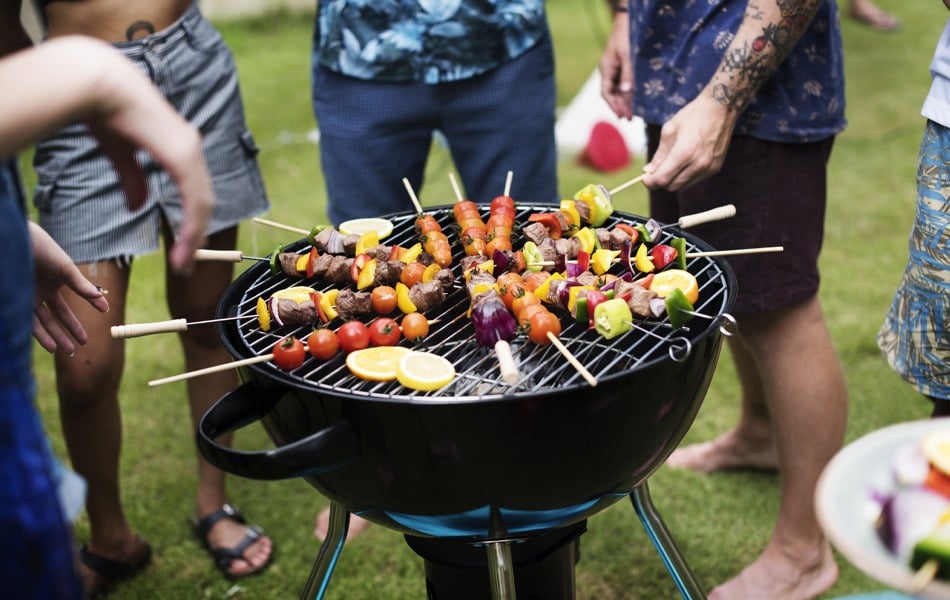 Features to Look For in BBQs
Performance — The top BBQs perform in a variety of scenarios. Whether you're looking for some quick heat to flash sear a steak, or slow cooking a rack of ribs, the best grills can cover it.
There are a lot of factors that affect how a grill will perform in your situation. What's your space like? Do you have a big deck or a tight patio? Are you storing your BBQ grill in the same place you'll be cooking on it, or will you need to move it between uses? Answers to these questions can help you choose a large BBQ or a compact BBQ.
Next, who are you cooking for? And what are you cooking? If you routinely grill for a family, you'll need plenty of grill surface or an upper deck. The interior size and shape of your grill can also affect what you're able to do with it. For instance, it's better to have a bigger space for slow cooking, where sustained temperature and smoking are important.
Brand — Will you light up a classic, like Weber or Char-Broil, or an innovator like Big Green Egg or Traeger?
The good news is that most BBQ brands are heavily invested in their reputations. Consistency and durability are keys for grillers, and brands need to deliver on both to stay relevant.
Quality — You know what? It turns out it's relatively difficult to find a verifiably bad BBQ grill. But Consumer Reports does rate some near or below its dreaded 40/100 rating. Yes, the worst BBQs are hard to find. Again, the easiest way for a grill company to ruin its reputation is with a bad product. But it does happen.
I've never known anyone with a poor-quality BBQ grill. So, to research the subject properly, I rewatched Trailer Park Boys episode 0306, "Where in the F*ck is Randy's Barbeque?" In the episode, Ricky enlists children in a barbeque stealing scheme. Thinking back on it, I recalled a bevy of pretty crappy barbeques.
I watched the episode analytically, pausing it to catch brand names. The effort was unsuccessful. But I would recommend against throwing your barbecue into a lake, even if you do have to hide it from the cops.
Price — What's your price range? You can spend pretty much any amount, and the price generally follows quality. You can get a small 12- to 14-inch charcoal grill for around $40.
Charcoal is generally cheaper than gas. For $500, you can get a great charcoal grill. $1000 buys a high-quality gas grill or a bigger charcoal grill.
If you've got three grand to spend, you're in full control. The most high-end BBQs, often with cabinets or even bars built-in, cost around $7,000.
Dimensions — Tell you what, grill boss, sometimes bigger is better. If you've got a lot of people to please today, you may need as many inches of the grill as you can get.
But I can't confirm that that's always the case. For a quick session, you may need to conserve energy with a smaller barbeque.
Capacity — You'll need to take all dimensions into account to determine the capacity of your BBQ. That's especially important if you want to grill something bigger, like a roast or a full chicken. If you want to grill meat and veggies together (there's a concept), think about a double deck.
Portability — Important if you want to store your BBQ grill in a different place than you want to cook. If you're using the typical shed storage/deck grill setup method, you'll need wheels. And unless you want to make ruts in your freshly mowed lawn, you won't want it to be too heavy.
Weight — See "Portability" above. Only matters if you need to move your rig.
Cooking Capabilities — What can your grill cook, and how can it cook it? A large barbecue is usually best for slow cooking capability. For quick items like burgers, veggies, or kebabs, just about anything will work.
Preparing great food over an open flame is fun, but not necessarily easy. Make sure your grill can deliver on your specific barbeque needs.
Ease of Use — It doesn't get any more dummy proof than turning the gas on and mashing the ignite button. On the other hand, any grill master will tell you there's an art to how you light the coals.
Overall, whatever you're grilling will determine most of the difficulty of your task.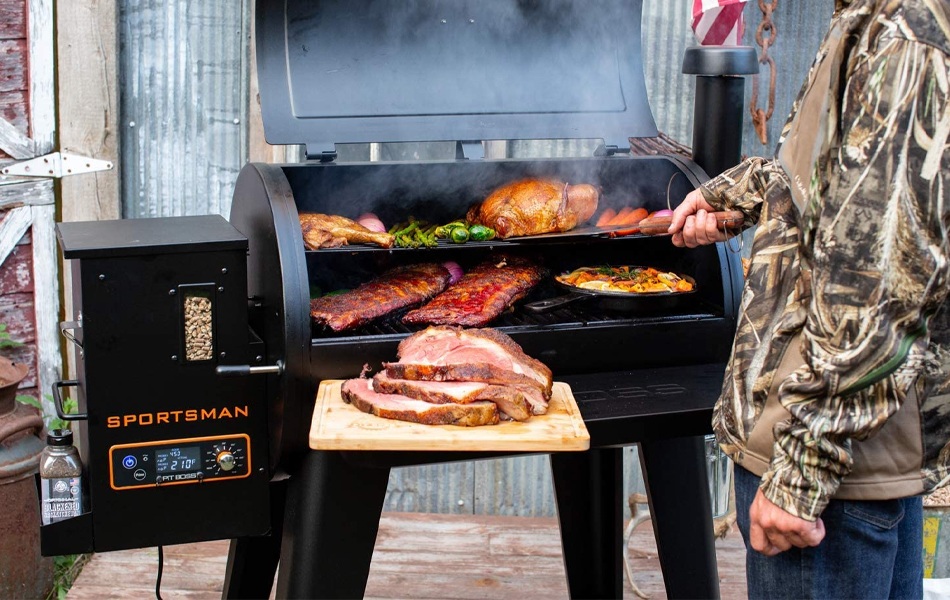 Types of BBQs
Pellet — Pellet grills use wood pellets in a hopper as a fuel source. In many cases, a PID controller regulates the flow of pellets into the grill to maintain a user-specified temperature.
Many pellet grills are capable of myriad cooking styles, including grilling, baking, searing, and smoking.
Gas — Gas grills carry the protection of their immortal champion — the pride of Arlen, Texas, Hank Hill. Hill says, "with Lady Propane at your side, you can achieve great things. Y'see, it's a clean-burning, economic fuel so you taste the meat, not the heat!"
I tell ya h'what. Gas grills are, indeed, generally simple and easy to operate. Turn valve to "on" position, operate "ignite" switch. Boom, you got an even-burning, reliable flame.
I don't personally know that many proponents of gas grills; I was raised a charcoal boy and I suppose I'll die one. But gas certainly has its place among top barbecues, and it's not to be ignored.
Charcoal — The ol' standby. Charcoal is king not only in the United States but around the world in renowned barbeque cultures like those found in Mexico and Brazil. The most ancient, and to many the most alluring, way to cook food is over an open flame burning a carbon-based fuel.
With charcoal grilling, it's especially important to centralize the organic nature of the method — if you use lighter fluid, or, perhaps worse, Match Light, you're a palooka.
Recall that making charcoal requires harvesting trees, so sustainable/responsibly sourced charcoal is better. Get organic lump charcoal if at all possible.
Electric — Plug it in, plug it in. An electric grill is essentially an outdoor range with a grate positioned over a heating element. If you live in an apartment or condo complex, an electric grill may be your only option.
Unfortunately, they generally don't deliver the flavor of a flame grill. So, some electric grill users recommend adding wood chips for smoky flavor. Proceed with caution: soak your wood chips thoroughly before adding them to a smoker box and placing them inside your electric grill.
Hybrid — Hybrid grills cook with a combination of gas, wood, and charcoal. At the category's highest spec, hybrid grills draw on the advantages of each method to deliver a highly customizable and precise BBQ experience.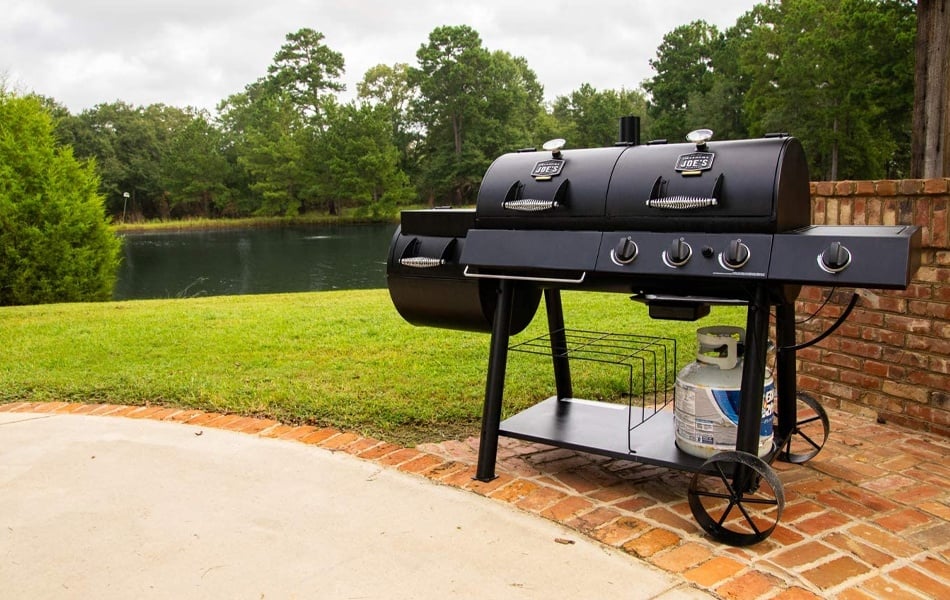 BBQ FAQ
Q: How do I prepare the grill?
A: The answer to this question could literally be as long as this entire product guide. Here's how I prefer to prep any charcoal grill:
Empty any residual ash from the bottom.
Load a chimney starter with charcoal, place it inside, and light it. Leave the grill open to maximize air flow.
Wait for the coals to get mostly gray, with some black left. Empty the starter.
Arrange the coals in a concentric bed, like a Mayan pyramid, with tongs.
Use the grill's vents and lid to land it at your preferred temperature.
Brush any debris off the grate.
Throw it down, grillin' man.
Q: Is grilling with charcoal bad for my health?
A: If you're health-conscious, you'll try not to ingest any chemical additives. Therefore, use organic, lump-style charcoal like one from this list.
Under any circumstances, match light charcoal should be a last resort. It's pre-soaked in lighter fluid. Common sense indicates that ingesting any ignitor liquid is bad for you.
Q: Which fuel is the best?
A: That all depends. Use a pellet grill for a curative experience and the satisfaction of wood-fired food. Use gas for convenience and precision. Many consider charcoal to be the ultimate grill mastery. Add soaked wood chips like hickory or mesquite for more flavor.
Q: How do I light the coals?
A: If you're here, you're not using match light charcoal. That's a good start! So, how do you light charcoal briquets? I recommend using a chimney starter, like this.
You pack some newspaper or other tinder (wood shavings etc.) into the vented space in the bottom. Then, you load the top with charcoal. Then you light the tinder. It's easy, fuel-free, and consistent; a staple of any grill master's kit.
Q: How do I control temp on my charcoal BBQ?
A: Use the vents and the lid. It's about oxygen's effect on fire; if you've got good hot coals going, more air will make them hotter. You need that to properly sear a steak, etc.
But to cook slower, you'll need to cool the coals down. So put the lid on it. And if you really want to cut it down, close the vent.
Q: How long do I let the charcoal burn before I start cooking?
A: Depends on how hot you want it. Rule of thumb: The coals aren't ready until they're mostly gray and ashy. A few black spots here and there are acceptable.
If you're eyeballing a precise temperature, use a grill thermometer like this. I'd use an analog thermometer; I've seen too many issues with digital or app-connected versions to make them worth it.
Q: Should I open or close the vents on my charcoal grill?
A: See "How do I control temp?". Opening the vents facilitates air flow, which heats up the air inside. Closing them suffocates it, which cools it down.
Q: How do I clean and maintain my charcoal BBQ?
A: Keep it clear of debris, man. That's especially important on gas grills, with jets that need to stay clear to produce the flame. You can do it right after you're done cooking, but I'd recommend giving it a good brush while you're heating it instead. It'll give your not-beer hand something to do.
Q: How do I store charcoal?
A: In a cool, dry place, away from very young children. That's about it.
If you wanna get really nerdy about it, you can put it in a lidded 5-gallon bucket.
Q: What type of gas should I use?
A: Hank Hill answers: "Only clean-burning, economic propane should be utilized for grilling procedures. Y'see, if you equip your gas grill with an inspected propane tank, filled and certified by a professional, you can grill safely and taste the meat — not the heat."
That's compelling advice from a barbeque legend, one of the most consistent and best BBQ cookers out there. But you can choose to ignore it and connect your gas grill to your house's natural gas line (in most cases). There are those who say natural gas burns even cleaner than propane (bwaugh!). But it does not burn as hot.
Q: Is grilling with propane bad for my health?
A: See "What type of gas should I use?". I consider this a ridiculous question, but I have researched an answer, nonetheless.
According to those most concerned with the health ramifications of propane and natural gas, vapor release is the biggest risk. Of course, if you're outside, that risk, ahem — vaporizes.
When you think about it, yes, any gas you cook with will stick to the cooked food as particles or particulates. But that's the case with anything — even a frying pan on a hot electric stove will generally leech something into or onto your food.
Here's the deal: none of us are getting out of here alive, baby. Something has to kill you. Might as well enjoy it while we can.
Q: How do I control flare-ups on my gas BBQ?
A: DON'T TRY TO PUT IT OUT WITH WATER. If you don't know why check out this Worldstar Hip Hop video.
A flare-up is a grease fire (usually in miniature). When you're grilling with gas, some of them are going to happen.
To mitigate flare-ups, try trimming fat before grilling or using aluminum foil.
Flare-ups are not inherently bad, or unusual. If you get one that won't go out, your best bet is to let it burn itself out (see above).
Q: How do I test my BBQ for a gas leak?
A: One recommendation is to make a soapy water mixture and spray it onto the lines. Next, cut on the gas. As the gas cycles through the line, it will cause the soapy solution to bubble at any leaky points.
Q: What should I do if my gas tank is leaking?
A: I'm gonna go common sense on this one because I am in no way qualified to tender safety recommendations in the case of a propane gas leak. (That's Hank Hill's territory and I don't intend to step on it.)
First things first: cut off every valve; tank valve first, then burners, grill valve, all of it. I would take it to the extreme and snub any nearby tiki torches, or even my smokey treat if applicable.
Next? Put the damn thing out in the middle of the yard and let it tire itself out. Once you're confident the situation is stabilized, you can run the procedures outlined here to try to self-diagnose and repair the problem.
Ultimately? You'll want to contact your local propane dealer, report a propane emergency, and await further recommendations from the professionals, I tell ya h'what.
Q: How does food taste on a charcoal grill vs. gas grill vs. electric grill?
A: It's said that food cooked on a charcoal grill tastes like time itself. The beginning and the yet-unwritten end of human history experienced through the kaleidoscopic lens of our obsession with fire, the first tool. Juicy, smoky, evolutionary satisfaction. The acrid, primordial yet somehow tantalizing taste of soot. Carbonized stardust and caramelized eons. Breathe in the particulates, brother — the fire's burnin' bright.
Food cooked on a gas grill can taste faintly like propane or natural gas. Food cooked on an electric grill tastes the same as food cooked on the stove; neutral unless seasoned.
That is all.
Sources:
The Worst Gas Grills Fizzle More Than Sizzle tn Consumer Reports' Tests - Consumer Reports
All Bad: Restaurant Employee Tries to Put Out Grease Fire Using Water! - World Star Hip Hop
Sign Up Now
GET THE VERY BEST OF GEARHUNGRY STRAIGHT TO YOUR INBOX