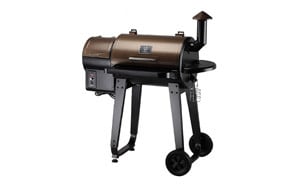 Z Grills ZPG-450A Wood Smoker Pellet Grill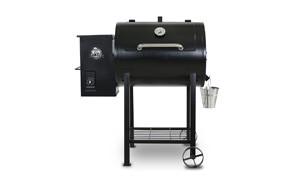 PIT BOSS 700FB Pellet Grill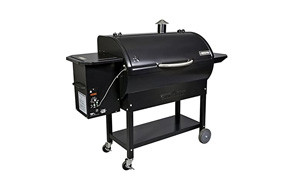 Camp Chef SmokePro LUX Pellet Grill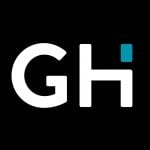 Pellet grills heat quickly, provide the same type of precise control you get from propane or natural gas, impart far more flavor into your expensive cuts of meat and eliminate the hazard of having a propane tank sitting on your patio or deck. And that's just for starters. Pellet grills won't dry out your food the way propane does, won't make you wait a half hour or more until they're up to speed the way charcoal does and don't require constant monitoring the way a wood fire does. In short, pellet grills are a grillmaster's dream.  Below we've brought together the best pellet grills on the market today for your consideration.
The Best Pellet Grill
Pellet Grills Buying Guide & FAQs
Features To Look For In Best Pellet Grills
A Pellet Grill is likely to be an investment that you will want to last for some time to come so it's essential that you consider the key features you'd prefer it to have from the outset. You don't want to invest in something that doesn't have enough grilling space or regret your decision when you find out the hard way how challenging your grill is to get clean. Here are some of the key features and considerations we think are worth being mindful of.
Temperature Control - To achieve any semblance of successful cooking results, even if your oven at home, you are heavily dependent upon being able to regulate and control the heat. You may well be able to gauge how long to cook a chicken for but can you be sure that it will still be succulent and tender rather than a shriveled, dried up mess. One thing that people can't abide about traditional barbecue cooking is the inconsistency. One sausage is charred to within an inch of its life. The other raw in the middle. So if you want to be able to fully control the outcome of the food you cook, then look for a pellet grill have has an adjustable temperature control setting with a reliable +/- differential. Plenty of the grills we reviewed could be set digitally from 180 all the way up to 450 degrees Fahrenheit with negligible heat difference meaning you can rely upon the results.
Pellet Hopper Capacity - The last thing you want is for your supply of wood-burning pellets to run out halfway through searing the next batch of stakes. Obviously, the bigger the hopper, the more overall space it's likely to take up. Before you purchase your grill, consider how many people you are likely to be regularly entertaining and cooking for and take it from there. The pellet capacities we reviewed in our recommended selection of products ranged from 9 to 20-pounds, so that's quite some difference.
Warming Rack - A warming rack is a really lovely extra feature to have, especially if you are dealing with larger social gatherings where there is likely to be lots of food continually on the go, coming on and off the main grilling rack. They don't come as standard with every grill so if this is a feature that you would find particularly handy, make sure you check first that your grill incorporates one.

Types Of Temperature Controllers
We mentioned the importance of being able to control the heat and also touched upon digital controls. The other factor to bear in mind is what kind of heat control system you feel confident operating. You do have a couple of basic choices.
Three-Position Controllers - these are basic control systems that offers Low, Medium and High settings only. While better than just charcoal which you can't control, if you are looking to take your grilling expertise to the next level and wow your guests with your culinary prowess, you might want more control than this.
Multi-Position Controllers - with this type of controller, you should be able to adjust the temperature within a pre-designated range, up and down in 25-degree increments. These provide the next level in control and are better suited if you're lacking in confidence in the kitchen and want to eliminate some of the guesswork.
Proportional Integrative Controllers - incorporating next level digital technology, you should be able to maintain a more steady and consistent temperature with this type of setting. PID controllers are continually pulling heat information, monitoring the internal temperate, in order to produce a reasonably accurate reading (+/-10%) which will typically be available to view on a LED readout.
Pellet Grill FAQ's
Q: What is a pellet grill?
A: A pellet grill is for use outdoors and instead of using fuel such as propane, charcoal or gas, instead relies upon being fed a source of wooden pellets which can be infused with all different flavors to smoke your meats. The became popular in the early 1970s when crude oil was on embargo and alternative fuel sources needed to be sourced. From necessity, the wood pellet emerged although it wasn't really adapted for use in outdoor grills until the late 1980s. Since then, this choice of grilling has been garnering favor with more and more different types and flavors of wood pellets being made available. It benefits from being versatile, easy to control and quick to heat up.
Q: How does a pellet grill work?
A: A pellet grill uses electricity and features a thermostat and readout along with a fan and rotating auger that feeds pellets into a combustion chamber. Pellets are supplied at a rate according to the intensity of temperature required. The actual degree of overall temperate control will vary from model to model.