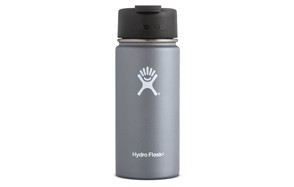 Hydro Flask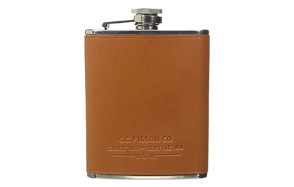 Filson Unisex Flask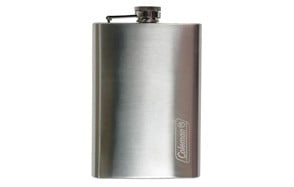 Coleman Stainless Steel 8-Oz. Flask
Your cool uncle had one, your dad brought one on every camping trip, and now, you need one. Just like a premier cigar carrying case, a flask is how a gentleman enjoys his alcohol. Whiskey, scotch, or whatever your poison is, everything just tastes better coming out of a concealed flask. While we're not going to tell you to cut out the interior of a book to stash it, we will condone putting these premier flasks up on a shelf for all to see.
Best Flasks In 2018 (Buyers Guide)
Stanley Adventure Stainless Steel Flask
See More Reviews

Enjoy a lifetime warranty, not that you'll need one—this flask by Stanley isn't prone to rusting, and holds your liquor for an extremely long time with leakproof technology. The exterior has an attractive design with a textured green cover, leaving a strip along the bottom of visible stainless steel. Those came color schemes are reflected in the rest of the model, such as on the lanyard and cap. The flask itself weighs just over three ounces, so you won't feel much more than the weight of the contents when you're carrying it around. These come in either five ounce or eight ounce models, depending on how much you like to party.
Specification:
Brand

Stanley

Model

Adventure

Weight

3.2 oz
See More Reviews

It's the flask that's designed like a thick, bulky water bottle. This comes in a bunch of awesome colors, and is also crafted of stainless steel. Premium grade. Keeps your iced vodka chilled for up to twenty-four hours, so you won't have to pop the flask in the freezer prior to your journey. This comes from twelve, up to twenty ounces, and is perfect to pop in the lining of your backpack or out on a trip. This flask is great for concealment.
Specification:
Brand

Hydro

Model

W18FP001

Weight

2.2 oz
Coleman Stainless Steel 8-Oz. Flask
See More Reviews

Coleman may just be the king of all flasks. You can't go wrong with a classic design. Stainless steel all around, with a lanyard to keep the cap on. You can get tipsy without dropping it—unless you're really, really skilled and somehow break it, though it's not likely. This is durable, thick, and a practically indestructible flask that contours to the shape of your chest when you throw it in your sports jacket pocket. It's perfect for concealment, and won't rust, no matter what. Even if it gets dinged up a bit, the brushed finish isn't going to show it.
Specification:
Brand

Coleman

Model

2000016397

Weight

5.6 oz
See More Reviews

Let's be honest; most flasks are marketed towards men. You know why? We love getting wrecked at games and places that our wives drag us to. However, we all know that one female that's packing harder booze than we could ever handle, and she needs to the Filson Unisex Flask. It's beautiful stainless steel, encased in chocolate, vegetable-tanned, English bridle leather that's hand stitched (for that extra luxurious, custom feeling,) and the whole thing is made in the United States. Buying domestic, buying American, well that's always something to feel good about, right? That, and of course, the poison of your choice.
Specification:
Brand

Filson

Model

11069201

Weight

12 oz
See More Reviews

We all know the best brand on planet Earth for premier, quality lighters. Zippo now makes an extremely inexpensive, high quality stainless steel flask that's going to give you just enough to get the buzz you need to take the edge off the might, and unleash your inner party demon. Three ounces can pack enough of a punch, and you'll be able to conceal this lightweight, miniature flask with just about no problem at all. Zippo's always got the goods.
Specification:
Brand

Zippo

Model

122228

Weight

0.3 oz
Top Shelf Flasks – Stainless Steel Flask and Funnel Set
See More Reviews

Now here's something innovative—why haven't we seen this before? Top Shelf Flasks thought of the best thing you never thought you'd see in a flask set—the selling point of this model: the funnel. None of us want wide-mouthed flasks; they're awkward to drink from in the stands or at the punch table (I'm not judging you.) Fill up the narrow spout with the funnel, and savor every precious drop. Apart from that, for the lowest cost on our list, you get eight ounces to enjoy. Bring on Friday night.
Specification:
Brand

Top Shelf Flasks

Model

FLASKFUN8

Weight

3.2 oz
See More Reviews

 Say that brand name three times fast. Or one, for that matter. Zojirushi's take on a proper sized flask is spot-on. Blending plastic and stainless steel to create the perfect exterior and interior, you can safely keep hot liquids in this, or chill down your booze to keep it up to six hours at forty-six degrees. The flip-open lid is fitted extra tightly, meaning you won't have to worry about leakage if this is rolling around in your backpack.
Specification:
Brand

Zojirushi

Model

SM-SC60HM

Weight

8 oz
Grunwerd Drinkpod Vacuum Flask
See More Reviews

You see a thermos—we see a flask. The Drinkpod is a premium take on the ever-versatile thermos, making it optimal for every kind of use. Going camping and need a great thermos to keep campfire soup hot until breakfast? Got it. Chilled vodka over a midnight starry sky and crackling campfire? Yup. Got that, too. No matter what your needs are, when it comes down to size, function, and design, the Drinkpod is the clear choice.
Specification:
Brand

Grunwerd

Model

HCF-300BK

Weight

10.9 oz
Primo Liquor Flasks – Eight Ounce Premium Hip Flash
See More Reviews

This is the picture of luxury. Pop this on the top of your shelf with the handy little included funnel right next to it, and you'll instantly grow a thick mustache and enjoy hunting, if you don't already. Anything that's black-and-leather bound is sure to turn heads; luxury never goes out of style. It's something that your can just pick up on; no trends, no nonsense, just rugged alcohol in startling display. You get your choice of up to eight ounces, and the funnel is super effective. When you pour top shelf into your flask, you don't want it hitting the counter. Primo's got you covered.
Specification:
Brand

Primo Liquor Flasks

Model

B01GN58PUW

Weight

12.8 oz
YETI Rambler 18oz Stainless Steel Bottle
See More Reviews

Bottle, flask—it's all the same, depending on how you use it. Pour chilled vodka right into the container, or keep room-temperature whiskey at that perfect state. YETI is one of those massive brands that don't disappoint. They make some of the most innovative and useful camping equipment, and of course, their one-of-a-kind coolers, but why stop there? They brought us this leakproof, insulated water bottle, crafted out of high-quality stainless steel, all to conform to your needs. If it's refreshing water on a hike, or something to make your summer camping nights that much more interesting, it's the perfect fit for you.
Specification:
Brand

YETI

Model

YRAMB18

Weight

1.1 lb
Stanley Classic Vacuum Bottle
See More Reviews

Okay, so we're not saying you should pack up two quarts worth of whiskey. How long was your camping trip, again? With a plethora of models to choose from, ranging from different sizes and a couple of different color options, there's a vacuum bottle for everyone. If your plans are for more practical uses for such a behemoth of a thermos/flask, you can store a massive amount of coffee in this bad boy. Maybe spike it with a bit of Bailey's? Either way, you get more with a higher capacity.
Specification:
Brand

Stanley

Model

10-01254-033

Weight

1.86 lb
Stainless Steel Keychain Flask
See More Reviews

We're not telling you to let this dangle off the car keys while you're driving, but the portability perfect. With two ounces of capacity, an all stainless steel chassis, and a large spout for the screw cap, you get immense quality for one of the lowest prices that you'll ever pay for a premier product. We should note, it's the perfect gift for that twenty-first birthday bash. Inexpensive, alcohol-themed—it's all good, and it's all yours. (We won't tell them that you ordered an extra one for yourself.)
Specification:
Brand

SE

Model

HQ149-2

Weight

1.6 oz
Concealable NES Entertainment Flask
See More Reviews

Is that Super Mario Bros/ Nope. Super Bar-Hop Bros! This flask looks like a classic NES video game cartridge, which just gets us excited that someone actually thought of this. This is the perfect shelf piece for absolutely any gamer, retro or otherwise. Bring your friends over, ask them if they want a drink, and pour it out of your 4.25oz flask. They'll think you're crazy for a second, and boom—a piece they'll talk about for ages to come.
Specification:
Brand

Ink Whiskey

Model

Super Bar-Hop Bros.

Weight

4.2 oz
Hammer Finished Pewter Flask
See More Reviews

Crafted only the way an English design can—this pewter flask looks like it was brought straight out of the medieval period, only with sleek modern design. Stainless steel is great, but it conducts heat from the exterior, leaving your liquids susceptible to your body heat taking your chilled alcohol, and bringing it up to an uncomfortable temp. Enjoy six ounces of your spirit of choice, and enjoy the no spill design. Screw down the cap and enjoy the handmade craftsmanship of English flask creators.
Specification:
Brand

BarMe

Model

UK1

Weight

8.8 oz
See More Reviews

Smoking and drinking go together like drinking and smoking—why bring a separate case for your cigarettes, when you can have it all from one source? This unisex design is perfect for absolutely anybody. Whether you're sitting in the stands or out on the curb for a smoke break, you'll be able to get the most out of this exceptional, inexpensive flask.
Specification:
Brand

Perfect Pregame

Model

00856011007008

Weight

8 oz
English Street Flasks Dirty Mack's
See More Reviews

Glare upon the beauty of a leather bound flask, then pop open the collapsing show glass to really bring the heat. The shot glass compresses and attaches right to the body of the flask, making it concealed, and conforming to the rest of the flask. You get eight ounces to enjoy. Long train ride ahead? Boring high school reunion? Spice it up with a lifetime warranty, versatile flask made of stainless steel and encased in leather.
Specification:
Brand

English Street

Model

Dirty Mack's 8oz

Weight

0.32 oz
Twin Stainless Steel Hip Flasks
See More Reviews

These look like they're right out of a World War II movie—what's better than one flask? Two? We agree. Two stainless steel flasks, each with 3.3 ounces to enjoy (fully complying with TSA requirements,) allow you to get drunk on a plane. Two is better than one—what if you want scotch, but you also want some bourbon? We've got you covered. These even come in a poly-leather pouch that allows the screw caps to poke through. Perfect to throw in the saddlebag on the bike and hit the trail for the weekend.
Specification:
Brand

Plumwood & Vine

Model

646223241389

Weight

3.04 oz
See More Reviews

Comes with a funnel and a lanyard on the cap. You know why? We want alcohol made in the United States to go into our American flag flask, and we don't want to spill any of it. Get as tipsy as you want, and never lose your cap. This comes in all stainless steel, with a soft touch leather cover that features the stars and stripes. Irony? It's made in China. 8 ounces. 50 stars. 14. Stripes. 72 reasons to love this flask.
Specification:
Brand

OUTZIE

Model

SYNCHKG088924

Weight

7.2 oz
Buyers Guide
You may be asking yourself, "how are they going to pull this one off?" Well, believe it or not, there's a lot to consider when you go to buy a flask. Some key points. We thought of everything, so you don't have to. Without further ado, let's get into why you need a flask, and everything in between.
Capacity
It seems like a simple issue: how much alcohol do you want to store? It's also about how much you can handle. If you're stashing a flask in the glovebox or your backpack, you're carrying alcohol with the possibility of consumption somewhere in public. Even if it's around a campfire with some friends, you don't want to have a large volume of open alcohol, should things get rowdy and law enforcement get involved. No cop is going to drag you to the brig or before a judge for a few ounces of whiskey in the middle of summertime. A quart or so? Well, someone might take that seriously.
Design
Nobody's going to pull out a rusted, old flask that's probably got bits of lead paint floating in it. (We hope that the visual of that doesn't even exist in your head, really.) But there's no denying that some flasks just look plain boring or bland. Stainless steel is classic; leather is classy; there's a million different ways you can spin your flask. If you're going to pop this up on a high shelf next to that $300.00 whiskey, you need to make sure it lives up to the hype, right?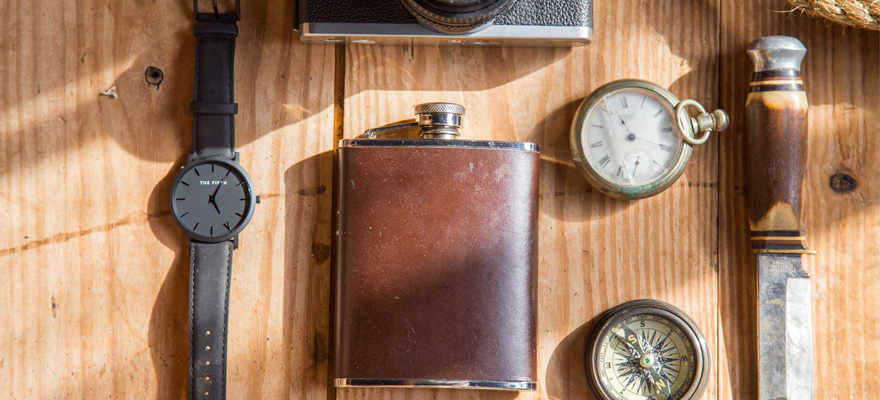 Material
Most flasks are made out of stainless steel, and there's nothing wrong with that. It can reflect temperatures, but it's also easier to absorb heat from the exterior. When it's in your suit coat pocket, or a backpack, the temperatures can get a bit wishy washy. Go with pewter, and you've got a better chance at keeping that chilled brew inside. Pay attention to exterior bits, such as leather on the outside to keep the temperatures where they need to be—outside of your controlled zone.
Leakproof Cap
You know what's worse than wet clothes that smell like whiskey? The fact that you wasted whiskey. We'll shed a tear for your Friday night, (and your wallet), but you can just leave those sad days and nights behind. Make sure it's got a leakproof cap. In this case, it's also good to ensure that there's a lanyard, if you plan on partying on a little too long. Don't want to drop your cap, lose it, and have the whole thing be useless, right?