The Best Sparkling Water Makers In 2022 For Fizziest, Bubbliest Drinks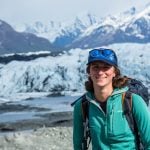 This product guide was written by Ilana Newman
Last Updated
June 24, 2022
Ilana Newman
Ilana is a writer, photographer, and life long learner. Born and raised in the Pacific Northwest, she spends her free time climbing, running, and skiing in the mountains. She is passionate about intersectional social justice work in the outdoors and creating access for all.
GearHungry may earn a small commission from affiliate links in this article.
Learn more
Sparkling water makers have always seemed a little bit like magic to me. I mean, you have a carbonation machine, right there on your kitchen counter, waiting to turn regular old water into sparkling water.
Now, my family got a sparkling beverage maker when I was a teenager, probably because my mom loved drinking San Pelligrino sparkling water and buying those every week was getting expensive. I remember loving the whole experience of screwing in the bottle to the SodaStream and pressing the button. Hearing the carbonation build and watching the carbon dioxide bubbles squirt into the bottle was mesmerizing.
And since then, carbonated water has become a much more popular thing. From La Croix to Bubly to Spindrift to the artisan small batch sparkling water companies that keep springing up from nowhere, everyone and their neighbor seem to drink seltzer water these days.
But spending five dollars on barely flavored water every few days isn't cheap. If you're someone who craves the sparkly, refreshing taste of fizzy water, making it yourself might be the perfect solution. You can adjust the level of fizziness to your personal taste, it's more affordable, and causes way less waste. And with many soda makers, you can carbonate any liquid — not only water!
So, if you're ready to take your sparkling liquid consumption into your own hands and invest in a soda maker, check out our list of the best sparkling water makers.
The Best Sparkling Water Maker
SodaStream Jet Sparkling Water Maker
SodaStream's Jet Sparkling Water Maker is an excellent entry version if you're new to making homemade carbonated beverages. Our tester has owned this model for about three years and used it weekly, if not daily. This slimline and compact sparkling water maker is super easy to use and can be operated with the simple touch of a button. The kit comes with one Co2 cartridge providing enough power to make 60-liters of your favorite fizzy drinks – our tester only replaced hers twice in the last three years. You're also supplied with a 1-liter fully reusable and non-toxic BPA-free carbonating bottle.
This is a tremendous little starter kit that will have you and the family bubbling up delicious beverages in next to no time, making economic and environmental savings. This lightweight soda maker is also easy to carry and transport, ideal for packing with you for a long weekend away visiting relatives or that family vacation. Our tester even brought hers on a couple of climbing trips and used it in her van since no electricity is required. With no need to worry about finding a power source or recharging batteries either, the SodaStream Jet is an excellent energy-efficient option. You can opt for SodaStream brand flavors for your sparkling water or try it our tester's way – she likes to make her own simple syrups at home.
For more cool kitchen tools like this, check out our guide to the best tea makers.
Key Features:
Compatible with SodaStream bottles and flavors
Sleek and elegant design with one-touch operation
Features easy twist-lock technology
Compact, lightweight and easy to transport
Energy-efficient operation without the use of electricity or batteries
Specification:
Brand

SodaStream

Model

1412111012

Weight

6.15 Pounds
Quick and easy to use
BPA-free plastic bottles
Energy efficient
Portable design
Basic model with minimal features
Aarke Carbonator II Sparkling Water Maker
We're recommending the Aarke Carbonator III as our premium choice soda maker. One look and it's easy to appreciate why. This soda maker really is a thing of beauty, featuring a similarly sleek design aesthetic to the previous model but updated to add a redesigned precision nozzle and an even slimmer design. The Aarke Carbonator III wouldn't look out of place on the counter of the most high-end and contemporary of kitchens. It's certainly not an appliance to hide away in a cupboard. It will fit right in with your other high-quality countertop appliances.
This countertop soda maker comes with a plastic water bottle, but no CO2 canister. It is compatible with SodaStream canisters, which are the most readily available in the US. Once you buy the canister, you can refill it at a lower cost once it is empty. To make your sparkling water, just fill up the water bottle (works best with cold water), screw the bottle onto the machine until tight, and then pull down the handle. You'll see the bubbles released in the bottle, so you know the carbonation process is working. Pull down the handle multiple times for extra carbonation. If you want to add flavor, you will need to transfer the water to a glass or other container.
Key Features:
High-quality stainless steel construction
Precision nozzle for a controlled spray beam
Sleek, compact and elegant-looking design
Energy-efficient requiring no batteries or electricity to run
Specification:
Brand

Aarke

Model

AA01-C2-STEEL

Weight

3.2 Pounds
Better looking than most soda makers
Energy efficient
High-quality design
Easy to use
Durable
Does not come with a Co2 cylinder
SodaStream Terra Sparkling Water Maker
If you're looking for something that will get the job done at a lower cost but still comes with reliability and a big name, the SodaStream Terra is one of the best soda makers for any household. This starter pack comes with one water bottle and one CO2 canister. Each canister carbonates up to 60 liters of water. Most of the time, you'll want to have at least two bottles because it's easier to make soda water with cold water, so keeping one in the fridge ready to carbonate and one carbonated water is key. But this soda maker is compatible with all SodaStream bottles except their glass bottles so it is easy to find an extra one.
The compact design won't take up too much counter space, but it also fits well in most kitchen cupboards. To use, just fill up the plastic bottle, pull the support handle out to insert the bottle, and then push the bottle up and back until you feel it click into place. Then press the top button to create the fizzy water. Press the button until you reach the desired amount of bubbles – three times is a standard fizz, five times is extra fizzy.
Key Features:
Includes one canister of CO2
One liter reusable BPA-free bottles included
Compatible with all SodaStream flavors and carbonation bottles
Adjustable carbonation levels
Specification:
Brand

Sodastream

Model

1012811010

Weight

6.1 Pounds
Energy efficient, no electricity or batteries needed
Quick and easy to use
Excellent value for money soda maker
Durable
Some reported issues with locking element
SodaStream Fizzi One Touch Sparkling Water Maker
The Sodastream Fizzi One Touch is really easy to use, plus it looks good sitting on your counter. This soda water maker is a lot simpler to use than many of the soda makers on this list. Just select a fizz level, push the button and you'll have fizzy water. Unlike other sparkling water makers, no need to wait or press the button multiple times. The plastic bottle locks in place with an easy snap-lock design, although some users have had issues getting it to sit in place. Unlike older SodaStream models, this one does not screw into place. This machine is compatible with all SodaStream containers except their glass carafe.
This value pack also comes with all the necessary accessories, including three 1-liter reusable BPA-free bottles and two 60L CO2 canisters. And, it comes with two Bubly flavors so you can enjoy your favorite sparkling water without the aluminum cans from store-bought seltzer that inevitably fill up your recycling. Each flavoring bottle can make up to 12 liters of flavored sparkling water.
Key Features:
Includes 2 60l CO2 canisters
3 x 1liter reusable BPA-free bottles included
Simple one-touch design
Bubly flavor drops included
Compatible with all SodaStream flavors and carbonation bottles
Specification:
Brand

SodaStream

Model

1101179010

Weight

12.65 Pounds
Slim space-saving design
Fast and easy to use
Excellent value bundle offer
DrinkMate Sparkling Water And Soda Maker
The DrinkMate home soda maker is perfect for those of you who want to be more adventurous with your fizzy beverages. Not only does it carbonate water, but you can also use your DrinkMate to breathe life back into flat beers, cocktails, or even to pep up your vino, as well as any sort of juice or other beverage. While many other brands distinctly advise against using their carbonators for anything other than plain water, with DrinkMate's patented fizz technology, you can tackle anything from apple juice to wine. Plus, it's also entirely safe for kids to use too. "Does it fizz?" can quickly become a fun kitchen science experiment.
It's quick and easy to operate and simple to clean. There's no electricity to worry about or batteries that need to be changed or recharged. The sleek and compact, modern-looking design comes in your choice of white, red, or black, so you can choose an option to fit the aesthetics of your kitchen. It uses standard CO2 cartridges and comes with a 10-liter cartridge to get you starting on your carbonating adventure. It is also compatible with SodaStream 60L CO2 canisters. The discreet footprint will also save you valuable counter space. Get ready to carbonate any liquid and make fancy fizzy drinks for the family!
You may also be interested in some of the best-seling iced tea makers, so take a moment to check them out.
Key Features:
Carbonates any liquid
Quick connect BPA-free bottle
Smart design features visible volume mark line
Easy to operate with a simple touch of a button
Specification:
Brand

DrinkMate

Model

410-02-3z

Weight

4.55 Pounds
Works with any liquid, including beer and wine
Quick and easy to use
Compact footprint
BPA-free bottles
Energy efficient
Portable design
LANGSHI 1 Liter Aluminum Home Soda Siphon Soda Maker
Switching it up a bit, if you're looking for something that's affordable and easy to take on the go, a siphon might be the right kitchen tool for your soda making needs. Just fill up the aluminum bottle, add a standard 8-gram co2 cartridge, shake, remove the cartridge and then squirt out sparkling water. It also includes a pressure control valve to adjust the carbonation pressure.
While this soda water maker probably isn't the right option if you drink sparkling water every day, if it's just a once-in-a-while thing it could be perfect. If all you want to do is make carbonated apple juice or add it to a cocktail every so often, you probably don't need a big fancy soda maker. Pour your sparkling water over fresh fruit for a tasty treat any time of the day.
For more appliances that provide you with your favorite beverages, check out our reviews of the top coffee machines.
Key Features:
Handheld soda siphon
Includes pressure regulator
Uses 8 gram co2 canisters
Specification:
Brand

LANGSHI

Model

588-586-339

Weight

2.23 Pounds
Quick and easy to use
Compact design
Affordable
Spärkel Beverage System – Sparkling Water And Soda Maker
If you don't want to use CO2 canisters that you have to constantly refill or replace, the Sparkel system might be the best soda maker for you. This soda maker uses carbonator packets to carbonate beverages, but some reviewers recommend using a mixture of baking soda and citric acid (cheap to buy in large quantities) to avoid using the single-use packets that come with the machine. However, beware that using anything other than Sparkel carbonators will void the 1-year warranty.
With one touch on the Sparkel soda maker, you can carbonate liquids of any variety, from water to juice to alcohol. Choose from five carbonation levels to find the option that's right for you. And you can use any additives right in the water even before you sparkle it — try fruit, herbs, or spices! The pressure of carbonation helps infuse the flavors into your water.
If you're looking for a soda machine that does not use carbon dioxide, the Sparkel system is the best soda maker on our list that does not use CO2 canisters. This soda maker comes with 10 carbonators and one reusable bottle. You can purchase more carbonators or water bottles online.
Key Features:
Carbonates any liquid with or without add-ins
Quick connect BPA-free bottle
No CO2 tank required
Possible to use citric acid and baking soda
5 levels of carbonation
Specification:
Brand

Spärkel

Weight

9.88 Pounds
Super-quick and easy to use
Compact footprint
No need for CO2 canisters
Energy efficient
Portable design
Some users had issues with water leaking out of the bottles
SodaStream Aqua Fizz Sparkling Water Machine
We're completing our round-up of the best sparkling water makers with yet another excellent option from the SodaStream range. This time it's the SodaStream Aqua Fizz Soda Maker. If you're looking to get rid of plastics in your kitchen, this soda maker is a great choice as it uses glass bottles instead of plastic ones. Each glass bottle (it comes with two) is elegant, durable, and dishwasher safe. Just insert the included CO2 canisters in the back, slide the glass bottle in under the carbonation, then close and press the button until it reaches your preferred level of carbonation.
The Soda Stream Aqua Fizz is the perfect choice for anyone who wants a higher-end soda maker that uses glass instead of plastic for their soda water consumption. Save the planet, save your wallet and enjoy a never-ending stream of soda thanks to the SodaStream Aqua Fizz soda machine.
You may also like to add some of these quality blenders from our list to your kitchen arsenal, so be sure to check them out.
Key Features:
Includes 2 glass carafes
60L CO2 cylinder
Carbon dioxide canister included
Energy-efficient way to carbonate water
Dishwasher safe
Specification:
Brand

SodaStream

Model

1016512015

Weight

11.38 Pounds
Eco-friendly and energy-efficient
Uses elegant, quality glass bottles
Carafes are dishwasher safe
Simple to use
Inconsistent carbonation
Can spill water out with too much pressure
Why Trust Us
Here at Gear Hungry, we want you to find the products that work best for your needs. We do the research, check out all the comparisons, and test the products so you can find exactly what you are looking for. We are detail-oriented and make sure that every machine on this list is there for a specific reason.
Also, we are sparkling water addicts ourselves. There's nothing like a cold can — or freshly made glass — of seltzer on a hot day. Whether you like it plain, or with all the flavorings, we're right there with you. Just like you, we were motivated to get out of the habit of buying boxes and cans every week, so researching the best sparkling water machines is a great first step.
Who This Is For
If you're tired of buying sparkling water, want to create your own flavors, or just like the flexibility of owning a soda maker, this guide to the best soda makers on the market is for you. From the well-known to the obscure brands, there's a way to make soda water for everyone.
How We Picked
We chose the best home sparkling water maker options on this list by researching, testing, and comparing. We chose a variety of soda makers, every option on this list has its own strengths and weaknesses. For example, if it's important to you to be able to carbonate more than just water, don't choose a SodaStream. If you want to avoid carbon dioxide, there are options that use citric acid and baking soda instead of CO 2 canisters. If you want a handheld device that you can take with you, you'll find that as well. This guide to the best soda makers includes a soda machine for everyone.
How We Tested
Testing the best soda maker models entailed three years of weekly, if not daily, soda water creation. Our tester loves sparkling water and buying cans gets expensive fast so a few years ago she searched high and low for the best soda maker and ditched the endless stream of La Croix. Additionally, instead of store-bought flavorings, she uses her own homemade simple syrups to flavor her water.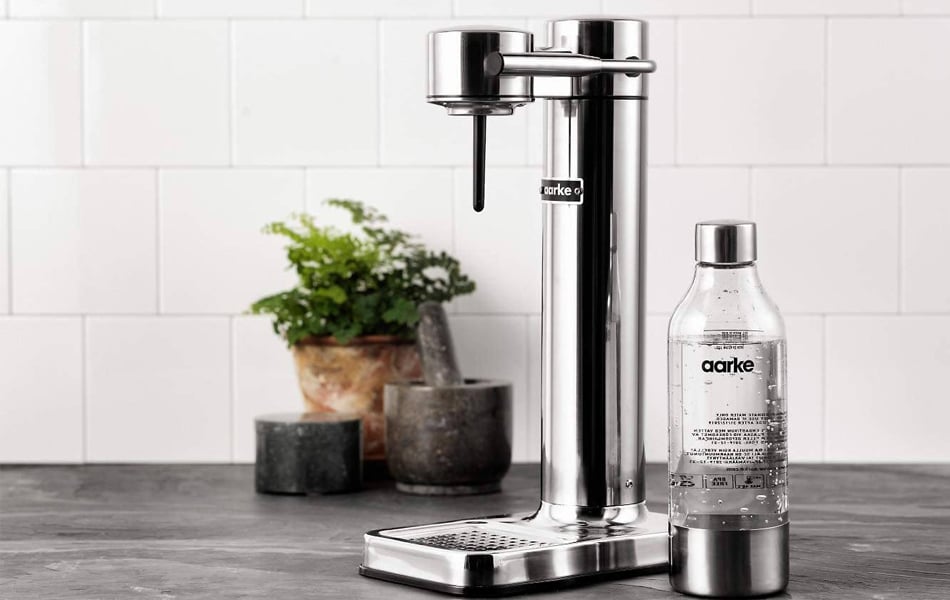 Features To Look For In Sparkling Water Makers
Carbonation style - Does the soda maker use carbon dioxide canisters or does it use another sort of carbonater? Some soda makers have the ability to use other carbonating materials like baking soda and citric acid, which can be easier and less wasteful than CO2 canisters. Ultimately though, this is a matter of personal preference.
Bottle material - Do you prefer glass or is plastic perfectly fine for your household? Some machines are compatible with all sorts of bottles, while others need proprietary bottles that you can only get from the manufacturer. Also, consider whether or not the bottle screws on or gets set into the soda maker.
Power source - Is the soda maker powered by electricity or is it mechanical? Most of the options on this list are mechanical meaning they operate through pressure and mechanisms, but any of the "one-touch" soda makers usually use electricity to function. That way you don't have to hold down the button the whole time, but that does mean you will either need to replace batteries or plug it into an electrical outlet.
Versatility - If you only care about soda water, you might not care about the versatility, but some of the soda makers on this list are more versatile than others. If you want to carbonate other liquids like wine, juice, or tea, you will want to make sure to find a soda maker that can handle those liquids.
Size - How big is your ideal soda maker? How much space will it take up on a countertop? Do you need to store it in a cabinet? Will it fit in the said cabinet? These are all important questions to ask before you purchase a new soda maker.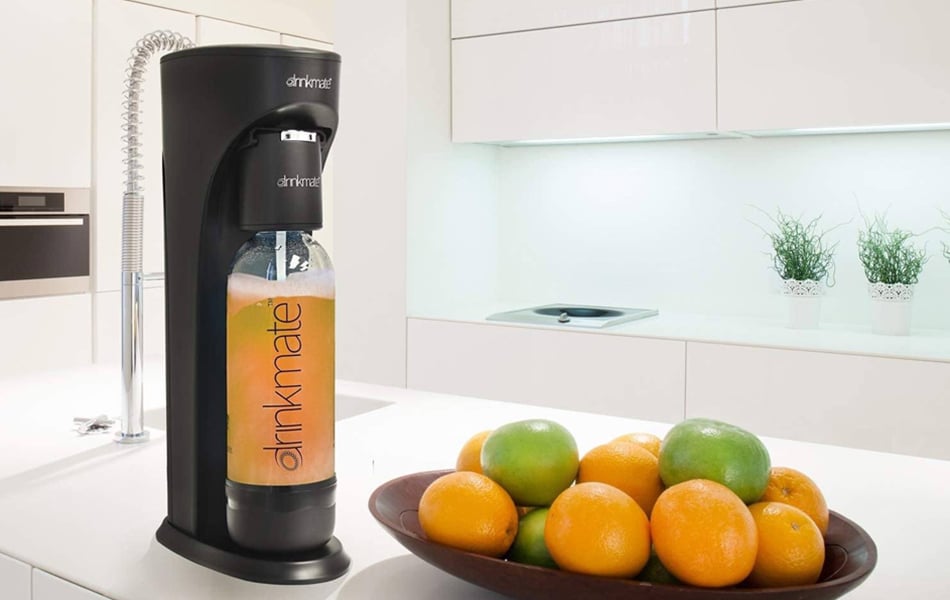 Sparkling Water Maker FAQ
Q: How long does a CO2 cylinder last?
A: That depends on how much carbon dioxide you use for each soda water bottle. If you tend to like a lot of bubbles, you will use more than if you are just adding a bit of carbonation. But the 60L CO2 canisters are designed to last for up to 60 liters. That would be up to 60 refills of the 1-liter bottles that typically come with carbonated beverage makers.
Q: How do you know when your cylinder is out of gas?
A: You will know when your co2 cylinder is empty when you don't see bubbles or hear a spluttering sound when you attempt to carbonate liquid. You can also try to tighten the canister to see if it is attached properly. If you still don't see any bubbles, you are probably out of carbon dioxide.
Q: What do you do with empty CO2 cylinders?
A: When your co2 cylinder is empty, you can either exchange it for a full canister or recycle it. If you are totally done with the canister, you can get a $1 deposit return for recycling your canister. If you want to exchange it for a full canister, you can find a location that does exchanges for your model of co2 cylinder. If you have a SodaStream cylinder, you can exchange it for a refill on their website.
Q: Can you recarbonate flat drinks with a soda maker?
A: Some soda makers do allow you recarbonate flat drinks like soda or beer. If this is something you are interested in, make sure to get one of the soda makers that allow you to use it for any liquid, not just water. SodaStream soda makers cannot be used for any liquid other than soda water.
Q: How do I get replacement CO2 canisters?
A: For SodaStream cylinders, you can get replacements either on their website or at a local retailer. Other brands of co2 canisters can be found online or at retailers.
Sources:
Sign Up Now
GET THE VERY BEST OF GEARHUNGRY STRAIGHT TO YOUR INBOX