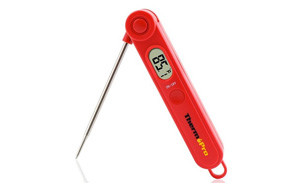 ThermoPro TP03A Thermometer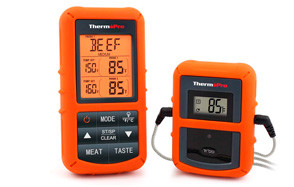 ThermoPro TP20 Meat Thermometer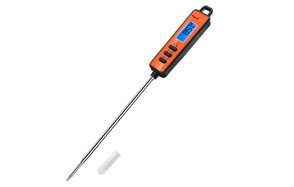 ThermoPro TP01A Meat Thermometer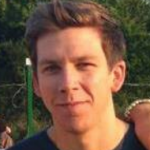 Are you frequently off work following an ambitious if misguided attempt to do a roast dinner? Does your steak taste more like rubber than actual rubber? Maybe you're on first name terms with the delivery guy and his whole family? Are you tired of this shame? Well, you've come to the right place. Today, we're discussing the wonders of the best meat thermometers and all the ways in which they will transform your cooking. A good meat thermometer is reliable, effective, and takes so much of the uncertainty and hassles out of cooking, that you'll actually look forward to getting into the kitchen. Your days of under- and overcooked food are gone. Welcome to a type of home cooking that'll keep you far away from the takeout menu. So, if a lifetime of grillin', chillin',  and makin' a killin' sounds too good to miss out on, then keep on reading. Things are about to heat up.
The Best Meat Thermometer
Meat Thermometer Buying Guide & FAQs
Factors To Consider when Buying a Meat Thermometer
If you're thinking about buying a meat thermometer then congratulations. This is choice you're not going to regret, but before you click that sacred Confirm Order button, make sure you check out these factors to consider before improving your life for the better.
Digital vs Analog Thermometers - We know we've picked a list of strictly digital thermometers, but we believe you should know a little bit of history. The kids among you might not realize, but we haven't had the convenience of digital forever. Way back in the day, we relied on analog to watch TV, to listen to music, and to get temperature readings for our food.
But as with everything else, analog has gone out of fashion, and unless you're a trying-too-hard hipster, the only reason to use an analog thermometer is that you're scared of the future, which you shouldn't be. The future's cool, man.
Even reading a variety of meat thermometer reviews, it's clear why digital is the preferred thermometer method of the modern day. Aside from the fact you could be shunned as a caveman, they offer more features, are easy to read, even in low light, and they're only getting more advanced every day.
Accuracy - With something a sensitive as cooking and preparing food, you need to ensure your oven thermometer possesses close accuracy. Without this, you could suffer undercooked meat or meals that are just generally tepid and unpleasant to eat. Before cooking anything at all, be sure to check the accuracy of your thermometer by sticking the probe in a pot of boiling water, if it reads 100℃, then you're all good.
Speed - A lot of cooking is very time sensitive, so you need to get temperature readings as quickly as possible. We've picked products that will provide you with very quick readings, so deciding between a couple of seconds is up to you. However, higher accuracy could mean that you'll not get a wide a range of temperatures or you might miss out on other features.
That being said, a couple of seconds isn't going to ruin your food prep, not the majority of the time, anyway, but it's always a huge convenience when you can get temperature readings as quickly as possible, so you can adapt your cooking if you need to.
Functionality - The best wireless meat thermometer will do much, much more than simply tell you how hot your food is. These functions can be anything from timers, temperature lock, automatic product identification, and preset temperatures for certain types of food, as beef is 'finished' cooking at a much lower temperature than, say, chicken.
It might feel that you don't need many of these functions, especially if you have a more casual approach to cooking, but these functions have been included to make your life easier and so shouldn't be dismissed so readily. They are great for those passionate about their cooking and also excellent for those who aren't so passionate, as it could spark something special inside them, and transform them into a master chef.
Temperature Range - A broad temperature range is perhaps the most important feature to consider when buying a cooking and meat thermometer. Really? It's important for a thermometer to read temperature? Who knew? Alright, we know, we know, but it's a little more complex than that. When you think of cooking, you think of the sweet smell of frying meat, you think of the sizzle of bacon, and you think of that comforting aromatic wafting of a turkey being pulled from the oven on Thanksgiving. Is anybody else getting really hungry?
Anyway, it's not just the salivating marvels of a nice home-cooked meal that the meat thermometer can assist in. some products offer temperature ranges in the sub-zero Fahrenheit ranges, going as low as -58℉ in some cases. This is incredibly useful when making ice cream, crafting homebrews, and gives you that versatility that's essential for any well-loved kitchen utensil. On the other end of the scale, a high-temperature range will make cooking stress-free, and the only thing you'll not enjoy is doing the dishes afterward.
Accessories - Anything that enhances your meat thermometer is certainly something to bet excited about. While not all meat thermometers will come with additional accessories such as the ability to use both wired and wireless methods or cleaning brushes, there are some that will feel like a nice little bonus on top of your brand new toy.
Warranty - The warranty of any product is important, but it's even more important when it's something that you use a lot. You being to rely on it, you look forward to using it, and those days where you don't need it, you feel just a little bit sad. No? Just us? Okay, whatever. As we were saying, the warranty is important as you'll know if you're still covered for repairs or replacement should it get damaged or malfunction.
Understanding the operation demands of a meat thermometer, many manufacturers provide warranties that can be as little as 1 to 3 years, while some will provide lifetime warranties. Not only does this give you peace of mind that you'll always be covered no matter what happens, but it also builds a bit of brand loyalty, too.
Durability - If you love to cook as much as we do, and we assume you do because you're reading about meat thermometers, then having a thermometer that's durable enough to withstand years of use is absolutely something to consider. This durability relates to both the probe and the electronics, which if could malfunction quicker than you'd like if the product is poor quality. You can usually tell whether or not the thermometer will be durable enough by the feel of it. If it feels cheap, you might be in for a bad time before dinner is even cooked.

Tips on Properly Using a Heat Thermometer
To ensure you get the best results and the longest life from your cooking thermometer, be sure to check out these tips that'll save you any heartache and crying over your not-even-half-cooked ribs.
1. Test and Calibrate
We know you're excited to use your new thermometer, but be sure to test that it works first. Do this by putting it in boiling or ice water and reading what should be the correct temperature (32 and 212 degrees Fahrenheit).
If this reading is off, then you need to calibrate it. Unfortunately, unless you're a professional, this isn't as easy as we'd like to suggest. You may need to get in touch with the manufacturer.
2. Don't Poke and Hope
If you're unsure how to use your meat thermometer, it can be tempting just haphazardly poke it in and hope for the best. Experts, however, advise that this is an ineffective way of doing things and can provide you with inaccurate readings, and a lot of bad times. Instead, they suggest you poke it all the way through until it pierces the other side - or if you're cooking something like a turkey until you hit bone - and then slowly pulling the probe back out and stopping once you find the minimum temperature.
3. Clean After Every Use
We don't need to explain why you should clean it after every use, that should be obvious enough. Just to be on the safe side, though, because you're dealing with varieties of uncooked meat and food products, you don't want to contaminate other meals by not thorough cleaning the probe. If you're like us and are terrified of this cross-contamination, you can clean it after every stab during a single cooking session, too.
4. Don't Fully Submerge It, Though
Obvious,y because you're working with something that has delicate electronics inside, don't ruin it by washing the entire thermometer. Some products will be splashproof, maybe even waterproof, but even so we'd advise trying to keep them as dry as possible. Pat down with a damp town or cloth if you want to ensure they're clean.
Of course, with analog thermometers, this isn't an issue.
A Bonus 5. Don't Stab Anybody
Seriously. Don't even pretend to stab anybody, they wouldn't be half as delicious as what's in the oven.

Meat Thermometer FAQs
Q: What Is A Meat Thermometer?
A: A meat thermometer is a device that's used to measure the temperature of meat, but also types of food and drink. They range from the very basic models, with are merely a metallic - usually stainless steel - meat thermometer probe as well as a display that's either analog or digital which measures the temperature of the food and nothing else, to much more comprehensive models that contain a variety of addition settings and features including timers, temperature lock, and auto-shut off.
Typically associated with measuring the temperature of hot food to ensure it's done, they can also be used for seeing if a dessert is cold enough to complete, measure the proper condition of homebrews, and determining whether or not baby food is too hot for their mouth.
Q: Why Do I Need A Meat Thermometer?
A: Oh boy, why don't you need a meat thermometer? Grab a drink, take a seat, and perhaps put your phone on silent or turn it off altogether (unless you're using it to read this article), because we are going on a journey. Nay, an odyssey.
Health
Nobody likes getting sick and a meat thermometer will prove an end to undercooked, rubbery food that's still laden with microorganisms whose sole purpose in life is upsetting your stomach at the worst possible times. By having an exact reading of the temperature, you never have to go into every meal concerned whether or not you'll make it out afterward ever again.
Better Food
As well as keeping you in tip-top shape, food will also just taste better with a meat thermometer. You will never overcook food again, nor will you lose any of those precious juices by slicing open the meat to check if it's done.
Okay, maybe that wasn't the odyssey we had planned, but you don't need any other reasons to buy a meat thermometer. If you love delicious food as much as you love not having food poisoning, these should be enough to convince you. The allure of better tasting, better textured and all-around more salivation-inspiring food has never been so tempting.
Q: Can You Leave A Meat Thermometer In The Meat When It's Cooking?
A: Yes and also no. It will depend on what you're cooking and whether or not the meat thermometer is oven proof if you're cooking something in the oven. When frying chicken breasts and steaks, then it might get in the way of your cooking, and could even scratch the pan if you're not careful. We suggest not leaving the thermometer in the meat, and just periodically checking to make sure it doesn't burn. Although, the smoke above you could be an indication of that.
Sources
Do You Suck at Cooking? Read These 7 Tips - Mantry / Medium