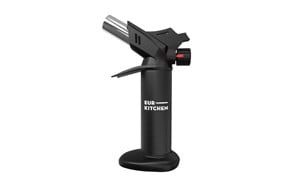 EurKitchen Butane Culinary Kitchen Torch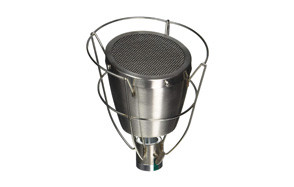 Searzall Stainless Steel Torch Attachment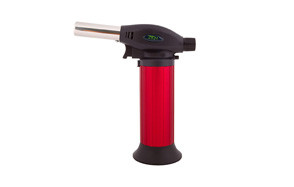 Zen Spirit Culinary Torch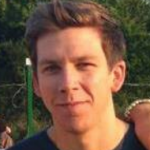 If you're here perusing our best kitchen torch list you may already know what it is and how it's used. If, on the other hand, you're a complete novice here's a few words that should help put the whole thing in context for you. The kitchen torch allows you to transform everyday meals into high end culinary creations by endowing them with glazes, searing them to perfection, char-grilling them to lock in flavors and much, much more. Armed with the right kitchen torch your culinary cred will go through the roof. That said, below are the best kitchen torches on the market today.
The Best Kitchen Torch
Kitchen Torch Buying Guide
Features To Look For In A Kitchen Torch
The kitchen torch has been around for a long time but most people are still unfamiliar with it. If you've decided it's time to pick one up for your kitchen here are the things you're going to want to look for and be aware of:

Flame adjustment - Different dishes call for different types of flame. Therefore any kitchen torch worthy of the name will allow you to adjust the characteristics of the flame to meet your needs. With some torches the adjustment takes the form of a wheel on the flame tube. On other torches it may be a dial lower down, near where the canister attaches to the device. On still others there will be an adjustment knob on the butt end of the handle. Location, however, is not as important as the fact that it's there to begin with.
A comfortable handle - The handle and the grip it provides is actually more important than it might seem at first. With most every contemporary cooking torch the butane canister slips into a handle and disappears out of sight. You then grab the handle to operate the device. This shell/handle needs to be comfortable and provide a nice firm grip so that the brulee torch doesn't slip out of your hand, hurt you or someone else, or start a fire. Most of the food torch devices profiled above provide easy, solid grips. Some of the models that didn't make our list, however, do not. So be careful to choose one that does.
Overall burn time - The burn time signifies how long the torch can be expected to last when operating continuously. Most will provide anywhere from a half hour to an hour of continuous operation while others are capable of pushing that operational window to nearly 2 hours. They're the exception though. This is not as important an issue as say, safety. But it pays to know how long your butane torch for cooking can be expected to last so that it doesn't take you by surprise and run dry when you're in the middle of something important.
Safety features - Speaking of safety features… A kitchen blowtorch is just that. No, not a kitchen, a torch. It has the potential to be extremely dangerous and is something that children should never be allowed to pick up and operate when you're not looking. So make sure the kitchen torch you buy has the requisite safety features such as:
A heat shield - Your knuckles are going to be just inches from a flame that might be pushing 3,000 degrees. If you think you're not going to feel that on the fingers of the hand you're holding the torch with you're mistaken. An integrated heat shield/finger guard can make a world of difference.
A flame guard - The flame guard prevents the flame from accidentally flaring out when you're adjusting it. This can help prevent accidents and damage to other people and other things in close proximity.
A high-quality nozzle - The temperature your cooking blow torch is going to generate will be formidable. Therefore, the nozzle through which the flame projects must be made from high-quality aluminum or stainless steel. Anything less risks overheating and producing a fire risk.
The safety lock - As we mentioned your kitchen torch needs to have an integrated safety lock that will prevent others (particularly children) from picking up the device and accidentally firing it up. If there are kids in the house this is non-negotiable.

The type of gas used - Most people won't care much about what type of gas they use as long as it works. We would recommend sticking with butane, however. Simply because it's widely available, dependable, affordable and butane canisters with the long universal connectors are compatible with most every cooking or baking torch.
Durability - As is the case with just about everything you buy you'll want to be reasonably sure your flambe torch isn't going to break down or just flat out break after only a few uses. Look for a cooking torch fashioned from high-grade aluminum, stainless steel, ABS plastic or polyurethane. These materials will typically stand the test of time and won't be damaged by contact with other items while in the cabinet.
Solid base - It's important that when you set the torch down that it stays upright and doesn't topple off the table or countertop. So make sure you get a nice wide base on your cooking torch. Be aware that some torches that simply fasten onto the top of a butane canister don't have a base you can lock that canister into and present a greater risk of toppling from incidental contact.
Fuel gauge - About half of the kitchen blow torches on the market today have a fuel gauge on the side of the handle near the base. Once you're familiar with your torch and have a good idea just how long it will run on a single canister you probably won't need this much. But when you're just starting out and this can be a very useful feature that will save you from having to stop and change canisters in the middle of preparing a dish.

Guarantee/Warranty - Although none of today's best kitchen torches are going to break your bank it's still nice if they come with a decent warranty. If nothing else the willingness of the manufacturer to stand behind their product should provide peace of mind. Some producers offer up to 90 day money-back satisfaction guarantees. But certainly not all. More common is the 1, 2 or 3 year limited warranty where they'll replace the device or refund your money in the event of a manufacturing defect. Some producers will even offer both types of protection. Although they are the distinct exceptions.