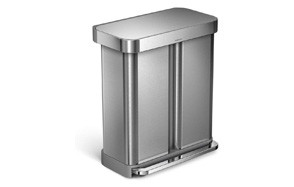 Simplehuman 15.3 Gallon Stainless Steel Rectangular Kitchen Step Can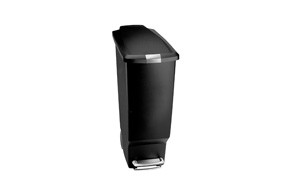 Simplehuman 10.6 Gallon Slim Kitchen Step Trash Can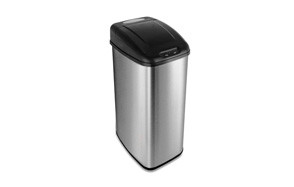 Ninestars DZT-50-6 Touchless Motion Sensor Trash Can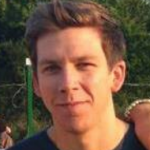 The best kitchen trash cans will not only safely hold your household garbage; they will do it in a reliable, hygienic, hassle-free and unassuming way. Whereas, if you make the mistake of buying a cheap kitchen trash can, there is a very good chance that you will end up dealing with a jamming lid, overflow issues and possibly even those horrible slimy pools in the bottom of your internal bucket ­- which are caused by liner bag slippages and tears – yep, yuck.
So, whilst we would all probably agree that a new kitchen trash can is not going to be one of the most exciting purchases you will ever make – it is, nonetheless, an extremely important one.
And to help you find that perfect garbage bin for your home, we have compiled a list of what we believe to be the 9 best kitchen trash cans of 2020.
The Best Kitchen Trash Can
Kitchen Trash Can Buying Guide & FAQ
Automatic Lid - Let's face it, automatic lids are a nice touch: they make a bin more ascetically pleasing to the eye, they don't have foot pedals to go wrong – and well, they're just really high techy. The only thing is you will need to either plug an automatic trash can into your wall socket or buy batteries. It's also a good idea to check the manufacturer's seal rating to ensure that the lid is airtight and smooth closing. Most of the good bins on the market have both damping systems for gentle, controlled closing and an airtight seal to stop those unwanted odors entering your kitchen.
Foot Pedal - A foot pedal is just a foot pedal, right – no, unfortunately, it isn't. Foot pedals are, in fact, the bin component that takes the full brunt of your household disposal routine. Look for waste bins that state how many presses they are rated for, and you won't be left at that most crucial moment with a non-responsive foot pedal.
Shape - As well as the overall ascetics of a trash can, the actual shape can seriously affect the look of your kitchen. Remember, to look carefully at the space you have allocated for your new bin and consider what shape would look best. If you have limited space, things to look out for include rounded backs and external hinges – both mean you can't push the bin flush up to the wall.
Capacity - There are two things to consider when thinking about bin capacity. The first is how much kitchen space do I have allocated for my new bin? And secondly, how much garbage do I dispose of on a daily basis? So, if you have a very large family and plenty of space, a larger 16-gallon bin would certainly suit your requirements – whereas, if you live alone in a small apartment, an 11 to 13-gallon model would be the size to look out for. This is something that needs serious consideration, or you may end up with either an oversized bin that's permanently in your way or one that just seems to keep filling up as fast as you can empty it.

Materials - The quality of the materials used in the construction of a trash bin will almost certainly reflect on the bin's performance and reliability. Good things to look for in plastic bins are steel internal mechanisms and steel foot pedals. Most trash cans with stainless steel shells will be fitted with steel internal components as standard – but that said, it's always worth checking. And whilst resins and plastics are fine for the outer shells and internal buckets, they generally won't stand up to the constant use moving parts have to endure.
Deodorizer - Bins with deodorizers are great at keeping those unwanted whiffs at bay. Deodorizers are also a particularly good idea if you have a new-born baby and need to regularly dispose of used diapers. The only downside is that bins with deodorizers generally come in the upper price range, which could possibly be over the budget of economy shoppers.
Cleanability - You don't want to spend too much time cleaning your waste bin. So make sure you check the ratings for the liner retainer securing rings and the ease of removing the inner bucket before you go out and invest. Also if it's within your budget, try to get a model with a stain and fingerprint-resistant finish. This alone can save you hours of cleaning every month, as the outer shell will only need a quick wipe over with an anti-bacterial cloth to keep it looking showroom shiny.