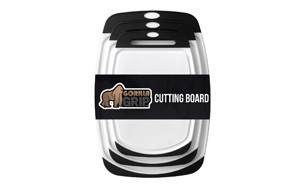 GORILLA GRIP Original Reversible Cutting Board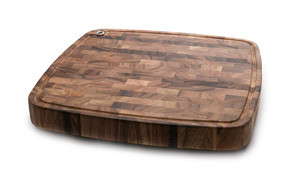 Ironwood Gourmet 28104 Carolina Chopping Board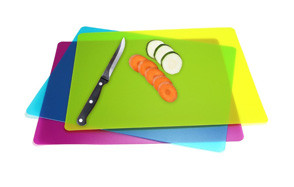 Nicole Home Collection Flexible Plastic Cutting Board Mats Set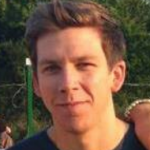 A good chopping board is an essential addition to any kitchen, protecting not only your work surfaces and fingers but also your food from unwanted contamination and bugs.
From carving that turkey for a delicious Sunday roast and chopping veg to serving the cheese selection at the end of the night, the right chopping board will see you right.
But what constitutes a good kitchen chopping board is more than just a tough cutting surface, it needs to be scratch-resistant and knife-friendly, hardwearing and easy to clean. Hardwood, bamboo or plastic, the choice is yours. Wood and bamboo are smooth surfaces for a good-looking and hardwearing chopping board that repels germs and gives them nowhere to hide. Plastic is durable and easier to clean but can scratch over time. Multi-chopping boards sets also offer good value for money and enable you to follow the separate boards for different food group rules.
Gear Hungry has put together a list of what we think are currently the best chopping boards out there to help you get ahead. We've looked at price, materials, design, and durability to help you to choose the right chopping board that really is a cut above the rest.
The Best Chopping Board
Chopping Boards Buying Guide & FAQ
Before you go ahead and invest in your next best cutting board, we recommend that you consider some of the following key features and benefits to assist with making your final purchasing decision.
Material - As you will now be aware, cutting boards are manufactured from a wide range of different materials including wood, plastic, man-made composites, granite as well as bamboo. Plastic has the obvious advantage of being lightweight and also dishwasher safe whereas would is naturally anti-bacterial, so hand washing is more than adequate. If you're just using your cutting board for food prep, then it's probably not as important what it looks like design-wise. However, if you are intending on serving up cheese, charcuterie, sushi and the like at a dinner party you are hosting, then you should consider investing in a cutting board that matches your personal style. At the same time, choosing a board that can be used to showcase entrees when you're entertaining and hoping to impress your guests.
Size - Cutting boards come in all shapes and sizes from tiny to large, so it totally depends on what you'll use your board for, how much space you have in your kitchen and how often you intend using your board as to what size if the most practical for you. If you only have limited kitchen countertop space, you don't want a large cutting board that will end up overhanging as this will create a precarious and uneven chopping surface. Small boards aren't particularly useful when it comes to prepping a whole family meal; however, they might be perfectly adequate for slicing up tomatoes and cucumbers to rustle up a quick sandwich at lunchtime.
Grooved vs. Flat Surface - Some boards are designed to feature a grooved edge whereas others are manufactured to have a completely flat cutting surface. A groove can be an excellent additional feature if you are carving, slicing and chopping joints of meat or juicy fruit and vegetables so that you can capture the liquid rather than it spilling out all over your work surface. Totally flat boards provide a good, solid surface when chopping and prepping hard, dry foods such as carrots, cabbage, and large crusty loaves.

Chopping Boards FAQ's
Q: How do I choose the right cutting board?
A: Cutting boards come in a variety of materials, grains, and textures so to select the right cutting board for you, think about what material is the most practical for your intended use.
While glass looks attractive, it can dull knives and cutlery, as can other harder surfaces like marble, granite, and ceramics. These all look highly attractive, but if you've spent a lot of money on your knives, you probably should avoid these surfaces unless you want to run the risk of your knives quickly being damaged.
Plastic can be an excellent option and hard-wearing but make sure that you go for FDA approved, food safe and BPA free products. A slightly grippy textured plastic is better as it will prevent your knives from slipping. Plastic is easy to clean, affordable, hygienic, and also safe for your knives, so it is a popular choice.
Wooden cutting boards are a classic and stylish choice, especially if you also want to use your board for serving and not just prepping. They last a long time, are naturally anti-bacterial and are knife-friendly. Just be aware that to maintain a wood block in optimum condition, you will need to maintain regularly with a wood oil treatment.
If you are concerned about sustainability, then bamboo represents an excellent choice, providing the hard-wearing durability of wood, sourced from a highly sustainable and eco-friendly renewable resource. It's also a lightweight option, kind on your cutlery and won't require oiling as frequently as teak or oak.