Hearty Cuts: The Best Butcher Knives for 2022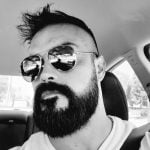 This product guide was written by Billy Brown
Billy Brown
Billy Brown has a problem sitting still. His constant search for the next challenge has him doing everything from running ultramarathons and climbing 14er's to gaining 40 pounds to compete in powerlifting, breaking several state records and growing a killer beard in the process. With over a decade of writing under his belt, his work, covering action sports, gear, and beer, can be found in a variety of publications. He lives with his wife and their two cats in Sacramento, California.
GearHungry may earn a small commission from affiliate links in this article.
Learn more
No meat eater's kitchen is complete without a good butcher knife. As the name suggests, butcher's knives are used for separating small game, trimming, and cutting meat, and for dominating your backyard barbecue. The best butcher knives carve through meat with ease, making light work of even the toughest game, so if you take your culinary skills seriously, it pays to invest in this cutlery icon.
However, if the only time you've ever seen a butcher knife was in a slasher film, you may not know where to start. Butcher knives can cost $100 or more, so it's good to know where that money is going and to be sure that your hard-earned cash is well-spent.
We did the legwork and looked around for the most trusted butcher knives available, checking user reviews and calling in some samples to try some of these options in person. After a good amount of searching and eating pounds of steak, we've found the best butcher knives on the market.
Read on to check out our list below. And if you have a favorite that we left out, let us know about it on our social channels.
The Best Butcher Knife Review
Dalstrong Cimitar Butcher Knife
If you're looking for a piece that not only slices through anything that comes in its path but also has the look and feel of a work of art, the Cimitar Butcher Knife from Dalstrong is a great option. Inspired by Japanese butcher knives, the blade is made from ultra-sharp vacuum-treated high-carbon Japanese steel with a 62+ score on the Rockwell scale for excellent edge retention. The full tang and tapered bolster gave it an excellent balance and feel, which allowed me to cut with precision. It also minimized fatigue during long hours in the kitchen.
During tests, the Dalstrong proved its worth in both large and small jobs. It worked as well at breaking down larger cuts as it did with precision work like trimming fat or deboning chicken and filleting fish. Not only that, but the knife itself looks gorgeous. It feels weird tucking it away in a drawer where guests can't see it. I'm actually considering buying a magnetic strip so I can hang it on a wall in my kitchen for everyone to see. Read the in-depth review here.
Key Features:
High carbon Japanese steel
10-inch length
100% satisfaction guarantee & lifetime warranty
G10 Garolite handle material
Sheath included
Riveted Handle
Full tang
Specification:
Brand

Dalstrong

Model

SS-Butcher

Weight

1.52 pounds
Mercer Culinary Granton Edge Cimeter Butcher Knife
Want to dominate that turkey or honey-roasted ham on the holidays? You don't want to embarrass yourself in front of your extended family by turning that mountain of meat goodness into a pile of shredded protein. The cimeter-style blade of this butcher Knife from Mercer Culinary is designed to facilitate clean cuts of larger pieces of meat, so you can slice and dice that turkey in a way that even your father-in-law can't criticize. And even if he wanted to, that foot-long blade in your hand will make him think twice before speaking up.
The single-piece construction gives the high-carbon German stainless steel blade great durability and edge retention you want in the best butcher knife, and the ergonomically designed handle helps you keep your grip when flipping ham slices onto your family's plates from across the dining room table.
Key Features:
Ideal for cutting large joints of meat
Cimeter style blade
Extremely sharp blade with tapered tip
High-carbon German stainless steel
12-inch blade
Granton edge
Low maintenance
Specification:
Brand

Mercer Culinary

Model

M13718

Weight

10.7 ounces
Victorinox Granton Edge Butcher Knife
Leave it to the Swiss to create a perfect knife. Victorinox, the Original Swiss Army Knife purveyors, are experts at making blades for every situation. In this case, they've made the foot-long Granton Edge Butcher Knife, which is perfect for turning unwieldy hunks of meat into bite-sized morsels (or perfect slabs of meat for grilling).
The long and slightly curved handle is built for slicing through big pieces of the game, while the textured and shaped grip allows chefs to maintain a solid grip while slicing. The long blade also allows for longer slices, which means it'll require fewer sawing motions and less fatigue. Now, if only it had some tweezers and a toothpick in the handle…
Key Features:
Blade stamped out of cold rolled steel
High-carbon stainless steel blade
Non-slip Fibrox handle
Granton edge
Ice-tempered
12-inch blade
Specification:
Brand

Victorinox

Model

47531

Weight

3 ounces
Ontario Knife Company Old Hickory Butcher Knife
If you want a knife accessible for beginners but wears in like a family heirloom, check out the Old Hickory Butcher Knife from Ontario Knife Company. These guys have been making cutlery for almost a century, and the Old Hickory is indicative of the company's old-school roots. The high carbon steel blade is simple and effective: the plain edge is compression-riveted to a hardwood handle that brings to mind Prohibition-era backyard BBQs.
The carbon steel blade is sharp and retains an edge, and will actually develop a patina over time, slowly darkening as it ages. The steel requires special care not to be soaked or washed in a dishwasher, but it's a sturdy blade that only gets better with time and, with the right treatment, can be passed down to the next generation of chefs in your family.
Key Features:
Steel and carbon blade
10-inch blade
USA-made
Riveted handle
Hardwood handle
Specification:
Brand

Ontario Knife

Model

7111

Weight

8.8 ounces
Global Heavyweight Butcher Knife
The Heavyweight Butcher Knife from Global is one of the pricier options, but you definitely get what you're paying for in this case. This stunningly crafted precision knife is not only perfect for professionals, but it can make an amateur look like a Michelin Star candidate. The 7-inch blade makes it easy to cut with precision, as does the chromium, molybdenum, and vanadium-blended blade, which keeps a razor-sharp edge for clean, beautiful cuts. The heavier weight adds power and balance to your slices, whether you're breaking down big cuts or boning small game.
Speaking of balance, this one-piece knife sports a hollow handle filled with sand to bolster the killer balance and control. The dimples in the handle provide excellent grip, as well. For more top-quality options to add to your cutlery arsenal, check out our guide on the best bread knives.
Key Features:
Seamless engineered design
7-inch blade
Extremely sharp blade with tapered tip
Japan-forged stainless steel
Excellent balance
Ice-tempered
Specification:
Brand

Global

Model

GF27

Weight

11.2 ounces
UltraSource Cimeter Blade Butcher Knife
For the money, you're not going to find a better blade for working on big pieces of meat than the Cimeter Blade Butcher Knife from UltraSource. At just around $20, you get a 10-inch cimeter blade that works well with larger chunks of meat while remaining adept at trimming fat and cutting up more delicate meats like fish and poultry. The blade is also cryogenically treated to help increase its edge retention and durability.
Check out our guide to sushi knives too! 
Key Features:
Great price
Cryogenic treatment for enhanced edge retainment
Textured handle
Front and rear safety bolsters
10-inch blade
Specification:
Brand

UltraSource

Model

449413

Weight

10.41 ounces
Dexter Russell 3 Piece Butcher Knife Chef Set
If you're the type of person who prefers a specific tool for every situation, Dexter Russel's got you covered. As the name suggests, the company's 3 Piece Butcher Knife Chef Set contains (you guessed it) three types of butcher knives, each of which are designed to handle specific tasks. The 6-inch Boning Knife is extremely flexible to allow you to work around a bone to separate it from the meat; the 6-inch-Wide Trimming Knife is shorter than the butcher knife for precision cutting and wide enough to track well, while the 10-inch steak knife is built to handle breaking down tough pieces of meat.
The carbon steel blades are durable and hollow ground for easy sharpening, and the white polypropylene handles are simple to clean. If you're looking to build out your chef's quiver rapidly, this knife set is a great place to start.
Key Features:
6-inch curved boning knife
6-inch trimming knife
10-inch steak specific knife
Hollow ground edges
Easy-clean handles
Specification:
Brand

Dexter Russell

Model

EKC-1050

Weight

15.8 ounces
How We Tested & Why You Can Trust Us
To give you an in-depth look at each butcher knife on this list, I researched the best products online, recalled what I've loved about knives that I've cooked with in the past, and called in a few to test and evaluate any pieces that were new to me. I used these knives for carving meat, trimming fat, and chopping up side dishes. I rounded out my first-person impressions with user reviews online to gather a comprehensive view. I've spent 20 years in the fitness and nutrition arenas with an emphasis on meal preparation.
Who This Is For
This article is intended for people looking to find quality butcher knives for home and commercial use. The butcher knives on this list sport varying designs and can suit a variety of needs.
How We Picked
I tried to find top-rated butcher knives that would be useful in all kinds of situations and for a range of priorities. I looked at blade length, shape, handle materials, and price, among a few other factors. I categorized them according to what priorities readers may be looking for in a good butcher knife.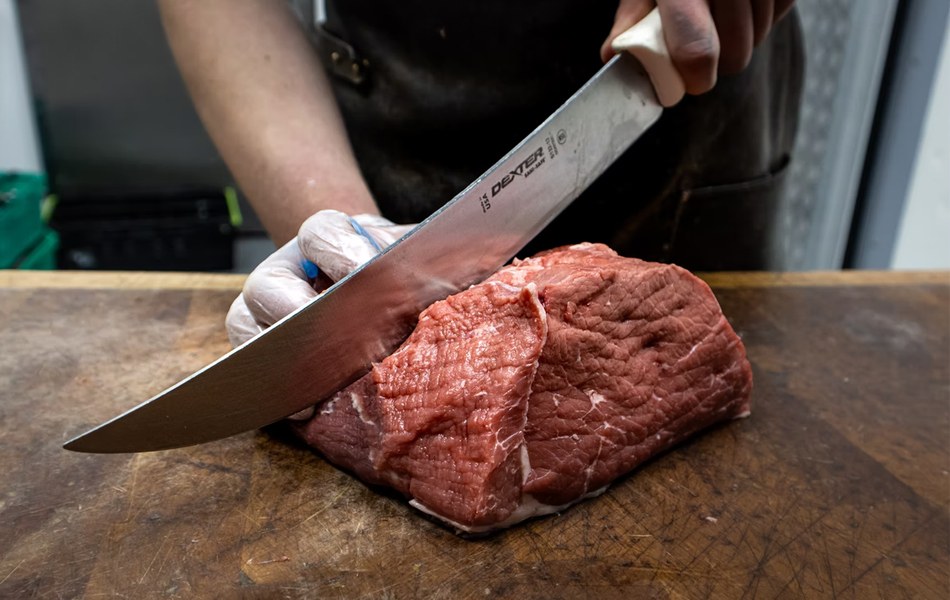 Features to Look For in Butcher Knives
Blade Build - The most crucial part of a butcher knife is, of course, the blade. A good blade has to be sharp, durable, and retain an edge well. Forged blades are ideal. Physically forged from steel, then shaped and sharpened into a blade, this method is the traditional way to craft an excellent knife. These blades are sturdy, durable, and long-lasting, but they are also more time-consuming and expensive to make. The cheaper alternative is to find a stamped blade, which is cut from a stainless-steel sheet, then sharpened. These blades are often lighter and less expensive but also significantly less durable.
Handles - You're going to need a handle that you can grip for long periods without fatigue and one that allows precision and control when you cut. Handles are typically made of wood, polymer, or other synthetic materials, all of which have specific advantages. Many prefer hardwood handles for the feel and aesthetic, as well as how they break in overtime. However, synthetics are easy to clean and disinfect.
Balance - A knife's balance where its center of gravity lies. A perfectly balanced knife will have the center of gravity in the middle of a knife. Look for a knife with a center of gravity closer to the hand, which makes the blade feel lighter and cutting more effortless.
Size - The length of the blade you choose should be determined by how you intend to use it. A longer blade is ideal for cutting larger pieces of meat so that, for one, you can carve slices off in single, cleaner cuts and so that the blade doesn't get buried in the meat. Shorter blades are generally preferred for precision and detail work, like deboning and carving poultry and fish.
Reliability - Often, reliability refers to the ability to maintain a consistent cut day after day. Much of this is due to the rigidity of the blade, as a more flexible blade will bend and create uneven slices. This is useful for boning, but not when you're trying to slice up that honey-baked ham into perfect quarter-inch slices. This can also refer to a blade's edge retention – if it has a harder blade, the edge will stay sharp longer. Conversely, a harder blade is more difficult to sharpen if it even does lose its edge.
Cutting Performance - This is highly dependent on the blade's sharpness. Obviously, a sharper blade on good butcher knives will cut through meat easier. But a knife's weight also can help a blade power through tougher pieces of meat. Often, blades will arrive sharp as hell, but some can go dull quickly over time, which will sorely limit their cutting performance. Check user reviews before you buy to see any reports of the blade going dull quickly.
Maintenance - Even if a knife advertises itself as dishwasher friendly, I'd recommend handwashing it with dish soap and drying it right away to keep the blade sharp and pristine. Some manufacturers even recommend seasoning the blade with olive oil as well. If your blade ever rusts, buff it out with some steel wool.
Accreditation - Some knives come with an NSF Certification, which means they have been independently tested for commercial use. This means they have been tested and approved by the National Sanitation Foundation and that the knife complies with the standards and procedures imposed by NSF.
Durability - If you're going to be spending serious money on a butcher knife, you're going to want it to last. Blade durability is a huge issue, especially considering the edge. Blades with higher Hardness Scale ratings will keep their edge longer, but they can be harder to sharpen when they do go dull. Handle durability is also an issue; if the handle breaks or falls apart, you've got nowhere to grip the thing. Look for riveted handles, which secure the handles to the blade, generally with copper rivets.
Aesthetics - While all butcher knives are built for utility, some companies also emphasize the style of their blades. Specialized handles, Damascus blades, and other accouterments can make a blade work as a decorative piece and a kitchen tool.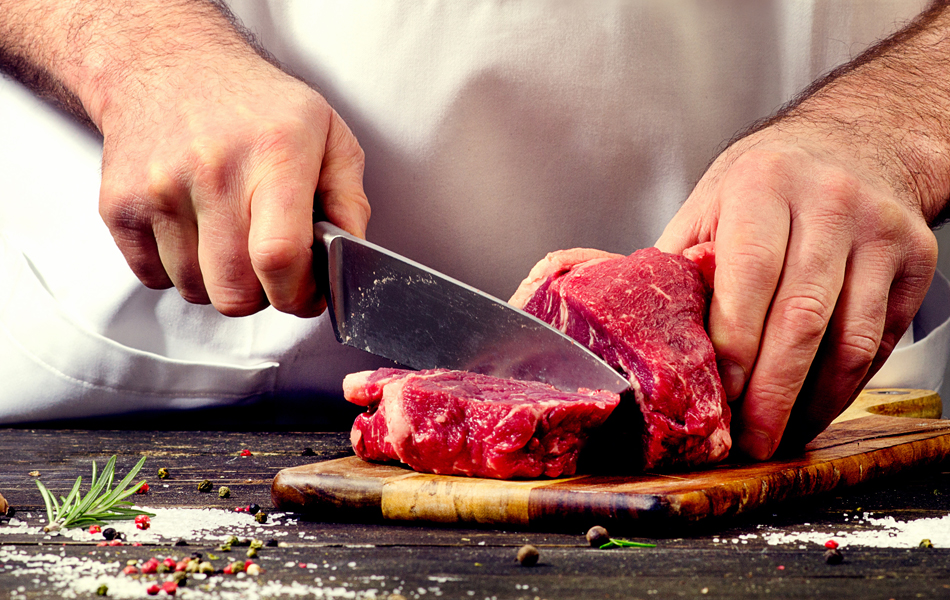 Butcher Knife FAQ
Q: What is the difference between a butcher knife and a cleaver?
A: A butcher knife is designed more for slicing with precision, whereas a cleaver is generally built for…cleaving meat – cutting through big, tough pieces of meat, gristle, and sometimes bone if the cleaver is burly enough. A butcher knife is more like a saw in construction terms, where the cleaver is more like a sledgehammer.
Q: Why do butcher knives have holes in them?
A: If you're referring to the hole in the top corner of a meat cleaver, that hole is there so butchers can hang the cleaver so that the knife is hung with the handle down versus the blade. I imagine they used to hang it by a lanyard in the handle until too many butchers walked too close to the cleaver and lost an ear.
If you're referring to the divots that you see along with the blades in some butcher knives, those are there to create voids between the meat and the blade to prevent the meat from sticking while you slice.
Q: What are butcher knives made of?
A: The blades are usually made of high-carbon steel to maximize hardness. The handles can be made of anything from wood to synthetic materials. Some custom or handmade butcher knives may have more exotic materials like bone or antler. Wood handle butcher knives are favored by some for the feel, while synthetics are easier to clean.
Q: Can a butcher's knife be used to cut bones?
A: You can try, but that's not a butcher knife's intended purpose. Butcher knives are meant to cut through the meat. If you're looking for something that you can use to cut through bones, check out our article on the best meat cleavers.
Q: Do butcher knives come with sheaths?
A: That depends on the manufacturer. Many don't, but brands like Dalstrong tend to include a sheath to store your knife.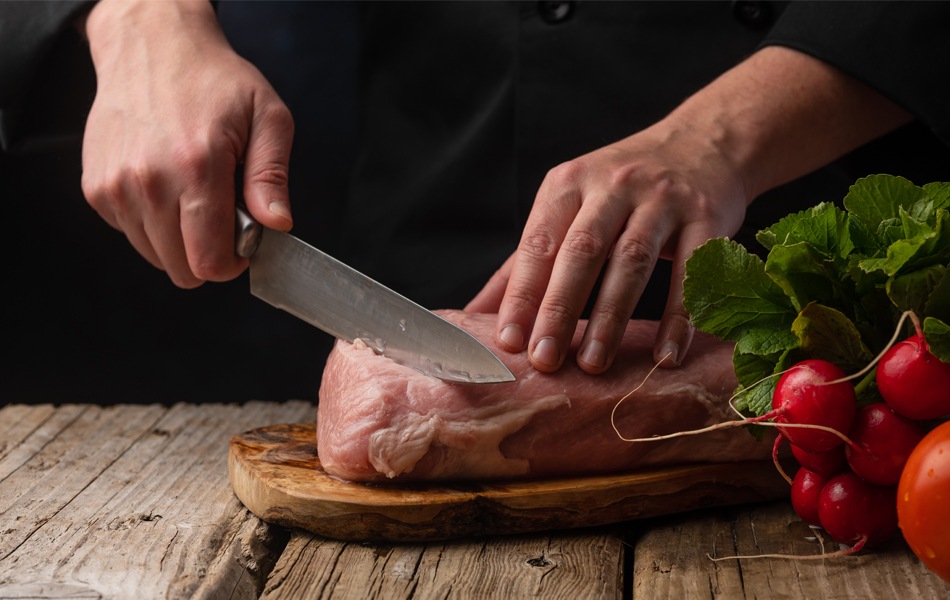 Q: How long is a butcher's knife?
A: Butcher knives generally come with 10- to 12-inch blades, but you can find some with blades as short as 7 inches for more precise cutting.
Q: Can butcher knives be placed in the dishwasher?
A: It's recommended that you don't use a dishwasher to clean your butcher knife, as it can shorten your knife's lifespan, and the agitation can knock the edge right off your knife. Use dish soap to hand wash your butcher knife carefully.
Q: What is full tang?
A: The tang of the knife is the unsharpened extension of the blade that extends down into the handle. A full tang extends all the way to the end of the handle. Full tang knives are sturdy, durable, and fairly weighty.
Sources:
Knife Balance - Knife Collectors Club
Sign Up Now
GET THE VERY BEST OF GEARHUNGRY STRAIGHT TO YOUR INBOX