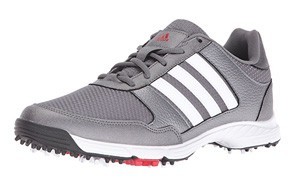 Adidas Tech Response 4.0WD Cleated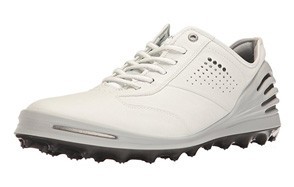 ECCO Cage Pro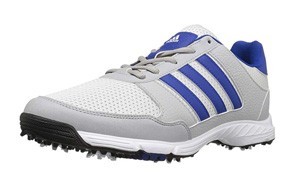 Adidas Tech Response 4.0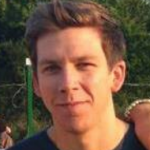 They may not seem like it, but golf shoes are as vital to the overall golfing style as clubs, gloves, and a golf bag. This is something that's only really fully understood by those who play the beautiful game, and if you've never swung blindly at a ball before, you're unlikely to get it. For those of you who love a nice, relaxing, mellow round of 18 (and if you do, you'll know that all those adjectives are a total lie), you want to ensure you look the part. With the changing seasons, it's high time you got yourself a new pair of shoes, don't you think? There's so many to choose from, though, and that's why we collected the very best golf shoes for men all in one helpful place, so you can ensure you'll look up to par the next time you're out on the green.
The Best Golf Shoe For Men
Golf Shoes Buying Guide
The Importance of Golf Shoes
Why can't you just wear any kind of shoes onto the golf course? Well apart from golf being very much a game filled with traditions (both ones that make sense and ones that don't), there are also practical reasons why you should lace up your golf shoes if you're planning on playing 18 holes successfully. Or, at least, as successfully as you can.
Prevents Sliding When Swinging - Could you imagine sliding every time you take a swing at a golf ball? You'd be there all day. The cleats on the bottom of classic golf shoes, as well as the tread on more recent cleatless types,  help to keep you in place, which gives you the extra bit of purchase where you're standing to ensure effective energy transfer from shoulders to shaft to club head to the ball without any wastage.
The thing is, you wouldn't even notice if you slid during your swing. At least, you wouldn't until your ball ended up in the complete opposite direction to where you were hoping. It's not sure an aesthetic choice, they also serve their purpose.
Sturdiness - For those of you who are unaware, golf involves a lot of walking and so it's extremely beneficial to you if you have a pair of shoes that will hold up. On average, golfers will do more than 10,000 steps during a round of golf, and if they play at least once a week, then having shoes that can survive this type of use for as long as possible is essential.
Breathability - Along with the plus-10,000 steps every golfer takes per game, they're also going to be wearing this pair of shoes for a few hours at the very least. Breathability in a golf shoe is vital to keeping comfortable and preventing any interference when stepping up to the tee.
Breathability is of particular importance during the summer months, as it will no doubt get very hot walking across the course without any shade or cover, and when you're on your feet all day, feet need to breathe.
Support and Comfort - Further considering the comfort and support aspects of golf shoes, they need to be some of the most comfortable shoes you've ever worn, maybe the most comfortable and supportive shoes you've ever worn. Manufacturers recognize this requirement and strive to include comfortable heel pads, design the shoes with ventilation, and excellent ankle support that ensures stability when taking shots, whether they're air-ripping drives or delicate, precision-perfect putts.

Types of Golf Shoe
If you're thinking of buying some new golf shoes, then first consider the different types of shoe that are on offer that can both provide great benefits to your game that doesn't just involve helping you look the part.
Spiked or Cleated Golf Shoes
The spiked, or cleated, golf shoe is the traditional type of shoe that the majority of golfers will be familiar with, even if they've only ever completed a 3-par course. These types of golf shoe provide you with the necessary grip to stay stable when taking your swing by keeping your feet remain stable and in place.
In addition to this, they also help you navigate the sloping terrain that you'll find on every golf course around the world. If you've ever tried climbing up steep, slippery hills in shoes without adequate traction, you know how challenging it can be. Cleated golf shoes save you the embarrassment of tumbling down into nearby bunkers and water hazards.
Spikeless Golf Shoes
Spikeless golf shoes might be seen by some purists a blasphemous at best, but they do come with some benefits that you might now have thought of. Due to their more versatile design, you can wear them to drive in, at the driving range, and in the clubhouse. This alone is cause for many golfers to make the switch, as it adds convenience. The spikeless design is also lighter than your traditional golf shoe, which makes it much more comfortable to wear all year-round.
If you're concerned about losing traction by going spikeless, there's no need to worry. Even pros believe that you won't suffer a loss of traction by wearing spikeless shoes.
So Which Pair Should You Buy?
Eh, sorry dude. The jury is still split on which type of shoe is better all-round. At the end of the day, it all comes down to personal preference.

Golf Shoe Material
Different types of golf shoe use different types of materials. They're all beneficial for different types of conditions and seasons and vary in how they provide comfort, stability, and waterproofness.
Leather - The most common material for golf shoes, leather doesn't stretch, and is naturally waterproof, for up to two years at the very least. It is favored by golfers during the summer as it's highly breathable, but also wouldn't look out of place during the winter. If you've ever owned a pair of golf shoes before, chances are they were leather.
Waterproof Linings - As we all know, golf is a game played exclusively outdoors, so it's wise to make golf shoes as waterproof as possible. More modern golf shoes (ones that aren't leather) will come with a protective waterproof lining. The best waterproof golf shoes will have a thick layer that prevents suffering from sodden toes, as well as keeping you warm during seemingly never-ending winter rounds.
Synthetic - Much cheaper to produce than leather, the synthetic golf shoe is lighter and thinner than leather, but may not offer the same amount of ventilation that you'd get with a leather crafted shoe. You won't see many synthetic models on the course, but they still have their place in the world of golf and are considered an acceptable budget material by some.
Golf Spikes
So let's say you've decided that you will only ever wear golf shoes with spikes, this is just one decision to make. Now, you need to decide whether you want to go with soft spikes or plastic spikes.
Soft or Plastic - Let's just get this clear: both of these are better for the golf course than metal spikes, which are now banned across the 1500 courses nationwide, and possibly in other parts of the world, too, because they damaged the fairways and greens too much. Now, if you're trying to make a decision about whether soft spikes or plastic spikes are the way forwards, look no further.
Plastic spikes are the most popular type of spikes found on golf shoes today. They're lightweight and wider than formerly-widespread metal spikes, which means they don't cut up the course nearly half as much, giving everybody a fair game all day long.
Soft spikes, on the other hand, are made from rubber and have more flexibility than plastic spikes. They will 'flex' when you step across the course, meaning there's more give against the surface. You might struggle with traction in some cases, but it will be hardly noticeable. Perhaps in a decade or so, soft spikes will replace plastic ones, only time will tell.
Golf Shoe Sizing - Factors To Consider
Will your golf shoes fit exactly like your regular shoes? Will they be comfortable enough? I've just tried this pair on and they feel off, is that normal? Am I likely to have more stability if they're tighter?
These are all questions that someone, maybe not you, but someone has asked when buying their first or maybe the twenty-first pair of golf shoes online. You'll be pleased to know that the majority of shoes will fit as expected, although there are always some exceptions. Shoes by Adidas and Nike tend to run smaller, while New Balance runs bigger. In addition to this, brands like ECCO, which are made in Europe, will be in a different size to what US buyers are used to.
As for the other queries: they'll be as comfortable as any other shoe you buy, you may need to tread them in, though. They might take some getting used to, so it's kind of normal, consider exchanging them if this persists after a couple of rounds. No, you won't get more stability with tight shoes, just blisters, and you don't want those while playing 18 holes, believe us.
Golf Shoe FAQ
Q: What is a Golf Shoe?
A: A golf shoe is a type of shoe that's designed to be worn when playing golf. Just like you have football cleats, tennis shoes, and bowling shoes, you also have golf shoes, and they were developed to help golfers keep their grip when taking a swing, especially if they're playing in wet conditions.
Saving golfer blushes isn't the only reason though, and because golf is played entirely on grass, with multiple people crossing the course each day, the turf needs to be protected. Golf shoes are designed to ensure that the grass does not get cut up by the wrong kind of shoes throughout the day, ruining it for other players.
While athletic shoes are also acceptable to wear and won't get you kicked out of the golf course and banned for life, golf shoes can be more beneficial to the success of your game, as we've outlined above.
Sources
Purpose of Golf Shoes - Golfweek
Spiked vs. Spikeless Golf Shoes - National Club Golfer
Golf Shoes Buying Guide - Golfalot