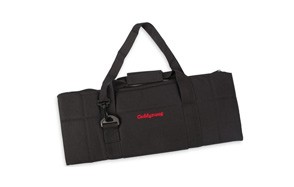 Caddyswag Par 6 Golf Cooler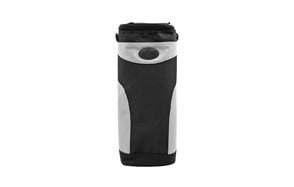 ProActive Sports Beverage Cooler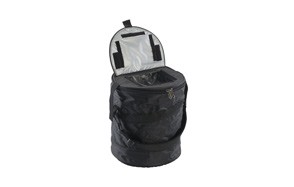 Callaway Golf Cart Cooler
If you've always wanted to enjoy a fresh, ice cold beer out on the golf course, you've been met with the same problem as the rest of us—there's no way to get a cold drink out that far. There are Igloo and YETI coolers, but those are far too clunky. Your caddy is already stuck with your clubs, and those carts aren't made like Abrams tanks. The solution is in the ever-portable, lightweight and reactive golf cooler bag. You can even place these by your feet while driving without an issue. If you're going out on the course and you don't want to do it sober (we get it; your father-in-law can be rude sometimes), you'll need a golf cooler buddy. We've got you covered.
The Best Way To Cool Drinks While Golfing
See More Reviews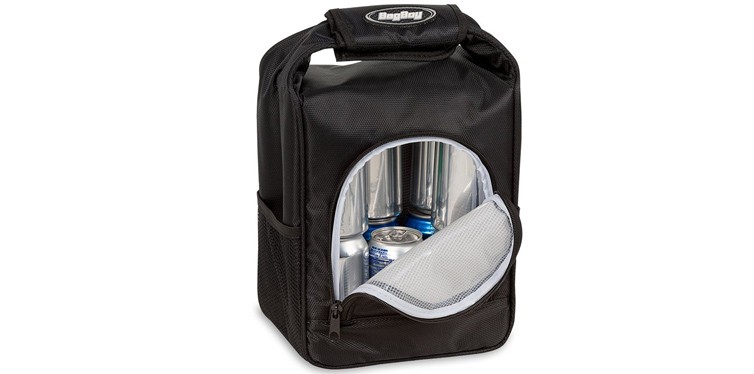 If you're sick of trying to figure out the logistics of carrying around a bulky cooler for your cold ones (and don't you dare think that a Styrofoam cooler is even an option), you're looking for something light, handy, and inconspicuous. If you're the guy carrying the Igloo cooler out onto the course, people know that you're just there to get drunk and swing a metal stick.
This pack is specifically designed to attach to your push cart. Use the top handle to either affix it to the pole, or carry the bag vertically, so it can hang down. You can fit up to a dozen 12oz cans (144oz is probably more than you personally need on a Sunday morning) comfortably. This bag usually takes a few hours to chill in your freezer, so if your purchase arrives at ten in the morning, you'll be ready to go right after lunch.
Specification:
Brand

Bag Boy

Model

BB56008

Weight

7.2 lb
2. Callaway Golf Cart Cooler
See More Reviews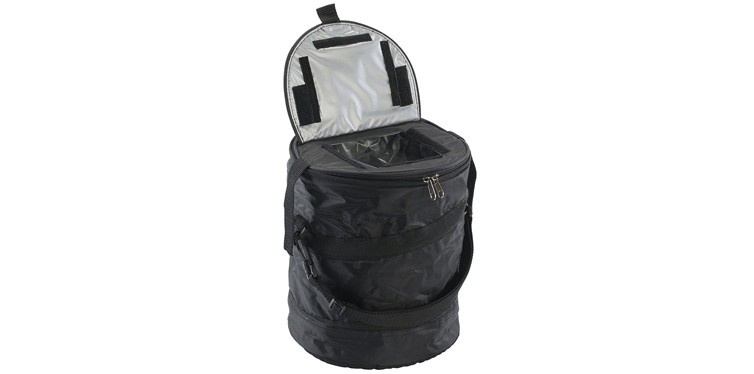 See More Reviews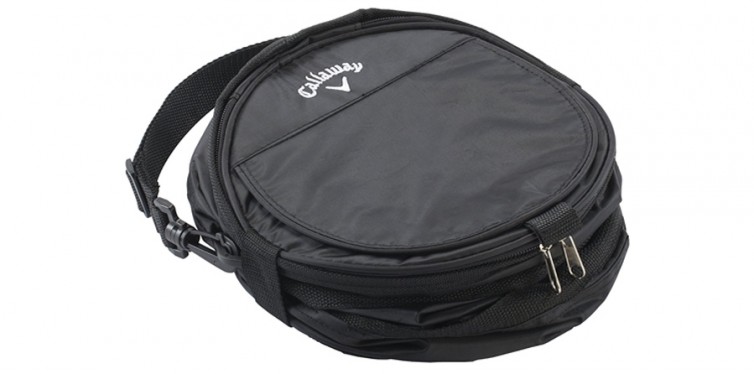 Designed with golfers in mind, Callaway—the big brand—brings us a way to cool off in the heat out on the course, while making the day a little more fun. Store a dozen 12oz cans or nine 750ml bottles in this basket-ready cooler bag, and you're off. This collapses down to 3" for ultra easy storage; you can fold it up for your return home, just be careful not to lose it.
When you just can 't wait to crack into a cold can, you don't want to mess around with zippers. The top is full Velcro, so you simply need to tear upward, reach in, and grab your can. Despite the Velcro seal along the top, this unit keeps it cold perfectly inside so you don't end up with warm cans.
Specification:
Brand

Callaway

Model

C30444

Weight

1.1 lb
3. FlexiFreeze Freezable Golf Bar Cooler
See More Reviews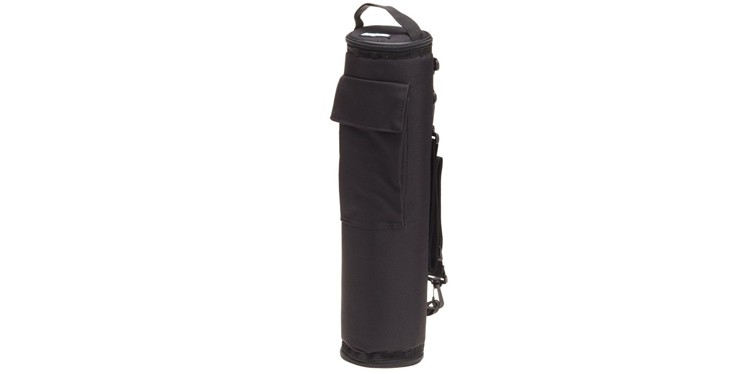 It'll look like your detachable clubs are in there, when in fact, you're storing four ice cold cans to enjoy the day with. This inexpensive over the shoulder bag allows you to look discreet while enjoying your favorite beer, while allowing full mobility. It doesn't have to hook onto your push cart, and comes fully ready whenever you are.
You wouldn't believe it by looking at the size of the thing, but you can hold your cans nice and cold for up to ten hours. If you run into any spills, the entire interior and exterior are a breeze to clean. Wipe it down, or hold it under the faucet for a few seconds, and it's like it never happened. Secure this to your bag of clubs and wrap it around the handle; this handy tube cooler isn't  going anywhere.
Specification:
Brand

FlexiFreeze

Weight

2.4 lb
4. Club Champ Golf Cooler
See More Reviews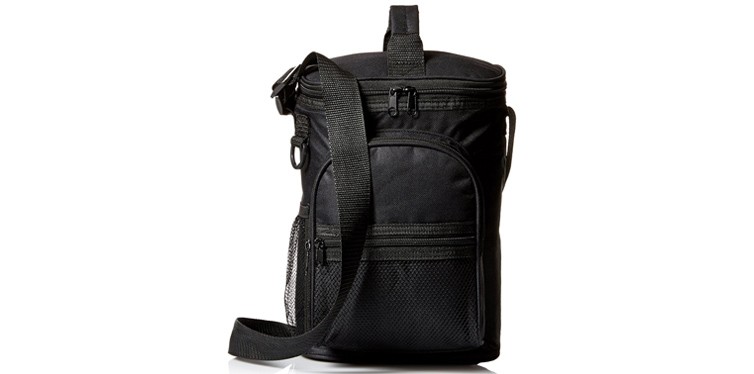 Nobody is going to know if you brought you laptop out onto the course or not (well, they might assume. You are playing golf, after all). This vertical cooler is one of the least expensive on our list, and allows you to store a 12-pack with ease. The zippered top and extra pockets along the side add to discretion, and give you the opportunity to slip a bottle opener in there incase your buddy brought his cooler with some 750ml bottles.
This is also great off of the course. Bring this around practically anywhere; head to the picnic at the park with the family, over to your buddy's house. BYOB? No problem. You don't have to enjoy it warm, or let the six-pack sweat it out on your passenger seat on the ride over. You're good to go any time you want to.
Specification:
Brand

Club Champ

Model

9709

Weight

2 lb
5. Caddyswag Par 6 Golf Cooler
See More Reviews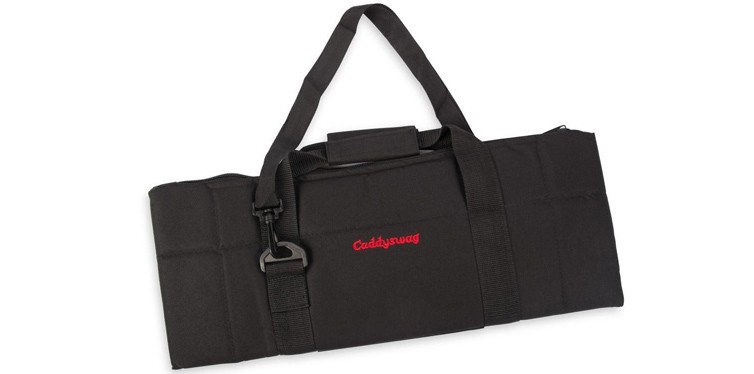 See More Reviews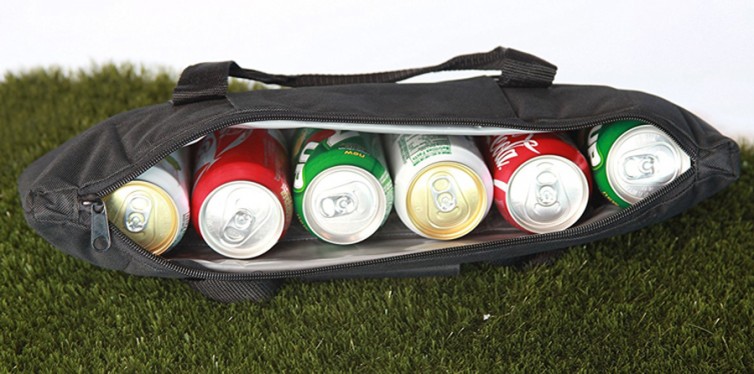 These golf coolers come in all sorts of shapes and sizes, but the best part is that each one of them gets the job done. The Caddyswag holds up to half-a-dozen cans, all lined up like ducks in a row. Use the included gel pack to avoid a can sweat mess inside of your bag, keeping your drinks cold all through the afternoon. This clips right onto your bag of clubs, so discretion is always in your court. If you're looking to lean back by the cart at the end of the day and enjoy a can or two, this is the bag for you.
If you're heading somewhere on the train, click this right onto your laptop bag and nobody will be able to tell the difference. It will just look like an added pocket or pouch. If you're on a budget and looking to enjoy your Sunday afternoon, you can pick up this bag for less than the cost of most six-packs.
Specification:
Brand

Caddyswag

Model

Xtreme Barware

Weight

15.2 oz
6. Geckobrands 9-Can Hideaway Golf Cooler
See More Reviews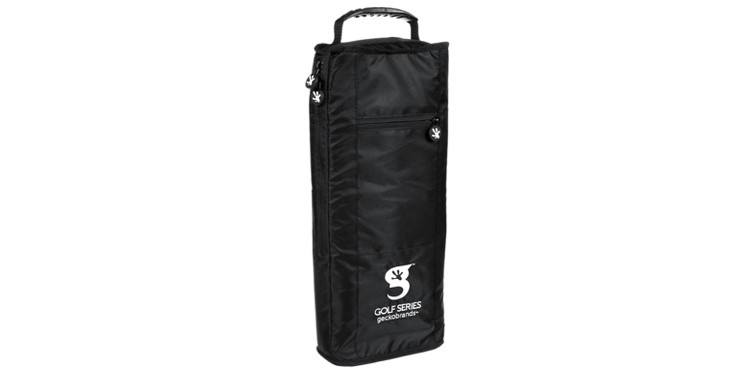 Designed to fit inside of your golf bag, the Geckobrands 9-Can cooler grants you total discretion at any moment. You'll be able to utilize the two-way zipper for easy access to your cans while you're out and about. With the interior of this bag, you'll be able to buy your six-pack on the way to the course, pop it in, and keep it cold for up to six hours.
This vertical bag is also absolutely perfect for weekends out of the home. Let's face it—visiting your in-laws would be a lot more interesting if you had a handy 9-can alongside you. Slip it into your luggage, and have some solace late at night after hearing lengthy anecdotes and backhanded compliments. It'll be our secret.
Specification:
Brand

Geckobrands

Model

GOLFCOLHW-BK

Weight

8 oz
See More Reviews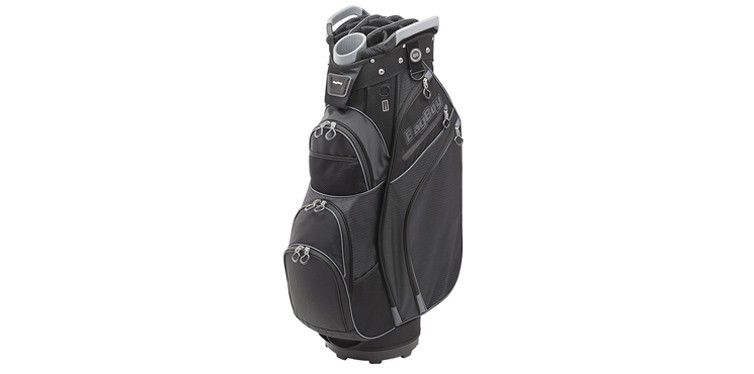 This takes everything a step up. Whether it's solely for your organizational needs or not, this cart bag is ready to go whenever you are. Store your favorite cans in the cooler compartment; slide this onto the pole of your push cart, and shove off to the first stop on your long Sunday afternoon. With over fifteen ways to organize with compartments and zippers, you'll have everything you need at the ready, no matter what.
Fleece-lined pocket for valuables, oversized pocket for balls, all for under six pounds—if you're not going to use the cooler compartment, slip in  an extra glove or two, and keep yourself prepared for everything imaginable out on the course. There's a lot going on with this product—veteran golfers, this one's for you.
Specification:
Brand

Bag Boy

Model

BB36047

Weight

6 lb
8. ProActive Sports Beverage Cooler
See More Reviews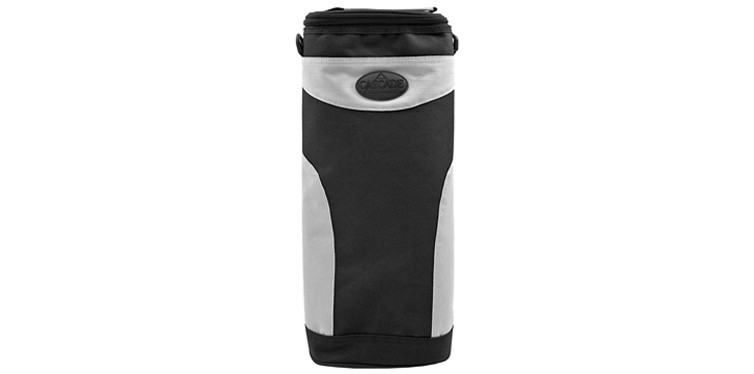 Who said you can't pack your cans up in style? Wrap up six cans (or three bottles) in polyester bliss, allowing for discreet transit whether you're in transit or out on the course. This model comes available in multiple colors and also applies to other uses than just out on the golf course. If you're on a road trip, pack this in the passenger seat—there's no liquor store open at midnight when you finally stop at the hotel.
Specification:
Brand

ProActive

Model

MPM416-BLK

Weight

8 oz
Buyers Guide
Everyone wants to enjoy a cold one out on the course. You're handling your stress-free activity by adding a bit of liquid courage. If you ask us, that's the perfect Sunday afternoon. When you're going to hit the course and enjoy your time, you need the optimum atmosphere. Half the time, that means a nice cold one.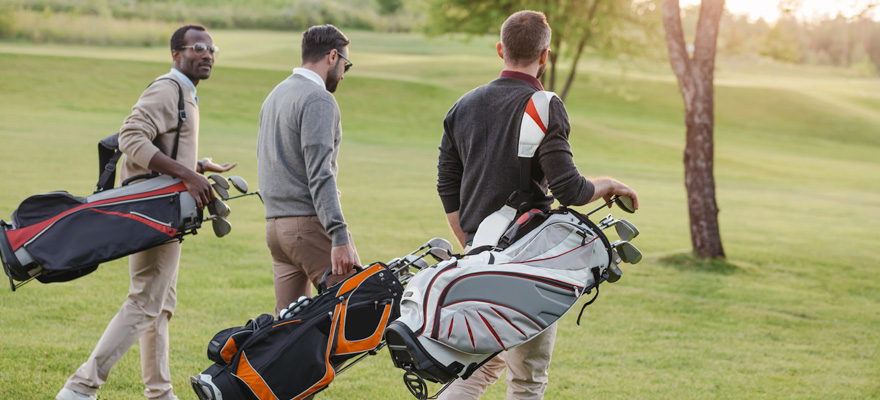 Can I Drive A Golf Cart If I Have My Cooler With Me?
To save you all the worry of looking this up separately—no, you can't. You're still operating a motor vehicle. If you have your cooler with you, one would assume that you're going to enjoy a drink—they'll have their eyes on you. Make sure that your buddy or your caddy will be totally dry, and have them whisk you from spot to spot.
Is It Legal To Bring Your Own Beer To A Public Golf Course?
As time goes on, less and less golf courses are permitted to sell alcohol, or even have attendees bring their own bags. This is proving to be a major issue for the beer industry, as a lot of these on-course restaurants have lost large amounts of their revenue stream. It depends on which golf course, and which state. A lot of local regulations apply, so it's best to check your state government website before heading onto the course.
Another option is to phone the course ahead. Most of these golf courses are taking advantage of this issue and renting coolers to guests once they've come inside of the golf course. Phone ahead, and be weary. When you head into a private golf course, you're paying for a membership—there's something for the course and those running it to lose. Check with them, but nine times out of ten, private ones will allow your own coolers out there, so long as you aren't driving your golf cart.
Can I Put Ice In Golf Cooler Bags?
You can, but it's not the best idea. The whole point of these bags is to chill them in your freezer at home and let them do their magic out on the course. You're not looking to have a small river flood out when you unzip the bag or reach in for a watery can—you want a crisp, refreshing beer with minimal can sweat.
Putting ice into your golf cooler bag is basically like filling your gas grill with hot coals—it makes no sense. It's actually not going to keep your beer that much colder. Your ice is now taking up all of the insulation instead of the beer, so your ice is going to melt quickly, and heat up your beer faster. If you want to pack this thing tight with crushed ice (snow), you may have a different story. It may work better that way, but the point still remains: nobody wants a can that gets their glove wet.