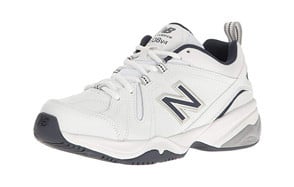 Men's MX608 Training New Balance Shoe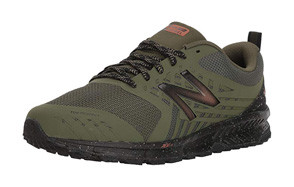 Nitrel FuelCore Trail Running Shoe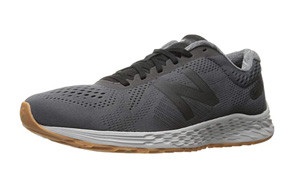 Arishi Running Shoe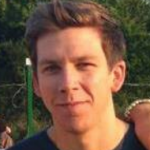 The hybrid between athletic and casual, the brand that brought running attire into the mainstream: New Balance has been around for ages, but with all that time, their allure hasn't faded. There are some brands that we just can't give the proper spotlight to in our mixed guides, so we make our own for specifically just their products. New Balance has the general reputation of being budget-friendly, durable beyond compare, and stylish with an athletic vibe. Without further ado, let's get into the twelve top pairs of New Balance shoes on the market today.
The Best New Balance Shoe For Men
New Balance Shoes Buying Guide and FAQ
How We Chose Our Selection of New Balance Shoes
Testing out shoes sounds like a simple task, but if you're going to open the subject up for discussion, you have to explore and exhaust all possible avenues to get the best data possible. We used the following criteria to whittle down our list of New Balance shoes, giving you proper insight into each component during your purchase decision.
Pricing
Reviews
Warranty information
How long the shoe is opted to last for
Accuracy of sizing chart
Breathability
Material construction
Ease of cleaning
Midsole construction
Shoes are your armor against the outside world, which is why we want to make every step count. If you're heading off on the running trail, or simply hitting the town, you need the best of the best: that's what we've delivered with this list.

Features to Look For in New Balance Shoes
Size - Your size is greatly going to affect the overall cost. It's also going to either narrow or widen depending on which style you choose. For instance, if you go to the sales page for one shoe, and there's twenty styles to choose from, they may not all be available in your size. The closer your foot size is to "average," the better luck you're going to have with unique or high-end designs coming in your size.
Design - Nobody buys a new pair of kicks without the desire to have them showcase their style. The design is also about the construction: a good design will look good, feel good, and react well to whatever you throw in its path.
Color - It's about style, but it's also about the associated dyes used in construction. Less vibrant colors will use less harmful dyes, meaning you have less of a chance of ruining your socks within the first few uses. Dyes will often be worked into the fabric very well, but it's still important to pay attention to customer reviews to determine if they're experiencing similar issues.
Comfort - It's half the battle. You need proper function, but you also want it to fit and feel right. Comfort comes in the form of cushioning, midsole strength, shock absorption, lacing systems, and the tongue design.
Insole - It's important that the insole is removable, because they're often going to fade away before the actual shoe does. If you have shoes for five years, there's a good chance you'll be replacing the insole at least once or twice.
Outsole - Some New Balance outsoles are designed with hexagonal rubber traction pads, so ankle rolling is reduced. They also come with other designs and constructions that help you evade or bounce back from nature's unpredictability.
Arch Support - Arch support is vital, especially if you have flat or wide feet. Cutting down on fatigue often comes down to the arch support; don't overlook this feature.
Breathability - Most New Balance shoes are designed with multiple breathing cavities throughout, especially along the toe box. If you're getting these for running, it helps mitigate body temperature spikes from your feet.
Material - There's four main materials that New Balance uses: leather, textile, synthetic, and mesh. You may also see some suede thrown in every now and again. The beauty of these materials is their ease to clean.
Durability - Most New Balance shoes are opted to last a minimum of three years, and can last for up to ten. It's all about the quality and how you care for them, what you put them through, etc.
New Balance: About the Brand
New Balance kicked off in Boston in the early 1900's, turning into a powerhouse shoe provider around 1930. As time went on, they blended into the normal run-of-the-mill shoe brand, until 1976, when they dropped their 320 shoe and gained particular intrigue from the public eye once again. Over the last forty years of admiration, they've been adapting to marketing trends and providing running shoe, as well as casual footwear, to men and women alike.
New Balance focuses on athletic shoe styles, from running and walking shoes, down to some shoes that are viable for parkour. On average, they range from a medium to high price range depending on which series and shoe you look for, and continue to provide long-lasting products, which they've never faltered from, even until today.
New Balance Shoes FAQ
Q: Why Choose New Balance Shoes?
A: First, ask yourself what you're looking for in a shoe. We like to boil is down to three main attributes: quality, intended purpose, and style. New Balance hits home on all three key factors, which is why we've dedicated an entire buying guide solely to their shoes.
For runners, you get a clear and concise balance of stability and breathability, reducing foot sweat and fungus from growing. NB shoes also come with outsoles that provide traction and gripping along the asphalt, or whatever terrain you're working with.
If you're just looking for casual wear, their versatile range of designs and styles offer an excellent addition to your wardrobe, while still staying durable through the worst of it. Since NB shoes are notoriously long-lasting, using them for strictly casual wear can double their expected lifespan.
If you're sick of shoes burning out on you, then you're in the same boat as us: you want them to last for as long as possible, without running through them or having them look like trash. Keep these maintained, and you'll have a fresh look that will outlast every other pair of shoes in your wardrobe.
Q: Are New Balance Shoes Made for Athletes Only?
A: Absolutely not. While they have a primary focus on athletes, these can be enjoyed and comfortable for just about anyone. They have a wide range of shoes from running to walking, and some that don't specify their intended use, making them multifaceted. If you do opt for a running shoe, they may have a slight narrowing at the toes or additional shock absorption from the midsole, so do bear that in mind when you go through with a purchase.
Thanks to the multiple styles and designs offered on just about every series of shoe, you're able to grab a pair exclusively for casual wear, and just enjoy their excellent appeal. Athletes do benefit from New Balance, but you don't have to be an Olympian to enjoy them.
Q: How to Wash New Balance Shoes?
A: There's four main types of material used in New Balance shoes. We're going to cover how to care for each, and a general cleaning guide for the exterior of your shoes, and preventative measures/maintenance to ensure their longevity.
Leather - Ever-durable leather is one of the best materials in the world, and arguably the most time-tested. Simple warm water and soap solutions will clean your leather, but be certain to use a protective leather treatment afterwards to reseal it, and to also aid in keeping dirt off of it in the future.
Textile - Textile is super easy to clean. Foer the most part, you're going to need a vacuum to get any stuck-in dirt out, but to take it one step further than that, you'll need a quick wash. Don't throw these into a washing machine and dryer, as you could mess up the elasticity of the product. Take a face cloth and some warm water, and gently weave circles into the textile sections of your shoe. Let dry (doesn't take long), and you're good to go.
Mesh - Similar to textile, your best line of defense is going to be a cloth and warm water. Mesh doesn't require a lot of care, but you should avoid throwing it in the washing machine. You want to maintain the consistency of the fabric; cleaning is a quick process if you do it properly.
Synthetic - Now, these are left up to interpretation by the manufacturer, but as a general rule, synthetic material requires a bit of TLC. Use a narrowing attachment on your vacuum cleaner and apply pressure. Don't worry, it can handle it. Synthetic materials tend to hold onto the most dirt and sweat, so you'll want to get a warm water and soap solution together. Use as much as deemed necessary until the run-off of your cloth is mostly clear. These will take a while to dry.
General Shoe Care
Save for the specific material types, these are the basic steps to cleaning your shoes in a very detail-oriented fashion.
Use a thin cloth or plastic bristle brush to clean the crevices along the outsole
Use non-abrasive chemicals to clean visible rubber; apply gently
Vacuum and scrape any debris stuck to the bottom of your shoes to maintain traction
Check for odors in your soles, and apply Odor Eaters as needed
Inspect rubber for wear, apply weatherproof coating or sealant as needed
Check laces and lace loops for fraying; switch-out worn-down laces to maintain the look of your shoes
Always allow proper time for air drying to prevent mildew and bacterial build-up
Maintain your New Balance shoes on a semi-regular basis, and they'll be reliable to you until the bitter end.