GearHungry may earn a small commission from affiliate links in this article.
Learn more
World's Top Golf Destinations
An open field, fresh air, the rush of adrenaline as you swing your club and hit the ball, hoping for an excellent landing! There's nothing better than a vacation that includes a little golfing on the side, or even better, as the main holiday attraction. Imagine yourself teeing off from exotic locations all around the world, and after a challenging game, you head off to your luxury hotel to sip on a crisp drink and a traditional meal. Sounds wonderful, right?
We're here to help you plan your next golfing adventure! Prepare to pack your golf bags and golfing clothes as we list the 12 best-golfing destinations situated in various countries worldwide! From sunny beaches to grassy farmlands and busy cities, leave the confines of your local clubhouse and tee-off from a completely new location.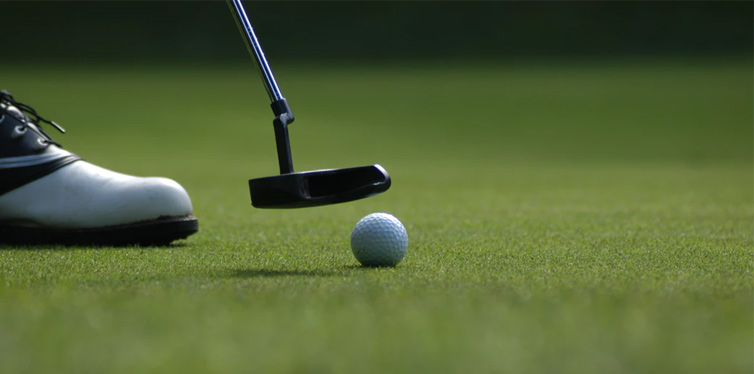 1. The Hawaiian Islands
With more than 70 golf courses at your disposal, Hawaii's blue skies, palm-tree beaches, and volcanic landscapes combine to create a variety of challenging holes accompanied by lush foliage, bustling waterfalls and humid air that brushes your skin with adventure.  The cherry on top: a subtle hint of floral aroma in the air as you play the field and unwind.
The Hawaiian Islands offer a huge range of unique resort and public courses. The popular Island of Oahuboasts a touch of history and is home to the Moanalua Golf Club which opened its doors way back in 1898. The Royal Hawaiian Golf Club situated just minutes away from Waikiki is so rich in foliage that it has been nicknamed "Jurassic Park". Kauai, also known as the Garden Isle offers a splendid mix of free and resort courses, all of which overlook the crystal blue Pacific Ocean.
And then there's the island of Lanai, a smaller island that proudly houses Manele Golf Course, one of the best-ranked courses in the world! With three holes built into seaside cliffs, the course spreads across natural lava outcroppings and is popular for its novelty-like holes and magnificent views. Make sure you pack your comfortable golf shoes and hit the road.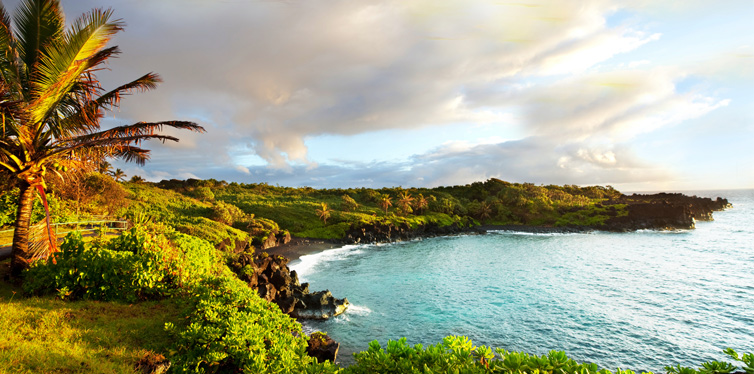 2. The Scottish Highlands
From the sunny skies of Hawaii to nippier air, the Scottish Highlands are an ideal location for those who want more of a relaxed vacation without the hustle and bustle of city life. Picture warming up by a wood fire and sipping on a smooth whiskey after you've spent a successful day on an 18-hole course. It's bliss!
Featuring no less than 46 courses, panoramic views and a with a number of historic resorts at your disposal, the culture-rich Scottish countryside is a golfing treasure trove! The Highlands' capital, Inverness, hosts many popular courses with Castle Stuart being the most renowned.
Castle Stuart is a somewhat new course (completed in 2009) and has hosted many championships since its birth. If you envision yourself playing around while surrounded by historical landmarks and spotting dolphins in the ocean view, then it's time to don that kilt and head for the Scottish hills!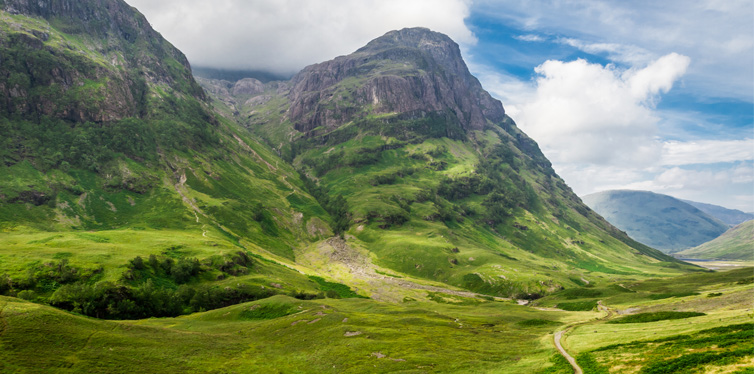 3. Edinburgh
Keeping things cool and within the Scottish borders, the next ultimate golfing destination on our list is, of course, Edinburgh. Not only is this golf break destination renowned for its golfing hype, but it also features a bustling nightlife, good food, historic sites, and shopping galore! Finish off a good round of golf and then hit the streets for some retail therapy – don't forget to pick up some novel golf gifts for the guys back home along the way!
Commonly known as the town that invented the sport, Edinburgh should be on the bucket list of any golfing fanatic. Featuring 22 courses rolling over green moorlands and nestled beside ancient dormant-volcanoes, this friendly city is ready for your game!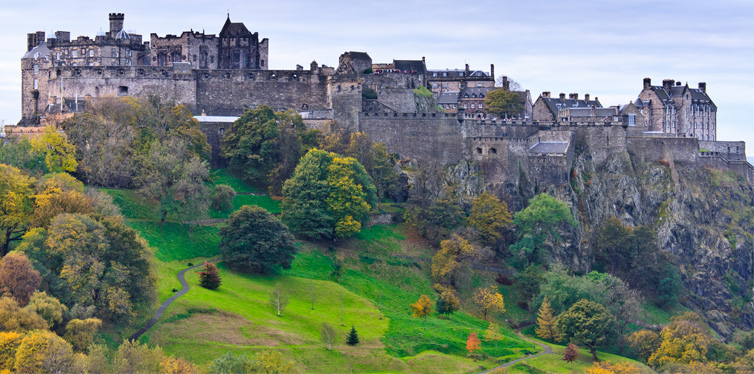 4. Puerto Rico
With sunshine nearly all year round, Puerto Rico is popularly known for being the "golf capital" of the Caribbean. This is a perfect destination that can appeal to the whole family. From wavy to calm oceans, adventurous caves and relaxing resorts, give your self a golfing break that feels like a home away from home!
Putt along the Maneyes River at the Windham Rio Mar Golf Club or tackle the coconut groves at Dorado Beach Resort. When visiting Puerto Rico there's sure to be a course that tickles your fancy! Just make sure to bring along those cooling towels, the heat follows you wherever you go!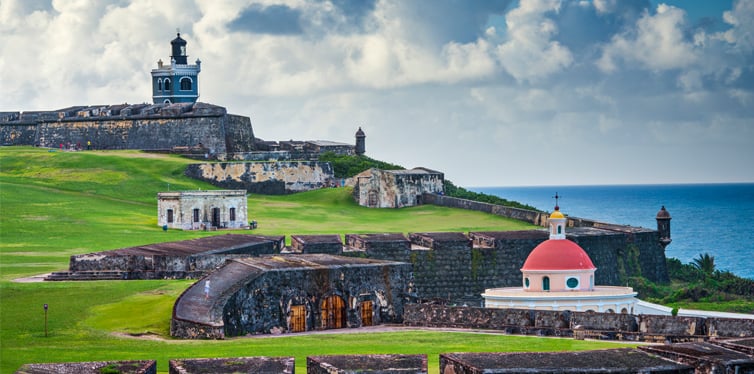 5. Tucson, Arizona
Tee of to cactus-clad deserts and rocky mountain landscapes. Tucson makes the list of best-golfing destinations because it offers good weather nearly all year round and the landscape differs from the usual green countrysides and ocean view resorts.
Although there are fewer courses to choose from, the variety is still appealing and includes Casino Del Sol and its $25 million Sewailo golf course as well as Tubac Golf Resort & Spa which is popularly known for hosting the filming of the renowned golfing movie "Tin Cup".
Tucson has been home to for many professional golfers over the years and it's probably due to the peacefulness that the desert offers as well as the serene scenery. It's also a city rich in culture, history and of course, spicy Mexican cuisine which is found more north to the border. Pack those golf bags if a desert vacation and exquisite weather appeal to you and your game!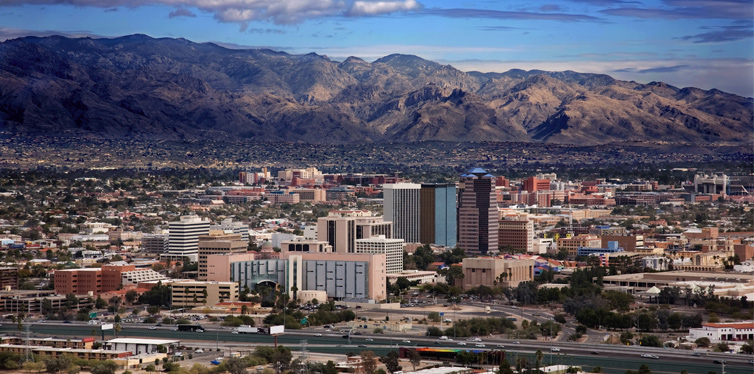 6. Dublin, Ireland
Heading back overseas, next on our list is Dublin. Known for its folklore, Celtic music, and let's not forget the Guinness, this Irish city houses a bustling population and a huge selection of niche golf courses too! With lush green fields, challenging dunes and a crisp wind that brings an invigorating breath of fresh air – this is another golfing destination that needs to be added to any avid golfer's bucket list.
Prepare for a long one and arrive early at Portmarnock Golf Club early so that you can tackle all 27-holes. This club dates all the way back to 1894 and is significantly historic. Alternatively, you can pay a visit to the Royal Dublin Golf Club for a simpler round of golf, leaving you enough time in the day to pub-hop and grab some traditional Irish grub! Anyway, these are just two of the quite novel golf courses that Dublin has to offer – the list does go on and there's enough variety to appeal to all preferences.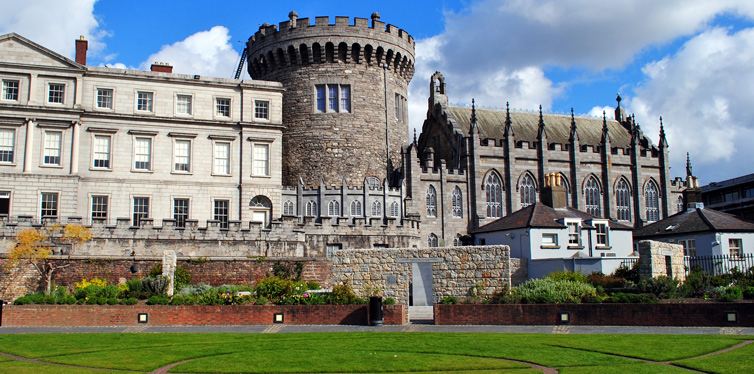 7. Lake Tahoe, California-Nevada
If you haven't set your eyes upon the exquisiteness of Lake Tahoe yet, prepared to be mind-boggled as you try to absorb the beautiful scenery that this part of North America has to offer. And, if golf's not your thing, perhaps hiking, skiing, and canoeing are! Yup, Lake Tahoe is an ideal location for the sports enthusiast who knows how to appreciate nature and the great outdoors.
Pack your golf coolers with your favorite drinks and head outdoors to surround yourself with snow-brushed mountains and mirrored-lakes – all while enjoying a new golf course that gives you a break from your regular and probably more urban-like clubs.
If nature appeals to you just as much as the thrill of hitting a golf ball with a stick does, then there's probably no better place in the world than the intimate setting of Lake Tahoe.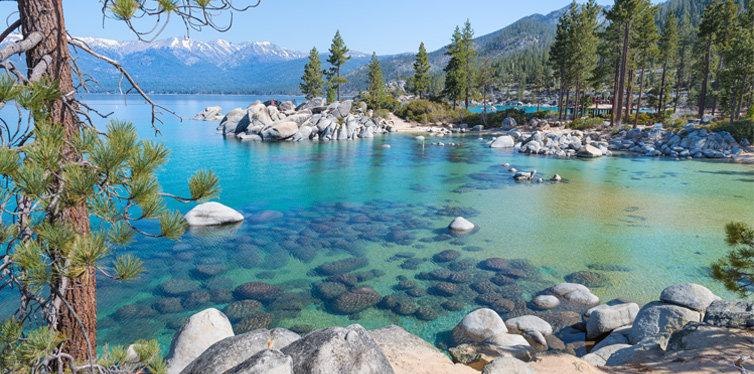 8. The Bahamas
And then off to the Bahamas we go! Boasting beautiful islands and championship golf courses, the Bahamas is an ideal holiday destination for both amateur and pro golfers. With warm sunshine pretty much all year round, you'll want to make sure you have your golf cooling towels packed along with some refreshing drinks for the tee-off.
Choose to stay at one of the Bahama's many luxury hotels or if you want to be closer to the game, then book yourself into one of the many 5-star golf resorts found scattered around the islands. When picking and choosing an island in the Bahamas for your golf-getaway, there are only four real options that boast a good selection of playing fields. They are: Grand Bahama Island, New Providence Island (Nassau), Great Exuma, and Treasure Cay in the Abacos. All of these islands feature challenging courses and breath-taking scenery. Make sure you bring your golf GPS watch, cause you are sure to get lost in all that beauty.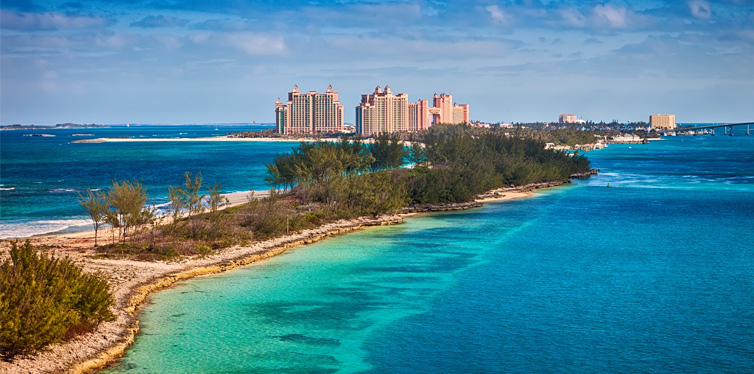 9. Australia
Are you keen to go down under? I am not sure if you are aware, but golf is Australia's number one participant sport and is home to more than 1800 golf courses, leaving you with an endless variety of stretches and course-challenges. You only need to vacation in one spot, however, to get the best of the best. The most impressive golf courses and resorts can be found in and closely surrounding the city of Melbourne, also referred to as the Sand Belt.
Melbourne is a bustling city that offers many tourist attractions and a wonderful holiday vibe, there's enough entertainment to please the entire family! For the golfing fans, the treasure trove of golf courses will have you itching to hit the fields 24/7. From the Royal Melbourne Golf Club to the likes of Kingston Heath; expect colored grasslands, cliff-beaches and lush green fields as you enjoy your 9, 18, 27 or even 45 holes!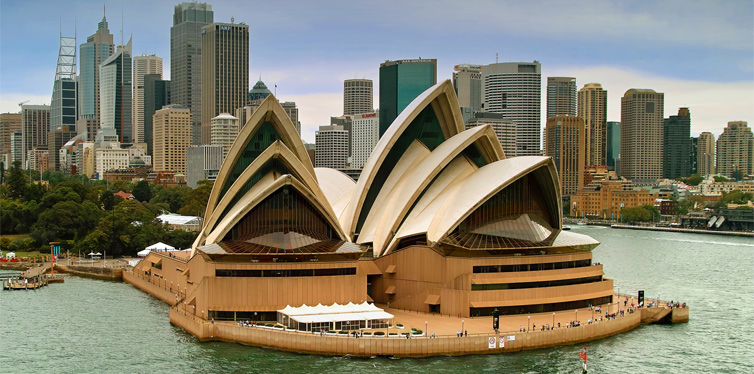 10. Monterey, California
While Monterey, California hosts a number of excellent golf courses, there's one course that makes the trip worthwhile all on its own: Pebble Beach. While the green fee may come as a shocking surprise (you're going to have to save your pennies), what more can you expect from a green that's paid tribute to professional golfers like Tiger Woods and Jack Nicklaus! Many a famous person has played on these fairways and this, together with the astounding landscape, makes it a luxury course that's well worth every cent!
Of course, there's more to offer than Pebble Beach however. Treat yourself to another 5-star golfing experience at Spanish Bay, Spyglass Hill or Bayonet Course, all but to name a few!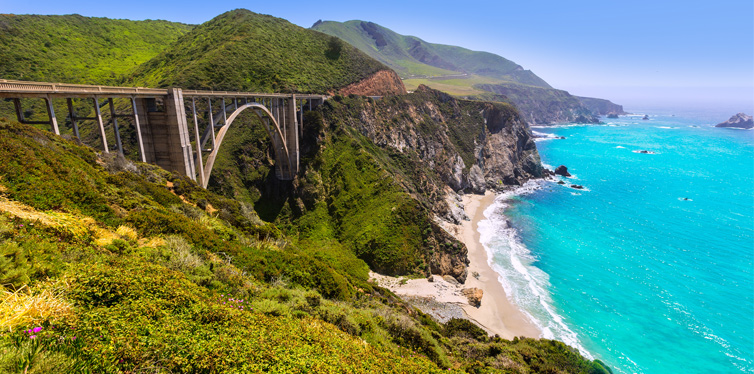 11. Bermuda
Bermuda, a small island that's big on golf! With 6 popular courses, all found in the island's mere 21 square miles, you won't have to travel far to complete each of the fairways in just a week (if you accept the challenge)! Boasting fine weather, a cooling breeze and amazing scenery, this is just another golfing island location that will appeal to those who have golf, relaxation, and some more golf in mind.
If you're looking to play a course that many champions have played before, you'll definitely find one in Bermuda. In fact, it's very unlikely that you will find a green that hasn't met the clubs of some of the most elite and professional golfers.
Each of the 6 courses is designed with a unique terrain, each of which has hosted many famous players from presidents to celebrities and even the royals. Feel like following in their footsteps?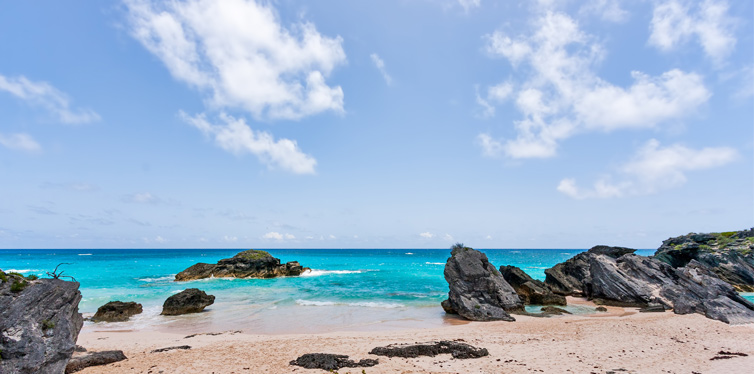 12. Cabo San Lucas, Mexico
All you need are your clubs, some comfy golfing attire and a wallet full of pesos (Mexican currency) and you're ready to go! With more than a dozen championship courses, Cabo San Lucas means serious golfing business! While the green fees might set you back some, the magic scenery of desert, beaches and mountains merging to make one mind-boggling landscape will have you flabbergasted with the city's beauty, which alone is well worth the price!
With courses designed by famous golfers like Jack Nicklaus and world-renowned architect Robert Trent Jones II, the possibility of you being disappointed in any one of the popular golf courses is extremely slim. With this in mind, you can rest assured that every penny you fork out for this ultimate golfing excursion will be well worth the adventure!
Most of the courses are open to the public during usual playing times and you'll be looking at an average green fee of about 250 dollars, with some discount if you're lucky. This fee buys you entry into brilliantly designed courses that are surrounded by the bustling and thrilling atmosphere that Mexico is famous for. Finish your game off with some traditional Mexican cuisine and catch a festival or two!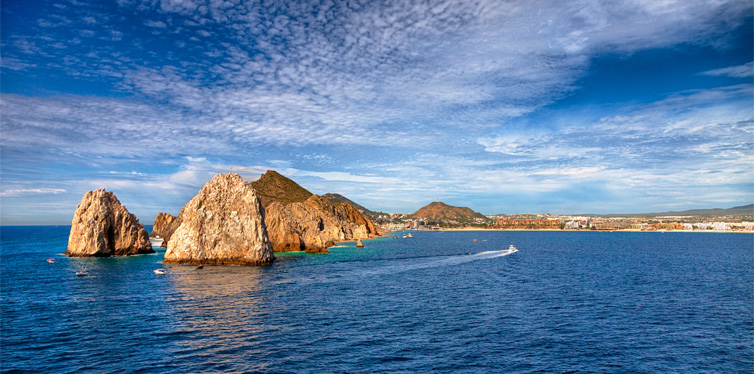 Sources:
Hawaii Golf Experiences – Go Hawaii
Puerto Rico Travel Guide – U.S. News
Australia – Top 100 Golf Courses
Bermuda – Wikipedia