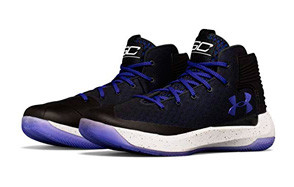 Under Armour Men's Curry 3 Basketball Sneakers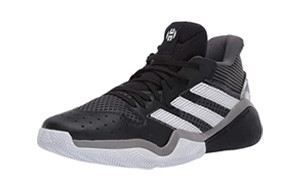 Adidas Men's Harden Stepback Basketball Shoe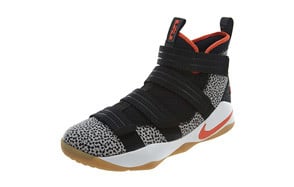 NIKE Lebron Soldier XI Basketball Sneakers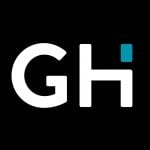 If slam dunk, hoop play and balling is your thing then you'll want to score with the very best basketball sneakers this season.
Whatever your playing level, grabbing any old pair of sports sneakers just won't do. From on-court performance to all-around street style, the basketball shoe you choose can make all the difference to how you play….and stay the distance.
For a fast-paced game like basketball, you need support and stability to help you play harder, faster and stronger. And let's not forget, you need to look good too. So, why not take a steer from Gear Hungry's best basketball sneakers Top 10, and there'll be no need for your new footwear choice to be taken down to the wire.
The Best Basketball Sneaker
Basketball Sneakers Buying Guide and FAQs
How We Chose Our Selection of Basketball Sneakers
From a friendly knockabout to a full-on slam dunk of a competitive match, the type of basketball shoes you choose will make the difference to your play.
To ensure you're on your game when it comes to basketball sneakers, we've put together what is surely the ultimate list of the top-rated basketball shoes out there. We used the following key criteria to determine which men's basketball shoes made the final cut:
Brand and reputation – yes, it is about being brand cool but also about the names that are currently at the top of their basketball sneaker game
User reviews– you can't beat first-hand experience, so we know they're totally tried and tested
Price – when it comes to value, you need the right features for your game rather than going for the cheapest you can get.

Features To Look For In Basketball Sneakers
Play out on the court is fast and furious, and your shoes need to be able to take the strain of an intensive game.  Whether it's on the hardwood or an outdoor surface, to make sure your feet stay light, you'll need to consider the following before buying your new basketball shoes:
Playing Style – before adding the flash to your feet, you need to know how you play and how you want your game to progress. Personal playing style makes the difference when it comes to choosing basketball shoes. Are you a long-range shooter or do you like to be up front in the key? Is your playing style based on speed and sheer, turn-on-a-dime agility or are you out back and ready in defense? Match the specific spec of your basketball footwear to your own playing style and you'll get all the support and performance you need to keep your game on target.
Ankle Support – with fast-paced play, your ankles take the strain out on the court. Sprints, sharp stops, twists and jumps all put pressure on the ankle joint and you need to ensure your new basketball sneakers provide the right level of support.  A quality pair of basketball shoes will be made out of stiff outer material to stop your foot and ankle from rolling and twisting during constant lateral moves and fast changes of direction. There should also be ankle cushioning to keep your whole foot stable. The type of ankle support you choose depends on the type of player you are –aggressive players need the greater ankle support that's found in high top shoes while all-rounders can choose to dial it down.
Cushion – the right cushioning in your basketball footwear is not just about comfort, it's also about protecting your feet's most vulnerable pressure points such as the heel and forefoot. Most basketball shoes go for mid-level cushioning to help keep a solid base for your foot on the court. Materials used for mid-sole cushioning include lighter EVA foam and compressed EVA foam or the denser – and more durable – polyurethane, while air-based cushioning can provide a more responsive 'ride'.

Fit – your basketball shoes should feel snug but not too tight, to allow for the natural movement of your foot through a range of turns, sprints and stops. For your perfect fit, get your feet measured at your sports shoe store then try on the sneakers with the socks you'll wear to test the fit before you buy. There should be a small amount of space between your big toe and the end of the shoe and your heel shouldn't slip when you walk or run.
Durability – whether you're out in the park, using the driveway hoop or playing full-on in a competitive match, your basketball sneakers will need to be able to weather some serious hard play. Make sure your new shoes are tough enough for your playing style and have the right features such as a hardwearing outer sole and grip that's matched to your preferred court surface to enhance their durability.
Material – the materials used in your new basketball shoe can make a real difference in terms of comfort, performance and durability. Leather is a traditional material used for sneaker uppers, offering stability as well as longer term durability. But it can be on the heavy side and so manufacturers also use synthetic mesh, which is durable but more lightweight and breathable, without compromising on foot stability. There's also hybrid shoes, mixing leather with synthetic mesh or canvas. The outer sole of a basketball shoe is usually made of rubber, with varying densities and thickness to create the right level of traction matched to the court surface.
Weight – When it comes to the weight of your basketball footwear, it needs to be a balance between comfort and strength/stability for overall foot grip and support. If speed and agility is the key to your forward playing style, then opt for one of the lightweight shoes while for the power players who need full ankle support, a heavier shoe will give you all the stability you need.
Type of Basketball Sneakers
Basketball shoes fall into three categories – low, mid and high tops – referring to just how far the sneaker laces up on the ankle. When choosing which type, it depends on not only your playing style but also your personal comfort and preferred fit. It goes without saying all three styles look good when away from the court so don't let fashion dictate your final choice if your game play matters.
Low tops – as the name suggests, low tops finish just below the ankle bone and are similar to standard sports shoes. Low tops are the lightest basketball shoes designed for speed and agility as the ankles are free to pull off fast turns and devious dodges on the court. They are ideal for speed demons; however, they offer little in the way of true ankle support.

Mid tops – Sitting right at the ankle, mid tops are the happy medium for players who want the foot freedom for some jumping but still need to turbo up when it comes to bursts of speed. Mid top  basketball shoes offer some ankle support without the restriction of an all-enclosed design. Mid top basketball sneakers are best for all-round players who like to shake their style and playing position up.
High tops – the iconic basketball shoe with the design most associated with the game, high tops are the heaviest basketball footwear, but they provide superior ankle support when you need it the most.  With high tops, the upper wraps around your ankle to give you substantial support and stability. High top basketball shoes are best suited to the more aggressive player whose M.O is power sprinting and jumping to blast the ball into the hoop. But out on the street, these dudes always look retro cool.
Benefits Of Having Basketball Shoes
A sneaker designed specifically for basketball is essential to your overall performance. Simply put, trying out in a normal sport or athletic shoe simply won't do. Get into a fast and furious game of basketball in an ordinary pair of sneakers and you run the risk, not only of seriously poor play, but potential injury and strain. Your basketball footwear are your essential piece of kit and the shoe you choose matters.
Unlike many other sports, basketball requires both speed and small space fast movement as well as jumps and twists and your feet need to be supported to smash it every time. The best performance basketball shoes are specifically designed to give you the right level of ankle support, stability and freedom of movement, minimizing the risk of strains and injury as you go into game overdrive.

Basketball Sneakers FAQs
Q: What Are Basketball Sneakers?
A: Basketball shoes are designed to deal with the specific intensity and range of movement needed for the game. With the average basketball player switching direction every few seconds and running well over 100 sprints per match, it's no wonder a sport-specific shoe is needed to help you survive the rigors of the game. Unlike more streamlined and low-profile general sport shoes, your typical basketball sneaker is a more bulked up, look at me dude. Whether you opt for low, mid or high top, your basketball shoe is there to give sufficient support, specifically around the ankle when jumping, twisting and sprinting and so has a larger profile and design.
Q: How Much Should I Spend On My Basketball Shoes?
A: With basketball shoes you are buying a key part of your equipment and the right pair of sneakers will have you highflying on the court. So, when considering your budget, if your new footwear is for serious basketball play rather than fashion, then go for the best pair you can afford. With such a vast choice currently out on the market, there is no need to break your bank to get the spec you need, and you can get a decent pair starting from around the $75-$100 mark. Go for one of the quality brands and check out their full range so you don't get your head turned by a design or style that simply won't add to your game. Know your playing style, the type of court you play on and how often you play, and you'll find the right basketball shoe for your budget. But remember, your sneakers are central to both your game and helping to keep you injury free and are a good investment.
Q: How To Prevent My Shoes From Smelling?
A: Like any hardworking sports shoe, it won't take much for your prized new basketball sneakers to start smelling less than minty fresh. You'll want to push your footwear as you work up an on-court sweat but you also need to prolong the life of your new sneakers without having to banish them to the outside porch.
The first tip is to never go barefoot in your basketball shoes, the right sports sock can work wonders in the 'keeping your feet sweet' department. The odor kicks in when your footwear gets damp and isn't allowed to dry out, meaning the smelly bacteria starts to take hold. Synthetic socks that wick away moisture will help with the odor control. Take off your shoes as soon as the game is over, to give them space to breathe, then store your basketball shoes in a cool, dry place. If you can, take out the inner sole to prevent the stinky bacteria from making your sneaker their home and replace the sole insert regularly to keep your feet sweet and your basketball shoes in tip top condition.

Q: Which Socks Should I Wear With My Basketball Sneakers?
A: Socks are essential to your basketball sneakers' performance as they add extra protection against blisters and pressure, while helping to keep your hardworking feet cool and dry.
Depending on the level of cushioning you want, you can choose from a variety of sport sock thicknesses – it's a matter of personal preference, just make sure you don't lose the natural flexibility and required movement in your foot. And try out your new sock/shoe combo a few times before you take to the court for that really important game.
Choose a sport sock that works with the height of your basketball shoe to prevent friction and rubbing. You can also choose designs that give you extra cushioning and support in more delicate areas, such as the heel and forefoot. And finally, always opt for synthetic socks rather than cotton, for superior sweat-wicking properties and you will keep your feet and your game totally fresh.