The Best Golf Bags In 2022 For Every Type Of Golfer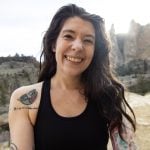 This product guide was written by Tuesday Kirby Kahl
Last Updated
March 21, 2022
Tuesday Kirby Kahl
Tuesday Kirby Kahl is a contributor at Gear Hungry. Her fierce love for the outdoors fuels everything she does. Her professional pursuits include writing, creating art, and photography. These professional passions allow her the time to live life outside as a rock climber, skier, runner, backpacker, paddle boarder, swimmer, and explorer. When Kirby is indoors, she enjoys tea, whisky, old films, cooking, and baking. Her product testing and feedback have shaped the design of everything from climbing shoes to candles.
GearHungry may earn a small commission from affiliate links in this article.
Learn more
A great golf bag is an essential piece of gear for any golfer either experienced or new to the game. Modern golf bags provide a range of features you need whether you're playing a Par 3 or battling one of the most demanding courses in the world. These include organizing dividers, spacious pockets with sturdy zippers, comfortable carry straps, and durable construction for any time of the year to ensure the golf bags are up to par.
The best golf bags will protect your equipment, give you lots of space for accessories (golf gloves, towels, tees, etc. included), and will be easy and comfortable to lift, whether you prefer to carry or use a cart. Here are our tried and tested choices for the finest golf bags on the market.
The Best Golf Bag
TaylorMade Golf 2019 Select Stand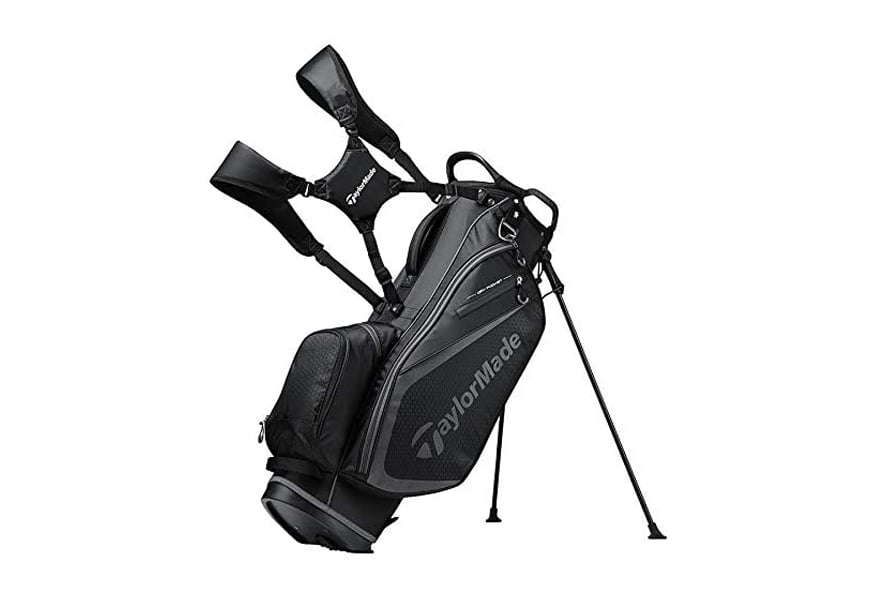 TaylorMade is one of the biggest names in the world of golf bags. This bag – the TaylorMade Golf 2019 Select Stand – is a favorite amongst amateur and professional golfers thanks to its quality construction and features that make it easy to work with. The inside of the bag is velour-lined, which provides a soft and durable place to keep your favorite golf clubs. Plus, the stitching around the bag is good so this bag should last for years. 
One of the best features is the multi-grab handle top. There are a few different places to grab the bag from if you want to move it a short distance. Or, if you want to chuck it on your back, it has a backpack-style strap to do so. In terms of storage space, it has six storage pockets, a ball pouch, and seven dividers, including a valuables pocket, an exterior water-bottle pocket, and an extra-large ball pocket. 
Key Features:
Six pockets 
Seven dividers 
Multi-grab handle
Backpack-style strap 
Velour-lined 
Specification:
Brand

TaylorMade

Model

N6556801

Weight

6.3 Pounds
Callaway Golf 2020 Hyperlite Zero Stand Bag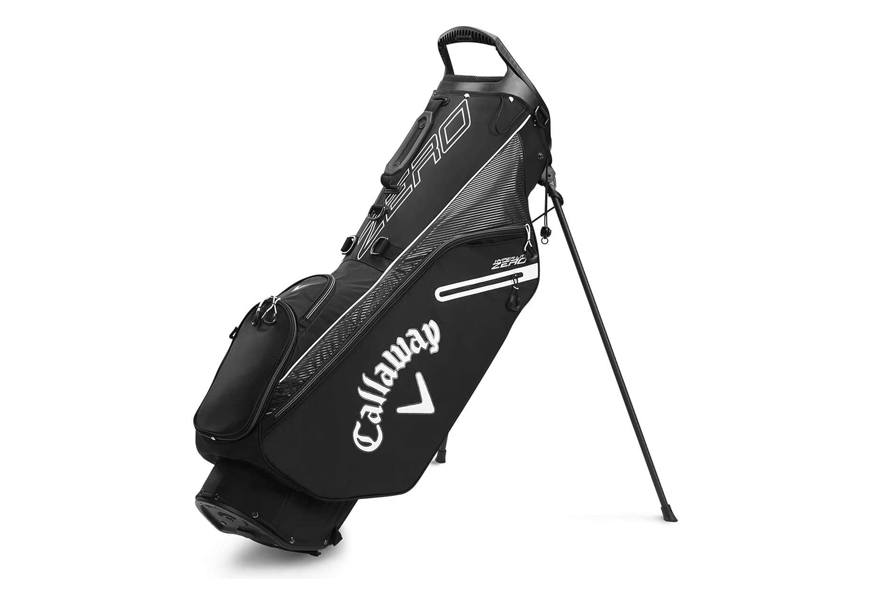 If you're into golf, you've no doubt heard of Callaway – it's one of the biggest golfing brands around and they make a whole range of world-class golf equipment. And the Callaway Golf 2020 Hyperlite Zero Lightweight Stand Bag is no exception. The biggest selling point of this bag is its lightweight design. At just 2.5 pounds, you'll barely feel the weight of this bag as you're moving from hole to hole. It's made from durable ripstop fabric too, and has carbon-fiber legs. 
Impressively, despite this bag's weight-loss program, it's still packed with features. It has seven pockets, an individual sleeve for your phone, and four full-length dividers. It's also got a padded Opti-Fit comfort strap that makes it much more comfortable when you're moving around the green. If you're in the market for a new golf bag, particularly a lightweight one, this one is a winner. For more top-quality equipment, check out our selection of the best golf GPS watches.
Key Features:
Made from durable rip-stop fabric 
Carbon fiber legs 
Seven pockets 
Individual phone sleeve 
Four dividers 
Padded Opti-Fit comfort strap 
Specification:
Brand

Callaway

Model

5120145

Weight

2.5 Pounds
Founders Club Premium Cart Bag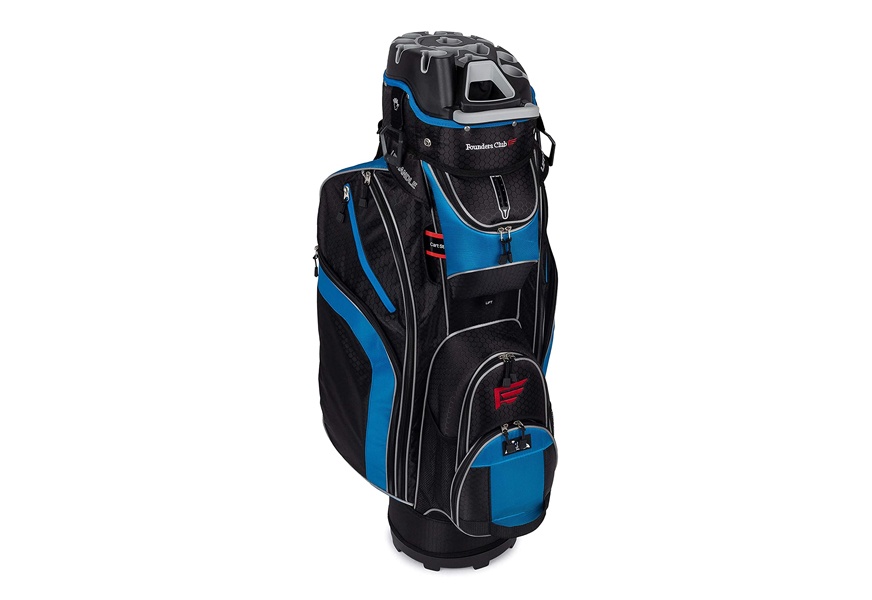 If you're the kind of golfer that takes a lot of clubs out on the green, you need a bag that can handle them and all your golf accessories. The Founders Club Premium Cart Bag has 14 slots designed to house all of your favorite clubs. It's designed for right-handed golfers but if you're a leftie, your clubs should still fit. This system provides the ultimate protection for your golf clubs thanks to the rubberized slot system. 
In addition to the club slots, it has nine zippered pockets, four mesh pockets, an insulated and ventilated cooler pocket, two ball pockets, and a bunch of other pockets situated around the exterior of the bag. It might not be the most lightweight bag on this list but you'll definitely have everything you need out on the green. The back of the golf bag also features a tuck-away padded strap to make it comfortable when you're moving from hole to hole if you need to take it off the cart.
Key Features:
14-way golf club organizer 
Nine zippered pockets 
Insulated cooler pocket 
Tuck-away padded strap 
Reinforced base and several handles
Specification:
Brand

Founders Club

Weight

11.8 Pounds
Sun Mountain C-130 Cart Bag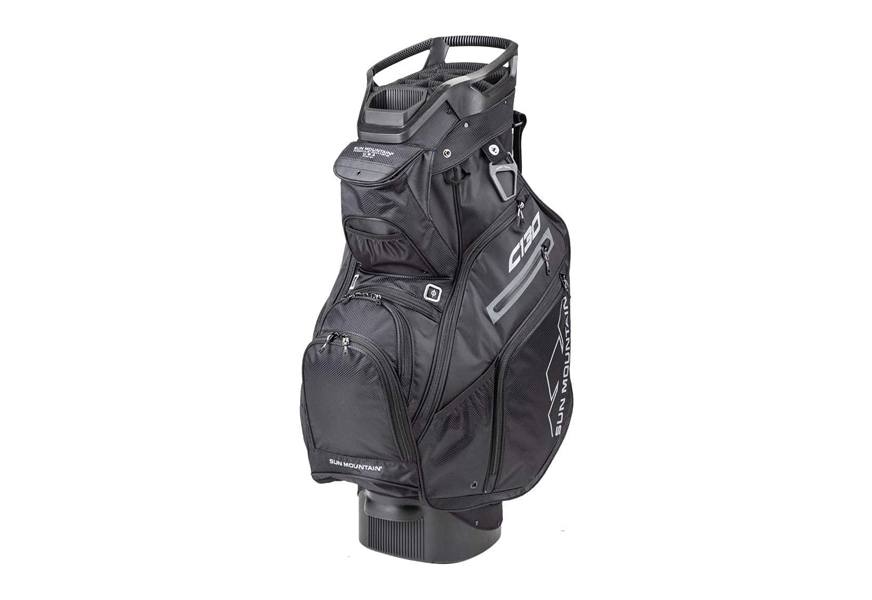 The Sun Mountain C-130 Cart Bag is a large, premium golf bag that has a ton of space for your clubs and a bunch of impressive features. It's designed for intermediate and advanced golfers that need a wide variety of clubs in their arsenal. That's why it has 14 dividers to keep all of your clubs separate and safe in the bag. Unfortunately, a couple of the slots aren't large enough for oversized grips but if you use a standard grip, it'll work perfectly. 
In addition to the club divider, it has ten pockets including a cooler pocket, a bunch of accessory pockets with plenty of space, and a velour-lined valuables pocket times two. The bag is on the larger side but at least you won't be wanting for extra space. We also love the fact that it comes with a matching rain cover for when the elements aren't on your side. Here are some cool golf launch monitors you may be interested in, as well. Be sure to browse them.
Key Features:
14-way club divider
10 pockets 
Cooler pocket 
Smart strap system 
Available in six colors 
Matching rain cover included 
Specification:
Brand

Sun Mountain

Model

C-130

Weight

7.4 Pounds
Sunday Lightweight Carry Bag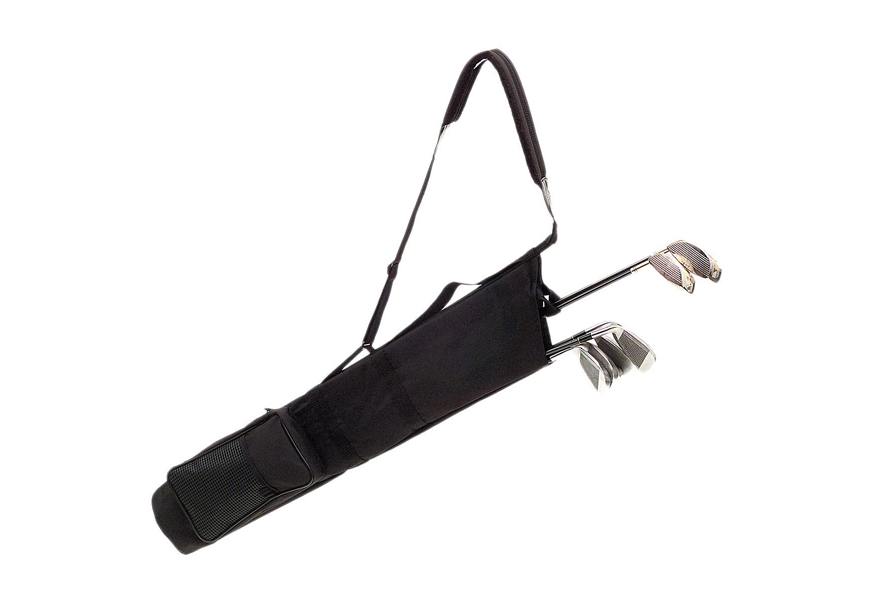 This 5" Sunday Lightweight Carry Bag is the perfect option for summer golfing and is superb for the traveling golfer looking to minimize luggage. It's ideal for smaller courses and suitable for both beginners, intermediates, and experts who don't want to carry a full set through the golf course but should get along fine with a putter, pitching wedge, and 7 iron.
The polyester material is lightweight and tough, and there are also 2 pockets for storing balls, tees, and towels while reducing the bulk of traditional golf bags. It doesn't have attachments or covers like larger bags, but for the price, it's a fantastic solution for carrying only the clubs you need.
Key Features:
Padded shoulder strap
One mesh pocket, plus two zippered pockets
Top strap to secure clubs
Lightweight and durable
Specification:
Brand

ProActive Sports

Model

MGB099

Weight

14.4 Ounces
TaylorMade Golf 2019 Select Cart Bag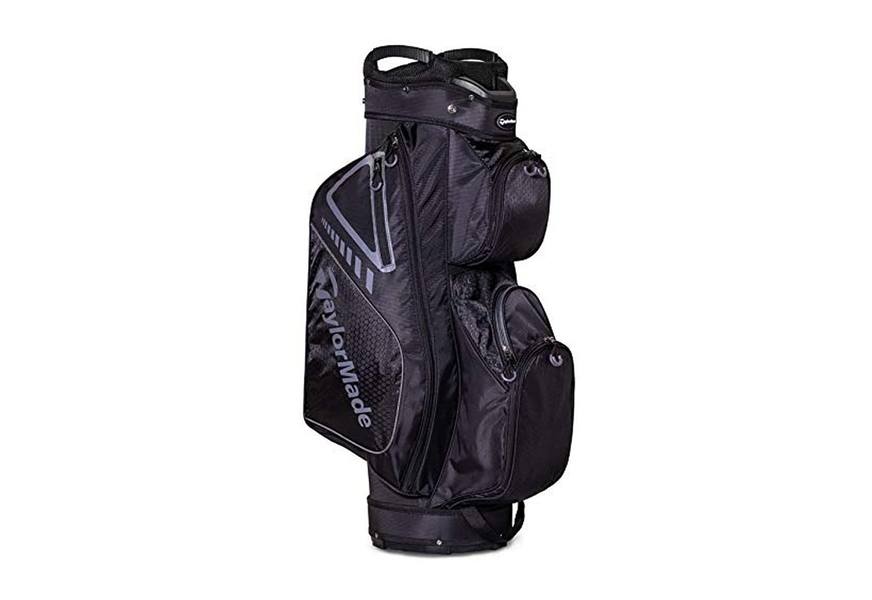 This TaylorMade Golf 2019 Select Cart Bag keeps all the potential hazards of winter-play in mind with protective material including velour-lined pockets and a large clip-on hood to keep your clubs dry between rounds with a zipper for easy access.
It is available in six colors and the 7 oversized pockets provide ample space for everything you need with you on the golf course. These pockets also have tough, durable zippers to keep everything secure. At the top, there's space for fourteen clubs, including an oversized putter, and there are also handles around the side for easy grip and handling. There's a single carry strap but it's not comfortable, so this bag is best used with a golf cart. And while the pocket on top of the lower portion is now marketed as waterproof valuables pocket, it's well-made and should keep your stuff nice and dry in a drizzle. Our guide to the top golf umbrellas offers more useful golfing gear. Check them out.
Key Features:
14 way top
Seven pockets
Button on rain hood
Durable zippers
Oversized putter well
Specification:
Brand

TaylorMade

Model

N6556301

Weight

5.2 Pounds
Sun Mountain 2022 Golf Stand Carry Bag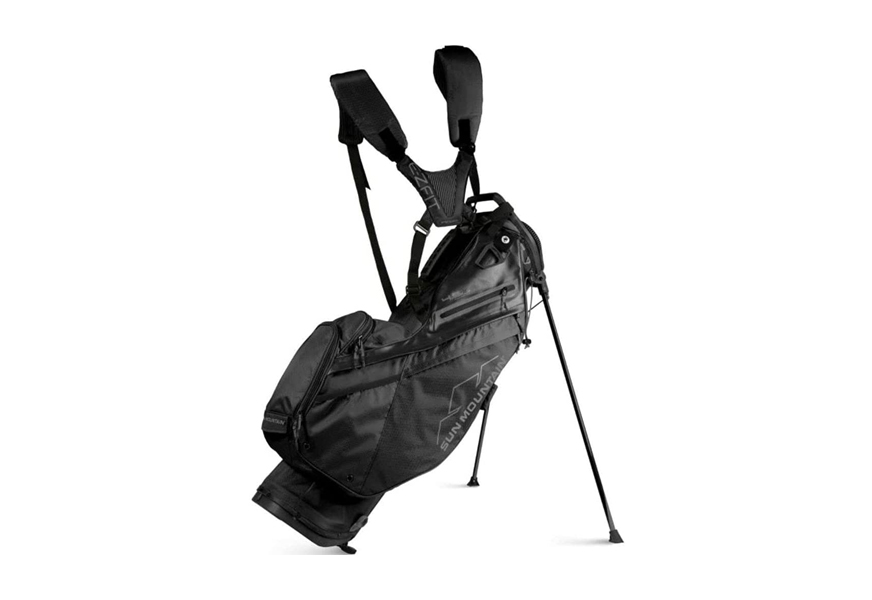 If you're looking for quality golf stand bags, check out this Sun Mountain golf bag that's great for both cart attachment and personal carry, and that can stand upright between shots thanks to its automatic stand. There are several colors available to suit your local club's colors, and you can use it throughout the year without issue thanks to the matching rain hood and water-resistant pocket.
It stores 14 clubs with full-length dividers for simple organization but there's no dedicated section for your putter. It makes up for this minor issue by being stylish, lightweight and easy to handle, and with multiple pockets and attachments, you can store everything necessary on the course including tees, an umbrella, a water bottle, and there's even a place for your smartphone. When moving from hole to hole, the double strap system helps distribute weight and makes this Sun Mountain bag easier to carry.
Key Features:
14 full-length dividers
Cart strap pass-through
Nine pockets
Matching rain hood
Non-slip stand footpads
Specification:
Brand

Sun Mountain

Model

4.5LS 14-Way

Weight

5.5 Pounds
Prosimmon Professional Tour Golf Bag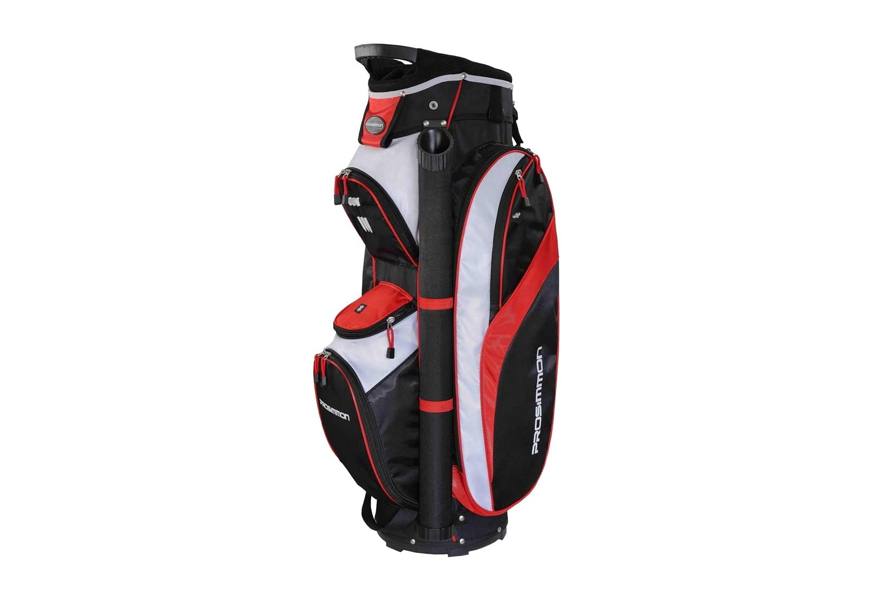 With fourteen dividers, a design that clips to your cart, and a budget-friendly price tag, Prosimmon Tour Golf Bag is the a great for both the beginner and the professional golfer. With a velcro glove holder, numerous zippered pockets for your valuables, and an attached towel ring, you get everything you need for the course. With fourteen full-length dividers, you can take a full set out on the course with you.
Instead of a holster, there is an external umbrella strap. This option uses less material and weighs less, allowing optimal room for the external putter tube, which is made specifically for a large-headed putter. With an included rain hood and the most simplistic design you've used yet, your game day isn't dictated by adverse weather. This also makes a perfect golf gift for your loved ones.
Key Features:
14 dividers
External putter tube
Multiple accessory pockets
Velcro glove holder
Towel ring
Specification:
Brand

Prosimmon

Weight

5.3 Lbs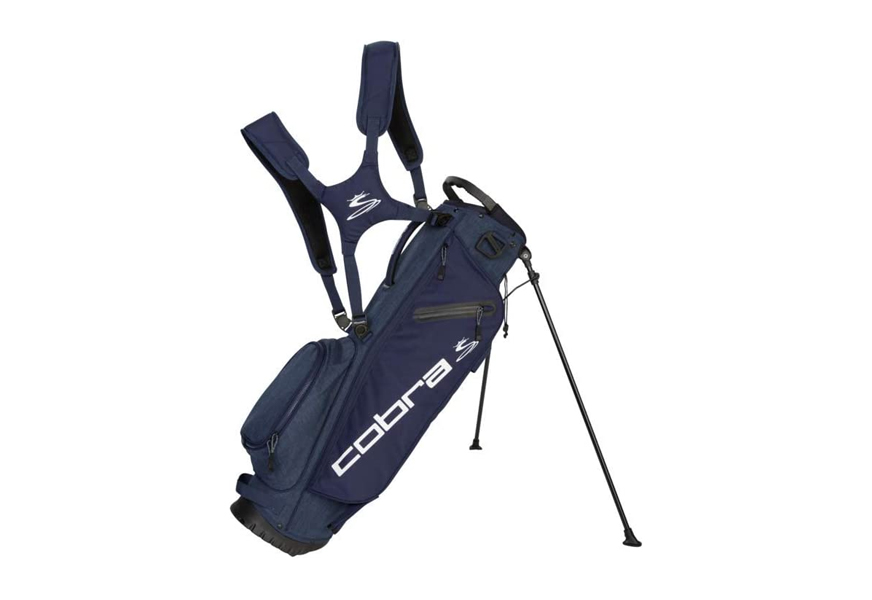 The perfect blend of cost, effectiveness, and the features you need, not just the ones you want. Cobra gets kudos for their design and durability, among other things. You get five zippered pockets, one slip pocket, and a five-way top open that comes complete with full-length dividers for your clubs.
This bag comes in multiple colors to match your golf attire, and can also come in a standard cart bag size. This model also includes a rain cover for drizzly days, slides over one shoulder for quick carry, and weighs just over two pounds when it's empty. Rookies or veterans that want a change – you've met your ultimate golf bag. Don't forget to also check our guide to the best-rated golf trolleys for more great items like this.
Key Features:
Stand bag with three-point shoulder strap
3-way top
Insulated beverage pocket
Comfortable strap for easy carry
Full-length dividers
Specification:
Brand

Cobra

Model

ULTRALIGHT STAND GREY/ORG

Weight

2.3 Pounds
Why Trust Us
While I've spent my whole life being rather terrible at golfing, my father is an excellent golfer who has been playing for decades. So when in doubt, ask your dad, right? This guide was crafted with expert advice from Mr.Kahl himself over a series of potentially annoying phone calls where I insisted he bestow all his golf bag knowledge and thoughts upon me, so that I could craft something for you dear reader. With the combination of my understanding of product reviews and bags, and my father's understanding of golf, I believe we have crafted you a stupendous guide to the best golf bags.
Who This Is For
This guide is for the intermediate to advanced golfer who is searching for some new golf gear. If you're a pro golfer, you likely have a tried and true favorite or are sponsored. If you already have a favorite bag, this guide can help you find a new carry bags, cart bags, or sunday bags.
How We Picked
Selecting the best golf bags started with creating an assortment of stand bags, sunday bags, carry bags, cart bags and more. We wanted to ensure we covered all the bases for every need. From there, I let my dad weigh in on the best available models and then researched all of our items and looked at their ratings and read plenty of Amazon reviews.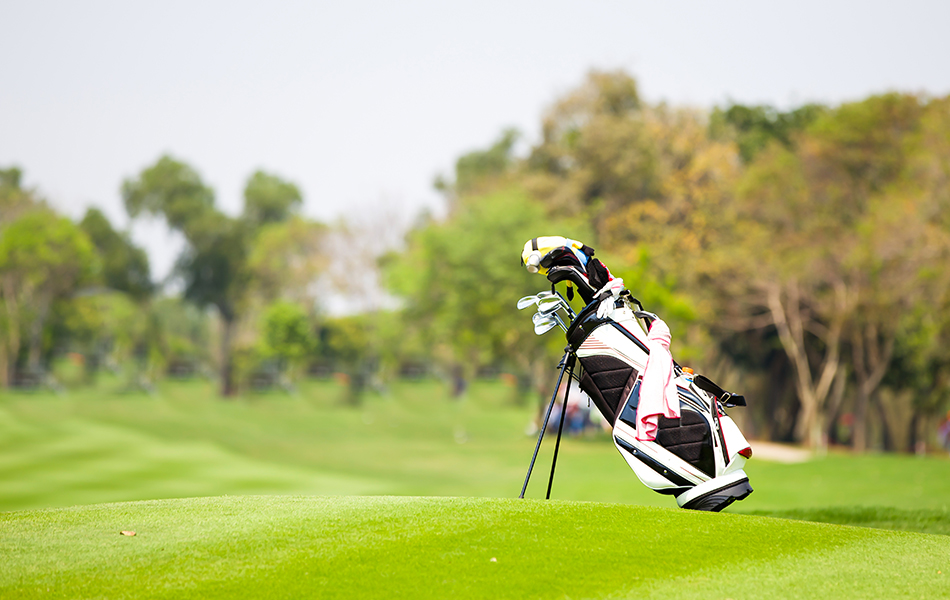 Features To Look For In Golf Bags
Divider system - You have a nice set of clubs, and you don't want them clanging together in the middle of your golf trip or getting scratched. A divider system can be simple, only having two or three compartments, or you can have up to fourteen individual slots for each and every club you own. Organized folks usually prefer more dividers. The more dividers, the more expensive the bag, and often times it attributes up to 1.2lbs to the overall weight.
Weight - Your equipment can get mighty heavy; going with a lightweight bag helps reduce your load overall, so you spend less time applying icy hot patches and more time doing what you love - golfing.
Size - This comes down to your clubs; you should know the dimensions of your set and apply that knowledge to the dimensions of the bag you choose. As with anything, the larger the size, the more fabric is used, and the more it will end up costing you and weighing.
Pockets/compartments - Simple enough; you want to hold extra golf balls, tees, perhaps an additional glove or even a sports bottle. Some bags even feature a cooler compartment for keeping those drinks cold under the hot summer sun. Multiple accessory pockets can be a huge blessing depending on what all you want to carry. Pockets and compartments are nice, just don't get a bag with more than you need.
Towel rings - You pay good money, you work your rump off to purchase one of the best golf bags, so you would reasonably want it to remain nice and clean. A towel ring gives you quick access to a rag to wipe of dirt or mud before it can stain or embed itself into the fabrics of your fancy golf equipment.
Rain covers -Rain covers are your saving grace when it comes to protecting your equipment during that afternoon shower. Rookie golfers make the mistake of brushing this feature off, but it really is a lifesaver.
Umbrella holder - These are pockets that are specifically designed to accommodate your umbrella. They're awkward items, but these pockets make it simple to store and retrieve. If you're deep enough into your game that you don't want to hit the road when it rains, you need full preparation (especially if you're acting as your own caddy).
Waterproofing -A spill or a light rain storm shouldn't be enough to ruin your bag. If there's even a sliver of a chance of rain while you play, you should ensure your bag is waterproofed so that rain can't ruin your gear and your day.
Durability -If you ask us, durability is a must for any piece of gear, especially one that will be outdoors. Shelling out tons of money for something that falls apart immediately is one of life's sadder experiences, especially if you don't have a warranty.
Looks - Some folks will care more about this than others. I live by the motto, when you look good, you feel good and play even better. There's no harm in finding a golf bag with a look you love, in fact you'll likely benefit!
Types Of Golf Bags
Carry bags - Designed for lightweight travel, these make your game a little quicker, and don't require you to hire a caddy. In some cases, you can even avoid using a cart and get a workout in. These are the ultimate weekender golfing bag; recreational use, lightweight travel, easy to pack. These don't often come with extra pockets or features on average.
Cart bags - If you're taking the cart with you everywhere you go, you can leave your bag attached to it. Golf cart bags usually come with as many additional pockets as possible for rain covers, umbrellas (ideal golf gift), and extra slots for golf balls and spare tees. These bag feature ample storage and also have a single strap or system to attach to the golf cart. We aren't worried about weight here because the cart is doing the work.
Staff/tour bags - A tour bag is recommended for professional use only; don't be a hero and go for this type unless you know what you're doing. These can weight up to ten pounds on their own without a single item in them. Imagine the weight of your clubs and additional items on top of that. You don't want to haul these around.
Stand bags - Stand bags with retractable legs are a totally viable option for the golfer who wants to carry his own clubs. You won't have a caddy dropping your bag on the dirty ground; you can stand this up on its own, and access everything you need without it getting dirty. These are rather common place and a must-have for every golfer.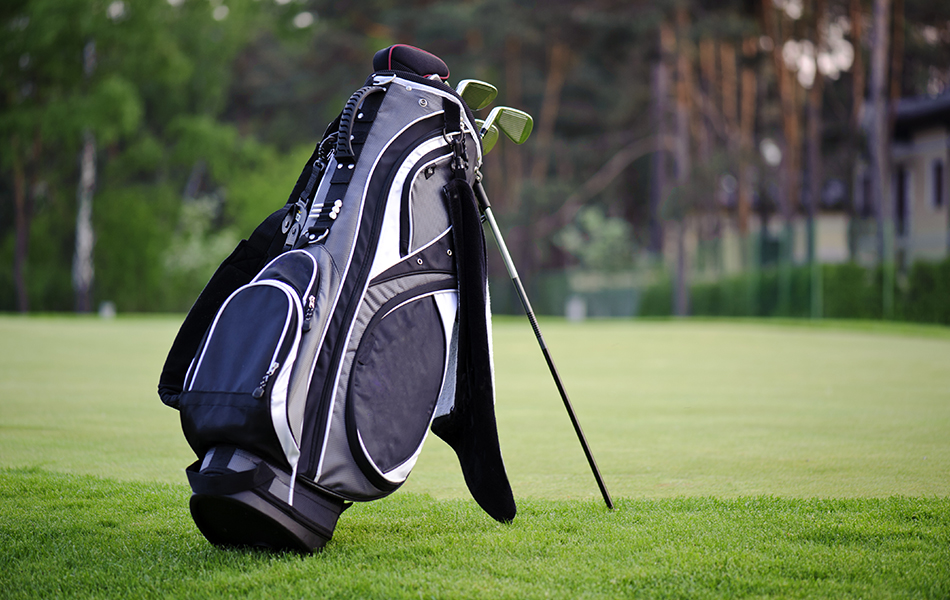 Golf Bag FAQ
Q: What is a golf bag?
A: Golf bags are for carrying your clubs from hole to hole, even if you're using a golf cart. Depending on your frequency of use, whether you're a recreational golfer or a professional, you may encounter times where you wish you had all the little details that turn your golf bag into a mobile golfing headquarters. Golf bags can include stand bags, cart bags or tour bag.
Q: How should you organize your golf bag?
A: There's a very quick way to go about this. Start by emptying out your bag, and get ready to organize.
Plan out what you need throughout the course and prepare appropriately; items you need more often should be more accessible, while others can be tucked away.
For most golfers, you're going to start by putting your shorter clubs in the bottom of your three compartments (usually your 7, 8, and 9 iron clubs).
Medium-sized and longer clubs should go in the center compartment.
Put your woods into the top of the bag, and find a spot for your putter here (so it doesn't clang around and cause a racket).
Load up the extra pockets with golf balls, tees, whatever you need.
Q: How do you clean your golf bag?
A: While you're not going to improve your score, nobody wants to have dusty, run-down clubs. It all starts with a clean bag. Keeping your clubs and gear clean can help them last longer.
1. Clear out your clubs - Now might be a good time to take a good look at your clubs. Return some of that luster with some quality polish. Set those aside for later though, because there's a lot more to clean than you'd expect. You'll also want to check any rangefinder pockets or compartments for valuables.
2. Flip it - Let gravity do some of the work for you. Prop it up against something and just let all the turf you brought home with you slide right out. As a fair warning, you might be surprised at how much debris falls out.
3. Makeshift brush- Your clubs fit in the pockets. Well, at least the handles do. You'll want to wrap a dry microfiber cloth around the handle of one of your clubs, and slide it to the bottom of each divider sleeve. Give it a little twist and remove it, and you'll see all sorts of dust, debris and dirt coming up.
4. Use a brush- Start with a bristle brush; plastic bristles will work fine, ensure that they're durable enough to get the job done. Bristle brushes with soft to medium bristles will help clear out most of the stuck-in dirt within the nylon and mesh of your bag. You want to tilt your bag upside down and begin gently brushing the entire exterior of the bag. The vibrations from the brush and gravity of the bag being upside-down will allow small clumps of dirt/pockets of sand to fall out on their own. You'll have to be a bit gentle, but some dry scrubbing on the exterior of your bag is going to reveal that shine that's sitting underneath.
5. Use a damp rag - Use a damp (not soaked; you shouldn't be able to squeeze water out of it at all) rag or cloth, and wrap it around your hand. Use it to get in the corners of your additional pockets, your dividers, and anywhere else that's open to the elements when you're out on the course.
If dirt persists, use that bristle brush with a vinegar solutions (one part white distilled vinegar, two parts water) and give it another go.
Next, keep items out of your bag, and keep it in a cool, ventilated area for any remaining bits to dry out before stashing it away.
Q: How do you carry your golf bag?
A: If you're not a cart guy (or you don't want to pay the ridiculous rental fees), you're going to be lugging it across the course. Y0u can practice carrying it at home to get the feel for it.
The correct way to do this is all over one shoulder. Find the broadest part of the strap, and place it at the tip of your shoulder. You have two ways to do this, so if you're a powerlifter or just know how much your shoulders can take, you can either keep your bag inline with your side. Basically, it's hanging underneath your arm like a messenger bag, while your arm rests along the top. Some bags will have a specific armrest area.
The other way to do it is sling it over your shoulder, so it's going at a forty-five from your shoulder blade, across your upper thigh. This one is going to impede on how you walk if you're not used to it, so move with confidence. If you'd like to even out the weight, you can find a double strap stand bag and other weight distribution features.
We're just going to take a minute to remind you that it's very easy to pull your shoulder if you're not careful. Cart bags in particular can be heavy, but stand bags should be respected as well. Don't be mister macho out on the course, because it's only going to screw you over in the morning, or it could even wreck your game. After enough time in pain, your body sends endorphins to cancel it out, and you no longer understand how much damage you're doing. There are plenty of golfers with torn rotator cups, all because they didn't listen to their body.
Q: How many golf clubs can you carry?
A: This isn't a question of capacity; it's a question of how many you're allowed to have. Golf has a crazy amount of rules and stipulations, and one of them, as defined by the USGA, is that you can only have a maximum of fourteen different clubs at one time. You can't just throw fourteen of any type in, mind you; there's even more stipulations for that. This is what you're allowed to bring along:
3 Wood Drivers
8 Irons
1 Putter
Yes, that's only twelve. The stipulations that surround this state that you can fit those empty two slots with whatever you'd like. If you wanted three putters (we're not sure why you would, but it's an option), you could do that. If you showed up with four putters, you'd be screwed, though. We recommend putting a good sand wedge and a pitching wedge in those other slots.
Sources:
Clubs - USGA
How To Organize Your Golf Club Bag - SportsRec
Sign Up Now
GET THE VERY BEST OF GEARHUNGRY STRAIGHT TO YOUR INBOX