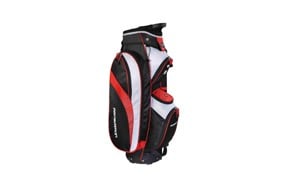 Prosimmon Professional Tour Bag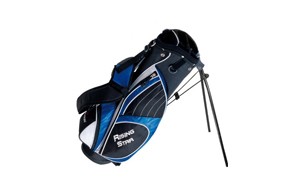 Paragon Rising Star Jr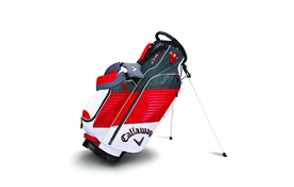 Callaway 2017 Chev Stand Bag
Clubs try to sell them to you, "experts" try to say that you need more than you actually do. We're enthusiasts – every golf bag on this list has been used by a staff member at Gear Hungry or our close friends. You don't need to spend a fortune or get all the extra fancy fixings; you need function, appropriate weight, and durability. Once again, we're here to hook you up with the best of the best from the far reaches of the internet.
Best Rated Best Golf Bags in 2018:
1. Cobra Ultralite Golf Bag
See More Reviews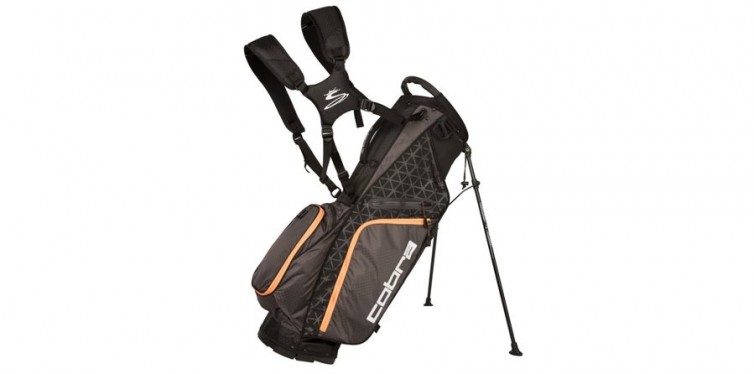 The perfect blend of cost, effectiveness, and the features you need, not just the ones you want. Cobra came on top for their design and durability, among other things. You get five zippered pockets, one slip pocket, and a five-way top open that comes complete with full-length dividers for your clubs.
This bag comes in multiple colors to contour to your golf attire, and can also come in a standard cart bag size. This model also includes a rain cover for drizzly days, slides over one shoulder for quick carry, and weighs just over two pounds when it's empty. Rookies or veterans that want a change – you've met your ultimate golf bag.
Key Features:
Stand bag
Insulated beverage pocket
Comfortable strap for easy carry
Specification:
Brand

Cobra

Model

ULTRALIGHT STAND GREY/ORG

Weight

2.3 pounds
See More Reviews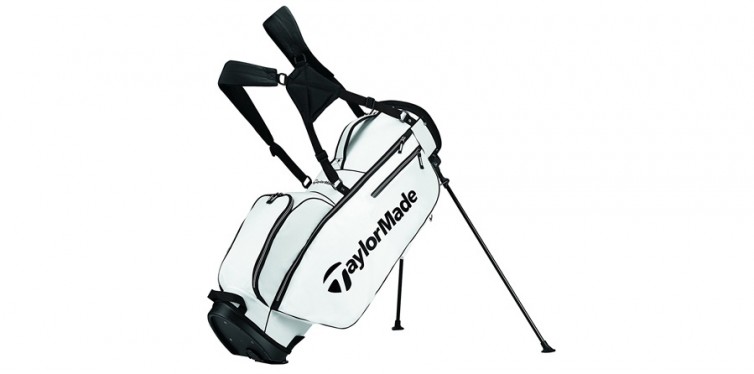 Available in four colors and ready to go when you are, this premier golf bag comes with a four-way divider, rain cover, and umbrella slot – you'll be prepared for anything that comes your way. TaylorMade is an affordable brand, while giving you fair durability. Users report having this bag for 3-5 years on average before noticing wear and tear (weekender use).
The comfortable shoulder strap and perfect split stand make this bag simple to use; this is a lightweight bag that's not designed for heavy duty use or professional tours. This bag is extremely easy to clean, and includes a slip pocket for valuables.
Key Features:
4-way organizational top
Sturdy, durable stand
Comfortable shoulder strap
Specification:
Brand

TaylorMade

Model

TM Stand Bag 5.0 WhtBlk

Weight

4.6 pounds
3. Prosimmon Professional Tour Bag
See More Reviews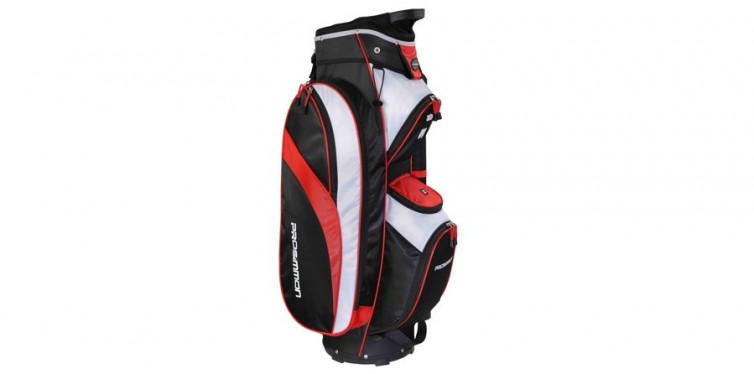 With fourteen dividers and a style that clips to your cart, this is the ultimate option for the professional golfer. With a velcro glove holder, numerous zippered pockets for your valuables, and an attached towel ring, you get everything you need for the course.
Instead of a holster, you get an external umbrella strap to secure it. This uses less material and weighs less, allowing optimal room for the external putter tube, which is made specifically for a large-headed putter. With an included rain hood and the most simplistic design you've used yet, your game day isn't dictated by adverse weather.
Key Features:
Velcro glove holder
Towel ring
Inexpensive, professional grade
Specification:
Brand

Prosimmon

Weight

5.3 Lbs
4. TaylorMade Flextech Crossover Stand Bag
See More Reviews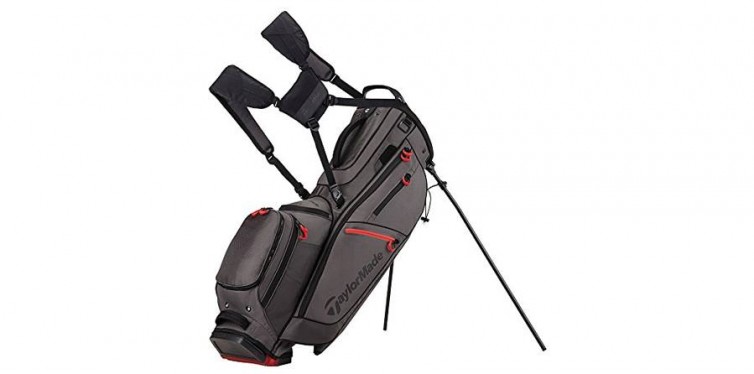 TaylorMade's bags come in handy when you're on your own out on the course, and all without breaking your wallet in half. Available in five styles and outfitted with a custom, insulated water bottle pocket, this stand bag also includes a large insulated cooler pocket  to bring along perishables to enjoy after the ninth hole.
TaylorMade is known for it's easy-to-clean bags, reliable stands, and unique Flextech technology that allows you to really stuff your golf bag with everything you need. Less materials, more storage for your money.
Key Features:
Flextech fabric
Halfway-down 14-club divider
Comfortable, broad shoulder strap
Specification:
Brand

TaylorMade

Model

B1581801

Weight

7.2 pounds
5. Callaway 2017 Fusion Stand Bag
See More Reviews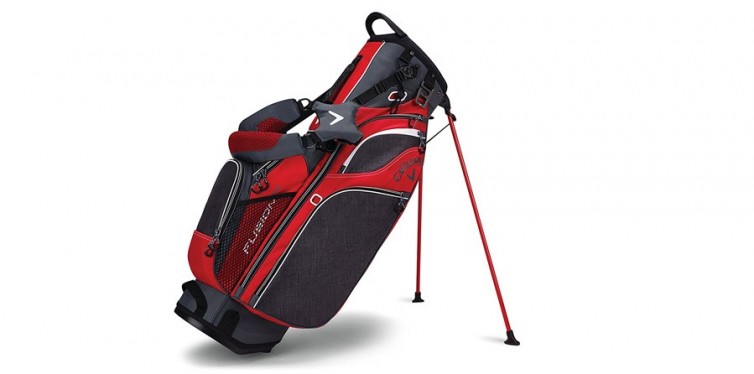 Callaway is one of the first brands that come to mind when you think of golf equipment. This 14-way divider gives you full control of your club set without damaging them during transit, while your towel ring comes with an integrated bottle opened (who doesn't want to enjoy a cold one out on the course?).
You have the option to utilize a single or double shoulder strap; either are comfortable, and supply you with stability when you need it most. Be your own caddy and set up the Callaway Fusion model; you'll wonder how you lived with anything else.
Key Features:
Lightweight bag at only 5.6lbs
14-way full-length divider
Towel rack/bottle opened combo
Specification:
Brand

Callaway

Model

5117037

Weight

5.6 pounds
See More Reviews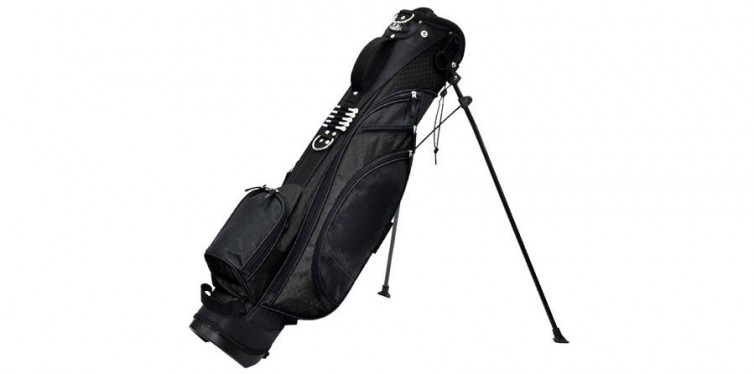 If you're going into your golfing hobby with a strict budget, you can't get a better value than the RJ Typhoon. At a jaw-dropping price (in a good way), you get a dual harness strap that alleviates physical stress by administering it evenly across your shoulders.
Included is a rain hoodie, four easy access pockets for valuables/small items, tee holders, 5-way full-length dividers, all wrapped-up in a lightweight design. This is our editor's pick for the perfect first-time golfer bag; you'll learn what you like, what you love, and have the perfect foundation to make decisions for your professional set one day.
Key Features:
Inexpensive introductory price
Dual harness strap
Multiple insulated pockets
Specification:
Brand

RJ Sports

Model

TYP5084-Black

Weight

3.7 pounds
7. Paragon Rising Star Jr
See More Reviews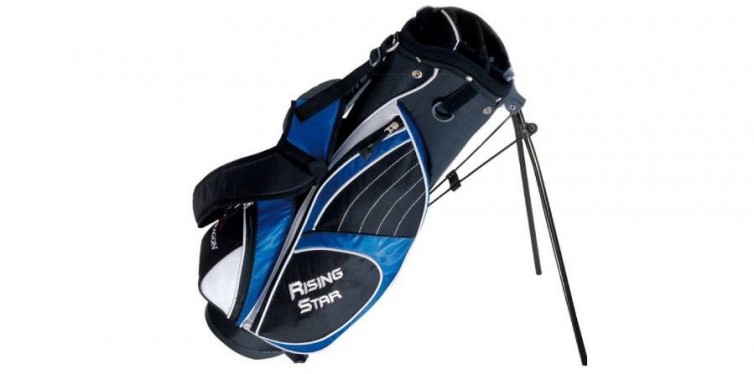 Budgeters will be doing somersaults out on the course when they reveal just how inexpensive this golf bag was. Full durability and multiple pockets give you the feel and use of a professional, pro-tour golf bag without paying the sticker price.
This model comes with a comfortable shoulder strap, solid construction, support bars for the stand so you bag doesn't tilt over on uneven ground, and enough pockets to store valuables in, such as a wallet or your pocket watch/shades.
Key Features:
6-way divider on top
Lightweight construction
Extremely inexpensive
Specification:
Brand

Paragon Golf

Model

761038100895

Weight

4.4 pounds
8. TaylorMade 2017 Golf Cart Bag 5.0
See More Reviews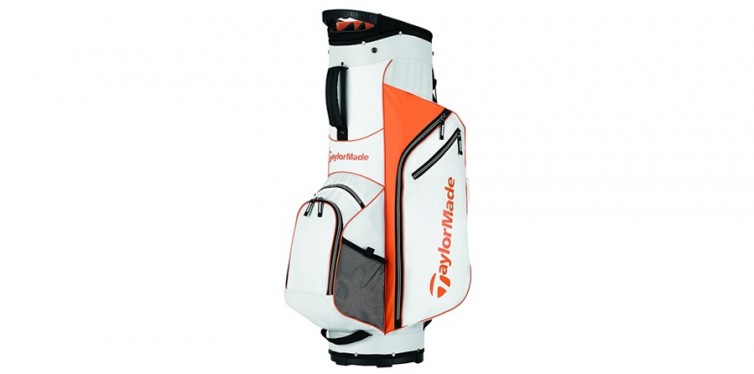 No fuss type of golfer? Sometimes, it feels like it takes way too long just to get ready to hit the course, when all you want to do is get up and go. This minimalist design comes with everything you need, excluding those "extras" that some golfers just don't need (which reflects in the attractive price).
Velour-lined pocket for valuables, clips to your cart, two additional garment pockets, and an umbrella sleeve with a matching rain hood. This bag also comes in six colors, comes in under 5lbs for optimum travel, and has fourteen full-length dividers. Grasp onto the integrated grab handle, and head out the door – you're ready to tear up the course.
Key Features:
Designed for your cart
Velour-lined valuables pocket
Lightweight; minimalist approach
Specification:
Brand

TaylorMade

Model

TM Cart Bag 5.0 WhtOrg

Weight

6.4 pounds
See More Reviews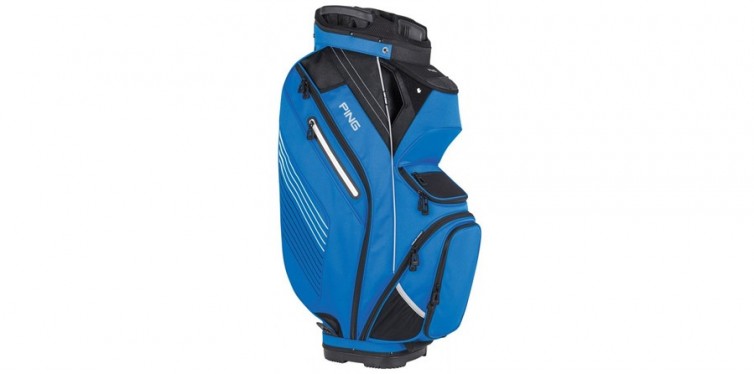 With an ergonomic design and crafted to clip to your cart, the Pioneer bag is perfect for the on-the-fence golfer. Not certain that you want to commit or go pro? Avid golfer who wants a durable bag? Wherever you are on your path, the Pioneer will be right next to you.
Magnetic pockets allow you to keep your valuables secure – no more accidentally leaving a pocket unzipped. Available in six colors, attractively priced, two water-resistant pockets, coming in around 7lbs – this golf bag was made for your play style. An insulated cooler pocket, 15-way top and a zip-off, customizable ball pocket panel are waiting for you.
Key Features:
Magnetic pockets for easy access
Nearly a dozen additional compartments
Molded putter well
Specification:
Brand

PING

Model

33294-04

Weight

9 pounds
10. Callaway 2017 Chev Stand Bag
See More Reviews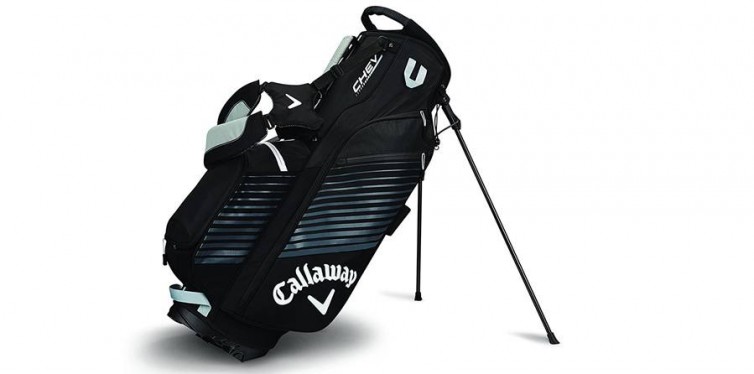 Callaway makes its mark again with another fantastic product. As one of their most affordable, customizable bags (five colors to pick from), you get the perfect feel of a tour bag in this compact stand model. Velour-lined pockets are perfect for your valuables, while the 7-way top gives you just enough selection out on the course.
Soft mesh makes this breathable, so mildew won't be a concern – if you're planning on leaving your bags in your trunk/closet for extended periods of time, this is a lifesaver. Ergonomic strap makes it easy to carry, all while remaining under 6lbs.
Key Features:
7-way top
Two velour-lined pouches
Attractive price on a top-quality brand name
Specification:
Brand

Callaway

Model

5117044

Weight

5.2 pounds
Golf Bag Buying Guide
Whether you're a rookie or you're a course veteran, you'll be able to learn something in our comprehensive guide. We're about to explain different bag types, cleaning and maintenance, tips to avoid problems from forming, and all the little fixings that you may (or may not) want in your golf bag.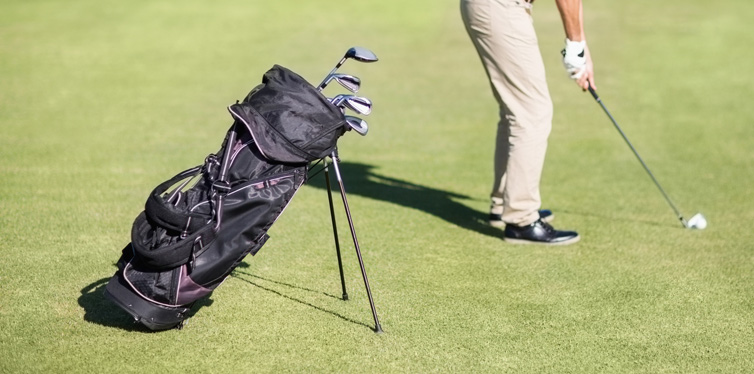 What is a Golf Bag?
These are primarily designed to carry around your clubs from hole to hole, even if you're using a golf cart. Depending on your frequency of use, whether it's recreational or professional, you may encounter times where you wish you had all the little details that turn your golf bag into a mobile golfing headquarters. Let's talk about that.
Different Types of Golf Bags
Carry Bags - Designed for lightweight travel, these make your game a little quicker, and don't require you to hire a caddy. In some cases, you can even avoid using a cart if you want to get a workout without killing your back. These are the ultimate weekender golfing bag; recreational use, lightweight travel, easy to pack. These don't come with extra pockets or features on average.
Cart Bags - If you're taking the cart with you everywhere you go, you can leave your bag attached to it. These usually come with as many additional pockets as possible for rain covers, umbrellas, and extra slots for golf balls and spare tees.
Staff/Tour Bags - Recommended for professional use only; don't be a hero and go for this type unless you know what you're doing. These can weight up to ten pounds on their own without a single item in them. Imagine the weight of your clubs and additional items on top of that.
Stand Bags - A totally viable option for the golfer who wants to carry his own clubs. You won't have a caddy dropping your bag on the dirty ground; you can stand this up on its own, and access everything you need without it getting dirty.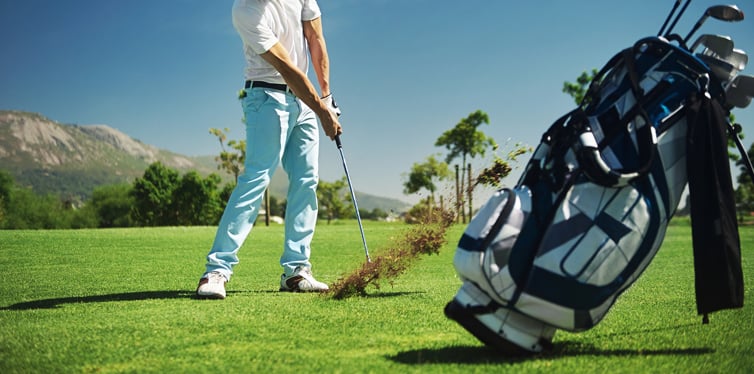 How to Clean Your Golf Bag
There's a quick, two-step process to clean out your bag. Keep in mind that even if you don't notice any debris, it's always a good idea to clean out your golf bag the second you can. It's easy for bits of dust and dirt to get in, attain moisture, and attribute to mold and mildew that you'll find on your next trip. Nobody wants that. Here's what to do:
Start with a bristle brush; plastic bristles will work fine, just ensure that they're durable enough to get the job done. You want to tilt your bag upside down and begin gently brushing the entire exterior of the bag. The vibrations from the brush and gravity of the bag being upside-down will allow small clumps of dirt/pockets of sand to fall out on their own.
Use a damp (not soaked; you shouldn't be able to squeeze water out of it at all), and wrap it around your hand. Use it to get in the corners of your additional pockets, your dividers, and anywhere else that's open to the elements when you're out on the course.
If dirt persists, use that bristle brush with a vinegar solutions (one part white distilled vinegar, two parts water) and give it another go.
The important part is to keep items out of your bag, and keep it in a cool, ventilated area for any remaining bits to dry out before stashing it away. Keep mildew out, keep the durability of the bag going for years.
Things to Consider When Purchasing a Golf Bag
Divider System - You have a nice set of clubs, and you don't want them clanging together in the middle of your golf trip. A divider system can be simple, only having two or three compartments, or you can have up to fourteen individual slots for each and every club you own. The more dividers, the more expensive the bag, and often times it attributes up to 1.2lbs to the overall weight.
Weight - Your equipment can get mighty heavy; going with a lightweight bag helps reduce your loadout, so you spend less time applying icy hot patches and more time doing what you love - golfing.
Size - This comes down to your clubs. If you're a true golfer (or at least an enthusiast), you should know the dimensions of your set, and apply that knowledge to the dimensions of the bag you choose. As with anything, the larger the size, the more fabric is used, and the more it will end up costing you.
Pockets/Compartments - Simple enough; you want to hold extra golf balls, tees, perhaps an additional glove or even a sports bottle. Pockets and compartments are nice, just don't get a bag with way more than you need.
Towel Rings - You pay good money, you work your rump off to purchase a good, quality golf bag, so you would reasonably want it to remain nice and clean. A towel ring gives you quick access to a rag to wipe of dirt or mud before it can stain or embed itself into the fabrics of your golf bag.
Rain Covers - We'll be the first ones to admit we overlooked this little feature. It wasn't until it started to come down heavily that we realized the mistake we'd made. Woops. Rain covers are your saving grace when it comes to protecting your equipment. Rookie golfers make the mistake of brushing this feature off, but it really is a lifesaver.
Umbrella Holder - These are pockets that are specifically designed to accommodate your umbrella. They're awkward items, but these pockets make it simple to store and retrieve. If you're dee enough into your game that you don't want to hit the road when it rains, you need full preparation (especially if you're acting as your own caddy).