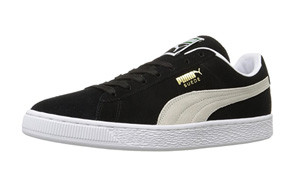 Puma Suede Classic Shoe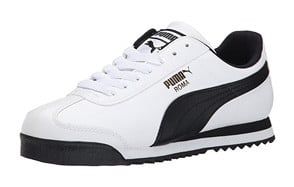 Puma Men's Roma Basic Shoe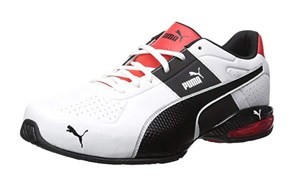 Puma Cell Surin 2 FM Shoe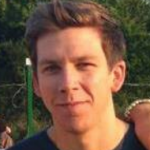 Puma is known the world over for their high-performance sports shoes as well as their more lifestyle orientated athletic footwear. Initially set up by two German brothers, one of who set up Puma and the other Adidas (yes, talk about sibling rivalry at its finest) Puma has enjoyed great accolades and success over the years with many a sporting and celebrity sponsorship. From the footballer Pele to women's tennis ace Martina Navratilova and more recently a collaboration with Rihanna, Puma still continues to dominate the sports style footwear scene, with plenty of classics as well as high tech innovations. Let's take a look now at why Puma is loved by Olympic gold medallists and Rock Star royalty in even measure and why we are confident that there will be the perfect Puma men's shoe out there for you.
The Best Puma Shoe
Puma Shoes For Men Buying Guide & FAQ
How We Chose Our Selection of Puma Shoes:
Our comprehensive buying guides are made up of our own research and also scouring the internet for customer feedback, good and bad.  That way we can bring you valid information about not only the key features of the products but also any positives and negatives that you should be aware of. All of this information along with your extensive FAQ section is designed to provide you with as much valuable information as possible ahead of any purchasing decision. We also try and review a real cross-section of models and prices so that we can hopefully cover off something for everyone. That means both budget and more expensive trainers will feature in this guide and we appreciate that you all have different leisure pursuits and reasons for purchasing a new pair of Puma sneakers too so you will find shoes designed specifically for running alongside those that are more of a lifestyle and fashion choice. Puma really does have it all, and hopefully, our review reflects that.

Features To Look For In Puma Shoes:
Buying a pair of any shoes comes with a checklist and a pair of Puma shoes is no different. Depending upon when, where and for what purpose you are buying your Puma shoes will determine some of the features that you should look out for. There's no point investing in a pair of trainers you intend to run in if they don't have ample cushioning and support. Likewise, if you are thinking of doing any climbing or walking over different terrains they you will need enough traction and outsole grip to ensure that you are safe and secure across different surfaces. Here is our recommendation below of the key features to consider: Size, Design, Color, Comfort, Cushioning, Insole, Outsole, Arch support, Breathability, Material, Durability
Just a couple of important observations on some of the more technical features that you might need to consider.
Sockliners come as standard in many of the Puma shoes and these could well end up being a Godsend, especially if you wear your trainers for prolonged periods of time. A sock liner will not only protect your feet from blisters which nobody wants but also act as an internal temperature management system for your feet. Puma shoes come with a couple of different sock liner systems that you should look out for.
Breathactive– this is a mesh sock liner with active microchannels that helps to wick moisture away from your feet, keeping them cool and dry
PWRCOOL Technology with CoolCELL Materials– the presence of CoolCELL materials will really go a long way to helping keep your feet fresh and fresh all day long. Great addition if you are in a warmer climate.
Ortho Ecolite– Puma shoes utilize the Ortho Ecolite to provide a cool layer of protective cushioning to the soles of your feet. Again, this think layer also actively wicks moisture, but Ortho's are also very effective at preventing blisters and any other unwanted foot conditions that can be prone to developing if your feet get too hot and sweaty.
Let's also take a look at some of the important Protection features that Puma fit into their range of shoes. Puma understands the importance of safety and security but also flexible comfort, so they offer a variety of technologies in their range of shoes designed to support you.
Netfit Lacing Technology- this is a revolutionary style lacing system used in some of the more technically advanced Puma shoes. This is whereby the entire upper portion of the show is covered with net that secures the shoes so that you can loop your shoelaces through the holes to provide a tight, snug and secure fit. Ill-fitting, loose shoes can cause blisters, so a good lacing system is vital for endurance performance.
Finally a quick review of the cushioning element of Puma shoes as there's no point at all investing in any new footwear if it's not going to be comfortable.
Insoles– Puma takes great care to ensure that all their shoes, technical or lifestyle have just the right amount of cushioning to provide your feet with the best ride possible. Their most popular insole is the one we mentioned above, the Eco Ortholite which is not just comfortable but also happens to be durable as well as eco-friendly.
Midsoles - The midsole unit is the element found between the insole and the outsole and is important because this provides shock absorption in a technical running shoe. Puma uses a number of different methods and technologies for their midsoles including Cell Cushioning Technology, Ignite Foam, Nrgy Beads and Outlast Memory foam. Again, depending upon what type and model of show you are investing in will determine the kind of midsole that it comes fitted with.
Outsoles – Again of vital importance and not to be neglected when making your purchasing decision. A flimsy outsole is no good for anyone, especially if you are traversing over rocks or solid land. Puma has a series of patented outsoles technologies they deploy in their extensive sneaker range to ensure your optimum support and comfort. These include Puma duoCell, Puma iCell. Either of these is a must have if you are likely to put your body, your feet and therefore your trainers through any amount of regular and repeated impact.
Puma really has thought of it all so whatever your sport of choice they will have the perfect technical shoe designed to support and enhance your performance goals fully.

PUMA: About the brand
Where do we start when it comes to the illustrious brand history of the world-renowned performance sportswear brand that is Puma? Well, as with all great success stories, the beginning sounds like a good place for some background info before we bring their journey full circle and bang up to date.
Something you might not know is that Puma was started back in 1924 by two brothers in Germany. They opened up their Dassler Brothers Shoe Factory and the success pretty much rolled on from then. Pretty much all the German Olympic team from 1928 were wearing Dassler spike track shoes, but their name really hit the headlines when Jesse Owens won no less than four Olympic gold medals on Dassler home turf of Berlin, in 1936. A succession of other leading Olympic athletes went on to compete in Dassler produced performance shoes and the rest, as they say, is history.
It wasn't until 1948 though that Puma came into being when the brothers when their separate ways. The other brother just so happened to go on and set up the rival brand, Adidas. That same year Puma also brought out its Atom football shoe, and several of the West Germany football team wore them in the first ever official post-war football match against Switzerland. Football and the development and innovation of enhancements like screw in studs would play a significant part in the future of the Puma brand for many subsequent years.
The Puma brand formstrip logo which is so synonymous with the company was brought to life in 1957 and patented and trademarked in 1958, going on to be one of the most instantly recognizable global brands. This was upgraded and became the jumping cat logo in 1967.
Today that logo appears on performance apparel, bags, and shoes.
None other than Pele himself saw his team to World Cup success wearing Puma football boots on more than one occasion cementing their undeniable presence in the football fraternity.
By 1974, Puma was also designing basketball shoes and in 1977 Puma took that same reputation to the tennis courts too. Throughout the 1980s tennis dominates for Puma and brings the brand a whole new level of recognition.
It wasn't until the 1990's thought that they made a real foray into the running arena and who can forget the clever Olympic marketing campaign where Britain's Linford Christie was seen wearing Puma Cat contact lenses.
Moving on to 1998 and Puma diversifies its range via a strategic relationship with fashion designer Jill Sander to design and develop the lifestyle range of sports shoes and clothing that we associate with the brand today; fusing sport and fashion harmoniously together. Suddenly everyone is wearing Puma, even Madonna! The innovation and collaborations have gone on since then with too many illustrious partnerships to mention but safe to say that Puma is a much loved and widely worn label both for performance athletes, celebrities and as a lifestyle fashion brand adored by the masses.
Fast track to 2015 and Rihanna become their global ambassador for Women's Training where she also serves as Creative Director breathing fresh life and inspiration into some old school classics.
Puma celebrated its huge international success in 2017 with sales topping four billion and looks well set to continue being the lifestyle brand of choice.

Puma Shoes FAQ
Q: Why choose Puma shoes?
A: If the above history hasn't convinced you of the pedigree of Puma, then their attitude towards sustainability and the environment might just do so. They are dedicated to creating a sustainable future and working intelligently and harmoniously with industry to preserve the world in which we live and to minimize the environmental impact that their production and operation creates.
Puma enjoys it's position as one of the world's leading and more innovative Sports led brands with an impressive range of footwear, apparel, and accessories.
From team sport performance shoes to the football industry, to create a footwear and clothing line for the Motorsport industries and of course their bespoke Golfing range, there is literally a piece of Puma for everyone.
Q: Are Puma shoes made only for athletes?
A: While Puma has an undeniable history in performance sport and very much continue to do so, they certainly don't just make shoes for athletes although you could argue that they do make shoes that might just make you look, feel and have the performance swagger of an athlete. Their extensive sports style and lifestyle ranges make Puma accessible to all.
Puma has created a line of shoes that are for multiple uses and a whole range of specialist sports as well as general wear. Each activity works your body, and therefore it is critical to understand what additional support you might need where, which is why Puma excel in athletic and performance shoes. The correct pair of shoes can go a long way to enhancing and supporting your abilities.
Puma creates a range of versatile styles for serious sportsmen, but they also have more minimal designs and colors that are great for anyone just looking for a new pair of sneakers. In fact, Puma has you well catered for, whatever your sporting prowess so even if you are a dedicated couch potato, they don't discriminate!
Q: How to wash Puma shoes?
A: Puma shoes are high performance and therefore designed and constructed to be durable and to withstand wear and tear. They should be relatively low maintenance to manage and easy to clean. Depending upon the principle fabric with which your shoes have been manufactured will determine best practices for cleaning them.
If you have a leather pair, wash them over with a soft damp cloth and do no entirely immerse in water.
For nylon or canvas shoes, you a soft cloth and scrub the rubber uppers with a mild soap. Do not use any harsh detergents or bleach to clean them.
If you've opted for a synthetic made shoe, again use a soft damp cloth, but you can also use a soft bristle brush to scrub the uppers clean if they have become scuffed or dirty.
Finally, for more delicate suede or nubuck style shoes and sneakers, you should use a specially designed suede brush to the outsides clean.
Sources: