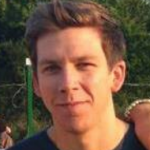 Golf is generally associated with plaid pants and old-time hats—much like every other sport, it's evolved, and grasped a younger generation, and with that comes an array of tech-inspired products that are certain to knock your ridiculously high socks off. From rangefinders to organizers, all the way back and again, there's something for you or your favorite golf enthusiast. Groove sharpeners, push carts, and polos galore. Looking for the gift to beat all the others? Yeah. We thought so.
Top Golf Gifts For Men In 2018
Garmin Approach S20 Golf Watch
See More Reviews
Serious golfers whether in the professional circuit or in the amateur ranks require only the best and most efficient device to keep them fully abreast of their game. And with an awesome minimalist design with multi-holed wristwatch band the Garmin Approach S20 Golf Watch is simply made for the modern-day driver of the fairways. The watch comes with a variety of technologies like autoshot golf round analyzer and stats tracking to help you stay well ahead of your competitors. The S20 gives you all the correct and timely information you'll need to advance your gameplay and help you conquer any circuit.
Putt-A-Bout Grasroots Oar Three Putting
See More Reviews

Want to perfect your shots but you simply cannot find the right time to leave work and head out to the greens? At only 9 feet by 3 feet, you can actually place the Putt-A-Bout Grassroots Par Three Putting Green right in your office so you can practice driving and putting your favorite golf balls during break time. And if this is not at all possible, you can always find space right at home or perhaps even in your living room to enjoy a few swings of your club. It's got built-in sand traps that have been cut out from the putting surface.
See More Reviews

It's all about precision placement. Now, you don't have to go to an exclusive golf driving range just so you can practice swinging at those golf balls of yours. Simply place the Jef World of Golf 23-inch Collapsible Chipping Net in your backyard and you're good to go. Since the Chipping Net has been designed for utmost portability, you can bring it anywhere so you can practice all you like. It easily converts from a large 23-inch chipping net into a smaller, more precise 7-inch frame. This lets you practice your precision golf shot placement and drives with relative ease.
TecTecTec VPRO500 Golf Rangefinder
See More Reviews

The TecTecTec VPRO500 Golf Rangefinder is a laser binocular like no other. You may consider it as a form of cheating but it is actually designed to be perfectly legal on any US competition. The VPRO500 features a state-of-the-art Pinsensor technology which gives you very accurate measurements of distances of various subjects in the field of view. This means that regardless of the presence of obstacles, wooded areas, hazards, and even flags, the VPRO500 is guaranteed to give you highly accurate measurements up to a meter in power. Its target seeker functionality allows for faster acquisition of the flag, helping you in your drive.
Suncast GO3216 Golf Organizer
See More Reviews

Nobody likes to see his gear disorganized and full of clutter. This is especially true for golfing gear that do not really come cheap. As such, one of the most appealing gifts you could ever give to a golfing man is the Suncast GO3216 Golf Organizer. This piece of furniture may be a more expensive way of organizing your golf equipment and gear, but it does a pretty fine job at keeping everything in pristine order. It's spacious enough to accommodate two full-sized golf bags complete with clubs and other gear. It also comes with additional shelves for extra storage and organization purposes.
TruGroove Golf Club Groove Sharpener
See More Reviews

Want to improve your ball control especially on the back spin? Maybe you haven't really given it much thought, but the grooves on your golf club may have already worn out, significantly affecting the grip on your golf balls. Instead of replacing your golf clubs, you might want to give the VersaGolf TruGroove Golf Club Groove Sharpener a try. It's designed to regroove your utility clubs, irons, and wedges so you get to extend their overall functionality. The TruGroove is constructed of hardened steel tip housed in premium aircraft-grade aluminum body. Its 4.5-inch handle has been elegantly knurled for extra grip, too.
Nike Golf Icon Color Block Polo
See More Reviews

Made of 87 percent polyester for superb cooling and smooth comfort and 13 percent spandex for optimum stretch, the Nike Golf Icon Color Block Polo shirt is one of the best and most functional gifts you could ever present to someone who's into golf. The Golf Icon features a proprietary Nike Dri-FIT fabric technology that effectively wicks away moisture and sweat so your skin stays relatively cool and dry, giving you the comfort you need as you work your way from hole to hole. The spandex material integrated into the Golf Icon allows for greater range of motion with each movement.
CaddyTek SuperLite Golf Push Cart
See More Reviews
You may have won the tournament against your friends but if you went home with a lot of pain on your lower back or even your shoulders for carrying your golf bag, then the win is definitely not worth it. The next time you go for a round of golf, make sure you already have the CaddyTek SuperLite Deluxe Golf Push Cart. Unlike other golf carts the CaddyTek is so lightweight that you can easily place it in your trunk and roll it out the moment you hit the greens. Its 3-wheel system guarantees smooth rolling plus exceptional traction across any kind of terrain.
Adidas Men's Adipower Boost Golf Shoe
See More Reviews

With a unique knobby grip system on its TPU outsole, the Adidas Men's Adipower Boost Golf Shoe helps make sure you have your feet planted firmly on the greens. This allows you to concentrate on hitting the golf ball and driving it as far away as you possibly can towards the target hole. You know how critical the stability of your stance is in making the drive. The Adipower helps you accomplish this by driving your weight through the ground, making you and the entire golf course fully integrated like partners in a dance. Its insole is made super comfy, too.
See More Reviews

It's perfectly okay if the golf ball lands on a sand trap. Unfortunately, landing a ball on the water can be frustrating. The good thing is that you don't have to get into the water to retrieve your ball. Let Callaway's Ball Retriever do that for you. It may only be 45 inches long but when fully retracted, the Callaway extends well up to 15 feet. You don't even have to worry about it bending as it is made of premium quality aluminum alloy. Best of all, the ball retriever looks more like one of your golf clubs in the bag.
See More Reviews

Featuring a large surface area that is guaranteed to catch even errant balls, the Rukket Haack Golf Net is an exceptional piece of training equipment that helps make sure you never lose any of your golf balls. The netting features a unique 4-ply knotless system which simply translates to a more continuous catchment surface for your golf balls. The support poles are constructed of highly durable fiberglass, giving them the strength, ease of setup, and lightweight nature for convenient setting up. The feet of the Rukket Haack Golf Net are fully rubberized so you can place the system right in your home.
Callaway GPSy Golf GPS Watch
See More Reviews

This is one watch that you really would want to wear every time you head out with your friends for a few rounds of golf. The Callaway GPSy Golf GPS Watch comes pre-programmed with more than 30 thousand golf courses all over the world. You get the most accurate golf course description right on the GPSy including the course's distances to and from the front, back, and center of the greens. It even includes carry distances and layups to the back of hazards as well as doglegs. The GPSy is simply the best when it comes to giving you an edge in your game of golf.
Victorinox Swiss Army Golftool Pocket Knife
See More Reviews

There's no mistaking the superb quality craftsmanship of a Victorinox Swiss Army multitool pocket knife. In fact, there have been many brands that continue to emulate the Swiss knife but only one is trusted by every other professional in the world. And when golfers are in question, they only rely on the Victorinox Golftool. The Golftool features 10 different functions that are especially designed to help you make instant fixes and repairs to your golf clubs, gears, and equipment. For instance, it comes with a groove cleaner, a divot repair tool, and a tee punch, just to name a few.
SKLZ Accelerator Indoor Putting Green
See More Reviews

Accelerating your golf training needs requires the use of certain tools that will allow you to keep on practicing and perfecting your swing wherever you may be. The SKLZ Accelerator Pro Indoor Putting Green is especially designed for the avid golfing student. Its 9-foot platform that also includes an integrated ball return mechanism is so easy to assemble and set up on a flat surface. The platform features 3 alignment guides strategically positioned at 3 feet, 5 feet, and 7 feet to help promote golf swing consistency. Its 16.25-inch width is just perfect for newbies to the game of golf.
Golf Scorecard Holder And Yardage Book
See More Reviews

Despite the fact that there are literally hundreds of digital apps available for download onto your smartphone or tablet to keep you abreast of your golf scores, there are still some of us who would rather keep our scores the old-fashioned way – through the use of scorecards. With the Fuzzy Bunkers Golf Scorecard Holder, we can now organize our personalized golf scorecards and give these a unique personality of their own. The package comes complete with a matching yardage book cover including a fully downloadable PDF stat tracker sheet. All you need is to print these and use as scorecards for your round of golf.
CaddyTek EZ-Fold 3-Wheel Golf Push Cart
See More Reviews

If you don't mind carrying your golf bag with you throughout the entire golf course, hopping from one hole to the next, then you clearly don't need the Caddytek EZ-Fold 3 Wheel Golf Push Cart. But if you find yourself agonizing in pain at the end of the round, then you simply must get the EZ-Fold. Unlike other CaddyTek products, the advantage of the EZ-fold is that it comes with a unique one-click button that instantly folds the golf cart into a nifty and compact carrier. Its folded-down design makes it ideal for cramming into your trunk that may already be filled with other stuff.
K-Cliffs Practice Golf Bag
See More Reviews

You really don't need a large, bulky, and heavy golf bag if you're not going to the golf course to play a round or two. If your primary intention is to perfect your swings at your favorite local golf driving range, then you may find comfort and convenience in bringing the K-Cliffs Driving Range Mini Course Training Practice Golf Bag instead. It's nifty and lightweight and comes in a spectacular design that can hold up to 7 golf clubs including your favorite driver. The shoulder straps are fully detachable giving you added versatility in its use. It's fully water resistant, too.
Callaway Ultimate Golf Set
See More Reviews

Know someone who is interested in playing golf but clearly lacks the means to get a really nice golf gear? Then, the Callaway Men's Strata Ultimate Complete Golf Set should be on top of your lists. This 18-piece set already comes with all the right tools that every beginning golfer will need to practice making fantastic shots worthy of the pros. Each club is designed for maximum forgiveness while optimizing the flight characteristics of the golf balls sent flying by these clubs. It's got a great combination of hybrids, woods, and irons that will help anyone become a master of the greens and the clubs.
NFL Embroidered Golf Towel
See More Reviews

This may not really be your idea of a great gift for an avid golfer. However, the NFL Embroidered Golf Towel actually makes perfect sense if you can forgive the use of NFL teams on the face of the cotton and rayon fabric combination. Of course, this is not to say that NFL players don't deserve to be mixed into golf professionals or vice versa. The point is that this particular golf towel is just perfect for wicking the perspiration off your forehead so you can always concentrate on your drive. Its swivel clip allows for easy attachment to your golf bag.
Nike Men's Golf Legacy91 Hat
See More Reviews

Don't let the glare of the sun take the game out of you. Don't ever squint in response to excessive glare. Instead, keep the upper half of your face fully shaded against the harsh rays of the sun using Nike's Men's Golf Legacy91 Tech Adjustable Hat. The Legacy91 comes with a wide, curved brim that effectively shades your eyes from the sun's glare. More importantly, the Legacy91 comes with Nike's patented Dri-FIT technology that effectively hastens the rate of evaporation of sweat and moisture so you'll feel cooler and more comfortable. The Legacy91 also features a snag-less closure that can be easily adjusted.
Under Armour Igniter Sunglass
See More Reviews

Having a nice hat can help you fight glare. But sometimes, you need a sunglass to give you better protection against harmful UVA, UVB, and UVC rays from the sun. While the Under Armour Men's Igniter Sunglass is designed with non-polarized lenses, the ultra-thick UV protective coating on its ArmourSight polymer-constructed lens is enough to give you the kind of eye protection you need without adversely affecting your game. Its grilamid frame is also infused with titanium, giving it durability and strength that will last a lifetime. The sporty, elegant, and stylish design is just perfect for the modern golfer.
See More Reviews

You can always place your refreshing drinks inside one of the pockets of your golf bag. Unfortunately, don't expect your drink to be ice cold the way you want it to. If it's really refreshing drinks you're after, you'd better use the OAGear Golf Bag Cooler. The OAGear is just perfect for keeping 6 to 8 of your favorite beer or soda cans refreshingly cold. The capacity is just great for sharing a few cans with your golfing buddies while still retaining most of the goodness to yourself. The OAGear comes with a no-leak liner that's been heat-sealer to help prevent spillage and leaks.
The Greatest Game Ever Played
See More Reviews

The Greatest Game Ever Played follows the rise to fame of one of the most celebrated professional golfers in the history of the sport – Francis Ouimet. Technically, Ouimet paved the way for amateurs to join the ranks of the sport's greatest as golf was relatively a sport for the rich and famous in the early 1910s. Having rose through the ranks, starting out as a caddy and slowly learning the ropes of the sport, Ouimet became the first amateur golf player ever to win the coveted US Open. The story is now immortalized in this 2005 film directed by Bill Paxton and starring Shia LaBeouf.
See More Reviews

Nobody in the professional sport of golf is more popular for the golf swing theory than Ben Hogan who is also known for his golf ball-striking abilities of legendary proportions. In his book Ben Hogan's Five Lessons: The Modern Fundamentals of Golf, Hogan takes novice golfers and aficionados through a classic ride learning and mastering every aspect of the sport. Readers are given a stroke by stroke and step by step account of how to be a master of the sport from the tee to the green. The approach is more like a personalized tutorial coming from Ben Hogan himself.
Golf Is Not A Game Of Perfect
See More Reviews

Professional athletes will always tell you that coming to a game physically prepared wins only half the battle. A more important issue that needs to be addressed many months prior to any game is the preparedness of the mind. This is the message delivered by Dr. Bob Rotella's Golf is Not a Game of Perfect. The noted golf coach emphasizes the need for having the correct mental attitude to will oneself to win. The messages are delivered in conversational fashion, allowing readers to have a more relaxed understanding of what Dr. Rotella is trying to convey. It's the perfect read for anyone who's interested in golf.