Best Waterproof Boots For Men in 2022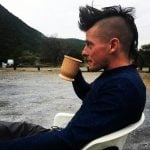 This product guide was written by Sam Anderson
Last Updated
January 20, 2018
Sam Anderson
Sam Anderson has followed a passion for well-told stories and nature's beauty from university classrooms to mountain adventures. After earning a bachelor's degree in literature, he leaned into a life fueled by road tripping, rock climbing, coffee and beer, and renegade camping. He has worked as a chainsaw operator, house carpenter, and window cleaner, at one point running his own window cleaning business. He has finally settled with his girlfriend and small zoo in the western American desert, trading his tool belt for a keyboard.
GearHungry may earn a small commission from affiliate links in this article.
Learn more
You work hard, so your gear should work hard for you. There's nothing that puts a damper on the day more than your boots flooding with water from a puddle or unexpected rain. Your feet reek when you get home, your boots get destroyed and build bacteria, and your wife begs you to keep them in the mud room, or outside. You don't need any of that. Waterproof boots provide you with the peace of mind that your equipment will stay dry, comfortable, and avoid all the issues that come with boots that flood; athlete's foot, the extra purchases of odor eaters, and everything in between. Here are the best picks we've found and personally tested for the best waterproof boots for men.
The Best Waterproof Boot For Men
Columbia Men's Newton Ridge Plus II Waterproof Hiking Boot
Hiking could be an enjoyable activity, but rain could easily turn a mildly challenging trail into a punishing one and leave you with ruined shoes– that is if you are wearing the wrong gear. Anyone would tell you that rugged hiking boots are the best companions on a hiking trip as they can deal with the more challenging surfaces thanks to their durable construction. The Columbia Men's Newton Ridge Plus II Waterproof Hiking Boot is created for the adventurer in you and is perfectly equipped to take you through any hiking trail with relative ease. What makes the Columbia Newton Ridge Plus II such a great pair of boots is the construction as it is made with a mixture of suede, mesh, leather. What's more, its leather construction is of the highest quality and holds up well against water and can be used on rain-soaked trails. In addition, it also features a mesh tongue that allows your feet to breathe while you walk around in these shoes.
Additionally, the mesh tongue improves the comfort of the user, and the addition of suede material makes for a lightweight shoe that is easy to transport from one place to another without stressing out too much. Still, on the fantastic features of the Columbia Newton Ridge Plus II, it features rubber soles that are easy to use and helps the user gain better traction when walking. This also reduces the stress on your feet, making walking around these boots a delight. Looking under the hood for a bit, you will be delighted by the excellent Techlite midsole, which has an incredible cushioning effect on your feet. All of these make the Columbia Newton Ridge Plus II a no-brainer and easily our best choice for best waterproof boot.
Key Features:
Excellent Techlite midsole that creates a cushioning effect for the wearer
OmniGrip ensures that the wearer can walk about with ease
Mesh tongue provides breathability for the user
Durable construction that lets it last for longer than most boots
Specification:
Brand

Columbia

Model

1594731

Weight

2 pounds
Timberland White Ledge Waterproof Boots
The biggest name in boots, whether it's work-related or for personal style, Timberland's got your back everywhere you track. This classic Timberland style comes in wheat-brown or all-black, giving you the perfect arch for stability, rubber soles for traction and grip, and the waterproof seal you need when you're out on the job. Hikers love Timberland, and these work/hiking hybrid boots transition with your lifestyle. Featuring abrasion-resistant leather and gunmetal-tone rings for your laces, these are the boots that won't quit on you. Wear them down and lace them up a million times—they'll keep on kicking.
You may also be interested in some of the best snow shoes from our list. Don't miss them.
Key Features:
100% premium leather upper
Leather from LWG silver-rated tannery
EVA midsole
EVA footbed
Recycled rubber sole
Available in five colors
Specification:
Brand

Timberland

Model

12135214

Weight

2.25 lb
Skechers Men's Relment Pelmo Chukka Waterproof Boot
One of the noticeable features of the Skechers Men's Relment Pelmo Chukka Waterproof Boot is its stunning design. The brown colored outer layer is beautiful to look at and is sure to go with most of the clothes you have in your closet. Apart from that, the construction of the shoes are also top-notch making it more than just a 'pretty face' and it has our respect as a pair of boots that can go to war with you. More so, the boots are made with 100% leather which doesn't only make it more robust, but it also does an amazing job in dealing with situations involving water.
The Skechers Men's Relment Pelmo Chukka Waterproof Boot is your ideal companion when taking a hike, and the synthetic sole is well constructed to provide better traction. That's not all, the boots are also useful for social events and can be worn to parties, on dates, or even office events (as long as the dress code allows for it.) Furthermore, the lace-up enclosure is adjustable and easy to maneuver until you get the perfect fit. No doubt, Sketchers is a company that has been around for a long time and are a brand that many trusts, with the Skechers Men's Relment Pelmo Chukka Waterproof Boot, they have once again shown their quality; hence it is worth shelling out some money to get this excellent and versatile pair of boots.
Key Features:
Made with 100% leather
Synthetic sole for better traction
Lace-up enclosure for perfect fit
Beautiful design
Specification:
Brand

Skechers

Model

Relment Pelmo
Sperry Top-Sider Men's Avenue Duck Boot Chukka Boot
There's just something adorable about the duck-shaped Sperry Top-Sider Men's Avenue Duck Boot Chukka Boot that is appealing to any potential buyer. Maybe it's the rubberized Wellington toe which is perfect for rainy or stormy weather, or the tough leather construction that makes it such a long-lasting pair of shoes. Whatever the case, the Sperry Top-Sider Men's Avenue Duck Boot is an excellent product and is worth considering by buyers who want a tremendous waterproof pair of boots. If all of the above is not enough to convince, then the synthetic sole should do the trick. The sole not only create excellent traction but alsp leaves no markings and is ideal for both wet or dry conditions.
As for the inside, it is quite warm and comfortable with warm thermal linings ensuring that you are always comfortable when you pull on these shoes. Besides, the design is charming and makes this a pair of boots that are sure to draw attention wherever you go. Moreover, it has a lace-up enclosure that allows the user to control how they wear the shoe. As mentioned above, this is undoubtedly a good pair of boots, and it is unquestionably worth consideration when having a conversation on your next pair of boots.
Key Features:
Rubberized wellington toe which does well in wet conditions
Thermal lined footbed for greater comfort
Beautiful design that stands out when worn
Durable construction lasts longer than most boots
Specification:
Brand

Sperry

Model

Avenue Duck Boot

Weight

2 pounds
Servus Comfort PVC Steel Toe Waterproof Boots
Comfort technology is crucial when you're dealing with tall, steel toe boots. Many of the elements—including the waterproofing—can make them function, but uncomfortable. Servus crafted the perfect blend between function and comfort; whether you're out on the field, in the heat of the warehouse, or stomping through the grounds of a food processing facility, Servus won't give up on you. These lightweight boots come with removable cushion insoles that are machine washable and dryable, so even when you sweat and it starts to mess with the inside of your boots, you'll be able to remedy the situation without purchasing additional insoles.
Columbia Cold-Weather Bugaboot Waterproof Boots
Tracking through the sleet and the snow? Columbia's going to take you there in dry comfort. The rubber sole provides premier waterproofing, while the external components are comprised of leather and textile blends. When you head out into the winter wind, you'll get chilly just about everywhere—that's where Columbia's Bugaboot comes into play. Heat reflective interior linings maintain your heat level, so you can say goodbye to numb toes. Columbia brand boots are often revered as the best men's waterproof boots; that comes down to preference, but results speak for themselves.
From the brand that nobody hears about anymore, but everyone remembers: Sketchers USA brings excellent waterproof boots, optimized for working conditions, and great for everything else. Ankle-high with rubber soles, these premier boots give you enough of an arch to keep some bounce in your step, and high-quality, durable leather on the outside to protect you against the elements. With shock absorption worked into the insoles and steel rings for the laces, the classic American look has never been more affordable. Available in six different leather finishes for every style, (though the charcoal finish is our favorite). 
Okay, so the name sounds a bit funny, but there's no joking when it comes to the immeasurable quality that Timberland brings every time. Waterproof with rubber soles, this leather fabric boot comes with a sturdy arch that keeps you moving. A padded collar ensures that you'll be left with little to no irritation, even if the collar gets slightly damp. Flume Boot is the boot designed with workmen in mind; the tongue ensures that you won't get random debris and brush stuck in your boots while you're trudging along. In short, it's the hiking boot you've been waiting for.
A brand you rarely hear from, but never forget; Hi-Tec mixes style and functionality with this premier waterproof boot. Lace up through tight metal triangular loops, securing the tongue to your feet to avoid debris and mess from sneaking into your boot. Available in three different designs, each including removable soles, traction rubber cupsoles, and a leather textile exterior, your foot has found home.
Premier gunmakers Smith & Wesson—yes, the very same ones—bring you American made, premier leather boots for work or hiking. Outfitted with nylon laces, an arch to support every walking style and foot type, and built Smith & Wesson tough, you've just found the only boot you'll ever need. Crafted in full leather and designed with outstanding comfort for those all-day tasks, you'll need for nothing with America's premier gunmakers wrapped around your feet. With such attention to detail, a premier brand name and every other excellent feature, you wouldn't believe how affordable this boot really is.
With over 40 different styles to choose from (that's right), there's a style for absolutely everybody. Full leather exterior and a rubber sole provide you with the comfort and durability you need to work all day, and play immediately after. You don't have time to switch into sneakers between the job site and the bar, and with Timberland 6" Boots on your feet, you won't have to. Platform and heel measurements are specifically designed to create a supportive arch, so those with arthritis will greatly benefit. Be sure to also check out our list of the best Keen shoes for more great items like this.
You get an appreciation for the Old West just looking at these spectacular boots. Crafted fully of leather—like any good set of men's waterproof boots should be—this ultra stylish and functional pair of boots comes at an affordable price. You get shock absorption to withstand everything that happens on the worksite, as well as excellent traction for every occurrence. You get a personalized fit thanks to the Eva insoles, which conform to your feet and make a mold of your footprint. Slip into Rockport Rugged Bucks easier the second time, and keep on throughout the day, into the night.
Merrell Waterproof Hiking Boots
Available in four completely different styles, you'll be able to find the perfect appeal and enjoy the quality of a true hiking boot. Merrell Waterproof Hiking Boots will be great on the worksite, and even better on the trail. With an arch that's designed specifically for trekking through the dirt and at a steady incline, you'll be the master of the woods in no time. A synthetic sole and leather/textile exterior give you the support and durability that you need, all while conforming to more of a waterproof shoes type of look. Woods or the worksite, you're king now.
Hi-Tec Altitude IV Edition
Heavy on the waterproofing and even heavier on the appeal, Hi-Tec comes in swinging again with waterproof hiking boots that stand the test of time. Users have had a pair of Altitude IV's for years before you could even see any wear and tear. Your brass hardware is completely rust-proof; if you end up trudging through the water more often than not, you'll still be in the safe zone to ensure your boots never see a spot of rust. Garner traction and stick out the roughest parts of your day with Hi-Tec.
Kingshow Men's Waterproof Boots
Bringing in the second most affordable pair of boots on our list, Kingshow brings you waterproof boots with budgeting in mind. With synthetic leather to bring the cost down, and a waterproofing seal that's specifically designed for cold weather, you'll be able to take on anything that's coming. New England winters don't stand a chance; slush and sleet, snow and ice, it's all second fiddle to the power that Kingshow packs. Praised for their versatile designs and true fits, Kingshow brings excellent quality at a price that newcomers can afford. If your first pair of waterproof work boots are Kingshow, you've done your wallet, and your feet a favor.
LABO Men's Waterproof Boots For Winter
Cost-effective beyond belief, these all-black leather boots boast rubber soles, adjustable laces, and a tight-knit fit that doesn't quit on you. When you're working through the slush and sludge left behind by winter melting away, you can't afford to have your boots flood, build odors, and become tattered beyond repair at a record pace. LABO aims to ensure that never happens with their inexpensive approach to the perfect wintertime waterproof boots.
ARCTIV8 Boots For Construction
One of the biggest complaints with worksite-friendly boots is that they're just marketed that way, and they're not actually comfortable or ready for anything like their advertisements say. These define proper worksite boots. ARCTIV8 Boots For Construction give you optimum mobility and keep to a stylish design, with a low arch and high collar around your ankles. Choose between eight different styles, bring them hiking, and put the man-made materials and rubber insoles to the ultimate test. We know they'll pass.
KEEN Men's Targhee II Mid Waterproof Hiking Boot
Keen might not be one of the biggest brands in boots but that doesn't mean you should ignore them. If you're looking for high-quality performance boots, you might be able to save some money by staying away from the big names like Timberland and Columbia. Having said that, these are hardly budget boots. They're made from nubuck leather, a fine-grain cattle leather that is naturally water-resistant. The material has been further treated with a PFC-free water repellant to ensure that it's 100% waterproof. 
The most impressive thing about the KEEN Men's Targhee II Boots is the way that they stop water from getting in but let the vapors out. Even on a tough hike in hot conditions, your feet will experience plenty of air flow to keep them cool. Speaking of tough hikes, you'll also benefit from the aggressive traction on the sole of the boot. It's designed with 4mm multi-directional lugs that stick to the unstable ground like peanut butter to the roof of your mouth. Another interesting feature is the ESS Shank, a section in the midsole that greatly improves torsional stability. 
Waterproof Boots Buyers Guide and FAQs
The last thing you need during your workday is to feel water seep in through your boots, saturate your socks, and give you a whole mess of issues with fungi and odors later on. The worst thing is when that happens first thing in the morning; nothing like it. You want to stay dry, clear of any moisture that tries to enter your boots, so you need the best pair. Well, we've already figured those out for you, but what should you be looking for in a pair of boots? Yeah, we thought ahead on that too.
Durability - What good is a waterproof boot if it's not durable, right? This applies to how much you can bang up your boots, especially for work, and still see them working as their original description provided. If your waterproof boots aren't durable beyond belief, you didn't buy the right pair (which is why we weed out all the crappy buys out there).
Material - Some of us have preferences, and those come down to material. For example, we've got some buddies who would rather sit on suede than leather (we call them "monsters"), and some of us would rather walk in a cloth-lined boot than a leather-lined boot. It's all about what you like on the inside, what you want to show on the outside (ladies love a good pair of boots on a rugged stud), and what that material is going to do for waterproofing.
Waterproofing Method Applied - There are two different types of waterproofing, and you need to pay attention to them. There's, well, waterproofing—you're not going to feel anything enter your boots, you're going to stay dry and keep your form without soggy socks, and the whole nine yards. Then, there's water-resistant, which is nowhere near the same thing. It's not even in the same ballpark.
Waterproofing—you're good to stomp in a puddle for forty-five minutes (I don't know why you'd want to do this, but it's your world, man).
Water-resistant—you can wear these in the rain, light snow, and you'll be totally fine. No puddle-stomping allowed.
If you're working a job where you might have to stand in a few inches of water, or you're a hiker who just can't be caught in a flash rainstorm without proper waterproofing, you'll want to go with actual waterproof boots instead of water-resistant. I mean, we didn't call this guide "Best Water-Resistant Boots," because they're just not the same.
Quality - Slap two pieces of cardboard together, tie it with some twine and put your foot in it—what do you have? I don't know either, but it's not a boot. Picking quality isn't easy when you shop online; you read descriptions, but the real information comes from reviews on Amazon. When you're not going to get to try something on until you've paid for it, and you wait for shipping, it's best to get it right the first time. Get accounts from other consumers before purchasing a product.
Comfort - Arguably, the most important part of any clothing. Shirts, pants, boots, whatever the case may be, it's only going to do so much good if you're uncomfortable. Sure, waterproof boots are going to keep the rain out, but you want to feel good on top of that, so get the right blend of function and comfort going, or you won't be happy with your purchase. Look at the interior material, get the scoop from other product owners on how comfortable your waterproof boots will be.
Price - When it comes to boots, sometimes you just want to have function over flair, and that's okay. This is where two factors come into play: how well they keep the water out, and how much they cost. If you're sold on a product after these two factors, you're not alone. Price is half the battle with any purchase. The other half is ensuring that it's actually what you want.
Waterproof Boots FAQs
Q: Are These Boots Really Waterproof?
A: If you're uncertain about your boots and their waterproof ability, the best thing to do is take a trial run. If they're already in front of you and you're referring back to this at a later date, fill a clear container with water and submerge the boot up to the bottom of the laces, without it touching the laces (this is where it can start to saturate). Hold it there for a minute or so, and feel the inside. Dry as can be.
Waterproofing is a mix between specific waxes and the airtight build that the manufacturer provides, so your boots that you found here at Gear Hungry in fact are actually waterproof. Skeptics beware: these are the real deal.
Q: Can I Use A Waterproof Compound On A Regular Boot To Save It From Water Damage?
A: Yes, you absolutely can, but it doesn't make them waterproof like these, and here's why:
There are dozens (possibly hundreds) of guides online for waterproofing your boots at home, and most of them work pretty well. However, what they actually do is make your boots water-resistant, which we talked about earlier. You're leaving your own human error in charge of ensuring that there are no missed spots, and even if there aren't, you're only going to propel the rain, and it won't work if you step into a puddle/you're submerged slightly.
The other issues with this is that, for the most part, non-waterproofed and waterproof boots end up running you the same amount of money, give or take a dollar or two. That being said, how can you justify spending money on a waxing rag, wax, and spending your time (in some cases, if you apply three coats of wax onto your boots, you could be waiting for three hours in total) waiting for boots to dry, when you could be out there doing what you do best and earning a living. Going with a pair of waterproof boots is a smart investment—savor your time.
Q: Are Waterproof Boots Safe From Rust?
A: The loops where your laces run through are always going to prone to rust, at least a little. While they've also been coated in waterproofing solution, over time, it may erode and rust. This is under extreme circumstances, and in most pairs of waterproof boots, you're not going to encounter this being an issue since your boots are always quick to dry, and the oxidization process of rust creation has a slow effect.
Q: Can These Boots Protect Against Dripping Water?
A: If you leave your boots beneath a gutter outside or underneath a constant source of dripping or running water, natural erosion is going to strip away the waterproofing, at least for that specific area of the boot, and it's going to leak in the boot. However, the gentle patter of rain is different, especially since you're not standing there and just letting the rain hit you without moving. So yes, constant dripping water will erode the coating on your boots over time.
Sign Up Now
GET THE VERY BEST OF GEARHUNGRY STRAIGHT TO YOUR INBOX