Click, Flick, Flame: In Search of Cool Zippo Lighters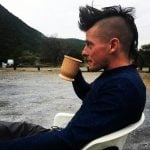 This product guide was written by Sam Anderson
Last Updated
April 30, 2021
Sam Anderson
Sam Anderson has followed a passion for well-told stories and nature's beauty from university classrooms to mountain adventures. After earning a bachelor's degree in literature, he leaned into a life fueled by road tripping, rock climbing, coffee and beer, and renegade camping. He has worked as a chainsaw operator, house carpenter, and window cleaner, at one point running his own window cleaning business. He has finally settled with his girlfriend and small zoo in the western American desert, trading his tool belt for a keyboard.
GearHungry may earn a small commission from affiliate links in this article.
Learn more
Zippo is the coolest lighter there is. That's true in America, and, due to its ubiquitous presence in WWII, arguably worldwide. But, with the vast mandala of cool Zippo lighters available, how do you choose the coolest? There are Zippos based on classic designs, Zippos in different colors and shapes, Zippos festooned with all kinds of recognizable and obscure art, Zippos featuring the world's most recognizable brands, and even replica Zippos that commemorate the originals from the 1930s and 40s.
Gear Hungry tasked me with sussing out the coolest of cool Zippo lighters, so I loaded up on my favorite smokable leaves and plants, assembled a team of experts (see "How I Chose" section for details), and got to work. At times, research and testing required unusual methods, but I'm confident that when the dust cleared, we had brought the coolest of cool Zippo lighters to the table.
Whether you're interested in the history of Zippo, exploring the artistic inspirations behind some Zippo designs, or Zippo basics like maintenance and refilling, there's something in our guide for you. So, find the piece you like, but once you've got it, don't bogart it — puff, puff, then pass, because this guide to the coolest Zippo lighters is for sharing with everybody.
The Best Zippo Lighter Review
Zippo Lovecraftian Lighters Monster Edition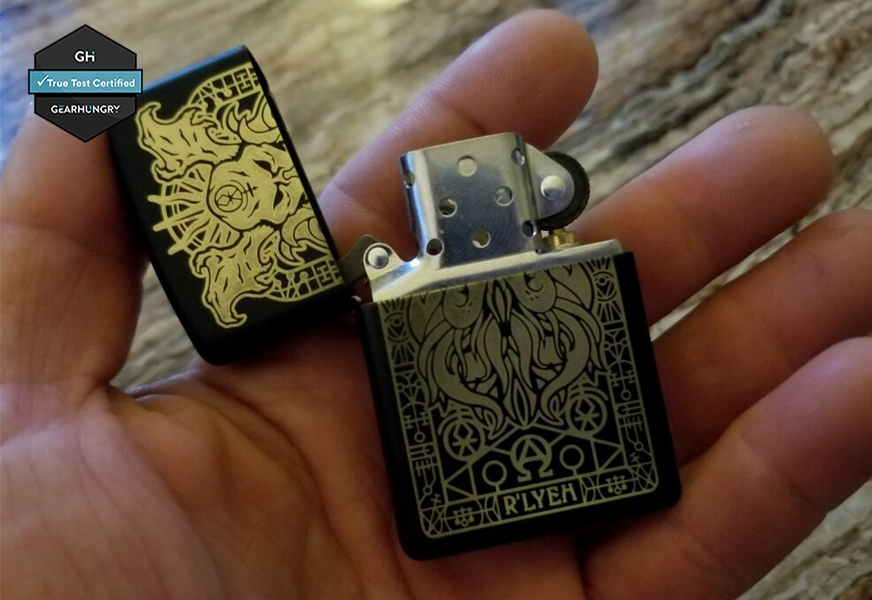 What's more far out than Cthulhu? A Cthulhu Zippo lighter or using one to light your favorite smokey treats and puncture the membrane of our feeble comprehension, emerging into a shapeless layer of consciousness where our minds might melt into putrid algae-like goo when met with the realization that a giant underwater, deep-space, squid-like alien overlord is threatening all that we know, love and cherish.
That's a very brief synopsis of the plot and object lessons of H.P. Lovecraft's Call of Cthulhu, the 1928 short story which inspired the artwork for the Zippo Lovecraftian Lighters Monster Edition. Zippo describes Cthulhu as "demonic" and "octopus-like." Honestly, I don't know what drove me to test this particular Zippo entry — perhaps I crave an encounter with incomprehensible horror myself, or maybe I like to fantasize about what would happen if everyone on earth suddenly apprehended something so mind-blowing and painful that it united us all. Or maybe I just thought the laser-engraved artwork was cool. Either way, I now think about the power of Cthulhu, imprisoned in the lost underwater city of R'lyeh, every time I light up a smoke. Read the in-depth review here.
GH Recommended Use: Contemplating the dwindling, lonely outpost that is human sanity.
Key Features:
Sci-fi overlord monster artwork
Matte black case
Gold laser engraving
Specification:
Brand

Zippo

Colors

Matte Black, Gold

Inspiration

1920s Sci-Fi
Enjoy a smoke with the awful sensation of impending alien doom
Enjoy a smoke with the awful sensation of impending alien doom
Brushed Brass Vintage Zippo Lighter with Slashes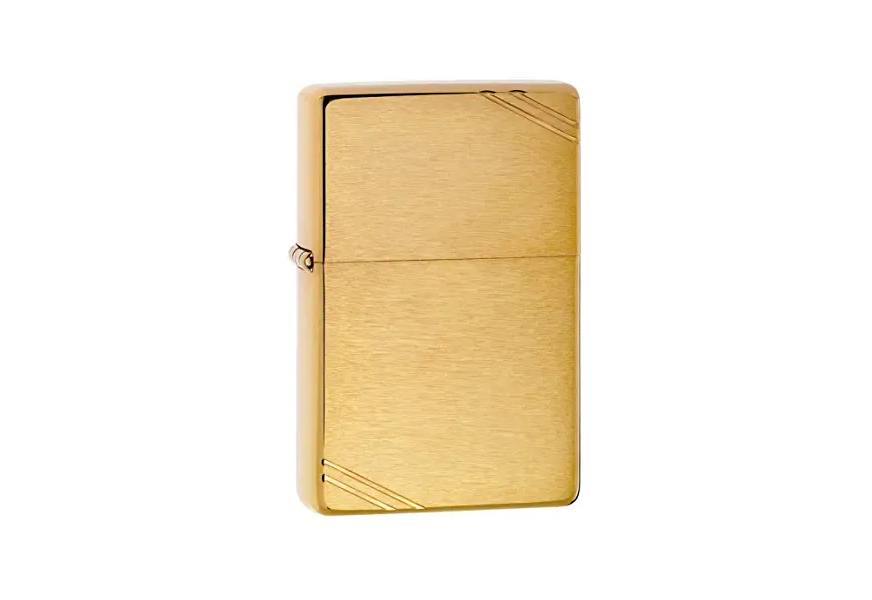 Zippo's brushed brass vintage lighter with decorative slashes is a remake of the 1935 original, with slight updates. I had to trust Zippo regarding the updates because I couldn't find anyone who had a Zippo lighter in 1935. The original Zippo lighter apparently looked exactly like this iteration, except it had square corners and no grooves.
All things considered, the claim wasn't that hard to believe. This version's brass finish is as loud as a trumpet, but the slashes at the corners give it a touch of subdued minimalism. And it's on the lower end of the Zippo price point scale. It can also make a cool survival gift for your outdoor enthusiast friend.
GH Recommended Use: Color-matching your fake Aviators, fake Rolex, and small-gauge fake gold chain as you chain-smoke cigarettes on the golf course. 
Key Features:
Slight update of original 1935 Zippo
Brushed brass finish
Grooved corners
Specification:
Brand

Zippo

Colors

Brushed Brass

Inspiration

Original 1935 Zippo
Same finish material as the most offensively loud musical instruments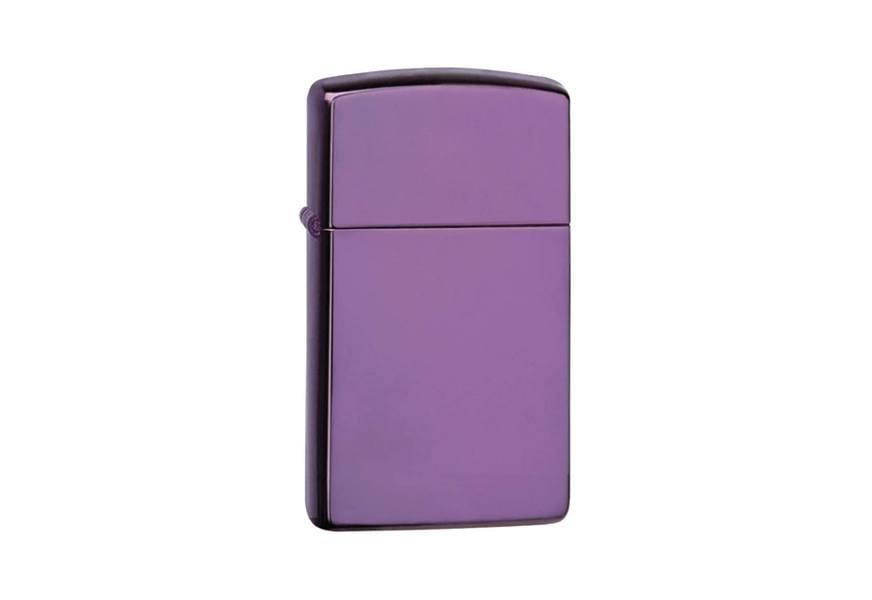 Zippo's colored lighters are exactly that: different colored Zippo lighters. You can get Classic High Polish Purple, Candy Apple Red as rich as Mae West's lips, or the always-cool Classic Black Matte — each for fewer than thirty bucks. Many other choices are available, including several polychromatic iridescent options reminiscent of items you'd find in the room of a 12-year-old who was really into lava lamps and blacklight posters.
If you are Patrick Bateman, the sadistic anti-hero from American Psycho, you will get the "Black Ice Boxed Lines" colorway.
With such a wide range of choices, Zippo colored lighters are among the most popular Zippo lighters. They're available with or without a small "Zippo" logo on the bottom corner and in a "slim" style, narrower but slightly taller than a conventional Zippo. As a general rule, slim Zippos are a few bucks cheaper than the traditional size. Get the best Zippo designs in (virtually) any color of the rainbow. For more cool products like this, check out our list of the best firestarters on the market.
GH Recommended Use: Collect 'em all!
Key Features:
Various colors available
Optional "Zippo" brand on case
Slim style available
Specification:
Brand

Zippo

Colors

Assorted

Inspiration

Spectrum of visible light
Express your true self with your choice of color!
May result in misery induced by tyranny of choice (look it up)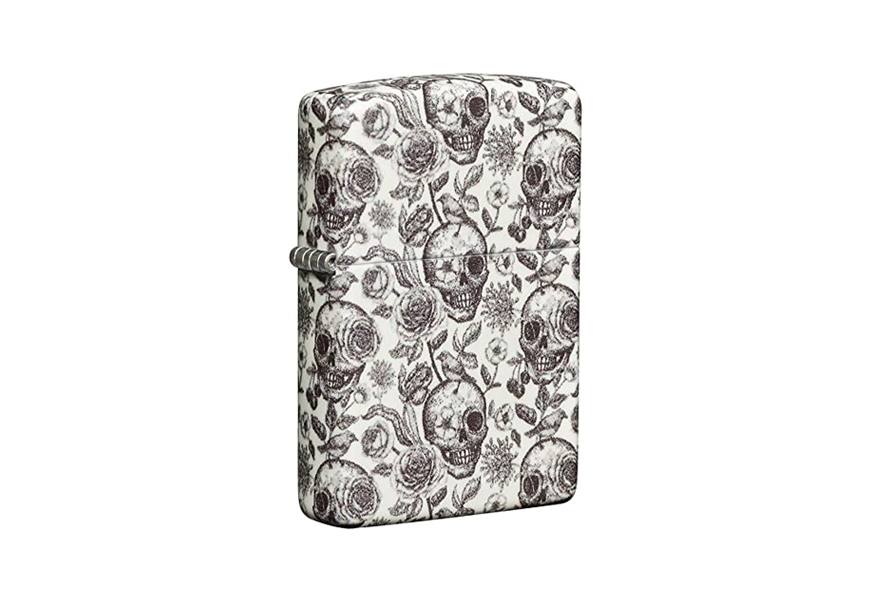 Zippo skull lighters are the clear choice for hardcore, macabre cool. Whether you like candy skulls, vivid, realistic skulls, or any cranial bone in between, there's a Zippo skull lighter for you. Perhaps the high-end (and pricey) bronze Steampunk styling matches your dispassionate millennial aesthetic — or maybe you're an outdoors person with a morbid side, and the green matte Outdoor Skull design is more your thing (hatchets for crossbones!) at a quarter of the price.
Personally, I'm anywhere between the "Bar Skull," with its Edward Gorey-esque take on a decaying drinker, and the "Death Card," a detailed, striking take on tarot card XIII, the Messenger of Death. Collaborations with fantasy artist Anne Stokes are also available.
The most differentiated Zippo skull lighter is probably the collaboration with WOODCHUCK USA, called the Skull & Snake — buy one of the laser-engraved lighters, and WOODCHUCK USA plants a tree as part of its Buy One, Plant One program. The Skull & Snake is also the clear choice if you have a Camaro IROC-Z with T-tops and wear wraparound shades day and night.
With Zippo Skull lighters, you can express your personal interpretation of death, match your lifestyle choices or tattoos, or just look cool. According to Gear Hungry Zippo lighter expert panelist Macho Man Randy Savage (he was on the panel I assembled, I promise), Zippo Skull lighters are "INDOMITABLY, INDUBITABLY, INVISIBILITY…LY…THE MOST AWESOME ZIPPO LIGHTERS — OOH YEAH!"
GH Recommended Use: Dirt naps
Key Features:
Various artwork and price points available
Artwork collaboration with Anne Stokes
Tree-planting collaboration with WOODCHUCK USA
Specification:
Brand

Zippo

Colors

Assorted

Inspiration

The experience that unites all living beings
May be offensive to people without cranial flesh
Zippo Classic Antique Copper Lighter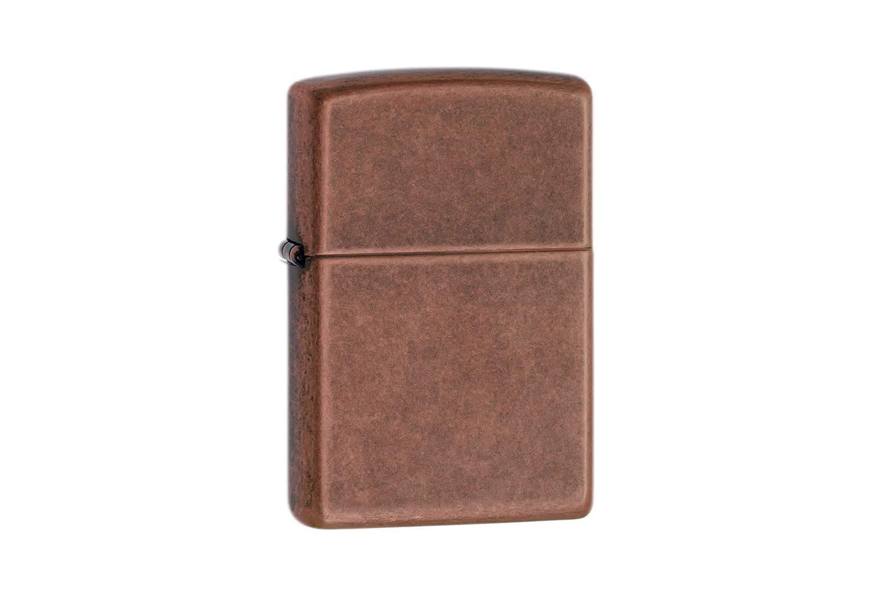 Zippo proclaims, "[t]he wait is over! the Classic Antique Copper finish lighter makes a highly requested return from the vault!" It looks like that's where it came from: the finish on this baby looks just like the patina on Grandma's old copper kettle. There's no telling when Zippo last made such an old-timey copper case, but the company was founded in 1933, and this handsome lighter looks just like a relic from that day and age.
But 2021's Classic Antique Copper lighter is updated to meet the needs of modern smokers. Try calling the finish "distressed" for a modern vocabulary feel. Then, order an insert tailored specifically toward your smoking habits: choose either a classic Zippo insert (chimney with many small holes) or an insert designed for pipe smokers, featuring two big holes in the chimney to help draw the flame downward.
Light up your Sherlock, meerschaum, or corncob pipe with the Zippo Classic Antique Copper lighter and pretend you're a sea captain in the 1800s or a proto-feminist in the roaring '20s. Or just capture a low-key cool look with a unique Zippo. For more must-have pieces of gear, check out our list of the top waterproof lighters to get right now.
GH Recommended Use: Lighting aromatic tobacco while reading early editions of Melville novels.
Key Features:
Distressed copper finish
Available with pipe insert
Re-issued case
Specification:
Brand

Zippo

Colors

Antique Copper

Inspiration

Previously discontinued Zippo
Cool antique look and feel
Makes you look like you use a telegraph instead of a phone
Zippo WOODCHUCK USA Leaves Lighter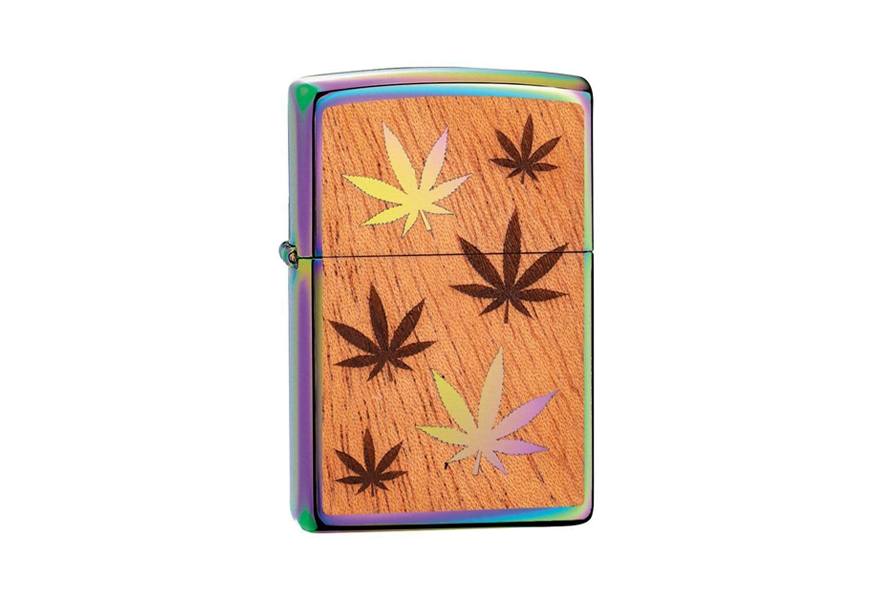 Zippo's WOODCHUCK USA "Leaves" Lighter was almost too easy to pick for this list. All I had to do was stop thinking about fractals and being paranoid that all my neighbors were listening closely to every sound coming from my apartment, remember what I was doing, take a deep breath and go with the flow.
Zippo's collaboration with WOODCHUCK USA is pretty cool; the Minneapolis, MN-based custom wood gift company anchors itself on its claim to plant one tree for every product sold.
Zippo's Leaves lighter (and every other entry in the Zippo/WOODCHUCK USA collab) is part of the tree-planting program, dubbed "Buy One, Plant One."
The Leaves lighter itself radiates old-school psychedelic charm. Real wood panels are the showcase, laser-cut with recognizable seven-pointed leaf designs. The case itself is Zippo's warped, iridescent take on multi-color. The overall effect is an odd hybrid between organic and synthetic, natural and supernatural.
The Zippo WOODCHUCK USA Leaves lighter costs exactly the price of a quarter ounce of my favorite smoking mixture in my market. WOODCHUCK USA doesn't specify what kind of tree it plants for every sale — use your imagination!
GH Recommended Use
: Festivals
Key Features:
Each purchase plants a tree in collab with WOODCHUCK USA
Real wood panels on case
"Leaf" design
Specification:
Brand

Zippo

Colors

Wood Inlay

Inspiration

Climate change
Classically trippy aesthetics
Feel good about your purchase
May draw unwanted attention from squares or law enforcement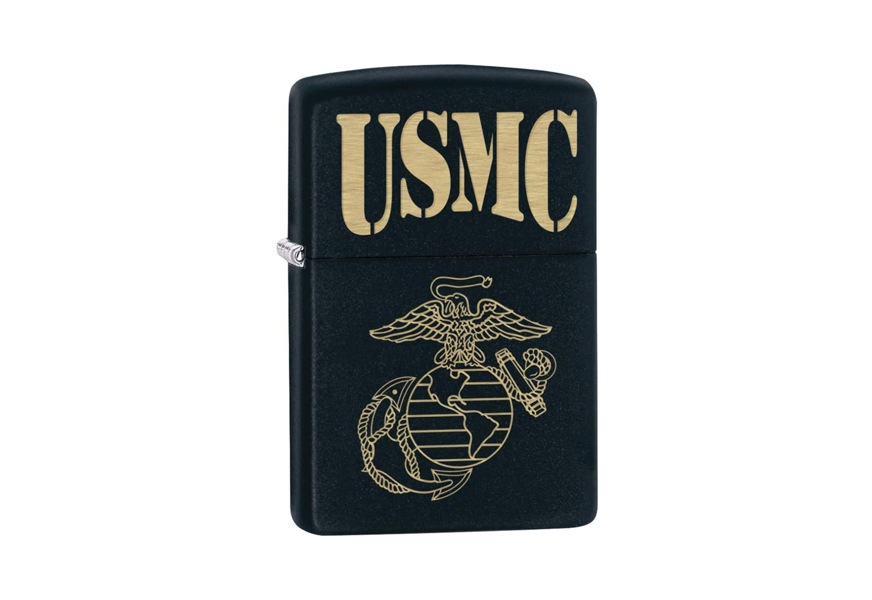 Lighters commemorating those who've served in the U.S. military are a Zippo staple. The company has rich American military history — Zippo lighters became famous thanks to American soldiers in World War II. Its commemorative military lighters are the top Zippo lighters as gifts for veterans or active-duty soldiers.
In fact, Zippo abruptly ceased civilian production and dedicated all its resources toward the war effort with the United States' entry in WWII in 1941. By and large, Zippo was the only reliable lighter at the time that was also windproof, refillable, and easily portable. Thus, millions of American WWII soldiers carried a Zippo into battle.
Zippo is transparent about the springboard effect WWII had on its commercial success: its website states, "[t]he fact that millions of American military personnel carried the lighter into battle was a significant catalyst in establishing Zippo as an American icon throughout the world," its website says.
By reputation, Zippo lighters are still highly popular among soldiers. Zippo makes commemorative gift-style lighters in a wide variety of designs for every branch of the U.S. armed services. A POW-MIA design is also available.
Military service has a profound effect on those who undertake it. Maybe the hero in your life could benefit from the simple gift of a classic lighter that helps recognize the challenges and sacrifices that come with the job. Many Zippo military lighters are engravable.
GH Recommended Use: Gift for a veteran or active duty loved one
Key Features:
Commemorates United States military service
Four major branches of U.S. armed forces represented
Custom engravable entries available
Specification:
Brand

Zippo

Colors

Assorted

Inspiration

US Miliary Servicemen & Servicewomen
Recognizes those who've served
National Guard, Coast Guard, etc. not represented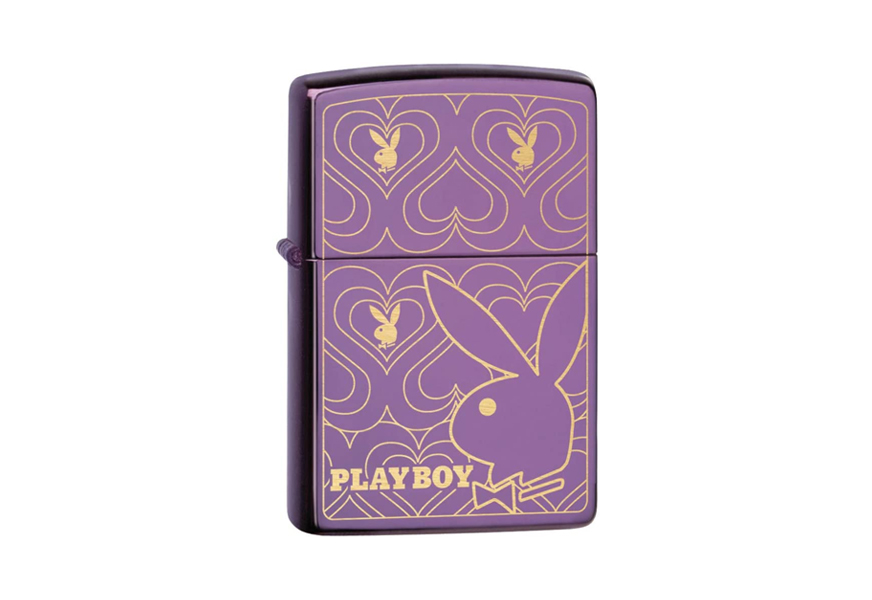 Zippo Playboy lighters pretty much speak for themselves. The notorious silhouette bunny is synonymous with adult entertainment. It's also everywhere — from suntan tattoos on bikini lines to graffiti in Nepal.
Make your priorities clear with a Zippo Playboy lighter. Zippo's website offers fewer overall entries than the vast, many-headed demon that is the internet, but there's a panoply of choice either way. The Street Chrome edition is our panel of experts' unanimous favorite, with its primary-colored tracer-vision effect and edgy distressed chrome finish.
Get your smoke on and (respectfully) express your appreciation for sexuality and the beauty of every female body with Zippo's Playboy lighters.
GH Recommended Use: Smoking a stogie, indulging in a highball, wearing a bathrobe (or not) and enjoying the pleasurable company.
Key Features:
Features Playboy bunny and script
Multiple versions available
Specification:
Brand

Zippo

Colors

Assorted

Inspiration

The Heff
Lets everyone know you're ready to party
Could cause vigorous sexual arousal in bystanders or user — proceed with respect
Zippo Black Crackle 1941 Replica Lighter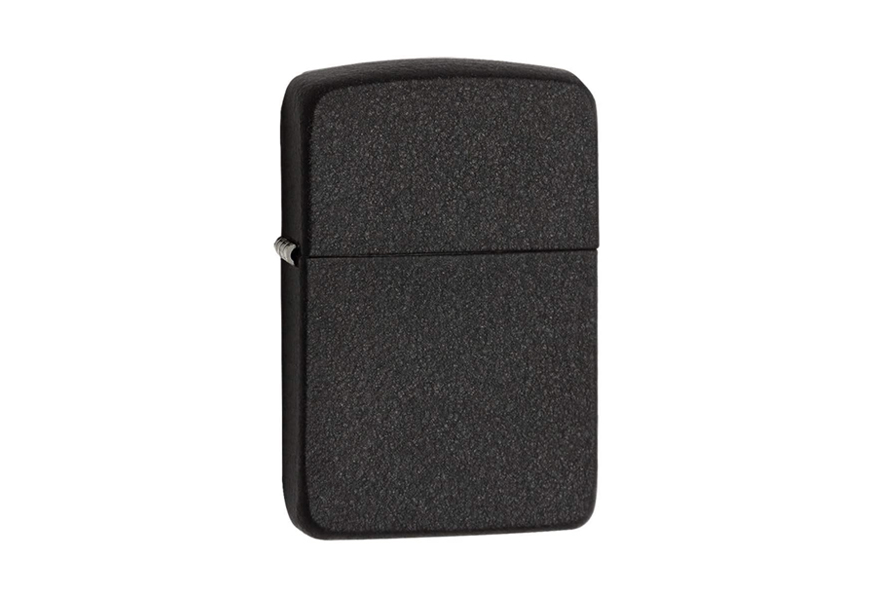 The Black Crackle lighter started it all for Zippo, and today you can still buy the same design carried into battle by millions of WWII American GIs. Zippo's 1941 Replica Black Crackle lighter is the genuine article. If you're looking for the de facto best Zippo lighter of all time, this is it.
The famous Black Crackle finish was Zippo's response to the issue of corrosion. Early chrome-finished Zippos rusted too easily when exposed to the wet, dirty conditions of WWII battlefields. Zippo devised the new finish as soon as news of the flaw arrived, coating each lighter case with heavy black paint, then curing it by baking.
Minimal contour and shaping specifics set the 1941 Replica apart from the pack. According to Zippo, some corners are less rounded, in homage to the company's 1941 manufacturing. You're not going to turn heads with the 1941 Replica Black Crackle lighter — but, logically, attracting attention was the opposite of the intended effect for the original.
Zippo offers the classic American GI lighter, a classic piece of survival gear that started it all, for a very affordable price.
GH Recommended Use
: Tactical, camping, hiking, everyday
Key Features:
Replica of American WWII GI lighter
Classic Black Crackle finish
Original contours according to 1941 manufacturing
Specification:
Brand

Zippo

Colors

Black (textured)

Inspiration

Original 1941 American GI lighter
Cool points
Durable coating
Originally designed to do the opposite of attracting attention
Why Trust This Guide
Trust this guide because, to an individual, the AllGear network is populated with gear aficionados who are also knockout cool.
We consulted with our panel of experts to gather the coolest Zippo lighters — from iconic and even historical entries to the coolest recent designs featuring brands and art. We left no rectangular prism unturned in our quest for the coolest Zippos.
Who This Guide is For
If you're interested in finding the coolest Zippos, we already know you're a cool person, so first and foremost, this buying guide to the coolest Zippo lighters is for cool people. To put it another way, it's a guide for people who are interested in cool lighters who are also cool.
But seriously, this guide is for anyone interested in American lighter culture and history, lighter art and design, different varieties of Zippo lighters, how to care for and operate Zippo lighters, and also cool lighters that are cool.
How I Chose Cool Zippo Lighters
That's easy: I consulted cool people. To assemble my team, I had to shotgun a Four Loko, take my shirt off, skateboard to the top of a nearby mountain, blow the opening notes to Immigrant Song through a conch shell and wait for the four winds to carry the summoning call to the far corners of the planet.
But when it was all said and done, our panel of experts included a dude with dreadlocks who plays disc golf, manages a coffee shop, and watches archaic Swedish art films; a semi-centenarian Japanese yogini and rock climber who once entered a wet t-shirt contest to win skiing gear (and won); Macho Man Randy Savage; and me. But I wasn't cool, so I let my dog help instead. 
How I Tested Zippo Lighters
It's not hard to test a lighter when you smoke a lot of marij — tobacco.
Features to Look for in Zippo Lighters
Versatility - A Zippo is about the most versatile lighter there is — it works with a tuxedo as well as it does with a biker cut. Because Zippos are durable, refillable, and windproof, they even make a case for backcountry carry.
Ease of use - It's as easy to get a flame out of a Zippo as it is to look cool doing it. No matter how many of the special tricks you know, the rudiments of the action are straightforward and time-tested.
Features - Each Zippo has the same guts and operating parts, but all kinds of cases and a few different sizes are available to suit users' needs and tastes.
Durability - A Zippo lighter is about as durable as it gets. The lighter made its reputation in WWII, where conditions were decidedly gnarly.
Weather resistance - Zippo lighters are windproof, thanks to their wick and chimney design. But they are prone to water. If the flint or the wick gets wet, you're hosed until it dries out. However, Zippo now offers butane torch and electric arc inserts. Butane Zippo lighter inserts, and their electric arc counterparts, can be used to increase any Zippo's water resistance.
Portability - In fact, the Zippo lighter started in the 1930s as a portable rebuild of an archaic Austrian lighter that required two hands to operate. Later, a slim Zippo became available.
Style - A Zippo is the coolest way to light a smoke when you're in America. Full stop.
Lighter fluid - Use Zippo lighter fluid or Ronsonol (acquired by Zippo in 2010). Ronsonol seems to evaporate faster; otherwise, there's no difference.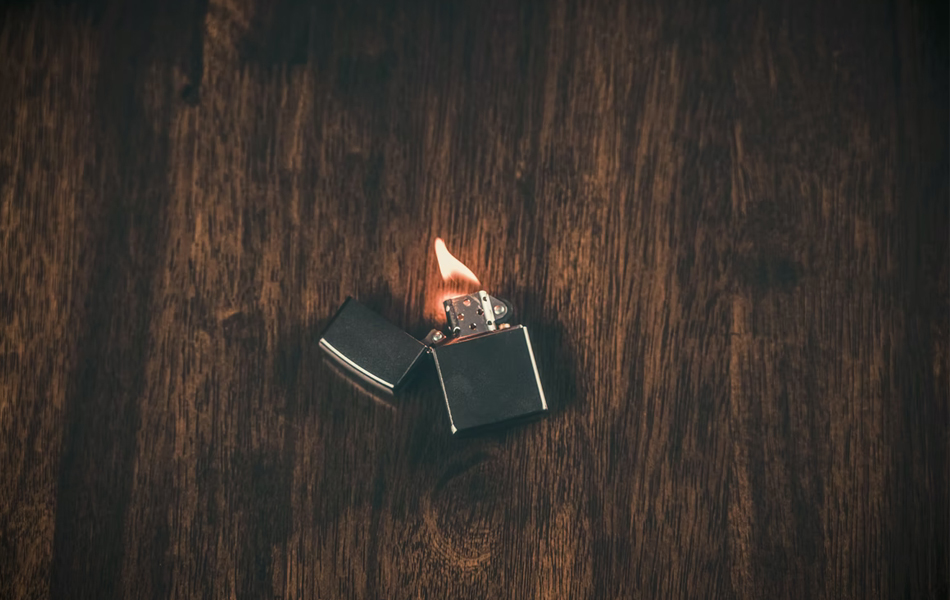 Zippo Lighter FAQ
Q: How do you refill a Zippo lighter?
A: To understand how to refill a Zippo, you need to understand Zippo lighter parts. There's the case and the insert; the insert has a lot of smaller parts inside it. For refilling purposes, familiarize yourself with the flint spring, the felt pad, the cotton inserts, and the wick.
Step 1. Remove the Zippo insert from the case.
Step 2. Turn the insert upside down and gently pull up the felt plug at the bottom.
Step 3. Check out the cotton inside the lighter. If it's dry, it needs a refill.
Step 4. Put a rag down to catch any drips. Slowly pour lighter fluid on the cotton.
Step 5. Don't overfill it. Observe the wick to see when it saturates with fluid. If a drop of fluid comes off the wick while you're filling it, that's more than enough.
Step 6. Wipe up any excess fluid and put the lighter back together.
Step 7. Strike. Behold the immortal flame.
Q: How do you take care of a Zippo lighter?
A: For any Zippo maintenance, I recommend using a knife. You can use the tip to remove parts and the spine to unscrew the flint spring.
If your Zippo doesn't spark, the flint's worn down. You can use the screw in the bottom of the lighter to expose more, but you'll eventually run out and have to replace it — multiple options are available (hint: you can stash extra flints under the felt pad).
If your Zippo doesn't ignite, check the fuel level first. If it has fuel, it means the wick no longer ignites. In this case, expose more by taking the lighter apart, (carefully) digging out as little of the cotton as you can, pulling more wick through the opening, and cutting off the excess. If that doesn't work, you'll need a new wick. The average wick life is 2-3 years, but some users get 5 or more.
Beyond that, take care of it like you would any tool. Minimize drops, don't treat it like a toy, take care to maintain it, and pay attention to changes over time. 
Q: What is special about Zippo lighters?
A: It's in the eye of the beholder. Some people will see a utilitarian, refillable lighter. Others will see a living figment of World War-era American culture. Still, others will see the greatest ignition tool ever known to humankind.
What do I see? An original: a capable object conceived to fulfill the need of its creator.
Q: Are Zippo lighters illegal?
A: No.
Q: Are Zippos made by prisoners?
A: Nope. They're made by paid workers in the company's manufacturing facility in Bradford, PA.
Q: Can a Zippo explode?
A: Sure. What metal box filled with flammable liquid doesn't explode? But in practice, they essentially cannot.
A guy on YouTube even left his lit for as long as it would burn to see what would happen. The video is extremely boring, but the aggressive techno soundtrack is not.
Q: Can I carry a Zippo lighter on a plane?
A: TSA's website says "Yes" with a green checkmark; you can carry your Zippo lighter in a carry-on bag. However, TSA's answer for a checked bag is "Yes" with a yellow exclamation point — if you want to check your Zippo, it must either be fully empty or stored in a DOT-approved case.
TSA offers no information on what cases the DOT approves for lighters. As well, it notes, "[t]he final decision rests with the TSA officer on whether an item is allowed through the checkpoint."
So...sure?
Q: How can you tell if a Zippo is real?
A: Check the bottom of the case. Genuine Zippos are stamped with one of three generations of the Zippo logo, plus a code that tells you what month and year the lighter was manufactured (which is pretty cool!). If you're still not sure, check the insert. If it's not stamped with the "ZIPPO" trademark, it's not a Zippo.
Q: Do you have to be 21 to buy a Zippo?
A: No. But in some cases, you can hit a roadblock. From what I can dig up, a Zippo lighter can fall under the category of a "novelty lighter," especially if it has art or branding on the case. Here's the best resource I could find on the topic. Notably, I can't imagine how you would get pinched for buying a Zippo online. Just sayin'.
Q: What is the hole in the bottom of a Zippo for?
A: In October 2014, an internet commenter known only as jmill208 finally deciphered the hole in the felt pad at the bottom of a Zippo lighter. His findings have altered our understanding of Zippo lighters. Full text transcribed here:
"Ahhh, the felt hole.
The felt hole is a region of spacetime in your lighter from which the felt-covered fluffy cotton prevents anything, including lighter fluid, from escaping.
If there are spare flints orbiting the felt hole, Zippo uses their orbit to determine its mass and location. Such observations can be used to exclude possible alternatives (such as neutron stars and maybe evaporation). In this way, lighter aficionados [sic] have identified numerous stellar flint hole candidates in binary systems and established that the core of the Zippo contains a supermassive felt hole of about 4.3 million solar masses. This is why your fluid only lasts a week. You need a bigger can of fluid and don't, please don't concern yourself with the size of the hole. It's tough to really understand.
Hope this helps."
Sources:
State Laws – Lighter Association
Sign Up Now
GET THE VERY BEST OF GEARHUNGRY STRAIGHT TO YOUR INBOX