GearHungry may earn a small commission from affiliate links in this article.
Learn more
How To Pick The Best Camping Spot
Picking the right spot for your campsite is almost similar to choosing the location of your dream home. There are certain factors that you have to consider to help ensure you get the most out of your camping trip. Besides, who wouldn't want a truly memorable experience, right? You can always go to established campgrounds that are specially designed to give you all the modern amenities that you need but in a campsite setting. Unfortunately, this is exactly what hundreds of others have in mind. The result is a crowded and noisy venue where personalities can clash in an instant. Don't like it? Then it's time to let go of the usual camping trip and go on an adventure of your own. But before you do, make sure to read our tips and tricks for camping that will help you choose the best campsite.
Be Knowledgeable Of Local Laws And Regulations
One of the most crucial aspects of choosing the best spot for camping is getting familiar with existing laws, rules, and regulations related to the setting of camp in certain areas or locations within a particular locality. The point is that, even if you haven't seen the potential campsite yet, you already have an idea of where you're generally heading. National parks, state parks, and even BLM land as well as other similar locations, have their own rules that need to be complied with. Many of these will also require permits. As such, even before you start packing your blow up tent for your camping trip make sure you understand the legal requirements for camping in the area where you intend to stay.
Pick A Spot Where The Terrain Is Flat And Even
With the legal requirements fully in the bag, you can begin scouting for the best possible spot for setting up camp. What you now need to look for is a flat terrain where you can easily put up a tent. Some campers, however, prefer a gently sloping terrain as the natural incline allows them to sleep at an angle and helps reduce the swelling in their legs and feet from walking all day.
In addition to looking for a flat and even terrain, it is also important to choose one that is well-drained as you don't want to wake up in the middle of the night for the simple fact that your sleeping bag is wet and water or puddle lapping at your feet.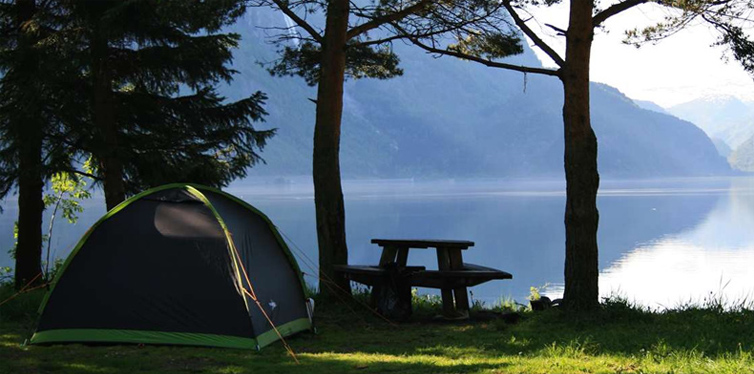 Choose A Location Where You Have Ample Shade
Once you've picked a spot that's relatively flat to pitch a backpacking tent, you might want to consider the shade. It really isn't necessary that you have coverage throughout the day. What you need is ample shade for your camping chairs or hammocks especially in the morning as waking up to the blazing hot sun is never a fun way to start your day in the wild. Morning cover is important.
Assess Your Immediate Surroundings
You have to understand that when you're outdoors, you're actually at the mercy of the elements (be prepared!). The problem is that Mother Nature herself can be unforgiving. That is why you need to scout your immediate surroundings and look for potential hazards.
As much as possible you need to avoid depressions and gullies where these can easily get inundated after a downpour. Gorges are a no-no, too as flash floods are almost always quick to develop in such areas. Exposed ridges or even hilltops should be avoided as these are especially vulnerable during a severe storm. Valley floors are also not good options.
Some actually don't recommend camping near bodies of water as these features can have other creatures, including dangerous animals, bugs and critters, visiting them. The risk of condensation is a lot higher, too. However, there are those that actually recommend building your campfire near bodies of water to make it a lot easier for you to access this vital resource. It is thus, ideal to weigh your options and choose one that can give you a safe yet fun way to enjoy your camping.
Also, avoid camping near a solitary tree in an open field as this is a magnet for lightning strikes.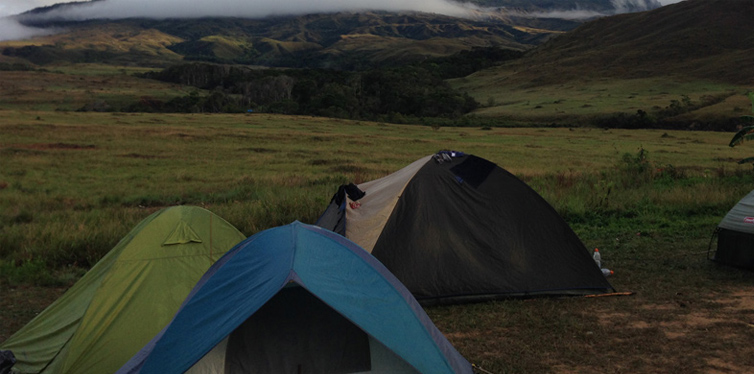 Consider The Amount Of Space You'll Need For Your Camp
If you're backpacking alone, camping space is really not an issue. As long as you have a place to pitch your solo tent, that should be enough. But if you're in a group and you have plenty of camping gear with you, you might need to consider the space requirements of your camp.
Picking the best spot for camping should not be difficult. As long as you take these tips into consideration, you can guarantee a more enjoyable, safe, and hassle-free camping trip.