Best CB Radios In 2022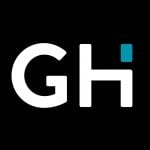 This product guide was written by GearHungry Staff
Last Updated
July 6, 2020
GearHungry Staff
GearHungry Staff posts are a compilation of work by various members of our editorial team. We update old articles regularly to provide you the most current information. You can learn more about our staff
here
.
GearHungry may earn a small commission from affiliate links in this article.
Learn more
Anyone who has to be out on the road knows the importance of staying informed. So, whether you're a trucker or an off-road enthusiast, having a CB radio will come in handy. If you want a sure road map to the best CB radios on the market, take a look below.
The Best CB Radio
The Uniden PRO505XL CB Radio has bragging rights for its compact design which comes at a very affordable price to match. Altogether, the PRO505XL offers users on a budget a whopping 40 radio channels for wide range communication in addition to a channel nine feature for an emergency. That's good news for those who spend long hours on the road and want to keep in touch with their teams. More so, at a finished weight of just two pounds, the PRO505XL also offers easy handling, so you can use it just about anywhere.
In terms of sound delivery, this CB radio is furnished with a squelch control feature that makes it possible to manually adjust the radio's capacity to suppress not-so-strong radio signals. This makes the sound produced by the radio super clear. In addition, the PRO505XL is furnished with an LCD display screen that indicates incoming transmission strength. With its bright orange backlit, you'll love how LCD displays light up at night, making it easy to see why you wish to set it on your device.
That's not all, you can hook up an external laptop or outdoor speaker for a better sound output by taking advantage of the speaker jack feature. Also, there's a microphone jack feature to connect your public address speaking unit in case you need to communicate with multiple people at the same time. Simply use the easy switch button designed to enable your usual citizen band radio frequency or the public address whenever you want. The added 2-year warranty makes the versatile yet price friendly citizen band radio great value for money.
Key Features:
Compact design
Microphone/PA jack
External speaker jack
LCD display screen
Specification:
Brand

Uniden

Model

PRO505XL

Weight

2 pounds
Two way
Multiple channels of communication
Affordable
Big hands might find controls too small
Orange display not very visible during the day
No SSB
President Electronics MC KINLEY USA AM/SSB CB Radio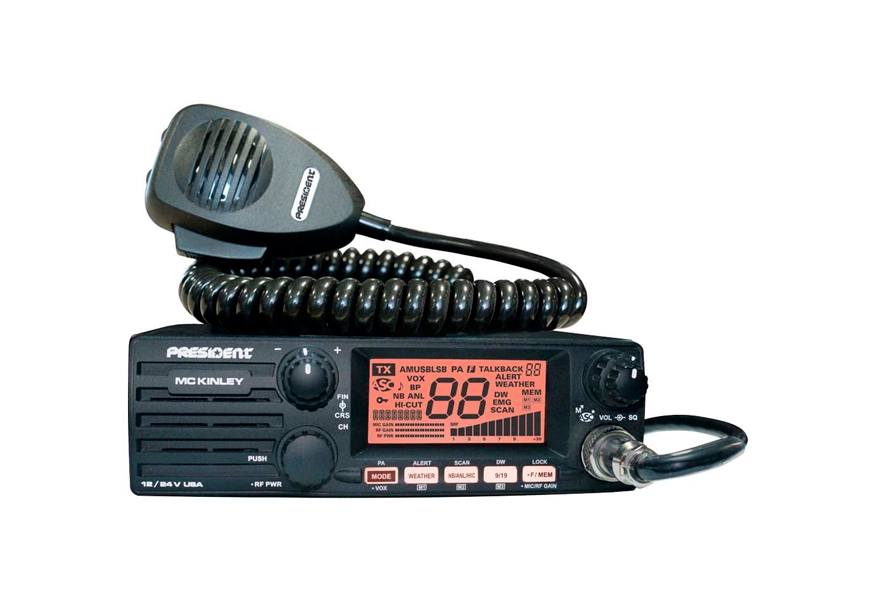 The President Electronic MC KINLEY USA CB radio is a versatile piece of survival gear that catches all 40 authorized channels available on the citizen band radio service. You'll appreciate how easy it is to tune the antenna because of the inbuilt SWR. President electronics furnished the MC KINLEY with both manual and automatic squelch control. That means you don't need to keep adjusting your squelch settings unless you want to tune out those not-so-clear sounds.
The radio's entire construction is in the compact range, making it easy to mount it just about anywhere in your car. Furthermore, you can get more sound output by connecting it to an external speaker using the audio jack. It comes with all the extras, too, including a weather channel to keep you updated on current conditions. There's also a front speaker, which ensures you can hear anyone who's on air. You'll also love the backlit display, which comes in three different colors; amber, green and blue.
Key Features:
Compact design
Manual/ auto squelch control
Audio and mic jack
Front speaker
Specification:
Brand

President Electronics

Model

McKinley USA

Weight

3.82 Pounds
SWR tuning
Affordable
Memory scanning
No radio frequency knob
Buttons and control knobs to close together
Big-handed folks find control somewhat clumsy
Radioddity CB-27 CB Radio
Here's another highly economical CB radio capable of transmitting and receiving signals from miles away. The Radioddity CB-27 CB radio is one of the most portably constructed CB radios on the market. You'll be surprised how easily the CB-27 will fit right in the palm of your hand. Yeah, it's that small, and it weighs less than a pound. It is easy to carry, install, and fits just about anywhere in your vehicle.
This radio is simple to operate with just four buttons and a knob. The buttons are well spaced, so you won't hit the wrong button even if you've got big hands. Then there's the squelch control, which offers 29 levels of manual controls and nine levels of automatic squelch.
A dedicated button for emergency situations launches you straight to channel 9. The CB-27 comes with a built-in speaker, but also has an audio jack so you can connect an external speaker for more sound output. While the package comes with a microphone, it's got a little downside. The radio doesn't come with an antenna, so you need to buy one separately. For some more quality products like this, check out our buying guide on the best job-site radios on the market.
Key Features:
RF-gain knob
Very portable construction
3.5mm external speaker jack
Auto and manual squelch control
Specification:
Brand

Radioddity

Model

CB-27

Weight

15.2 ounces
Can fit in very small space
Very affordable
Emergency channel 9/19 enabled
No antenna
AM only
Speakers are not very loud
Uniden PRO510XL Pro Series CB Radio
The Uniden PRO510XL Pro Series CB Radio is another compact CB radio design from Uniden. The makers of this radio are known for quality CB radios for entry-level users and veterans on a budget. It comes in at less than $40, yet it is packed with all the features you'll need on the go.
The radio can communicate with and receive signals from all 40 authorized CB channels. The sound output is super clear thanks to the combination of squelch control and advanced noise-canceling system (including noise from your own vehicle).  It even comes with a radio frequency meter giving users the liberty to adjust incoming signal levels.
The microphone jack is engineered into the front of the panel for convenience. As with most Uniden's CN radio series, this one also comes with a generous two-year warranty so you can rest easy as you buy. For some more essential gear, browse our list of top paracord survival bracelets.
Key Features:
40 channel
Portable design
Microphone jack
Squelch control
Specification:
Brand

Uniden

Model

PRO510XL

Weight

2.34 pounds
Affordable
Warranty protection
Background noise limiting
No SSB
No RF control knob
No audio jack for external speaker
Midland 1001LWX Mobile CB Radio
The Midland 1001LWX  Mobile CB radio is a perfect mobile communication unit when you're navigating those non-cellular network zones. The 1001LWX features a built-in weather scanner that instantly scans and connects with local weather channels to keep you abreast of local conditions while you are on the move.
The midland 1001LWX also comes with a dedicated radio frequency gain knob giving you the power to adjust your device's sensitivity manually. This CB radio is furnished with an automatic background noise limiter, so even if your incoming signal is weak, you'll hear it loud and clear.
With a finished weight of 16 ounces and a dimension of 9.8 x 9.2 x 2.5 inches, this radio can fit almost anywhere in your vehicle or your tactical backpack. The microphone cable here is conveniently long. Surprisingly given this unit's size, the LCD screen is wide enough for easy viewing.
Key Features:
40 channel communication
Portable design
RF gain control
Long mic-cable
Specification:
Brand

Midland

Model

1001LWX

Weight

16 ounces
It is lightweight
Noise limiting qualities
It offers weather channel scanning
No squelch control
Can not connect an external speaker
No SSB
Uniden BEARCAT 980 CB Radio
The Uniden BEARCAT 980  CB Radio features all you need in a CB radio. It is relatively pricey compared to some high-end brands, but still very affordable. It is also equipped with a seven-color display option, 40-channel communication, and emergency channel 9. With the push of a button, you can switch over to the NOAA weather channel to monitor local weather conditions as it changes.
Although this radio has an audio jack, Uniden also made this one compatible with a wireless microphone. Take advantage of the SWR to easily tune your antenna power so that you can get the best of your CB radio. Additionally, it comes with a dedicated button for almost every feature: RF gain, noise limiting, and a noise blanker. Add the bright LCD screen, and tuning and customizing your CB radio easy. For more awesome gear, browse our choice of the best survival watches.
Key Features:
7 color display option
Noise blanking
Memory scan
Squelch control
Specification:
Brand

Uniden

Model

BEARCAT 980

Weight

4 pounds
Long microphone cord
Wireless mic enabled
Emergency channel 9
Might be a handful for new user
Some user complained it arrived used/refurbished
Not your regular lightweight CB radio
CB Radio Buying Guide & FAQ
Features To Look For In CB Radios
Size - CB radios come in varying sizes, but they are usually small enough to fit inside of vehicles. If you want to use yours on your dashboard, it shouldn't be too bulky; otherwise, it'll give your car a clumsy look. Smaller radios often have smaller built-in speakers. So if you go small, you might need to spend extra on external speakers.
Feature Set - If you are an entry-level user of the CB radio, some features might not seem important until you get down to using your device. Some features are basic, such as 40-channel communication, speakers, or an audio jack. An LCD screen has recently become a feature found in most CB radios. Low-end CB radios offer communication on 40 channels on the AM mode only. Expensive units offer both AM and SSB. Squelch control and SWR are other features to consider.
Other features are solely for your convenience, such as the position of the audio or microphone jack, length of microphone cord, etc. They might not be deal-breakers for some users, while others, especially professionals, find these features crucial.
Radio Range - The range of the radio is the capacity at which it can transmit and receive signals. One feature that affects range is the SWR, which makes it easy to tune or calibrate the anthem for better signal strength.
CB Radio FAQ
Q: What is a CB radio?
A: A Citizens Band radio (CB radio) is a personal radio device used by individuals for communicating. It has fantastic applications in areas without cell coverage and can be a useful search-and-rescue tool. It doesn't require a license to own or use; however, if you want to operate a CB radio where the Federal Communications Commission regulates communication over the radio, you might require a certification. A citizen band radio is capable of scanning all 40 channels on the citizen band service either in AM or SSB mode.
Q: What is the range of CB radio?
A: The range is the capacity with which a CB radio can transmit or receive signals. Range largely depends on antenna power and location. The range of a CB radio might cover as much as ten miles; it could be less though. If you are on flat terrain or open country, the range may be longer. Many users have customized their device, fine-tuning it to make the range of operation greater.
Q: What is the most commonly used CB channel?
A: CB radio use is quite common among truck drivers. The most commonly used citizens band channel 19. It's so common that CB radio manufacturers furnish them with dedicated buttons or knobs for quick access to channel 19.
Sign Up Now
GET THE VERY BEST OF GEARHUNGRY STRAIGHT TO YOUR INBOX