Compact binoculars focus on minimizing the parameters where light loss occurs, thus rendering your binoculars fairly useless. Compact binoculars are what you'd expect – compact in size, all in an effort to maximize efficiency, and the easy storage doesn't hurt. These small binoculars are versatile enough to be hunting binoculars, travel binoculars (night vision), or any use you can think of. This is one difficult product to find excellent quality in, but as with every challenge, we emerged on top. There were a total of five best mini compact binoculars that we would recommend, and here they are.
The Best Compact Binoculars for Hiking
1. Wingspan Optics Spectator Model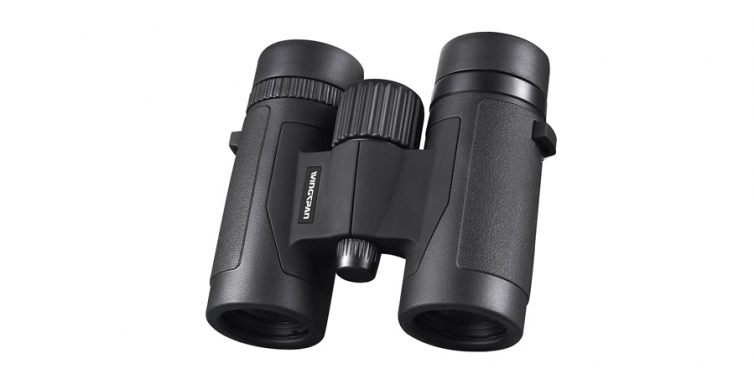 Whether you're taking up birdwatching, or tracking down game in the middle of the woods, you need more power than the naked human eye can offer. Wingspan comes at your with the most versatile, all-purpose binoculars that we've ever had the pleasure of using. With 8×32 magnification, you'll be able to see up to 3,000 feet ahead of you with crystal clear quality. There's an excellent weight to these when you're using them, ensuring their sturdy build.
These are some of the most low-maintenance binoculars we've ever used. Not only are they easy to clean and nearly impossible to damage, but these lenses, while not advertised as such, are difficult as hell to scratch (take it from the guy who dropped it on a boulder poking out of the ground). That does bring us to the one feature we didn't really get on board with: the grip. It's advertised as a no-slip grip, but in reality, the only endearing quality is the rubber stubs for finger placement. As for the grip along the actual barrel of the lenses, we would have liked to see more. That being said, this is the perfect set of binoculars for adults or children, for hunting or spectating.
Key Features:
Lifetime warranty under the promise of "Making these the last pair of binoculars you will ever need to buy"
Useful for up to 3,000 ft away
Coated for bright, clear imagery
Specification:
Brand

Wingspan Optics

Model

PS – 83201

Weight

15.2 ounces
Extremely sturdy design
8×32 magnification
Built-in grips leave something to be desired
2. Aurosports Night Vision Binoculars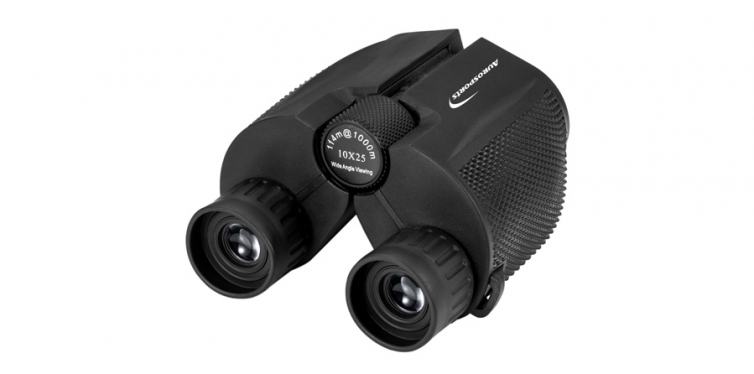 Hiking, trail-blazing, or sitting out on a rowboat on the lake – you need a great set of specs to enjoy more of the moment. That's why Autosports created one of the best all-purpose binoculars, complete with some excellent features and a truly ergonomic design. Fold it up or simply hold on to the anti-slip grip, and you're good to begin viewing. You'll be able to pass this off to your son or daughter to teach them how to properly use a pair of binoculars, gifting up to 10x zoom, accredited for up to 3,000 feet of outward view.
The lens does give a slight fish-eye view that distorts your images a bit, giving you enough of a view, but digging into that 3,000 foot outward scope a little bit if you don't have great vision. Thankfully, this model comes with complete waterproofing, allowing you to use this in rain or shine, so long as you store it properly. At this excellent price and craftsmanship, you can't go wrong.
Key Features:
View up to 3,000 feet out
Up to 10x magnification capability
Waterproof w/ hyper-durable anti-slip grip
Specification:
Brand

Aurosports

Weight

8.8 ounces
Folding binoculars make for easy storage
Perfect for hiking, but also a great tool to teach your son or daughter without breaking the bank
Fish-eye view, not as clear as competitive models
3. Nikon 8218 Trailblazer Hunting Binoculars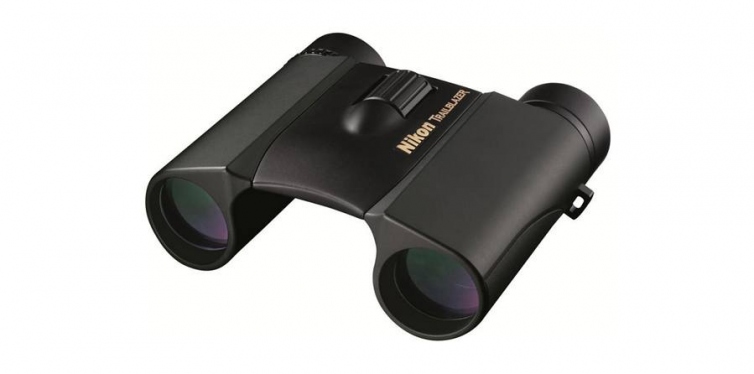 Nikon has made a career out of lenses, but now, they're bringing them to a set of binoculars that you can really get on board with. While the shape and lack of grip are a bit disheartening, the magnifying power from a trusted brand surely make up for it. These binoculars are simple to keep clean, and withstand more than just the elements – it's waterproof, fog proof, and structurally sound as it's going to get. You could do just about anything to these (not that we recommend testing the boundaries), and they'll emerge a-okay.
Eco-glass ensures that you're dealing with durable lenses that retain the perfect amount of light for these similarly-built prisms. Long-distance eye relief and convenient storage are also just part of the package. Whether you use them as travel binoculars, or have them ready to go with your kit for the hunting/hiking trail, you'll be ready to go whenever the mood strikes. Nikon is one of the top camera choices for most Americans; now, they want to be your binocular supplier as well. We're on board with that.
Key Features:
Long eye relief
Eco-glass prism + lens
Fog and waterproof
Specification:
Brand

Nikon

Model

8218

Weight

2.4 ounces
Extremely sturdy; difficult to damage
Up to 10x magnification
No real grip
Awkward to position
4. Steiner Marine Binoculars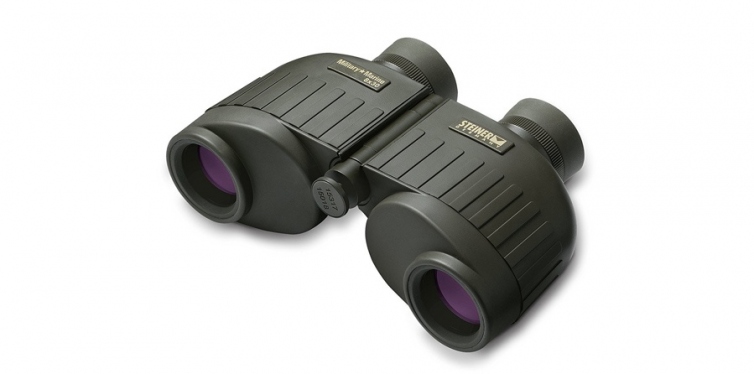 You're looking on the top tier of your budget here, but you get what you pay for. You get up to 8X magnification at a 30mm lens, with a constant in-focus view that offers crystal clear imagery. While the body of this set is a little stubby and not the most appealing to look at, it still comes just within the parameters of mini binocular classification. In the sales page for this pair of binoculars, they literally run it over with a truck to show you just how durable and long-lasting this pair is. If they can handle that, dropping them down the hiking trail isn't exactly going to hurt them.
For this price, you can bet it comes with everything you need: waterproofing, and fog proof capabilities. These are the binoculars you want with you in the early morning during a hunt, or out on the trail with you when it starts to get midday mist (especially on the west coast). You truly get what you pay for, and in this case, it's nothing short of excellence and reliability.
Key Features:
8×30 magnification zone
Fog resistant and waterproof
Lightweight construction while remaining sturdy
Specification:
Brand

Steiner

Model

280

Weight

2 pounds
Durable enough that you can literally run it over with your truck (they have photos of this on their sales page)
Crystal clear imagery that blows away the competition
On the pricier side
Stubby barrel length makes them incredibly close to you
5. Vortex Optics Diamondback Prism Binoculars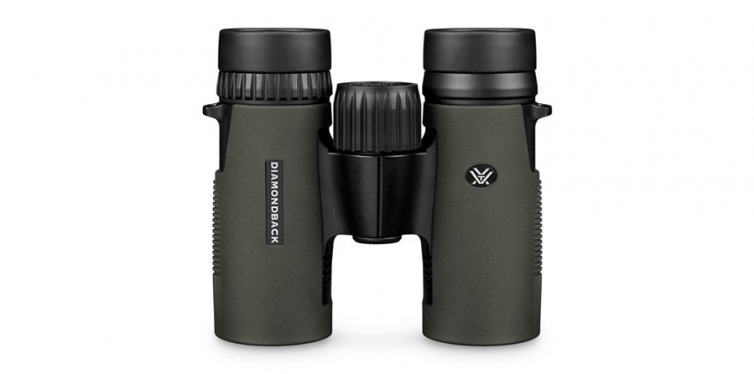 Even the name is intimidating. Vortex Optics doesn't just make binoculars – they make sniper scopes, and apply that technology to their binocular models, giving you military-grade crystal clarity for leisure events, or even for hunting. Vortex comes with a lifetime warranty – they're built to last, due to the argon-purging waterproof coating plug fog proof protection, as well as the ultra durable construction of their design and material composure.
You get an added protective case and neck strap, but your initial cost is strictly going to depend on which size you want. While these binoculars really did blow us away and prove themselves, we couldn't help but notice that the grips are a little too jagged along the sides of these, and cause hand chafing and irritability after extended use. Vortex offers a sight that you can't get anywhere else, allowing you to enjoy your favorite activities as if they were in UHD.
Key Features:
Argon-purging waterproof and fog proof coating
Multi-position eyecups for comfort
Fully-coated lenses to transmit more light and keep images crisp
Comes with protective case and neck strap
Made by the same company that produces some of the most reliable sniper scopes in the world
Cost depends on which size you want
Grips can chafe your hands from constant use
Buying Guide & FAQ
We've compiled the best small binoculars, but how did we come to this endgame? From each of the specs below, you'll be informed enough to take your pick of the best mini binoculars on the market, depending on which features best fit into your criteria.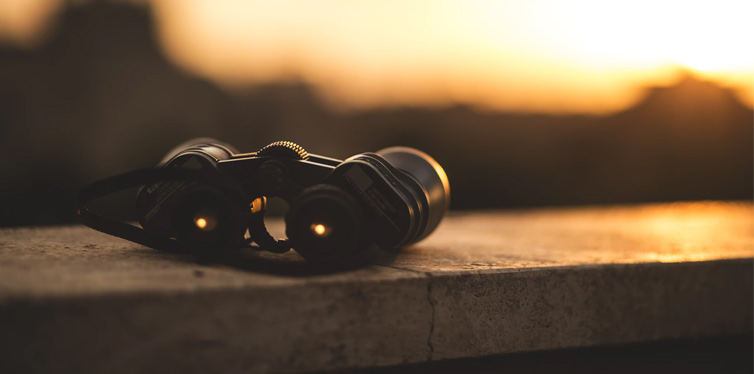 Things to Consider When Purchasing Compact Binoculars
FOV - Your field of vision (FOV) is essentially what you can see, versus what you can't. Your natural FOV (if you don't wear glasses) included your peripheral vision, because it's used to define your view at a fixed position. When you zone-in on binoculars, you're always cancelling out a certain percentage of your FOV. Depending on which set of small binoculars you go for, you'll have to take this into account.
Exit View - You exit view is where your vision cuts-off on the front-end of the binoculars. In order to properly magnify, there's a cone-shaped narrowing of the interior area of your lenses. The size of your exit view completely depends on the specific model, but the common mistake first-time buyers make is assuming the entry view is a direct reflection of the exit view.
Fog/Waterproofing - This goes without saying: you're not going to be using your binoculars indoors. Fog occurs in the early morning, and if you're out hunting deer and buck, you'll need fog protection. Alternatively, if you're a hunter, you know that you're not going to quit because of a little drizzle. Your binoculars, however, might call it quits long before the trip is over. If they're not waterproofed properly, they're going to be rendered useless before your next trip.
Weight/Portability - Compact means small, right? In many cases, it also means dense. They're packing in all the power of standard-sized binoculars, albeit with less light loss, so they're going to be a bit heavier. Compact doesn't always mean portable, that's just how we perceive that word. Ensure that they'll fit into a standard case and/or not be awkward to carry with you before you commit to the purchase.
What's the Difference Between Multi-coated and Fully Multi-coated Optics?
Lens coatings in general offer a slew of benefits, if they're done properly. If you've wondered what the best 8x42 binoculars are, most of it comes down to the lens. Coated lenses have an anti-reflective layer on top of them, usually consisting of magnesium fluorite, while full-coated have at least one coating on each lens, along with the longer side of the light prism.
Basically, it's a measure of how anti-reflective something truly is. After using each type, we can testify that the only real difference is going to appear in the price tag. There isn't enough of an optical difference for you to specifically hunt down one type.
How do I Maintain my Compact Binoculars?
In general, storage is the number one way to maintain them. Keeping them in a hard case where they can't gather dust or incur environmental damage is key, but when it comes time to store them, you need to put them back in prim and proper condition. The ideal way to achieve this is with a dedicated lens cloth, one that helps retain lens coating, and refrains from damaging the glass.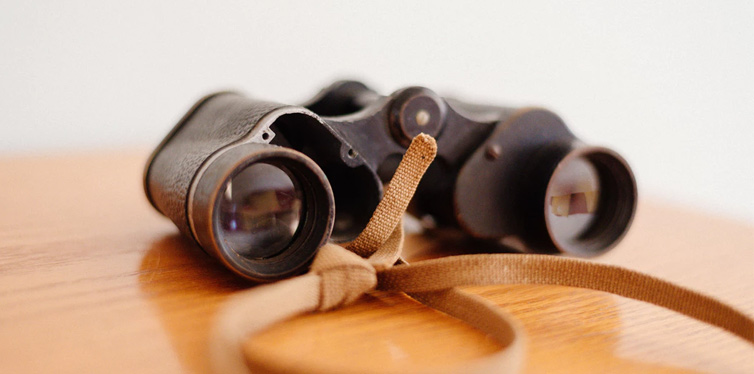 What Level of Magnification Can I Expect With a Compact Binocular?
Basing this off of the average pair of compact, small binoculars, you have to understand that you're essentially sacrificing a bit of zoom for light retention. That being said, you can see an average of 3X to 8X zoom, though some models are precision-crafted to go even farther. In most cases, you're going to run into a binocular that's somewhere on the line.
Will Wearing Glasses Affect How I Use Binoculars?
For the most part, you'll want to take off your glasses when you're using your binoculars. If your mini binoculars can twist down to an eye relief setting of 15mm or less, you may be able to keep your glasses on at a sacrifice of a bit of clarity. However, most pairs are not suitable for use with glasses. They're meant for the naked eye to capture the refracted light and imagery through light prisms, and you'd be surprised at how much everything clears up when you're looking through binoculars without your glasses on.