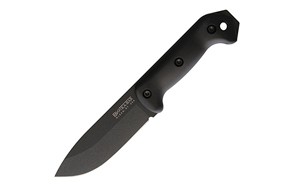 Ka-Bar Becker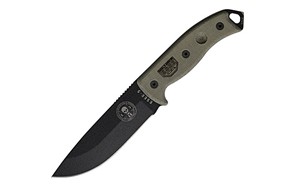 ESEE 5P Black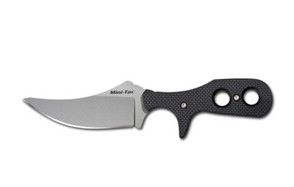 Cold Steel Mini Tac
The hunting knife has been around since ancient times when hunting was the primary way humans acquired meat. Over the centuries as practically everything else in the human sphere has undergone fundamental change the hunting knife has remained essentially the same; other than some of the materials and processes by which they're produced. Hunting knives are still used to prepare game for consumption or storage although these days they're also used to open cans, repair busted gear, carve and drive tent stakes, cut bandages, cut rope, extricate people trapped by their seat belts, cut firewood, start fires and of course for self-defense.
In this review guide we're going to cast a spotlight on the venerable hunting knife and review 10 that we feel exemplify this time-tested technology at its best. Keep in mind our choices are based on our own opinions and as such may not agree with your opinion or experience. Let's begin.
The Best Hunting Knives in (2018)
See More Reviews

The Buck hunting knife is an iconic as Harley-Davidson. They've been around forever and consistently produce high quality, durable hunting knives for everyone from outdoor novices to grizzled veterans of the hunt. The 124 Frontiersman is a big, bold, limited edition hunting knife with a 6 ¼" blade forged from high carbon 420 stainless steel.
From the classic straight spine blade with its hollow grind profile to the black Micarta handles and full tang this is a knife after every (EDC knife guide) hunter's heart. You'll use it to break down that 12 point buck or for any and all tasks around the camp. It's extremely well balanced and razor sharp on arrival. The aluminum cross guards keep your hand where it should be while spearing and the pommel presents a fine blunt instrument for self-defense. Comes with a genuine leather sheath that's a cut above the standard, factory-issue afterthoughts you get with many hunting knives and that's the way it should be. Because this excellent hunting knife deserves an excellent ride.
Specification:
Brand

Buck Knives

Model

BU124BKSLE-BRK

Weight

8 ounces
Ka-Bar Hunting Knife (Becker)
See More Reviews

With a tough as nails chromium vanadium drop point steel blade, full tang and imposing profile the Ka-Bar Becker BK2 Campanion hunting knife is a beast of a tool you'll be reaching for constantly whether you're on the trail or setting up camp. It's a full 10 ½" in length and yet remarkably light and well balanced and it will make short work of even the biggest game.
The blade itself is a hair over 5 ½" long, full tang, and enclosed on the butt end by a Grivory handle that provides a firm, slip-proof grip regardless of the weather or the task. The pommel will also get you through a car window in a hurry if you've had an accident. The cro-van 1095 steel blade is less susceptible to common abrasions and more corrosion resistant than other types of carbon steel. The 20 degree angle is perfect for cutting but may require more frequent sharpening than blades sporting a lesser angle. You'll love the way this hunting knife looks and feels in your hand and the fact that's it's available for well under $100.
Specification:
Brand

Ka-Bar

Model

3297

Weight

1 pounds
ESEE 5P Black Hunting Knife
See More Reviews

ESEE makes some of the most distinctive hunting knives on the market and the 5P is no exception. With its carbon steel blade, satisfying heft and ultra-comfortable tan Micarta canvas handle – with jimping on the blade spine for improved grip – you'll be looking for excuses to use this hunting knife.
The 5P by ESEE is a hunting knife that looks every bit as good as it feels. It's ideal for skinning or dressing large game but like just about every ESEE outdoor knife it's also commonly used for a variety of survival applications. The 5 ¼" blade has a black powder coat and does a great job retaining its edge regardless of how hard you work it. The pommel is designed specifically to break glass in emergency situations but you'd best believe it will also come in handy if you need to defend yourself. Comes with a polymer sheath for easy carrying. You'll pay a bit more for the 5P than you will for some other hunting knives but you'll never regret it.
Specification:
Brand

ESEE

Model

RC5PBK-BRK

Weight

1.55 pounds
Buck Knives 0119 Hunting Knife
See More Reviews

The 0119 is another limited edition hunting knife from Buck with the occasion this time being the 75th anniversary of the 0119 model. (Each knife comes with a commemorative anniversary medallion on the handle.) You can see why it's lasted so long. It's a beautiful knife with a 6" clip blade and full tang.
The 6" clip point blade we mentioned is fabricated from 420 high carbon steel that's especially corrosion resistant and durable. The narrow point makes it perfect for all types of detail work, cutting and piercing. Overall it's extremely well balanced, has a phenolic resin grip that lets you retain a nice firm hold in any conditions and weighs a surprisingly light 7 ½ ounces. Some guys will want to pick this up for the collectability of it but no one should lose sight of the more important fact that the 0119 has been around so long because it's such an excellent hunting knife.
Specification:
Brand

Buck Knives

Model

0119BKS

Weight

8 ounces
Cold Steel Hunting Knife (Mini Tac)
See More Reviews

Skinners are a special type of hunting knife developed specifically for the task of breaking down game and the Cold Steel Mini Tac Skinner is one of the best. Use it to skin or score your elk, deer, fish or other game regardless of size. The sweeping blade of the Mini Tac lifts the skin from the muscle effortlessly so you don't waste valuable time.
The Blade on the Mini Tac is fashioned from AUS 8A steel. AUS steel is produced exclusively by Japan's Aichi Steel Corporation. It's approximately 0.75% carbon and also includes vanadium. Vanadium is added to provide the steel with superior durability while also making the blade easier to sharpen. And this blade is sharp, make no mistake. This Mini Tac hunting knife glides through the motions, it's full tang keeping everything in line and the narrow Griv-Ex handle scales allowing you to keep the blade extraordinarily flat and close to the body as you work. Campers will likely find plenty of applications for the Mini Tac but hunters know what it's really for. A great knife.
Specification:
Brand

Cold Steel

Model

CS49HSFSZ-BRK

Weight

1 pounds
Gerber Myth Fixed Hunters Blade
See More Reviews

The Gerber Myth Fixed Blade Pro hunting knife is an outstanding value from a company that produces some of the best outdoor knives around. The rubberized, gently contoured handle provides a sure grip in any conditions, the overall balance is excellent and the full tang, high carbon stainless steel blade makes skinning and cleaning your game a walk in the park.
The gut hook on the Gerber Myth Fixed Blade Pro hunting knife is one of the most effective we've seen. With a little practice it's like opening a deer with a zipper. It also makes it fast and easy to sever the windpipe allowing you to expedite the field dressing process and preserve as much of the meat as possible. Beyond that the blade itself resists corrosion and is easy to sharpen; though you won't have to right off the bat since it's razor sharp out of the box. Finally the puncture resistant sheath has a built in sharpener and nice firm snap lock across the top and the whole thing can be had for less than a tank of gas. A great choice for serious hunters.
Specification:
Brand

Gerber

Model

31-001095

Weight

7 ounces
See More Reviews

Havalon produces the second and final deep skinning knife on our list and it's a real pocket-sized beauty with a retractable 2 ¾" blade made specifically for dressing and skinning in the field. You're not going to impress your buddies with the way this hunting knife looks but eyebrows will raise when they see how effective it is.
The unassuming blade of the Piranta Z is literally razor sharp. It slices through material like it wasn't there and the virtually flat profile lets you peel the skin away with incredible precision producing little waste and wasting little time. Cleaning fish has also never been so easy. When the blade on the Piranta Z becomes dull you don't sharpen it, you replace it with one of the 12 extra blades that come with the knife. Those that want a traditional hunting knife experience aren't going to be impressed by the Z, but for anyone simply interested in dressing their deer in the most efficient manner possible it's a dream come true.
Specification:
Brand

Havalon

Model

HV60EDGE-BRK

Weight

1 pounds
See More Reviews

Our second Gerber hunting knife is the StrongArm Fixed Blade knife. The StrongArm features a 4 ¾" long blade fashioned from 420 high carbon stainless steel and sports a black ceramic coating. There's a rubberized, textured grip that extends the knife to its overall length of 9 ¾" and the whole thing weighs in at a relatively svelte 7.2 oz.
When you're not dressing deer with the StrongArm's impressive 420HC blade you'll be using it to cut wood for the fire, carve tent stakes, open cans or build a blind. At the butt end the pommel is designed for extricating yourself from any situation wherein glass or another hard surface stands between you and survival. Finally, the modular sheath system that comes with the StrongArm is MOLLE compliant and allows for multiple carry options. Or you can use the detachable belt loop and carry it in a more 'traditional' manner. A great all-purpose hunting knife.
Specification:
Brand

Gerber Blades

Model

30-001058

Weight

14.4 ounces
See More Reviews

We've said it before and we'll say it again: ESEE makes some of the best looking hunting and survival knives on the market. The LSP hunting knife is just the latest example of this. With a 4 ¾" 1095 high carbon stainless steel blade that's honed to perfection and a ferro fire-starting flint tucked into the handle you'll enjoy relaxing evenings by the campfire after bagging and field dressing your game.
The ESEE LSP Laser is actually a fairly large hunting knife at 10" overall. Funny how it doesn't feel big though. The outstanding design and distribution of weight means force can be delivered effortlessly so it feels like you're using a smaller knife. The canvas micarta handle won't irritate your skin or start to wear on you regardless of weather conditions or how long you hold it. The kydex sheath is beautifully conceived and crafted and locks your knife down nice and snug. If you're looking for a first class hunting knife and don't mind paying a bit more consider the ESEE LSP Laser Strike Fixed Blade hunting knife.
Specification:
Brand

ESEE

Model

ESLSP-BRK

Weight

14.4 ounces
Benchmade – Hidden Canyon
See More Reviews

Benchmade isn't a household name but maybe it should be. Their Hidden Canyon Hunting Knife is a truly compact knife with an overall length of 6 ⅓" and a stainless steel blade 2 ⅔" long. The long curved radius of the blade compensates to some degree for its otherwise stunted nature and also allows you to take nice clean passes when skinning.
If you're like a lot of hunters you go into the wilderness fairly laden with all manner of hunting and survival gear along with camping materials and supplies strapped to your back. In such cases every bit of weight, every inch of space is crucial. The Hidden Canyon hunting knife allows you to retain full process with your blade without having to give up mobility to do it. The blade is fashioned from high carbon steel for stout performance and enhanced corrosion resistance, the stabilized Dymondwood handle is comfy as the day is long and the leather sheath makes for convenient horizontal carry. Comfort, convenience and performance. Count us in.
Specification:
Brand

Benchmade

Model

15016-2

Weight

3.19 pounds
Buying Guide
People in the market for a hunting knife or a bushcraft knife often have question. Below we've gathered 4 of the most common.

Q: What Is A Hunting Knife?
A: As we said in the opening a hunting knife is designed to help the user prepare game for consumption or storage in the field before it goes bad. Crafted in a way that lends itself to the processes of skinning and cleaning game carcasses whether they be elk or rabbit or anything in between. Some hunting knives have what are called "gut hooks" that allow for an easier opening of the carcass to facilitate the dressing process. Most will also effectively double as survival knives.
Q: What Types Of Blade Is On A Hunting Knife?
A: The most common type of blades are drop point and clip point. Other types include the tanto point, the spear point and the trailing point. The clip point is typically very pointy and provides excellent control. While the drop point is typically broader and more durable. One way in which hunting knife blades differ from those of survival knives is that survival knives often have a serrated edge for sawing branches to make emergency shelters etc while the serrated edge is a rarity on these knives
Q: What Are The Different Types Of Hunting Knives?
A: Hunting knives typically fall into 4 categories:
The fixed blade which is the most popular kind.
The folding knife which can be folded in half and stowed away in a pocket. The folding knife typically has few if any superfluous features.
The pocket knife which is moving away from strict hunt-related applications and may include things like scissors and files.
The lockback folding knife which is small type of pocket knife wherein the blade locks open so as to prevent accidental closure on the fingers.
Of these the vast majority of hunting knives are fixed blade knives with the folding knife making up a good portion of the remaining market.
Q: How To Choose The Right Type Of Hunting Knife?
A: The best way to get the information you need to choose the right hunting knife is to spend some time online reading reviews and guides like this (including the section immediately following this entitled "Things to Look for When Buying a Hunting Knife"). In addition you can go to online hunting forums and post questions to get responses or talk to someone at a true sporting goods store (not just a sneaker store) if there is such a shop near where you live.
Things to Look for When Buying a Hunting Knife
The basic technology of the knife may not have changed much in the past 200 years but there are still a number of different qualities and characteristics you'll want to look for when shopping for a knife, these include:
The Blade Shape – As we mentioned above there are a number of different blade shapes used, though by far the most common are clip point and drop point blades. The clip point comes to a sharper end and is better for delicate or detail work. Unfortunately, because the end of the blade is sharper it's also more susceptible to breaking if you use it to pry things apart or open cans and such. The drop point by comparison is far more durable and can withstand all kinds of lateral pressure (within reason of course). Other, less popular blade shapes include Tanto, Spear and Trailing Point. If you're just starting out you'd be well advised to get a drop or clip point blade.
Type of Steel – There are two primary types of steel used in the best hunting knives today: stainless steel and high carbon or HC steel. High carbon steel is more expensive than regular stainless steel or standard carbon steel but it's easier to sharpen, holds an edge better and resist the corrosion that commonly plagues standard carbon steel. Anytime you see "HC" in the knife's name it's indicating the blade is made of high carbon steel. While high carbon steel is gaining in popularity most quality knives today still feature stainless steel blades because they're durable and low maintenance. Stainless steel will be a little bit harder to sharpen but most people don't mind.
Tang – Definitely one of the most common questions asked by prospective hunting knife owners is this: "What the heck is 'full tang?'" Full tang simply means that the steel of the blade doesn't stop at the handle. It continues through the handle all the way to the butt end without interruption. The reason a hunting knife is designed this way is because hunting knives are often subjected to vigorous use. If the blade were simply gummed onto the end of the handle they'd invariably come loose; probably sooner rather than later. By extending through the handle pressure is more evenly distributed and you're able to get much more out of your hunting knife without worrying about it coming apart.
The Handle – The handle is crucial to the smooth, safe operation of the hunting knife. It must be able to afford you a firm, non-slip grip in any conditions. Rubberized handles and those made of Micarta and G10 are popular today but natural wood handles have never really gone out of style either because they last, they look great and they're really comfortable. If at all possible you should get a hold of some different knives and try out different handles before purchasing a hunting knife. Keep in mind too that if a knife has a hollow handle it can't have a full tang.
The Sheath – Most hunting knives come with a sheath as part of the package although many are little more than afterthoughts and the place where knife manufacturers save money; sort of like the tiny spare tire that comes with many cars. But sheaths are actually quite important as they're the vehicle for transporting your knife. Most sheaths have a belt loop to slide onto your belt. Others have loops at both top and bottom so that the hunting knife can be strapped to your leg. And still others are MOLLE compliant and can be attached in various ways to various MOLLE straps, pouches and backpacks. The bottom line is you want a sheath that will allow you to carry your knife securely in the most convenient place for you.
The Pommel or Butt – The pommel on a hunting knife is not typically treated the same way it is on a survival knife. On a survival knife designers are trying to squeeze as many useful, survival-related applications into the knife as possible, without turning it into a Swiss Army Knife. Because of that they often turn the pommel or butt end of the knife into a ram-type object designed to let you shatter windows if the need arises. On the hunting knife you'll often see that the pommel is just a pommel and doesn't have any specific use other than helping balance out the weight of the knife. That said they are very hard, blunt objects and could definitely find use as a self-defense tool or a muli-tool.

Conclusion
The hunting knife is a remnant of a more tactile age when things were handcrafted, farming was a hands on affair practiced by most people and those same people hunted to get most or all of their meat. And while the materials have changed the hunting knife itself has remained essentially the same; still simple, still intended to allow you to dress your game quickly before it starts to go bad. When shopping for a hunting knife keep in mind that they're not toys, they will break if misused and it may or may not be legal to carry one on your person in the place where you live (check local ordinances before going out with your new hunting knife on your belt).
If you keep the above hunting knife reviews and buying guide tips in mind you're sure to wind up with a hunting knife that will perfectly suit your needs. We hope you found all the information in this guide helpful and make a point to check back to gearhungry.com on a regular basis for more insightful reviews and product comparisons.