Best Digital Camera Binoculars (Guide) In 2022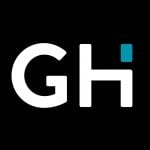 This product guide was written by GearHungry Staff
Last Updated
August 21, 2020
GearHungry Staff
GearHungry Staff posts are a compilation of work by various members of our editorial team. We update old articles regularly to provide you the most current information. You can learn more about our staff
here
.
GearHungry may earn a small commission from affiliate links in this article.
Learn more
Are you an adrenaline junkie gearing up for your next outdoor adventure? Are you an avid hunter or bird watcher packing enthusiastically for your next excursion in the wild? Or are you embarking on a sailing trip with your friends? Maybe you're simply cruising around on your beloved boat? No matter which of these categories you belong to, your next outing would be incomplete without a pair of digital camera binoculars. We don't say this solely because they are the new "it" thing. These binoculars with camera are a fantastic innovation, deserving of all the hype and attention they are receiving. Keeping in line with the latest trends, we have compiled a list of the best digital camera binoculars to help you elevate the productivity and fun of your outdoor experiences. Here you'll find detailed descriptions of each option and its key features to aid you in your quest for the very best. So without further ado, let's dig in!
The Best Digital Camera Binocular
CreativeXP GlassOwl Digital Night Vision Digital Camera Binoculars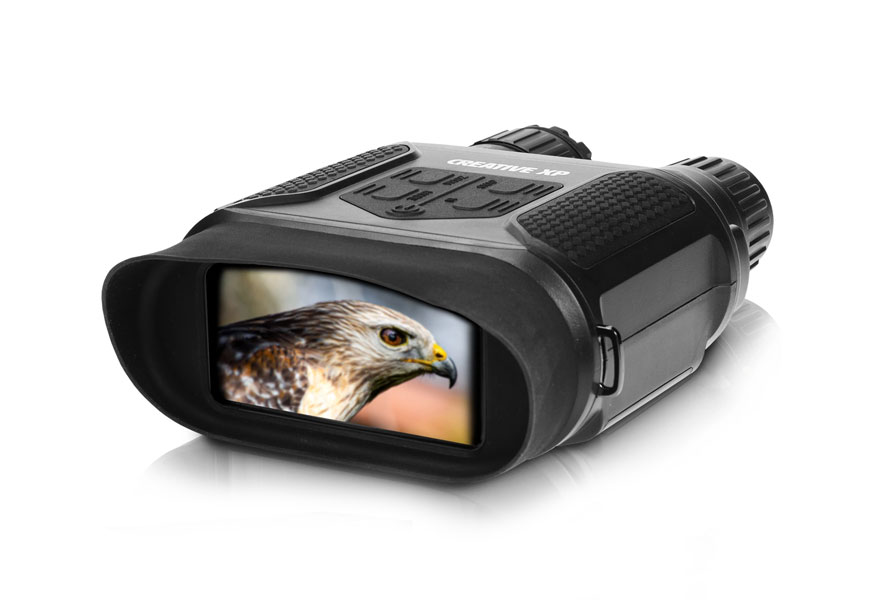 Our Best Choice is this pair of CreativeXP GlassOwl Digital Night Vision Binoculars, from an American family-owned company based in New York. It would be no exaggeration to say that this pair is absolute bliss for all adventure seekers due to its splendid features. This magnificent device is perfect for use both during the day and at night, providing an incredibly clear night vision. These allow you to turn night into day with their 850 nm infrared illuminator so that you can see clearly in pitch-black darkness without the need for any external lights. This feature ensures that you can carry on your adventures and view objects and animals in the dark. You can easily take photos and make videos in 100% darkness because of its premium optic technology. These binoculars serve multiple functions, and you can use them as hunting binoculars, during your boating expeditions, or keep an eye on your farm animals from a distance.
This high-end product includes many more powerful properties in addition to the night vision feature. The rubberized casing renders them lightweight and durable at the same time; they are made to last and comfortable to hold. The multi-coated 31mm objective lens offers a crystal clear view owing to its immaculate quality. Moreover, the optical 7X magnification and the digital 2X zoom enable you to see as far as 1300 feet away. These binoculars come with IPX4 level waterproof quality. They can be safely used on boats and near bodies of water. You can capture photos and videos and view them anytime on the 4-inch TFT screen.
Additionally, they come with a 32 GB memory card so that you can save your visuals and cherish them. Other impressive perks include a long-lasting battery with an 8-hour infrared-off running time, a protective case and neck strap, a cleaning cloth, an AV cable, and a USB cable. Last but not least, CreativeXP promises a lifetime warranty and money-back guarantee on your purchase!
Key Features:
Night vision binoculars with a no-glow 850nm infrared illuminator
Rugged rubber housing and anti-slip design
31mm FMC objective lens
7X optical, 2X digital zoom
Waterproof
32GB MicroSD memory card included
Comes with lifetime warranty and 100% money-back guarantee
Specification:
Brand

CreativeXP

Weight

3 Pounds
Sony DEV-3 Digital Camera Binoculars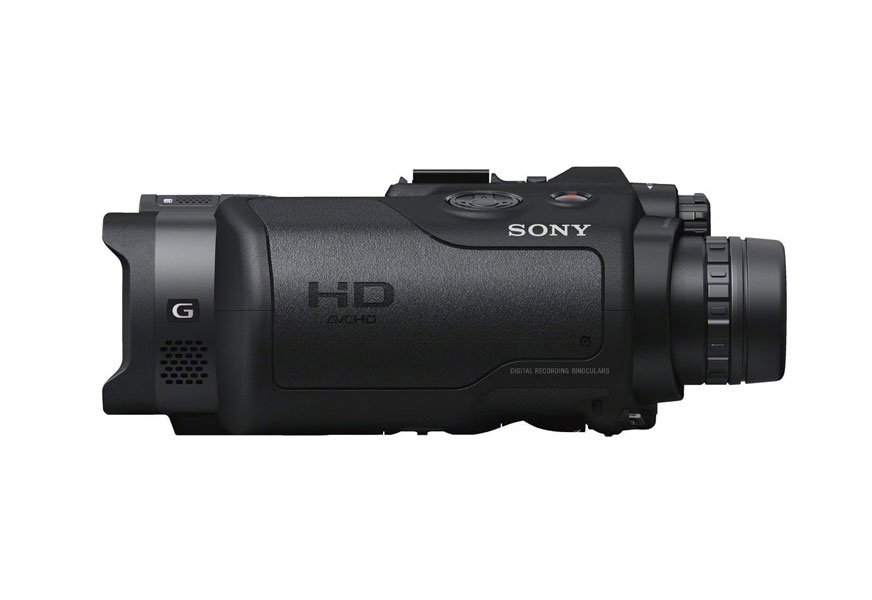 Sony offers nothing but the very best of both innovation and comfort, and these efficient and reliable digital binoculars are no exception. With DEV-3, Sony has become the proud owner of the world's first pair of digital camera binoculars that employs two full HD sensors to capture both 2D and 1920 x 1080 3D video. With its 3D HD video recording feature, the DEV-3 puts a whole new spin on all your outdoor activities, from hunting and birdwatching to shooting sports events. To enhance your experience and capture the perfect moment, you can also take still images of up to 7.1 MP.
The Sony DEV-3 Digital Recording Binoculars also offers up to 10X digital zoom with autofocus. Moreover, the Optical SteadyShot image stabilization works by reducing blur to provide you with the ultimate viewing experience, even while walking and moving. You can easily swap between 2D and 3D with the help of a simple switch. The enduring battery allows for an extended recording capacity, and the remaining runtime is displayed in minutes and is easily visible so that you can keep track of how much recording time is left. There are also a mic and headphone inputs for extended audio recording options.
Make sure to also browse our list of the best travel cameras on the market right now.
Key Features:
World's first full HD video recording digital binoculars
1920 x 1080 3D and 2D full HD recording with 7MP still image capture
10X Seamless zoom with autofocus
Optical SteadyShot image stabilization with Active Mode
2 Channel stereo mic with Dolby Digital Stereo Creator
Up to 2 hours and 35 minutes of 2D recording on a single charge
Specification:
Brand

Sony

Model

DEV3

Weight

2.65 Pounds
Bestguarder NV-900 4.5X40mm Digital Camera Binoculars
This compact device, with its myriad of impressive features and highly ergonomic design, is undoubtedly one of the best digital camera binoculars on the market. Equipped with the ultimate nocturnal vision viewing system, it boasts an 850 nm 3W infrared LED illuminator that grants you excellent night vision. With this feature, you can easily view objects at a whopping 1300 feet (400 meters) with perfect clarity. The 5X digital magnification can zoom in on a distant object or zoom out for a broader view. Furthermore, the handy construction makes for a comfortable grip, and the user-friendly design with the eight function keys makes it easy to operate even in the dark.
The most outstanding feature of Bestguarder NV-900 4.5X40 mm Digital Night Vision Binocular is its time-lapse function; with it, you can automatically record image or video at a pre-set time. The time-lapse allows long-term monitoring anytime and anywhere. In addition, the 4-inch large LCD screen allows you to watch your photos and videos without straining your eyes. The device operates on eight AA batteries (not included) that provide a sufficiently long running time. Lastly, these binoculars come with a 32 GB memory card.
If you are a real adventurer, check out these fantastic trail cameras as well.
Key Features:
Night vision binoculars with 850nm 3W LED illuminator and time-lapse function
Captures HD image and 720p video
Includes 4" LCD widescreen
Date and time, GPS ID stamped on photo and video
Built-in tripod jack on the bottom
32GB memory card included
Specification:
Brand

Bestguarder

Weight

3.5 pounds
Camonity 5M 2" LCD 16GB Digital Camera With Binoculars
This stylish digital telescope manufactured by Camonity is excellent for various purposes. Camonity guarantees an exceptional product at an economical price. The Camonity 5M 2″ LCD 16GB Digital Camera with Binoculars is the perfect tool for all your outdoor excursions, from adventure sports to music concerts and events at clubs. With its HD imaging and video recording capability, it has become a favorite among tourists and professional adventure enthusiasts alike, as it allows you to create high-resolution memories of your adventures.
The 2-inch LCD screen enables you to monitor your still image capturing and video recording. The 12X zoom is another perk to amplify your target object without any compromise on the optical clarity and quality of the visual. These binoculars contain a powerful built-in Lithium-ion battery that ensures a long runtime on a full charge. Other bonus attachments include a 16 GB TF card, cleaning cloth, and USB cable.
If you want to create genuinely breathtaking photos and videos, check out these waterproof cameras, too.
Key Features:
HD 1080P 5MP camcorder binoculars
2" LCD display
12X zoom
Built-in Li-ion battery
Comes with a 16GB TF card
Specification:
Brand

Camonity

Model

LYSB01DZSN99W-ELECTRNCS

Weight

1.25 Pounds
Vazussk 2" HD Digital Binoculars Camera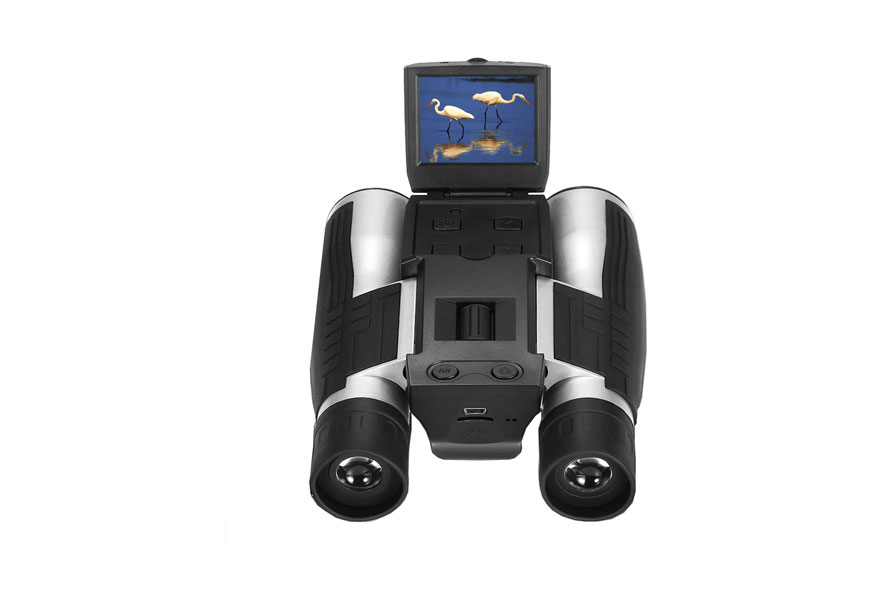 The Vazussk 2" HD Digital Binoculars Camera is perfect for outdoor excursions such as stargazing and birdwatching as well as indoor occasions like operas and classical concerts. With its 32 mm wide aperture binocular assembly and high definition digital video camera, this pair of binoculars are ideal for observing adventures of all flavors. The premium quality lens used in the manufacture of these binoculars offers a focal distance of 8 meters and a focusing range of 8 mm with an image resolution of 5 MP. You can quickly get up close and personal with your object and view of choice with the 12X zoom. And with the help of the 2-inch LCD screen, you can control the settings and functions at a single glance to get the optimal conditions and frames for your photos and videos.
This particular pair is our Best Value item because it includes the best built-in features. It is also the best value for your money! The rugged rubber armor renders it gentle on the hands with a non-slip grip and imparts shock resistance. The binoculars also include a tripod attachment and can be fixed to any standard tripod (not included) in case you do not feel like holding it for prolonged periods or want a non-shaky recording. A complimentary 16 GB TF card is part of the package, along with a cleaning cloth, user manual, and USB charging cable.
With all these fantastic features and incentives, these binoculars are not only a great personal asset but can prove to be the perfect gift for all nature lovers and travel enthusiasts, just like any of these telescopes.
Key Features:
32mm digital binoculars with 2" LCD display to capture HD photos and videos
12X magnification
5MP image resolution
16GB TF card included
Tripod compatible
Built-in Li-ion battery
Specification:
Brand

Vazussk

Model

FS608R

Weight

1.35 Pounds
Ansee Digital Camera Binoculars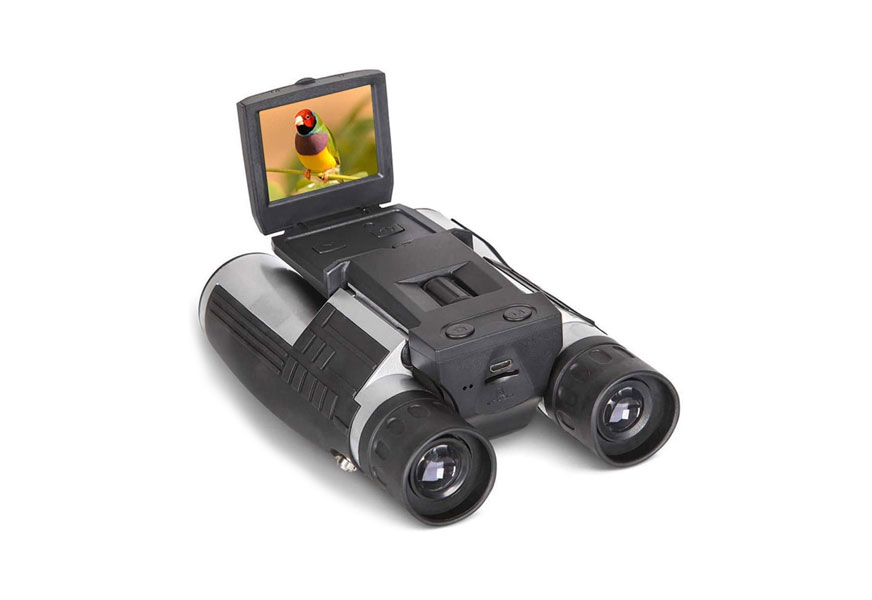 As claimed by its catchphrase, Ansee has come up with yet another multifunctional product to "make your life colorful." Now you can look far and wide with the help of the fully coated 32 mm objective lens and appreciate the details of far-flung objects with greater clarity, as the large diameter of the lens admits maximum light into the scope, resulting in a brighter image.
The magnification power of the lens is 12X, which allows you to zoom in on your target or zoom out for a broad and panoramic view. The built-in camera is of the top-notch quality with which you can take 5MP still images and record 1080P videos and save them as life mementos on the 8 GB micro SD card. The photographs and videos can be previewed and played on the 2-inch LCD that can be opened by simply pressing the Snap/Ok button and gives you a brilliant and glare-free visual. The design of Ansee Digital Camera Binoculars features a straightforward to use user interface. The binoculars can be attached to any standard tripod (not included). Besides the state-of-the-art digital camera telescope, this package consists of a neck strap, 8 GB memory card, charging cable, cleaning cloth, and user manual.
If you like the sound of that, make sure to take a look at our list of the top 360 cameras.
Key Features:
Digital binoculars with 2" LCD screen
32mm fully coated objective lens
12X zoom
Tripod mountable
Rechargeable Li-ion battery
8GB Micro SD card included
Specification:
Brand

Ansee

Model

3216582915

Weight

1.35 Pounds
Eoncore 2" LCD Display Digital Camera Binoculars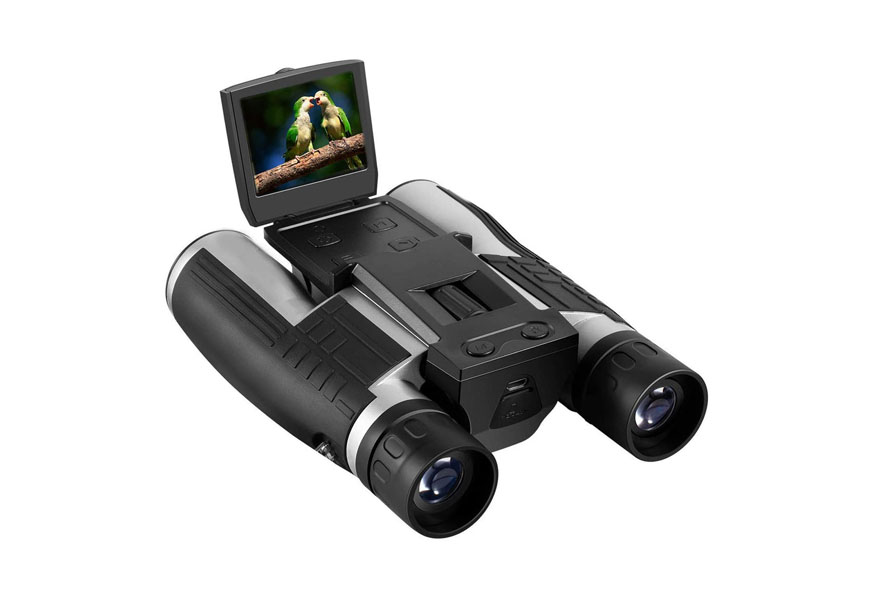 The final item in our list of the best digital camera binoculars is this pair by Eoncore that represents an effective merger of elegant design and efficient working properties. The sleek design in black and silver oozes pure class. The visual appeal is another reason to own this majestic pair of binoculars that captures high-resolution photos and high definition videos. The 2-inch LCD screen allows you to capture and view visuals with ease. Do not fret about the longevity as Eoncore 2″ LCD Display Digital Camera Binoculars are as durable as they are pretty.
The binocular system entails a 32 mm lens with 12X zoom, which makes it the perfect choice to follow your favorite football player on the field while watching the game. Its application is not limited to football games; carry it on all of your travels and wildlife expeditions. The rubber casing provides a firm grasp so that the binoculars are easy to handle. If you want to grant your hands some rest, you can always attach the binoculars to a tripod (not included) in the horizontal position for stable and prolonged recordings. The package comes complete with a charging cable, user manual, cleaning cloth, and a free 8 GB TF card.
Don't forget to check out these fantastic night vision binoculars as well!
Key Features:
32mm aperture binoculars with 12X magnification
2" LCD screen to preview images and playback videos
5MP Image resolution with 1080P video resolution
Can be fixed to a tripod adapter accessory
Comes with 8GB memory card
Specification:
Brand

Eoncore

Model

BIN-FS608R

Weight

15.8 Ounces
Digital Camera Binocular Buying Guide & FAQ
Features to Look for in Digital Camera Binoculars
If you intend to buy a pair of binoculars with a digital camera and are looking at multiple options, always make your decision after considering the following significant features:
Effectiveness - Digital camera binoculars should boast efficient features that are worth every penny. Apart from the quality of the lenses and camera incorporated in the binoculars, other factors that contribute to the effectiveness of the product include durability, a lightweight construction, storage capacity (typically ranging from 8 GB to 32 GB), and accessories like carrying cases, neck straps, charging cables, and cleaning apparatuses.
Image Quality - The quality and resolution of the photographs and videos that the digital binoculars can take is a crucial deciding factor. We all want our photos and videos to be of the best quality in this highly competitive age of digital predomination and social media frenzy. If you want results of exceptional quality, look for a pair with a built-in camera that allows 1080p HD video recording and captures 5 MP resolution still images.
Magnification - For professional adventure seekers and outdoor enthusiasts, this single feature may hold the utmost priority. After all, digital camera binoculars are binoculars at the end of the day, and a key element should be excellent magnification. Most of the models available currently provide a wide range of zoom, ranging anywhere between 7X to 12X.
Objective Lens - This feature is essential when choosing your pair. Decent digital camera binoculars should boast an objective lens with a wide diameter that allows the capture of more light. This feature ensures a bright image and functionality in low light conditions so you can observe distant objects with excellent clarity. The best brands usually incorporate 32 mm aperture objective lenses that are multi-coated to minimize glare.
Optics Performance - Binoculars with superior optics will provide a clear and brilliant view. The optical performance comes into play when you are looking for a pair of binoculars with a digital camera that captures equally well at all times of the day. Some of the latest devices have the cutting-edge technology of night vision optics that allows you to see clearly in 100% darkness. Such binoculars are perfect for stargazing, nocturnal surveillance, and for observing wildlife for long durations.

Digital Camera Binocular FAQ
Q: What are digital camera binoculars?
A: Digital camera binoculars is a piece of 2-in-1 equipment that combines a binocular system with a digital camera assembly to view faraway objects and sights with clarity while having the advantage of capturing images and recording videos simultaneously. They are binoculars with a built-in digital camera.
Q: Are binoculars with cameras any good?
A: It is an excellent product for adventure seekers and nature lovers who want the comfort of closely observing their coveted views and capturing the perfect moments of their expeditions in a single device. Such binoculars are an excellent choice for outdoor activities such as hunting, fishing, birdwatching and stargazing, sporting events like football and soccer matches, and even for music concerts and operas.
Q: Can you get binoculars that take pictures?
A: Yes, the innovation and advancement in technology have made it possible to take pictures with your binoculars in the form of a pair of digital camera binoculars. With this fantastic product, you can take photos and save them on the memory card. Most of these binoculars also consist of a snap-open LCD screen that enables you to preview your images.
Sign Up Now
GET THE VERY BEST OF GEARHUNGRY STRAIGHT TO YOUR INBOX