Hit The Trail With The Best Hiking Pants Of 2022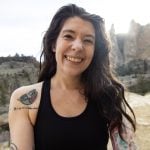 This product guide was written by Tuesday Kirby Kahl
Last Updated
September 6, 2022
Tuesday Kirby Kahl
Tuesday Kirby Kahl is a contributor at Gear Hungry. Her fierce love for the outdoors fuels everything she does. Her professional pursuits include writing, creating art, and photography. These professional passions allow her the time to live life outside as a rock climber, skier, runner, backpacker, paddle boarder, swimmer, and explorer. When Kirby is indoors, she enjoys tea, whisky, old films, cooking, and baking. Her product testing and feedback have shaped the design of everything from climbing shoes to candles.
GearHungry may earn a small commission from affiliate links in this article.
Learn more
There are few pieces of clothing more crucial to a successful hiking excursion than your hiking pants. Hiking pants provide warmth, comfort, protection from the underbrush, freedom of movement, and additional storage options (if they have zippered pockets, which we firmly believe most hiking pants should), among other things. The right pants will also wick away moisture and allow excess heat to escape when the weather is warm, and help retain heat when the mercury dips. Whereas in the past, you basically had one choice for hiking pants, today they come in a variety of materials, including spandex, nylon, poly blends, and, of course, wool; which still has a place in the mountain. It's best to own a couple of different pairs of hiking pants for varying conditions. All in all, your top two priorities when looking for the best hiking pants should be comfort and ensuring your pants are appropriate for your adventure and the weather.
Our GearHungry team has spent many, many days on trails and we've all logged what is likely thousands of miles. We've all tried many hiking pants that claim to be the best hiking pants, but after some testing, we were able to identify the true winners. In this review and buying guide, we're going to take a look at what we consider to be the best hiking pants currently on the market and what makes them so great. We've also addressed some FAQs and features to look for to help you make the right decision.
The Best Hiking Pants
The NORRONA falketind Pant came in as our best hiking pants due to their durability, versatility, and awesome features. These top hiking pants come in both men's and women's models, but I tested the women's version for this review. I took these pants on several hikes, a scramble, and a couple of off-trail scouting adventures. I even spent several days bouldering and rope climbing in these pants. Throughout each day, I found these to be extremely durable. They tolerated abrasions from rocks, trees, and thorny plants quite well. I didn't push the limits of their mobility much, but they are long pants with a thicker fabric that is extremely durable, so there is a slight trade-off mobility-wise, but it is minimal.
I found the slim fit to be quite comfortable and attractive. Pocket-wise, these feature a zippered thigh pocket and two hand pockets. Instead of an integrated belt, there is a custom-fit waist system that uses velcro for a secure fit. This hiking pant also features an eco-friendly construction that has Bluesign and Oeko-Tex certified fabric, a fabric made with recycled fibers, and a PFC-free DWR coating for water resistance. Lastly, there's an adjustable lower leg with a zipper and gusset to let the pants breathe.
Key Features:
A versatile pair of hiking pants for hiking, climbing, scrambling, and more
Made with sustainable and eco-friendly materials
Multiple pockets
Reinforced knees and seat
Extremely durable
Our runner-up for the best hiking pants is from the outdoor and yoga brand, PrAna. The PrAna Halle has been a beloved pair of cool hiking pants for many years. When I started climbing, these were some of the most highly recommended and sought-after pants. I've owned at least four or five pairs of these pants and used them for hiking, climbing, and scrambling over the years. The only time I ripped a pair in one fell swoop was with a thirty-foot fall on slabby terrain while rock climbing. As far as durable everyday pants for any adventure go, this is a consistent top choice. While there is no men's Halle pant, the PrAna Zion and Brion are two of the top-rated hiking pants for men from PrAna and are comparable to these.
Now let's dive into the features. These durable convertible pants have two hand pockets, one zippered pocket, and two back pockets. When it's warm out or you have an upcoming water crossing, you can roll up these pants and secure the legs with a button. I love the stretch fabric and these pants perform well in all kinds of temperatures and situations. These are also some of my favorite pants for job interviews in the outdoor world. They are nice enough to look professional but are great for hitting the crag next.
Key Features:
Trouser-like pants for both active or casual wear
Roll up pants, secure the legs with a button closure
Stretch Zion fabric
Five total pockets
DWR finish
The Stoic Zip Off are versatile pants that are perfect for hiking or casual wear. I love the zip-off legs and how cute these pants are as shorts. As pants, the area on the leg with the zipper is quite pronounced and a bit jarring, taking away from their visual appeal, but that is my sole complaint about these. I do still think they are some of the best convertible pants available for hiking, and the color options are quite unique. I wore these camping, rock-hounding, as casual wear and while hiking and they held up well, were quite stain resistant, and always comfortable. To switch from long pants to shorts, there's an obvious zipper above the knee and the pants zip off the bottom and you can store the bottom part of the legs in your pack quite easily.
In front, there are two open, yet large hand pockets and they are the only pockets. There is also an easy-to-use integrated belt to get a customized fit. The drawcord hem allows you to adjust the cuff to keep out debris. These pants are perfect for summer hiking or shoulder season adventures as long pants.
Key Features:
Pants zip off into shorts
Moisture-wicking stretch polyester
Integrated belt
Belt loops
Drawcord hem
The 5.11 Meridian Pant is a slim-fit pair of full-length hiking pants that are excellent for big days outside whether you are climbing, scrambling or hiking. Our tester wore these pants for an alpine rock climb that required a brutal 4.5-hour hike on both ends. In total, our tester spent 30 hours in these pants that day in the Enchantments in Washington state and they stood up to the test and looked about the same as they did when the adventure began, aside from some dirt and debris. Our tester liked the slim fit and found that it thankfully wasn't restrictive at all, and the high density of pockets. Our tester has a tendency to drop phones while out climbing so he loves the left thigh pocket for holding his phone.
The one downside our tester noted was that the fabric dye requires hand-washing which can be an annoyance to handwash before ever wearing and subsequent washes require these pants to be separated from the rest of your clothing. While the wear patterns are cool, our tester found the effort involved to be frustrating. All in all, this is a sturdy and durable pair of pants that survived a doozy of an outdoor adventure and lived to tell the tale. We still love the pockets, venting and small technical features that make these pants stand out.
Key Features:
Front pockets, back pockets and cargo pockets
Vents for breathability
Hand-washing required
Extremely durable
Articulated knees
Slim-fit
The 5.11 Shella Pant is probably most closely related to the PrAna Halle on this list. It offers a similar form-flattering cut and is a functionally minimalist hiking pants for those seeking quality materials and build with only essential features. I found these pants to be one of the most comfortable I tested. I could move easily and never felt like the pants were in my way. Most hiking pants tend to restrict me at the hip, as I have greater than average hip mobility, but not these! Whether hiking, climbing, or coaching, these pants were soft, comfortable, and functional.
Some of my favorite features are the simple and unobtrusive pockets. There are two hand pockets, two zippered back pockets, and two cargo pockets on the thigh. The fabric is a mostly polyester mix with elastane and a DWR finish for water resistance. These pants will be fine in light rain, but I don't recommend them in a downpour. The belt loops are also reinforced, so you can hang small items off them using a carabiner if needed.
Key Features:
Polyester and elastane construction
Six total pockets
DWR finish
Reinforced belt loops
Extremely comfortable
IceBreaker Fastray Tights
I think at this point, the debate over whether leggings are pants is over, and the answer is clear. Leggings are pants. Leggings can also be great for hiking as they are stretchy pants with lots of room to move. While there is a lack of pockets, that's what packs are for. The IceBreaker Fastray Tights are an excellent hiking pant that offers some insulation and excellent mobility. I love these for shoulder season days and hikes where I'm unlikely to be scrambling or rubbing my leggings against rough rocks. While these tights are quite durable, I prefer to use other hiking pants since I have them for days when I'll be scrambling a lot.
I love the high waist on these lightweight pants, and it gives them even more of a form-hugging and flattering fit. There's also a gusseted crotch for mobility and airflow. While most leggings don't have pockets, these ones do in fact feature a thigh stash pocket large enough for a phone. These leggings are 97% merino wool, meaning they are super soft but also incredibly warm. You can wear them on their own or pair them with another pair of hiking pants on this list for particularly cold days.
Key Features:
97% merino wool
Incredibly insulating
Stash pocket large enough for a phone
High-rise waist
Body contouring details
Specification:
Brand

IceBreaker

Model

#0A56FJ

Weight

8.38 Oz
Buck Mason Trail Roam Pants
The Buck Mason Trail Roam Pants come from the new Buck Mason Trail Roam Collection. These pants feature a cotton nylon blend with a DWR coating that our tester mentioned was perfect for the outdoors. The back pockets are closed with buttons and there are also two hand pockets on the front. The waist is elastic with drawcord tightening.
Our tester wasn't thrilled with the overall fit of the pants, as the hips are quite baggy. Now, the loose fit is great for ventilation and comfort, however, it could be an issue outside of low exertion hiking. On the plus side, these walking pants come with a durable water repellent finish (note: this doesn't make the pants completely waterproof but it does offer decent protection from the elements). And thanks to their cotton blended nylon construction, they're some of the lightest hiking pants around.
Key Features:
Cotton and nylon construction with a DWR finish
Elastic waist with drawcord closure
Great for relaxed hiking days
Four total pockets
Loose fit
The Mack Weldon Atlas Jogger is a warm, soft, and cozy pair of hiking joggers, perfect for shoulder seasons and winter. Our tester was blown away by the softness of the interior fabric and intends to wear them daily (well, hopefully with some washing in between) in the fall and winter as temperatures drop. Most joggers and sweatpants have loose pockets that run the risk of things falling out. However, you'll be pleased to find out that these are hiking pants with awesome pockets, zippered pockets to be exact. Our tester was quite happy with this security measure and we're sure you will be too.
Premium stitching, soft lining, and all-around great casual hiking pant from a high-quality brand. Given the longevity of other Mack Weldon products that our tester has owned, they expect this pair to last for years.
Key Features:
Great for the gym or home
Premium stitching
Zippered pockets
Soft lining
BenBoy Women's Outdoor Hiking Pants
The fact is that hiking is not the most glamorous of activities out there, but there is certainly no need to go out looking drab. Here is a stylish pair of pants that are also some of the best budget hiking pants. The all-around design here features an adjustable waistband fitted with a built-in belt. There is also the addition of patchwork knees which come hand-in-hand with the steric knee darts. To crown it all up, there's an array of one-of-a-kind zippered cargo pockets located in the thigh area. These pockets will undoubtedly come in handy while on a hike.
Another selling point of these BenBoy Women's Outdoor Fleece Slim Cargo Hiking Pants is their ability to brave it through all sorts of weather conditions, be it mild or harsh. First and foremost, it comes in a waterproof design which will come in handy on rainy or snowy days. They also are lined with fleece, so expect to be warm and toasty throughout your hike. This lining also makes them excellent for snowy hikes and mountaineering. These trekking pants are quite breathable, as the aim is to keep you warm and not to slow-cook you in your own moisture. Versatility is a very strong point here, and this is something that should not be taken lightly.
Key Features:
Made of polyester and spandex
Fitted with multiple zipper pockets
Water repellent and windproof
Comes in a slim-fit design
Specification:
Brand

BenBoy

Model

AN-SF1602W-Black-XS

Weight

10.4 Oz
Columbia Rebel Roamer Pant
Nylon and taffeta are not a mix you come across very often, but best believe that in this case it is the perfect marriage. Together these two ensure that the wearer has maximum mobility and comfort while carrying out all sorts of activities. Besides the design, there is a lot that is quite commendable about the Columbia Rebel Roamer pant. For one, it is one of the best when it comes to braving the elements. One of the features that contributes to this is their Omni-Tech technology which really puts them light years ahead of the game. This comes in the form of a unique seam-sealed waterproof makeup that is coupled with unparalleled breathability, which makes for a level of versatility that most options out there lack.
Altogether, this pair of pants keep the moisture out, be it a heavy downpour or a splash of mud. They equally ensure that the airflow is at an optimum level which further gives way for added comfort. Making this already great product better is the addition of a total of two zippered security pockets right at the sides. There are also two rear pockets that can be used to secure all sorts of small items while you go about your business. And because of the unique design, these pants are completely true to size, so there's no need to go up or down a size, as these babies are guaranteed to fit perfectly.
Key Features:
Made of nylon and taffeta
Both waterproof and breathable
Fitted with numerous zipper pockets
They are true to size
Specification:
Brand

Columbia

Model

1531481
Columbia Men's Rapid Rivers Pant
You will probably be surprised at how many articles of clothing simply hang there like a second skin without bringing anything tangible to the table. That is where the Columbia Men's Rapid River pant stands out. Using what they call Omni-shade technology, the material used here guards the wearer against harmful UVA and UVB rays. What exactly does this do? It goes a long way to prevent sunburn or any sun-related skin damage. This is all thanks to the tight weave construction coupled with UV absorbent yarns used to build up the material.
In terms of design, this is also a great product, as there are a bunch of seemingly insignificant features here that work together to create a bombshell effect. One such is the installation of two handy side pockets on the pants, which go a long way to help with the storage of hiking gear. Additionally, there is a semi-elastic waist and gusset attachment that takes the comfort level up several notches. On a more general note, these pants come in an active fit, so the stretchiness is sure to add to the comfort altogether.
Key Features:
A combination of cotton and elastane
Omni-shade technology with UV protection
Fitted with two side pockets
Machine washable
Specification:
Brand

Columbia

Model

1805101
Columbia Men's Silver Ridge
We appreciate the care Columbia brings to their line of hiking pants; nowhere is this care and attention to detail more evident than in their Men's Silver Ridge convertible pants. These are, in our opinion, some of the best-looking outdoor pants the company makes, and they're every bit as comfortable as they are attractive.
Men's Silver Ridge convertible pants are lightweight wonders that keep you warm, dry, and comfortable regardless of conditions. They're cut to accommodate hiking boots, so you can pick up a pair for your next mountaineering adventure. But they also convert easily to shorts with zip-off legs so that when the sun comes out and things warm up, you're ready to adjust. We love the integrated belt to keep these in place and the breathability that a gusseted crotch offers. These convertible hiking pants are surprisingly effective against the wind and offer lots of pockets with both flaps and zippers to hold your emergency kit, including a cargo pocket for your phone.
Key Features:
Durable 100% nylon construction
Convertible hiking pants with zip-off legs
UPF 50 fabric offers UV protection
Side pockets, security pocket and mesh pocket bags
Nylon webbing-style belt included
Specification:
Brand

Columbia

Model

1441671

Weight

10.4 Oz
CQR Men's Tactical Lightweight Hiking Pants
They call them "tactical pants," but we'll call them what they are: hiking pants. Their 65% polyester rip-stop Duratec fabric takes whatever the trail can dish out and emerges unscathed. Outdoor adventurers who are hard on gear will love the durable construction. The elasticized waistband minimizes the need to carry a belt, and in a move after our hearts, they've included eight cargo pockets for carrying various survival kits, camp gear, maps, and more. This makes these pants a great pair for day hikes or longer excursions.
The CQR Men's Hiking Pants are lightweight and breathable, easy to clean, double stitched all around, and stain-resistant. They dry quickly when they get wet, provide a full range of motion, have reinforced seat and knees, won't bind when you sit and can be worn over polypro long underwear or under wind pants when the old north wind begins to blow. Whether you're heading for the summit or to the campsite for the weekend, these are the kind of all-purpose outdoor hiking pants you'll want to be wearing. 
Key Features:
Stretchy pants for freedom of movement
Durable polyester construction
Eight tactical pockets
Reinforced seat and knees
Outdoor Research Men's Ferrosi Pant
The Outdoor Research Men's Ferrosi Pant is a versatile hiking pant loaded with features for a variety of activities. The Ferrosi is a pair of soft-shell pants ideal for rock climbing and hiking. They offer a relaxed fit, a ripstop construction as well as wind and water resistance. These men's hiking pants are also available in a women's version and come in many different colorways and sizes so that there is a fit and style for everyone.
Some features we love on these pants are the zippered thigh pocket that remains accessible even in a harness, the articulated knees and stretchy fabric for movement and durability, and the adjustable cuff to keep out grass, dirt or any other debris as needed. In total, you'll find five pockets throughout these outdoor research hiking pants and a durable polyester ripstop construction that is quite abrasion-resistant.
Key Features:
Stretch fabric for freedom of movement
Abrasion resistant fabric
Great for hiking or climbing
Articulated knees
Relaxed fit pants
Five total pockets
Specification:
Brand

Outdoor Research

Weight

#ODRZ8NY
Why Trust Us
I've been hiking since I was a child. My family could usually only afford camping trips as vacations. What my parents didn't know is that those days of hiking and exploring outside kicked off a lifelong love for the outdoors. As an adult, I started hiking and backpacking as often as I could before I found rock climbing which became my primary sport. Now, I still hike and backpack and spend lots of time hiking to climbing areas too. I've also spent many years working as a retail buyer and as a tech rep for outdoor companies. This experience has left me well versed in technical apparel and how it serves and fits outdoorsy users.
Who This Is For
This guide is for anyone looking for high-quality hiking pants. Whether you're in the alpine, the forest, or the desert, we have a wide variety of options in this guide for hikers and backpackers alike. Many of these pants were tested while rock climbing as well, so you can be sure they have excellent durability.
How We Picked
Selecting the best hiking pants began with the favorites we've worn hiking and backpacking over the years. Then we relied on the knowledge of our communities and looked at best sellers. We also wanted a group of pants for a diverse group of people, terrains, and conditions: we have a relaxed fit and more form-fitting options, budget hiking pants and some on the pricier side. We also looked at heavier options for winter hiking and lightweight hiking pants for summer hiking. We've got roll-up pants and some with zip-off legs, some that are great for everyday wear, softshell fabric pants, rain pants, and even pants with sun protection. Offering a strong variety of features and options is an important part of curating the best hiking pants.
How We Tested
My partner and I took on the testing for all the tested hiking pants in this guide, but many of our outdoorsy friends also have many of these versatile hiking pants in their closets, so we also sought their opinion. We have a broad network of climber, hiker, and backpacker friends and their opinions and experience helped us shape this guide. Each pair of tested pants was put through the wringer while we hiked and climbed so you can rest assured the models you see here are as durable as they can be.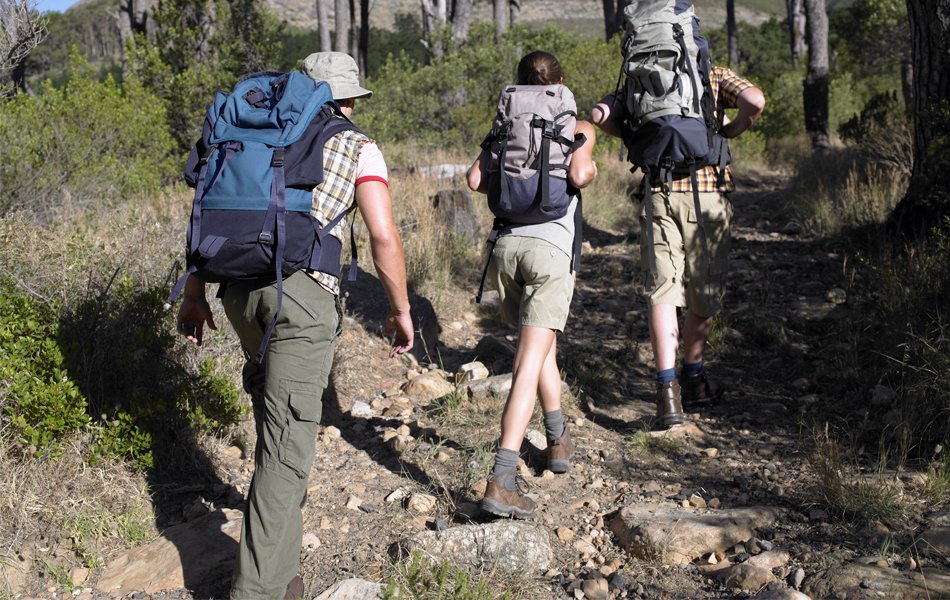 Features To Look For In Hiking Pants
Here are a few things you'll want to keep in mind when searching for the right hiking pants.
Material – As we mentioned above, you'll want your hiking pants to wick away moisture, breathe, and keep you warm. As such, a nylon soft shell that protects you from wind and light rain is preferred by many people. You might also consider spandex as it is a stretchy fabric that will allow an excellent range of motion. When the weather begins to get chilly, though, you should seriously consider wool. Merino wool will wick away moisture while also preventing odor buildup and keeping you toasty warm. There's a wide variety of materials available, and it's vital to ensure you've figured out your personal needs before making a decision on quality hiking pants.
Weight – Most hikers have only the pants they're wearing when they hike through the woods, so they don't worry much about the weight. However, if you want to go the extra mile and stow a second backup pair in the pack, you'll definitely need to consider the weight of those pants. As a general rule, you'll want that backup pair to tip the scales at less than one pound, and there are plenty of hiking pants out there that will fit the bill, including several of the pants on the above list.
Pockets – Some people believe in the virtues of spandex outdoor pants, which is great. For our money, though, we want pockets. Pockets allow you to better distribute the weight you're carrying. You can also put your survival gear like the tactical flashlight, compass, multi-tool, etc in your pants pocket, and they'll be immediately accessible in any situation. Maps, candles, the fire starter, energy bars, and more are also excellent candidates for the pockets of your hiking pants. While many hikes require a pack, if you're doing a fast and light hike with a water bottle and a few essentials, definitely look for hiking pants with pockets, including a larger zippered security pocket.
Water resistance – Although you won't find hiking pants that are completely waterproof (true waterproof hiking pants would have almost no breathability), it's typically not necessary. The important thing is that they're water resistant and can dry quickly. Any hiking pants listed above will do a decent job drying out if they get wet in a downpour or crossing a stream.
Breathability – In colder months, breathability also means letting in cold air. In warmer months, breathable pants can be the difference between a happy hike and heat exhaustion. You may need a more breathable pair of hiking pants for summer and weather-resistant pants for winter.
Belts – If you've been hiking all day with little more than a power bar since breakfast 10 hours earlier, you will find your pants slipping down on you (please eat more than this on big trail days, though). To keep your hiking pants where they belong, you'll want either a built-in belt, a drawstring, or belt loops for your own belt. In addition, many types of outdoor pants come with a belt included.
Make and price – Some people will want to stick to brands they either have experience with or have at least heard of. For other people, who makes their hiking trousers is entirely irrelevant. While we like to see competition in the marketplace regarding something like hiking pants and other climbing gear, we look for quality, features, and price. One of the great things about outdoor pants is that you can get an excellent pair that will last you for years (including some brand-name hiking pants) for about the price of a large pizza. However, this often takes some searching, but you're in luck because we've done that for you.
Types of Hiking Pants
Traditional - Traditional hiking pants are full-length pants that can host any variety of features like belt loops and pockets. These pants will usually not have features like zip-off legs, roll-up legs, or anything else. These pants can be lined for warmth or act alone as a durable barrier between your legs and anything the great outdoors can throw at them.
Convertible - Convertible hiking pants may not be the most stylish hiking pant available, but they are quite helpful in changing weather conditions and when it comes to stream crossings. Long days outside often boast changing conditions. What may start as a chilly morning could be a blistering afternoon. Instead of sweating, take off some layers and wear your pant with zip-off legs. This makes it easy to switch to capris or shorts when the temps skyrocket. Additionally, if you encounter water crossings, zip-off pant legs to allow you to keep your pants dry while you cross and go back to full-length pants when you're safely on the other side.
Roll-up - Most pants without a fitted cuff at the bottom can be roll-up pants, but some pants feature designs that secure the rolled-up fabric, making them specialized. These convertible hiking pants are great for water crossings and varying temperatures, but some folks may find themselves annoyed by the bouncing or excess fabric.
Softshell - Softshell pants are best for chillier days. These pants provide additional insulation and wind and water resistance. Softshell pants are a great choice for mild winter days or fall.
Tights - Tights often provide excellent moisture wicking and breathability while offering top-notch freedom of movement. Many of us love how comfortable tights are, and I'll often use them for short to moderate hikes or anything non-technical. Some of the downsides of tights are the lack of pockets and durability.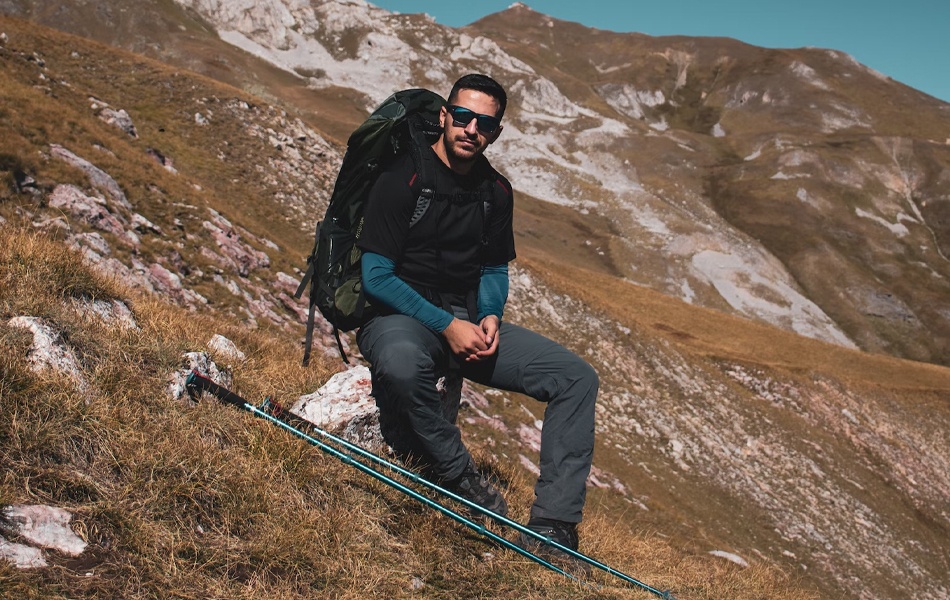 Hiking Pants FAQ
Q: Should hiking pants be loose or tight?
A: When it comes to the fit of your pants, they should be comfortable and not do anything to impede your movement. In all likelihood, you're not taking another pair of pants hiking with you, so you have to make sure the ones you have aren't in any way irritating. Here's how you can test your pants before you ever venture into the woods with them.
Squat – Do a full squat and hold it. Are the pants pinching you anywhere? If they are, that pinching effect will likely develop into a problem long-term. Are they riding up to mid-calf on you? They should stay within a few inches of the top of your hiking boot, or they're too short. Is your butt still in the pants? If you're displaying double moons, it means the pants are too flimsy, or another size may be warranted.
Sit – If the pants are tight or uncomfortable during normal sitting, you should try another pair. You may need another size or another design altogether.
Raise one knee at a time – Raise each knee as high as possible. Did your pants stay on? Did they split in the crotch? Did they prevent you from lifting your knee as high as you wanted to? If the answer to these questions is "Yes" try another pair.
Q: How to choose appropriate hiking pants?
A: Beyond the above considerations, some other things you should look for in hiking pants are durability, breathability, quick drying, a belt or drawstring of some kind, and weight (lighter for summer, heavier for winter hiking). If the pants meet all of those criteria and also speak to you from a design and color standpoint, then they're likely just right for you.
If your hikes will include lots of scrambling, a more durable pant is needed, same with bushwhacking. I do a lot of hiking to approach alpine rock climbs and look for pants with reinforced knees and that can tolerate scree fields.
Q: What are the best makers of hiking pants?
A: As you might be able to tell from the above list, we're partial to the Columbia brand. However, NORRONA topped our list for its durability. We also love the versatility in PrAna products. Their men's pants tend to hold up longer than the women's versions though. The SITKA Ascent Pant impressed us and nearly stole the top spot.
Q: What's the best material for hiking pants?
A: The best hiking pants should be made of lightweight material that is breathable and effectively wicks moisture away while retaining heat. For cold weather hikes, you can't lose with wool, but there are also several synthetic alternatives available today if you find wool irritating or heavy. Remember, the fact that it's cold out doesn't necessarily mean you need heavier pants. Wind pants that prevent the cold wind from penetrating through the pants to your skin may be all you need. Either that or leggings made of spandex, polypropylene, or nylon under the pants. If the weather turns warmer, you can always remove layers to adjust. Because you can hike in so many different environments and with a wide variety of difficulties, you should first assess your personal needs.
Sources:
What to Wear Hiking - REI Co-Op
Sign Up Now
GET THE VERY BEST OF GEARHUNGRY STRAIGHT TO YOUR INBOX