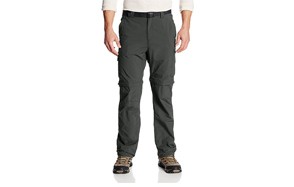 Columbia Men's Silver Ridge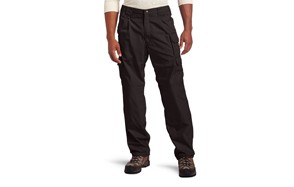 5.11 TacLite Pro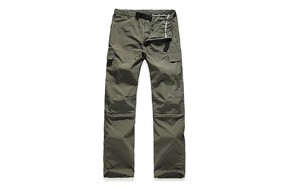 Jessie Kidden Quick Dry Convertible
There are few pieces clothing more crucial to a successful hiking excursion than your hiking pants. Hiking pants provide you with warmth, comfort, protection from underbrush, freedom of movement and additional storage options (if they have pockets, which we believe they should) among other things. The right pants will also wick away moisture and allow excess heat to escape when the weather is warm and help retain heat when the mercury dips. Whereas in the past you basically had one choice for hiking pants (wool) today they come in a variety of materials including spandex, nylon, poly blends and, of course, wool; which still has a place on the mountain.
In this review guide we're going to take a look at what we consider to be the best hiking pants currently on the market and what makes them so great.
Our Top Picks For The Best Hiking Pants
CQR Men's Tactical Lightweight Hiking Pants
See More Reviews

They call them "tactical pants" but we'll call them what they are, hiking pants. And damned good ones too. Their 65% polyester rip-stop duratex fabric takes whatever the trail can dish out and emerges unscathed. The elasticized waistband minimizes the need to carry a belt and in a move after our hearts they've included 8 cargo pockets for carrying various survival kit, camp gear, maps and more.
The CQR Mens Hiking Pants are lightweight and breathable, easy to clean, double stitched all around and stain resistant as well. They dry quickly when they get wet, provide full range of motion, have reinforced seat and knees, won't bind when you sit and can be worn over polypro long underwear or under wind pants when the old north wind begins to blow. Whether you're heading for the summit or to the campsite for the weekend these are the kind of all-purpose outdoor hiking pants you'll want to be wearing.
Specification:
Brand

CQR

Model

TLP-105

Weight

5 oz
5.11 TacLite Pro Hiking Pants
See More Reviews

The Men's TacLite Pro hiking pants from 5.11 are an upgrade of their standard tactical pants, this time with a fully gusseted crotch, lightweight ripstop fabric throughout and plenty of pockets. Those pockets are conveniently located and generously proportioned so you can always have your emergency kit at hand. There's even a dedicated knife pocket on the right front.
That knife pocket features cordura nylon reinforcement and the pants as a whole are treated with Teflon Wear Resistant Finish so mud, coffee and any other potential stain agents slide right off. The heavy duty belt loops won't give out if you're carrying your large survival knife on your belt and the YKK zippers on these hiking pants are as tough as they are dependable. There's also a clip loop on the front where you can hang your tactical flashlight or compass. Tough, durable, stain resistant and attractive. What else do you want in hiking pants?
Specification:
Brand

5.11

Model

TacLite Pro

Weight

1 lb
Columbia Men's Pilsner Peak Hiking Pants
See More Reviews

See More Reviews



The Columbia Men's Pilsner hiking pants are as tough as they come and feature high performance Omin-Wick technology. They're a more tailored pant than most of the others on our list but the material is flexible enough to nonetheless provide full range of motion. Regardless of whether you're spending the weekend parked in the campsite or plan to engage in an epic trek across the ridge the Columbia Pilsner hiking pants won't let you down.
The Columbia Men's Pilsner hiking pants are as tough as they come and feature high performance Omin-Wick technology. They're a more tailored pant than most of the others on our list but the material is flexible enough to nonetheless provide full range of motion. Regardless of whether you're spending the weekend parked in the campsite or plan to engage in an epic trek across the ridge the Columbia Pilsner hiking pants won't let you down.
Specification:
Brand

Columbia

Model

Pilsner Peak

Weight

2 lb
Jessie Kidden Quick Dry Convertible
See More Reviews

Jessie Kidden is not exactly a household name but they've made a nice pair of hiking pants here. The name is actually a trademark of the Guangzhou Hezhicheng Trade Co., Ltd., a Chinese garment producer that makes a range of outdoor wear for men and women. These hiking pants are extremely durable, water resistant and will even shield your legs from harmful UV rays.
These quick dry hiking pants are perfect for hiking, bouldering or even hunting as they're lightweight and extremely comfortable. With 6 pockets they provide plenty of storage space for emergency gear and often-used items like your compass, fire starter, maps and multi-tool. They also feature a gusseted crotch and a convenient D ring to hold miscellaneous items and to top it all off they zip off at the knee; converting to shorts for those days when the mercury rises. Sizing on these pants can be a bit small but besides that these are first-class outdoor pants for the everyday outdoor enthusiast.
Specification:
Brand

Jessie Kidden

Model

ZB02
Columbia Sportswear Men's Cascades
See More Reviews

See More Reviews



The Men's Cascades hiking pants from Columbia are built for the outdoors. The company hasn't wasted any effort creating the Cascades so they can be worn to the office on casual day. These are outdoor pants, built for the trail. They're as comfortable as they are durable and as durable as they are practical.
The Cascades hiking pants feature a gusseted crotch, UV 50 sun protection, articulated knees for ease of motion and strength and "Omni-Shield" repellency that ensures the pants don't succumb to mud, dirt and other debris. There's also a half-dozen pockets to hold your survival kit, maps, power bars and more. Whether you're heading up the mountain on a cool day or lounging by the campfire after a day of fly fishing these pants will suit you well.
Specification:
Brand

Columbia

Model

1592681-160

Weight

4 lb
Meefur Men's Outdoor Stretch
See More Reviews

The Meefur Men's Outdoor Stretch Hiking Pants have a deliberately sporty profile complete with high-key complementary colors, a slim profile and reinforced knees. There are dual zip pockets so sensitive materials like maps and matches don't get wet or lost and the material has spandex woven in for greater flexibility.
The Meefur Outdoor Stretch hiking pants are extremely light and comfortable. While they'll fit you more snugly than other pants the 87% chinlon, 13% spandex weave means they'll never bind or restrict your range of movement. While casual campers and day hikers will find plenty to like with the Meefur Stretch hiking pants these are ideal for rock climbing on cooler days, ice climbing (though you'll need to wear polypro long underwear beneath them) and long treks above tree line. It should also be mentioned that they're extremely affordable.
Specification:
Brand

Meefur

Model

AORUI70270-Navy

Weight

12 oz
Bienzoe Men's Outdoor Quick Dry
See More Reviews

The Bienzoe Men's Outdoor hiking pants take "unassuming" to a whole 'nother level. The cut may produce the cleanest profile of any hiking pants out there while at the same time managing to be comfortable and leaving enough room for underlayers should the temperature call for them. Ideal for those who aren't thrilled by the sometimes overwrought profile of hiking gear in general and hiking pants in particular.
The stovepipe nature of the pant legs on the Bienzoe Men's Outdoor pants somehow don't impede freedom of movement, which is a pretty good trick. Overall these are comfortable and durable, water resistant and quick to dry if you stumble in a creek or get caught in a cloudburst. The ripstop fabric means they don't shy away from underbrush and every pair is equipped with YKK zippers. The pockets are robust and numerous enough that you can remove some of the load from your back and distribute it down your legs. When your hiking odyssey is ended just toss them in the washing machine on cold.
Specification:
Brand

Bienzoe

Model

Waterproof Convertible Cargo
See More Reviews

From the articulated knees to the elasticized waist to the multiple pockets the FunnySun Men's Hiking Pants are pants after your heart, even if the company name leaves something to be desired. The aforementioned pockets are distributed throughout the length of the pants right down to the mid-thigh where 2 zippered pockets extend nearly to the knees.
The FunnySun Men's Hiking Pants are made from 85% polyamide and 15% spandex which provides them the flexibility they need to answer the call even when you really need to stretch things out. They're extremely lightweight hiking pants that manage to retain a sturdy feel. A belt is included although, because of the elastic waist band, many folks will likely leave it (the belt) home. The zippers on the pockets are a welcome touch as well allowing you to store important items there without having to worry about them falling out and being lost to time. An excellent overall value.
Specification:
Brand

FunnySun

Model

F-Pants-9917
Columbia Men's Silver Ridge
See More Reviews

We appreciate the care Columbia brings to their line of hiking pants and nowhere is this care and attention to detail more evident than in their Men's Silver Ridge convertible pants. These are, in our opinion, the best looking outdoor pants the company makes and they're every bit as comfortable as they are attractive.
Men's Silver Ridge convertible pants are lightweight wonders that keep you warm, dry and comfortable regardless of conditions. They're cut to accommodate hiking boots so you can pick up a pair for your next mountaineering adventure. But they also convert easily to shorts so that when the sun comes out and things warm up you're ready to adjust. Lots of pockets with both flaps and zippers to hold your emergency kit and they're surprisingly effective against the wind.
Specification:
Brand

Columbia

Model

AJ8004-160-36-PARENT

Weight

14.4 oz
Trailside Supply Co. Big Boys' Nylon
See More Reviews

We wrap up the review section of this guide with Trailside Supply Co's Big Boys Nylon hiking pants. They sport a clean profile, a pair of zippered pockets at thigh level and they're also convertible; meaning the legs are zippered at the knee so the pants can be easily converted to shorts.
The Big Boys Nylon hiking pants from Trailside have a total of 6 good-sized pockets to hold important items that you always want at the ready like your phone, compass, pocket knife, granola bars and more. They also feature an elasticized waistband and come with a belt that you may or may not want to use. They can be a little restrictive in the crotch when you're stretching to reach that next boulder but nothing too odious. Throw in the fact that they're water resistant, dry fast and wash up easy in the machine and you've got a great value in hiking pants you'll be wearing on the mountain and in the camp.
Specification:
Brand

Trailside

Model

CLOMNP001BB
Buyers Guide
Here are some common questions related to choosing a pair of hiking pants that will fit your needs.

Q: How Should Hiking Pants Fit?
A: When it comes to fit your pants should be comfortable and not do anything to impede your freedom of movement. In all likelihood you're not taking another pair of pants hiking with you so you have to make sure the ones you have aren't in any way irritating. Here's how you can test your pants before you ever venture into the woods with them.
Squat – Do a full squat and hold it. Are the pants pinching you anywhere? If they are that pinching effect will likely develop into a problem long term. Are they riding up to mid-calf on you? They should stay within a few inches of the top of your hiking boot or they're too short. Is your butt still in the pants? If you're displaying double moons it means the pants are too small for you.
Sit – If the pants are tight or otherwise uncomfortable during normal sitting you should try another pair.
Raise one knee at a time – Raise each knee as high as you can. Did your pants stay on? Did they split in the crotch? Did they prevent you from lifting your knee as high as you wanted to? If the answer to any of these questions is "Yes" try another pair.
Q: How To Choose Appropriate Hiking Pants
A: Beyond the above considerations some other things you should look for in hiking pants are durability, breathability, quick drying, a belt or drawstring of some kind (because you're going to lose weight hiking all day) and weight (lighter for summer, heavier for winter hiking). If the pants meet all of those criteria and also speak to you from a design and color standpoint then they're likely just right for you.
Q: What Are The Best Make Of Hiking Pants?
A: As you might be able to tell from the above list we're partial to the Columbia brand. Not because anyone here has a stake in Columbia (we don't) but just because they consistently produce high quality, high durability, good fitting, attractive hiking and trekking pants for any season and just about any conditions.
Q: What's The Best Material For Hiking Pants?
A: They should be made of lightweight material that is breathable and effectively wicks moisture away while retaining heat. For cold weather hikes you can't lose with wool but there are also a number of synthetic alternatives available today if you find wool to be irritating. Remember; the fact that it's cold out doesn't necessarily mean you need heavier pants. Wind pants that prevent the cold wind from penetrating through to your skin may be all you need. Either that or leggings made of spandex, polypropylene or nylon under the pants. If the weather turns warmer you can always remove layers to adjust.

Things To Look For When Buying Hiking Pants
Here are a few more things you'll want to keep in mind when searching for the right pair of hiking pants.
Material – As we mentioned above you'll want your hiking pants to wick away moisture, breath and keep you warm. As such a nylon soft shell that protects you from wind and light rain are preferred by many people. You might also consider spandex as it will allow an excellent range of motion. When the weather begins to get chilly though you should seriously consider wool. Merino wool will wick away moisture while also preventing odor buildup and keeping you toasty warm.
Weight – Most hikers have only the pants they're wearing when they hike through the woods so they don't worry much about the weight. However, if you want to go the extra mile and stow a second, backup, pair in the pack you'll definitely need to consider the weight of those pants. As a general rule you'll want that backup pair to tip the scales at less than 1 pound and there are plenty of hiking pants out there that will fit the bill, including several of the pants on the above list.
Pockets – Some people are believers in the virtues of spandex outdoor pants and that's great. For our money though we want pockets. Pockets allow you to better distribute the weight you're carrying. You can also put your survival gear like the tactical flashlight, compass and multi-tool etc in your pants pocket and they'll be immediately accessible in any situation. Maps, candles, the fire starter, energy bars and more are also excellent candidates for the pockets of your hiking pants.
Water resistance – Although you won't find hiking pants that are completely waterproof (true waterproof hiking pants would have almost no breathability) it's typically not necessary. The important thing is that they're water resistant and able to dry quickly. Any of the hiking pants listed above will do a decent job drying out if they get wet in a downpour or crossing a stream.
Belts – If you've been hiking all day with little more than a power bar since breakfast 10 hours earlier you're going to find your pants slipping down on you. It's only natural. To keep your hiking pants where they belong you'll want either a built in belt, a drawstring or belt loops for your own belt. In addition many types of outdoor pants come with a belt included.
Make and price – Some people will want to stick to brands they either have experience with or have at least heard of. For other people, who makes their hiking trousers is entirely irrelevant. While we like to see competition in the marketplace when it comes to something like hiking pants and other climbing gear we'd tend to stick with the brand names. But that's just us. One of the great thing about outdoor pants is that you can get an excellent pair that will last you for years (including some brand name hiking pants) for about the price of a large pizza. Amazing.