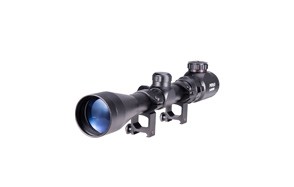 Pinty Illuminated Optical Telescopic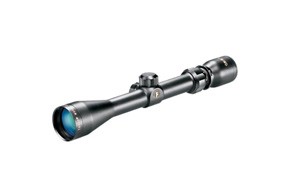 Tasco World Class 3-9×40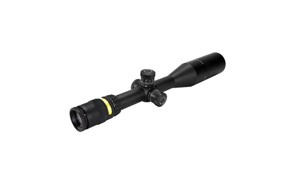 Trijicon TR23 AccuPoint 5-20×50
You can own the world's most sophisticated crossbow with tons of crossbow accessories and have years of experience in the field but if you're working with a substandard crossbow scope none of it is likely to matter much. Your crossbow scope is that piece of the puzzle that separates an accurate shot from a miss. While most crossbows come with a factory scope, they're typically of fair to middling quality at best and that's just not going to cut it for most serious archers. Below we're going to look at the 10 crossbow scopes that will help you get the most out of your crossbow. Some were made specifically for crossbows while a few are rifle scopes that can be adapted to your crossbow with little effort. The most important thing is that they'll all help you become the archer you want to be.
Our Top Picks Of The Best Crossbow Scopes
Nikon 8461 Bolt XR 40mm Crossbow Scope
See More Reviews

The Nikon 8461 Bolt XR scope is one of those made specifically for crossbows and is clearly one of the best crossbow scopes for harvesting available light so you can get a nice clear shot at the target. The lens of the Bolt XR is coated with anti-reflective materials specially designed to provide you with full field clarity. The Nikon Bolt XR also boasts the advanced Bullet Drop Compensator or BDC reticle which in theory should allow you to target precisely out to an edge-of-the-envelope 60 yards.
The Bolt XR Nikon crossbow scope is high quality crossbow scope that will let you explore the limits of the possible with your crossbow. Its o-ring sealed, nitrogen purged, high-quality one-piece tube construction will provide you a crystal clear view even when high humidity is causing your camera lens and glasses to fog up. In addition making adjustments in the field is now no more difficult than dialing in the desired range and the zero-turret reset allows you to re-engage quickly and effectively. You can pay more for a crossbow scope but chances are you won't get more. This is a must have scope for any archer yearning to get just a bit more out of their horizontal bow.
Specification:
Brand

Nikon

Model

8461

Weight

1.2 lbs
Redfield 115204 Revenge Crossbow Scope
See More Reviews

Redfield has been making high quality optics for more than a century. Their rifles scopes are some of the best known and most sought after on the market. Their Revenge Crossbow Scope embodies everything you'd expect from a Redfield scope: quality materials, thoughtful design, top-notch construction and does all that for a very reasonable price. The Revenge features the multicoated lens system that helps optimize resolution and clarity regardless of lighting conditions. The fast focus eyepiece mitigates reticle focus problems and the 2x – 7x magnification lets you acquire a nice clear target at a distance. This crossbow scope is also shockproof (within reason of course), fogproof and waterproof so those rainy days hunkered down in the tent aren't going to cause any problems.
Field of view is wide at 2x and the image clear with beautiful contrast. Even on the wettest day the crossbow scope won't fog up which allows you to make the most of the four-plex reticle. While the magnification is typically good take note that you're going to lose field of view when you magnify. And while that's to be expected the loss seems maybe just a bit more than average here. Still, if you're targeting out more than 50 yards you're tossing up a Hail Mary anyway. At the end of the day the Revenge crossbow scope allows you to get the most out of your high-end crossbow and should serve you well for years.
Specification:
Brand

Redfield

Model

115204

Weight

1.6 lbs
Trijicon TR23 AccuPoint 5-20×50 Crossbow Scope
See More Reviews

Trijicon isn't playing games with their crossbow scopes. They make some of the best, most durable and effective rifle scopes on the market. Scopes that have seen extensive service in the Afghan and Iraqi theaters and elsewhere. So one can be excused for approaching this TR23 AccuPoint with high expectations. And to almost no one's surprise the TR23 meets or exceeds those expectations. This is perhaps the best crossbow scope for low light; one that presents you with a crystal clear target that isn't compromised from forward emissions from the illuminated reticle. If pushing the envelope with your crossbow is something that interests you, you need to give the TR23 serious consideration.
If there's one aspect of the TR23 AccuPoint 5-20×50 crossbow scope that's going to cause a lot of archers to hesitate it's the price. Make no mistake, this scope will set you back more than a thousand dollars so you need to decide just how serious you are about pushing the performance envelope on your horizontal bow before you take the plunge. Should you do so however you'll be richly rewarded with perhaps the best overall scope you've ever used. There's plenty of eye relief as you might expect, although that's not as big an issue for the crossbow as it is for high caliber rifles and the body is rugged anodized aluminum that provides a weatherproof shell. You'll be a little lighter in the wallet after purchasing this scope but you'll also maybe the best illuminated crossbow scope around.
Specification:
Brand

Trijicon

Model

TR23-2

Weight

3 lbs
Pinty Illuminated Optical Telescopic
See More Reviews

At the opposite end of the price spectrum from the TR23 is the Pinty Illuminated Optical crossbow scope. Pinty is a registered trademark of Banyan Imports and while the extremely attractive price might make some worry that the scope itself isn't up to snuff you should be pleasantly surprised by the feature set of this crossbow scope. With 3x-9x magnification you'll have no problem zeroing in on your prey and with 5 levels of brightness you won't have any trouble discerning it from the background either. The wide 40mm lens makes short work of dim lighting conditions and with up to 3 1/4 inches of eye relief safe operation is a breeze.
The Pinty Illuminated Optical Telescopic Scope is a fine crossbow scope at an attractive price. It's not one you're going to take into competition with you but for duck hunting and other common forms of crossbow-related activities it should serve you well and truly. With adjustable elevation and windage and a ¼" MOA to work with you'll get a nice clean shot every time. Just keep in mind that with a crossbow scope like this proper maintenance is crucial so don't forget to clean it well after each outdoor excursion.
Specification:
Brand

Pinty

Model

PINTYMIO0039

Weight

1.4 lbs
Trijicon TR24 AccuPoint 1-4×24 Dual-Illuminated
See More Reviews

Trijicon makes another appearance on our list because this is after all a "best of" list and you're going to be hard pressed to find better scopes than the ones produced by Trijicon. That said the TR24 AccuPoint 1-4×25 Dual-Illumination scope is another winner from Tijicon that will easily adapt to your crossbow and provide you the same advantage enjoyed by world class marksmen. One of the things that separates Trijicon from the competition is without a doubt the peerless edge to edge clarity you get from the TR24 (and their other scopes as well) as well as the precise focus achieved via the multi-focus eyepiece.
It's hard to find fault with the Trijicon TR24 AccuPoint crossbow scope. It allows for easy adjustment of all relevant variables, is built like a brick you-know-what, has a high level of waterproofing and the clarity of the optics is something to behold at 1x or 4x magnification. The multi-coated lens keeps reflections from interfering with your process and the 6061-T6 hard-coat anodized aluminum shell will stand up to whatever you can throw at it. There's 3 1/5 inches of eye relief and you can drop this puppy into a puddle or a stream up to 10 feet deep without causing any problems. As with the Trijicon TR23 you're going to pay a premium for performance but the TR24 crossbow scope will deliver for you without fail time and again.
Specification:
Brand

Trijicon

Model

TR24

Weight

2 lbs
Redfield 3-9x40mm Revolution
See More Reviews

Here's another Redfield crossbow scope that's easy on your wallet yet provides you with many of the features and performance you'd expect only from far more expensive crossbow scopes. The tube here is fashioned from the same 6061-T6 aircraft grade aluminum you'll find on the Trijicon TR24 which means this is one tough scope that's not going to wilt under the pressure of the hunt. 3x to 9x magnification is just as effective here as it is on the Pinty Illuminated Crossbow Scope profiled above and the 1/4 MOA lets you zero in with precision. While not all components of this crossbow scope are domestically manufactured, some are and the whole thing is assembled in Oregon USA.
If what you want is a high quality crossbow scope that's built of first rate components to exacting standards the Redfield Revolution/TAC scope should be on your radar. From the multi-coated Illuminator Lens to the RTA eyepiece and AccuTrac elevation and windage adjustments this is a superior crossbow scope that will elevate the performance of your crossbow far above what you'd get from the factory scope it came with. Toss in the fact that it's a quarter the price of some other crossbow scopes and you have a product that every value conscious archer will love.
Specification:
Brand

Redfield

Model

118348

Weight

11.2 oz
See More Reviews

The Birmingham Small Arms Company, better known as BSA, have been producing high quality optics for more than 2 decades. Their 3-12×40 Sweet 17 Scope is designed for rifles but adapts easily to your horizontal bow. When used as such it's a versatile, no-nonsense crossbow scope that doesn't waste any time acquiring the target and presenting it to the RGB illuminated reticle for your consideration. Like any good crossbow scope it's water and fogproof and made from high quality aluminum that will stand up to years of use.
The 12x magnification may be more than you need for scoping a duck from 20 yards but it's nice to know it's there. All in all there's a reason the Sweet 17 from BSA is one of the more popular scopes on the market because it's both an outstanding rifle scope that will help you zero in on that varmint from 200 yards and an outstanding crossbow scope that will help you bring down that duck at 40 yards without blinking an eye. Optics are clear and crisp and there's no chance of scoping yourself with the incredible 4 inches of eye relief.
Specification:
Brand

BSA Optics

Model

S17-312X40RGBGE

Weight

2.4 lbs
See More Reviews

The UTG 4×32 1" Crossbow Scope is built specifically for your crossbow and looks the part. It tips the scales at a trim 12.3 ounces and features a 1" high quality aluminum main tube. The lens is 32mm so you get a nice wide field of vision and is designed to be parallax-free up to the practical limit of most crossbows which is about 50 yards. While magnification is fixed at 4x this is not a problem given the constraints of the crossbow. Overall clarity is top-notch and won't fall apart past 40 yards and you won't have to worry about this crossbow scope fogging up on you on those damp and dank October days.
The UTG 4×32 crossbow scope is that rare combination of high quality and low price. What you get for less than a hundred bucks is a tough, precision scope that's rainproof, shockproof and fogproof and sites easy out to 100 yard plus; though you won't be worrying about that with a crossbow. The fixed 4x magnification will suit your crossbow needs just fine while the red and green brightness can be adjusted to your personal preference quickly and easily. It's not a crossbow scope without some flaws (the reticle is not the best in the business) but for the price you'll be hard pressed to find better.
Specification:
Brand

UTG

Model

SCP-M4CR5WQ

Weight

1.6 lbs
See More Reviews

This 3-9×40 crossbow scope from Tasco has fully coated optics that produce stunning clarity considering the price. It retains that clarity whether you're zeroing in close or have it maxed out to 9x. The nitrogen purged reticle effectively keeps the fog at bay while the high quality aluminum tube makes for a scope that's both tough and long lasting. This is one of those crossbow scopes more expensive scopes will be eyeing jealously and one a budget conscious archer will greet with a well-deserved smile.
This is yet another high value crossbow scope that proves performance and price don't always go hand in hand. With fully coated lenses to provide distortion free optics and a 100% waterproof body the Tasco World Class 3-9×40 crossbow scope brings the target to you. When you're in tight on that whitetail you'll have a nice wide field of vision and plenty of light and contrast, and when you're acquiring the target at 50 yards you'll get the same level of performance. If you're an archer on a budget and you're looking for near-pro grade optics give serious consideration to this Tasco 3-9×40.
Specification:
Brand

Tasco

Model

WA39X40N

Weight

1.65 lbs
Beileshi 2×42 Green and Red
See More Reviews

The final crossbow scope on our list comes to us courtesy of Beileshi and is their 2×42 Green and Red Reticle Scope. This is a beautiful compact scope that's also one of the least expensive on our list. You get a fixed 2x magnification that's more than adequate for most crossbow hunters and the 2 1/2 MOA will help with rapid target acquisition. Adaptable to a wide range of weaponry the 2×42 from Beileshi really shines on your crossbow where its compact profile doesn't overwhelm the way some larger crossbow scopes can.
You can spend a lot more on a crossbow scope and not get better performance or durability than you'll get with the Beileshi 2×42 Green and Red Reticle Scope. You'll get a more than adequate fix on your target whether close or distant and the unlimited eye relief means you never have to worry about getting scoped when you can least afford it. Overall build quality is high. The fogproofing is real and dependable and if all that doesn't get you the sub-$50 price tag should.
Specification:
Brand

Beileshi

Model

B01J3G7356

Weight

1.2 lbs
Buyers Guide
Trying to find the right crossbow scope can be a confusing process. If you've never worked with scopes before in any capacity the terminology and concepts will be foreign to you. But fear not. The number of variables involved in a crossbow scope is limited so once you get a feel for the technology you'll be good to go with just about any scope out there.
Here are a few of the most common questions we encountered while researches crossbow scopes for this guide. Hopefully they'll help shed some light on the subject for you:
Q: What Is The Maximum Range Of A Crossbow?
A: If by "maximum range" you mean "maximum effective range" then the maximum range of a crossbow (the range at which it ceases to be effective for hunting) is about 40 yards; 50 yards on a good day with an experienced archer. The arrow itself is capable of flying many times that distance but beyond 40 -50 yards you lose the ability to target accurately.
Q: Can You Use A Rifle Scope As A Crossbow Scope?
A: As you can see by the number of rifle scopes we've reviewed here the answer is "absolutely". In fact many crossbow enthusiasts won't use any other kind of scope. There are any number of websites where you can learn how to replace the stock scope on your crossbow with a rifle scope. It's easier than you think.
Q: How do You Sight In A Crossbow Scope?
A: Sighting with a crossbow scope can take some getting used to but once you do it will all seem perfectly logical and right. Assuming the scope has been installed correctly:
Establish a level position to shoot from
- This could be a conveniently located large boulder or fallen tree but more likely you'll want to use a bipod or tripod to establish a level platform. Either will produce the result you're after. Once you've got a nice stable platform to fire from…
Establish the relationship between the crossbow scope and your eye - Your eye should be far enough removed from physical contact with the scope that there's little or no chance of recoil sending the scope back into your face. Once you have that spatial relationship established and you can see a clear image through the scope…
Align the reticle - Should you fail to properly align the reticle to windage and elevation it's likely your shot will miss to one side or the other. The farther you are from the target the more pronounced the miss is likely to be. Once your crosshairs are properly aligned…
Set the MOA - MOA or Minute of Angle is a set of calculations that allow you to sight your crossbow scope more accurately over long distances. In broad terms at ¼" MOA you'll need to turn the elevation, or windage knob until you hear 4 clicks in order to adjust targeting by 1" at 100 yards. Follow the link above to learn more about MOA.
Practice - Once you have the particulars set up take a series of practice shots at predetermined targets. These targets should be located close to where you believe your prey will ultimately be. Take note of what's working and what isn't and tweak accordingly.
A Few Things To Be Mindful Of
You may find the crossbow scope sighting procedure takes you awhile to get the hang of and you might need to make quite a number of adjustments before you start to see satisfactory results. But hang in there. Once you've nailed the process you won't have to relearn it.
Single dot/reticle crossbow sights can be sighted for any distance you want. However if there is more than one dot/reticle you will need to adhere to the established values. That's because the relationship between dots and reticles is not up for debate.
The protective caps that cover the adjustment knobs on crossbow scopes have a bad habit of walking away when you're not looking. Don't ever set them down on the ground or somewhere else. Once you remove them put them in your pocket. The same pocket every time.

Conclusion
As is the case with most other things there are great crossbow scopes, good crossbow scopes and crossbow scopes that are just taking up space. Use the information provided above to ensure you get the best crossbow scope for your purposes. And don't forget to stop back regularly for more informative product review guides from Gear Hungry.