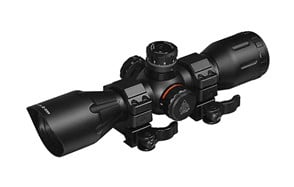 UTG 4X32 1″ Crossbow Scope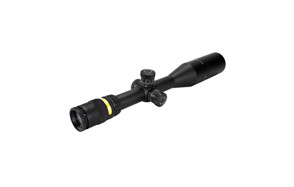 Trijicon TR23 AccuPoint 5-20×50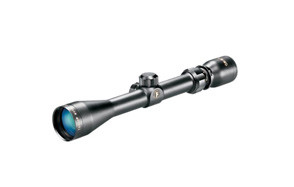 Tasco World Class 3-9×40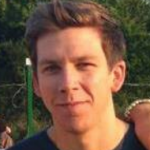 You can own the world's most sophisticated crossbow with tons of crossbow accessories and have years of experience in the field but if you're working with a substandard crossbow scope none of it is likely to matter much. Your crossbow scope is that piece of the puzzle that separates an accurate shot from a miss. While most crossbows come with a factory scope, they're typically of fair to middling quality at best and that's just not going to cut it for most serious archers. Below we're going to look at the 10 crossbow scopes that will help you get the most out of your crossbow. Some were made specifically for crossbows while a few are rifle scopes that can be adapted to your crossbow with little effort. The most important thing is that they'll all help you become the archer you want to be.
The Best Crossbow Scope
Crossbow Scope Buyers Guide and FAQ
Trying to find the right crossbow scope can be a confusing process. If you've never worked with scopes before in any capacity the terminology and concepts will be foreign to you. But fear not. The number of variables involved in a crossbow scope is limited so once you get a feel for the technology you'll be good to go with just about any scope out there.
Here are a few of the most common questions we encountered while researches crossbow scopes for this guide. Hopefully they'll help shed some light on the subject for you:
Q: What Is The Maximum Range Of A Crossbow?
A: If by "maximum range" you mean "maximum effective range" then the maximum range of a crossbow (the range at which it ceases to be effective for hunting) is about 40 yards; 50 yards on a good day with an experienced archer. The arrow itself is capable of flying many times that distance but beyond 40 -50 yards you lose the ability to target accurately.
Q: Can You Use A Rifle Scope As A Crossbow Scope?
A: As you can see by the number of rifle scopes we've reviewed here the answer is "absolutely". In fact many crossbow enthusiasts won't use any other kind of scope. There are any number of websites where you can learn how to replace the stock scope on your crossbow with a rifle scope. It's easier than you think.
Q: How do You Sight In A Crossbow Scope?
A: Sighting with a crossbow scope can take some getting used to but once you do it will all seem perfectly logical and right. Assuming the scope has been installed correctly:
Establish a level position to shoot from
- This could be a conveniently located large boulder or fallen tree but more likely you'll want to use a bipod or tripod to establish a level platform. Either will produce the result you're after. Once you've got a nice stable platform to fire from…
Establish the relationship between the crossbow scope and your eye - Your eye should be far enough removed from physical contact with the scope that there's little or no chance of recoil sending the scope back into your face. Once you have that spatial relationship established and you can see a clear image through the scope…
Align the reticle - Should you fail to properly align the reticle to windage and elevation it's likely your shot will miss to one side or the other. The farther you are from the target the more pronounced the miss is likely to be. Once your crosshairs are properly aligned…
Set the MOA - MOA or Minute of Angle is a set of calculations that allow you to sight your crossbow scope more accurately over long distances. In broad terms at ¼" MOA you'll need to turn the elevation, or windage knob until you hear 4 clicks in order to adjust targeting by 1" at 100 yards. Follow the link above to learn more about MOA.
Practice - Once you have the particulars set up take a series of practice shots at predetermined targets. These targets should be located close to where you believe your prey will ultimately be. Take note of what's working and what isn't and tweak accordingly.
A Few Things To Be Mindful Of
You may find the crossbow scope sighting procedure takes you awhile to get the hang of and you might need to make quite a number of adjustments before you start to see satisfactory results. But hang in there. Once you've nailed the process you won't have to relearn it.
Single dot/reticle crossbow sights can be sighted for any distance you want. However if there is more than one dot/reticle you will need to adhere to the established values. That's because the relationship between dots and reticles is not up for debate.
The protective caps that cover the adjustment knobs on crossbow scopes have a bad habit of walking away when you're not looking. Don't ever set them down on the ground or somewhere else. Once you remove them put them in your pocket. The same pocket every time.

Conclusion
As is the case with most other things there are great crossbow scopes, good crossbow scopes and crossbow scopes that are just taking up space. Use the information provided above to ensure you get the best crossbow scope for your purposes. And don't forget to stop back regularly for more informative product review guides from Gear Hungry.