Best Roll Top Backpacks in 2022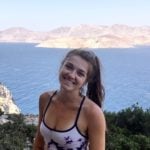 This product guide was written by Chloe Matthews
Last Updated
March 7, 2018
Chloe Matthews
Based in Austin, Texas, and bred in the Midwest, Chloe joins our team with a background in Health and Human Physiology, team management, and a wealth of customer service knowledge. After years of personal writing and journaling, her enthusiasm for the outdoors, travel, and continued learning has brought her to a professional journalism career. Chloe is an avid rock climber, currently enjoying the Texas limestone bluffs, and a passionate, lifelong runner. When she's not seeking sunshine outdoors, you can find her reading history books, volunteering at running events, or working on her latest automotive project.
GearHungry may earn a small commission from affiliate links in this article.
Learn more
Roll top backpacks have increased in popularity once again with students, commuters, campers, bikers and hikers. Instead of the alpine-style bag with a lot of flaps, ties or zippers. Instead of all these, it rolls down like a lunch bag. One of the primary reasons for this resurgence is because of that, the lack of millions of drawstrings, mesh lining and pockets and those annoying as hell compression hook clap things.
Trying to pick the best out of so many, can be intimidating, which is why we aim to make it a little easier in this post. We will highlight the roll top backpacks we believe to be the best available.
The Best Roll Top Backpack
Timbuk2 Spire-2015 Roll Top Backpack
The first on our list is the smart and sophisticated Spire-2015, which has been exclusively designed for Apple by Timbuk2. Made for keeping your belongings, your iPad and MacBook Pro in particular, protected from serious rainfall with its canvas fabric and TPU water-resistant construction.
It features an adjustable strap to help give you a comfortable fit and a ventilated back panel that prevents you from sweating excessively from carrying it around. ID, cash, cards and ear-buds can fit into a front pocket with a zip and there is also an organizer on the inside for phones, writing pens and other smaller bits. The larger main compartment can be used for your computer, books and other essentials.
Key Features:
630D Oxford Nylon
Adjustable strap
Waterproofing
Laptop compartment compatible with a 15-inch MacBook
Separate pocket suitable for iPad
Fully-ventilated back panel for extra comfort
Front zip pocket
Organiser inside for smaller stuff
Removable sternum strap
Elasticated side pocket on outside
Daisy chain webbing for attaching U-locks, helmets, carabiners etc.
Bottle opener on the strap
Specification:
Brand

Timbuk2

Model

306-3-2007

Weight

2.36 pounds
Victorinox Altmont 3.0 Flap-over Roll Top Backpack
The next on our list is the Altmont 3.0 flap-over backpack from the incredibly popular manufacturer Victorinox. Constructed from 100% nylon, this backpack includes a robust and long-lasting main body made from versatek featuring an isynetic ballistic base resistant to abrasion.
It can hold a 15.6-inch laptop and features a 10-inch pocket for portable electronics. Victorinox know that it's not just how much a backpack can hold that is important, but it's how it feels to carry it. With that in mind there are fully padded and adjusted shoulder straps. There is also the option to expand it to give you 5 inches more storage space, when necessary. Check out our full list of Victorinox backpacks for more awesome products like this. 
Key Features:
Versatek fabric main body and isynetic ballistic base
13 litres capacity
Space for a 15.6-inch laptop and 10-inch portable electronic device
Padded and adjustable shoulder straps
Expandable for an additional 5-inch capacity
Mesh zipper pocket on inside
Front pocket gusseted
Hidden pockets on front
Webbing loops
Specification:
Brand

Victorinox

Model

32389301

Weight

1.9 pounds
Thule Covert DSLR Roll Top Backpack
Higher in price than the other two on our list so far is this Thule Covert roll top backpack, which has been designed and manufactured specifically with urban explorers in mind. This is ideal therefore for owners of drones and other photography equipment.
Intelligently designed to make full use of the space this bag provides, there is room in the main compartment for a DSLR body with an ultra-wide angled lens attached along with a drone and other essential accessories.
Key Features:
Safezone removable pod system for camera
Origami-inspired dividers to fold around all your gear
Fits comfortably a prosumer DSLR body with an ultra wide-angle lens attached and a drone (with dimensions up to 260mm by 200m by 100mm)
Space for a 15-inch MacBook pro and iPad
Quick access from the side
Front pockets
Ergonomically designed for balance of cushioning and support
Expandable without camera pod
Specification:
Brand

Thule

Model

TCDK-101

Weight

4.97 pounds
When it comes to a multipurpose and functional backpack for any occasion, the Burton Tinder ticks all boxes for style, comfortability, durability and so much more. Not only does it boast of exciting features you would typically want in a strong and fit-for-purpose bag, but it is also roomy enough to store many items, from groceries to laptops. The features that make it the best in its category are many. To start with, the overall design of the bag exudes class. It combines a vintage old school design with modern, trendy features to present an all-purpose bag you would love. Looking to store laptops in there? No problem. This stylish backpack comes with a laptop sleeve and a zippered compartment to hold your pc in place, with enough space for more items.
Unlike some backpacks which offer room for storage but can get uncomfortable carrying it on the back, the Tinder is pretty comfortable to carry, with an ergonomic shoulder strap designed to keep the bag firmly and comfortably on your back. It also features sternum straps to keep the bags tightly shut when they should be. With a compartment for tablets as well as two pockets to store smaller items, the Tinder is a great choice for a simple yet spacious bag for all occasions. Add that to its water-resistant material ensuring your documents, laptop and other items remain dry even in wet weather and you have yourself a multipurpose bag built for your ultimate comfort and convenience.
Key Features:
Made of quality polyester
Features sternum straps for easy carrying
Ergonomic shoulder strap
Spacious and can take up to 25L volume
Laptop compartment with sleeve
Two slip pockets for storing small items
Tablet compartment
Drawstring closure system
Specification:
Brand

Burton

Model

Tinder Backpack

Weight

1.55 Pounds
If you are looking for a stylish yet highly functional roll top laptop backpack for storing medium to light load, we highly recommend the Timbuk2 Tuck Pack. It features comfortable padding, so it makes for easy carrying, adding to its general, lightweight build. The Tuck Pack is high on stability, as it can remain relatively firm and in place when loaded with items. Its laptop compartment is also built to hold up to 17-inch and remains firm with a tight, padded sleeve inside the main compartment of the bag. Its laptop compartment is also accessible via a zippered opening on the outside of the bag itself. Able to hold up to 20l of item weight, the Tuck Pack is ideal for short to medium trips that require a spacious bag to hold valuables.
Other cool features of the Tuck Pack you would absolutely love include a side zipper for accessing the laptop, a zippered pocket on either sides and other side pockets to give unlimited storage space for various items. The bag itself is made of polyester, and it's lightweight yet durable build is one other thing we found quite impressive. Overall, the Timbuk2 Tuck Pack is a great option for light travel, or for regular commuting, whether for shopping, school, hiking or sports.
Key Features:
Spacious and roomy, able to hold up to 20L volume
Laptop compartment and padded sleeve
Can hold Laptops up to 17 inches
Features small zippered pockets on either side for storing small items
Padded and comfy shoulder straps
Made with durable and lightweight polyester
Water-resistant
Features a side zipper access to the laptop compartment
Specification:
Brand

Timbuk2

Model

Tuck Pack

Weight

1.54 Pounds
Acer Predator Gaming Rolltop Backpack
One feature of rolltop backpacks most people love is their versatility and various uses. Whether you are a business executive always on the move, a regular hiker or a student, you would find these bags very useful, as they offer just about enough room for packing and comfortably carrying many items, ranging from laptops to groceries. The Acer Predator Gaming Rolltop Backpack is a serious contender for the best bags for storing laptops and other accessories, and rightly so: it makes storage very easy and quick retrieval of stored items even easier.
If you are an adventurous gamer who loves having your gaming gears around you most of the time, you will find this backpack extremely useful, as it provides the durability, comfort, and flexibility you need for an adventurous lifestyle alongside a gaming one. Take its stylish gray and black design for instance, it gives the backpack an attractive and serious game-buddy look, with the predator logo sitting comfortably in front.
Just below the design, a reflector adds to its overall design; mostly for night travels, providing much-needed safety whether on foot or on a bike. It also features various compartments and zippers for storing a myriad of items, and with the bag itself being built with water-resistant polyester, there is absolutely no limit to how far you can go with it when fitted securely on your back. When it comes to space, the Ace Predator Rolltop Backpack stands tall, as it features enough room for many items and an expandable inner compartment that can hold up to 35L in capacity.
The interior features padded lining and pockets for more storage space. With a specially designed headset strap and a lower bottom pocket to store power adapters, this gaming backpack is more ready for an adventure than you can ever be.
Key Features:
Spacious interior, capacity to hold up to 35L
Padded interior pockets
Reflectors for safe night travel
Stylish design with extra pockets and room to store more
Water-resistant material for an all-weather activity
Storage space for headsets
Space for holding power adapters
Lightweight
Specification:
Brand

Acer

Model

Rolltop Backpack

Weight

2.9 pounds
Under Armour Unisex-Adult SC30 Signature Rolltop Backpack
Here's another high performing Rolltop Backpack loved by many, and perhaps you should too. The SC30 is big on durability and functionality and is a great fit for students, hikers, and business people alike. With a large compartment that can hold items from laptops to groceries, the SC30 also has a padded interior to give maximum protection to your valuables.
It features padded sleeves for holding a laptop and a tablet and also features other pockets to hold smaller items. The laptop compartment is able to hold machines of up to 15 inches, and its magnetic closure strap is an added feature to guarantee your satisfaction.
If you are a sports enthusiast and looking to get a versatile backpack for your routine workout sessions, you may want to consider this Under Armour Rolltop Backpack. Even for everyday activity, it is a great companion, as it provides a one-stop-shop to hold most of your valuables, so you'd have no need for multiple bags and pouches.
The SC30 is also a sturdy and durable waterproof backpack, with its waterproof material making it fit for use in various weather conditions. 
Key Features:
Magnetic closure system
Spacious interior, with a capacity of 25L
Padded sleeves for laptops and tablets
Can hold and fit laptops of up to 15 inches
Water-resistant material for wet weather conditions
Features front zippered compartment for holding small items
Made of premium quality polyester
Features two side pockets and has comfortable and easily adjustable shoulder straps
Specification:
Brand

Under Armour

Model

1300225

Weight

1 pounds
Samurai Tactical Ronin Day Backpack
The Samurai Tactical Ronin Backpack is just as efficient as it is functional, with its unique and bold look making it a stylish and attractive bag for any occasion. It features a sleek military design to complement its other exciting features that makes it an all-round performer. First off, The Samurai Tactical Ronin Backpack features padded laptop sleeves and pockets to hold accessories. It also has water bottle holding pouches on either side of the bag. The frontal of the bag features a pocket to keep certain accessories, as well as a padded back pane. The Ronin also has padded shoulder straps for easy and comfortable use. The interior features a spacious compartment with enough room to hold up to 27L capacity, and also has strong zippers for the various pockets adorning it. It also features a load compression system on either side of the bag to complement its other great features.
Key Features:
Spacious interior for storing laptop, groceries, sports gear and more
Padded and comfortable shoulder strap
Padded laptop and tablet sleeves
Features water bottle holder pouches on either side
Interior zippered pockets for storing smaller accessories
Front zipper compartment
Quality and durable polyester material
Stylish, military-type design
Specification:
Brand

Samurai Tactical

Model

Samurai Tactical Ronin Day Pack

Weight

1.60 Pounds
Oakley Voyage 23L Roll Top Backpack
One important feature of a quality roll top backpack is its room or space for storing items whilst remaining relatively light. The Oakley Voyage 23L Roll Top Backpack is one of such. With plenty of room and space to keep lots of items like laptops, groceries, workout clothes, hiking gear, and more. The Voyage is a trusted backpack that would not let you down no matter what. It has some great features of which we would highlight just a few to give you an idea of what you'd be getting should you decide to make a choice of purchasing this amazing beauty of a bag.
With soft padded EVA shoulder straps guaranteed to maintain maximum comfort for the user, the bag is relatively firm when worn and does not swing often. The shoulder straps are also ergonomically designed with the user's satisfaction in mind. It features side access to enhance its convenient use, and the laptop compartment is suitable for most modern notebooks and can support up to 15 inches of laptops. The internal sleeves are also padded, giving maximum protection to your valuables all day. For regular night travelers, the Voyage also features reflectors to guarantee safety. A front buckle closure system and a couple more compartments add to its uniquely designed features you would love.
Key Features:
Made of premium quality polyester
Padded internal sleeves for laptops
Internal chamber capacity of up to 23L
Laptop holding capacity up to 15 Inches
Convenient side access with two way zipper
Reflectors for night travel
Frontal buckle system
Lightweight
Specification:
Brand

Oakley

Model

92968

Weight

1 pounds
All of Us Rolltop Backpack
Adventure can be fun when you have the right gear to take along. This travel backpack is certainly built for the adventurer in you, with features that give it all-around ability to store your valuables and keep them safe for your trip. With a stylish grey design, the bag is instantly a beauty, and would very much grab your attention when you see it. Granted, some rolltops can be intimidating, with so many zippers and compartments that can be a put off at times. In contrast, the All of Us Roll Top is carefully designed to maintain a simplistic and minimal design whilst giving you all the unique features you need in a high-performance bag.
It also features a convenient laptop compartment to keep your devices safe, and a side zippered access so you can easily store and reach your valuables pretty easily. It also features zippered frontal access to complement its other great features.
This Roll Top is built for one thing: adventure; and adventure with a heavy backpack is not so cool, right? The All of Us Roll Top, therefore, features an all-round lightweight design, with padded compression features to keep the bag relatively light even when loaded. It is also water-resistant, so you do not have to worry about venturing out in cold weather. Getting this bag is not just great because it gives you the best quality, the company also does well to donate a part of your purchase to humanitarian relief organizations to fuel their quest to touch the world positively.
How cool is that!
Key Features:
Features comfortable shoulder straps
Padded internal laptop compartment with sleeves
Side zipper access to laptop compartment
Zippered frontal access
Waterproof zipper
Durable material for prolonged use
Padded back panel
Lightweight
Specification:
Brand

All of Us

Model

ZM170-04089-GRY8

Weight

1.63 pounds
Alpine Mountain Metro Backpack
Here's another high-performance backpack that stands tall among its peers. It can carry almost anything, from camera equipment and laptops to hiking gear and groceries. With versatility and flexibility, one of its main qualities, the Metro is ideal for any and every occasion, as it can be customized to suit your preferences. Let's look at some of its great features. First, you have easy access to the main compartment of the bag from three points. Two on either side and one on the front. The material itself is water-resistant, and it does well to shield your stuff no matter the threat of the weather.
It also features a padded laptop sleeve for keeping your notebooks safe and secure and comes built with compartments for storing a passport or travel wallet; so you can easily go through security checks without the need to go through your neatly packed stuff. It also has side pockets and other cute compartments for storing smaller valuables. On the whole, the Metro is not just an attractive backpack you can use to complement your travel accessories, it is highly functional, spacious, and a great value for money too.
Key Features:
Spacious interior that can hold up to 21L volume, and can also be expanded to 25L
Laptop sleeve with frontal and side access
Side zippered access system
Three-way access system
Built with weatherproof materials
Passport and wallet pouch
Compartments for water bottles, small tripods, and camera equipment
Lightweight, easy to use
Specification:
Brand

Alpin Mountain Company
Here's another amazing roll top backpack we simply can't have enough of. It made it to our list of the best roll top backpacks not just because it fits in the quality and ergonomic design category, it is also a high performer from a trusted Swedish brand.
With a spacious interior compartment that can hold up to 23 liters, the Fjällräven Ulvö Rolltop is a boss when it comes to storage, as it is able to provide more room for keeping even more items and still remain light. The unique rolltop design the bag boasts of can shrink or enlarge to adapt to the size of your gear. It also has room for storing laptops and other devices. Whether you are a hiking enthusiast or an avid adventurer, you would find this bag a good fit for all your occasions. Our guide to the best hard shell backpacks features more cool bags you will like.
Key Features:
Ventilated padded sleeves to avoid heating
Features many pockets in the interior compartment
Features compartments for water bottles, and other gear.
Interior compartment can hold up to 23 Liters of volume
Backpack can shrink or enlarge to adapt to the size of the bag
Lightweight construction
Durable material
Weather-resistant build
WANDRD PRVKE – 21L Metro Pack
This Wandrd Prvke Backpack is miles ahead of other peers and is noted for its simplistic yet convenient design specially built to give you the ease and convenience of enjoying your trips, whether short or long, without having to worry about the safety of your valuables, be it laptops, or other devices.
This 21 Liter capacity roll top is built to withstand harsh weather conditions, and it tops all that with laptop compartments, side and frontal access, enough zippered compartments for storing a host of small items, and a security clearance friendly compartment to hold passports and wallets. With a stylish, modern design, the Prvke is a proudly Swedish brand that leaves you satisfied beyond your expectations. Even for prolonged use, the Prvke has proven to be resilient, durable, and fit for purpose, and is one reason it is loved and trusted by many. Be sure to also check out our guide to the best ultralight backpacks for more excellent bags like this.
Key Features:
Spacious and roomy interior and can be expanded to 25L
Weather-resistant material
Interior compartments for storing laptops
Access for security checkpoints
Side opening and frontal access
Durable material
Lightweight
Attractive and modern design
Victorinox Altmont Active Deluxe Rolltop Backpack
Next on our list is Victorinox Altmont Active Deluxe backpack, and like its counterpart has a large compartment designed to fit a 15-inch laptop (check out our best laptop bags post). In addition to this there are also a file divider to keep things organised and two stretchy side pockets which can be used for water bottles among other things.
Key Features:
Fits 15-inch laptop
Main compartment has lockable zippers
File divider inside main compartment
2 stretchy side pockets
2 additional vertical-zipper pockets
Adjustable shoulder straps
Back panelling with 3D diamond pattern moulding for enough air circulation
Specification:
Brand

Victorinox

Model

602638

Weight

1.85 pounds
Sign Up Now
GET THE VERY BEST OF GEARHUNGRY STRAIGHT TO YOUR INBOX