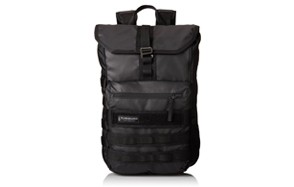 Timbuk2 Spire-2015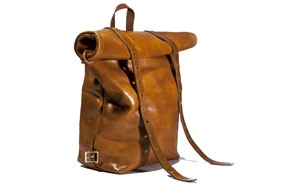 Mifland Rolltop Rucksack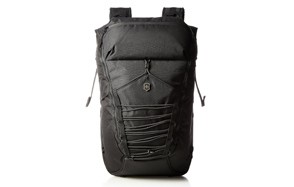 Victorinox Altmont Active Deluxe Rolltop Backpack
Roll top backpacks have increased in popularity once again with students, commuters, campers, bikers and hikers. Instead of the alpine-style bag with a lot of flaps, ties or zippers. Instead of all these, it rolls down like a lunch bag. One of the primary reasons for this resurgence is because of that, the lack of millions of drawstrings, mesh lining and pockets and those annoying as hell compression hook clap things.
Trying to pick the best out of so many, can be intimidating, which is why we aim to make it a little easier in this post. We will highlight the roll top backpacks we believe to be the best available.
Our Top Picks Of The Best Roll Top Backpacks in 2018
Timbuk2 Spire-2015 Roll Top Backpack
See More Reviews

The first on our list is the smart and sophisticated Spire-2015, which has been exclusively designed for Apple by Timbuk2. Made for keeping your belongings, your iPad and MacBook Pro in particular, protected from serious rainfall with its canvas fabric and TPU water-resistant construction.
It features an adjustable strap to help give you a comfortable fit and a ventilated back panel that prevents you from sweating excessively from carrying it around. ID, cash, cards and ear-buds can fit into a front pocket with a zip and there is also an organiser on the inside for phones, pens and other smaller bits. The larger main compartment can be used for your computer, books and other essentials.
Key Features:
630D Oxford Nylon
Adjustable strap
Waterproofing
Laptop compartment compatible with a 15-inch MacBook
Separate pocket suitable for iPad
Fully-ventilated back panel for extra comfort
Front zip pocket
Organiser inside for smaller stuff
Removable sternum strap
Elasticated side pocket on outside
Daisy chain webbing for attaching U-locks, helmets, carabiners etc.
Bottle opener on the strap
Specification:
Brand

Timbuk2

Model

306-3-2007

Weight

2.36 pounds
Victorinox Altmont 3.0 Flap-over Roll Top Backpack
See More Reviews

The next on our list is the Altmont 3.0 flap-over backpack from the incredibly popular manufacturer Victorinox. Constructed from 100% nylon, this backpack includes a robust and long-lasting main body made from versatek featuring an isynetic ballistic base resistant to abrasion.
It can hold a 15.6-inch laptop and features a 10-inch pocket for portable electronics. Victorinox know that it's not just how much a backpack can hold that is important, but it's how it feels to carry it. With that in mind there are fully padded and adjusted shoulder straps. There is also the option to expand it to give you 5 inches more storage space, when necessary.
Key Features:
Versatek fabric main body and isynetic ballistic base
13 litres capacity
Space for a 15.6-inch laptop and 10-inch portable electronic device
Padded and adjustable shoulder straps
Expandable for an additional 5-inch capacity
Mesh zipper pocket on inside
Front pocket gusseted
Hidden pockets on front
Webbing loops
Specification:
Brand

Victorinox

Model

32389301

Weight

1.9 pounds
Thule Covert DSLR Roll Top Backpack
See More Reviews

Higher in price than the other two on our list so far is this Thule Covert roll top backpack, which has been designed and manufactured specifically with urban explorers in mind. This is ideal therefore for owners of drones and other photography equipment.
Intelligently designed to make full use of the space this bag provides, there is room in the main compartment for a DSLR body with an ultra-wide angled lens attached along with a drone and other essential accessories.
Key Features:
Safezone removable pod system for camera
Origami-inspired dividers to fold around all your gear
Fits comfortably a prosumer DSLR body with an ultra wide-angle lens attached and a drone (with dimensions up to 260mm by 200m by 100mm)
Space for a 15-inch MacBook pro and iPad
Quick access from the side
Front pockets
Ergonomically designed for balance of cushioning and support
Expandable without camera pod
Specification:
Brand

Thule

Model

TCDK-101

Weight

4.97 pounds
Victorinox Altmont Active Deluxe Rolltop Backpack
See More Reviews

Next on our list is another Victorinox roll top backpack, and like its counterpart has a large compartment designed to fit a 15-inch laptop (check out our best laptop bags post). In addition to this there are also a file divider to keep things organised and two stretchy side pockets which can be used for water bottles among other things.
Key Features:
Fits 15-inch laptop
Main compartment has lockable zippers
File divider inside main compartment
2 stretchy side pockets
2 additional vertical-zipper pockets
Adjustable shoulder straps
Back panelling with 3D diamond pattern moulding for enough air circulation
Specification:
Brand

Victorinox

Model

602638

Weight

1.85 pounds
See More Reviews

If you have a more sizeable budget and are looking for a quality design and functionality, then the Mifland roll top rucksack might be what you are looking for. It is a cutting-edge marriage or luxury with function and minimalism. thanks to the leather used in its construction has been chosen to give it a sturdy but robust and light feel.
A highly exclusive brand, each bag is non-refundable because they are made to order, but when you do invest in a Mifland you can access, for additional cost, repairs.
Key Features:
Mid-Weight Supple Grade Leather
Made to order
Simple and elegant
Functional and minimalist
Specification:
Brand

Mifland

Model

Rolltop Rucksack
Timberland Men's Walnut Hill Roll Top Backpack
See More Reviews

Another affordable roll top backpack on our list is by the renowned and popular Timberland. It comes in an attractive coated-nylon exterior with a pleasing brown leather trim and closes thanks to a clasp. There is a special flap to keep your laptop or tablet safe, as well as a separate zipper pocket for organising smaller items.
Key Features:
Hardy nylon bag with leather trim
1 x exterior zipper pocket
2 x side pockets
Padded tablet or laptop sleeve on interior
Clasp secures bag closed when rolled down
Padded adjustable shoulder straps
Carrying handle
Specification:
Brand

Timberland

Model

DB2007

Weight

1.75 pounds
Wandrd PRVKE Travel DSLR Backpack With Laptop/tablet Sleeve and Rain Cover
See More Reviews

Next on our list is another roll top backpack for those with a moderate sized budget. Like all the best backpacks for urban explorers, it mixes style with substance and is particularly designed for those with DSLR cameras. As part of the bag's unique construction by Wandrd, there are three different points of access – the adjustable roll top, the clamshell lay-flat opening or the camera quick access on the side.
As well as being able to fit a DSLR camera, there is also space for either an iPad Pro and 15-inch MacBook Pro and a total of 8 different lenses. The camera and lenses fit inside a fully-customisable storage cube that can be removed to allow the space left inside the bag as a more versatile and everyday backpack.
Key Features:
Quick Access to Camera at side
Clamshell lay flat opening
Adjustable roll top
Friendly for checkpoints, with laptop and tablet sleeve
Removable camera cube
Passport pocket
Slick and compact design
Fossil Men's Defender Rolltop Backpack
See More Reviews

It is not hard to see why we have shortlisted the Fossil Men's Defender Rolltop Backpack. As well as looking incredibly stylish, it has been designed to meet all the needs of the every-man. This bag has been with practicality in mind and whether you are going to the office or out on your bike or for a walk, and is constructed from a waxed cotton canvas with a leather cinch strap.
There is an internal padded pocket suitable for a standard sized laptop, two additional pockets for other media, one zipper pocket and four elasticated loops.
Key Features:
Canvas bag with stylish robust leather trim
2 x zipper closing mechanism
Adjustable shoulder straps
Carrying handles at top
Side and front zipper pockets on the outside
Padded internal pocket for laptop or tablet
Multi-functional slip pockets on interior
Specification:
Brand

Fossil

Model

MBG9335600

Weight

2.65 pounds
Timbuk2 Heist Roll Top Backpack
See More Reviews

Another Timbuk2 roll top backpack, the Heist is a high-quality bag to carry whatever you can fit inside it. It features a tricot-lined front pocket for glasses and phone and a laptop pocket on the inside, as is standard with these bags, for laptops and tablets. Though as this bag is specifically constructed with Apple products in mind, it will fit an iPad and 15-inch MacBook.
For when you are out and about in the rain, whether its hiking, on your way to work or exploring the urban landscapes, there is 500D TPU material providing water-resistance. 
Key Features:
Tricot-lining in the front pocket for glasses and phone
Laptop pocket on the inside big enough for iPad and 15-inch MacBook or other tablets and laptops
Zipper closing access on the side
Exterior made from 500D TPU water-resistant material
Specification:
Brand

Timbuk2

Model

526

Weight

2.43 pounds
Topo Mountain Rolltop Backpack
See More Reviews

This Mountain Roll top backpack from Topo is suitable for both the daily commute to the office or when exploring the great outdoors. Includes an internal padded laptop sleeve for most 15-inch computers with a secure hook and loop closing mechanism. Padded shoulder pads with removable waist-belt and sternum strap and the carry handle means you have lots of options for carrying this bag. Ideal for those looking for a well-made and versatile backpack
Key Features:
Large main internal compartment
Laptop sleeve for 15-inch laptops
Rolltop closure which can expand
Side straps
Padded shoulder straps
Sternum strap
Removable waist-belt
Carry handle
Exterior snap shut pocket
Internal pocket with zip
Water bottle pocket on side
Specification:
Brand

Topo Designs

Model

Mountain Rolltop
Chrome Barrage Cargo Backpack
See More Reviews

If you are looking for stunning engineering and a compact design, look no further than the Barrage Cargo backpack from Chrome. This bad-boy is designed for rugged use (much like our survival backpacks), with a completely water-tight and expertly welded inner compartment and a customisable exterior cargo net, it will take whatever you put in it. With EVA foam in the back panel and an ergonomically designed shoulder strap, it is built to be comfortable as well as robust.
Key Features:
Water-tight, Welded Main Storage space
Customisable cargo net exterior
Guaranteed for life
Ergonomically designed shoulder strap
EVA Foam-filled back panelling for better fit and more breathing space
Sternum strap
U-lock side access
Water bottle pockets
Specification:
Brand

Chrome Industries

Model

BG-163-BKBK-NA
Mafia Tour Pack Roll Top Backpack
See More Reviews

Mafia started life in Buenos Aires, making use of sail-cloths for incredibly robust bags with the purpose of carrying heavy wetsuits. Since then, they've moved to Tokyo and San Francisco and continue to work with sailing clubs and athletes. They still recycle sail-cloths and the Tour bag is one of the largest in their collection.
Key Features:
Re-purposed kite-surf sail
Expandable roll top design
Internal padded sleeve for laptop
Zipper closing front pocket on exterior
Water resistant
Guaranteed for life
Unique colour and stitching
Specification:
Brand

Mafia

Model

Tour Pack Roll-Top
Chrome BG-180-BKRD-000 Black One Size Pro Barrage Waterproof Roll Top Backpack
See More Reviews

Chrome have designed the Pro Barrage backpack with the specific aim of meeting the ever-changing needs of the bike delivery industry, including flowers and food delivery. WW2 technology is what makes this bag stand out – that is, welded waterproof, built twice. This is believed to be the best way to waterproof a bag. Cordura is an anti-abrasion material used on the exterior shell and the seams that line the bag are 100% waterproof welded (much like Patagonia backpacks). Five-point cargo netting ensures that anything put inside the bag is secure.
Key Features:
Welded waterproofing
Cordura, anti-abrasion outer shell
Guaranteed for life
Built for and tested by bike messengers and delivery workers
Sternum strap to help with load distribution
Shoulder strap split design
EVA Foam-filled back panelling for increased breath-ability and comfort
Specification:
Brand

Chrome

Model

BG-180-BKRD-000

Weight

3.31 pounds
See More Reviews

A classic bag design from Topo, the Klettersack is excellent for hiking, commuting and just general day to day activities. Using 1000D Cordura on the outside and coated pack-style cloth material on the inside, this is a waterproof bag with tabs made from leather lash on the outside for attaching bike lights or other additional gear to the outside. The inner sleeve is slightly bigger than the average bag and suitable for 17-inch laptops and there are side pockets and other extras that make this bag worthy of consideration.
Check out our amercan made backpack guide.
Key Features:
Drawstring closure for inside
Inner sleeve for 17-inch laptops
Tabs made from natural leather lash
Plastic hardware
Pockets on sides for additional equipment, gear or water bottles
1000D waterproofing Cordura on outer
Specification:
Brand

Topo Designs

Model

Klettersack

Weight

29.6oz
Tumi Alpha Bravo Kirtland Continental Expandable Carry-on
See More Reviews

Our final product is the rather expensive, but rather exciting looking Alpha Bravo Kirtland Continental from Tumi. Made from 100% ballistic nylon, it has a 13-inch shoulder drop and has all the pockets and sleeves you can ask for including a laptop pocket, media pocket, iPad pocket, business card pocket, pen loop, key leash and two additional open pockets. It has an add-a-bag sleeve and a zip to access the main compartments. We would tell you what this bag lacks, if we could figure it out.
Key Features:
Twist and lock closure
Media pocket
Laptop padded pocket
iPad pocket
Two additional open pockets
Two business card pockets
Pen loop and key leash
Made from 100% ballistic nylon
Specification:
Brand

Tumi

Model

222388

Weight

3.68 pounds